Hi there! You are looking at my new project which will take place in 2017. I am going to travel the world (unfortunately, virtually) exploring rare, exotic, and not so well known for the majority of us, ingredients. One post – one ingredient. 50 ingredients in total! In each post I'll talk a little bit about the ingredient, where it's from, how it's produced, and give you a selection of awesome recipes with it.
The idea of this project was born in my local supermarket when I was staring at the variety of exotic fruits and veggies not knowing what the hell to do with them! I thought, well, having a blog where I'm cooking dishes from all over the globe and not knowing some products available even in my small country is a shame. Plus, it's SUPER interesting to explore new ingredients and excite taste buds with something different.
There will be a few posts every month and I will be updating the map and the list of ingredients after each one of them. I'm so excited! Let's go!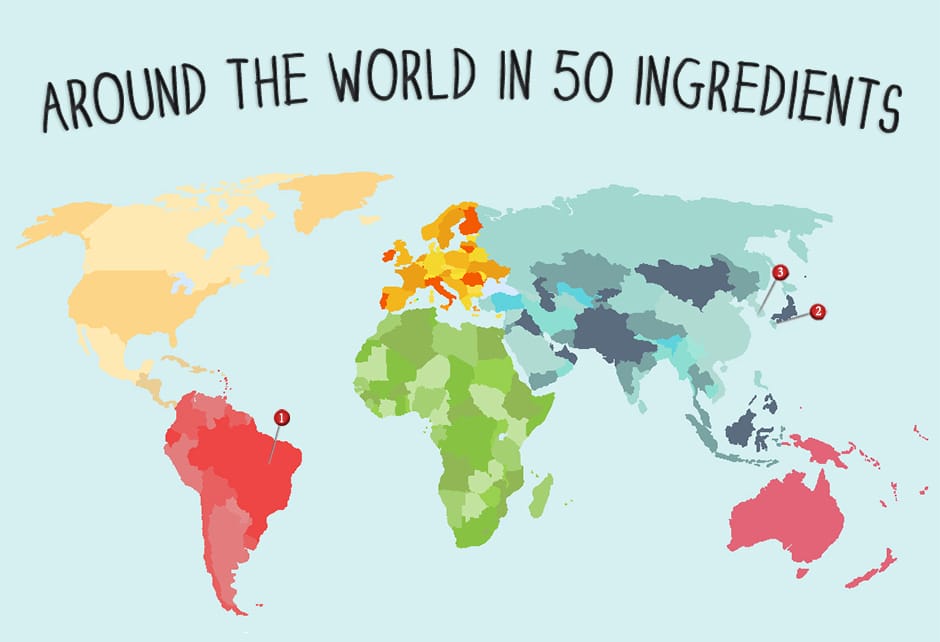 | Week | Ingredient | Location | How to use it | Week | Ingredient | Native countries | How to use it |
| --- | --- | --- | --- | --- | --- | --- | --- |
| 1 | Tapioca Flour | South America | Thickener for sauces / soups; Great for baking | 26 | … | … | … |
| 2 | Shirataki Noodles | Japan | Cold salads / stir-fries / soups | 27 | … | … | … |
| 3 | Gochujang | Korea | Marinades / sauces / stews / soups | 28 | … | … | … |
| 4 | Papaya | India / Brazil | Desserts / salads / smoothies | 29 | … | … | … |
| 5 | Saffron | Iran | Main dishes / desserts | 30 | … | … | … |
| 6 | … | … | … | 31 | … | … | … |
| 7 | … | … | … | 32 | … | … | … |
| 8 | … | … | … | 33 | … | … | … |
| 9 | … | … | … | 34 | … | … | … |
| 10 | … | … | … | 35 | … | … | … |
| 11 | … | … | … | 36 | … | … | … |
| 12 | … | … | … | 37 | … | … | … |
| 13 | … | … | … | 38 | … | … | … |
| 14 | … | … | … | 39 | … | … | … |
| 15 | … | … | … | 40 | … | … | … |
| 16 | … | … | … | 41 | … | … | … |
| 17 | … | … | … | 42 | … | … | … |
| 18 | … | … | … | 43 | … | … | … |
| 19 | … | … | … | 44 | … | … | … |
| 20 | … | … | … | 45 | … | … | … |
| 21 | … | … | … | 46 | … | … | … |
| 22 | … | … | … | 47 | … | … | … |
| 23 | … | … | … | 48 | … | … | … |
| 24 | … | … | … | 49 | … | … | … |
| 25 | … | … | … | 50 | … | … | … |