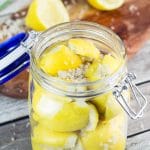 Print
Classic Moroccan Preserved Lemons
Moroccan Preserved Lemons are a cornerstone of Moroccan cuisine. They are used in an array of Moroccan dishes but can also be added to our everyday dishes!
Servings
1
quart (litre) jar
Scrub six lemons with a vegetable brush and rinse in cold water. Dry well. Trim the nubs off both ends. Quarter each lemon lengthwise leaving them still connected at a base.

Put the salt into a bowl. Working with one at a time, hold the lemon over the bowl and fill it generously with salt. Every lemon should get about 2 tablespoons of salt. Put them cut side up in the jar. You should push down really hard to fit them in.

Juice the remaining 6 lemons and add the juice into the jar until the lemons are submerged. If it's not enough juice, you can either juice more lemons to fill the jar to the brim or use boiled water.

Seal the jar and store in a dark place (not in a fridge) for a month, turning and shaking it once a day for the first week (to redistribute the salt).