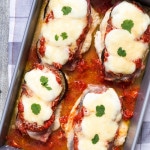 Print
Chicken Sorrentino
Tender chicken breasts topped with eggplant slices, prosciutto, marinara sauce, mozzarella, and Parmesan. If that's not a perfect dinner then I don't know what is!

Pound the chicken breasts to a thickness of about 1/2 inch. Season with salt an pepper. Spread the flour on a plate and dredge the chicken shaking off excess.

Add 4 tablespoons of the butter and olive oil to a skillet, on a medium low heat, and wait until butter has melted. Add the chicken and lightly brown it, about 2 minutes each side. Remove to a plate.

Preheat oven to 400°F (200°C). Clean the skillet and set it over medium-high heat. Melt the remaining 3 tablespoons of the butter and add the white wine. Bring to a boil and cook until about half of the wine has evaporated.

Pour the wine into 9x13 baking dish. Lay the chicken breasts. Top with eggplant slices and prosciutto (1 or 2 ham slices per chicken breast). Dollop about 2 tablespoons of the marinara sauce on top of each chicken breast. Drop the remaining marinara in the spaces between the chicken. Layer the mozzarella slices on top of the sauce. Sprinkle with the Parmesan cheese. Bake for about 12-15 minutes, until the cheese is melted. Enjoy!