Tired of the same chicken dishes over and over? Try this Italian Chicken Sorrentino! Tender chicken breasts are topped with eggplant, prosciutto, marinara sauce, mozzarella, and sprinkled with Parmesan cheese. Isn't it divine?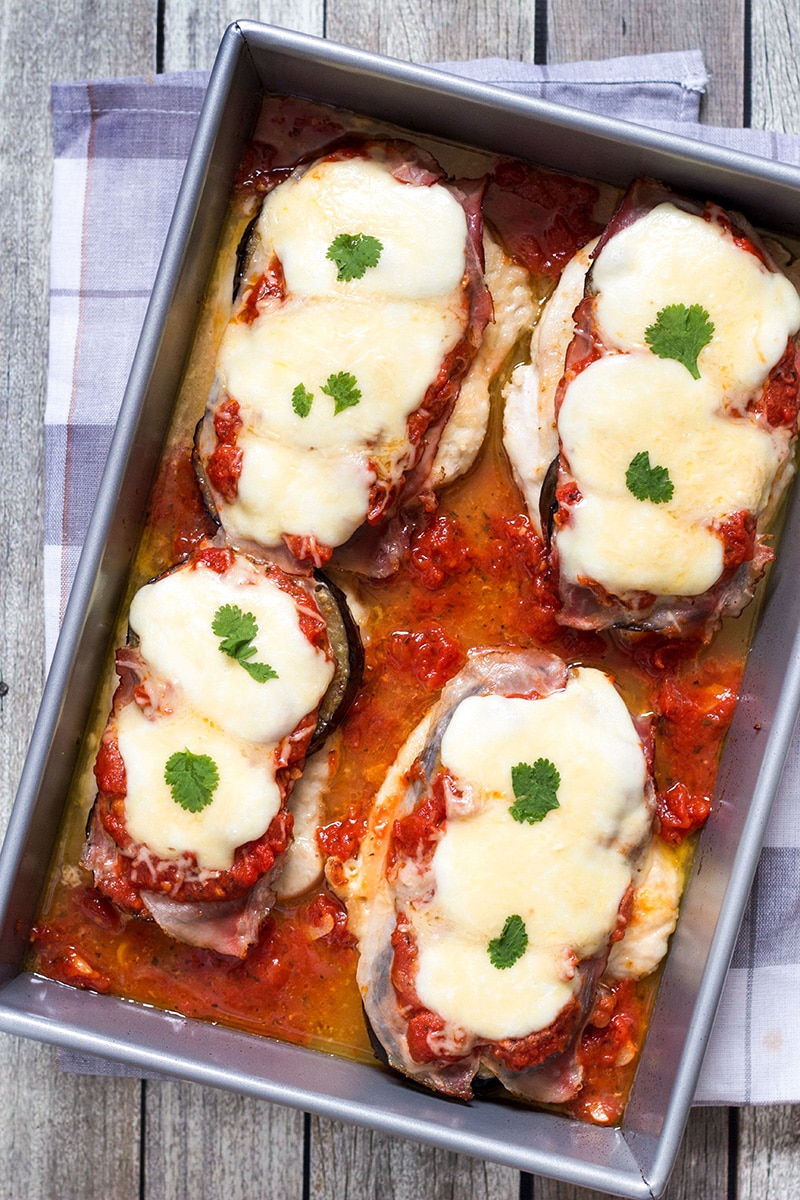 You probably think that you know every Italian dish out there. Pizza, lasagna, pasta  - what's to know, right? Sadly you are mistaken my dear friend. This Mediterranean country can offer plenty of beautiful and delicious recipes you may have never heard about. What? You want me to show you such a dish? You want me to prove my words and show you this appetizing, mind-blowing piece of heaven instead of chit-chat? Here you go. Two words - Chicken Sorrentino. In Italian it sounds even nicer - Pollo alla Sorrentina. It's chicken breasts topped with eggplant, prosciutto, marinara sauce, melted mozzarella and sprinkled with grated Parmesan cheese. How is that for a combination?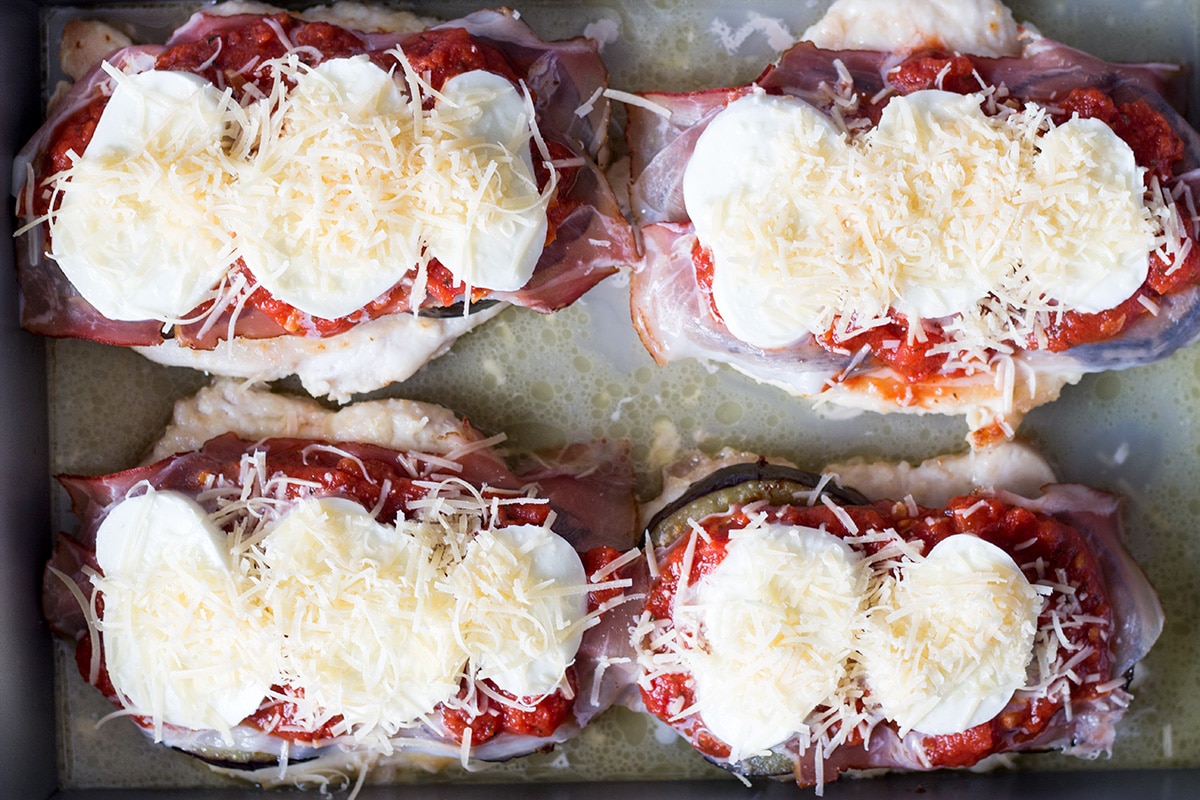 Chicken Sorrentino is named after the Italian town of Sorrento. It comes without surprise keeping in mind that there is an abundance of tomatoes and eggplant there. Oh and the region of Campania, where Sorrento is located, supposedly makes the best mozzarella in the world! Sounds like a perfect place to live. Maybe someday!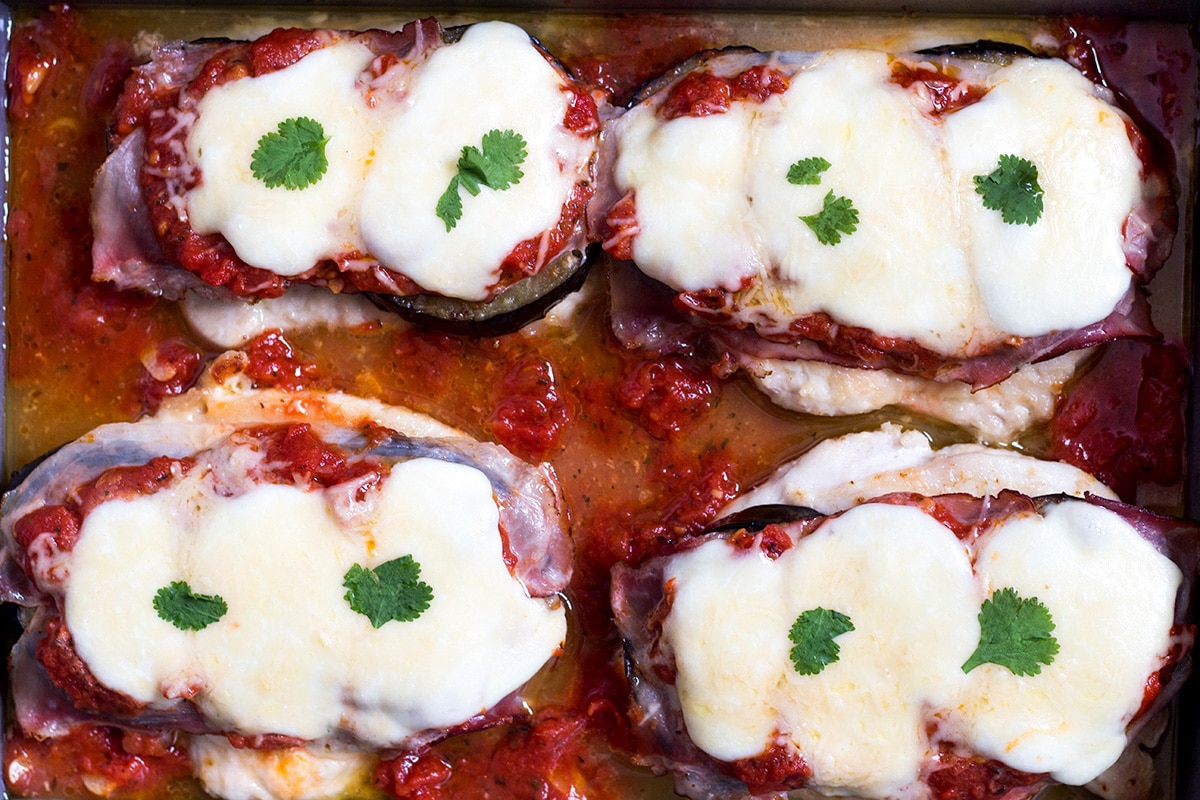 The recipe itself is not complicated at all. Lightly dredged in the flour chicken is sautéed for few minutes, topped with seared eggplant, marinara sauce, ham, cheeses and then baked in white wine. That's it! Simple as that. I've adapted this beautiful recipe from the amazing book I have on my kindle: Lidia's Italy in America by Lidia Matticchio Bastianich. Great Italian cuisine book. Made plenty of recipes from it, loved every one of them.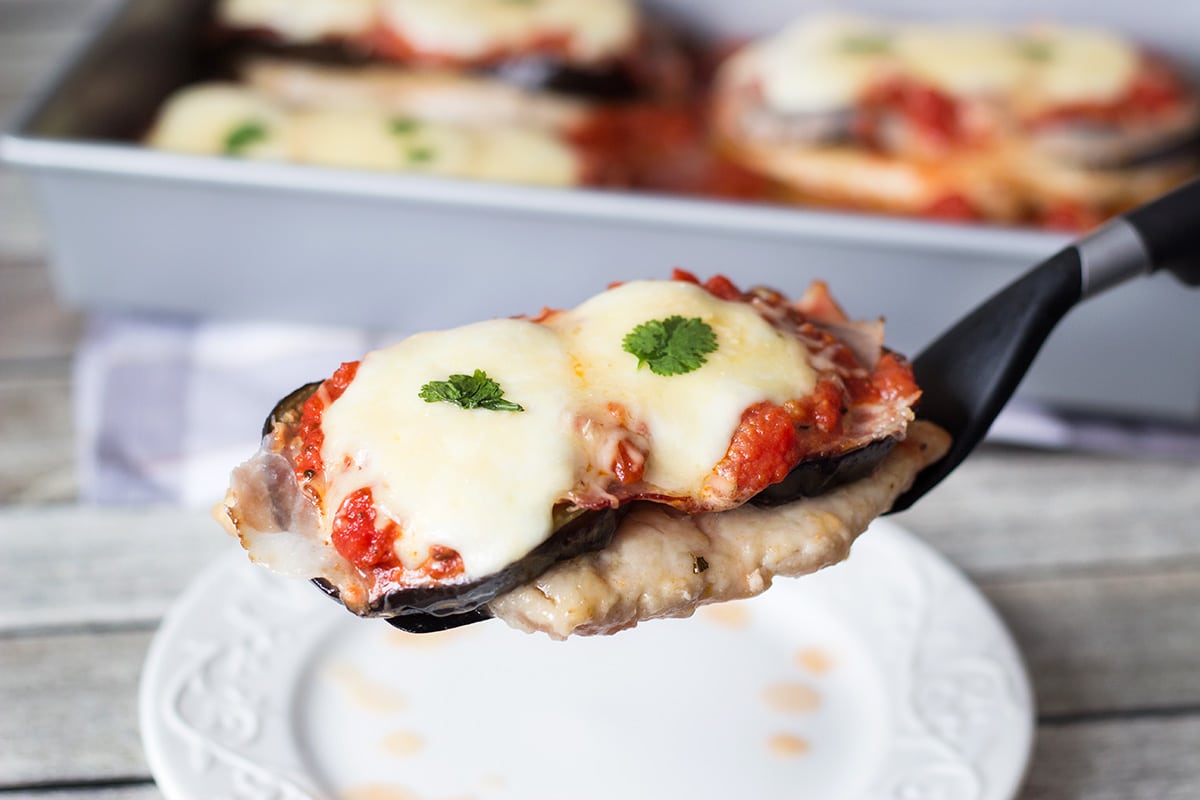 By the way, don't be restricted to use prosciutto, you can change it with any type of ham you want. The result will be fantastic anyway! Talking about marinara sauce, you can either use a store bought one or make the homemade version by yourself. Here is a great recipe I am always using to make mine at home.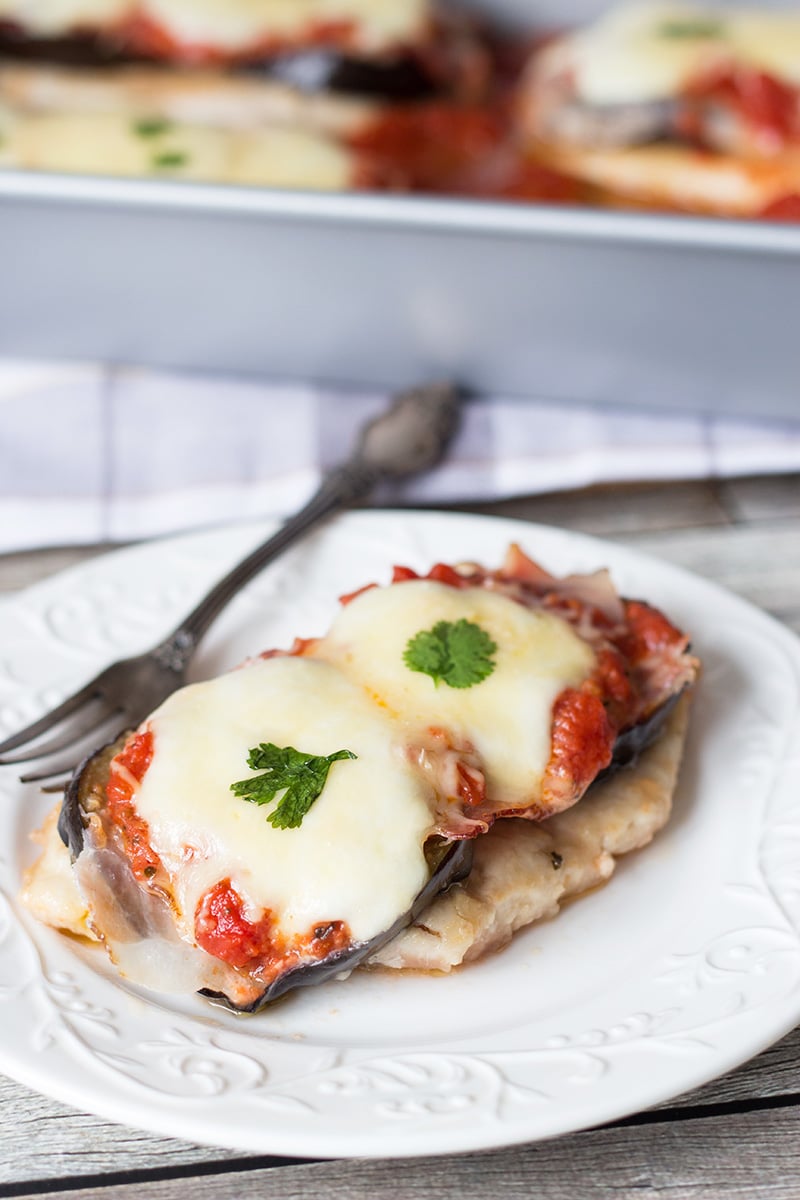 What can I say - Italian recipes just can't disappoint! This Chicken Sorrentino has everything you need: tender chicken and eggplant, aromatic tomato and basil sauce, paper-thin elegant prosciutto and of course cheesy cheeses. Perfect for a dinner!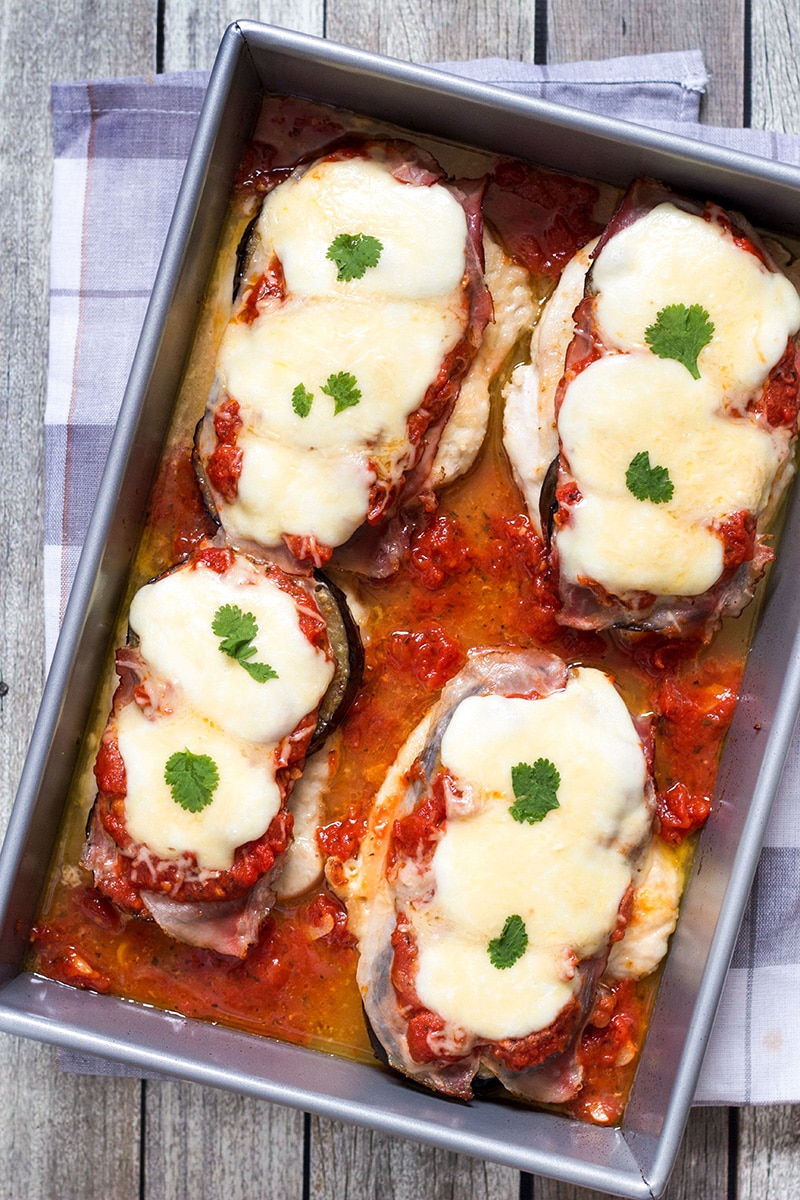 Chicken Sorrentino
Tender chicken breasts topped with eggplant slices, prosciutto, marinara sauce, mozzarella, and Parmesan. If that's not a perfect dinner then I don't know what is!

Ingredients
4

6 oz (170g)

boneless skinless chicken breasts

all-purpose flour,

for dredging

7

tablespoons

unsalted butter,

divided

3

tablespoons

Olive oil

1

medium eggplant,

sliced

1

cup

dry white wine

4-8

slices

prosciutto

1

cup

marinara sauce

6

oz (170g)

mozzarella,

thinly sliced

¼

cup

grated Parmesan cheese

salt and pepper,

for seasoning
Instructions
Pound the chicken breasts to a thickness of about ½ inch. Season with salt an pepper. Spread the flour on a plate and dredge the chicken shaking off excess.

Add 4 tablespoons of the butter and olive oil to a skillet, on a medium low heat, and wait until butter has melted. Add the chicken and lightly brown it, about 2 minutes each side. Remove to a plate.

Salt and pepper the eggplant and add to the same skillet and brown on both sides, about 3 minutes per side. Remove to a plate lined with paper towels to drain.

Preheat oven to 400°F (200°C). Clean the skillet and set it over medium-high heat. Melt the remaining 3 tablespoons of the butter and add the white wine. Bring to a boil and cook until about half of the wine has evaporated.

Pour the wine into 9x13 baking dish. Lay the chicken breasts. Top with eggplant slices and prosciutto (1 or 2 ham slices per chicken breast). Dollop about 2 tablespoons of the marinara sauce on top of each chicken breast. Drop the remaining marinara in the spaces between the chicken. Layer the mozzarella slices on top of the sauce. Sprinkle with the Parmesan cheese. Bake for about 12-15 minutes, until the cheese is melted. Enjoy!
Nutrition
* This post contains affiliate links, thank you for the support in keeping Cooking The Globe up and running!