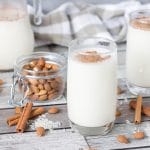 Print
Authentic Horchata Recipe
If you have never tried Horchata, you don't know what you're missing. This creamy Mexican rice and almond drink is perfect on a hot summer day!

6

tablespoons

rice

1 1/4

cups (6 oz or 170g)

blanched almonds

1

inch (2.5cm)

cinnamon stick

zest of 1/2 lime

1

cup

sugar or more

, to taste
Process the rice in a blender until it's like a fine powder. Transfer to a bowl and add the almonds, cinnamon, and lime zest. Add 2 1/4 cups hot water (not boiling), cover, and let stand overnight (or at least for 6 hours).

Add the mixture to a blender and process for 3-5 minutes until smooth. Add 2 cups water and blend for a few seconds more. Set a strainer over a bowl and line it with three layers of dampened cheesecloth.

Pour in the mixture in batches stirring to help it pass through. When you will strain all the liquid, gather up the corners and twist them together, squeezing firmly to get all the remaining goodness.

Add 2 more cups water and sweeten it with sugar to taste. Serve chilled. Enjoy!