A big summer hit in Lithuania, this Cold Beet Soup aka Cold Borscht aka Summer Borscht is guaranteed to freshen you up on a hot day. Plus, it's really easy and quick to make!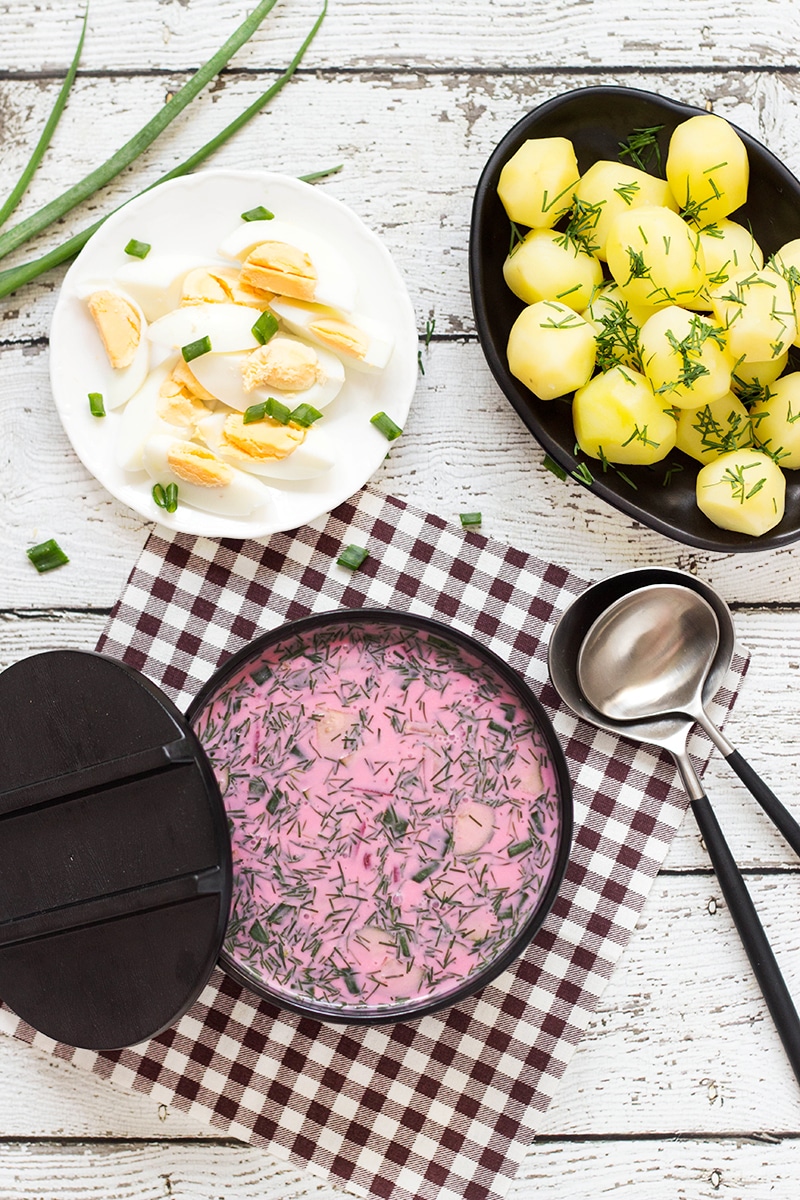 That feeling when you don't know what to eat during blazing hot summer days. Is it familiar to you? You are actually starving, but when you think about something and picture the process of putting it in your mouth, you get the "yuck!" effect. For example, I love pork cutlets, but today, right now, I don't even want to think about them. That's exactly how I feel this week. It's 35 degrees outside (95ºF) and I can barely move. But you gotta eat something, right? Luckily, I know a secret dish which stretches me a helping hand every time the hot weather approaches. It's been my savior for over 20 years now (I am only 27). Let me present you, my dear sweaty readers, this Cold Beet Soup, or Cold Borscht, or Šaltibarščiai in Lithuanian. Yes, it's from my country!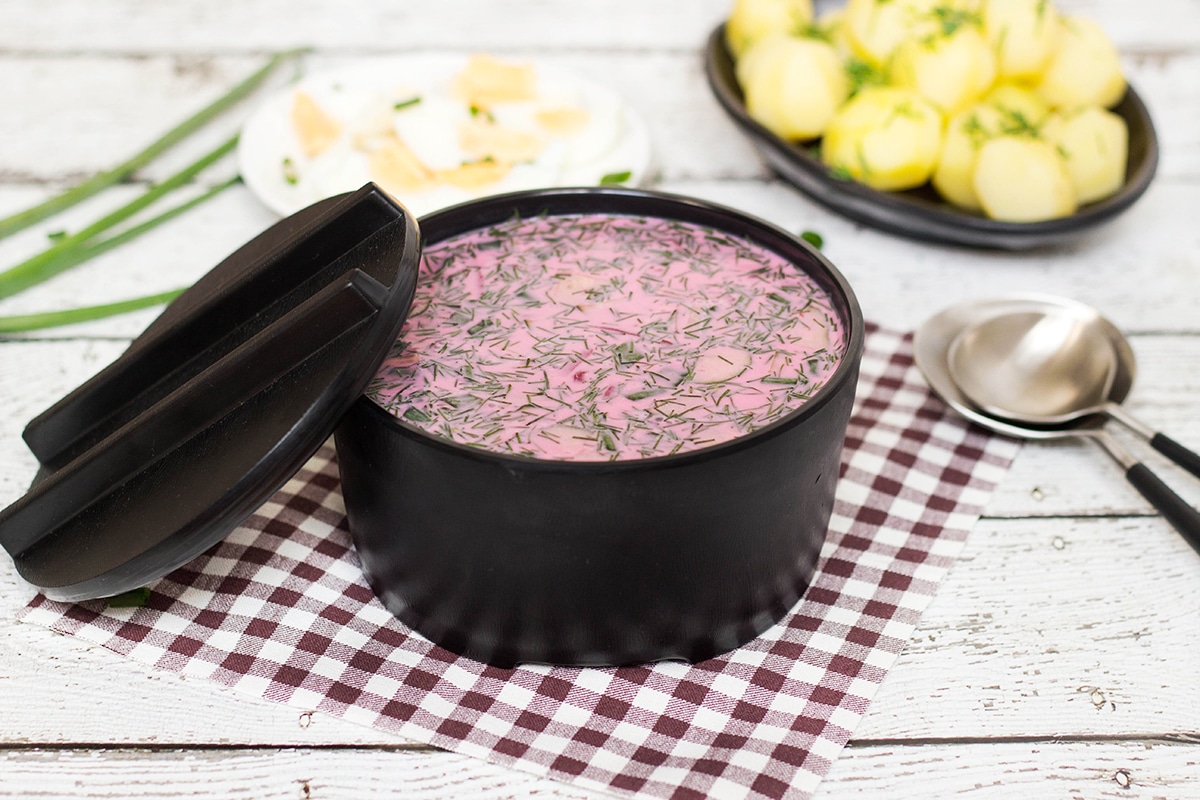 It's really hard to tell whether this cold beet soup was born in Lithuania or not. Most likely not. From what I can tell the roots lead to the former USSR from which it spread throughout all the country members. However, today, the popularity of this chilled beet soup is the highest here, in Lithuania. I also read that it's popular in Poland, but surely not to such level. It's interesting how the older brother of this dish (traditional hot Borscht) is known in so many countries all around the world, while the cold version hasn't gotten so much attention. I guess it's the seasonality of the dish to blame for. After all, we have only 1-2 hot months in this part of the globe, while it's chilly or cold the rest of the year.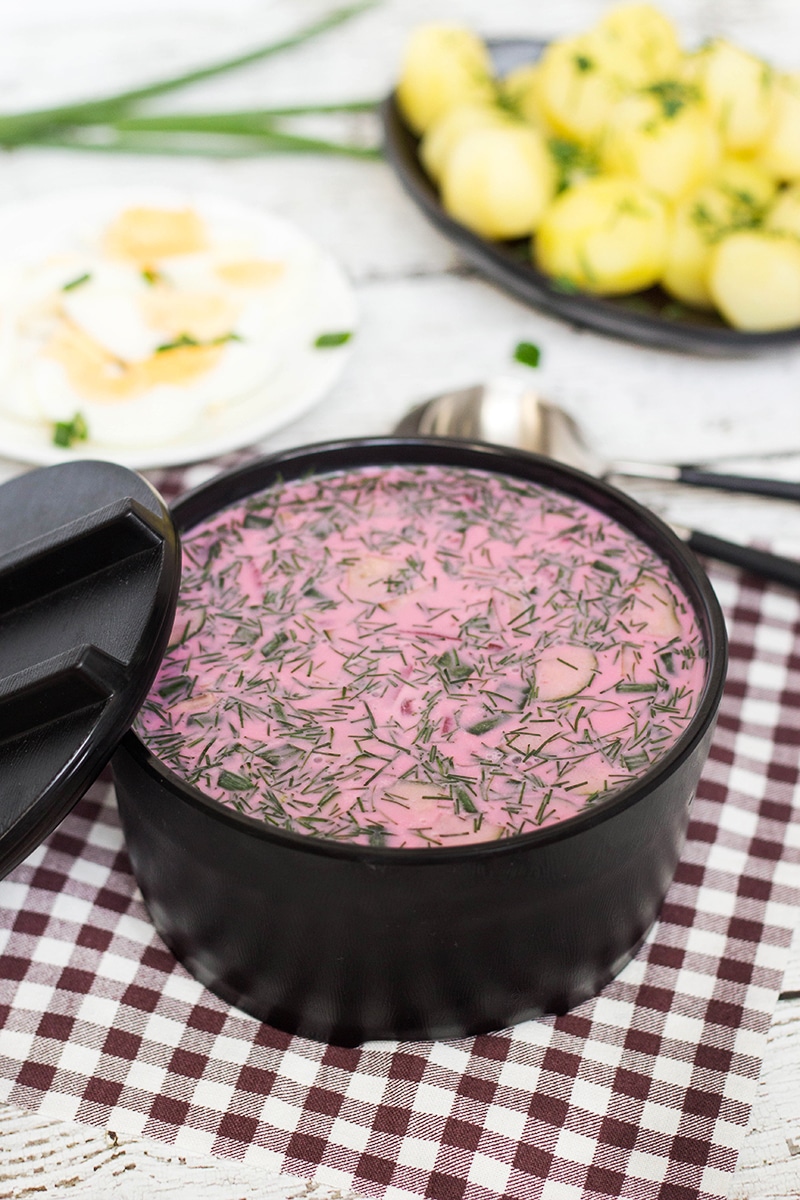 People in my country are going crazy over this summer borscht. Every late spring, when the first fresh cucumbers, chives, and dill appear on the stalls of the farmers' markets, you can see incredibly long queues waiting to get their hands on the fresh produce. Ask them what they are going to do with all these goodies and 9 out of 10 times the answer will be Šaltibarščiai. By the way, the translation from Lithuanian is exactly "Cold Borscht". Simple as that. What was I saying? Oh, right. The cold beet soup is insanely popular here. I bet at least 90% of families try this soup at least once during summer. Seriously. It is loved equally by young and old. The dish that connects people. Beautiful!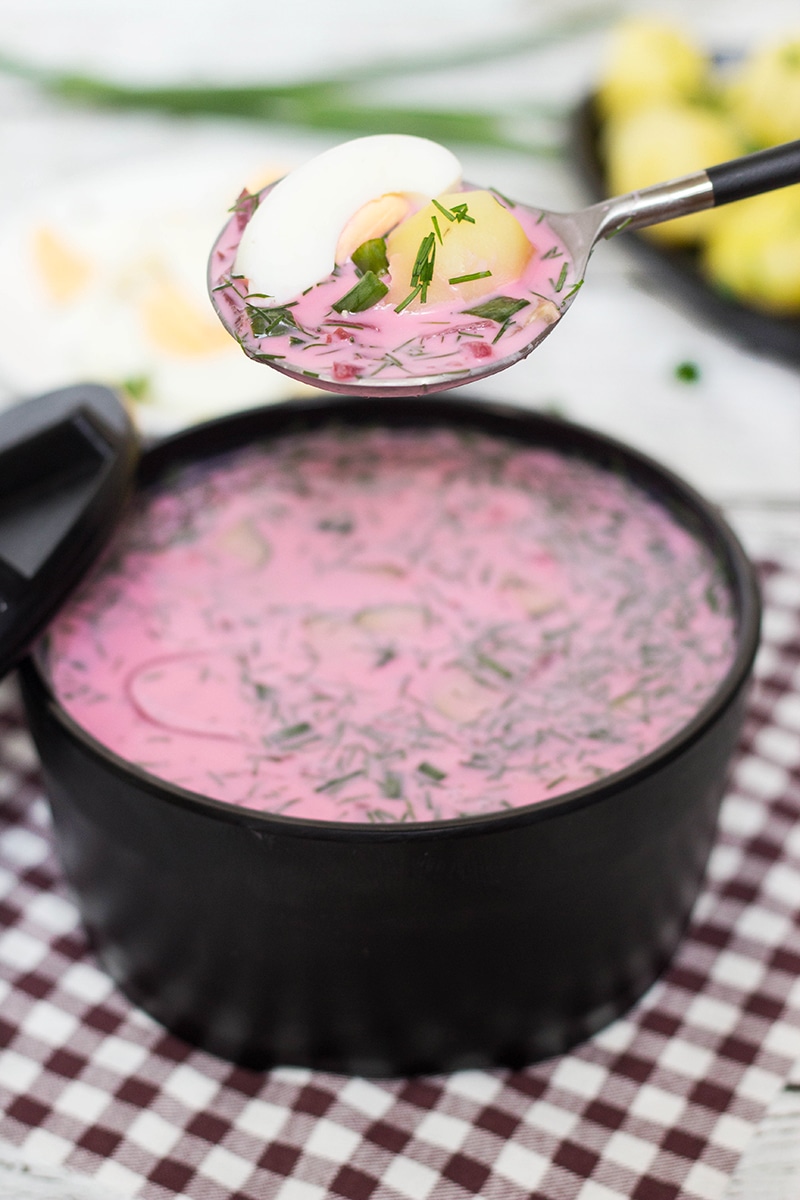 The traditional cold borscht is made with kefir, a fermented milk drink. If you can't find it, you can easily substitute it with buttermilk or plain yogurt. The taste? You have to try it by yourself. I can only say that this pink soup is heavenly! It is so refreshing, you wouldn't believe. Hot summer is not a threat to you anymore! FIY, I adapted the recipe from the best (or should I say the only one, ha!) Lithuanian cookbook written in English - Taste Lithuania, by the wonderful author Beata Nicholson. If you are interested in Lithuanian food and want to learn some dishes, there doesn't exist a better English book than this one. Don't waste your time searching.

This cold beet soup can be served as an appetizer before the lunch or dinner, or as a standalone dish with some boiled dill potatoes alongside. Preferably, young potatoes, that's how we love it here! It doesn't get more seasonal than that! Now you know my secret recipe for beating the heat. Go, make it, and thank me in your mind when you stuff a spoonful of this goodness into your mouth!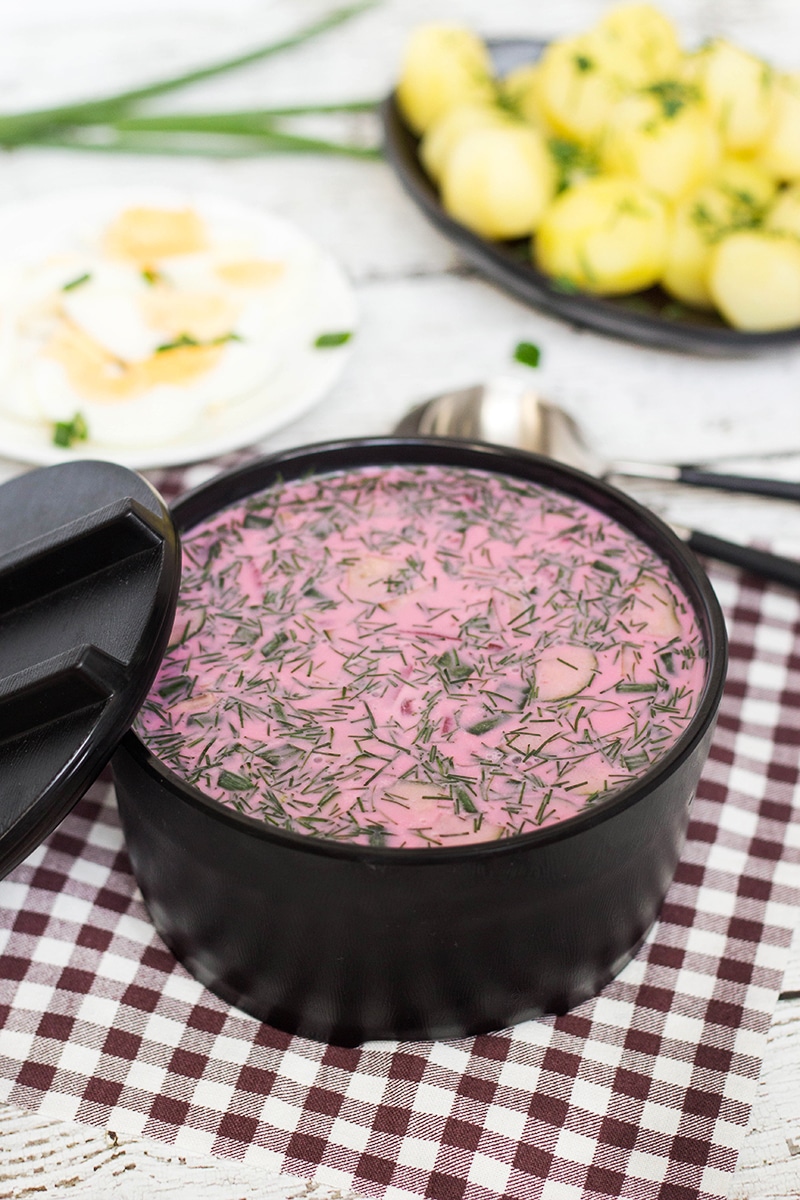 Cold Beet Soup - Summer Borscht
This Cold Beet Soup aka Cold Borscht is perfect on a hot lazy summer day. It is guaranteed to freshen you up and is really easy to make!

Ingredients
1

quart (liter)

kefir, or buttermilk, or 2 parts buttermilk 1 part plain yogurt

2

cups (500ml)

water

(it is used as a thinning agent for kefir. If you will use buttermilk, you can skip water and add more buttermilk instead)

3

small boiled beets

, grated

2

small cucumbers

, peeled (if the skin is too thick) and coarsely chopped

2

eggs

, hard boiled

handful of scallions

, finely chopped

splash of lemon juice or vinegar

pinch of salt

pinch of sugar

handful of chopped dill

boiled dill potatoes

, for serving (optional)
Instructions
In a pot, add the beets, cucumbers, kefir and water. Add the dill, and stir. Taste and season with salt and pepper. Add a splash of vinegar or lemon juice if required. Refrigerate for few hours.

Serve the soup in a bowl with some quartered or chopped boiled egg. Don't add eggs to the pot, because they will soak up the pink color. Sprinkle the scallions on top. Enjoy!
Nutrition
* This post contains affiliate links, thank you for the support in keeping Cooking The Globe up and running!