When it comes to food, India is known for its flavor bombs. You'll find tons of flavor in almost every Indian meal you have, and if that isn't enough for you, you've definitely got to try your hands on an Indian chaat. This aloo tikki chaat is a literal explosion of flavors in your mouth, and you'll love how easy it is to make.
Ready to go ahead and give it a try? Here's everything you need to know before you do.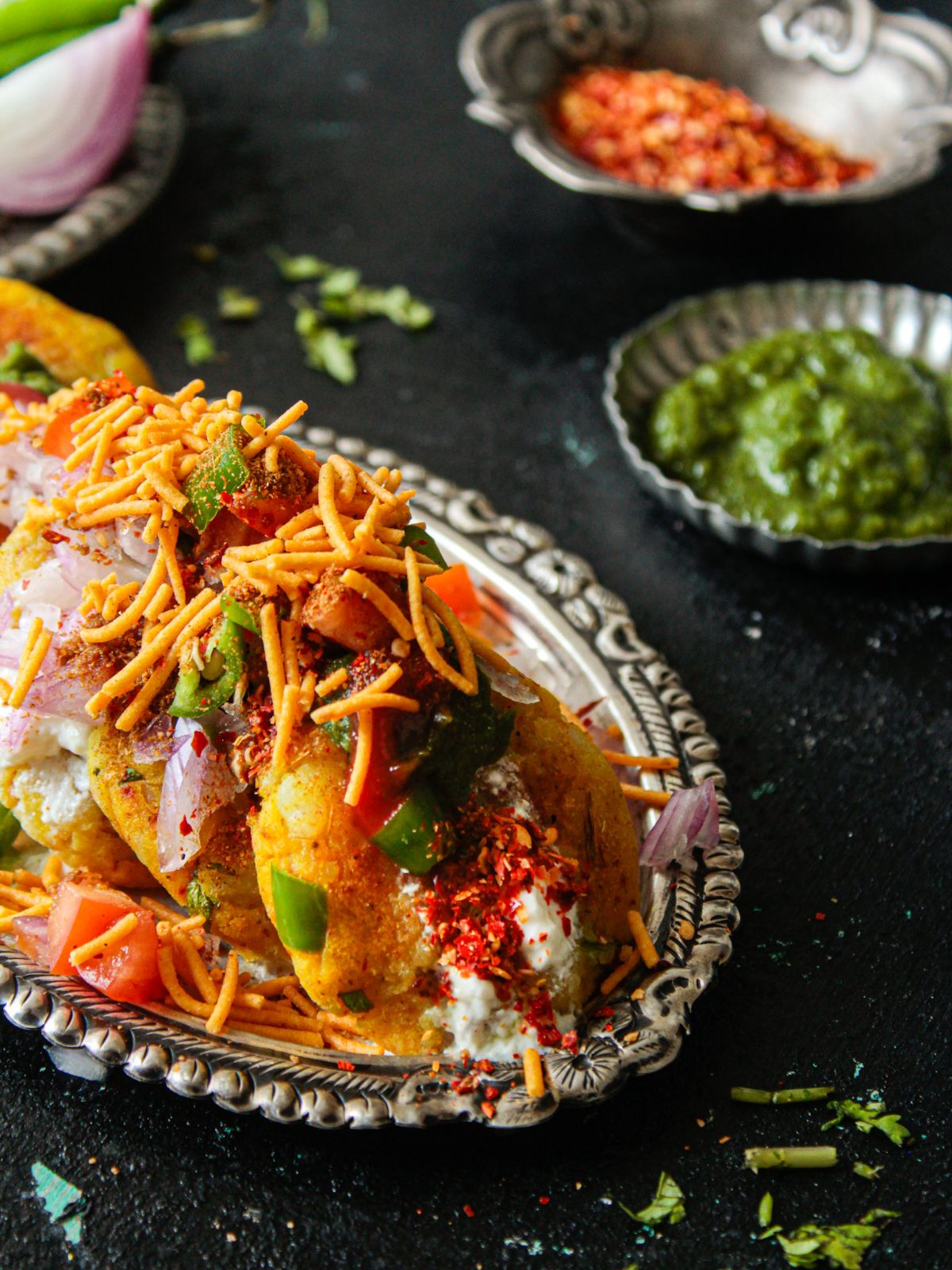 Jump to:
What is Aloo Tikki Chaat?
Aloo Tikki chaat is probably one of the most popular street food chaats you'd find in India. It starts off with an aloo tikki, which is nothing but a spiced potato patty. This patty is then topped with a heaping spoonful (or two) of chickpea curry, sweet yogurt, and is loaded with tangy and spicy chutneys. The chaat is then finished off with some crunchy sev on the top!
Drooling already? Let's take a closer look at the ingredients you'll need to whip up the recipe!
What Else Can I Add into Aloo Tikki Chaat?
The fun part about making any kind of chaat is that you can go wild with the recipe. You can add or omit anything as per your personal preference and what you have at hand. The basic idea is to start off with a base, layer it up with chutneys, sauces, and curries, and then top it off with a crunchy element.
Here are a few topping and base ideas to make the most of your aloo tikki chaat.
Pomegranate seeds (as a topping)
Lemon juice (for some extra tanginess)
A sprinkle of black salt (to tickle your taste buds)
Finely chopped tomatoes (for some juiciness)
Puffed rice (for some crunch factor)
Salted, roasted peanuts (for some protein)
Chopped green chillies (for some extra heat)
If you enjoy a nice snack you must definitely give this fun and flavorful papdi chaat recipe a shot!
Ingredients For the Aloo Tikki Chaat
If you've already got your tikkis ready thanks to our crispy aloo tikki recipe, you'll just need a handful of other ingredients. If not, follow along below for the recipe from start to finish.
For the Aloo Tikkis
Potatoes
Rice flour
Turmeric powder
Red chili powder
Garam masala
Dry mango powder
Chaat masala
Green chilies
Coriander leaves
Salt
Oil
For the Chaat
Prepared potato tikki
Curd/Yogurt
Green chutney
Sweet tamarind chutney
Onions
Tomatoes
Green chillies
Red chilli powder
Roasted cumin powder
Note: Dry mango powder can be found in Indian and Asian grocery stores as well as on Amazon.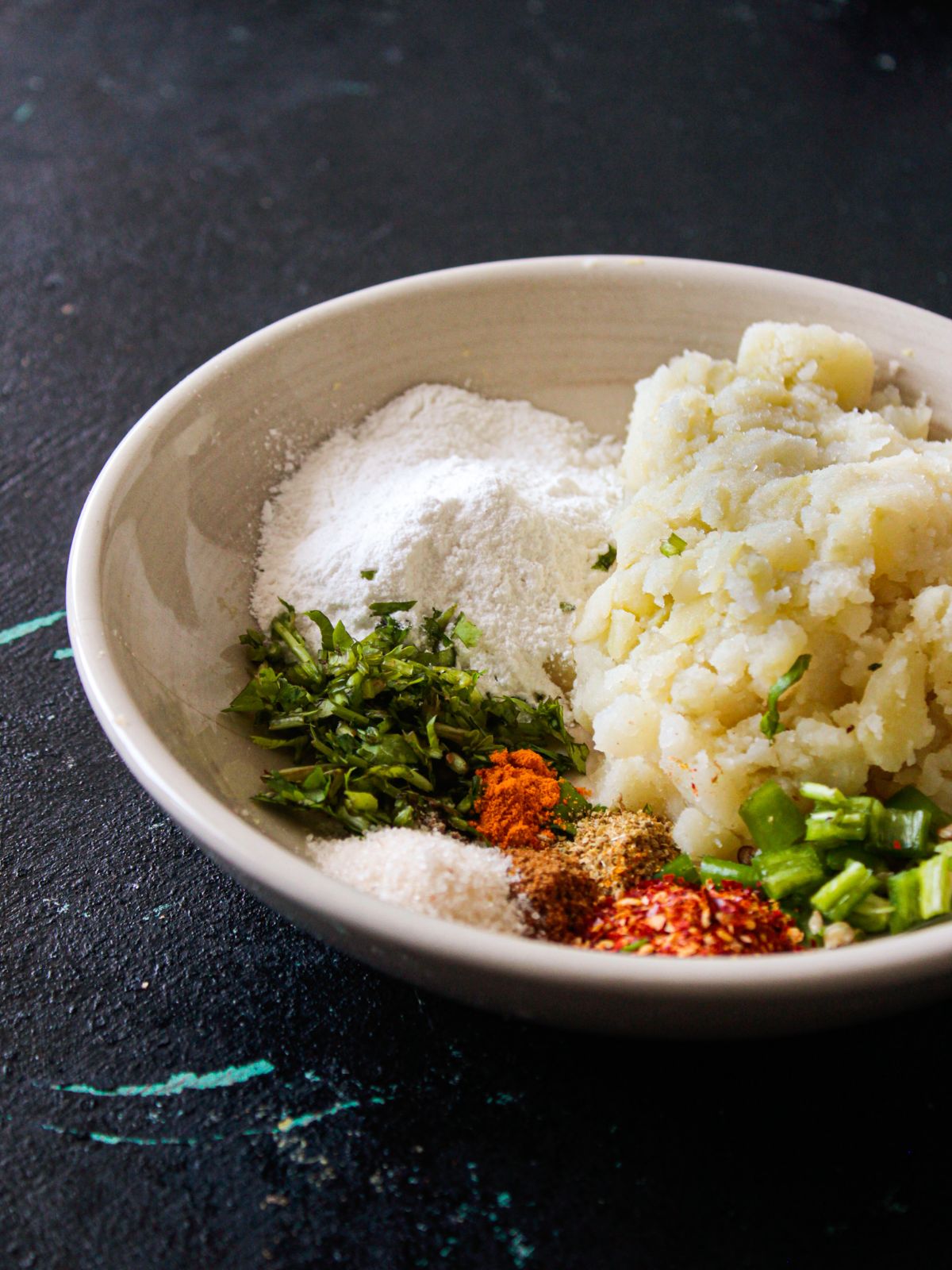 How Do I Make Aloo Tikki Chaat?
Once you have all the ingredients, it is pretty much about just assembling everything and serving! Here's what you need to do.
In a large bowl, mix together the cooked and mashed potatoes with rice flour, turmeric, chili powder, garma masala, chaat masala, dry mango powder, green chiles, coriander, and salt.
Form the mixture into patties and set aside.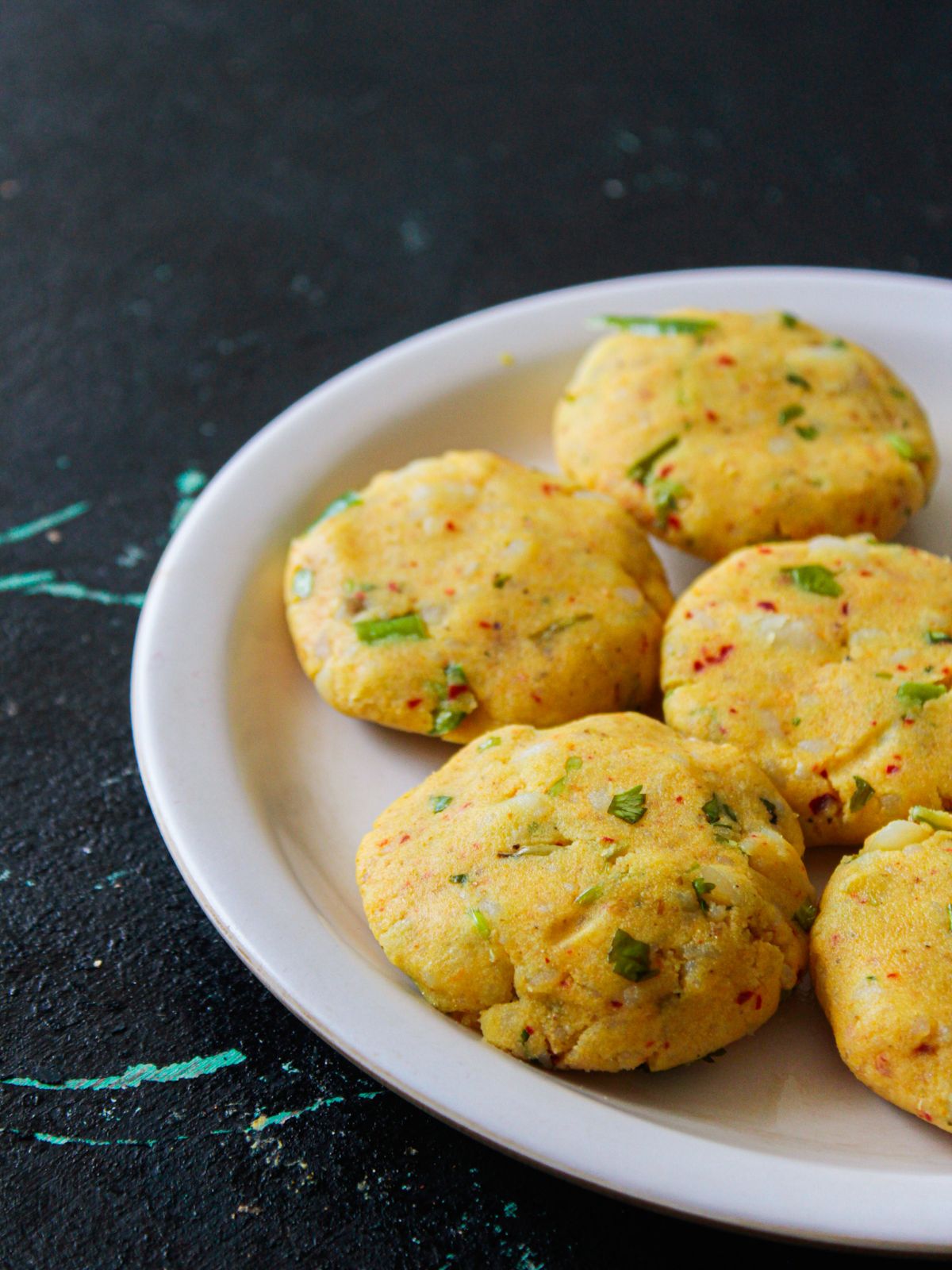 Heat oil in the skillet, just enough to coat the pan, and then flatten the patties to ½" thick and place in an even layer making sure not to overcrowd the pan.
Cook for 2 to 3 minutes per side until golden brown on both sides.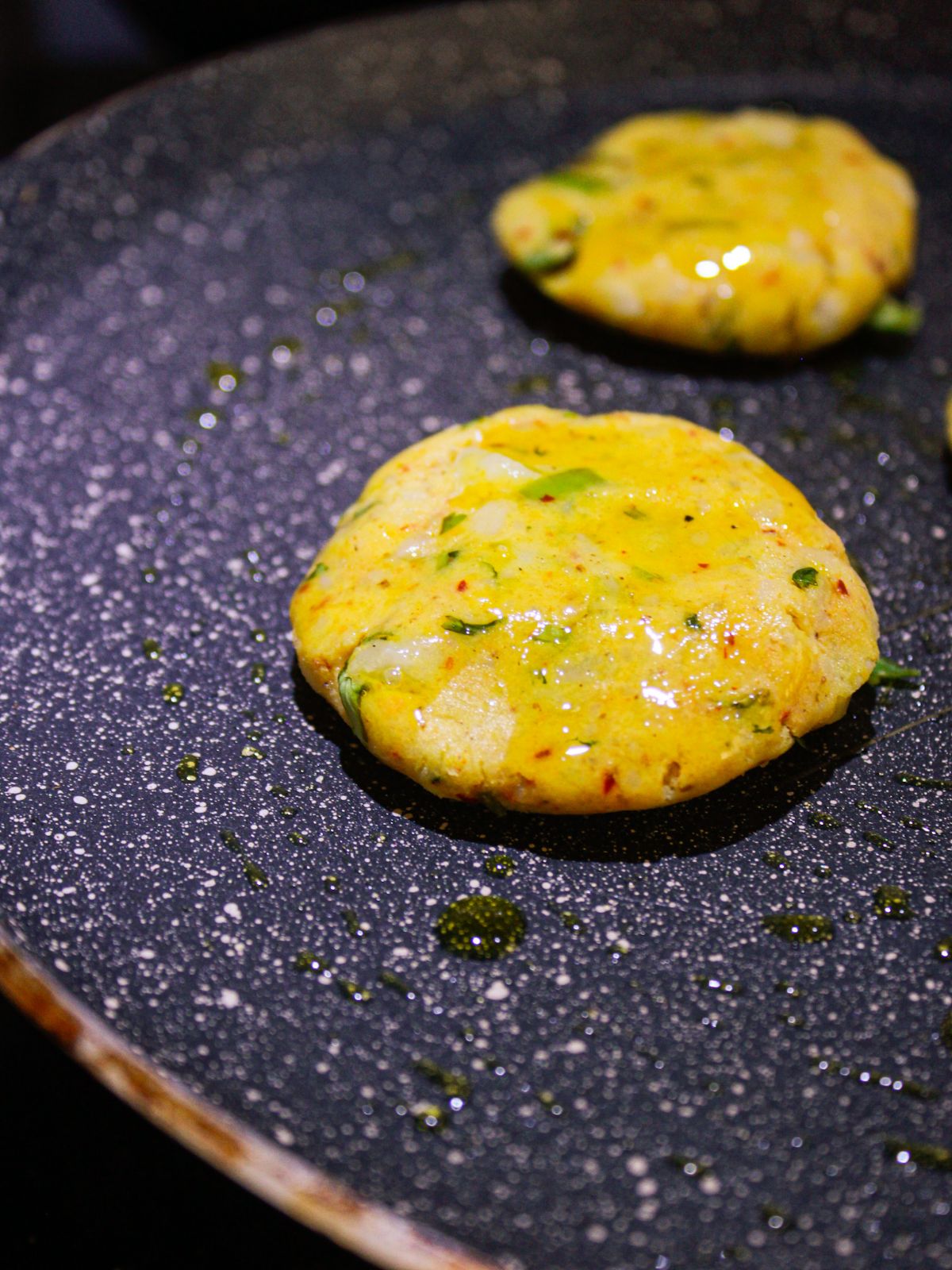 Once the patties have cooked, it's time to assemble them with the chaat. You can top with whatever you prefer, but usually, it begins with a spoon of curd or yogurt over the top.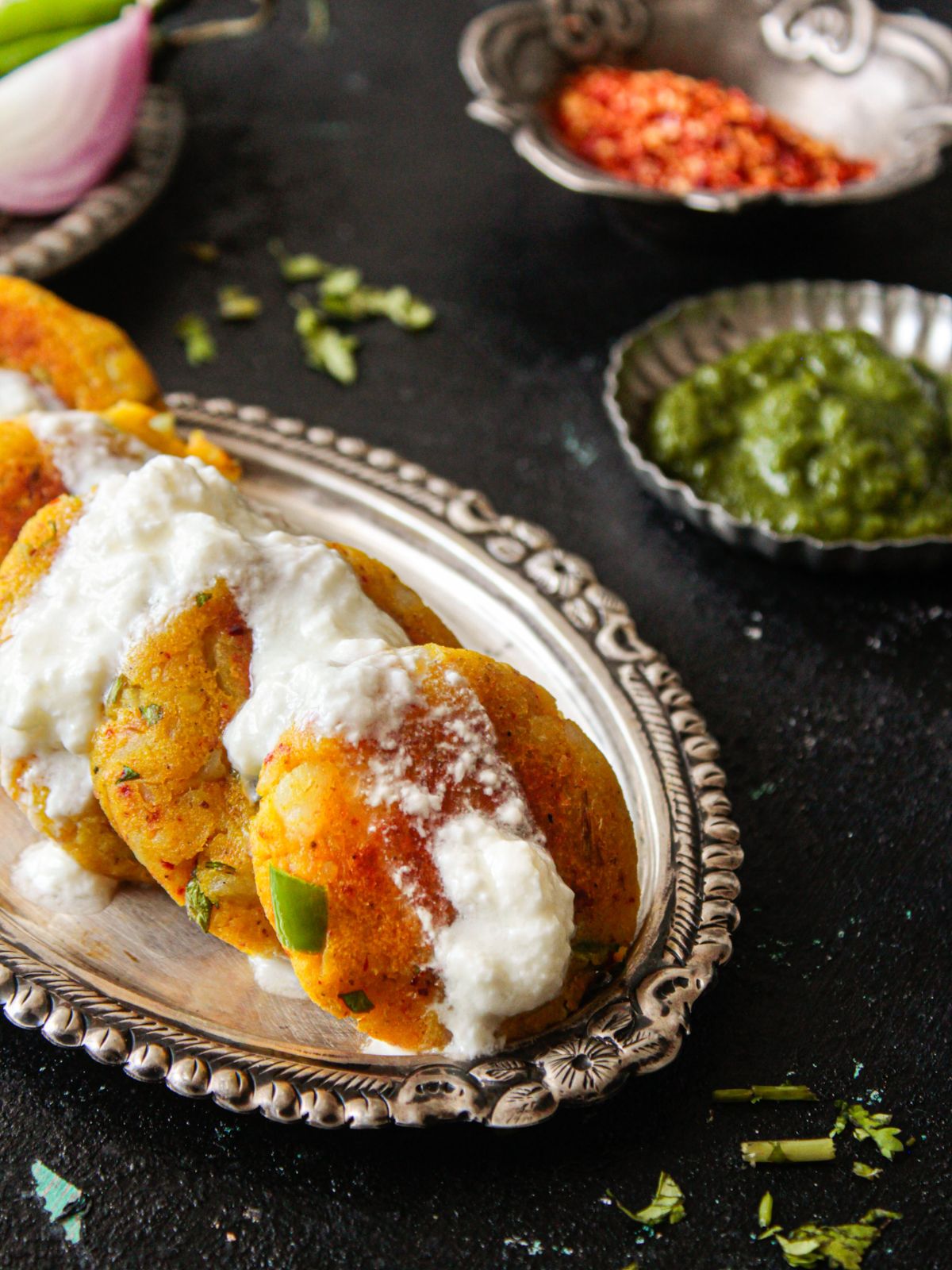 Then some green chutney over the top. This can be mint, coriander, or could be a green chile chutney depending upon your preferences. Remember, it's about textures and layers of flavor.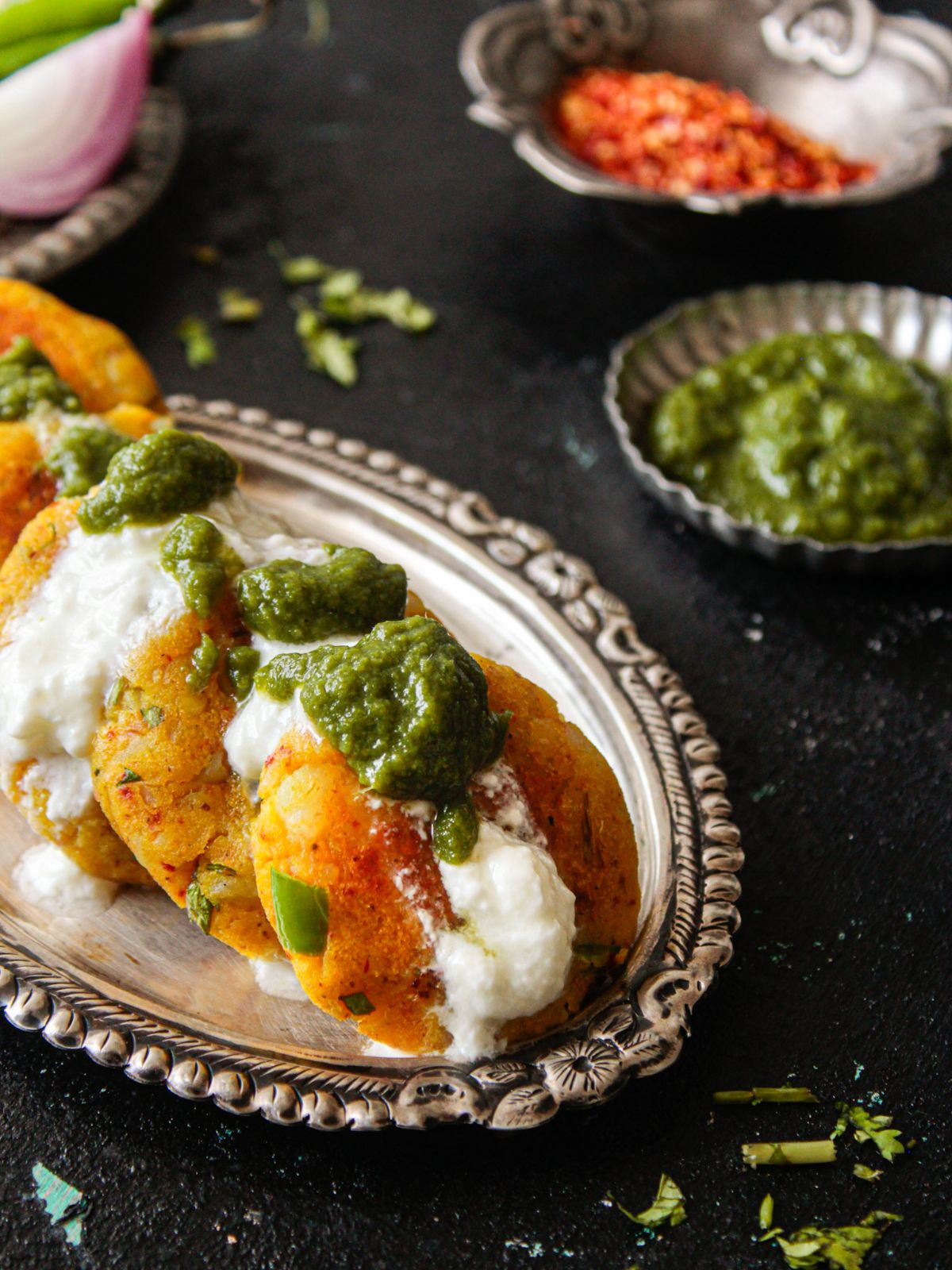 Next is a drizzle of tamarind or similar chutney for sweetness.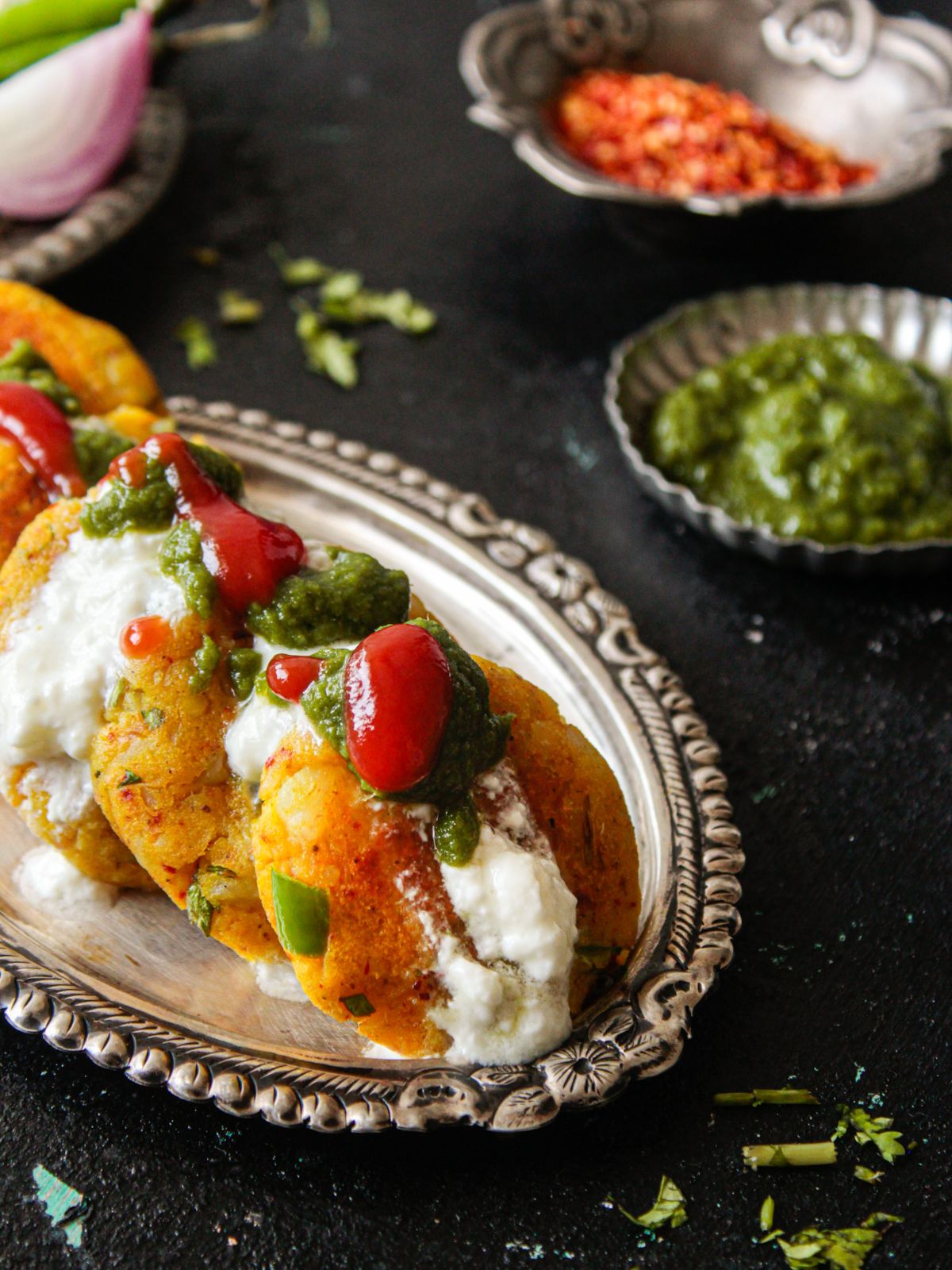 Then some chopped onions for bite and crunch.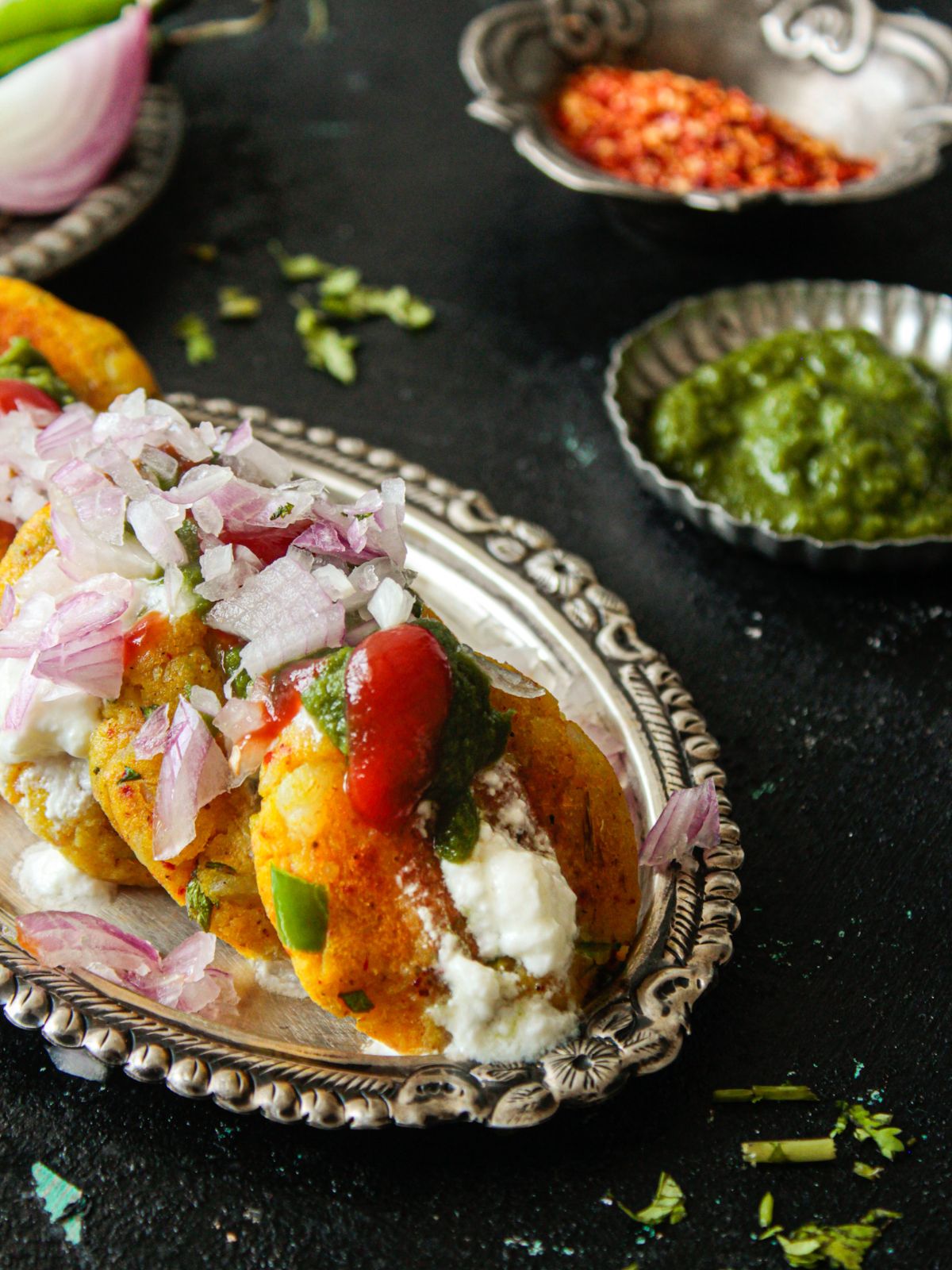 A few diced tomatoes are a great choice on top of that.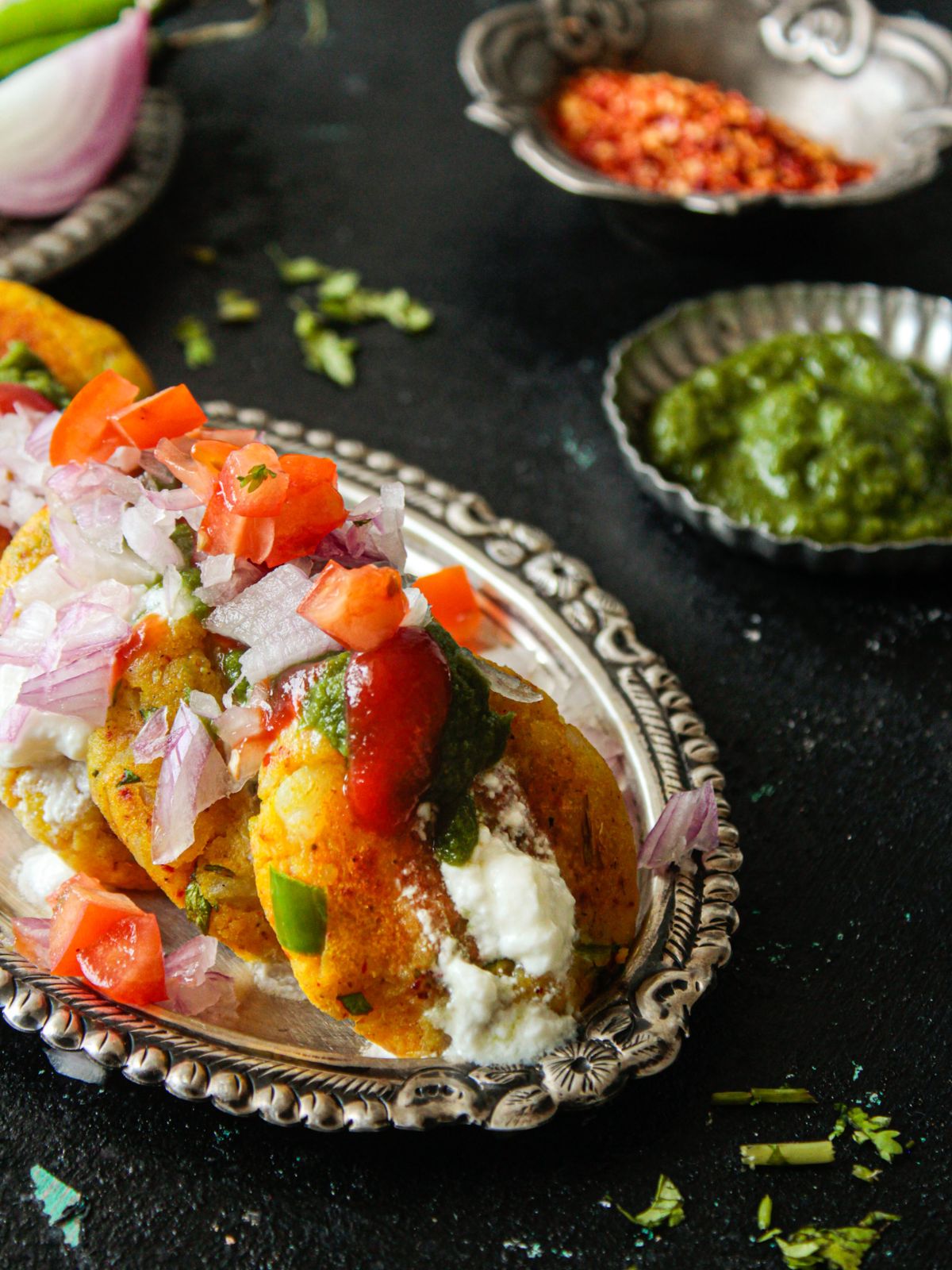 Add a few pieces of green chile on top if you want the extra heat.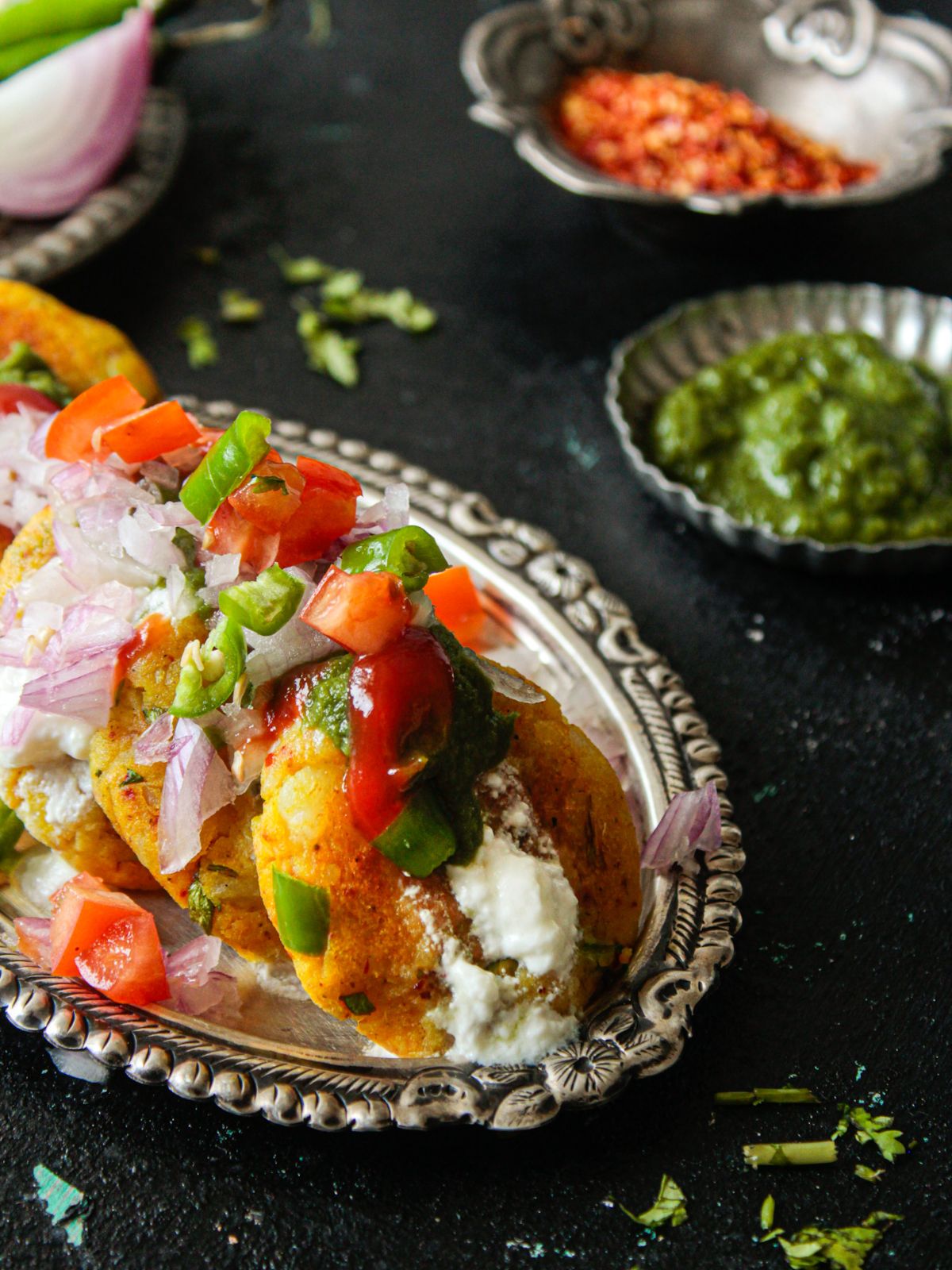 Then sprinkle on the cumin and chile powder for a final flavor.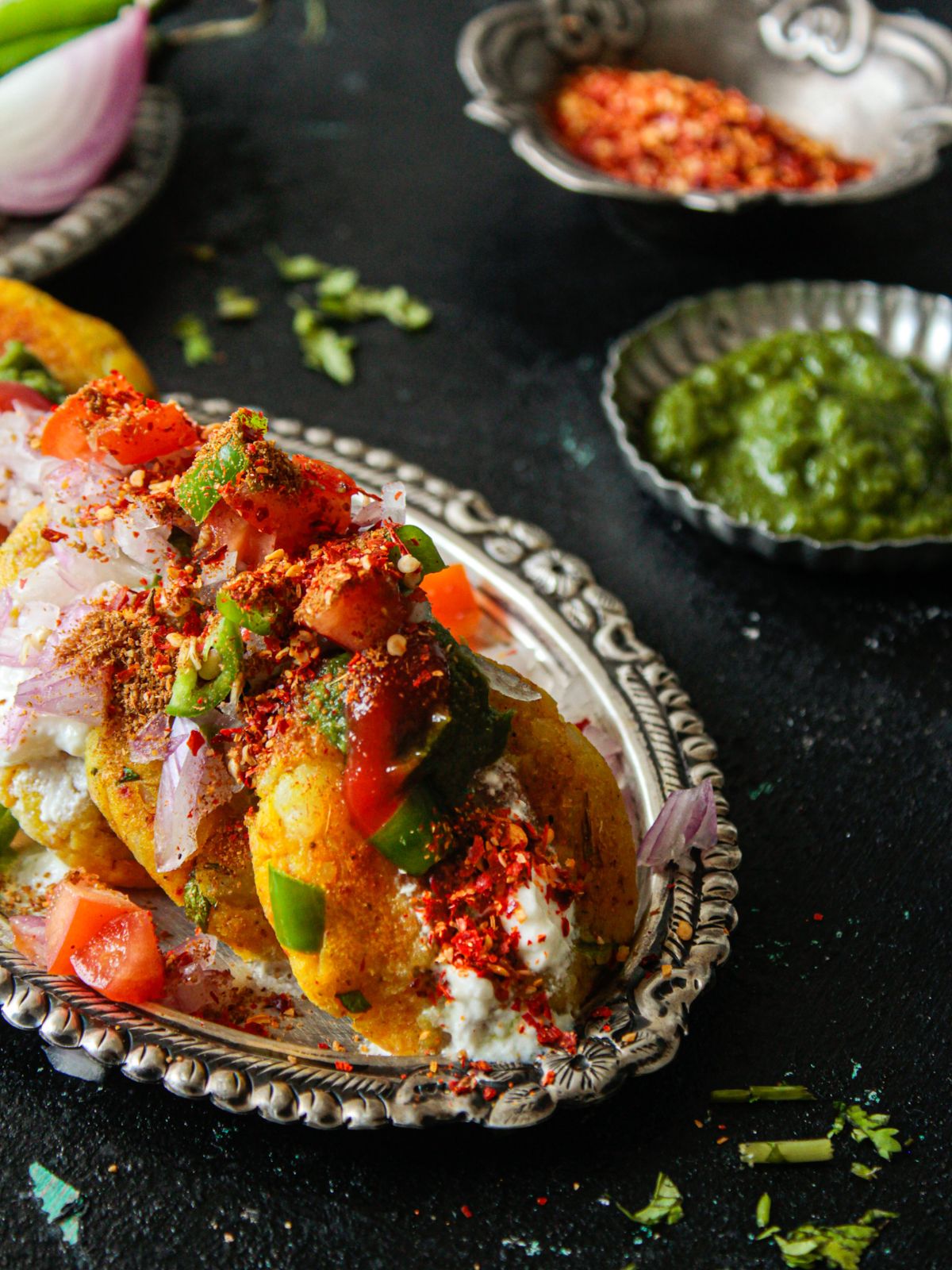 Tips to Make it the Right Way
If making the aloo tikki chaat seems like a complicated process, here are a few tips and tricks to make things simpler for you.
If you're looking to give the chaat a healthier twist, you can swap the regular potatoes for sweet potatoes for the tikki, and top the chaat with lots of chopped veggies like tomatoes, cucumber and onions.
Another cool way to make the chaat healthy is to sneak in some chopped greens into the tikki and the chutneys. Spinach and kale are some good options to get started with. You can also add some boiled green peas into the tikkis to make them more protein rich.
Instead of deep frying the tikkis, you can also choose to air fry them.
If you don't have the chutneys ready, making them all in the same day can seem overwhelming and time consuming. In that case, the best way to go around it is to prepare the mint chutney and sweet chutney a few days in advance and refrigerate it for later.
If you're preparing the aloo tikki chaat for a crowd, you can pour the chutneys into squeeze bottles to make the plating easier.
You can also prepare the tikki mixture in advance, freeze it, and then shape and fry it on the day you want to have it.
If you've prepared the aloo patties in advance, make sure you heat them before you prepare the chaat.
Remember to fry the tikkis on low or medium heat to ensure they have that nice, crispy outer to them.
Don't forget to top the chaat with some fresh cilantro or mint leaves right before you serve. This will add a nice element of freshness to the chaat.
How to Store the Aloo Tikki Chaat?
If you've made the aloo tikkis and other items for the chaat in a big batch, you can easily store the leftovers to be enjoyed another day. Just remember to store all the items separately in freezer-safe containers or bags.
Serving Ideas & Suggestions
The Aloo tikki chaat tastes best on its own! It is hearty, super filling and will take your taste buds on a ride. But of course, you can always go the extra mile to take it up a notch. Here are a few cool ideas to get you going!
To balance out the spicy flavors in the chaat, you can team it up with a fresh mango lassi, which is nothing but a cooling yogurt based drink.
If you love tangy flavors, you can pair the chaat with a refreshing tamarind cooler.
The aloo tikki chaat tastes amazing when teamed up with some India chai tea and devoured on a lazy evening.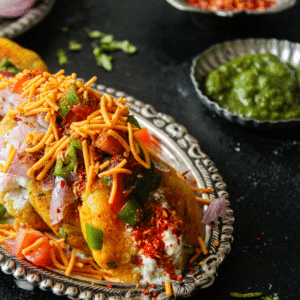 Easy Aloo Tikki Chaat Indian Street Food Recipe
Aloo Tikki is the Indian equivalent of the English hash brown. It is a crispy fried cutlet that is prepared from mashed potatoes and the amalgamation of some of the best Indian spices. The tikkis are served along with green coriander chutney and some sweet chutney like the ones made from tamarind.
Ingredients
Ingredients For the Aloo Tikkis
2

large

Potatoes

boiled and mashed

¼

cup

Rice flour

¼

tsp

Turmeric powder

½

tsp

Red chili powder

½

tsp

Garam masala

1

tsp

Dry mango powder

1

tsp

Chaat masala

1

tsp

Green chilies

chopped

2

tsp

Coriander

chopped

1

tsp

Salt

2

tsp

Cooking oil
Ingredients For the Chaat
½

cup

Curd/Yogurt

2

tsp

Green Coriander chutney

2

tsp

Sweet chutney

¼

cup

Onions (chopped)

¼

cup

Tomatoes (chopped)

1

tsp

Green chilies (chopped)

½

tsp

Red chili powder

½

tsp

Roasted cumin powder
Instructions
In a large mixing bowl, add all the ingredients except oil and mix everything together. Combine everything into a smooth dough.

Take small portions of the dough and flatten it into the shape of small circular patties.

Take a pan and grease it with oil. Add the patties onto the pan and cook both sides for 2-3 minutes in low to medium flame or until the sides turn golden brown in color.

Put the tikkis on a plate. Add the ingredients mentioned under chaat. Mix everything together before consuming. Enjoy!
Notes
When forming the patties, lightly oil the palms of your hand to make them easier to form.  
Adjust heat with more or less green chile or chile powder.
Nutrition
Calories:
313
kcal
Carbohydrates:
65.9
g
Protein:
4.3
g
Fat:
4.1
g
Saturated Fat:
0.6
g
Sodium:
637
mg
Fiber:
5.1
g
Sugar:
10.8
g