Omurice or Japanese Omelette Rice is a classic dish featuring rice cooked together with chicken, peas, ketchup, and topped with an omelette. It's a hit among kids! You can call it a kids' version of comfort food. I loved it too, though!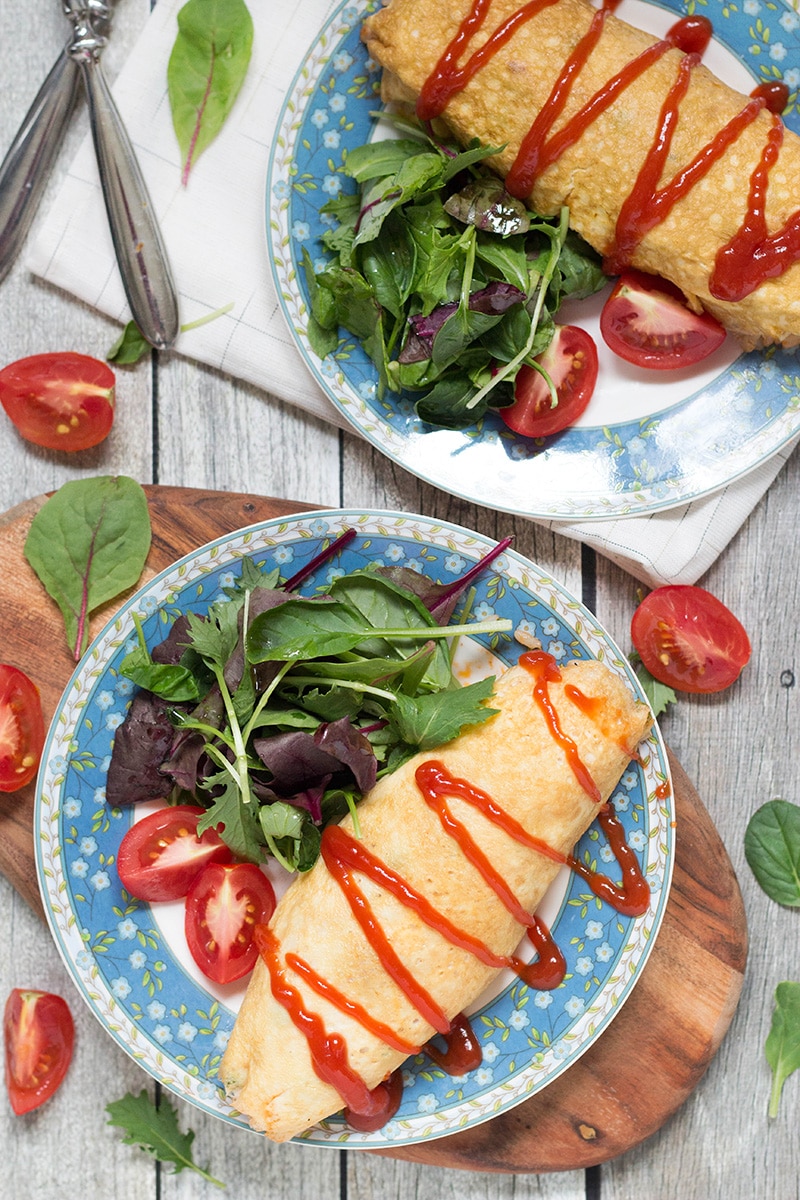 The last Japanese recipe I posted on the blog was a huge success. You guys loved the Japanese Cucumber Salad, showing me the love on Pinterest and other social platforms. Thank you so much for that! Inspired by this success, I decided to dig deeper into the food world of this peaceful Asian country.
The recipe I want to show you today is not fancy, and it doesn't even look Japanese. It's not so colorful and cute like sushi, and it doesn't feature any fish or seafood, which are so popular in Japanese cuisine. This dish does include the most popular Japanese ingredient though. Rice! I mean, if there would be no rice in it, I would seriously question the fact that it comes from the land of the rising sun. The dish is called Omurice and basically it's a combination of two words: "omelette" and "rice". Simple as that!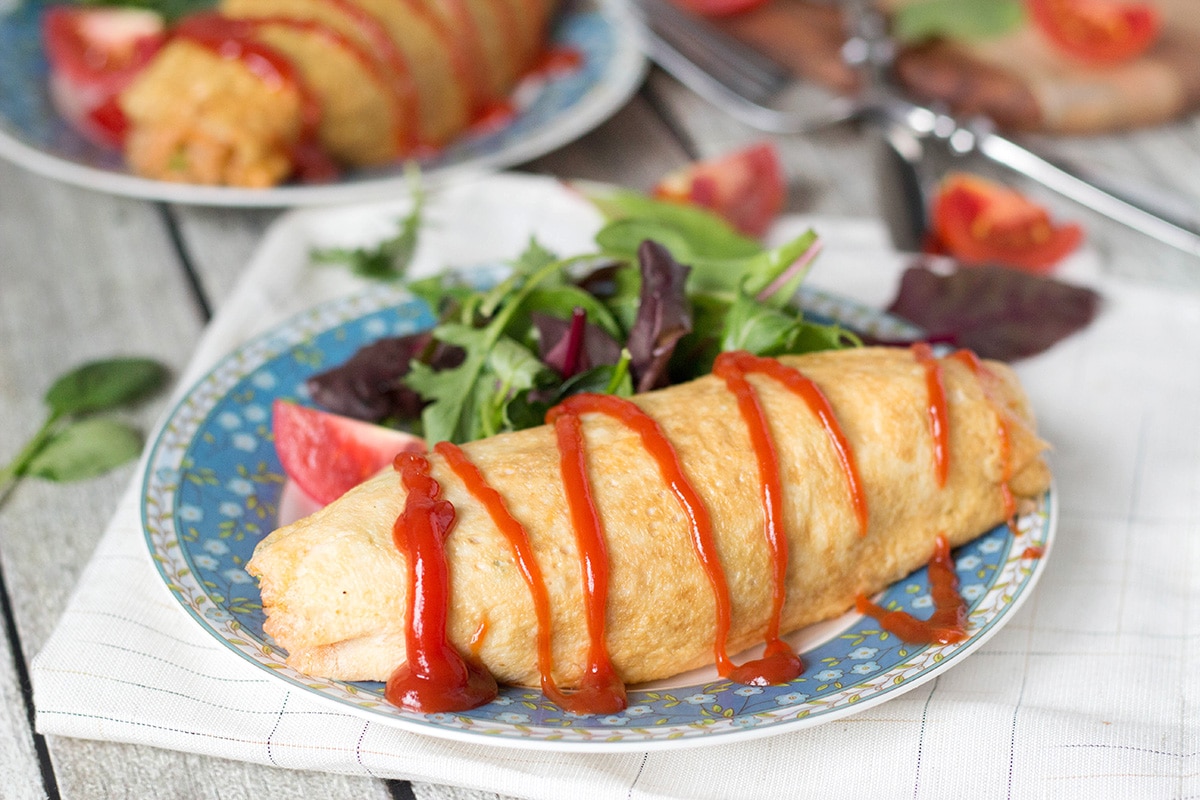 Omurice is usually made in a shape of an American football or rugby ball. However, it can be shaped in any way you like - round, square, the choice is yours! Or you can just top all the ingredients with an omelette and make no shape at all. The only thing that always stays the same is the principle of the dish: the rice is cooked together with chicken, peas, and ketchup, and then is topped with a thin layer of an omelette.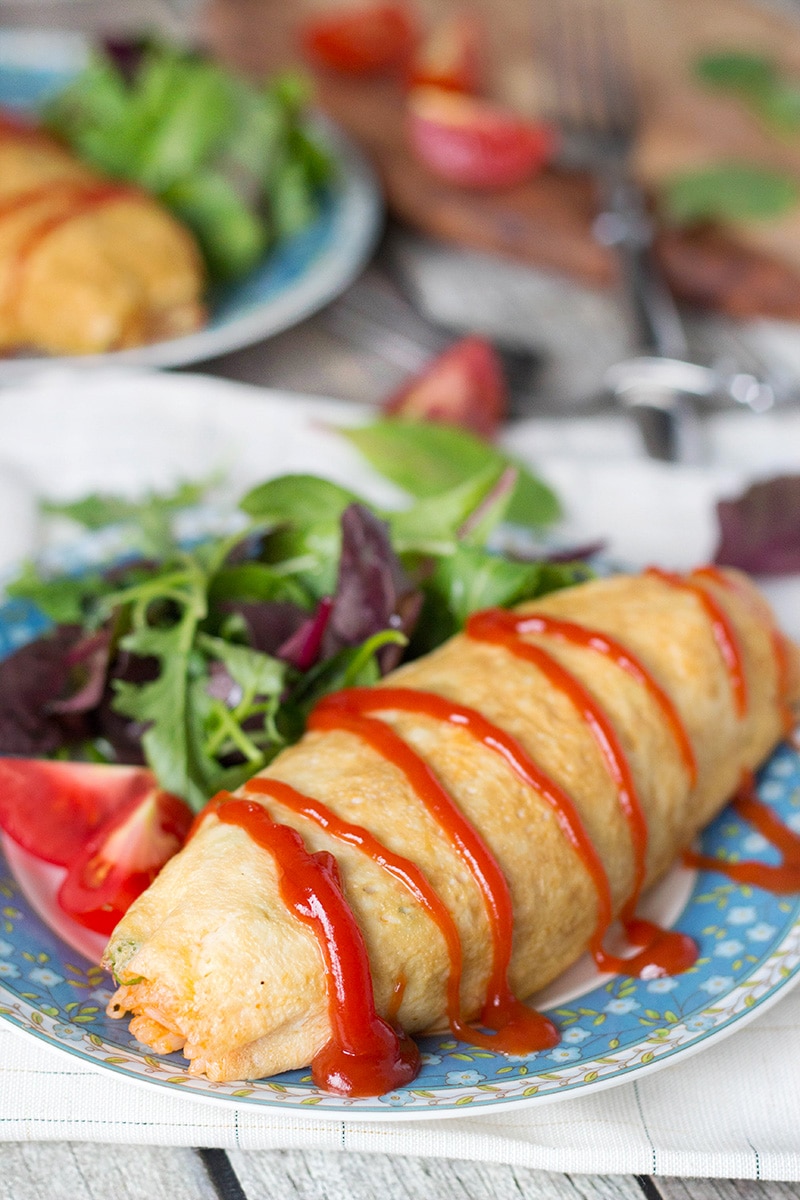 Japanese omelette rice is popular with people of all ages, but especially with kids. When I tried it for the first time, the first comment I made to my wife was that it's a kids' version of comfort food. Why? I don't know. Maybe the ketchup does the thing. Kids love it. I saw some pics of Omurice where the ketchup was used to draw a smiley face or a cute kitten face on the top of the omelette. Awesome. I would surely adore such a dish in my childhood.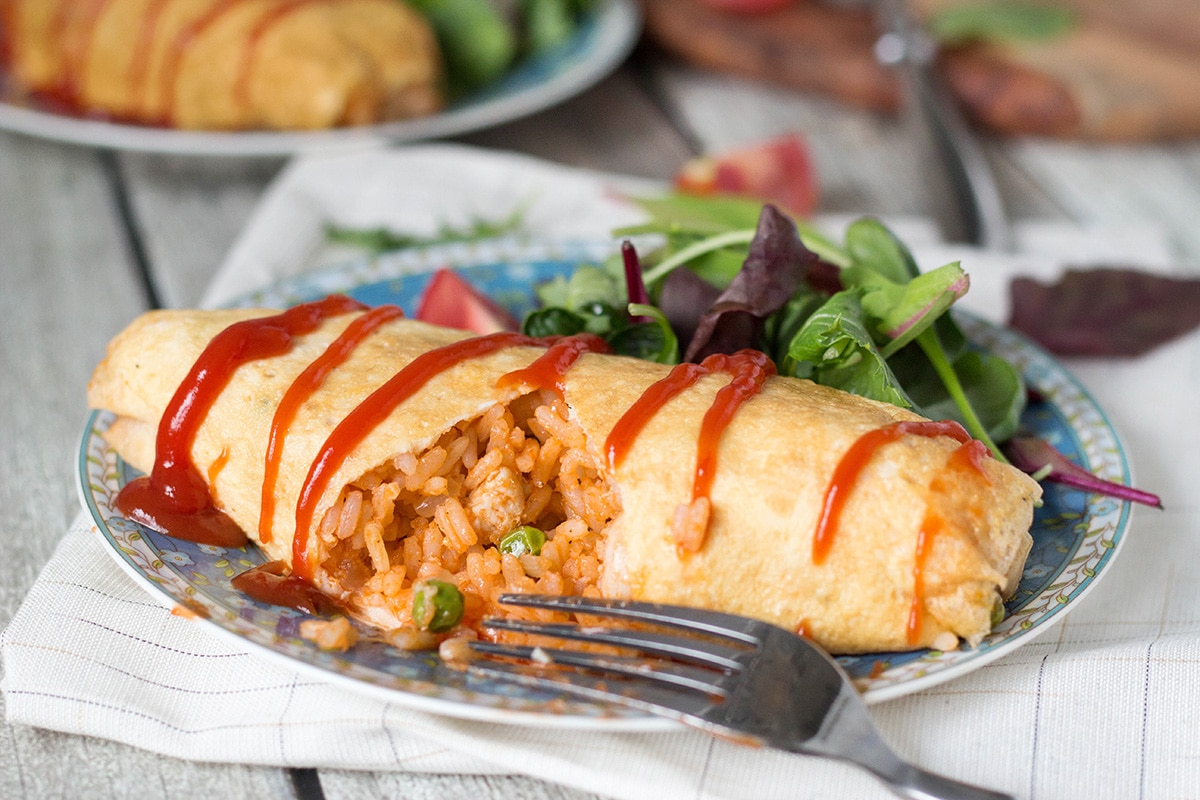 I am not a kid anymore, but I still enjoyed the hell out of this dish. What's not to love about a ketchup flavored rice and chicken wrapped in a thin crepe-like fried egg? It's a pure perfection. The filling reminds me a chicken pilaf a little bit, which I am a fan of. Try Omurice by yourself, cook it for your kids, and I am one hundred percent sure that it will become a staple in your house!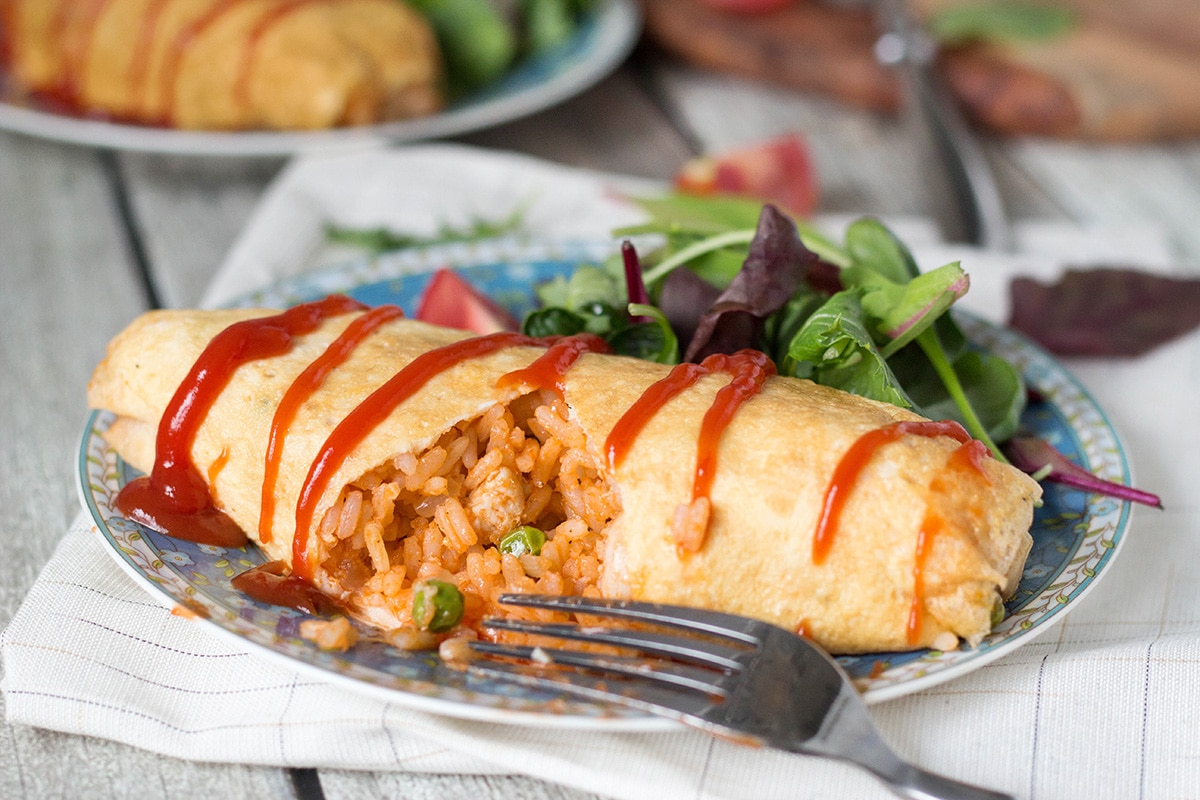 Japanese Omelette Rice (Omurice)
Japanese Omelette Rice is a classic dish featuring ketchup flavored rice cooked together with chicken and peas, and topped with a layer of an omelette. Kids love it!

Ingredients
2

tablespoons

butter

2

skinless, boneless chicken thighs

(about 8 oz or 230g), cut into 1-inch pieces

½

cup

finely chopped onion

2

cups

cooked rice

salt and black pepper

, to taste

4

tablespoons

ketchup

, plus more for serving

4

tablespoons

frozen green peas

2

large eggs

, beaten separately

vegetable oil

, for frying
Instructions
In a large pan, melt the butter, and add the chicken. Cook for about 2 minutes, until opaque, but still not cooked through. Add the onion and cook, stirring, until translucent for 4-5 minutes more.

Add the rice and toss to combine. Cook for few more minutes. Season to taste.

Push the rice to the edges of the skillet, clearing a bare spot. Add the ketchup and stir with a spatula for 30 seconds until lightly caramelized. Now mix the rice and ketchup together. Add the frozen peas and toss for a minute, until heated through. Transfer the rice and chicken mixture to a bowl and keep it warm.

Now we will make two egg crepes. Season the eggs with a pinch of salt. Heat a few drops of the vegetable oil in a skillet, and pour the mixture of one egg into it, swirling to coat the pan in a thin layer. Let cook until the top is set, then put the half of the rice and chicken mixture in the middle of the omelette. Fold both sides over the rice mixture. That's it! Repeat the same with the remaining egg.

Serve with some more ketchup on top. Enjoy!
Nutrition