Afghan Sauteed Pumpkin (Kadu Bouranee) is one of the most known dishes outside the country. Pumpkin or butternut squash is cooked in spices and served with the amazing yogurt garlic sauce. So good and so easy to make!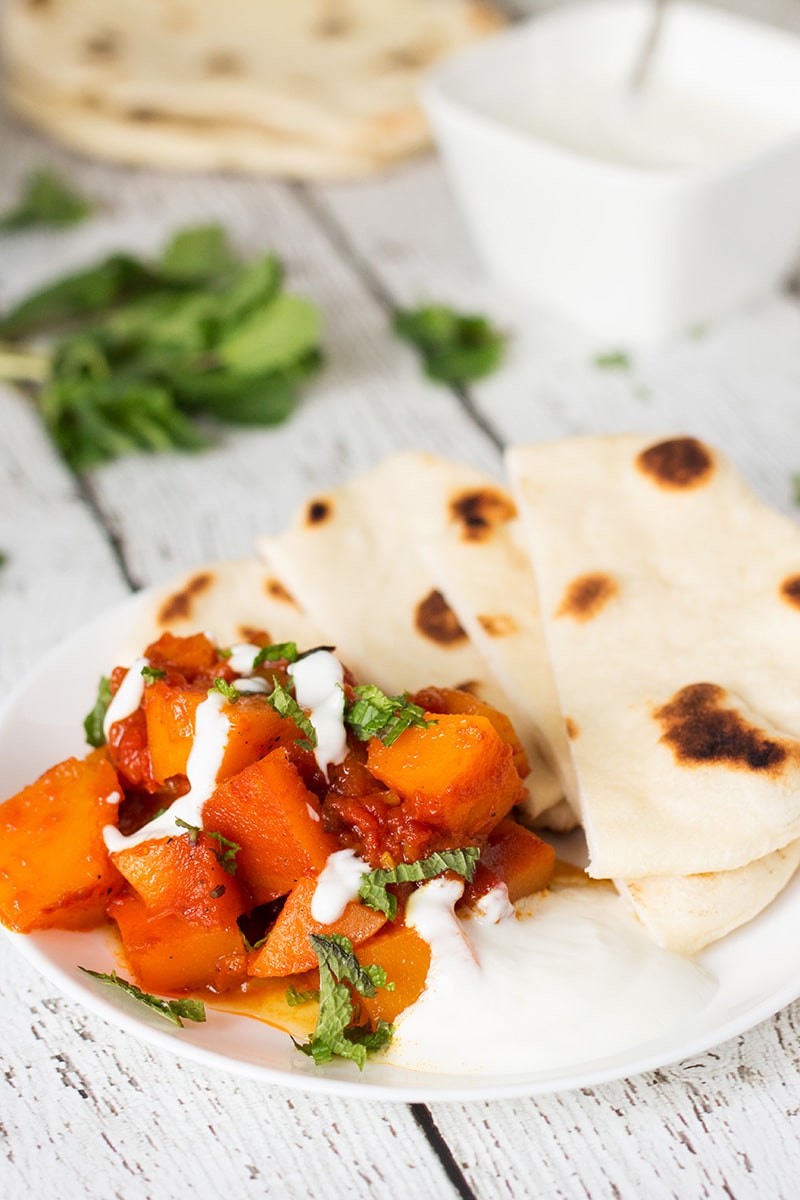 A few days ago I spun my old well-worn desk globe (got it as a birthday present when I was 6 years old, and YEAH back then kids were interested in exploring the world instead of spending all the time on the internet, shocker!) and my finger landed on exotic Afghanistan. It's one of those countries we hear about everyday on the news, most of which are not cheerful. However, this time we will talk about something beautiful, the thing that unites nations all around the world - food.
Afghan cuisine offers a wide variety of finger-biting-good dishes such as Qabili Palau, Korma, Bolani, Aushak and many others but I wanted something different. While browsing the blog of the amazing Humaira Ghilzai about Afghan culture, I came across this sweet and savory pumpkin dish called Borani Kadoo, Kadu Bouranee or Borani Kadu. I think it's still not a complete list of spellings but I give up already, guys and gals. These are the most popular ones.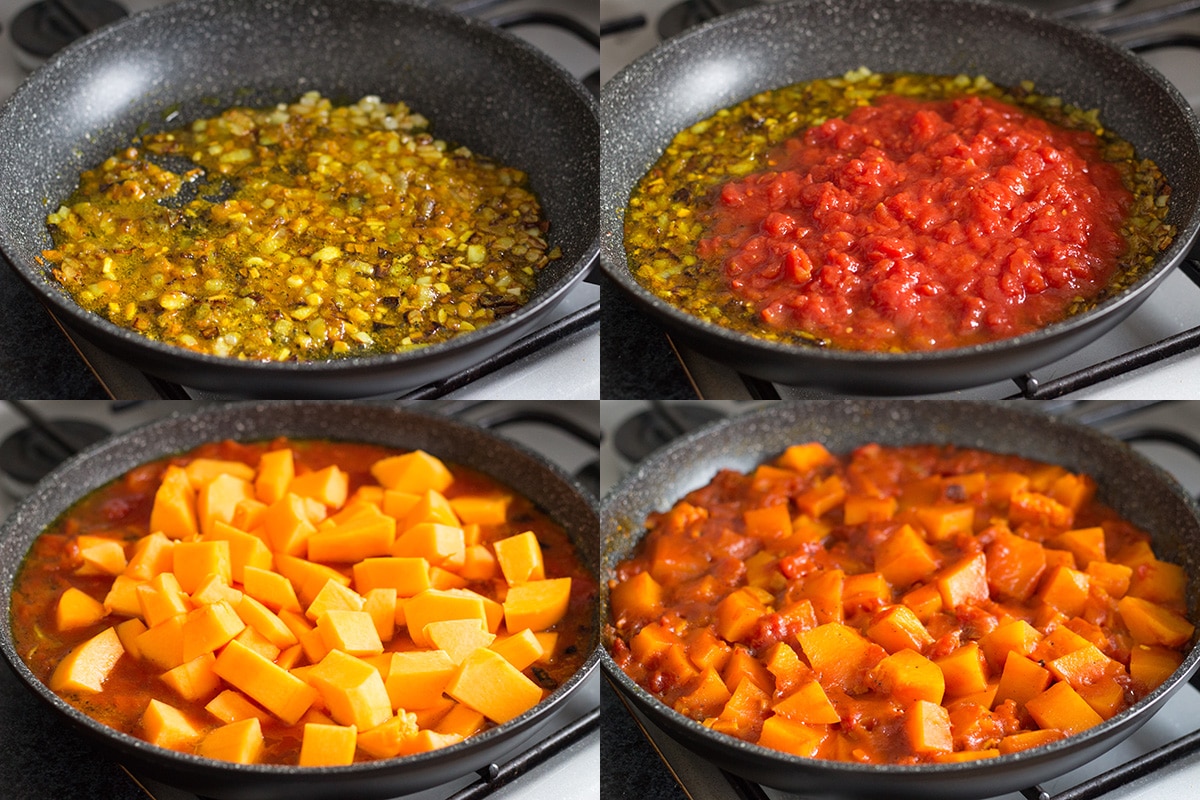 Kadu or Kadoo means pumpkin, while Borani or Bouranee refers to yogurt based appetizer or dip. Simple as that. This Afghan pumpkin recipe became popular in Western countries only in the last decade. It was brought by U.S. and European soldiers who were mesmerized by the taste of this simple, yet comforting dish. It is said that it was their favorite local food. I am not surprised at all.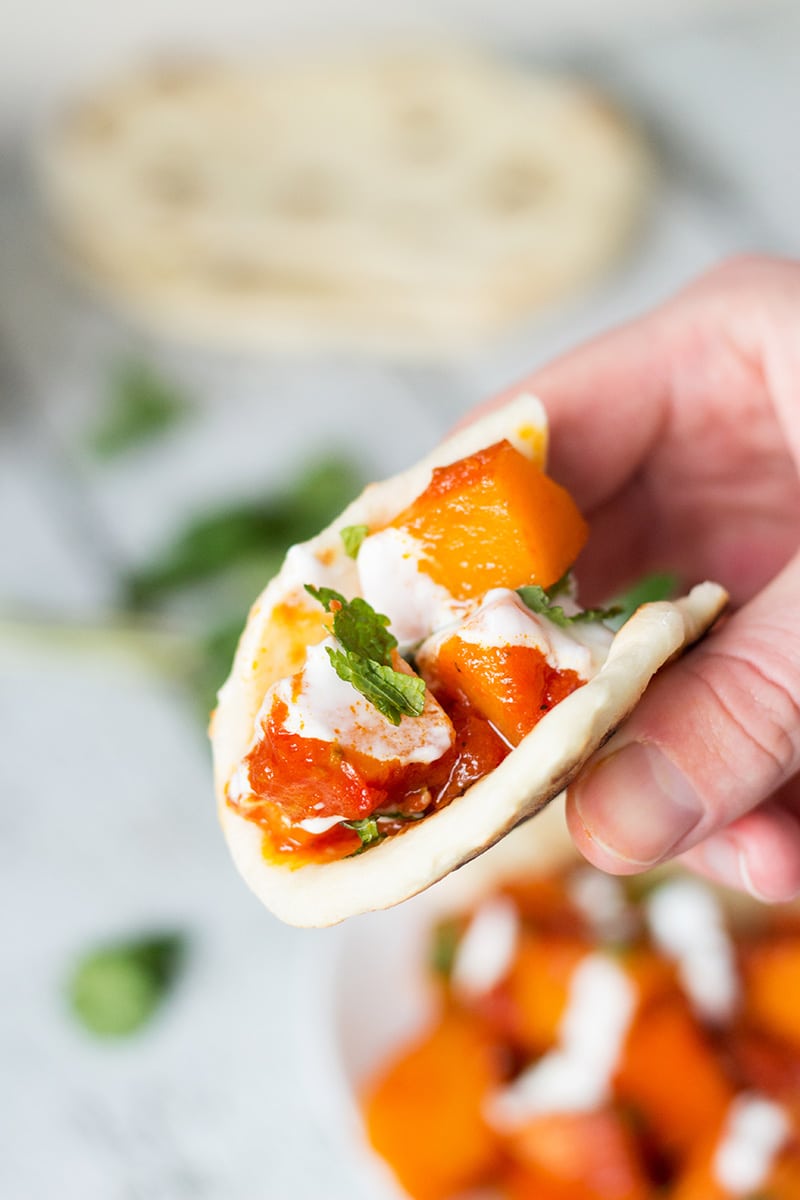 Kadu Bouranee is made of pumpkin or butternut squash sauteed with spices and topped with the yogurt garlic sauce. Sounds amazing, isn't it? Sweet pumpkin goes really well with the tartness of tomatoes and freshness of the yogurt garlic sauce.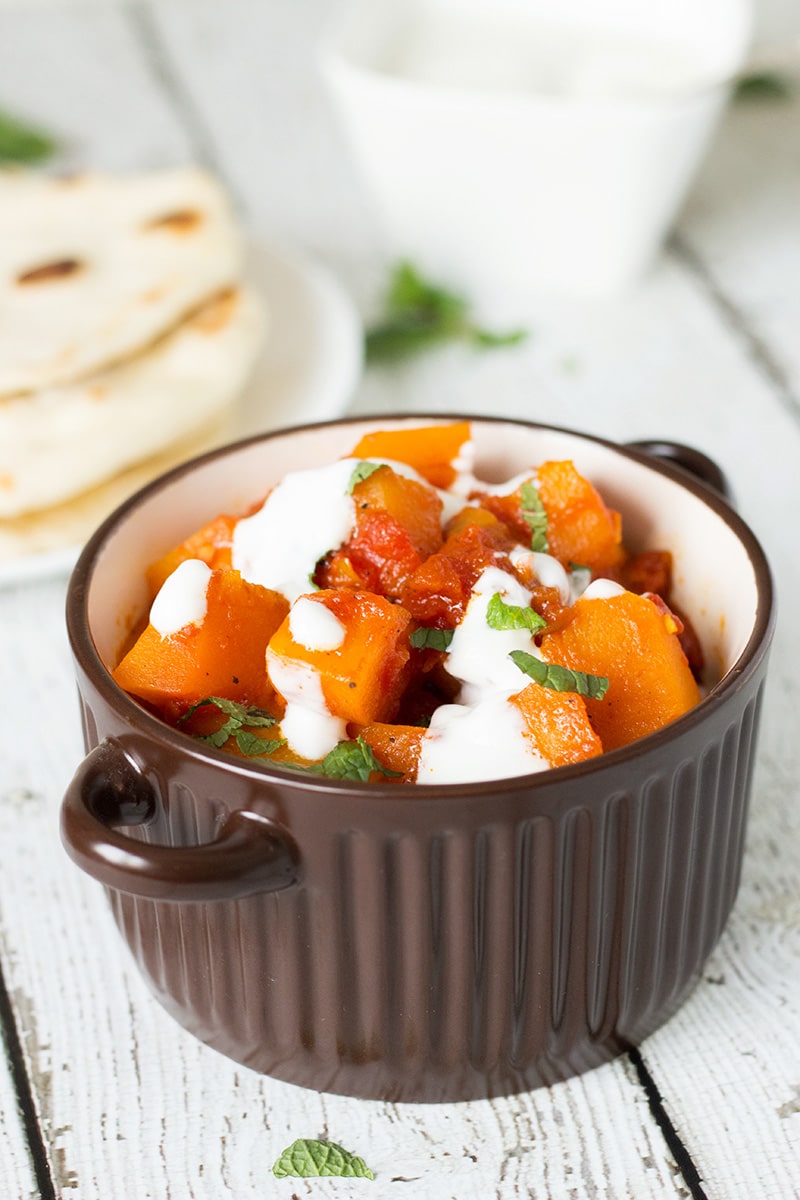 In the Afghani restaurants based in the US and Europe Kadu Bouranee is sometimes served hot with some sort of meat sauce but in Afghanistan, the vegetarian version of the dish is preferred. They serve it as an appetizer hot or cold, usually with Naan bread.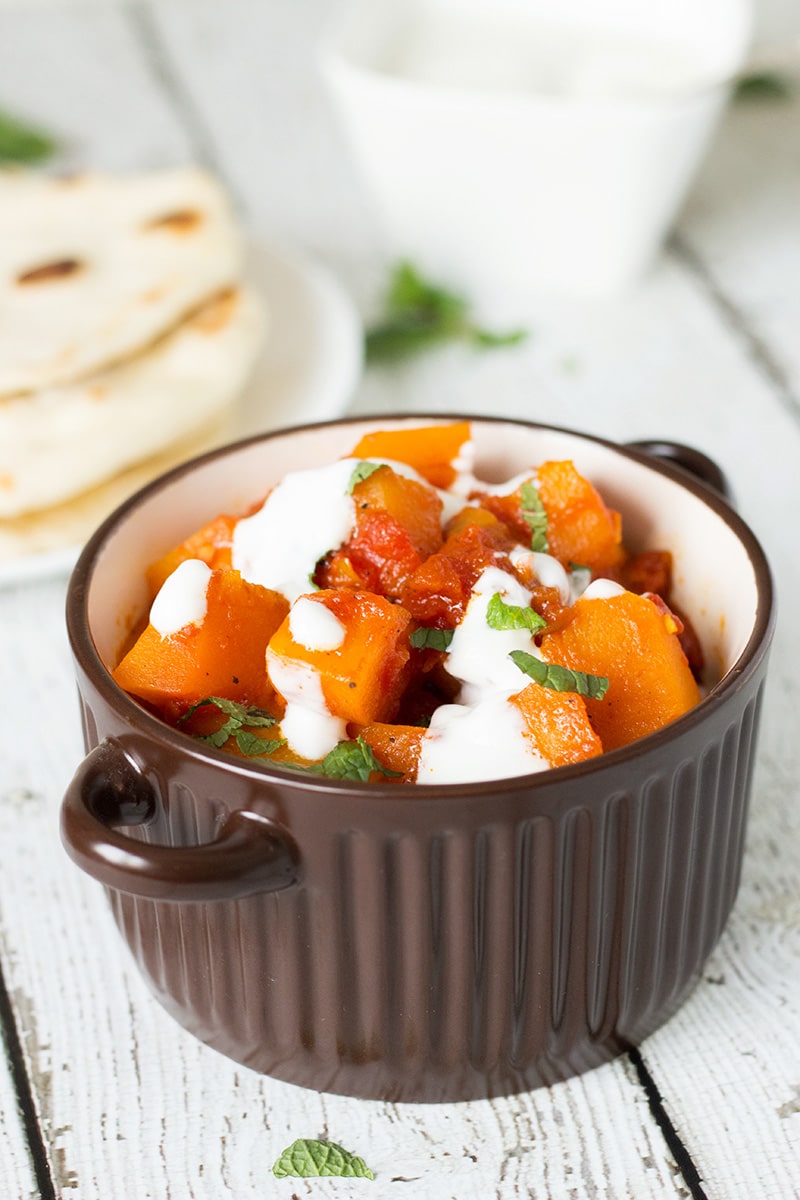 Afghan Sauteed Pumpkin - Kadu Bouranee
Afghan Sauteed Pumpkin (Kadoo Borani) is a pumpkin or a butternut squash cooked in spices and served with a magical yogurt garlic sauce. Really easy to make!

Ingredients
For the pumpkin:
4

tablespoons

Olive oil

1

medium yellow onion,

chopped

2

lb (900g)

pumpkin or butternut squash,

cut into 1-inch cubes

1

14 oz (400g) can

chopped or crushed tomatoes

2

cloves

garlic,

minced

½

teaspoon

salt

¼

cup (50g)

sugar

1

teaspoon

ginger,

finely chopped

1

teaspoon

ground turmeric

¼

teaspoon

freshly ground black pepper

1

cup

water or vegetable / chicken broth

(plus more if needed)
For the sauce:
1

cup

plain yogurt

1

clove

garlic,

minced

¼

teaspoon

salt
For the garnish:
fresh or dry mint leaves,

cut into small strips
Instructions
Heat the olive oil in a large pan on a medium heat. Add the onion and saute until golden brown (4-5 minutes). Add the garlic, turmeric, ginger, sugar, salt, pepper and cook for 1 minute, stirring continuously, until fragrant.

Add the tomatoes and water or broth and bring to a boil, stirring frequently.

Add the pumpkin and stir again. Reduce heat and simmer covered for 25-30 minutes, until pumpkin is tender, but still holding its shape. Stir few times while cooking. Check periodically to see if there is enough liquid. If the pan gets dry, add more.

To make the sauce, combine the yogurt, garlic and salt.

Serve the pumpkin with Naan bread and the yogurt sauce on top.
Nutrition