Naan is a cornerstone of Indian cuisine. This pillowy bread is perfect for dipping and scooping saucy dishes or for accompanying various meals. It's also great on its own with some butter or Ghee on top. This comprehensive guide will teach you how to make Naan at home!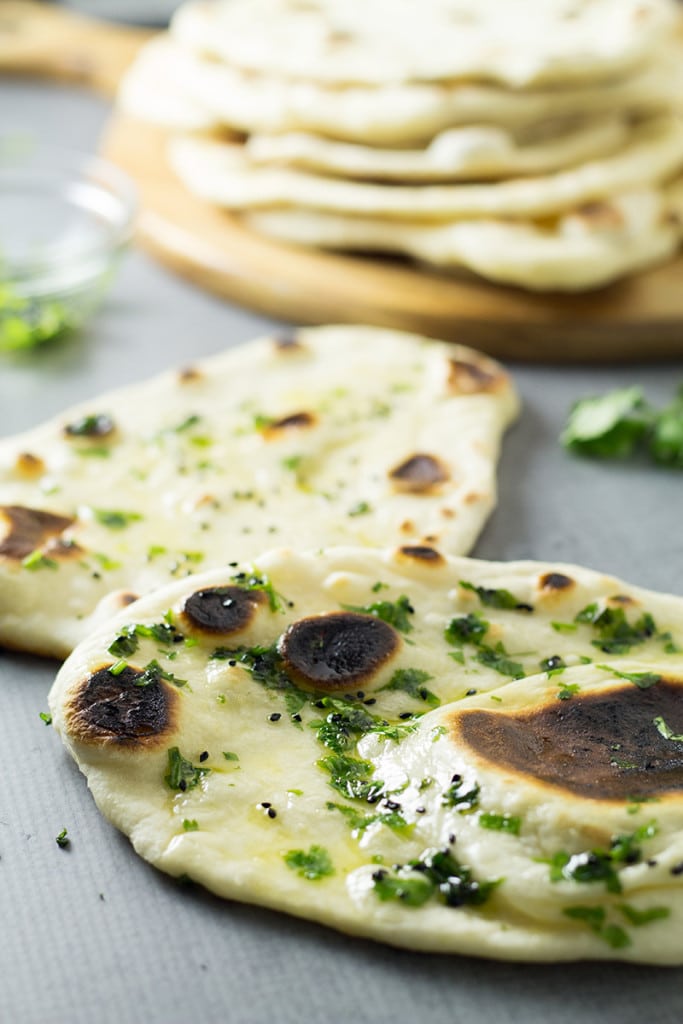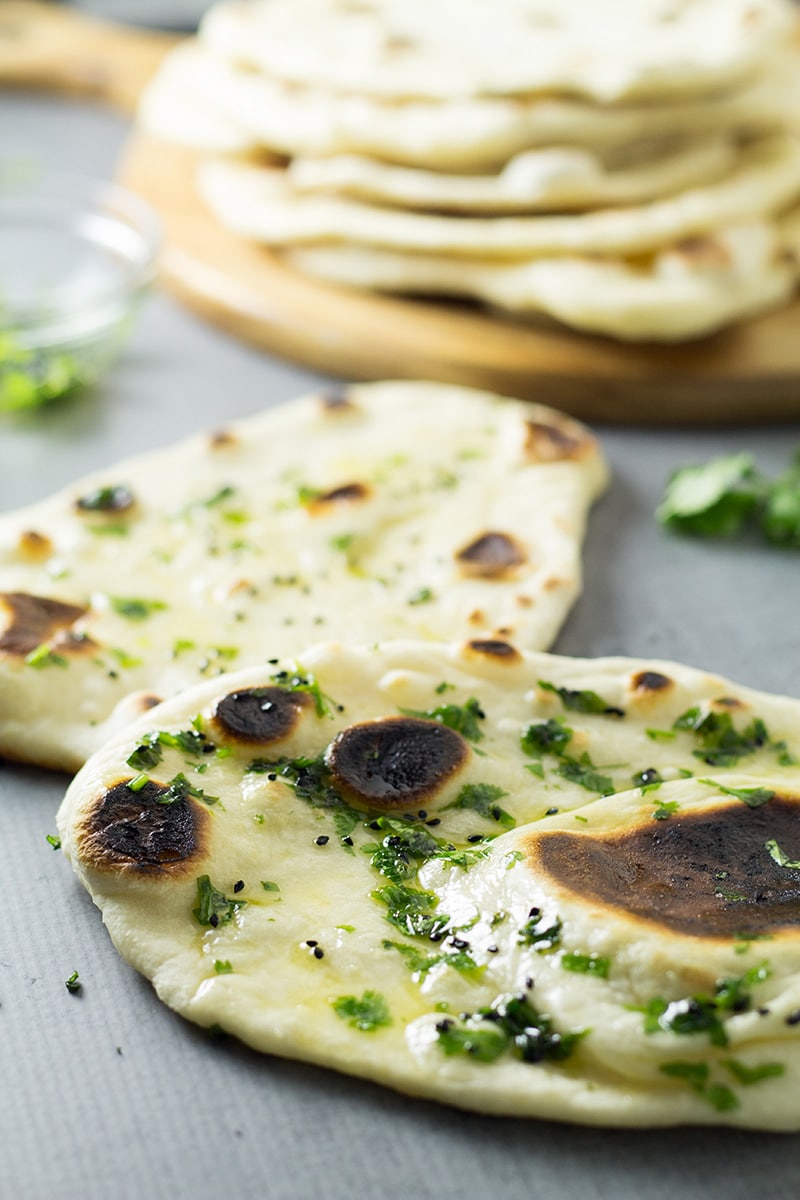 If you have ever been to an Indian restaurant you most probably know what naan bread is. If not, grab a cup of tea or coffee, get comfy and read on to find out. This post will tell you how to make naan bread at home conditions + provide you with all the information you need to know about this Indian staple.
Before starting to throw information at you, I would like to point out that my Naan recipe is adapted from a wonderful Meera Sodha's book Made in India: Recipes from an Indian Family Kitchen. I highly recommend this book if you are interested in Indian cuisine. It is colorful, beautifully laid out and recipes are authentic! For instance, the Naan recipe from this book was provided by Meera's aunt Harsha.
Let's start already!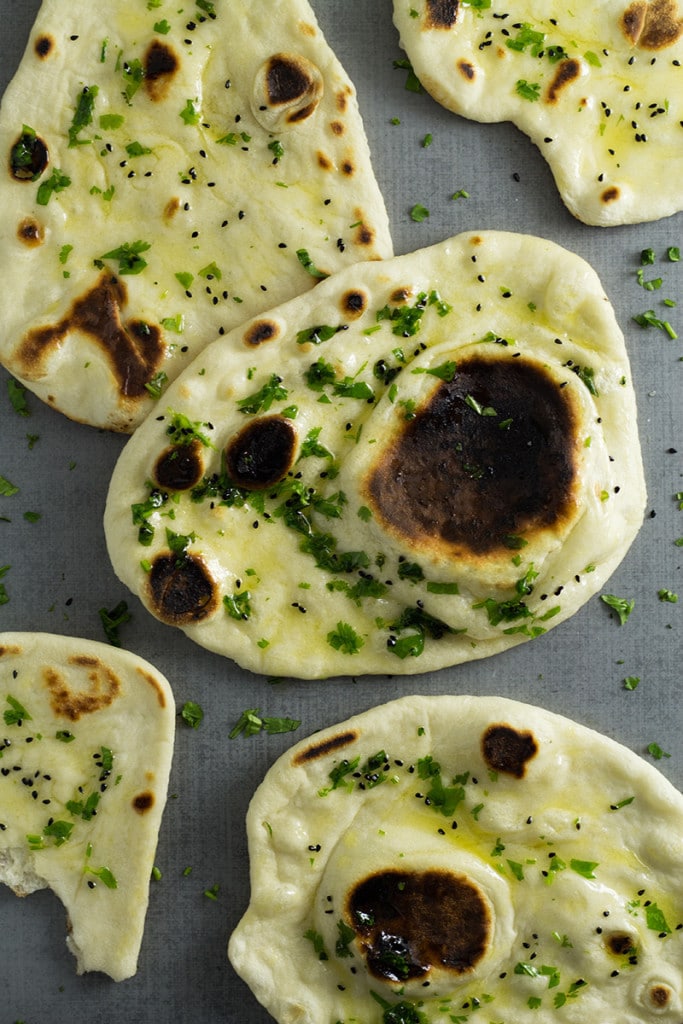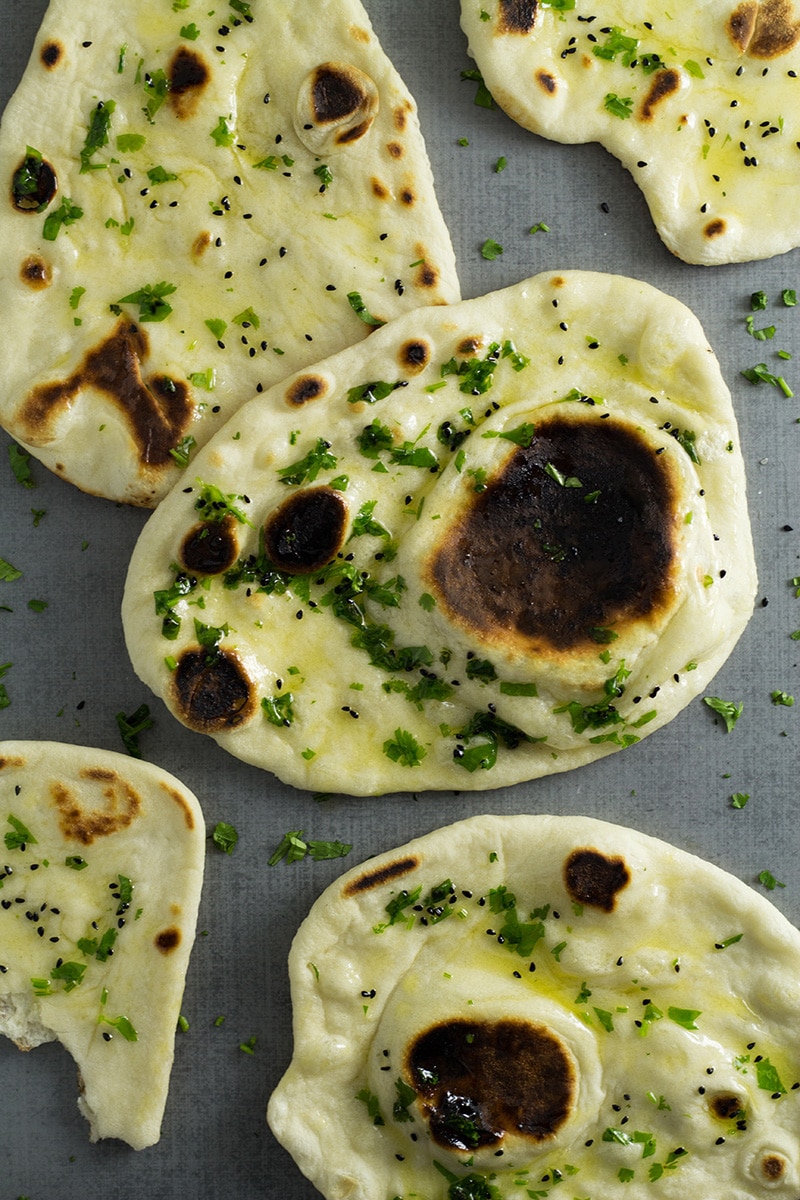 Naan is a leavened flatbread traditionally made in a special metal or clay oven called tandoor. The thing with it is that the temperature inside a tandoor can reach 480 °C (900 °F) and the higher the temperature, the better for Naan. Since not everyone has a tandoor at home (let's be realistic - almost no one), it is also possible to make it using a simple oven or even a skillet.
It has to be said that Naan is not solely an Indian specialty. It is also popular in Afghanistan, Pakistan and other countries of West, Central and South Asia. However, the Indian version of this bread is the most popular one in Western countries. By the way, the word naan itself just means bread in Persian and in some countries does not carry any special significance - it's a word for any kind of bread.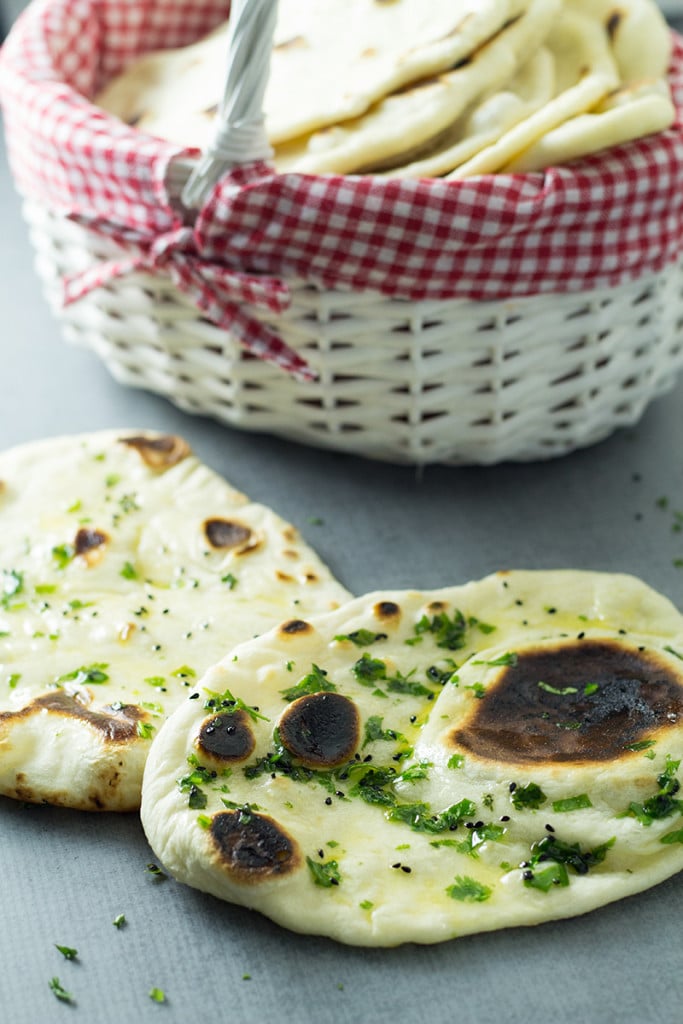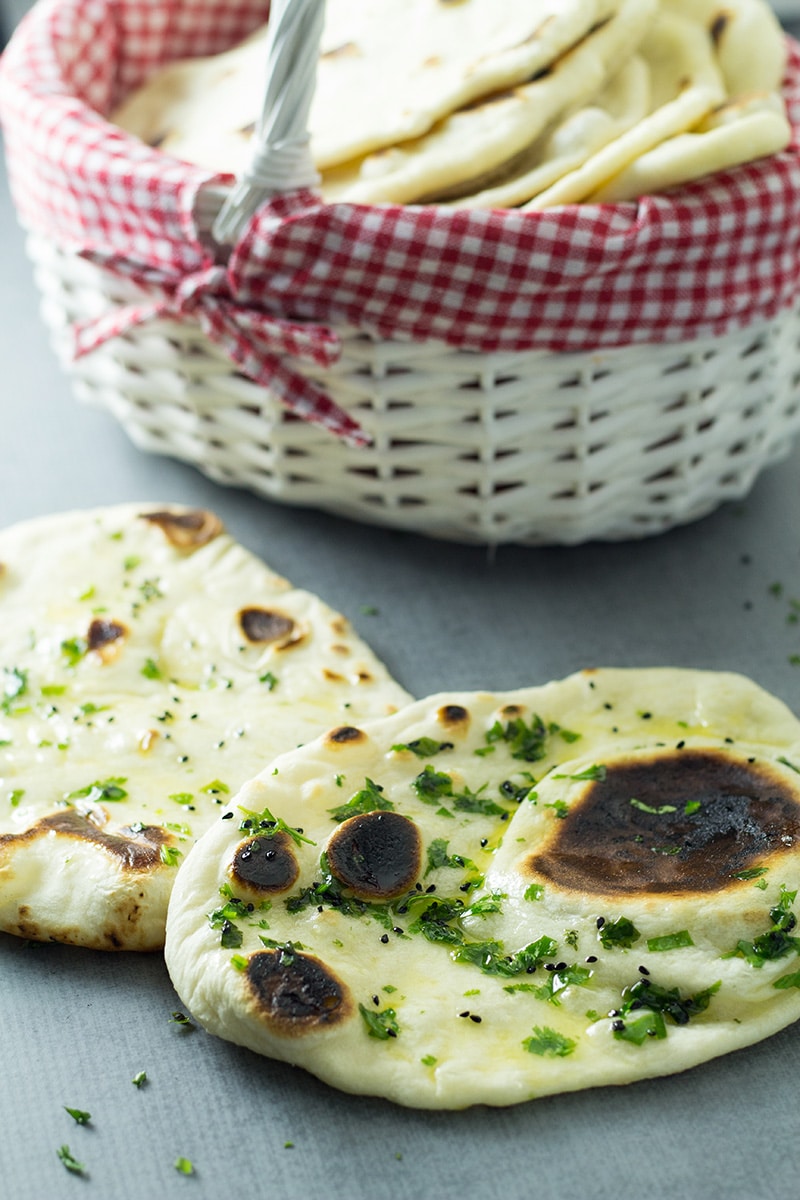 Leavening agent
Traditionally, yeast is used as a rising agent when making Naan but some modern recipes use baking powder instead. The key is to get that bubbly surface Naan is known for. Benefits of the baking powder method are the speed and simplicity, however, I am not sure that you will get the same texture like with the yeast. I always make my Naan using the yeast, never tried baking powder, so can't compare them.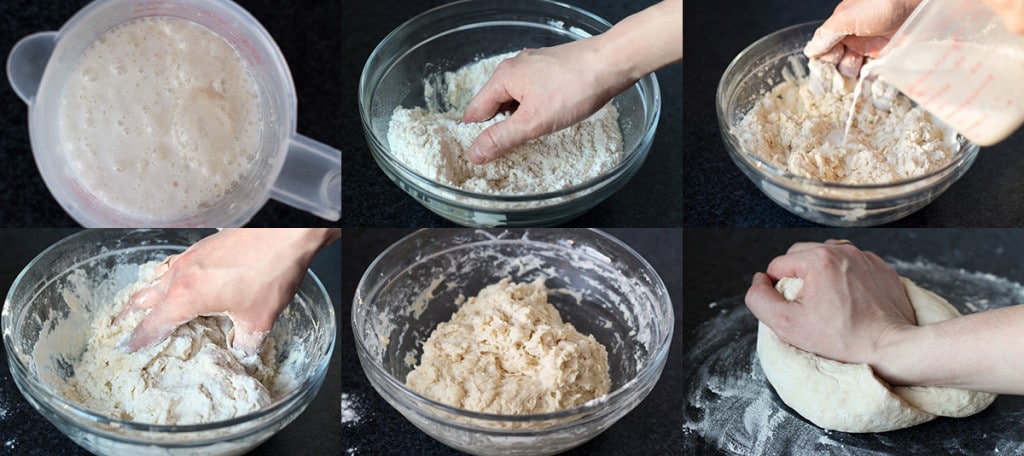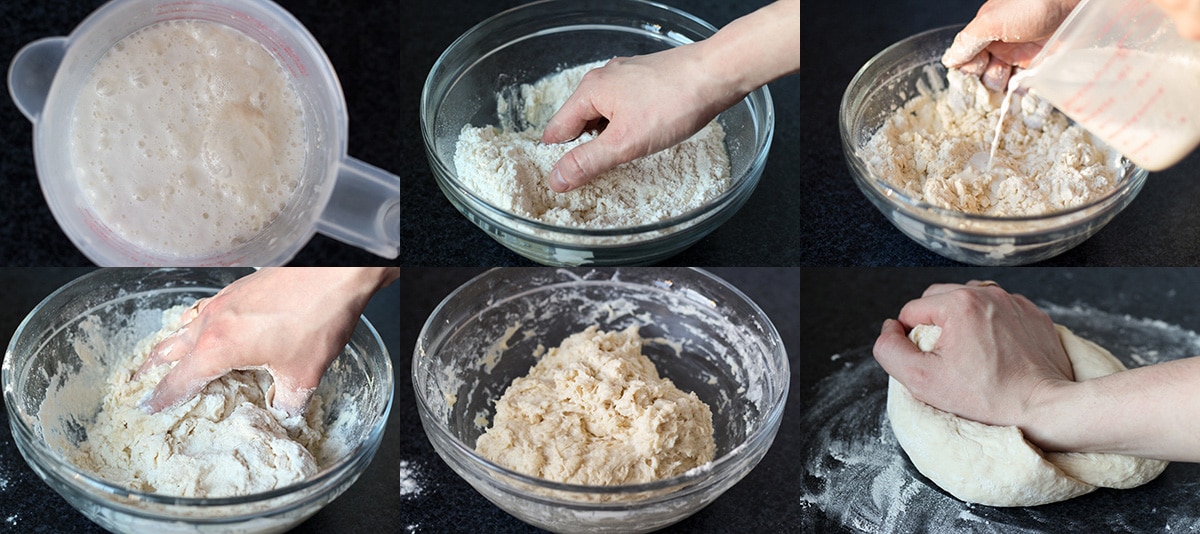 Yogurt
Almost every Naan recipe features yogurt. That's the thing that distinguishes it from many other breads. It brings that characteristic tang and richness. I've used the plain yogurt but Greek yogurt can also be used I guess. It's important to use yogurt at room temperature because cold yogurt can deactivate the yeast.
Water or milk?
Some recipes (mine too) use milk instead of water. Why so? First of all, milk brings a unique flavor to Naan. Secondly, milk softens the dough and makes it fluffy. It doesn't matter if you will use milk or water but you have to warm both before adding to the dough.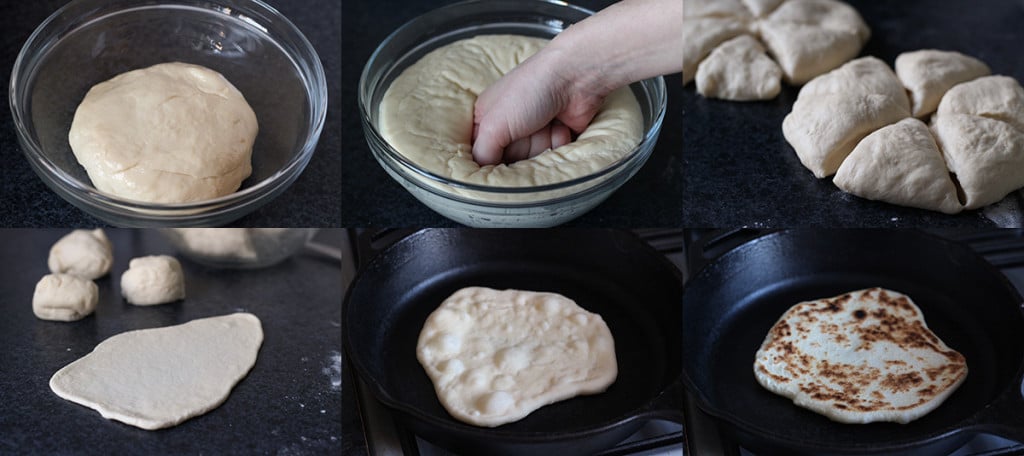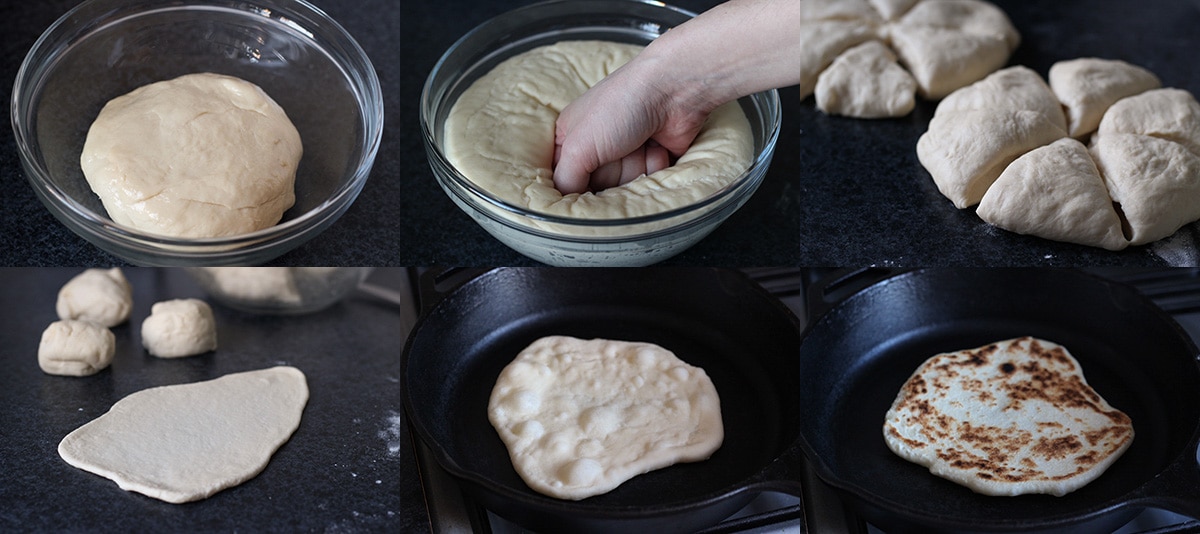 Flavors
Naan can be made in different flavors: garlic, all kinds of herbs, spices, actually - anything you want. It can also be stuffed with meat or vegetables. The most popular flavor is garlic. If you want to make this version of Naan, just combine 5-6 tablespoons of chopped cilantro with 4-5 finely minced garlic cloves in a small bowl. When your Naan is cooked, slather it with melted butter or Ghee (clarified Indian butter) and brush with garlic-cilantro. Simple as that!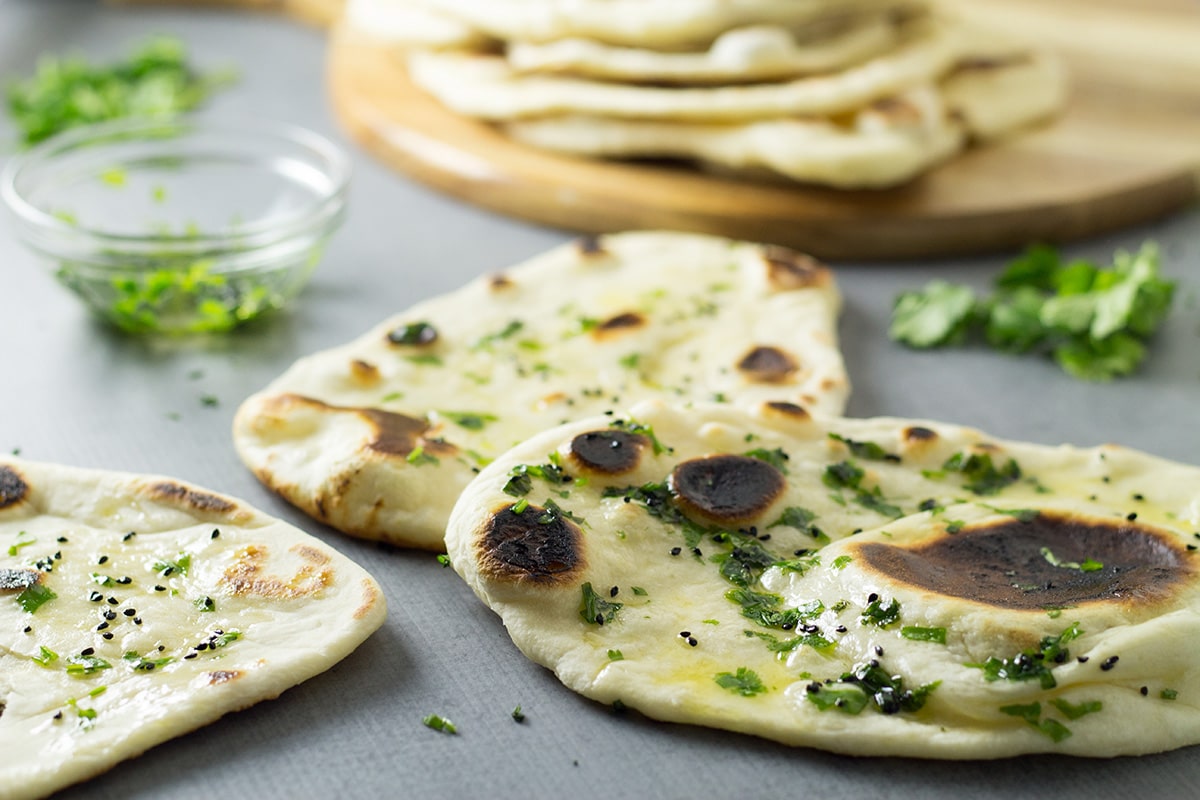 Topping Naan with seeds is another popular option. The first choice is nigella seeds but they can be substituted with cumin, black sesame or poppy seeds. They can be either added before cooking or sprinkled on the cooked Naan. I've used nigella seeds and I can't recommend them enough because their contribution to the flavor of the bread was undeniable.
Ghee or plain melted butter, which I've mentioned above, is an absolute must when serving this Indian king of breads. I don't know how it's in your country, but I was able to find Ghee in a simple supermarket, there wasn't even a need to visit the Indian grocery store. If I found it in my tiny country - so will you. The only downside - Ghee is quite expensive. If you are making some sort of an Indian party and want to feel the atmosphere - go for it. However I wouldn't buy it every time when making Naan, it can be easily substituted with plain unsalted butter.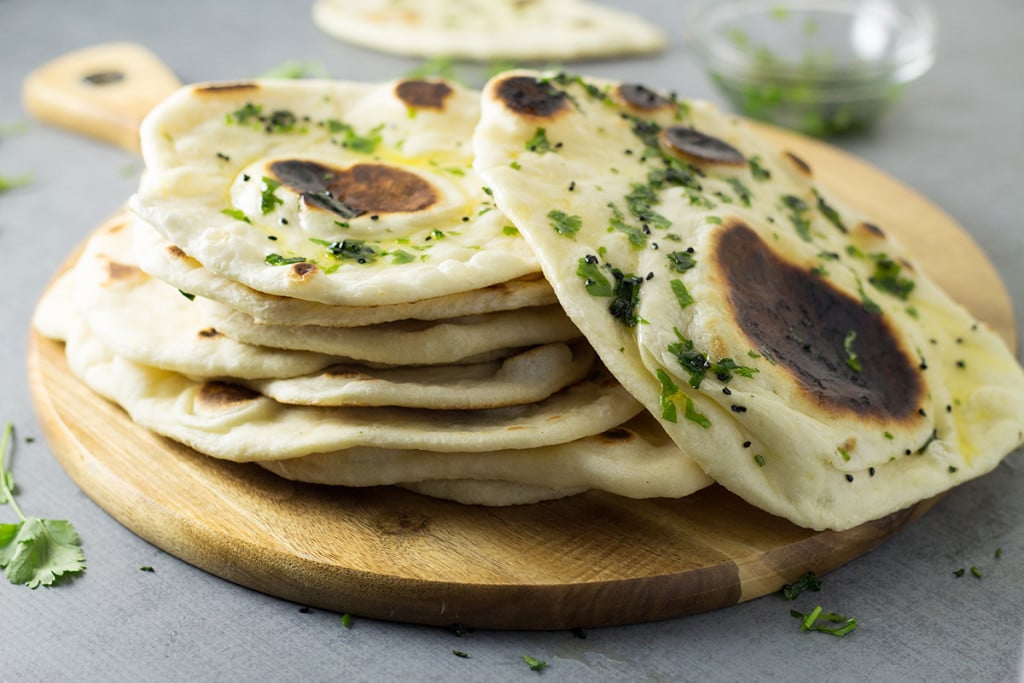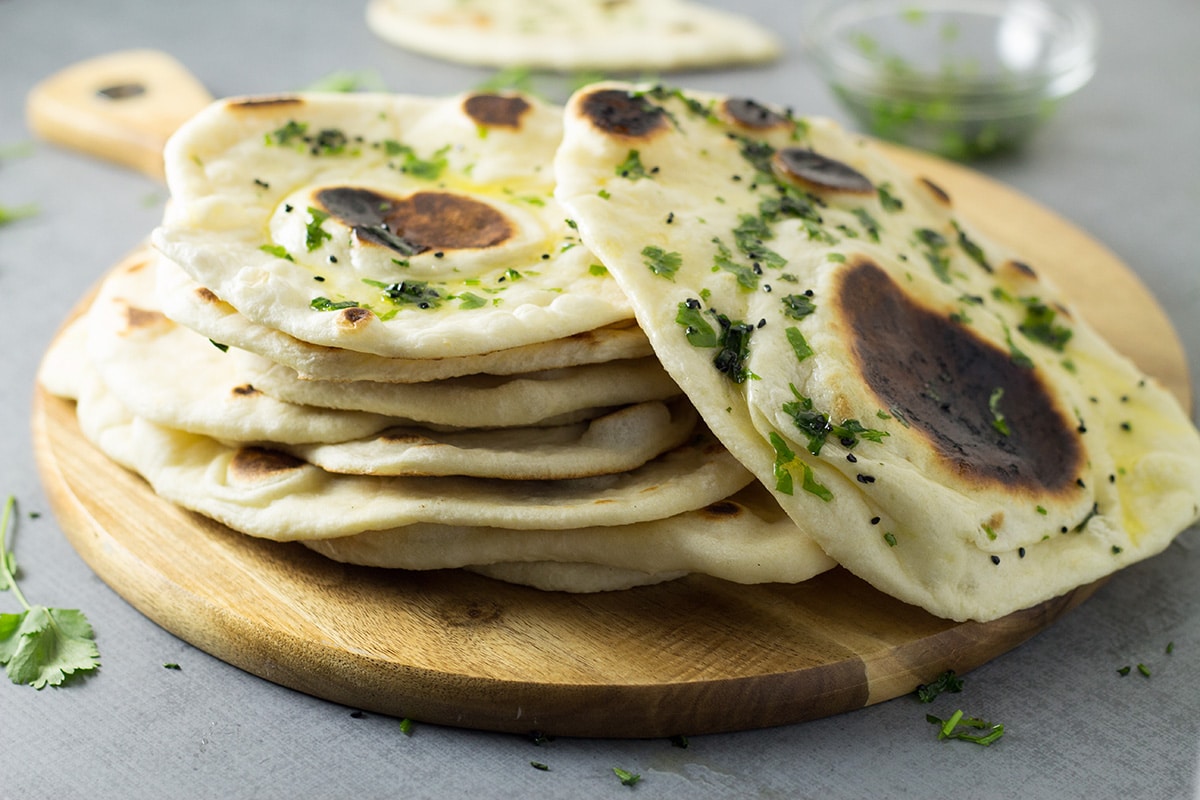 Here you go. Now you know how to make Naan bread at home and I hope you will enjoy cooking and eating it with your friends and family!
Naan can be eaten on its own, especially when it is flavored or smothered with a big dollop of melted butter or Ghee, or accompany various dishes. This pillowy bread goes really well with all Indian dishes containing a lot of sauce. Personally, I just LOVE dipping it into curries! Oh and nothing in the world is better than scooping some Indian deliciousness with a freshly made Naan. I mean it. For real.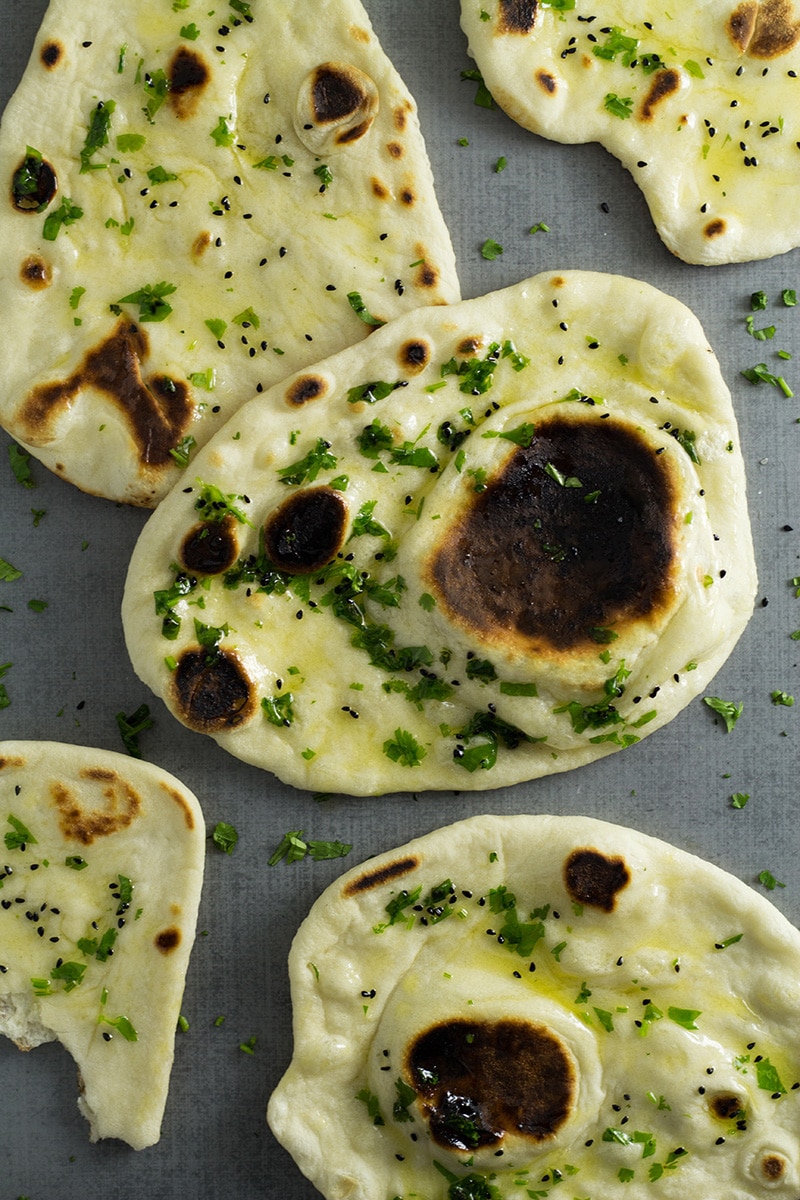 Homemade Naan Bread
Naan is perfect for dipping and scooping saucy dishes or simply served as a side with any meal. This legendary Indian bread is also great on its own with a dollop of butter or Ghee on top!

Ingredients
For Naan:
1

packet (7g)

active dry yeast

(instant dry yeast can also be used)

1

cup

milk,

warmed

2

teaspoons

sugar

3 ½

cups (450g)

all-purpose flour

1 ½

teaspoons

Kosher salt

1

teaspoon

baking powder

4

tablespoons

plain natural yogurt

2

tablespoons

canola oil,

plus a teaspoon more
For the topping:
3

tablespoons

melted Ghee,

or unsalted butter

3

tablespoons

fresh cilantro,

chopped

½

teaspoon

salt

1

tablespoon

nigella seeds,

can be substituted with black sesame or poppy seeds (optional)
Instructions
Dissolve yeast and sugar in warmed milk. Set aside for 5-10 minutes until the yeast is foamy. If the yeast doesn't foam, it is dead, you should discard it. If you are using instant dry yeast, skip this part and add yeast, milk and sugar straight into the flour.

Add flour, salt, baking powder, yogurt and 2 tablespoons oil in a large bowl. Use your fingers to combine ingredients until they resemble crumbs. Then add the yeast mixture in splashes until it comes together into a dough.

Put the dough on a floured surface. It should be sticky. Dust your hands with the flour and knead the dough for about 5 minutes. Scrape off your hands and knead it some more, shaping into a ball. It should be soft but not sticky. Rub the dough with a teaspoon of oil and place it in a bowl, covered with a towel. Let it rise in a warm place for 60-90 minutes or until doubled in size.

Punch the dough down to release the air. Knead again for 1 minute. Divide the dough into 12 pieces and roll each piece into a ball. Flatten each piece between your palms, dust with flour and roll into a teardrop shape.

Heat the heavy iron cast skillet or a simple thick bottom skillet until very hot. Iron cast is better because we need more heat for the Naan. When it is hot, cook the Naan on one side until it begins to bubble. Flip it over and cook the other side for about 30-40 seconds until the bottom gets golden brown.

Remove from the skillet and keep the finished Naan in a low oven until you will finish the batch.

Brush with the Ghee, cilantro and salt mix. Sprinkle with nigella seeds. Enjoy!
Nutrition
* This post contains affiliate links, thank you for the support in keeping Cooking The Globe up and running!