There is no better way to feel the Cuban magic than to taste their famous beef and vegetable stew. This authentic Ropa Vieja recipe will take your taste buds on a wild ride!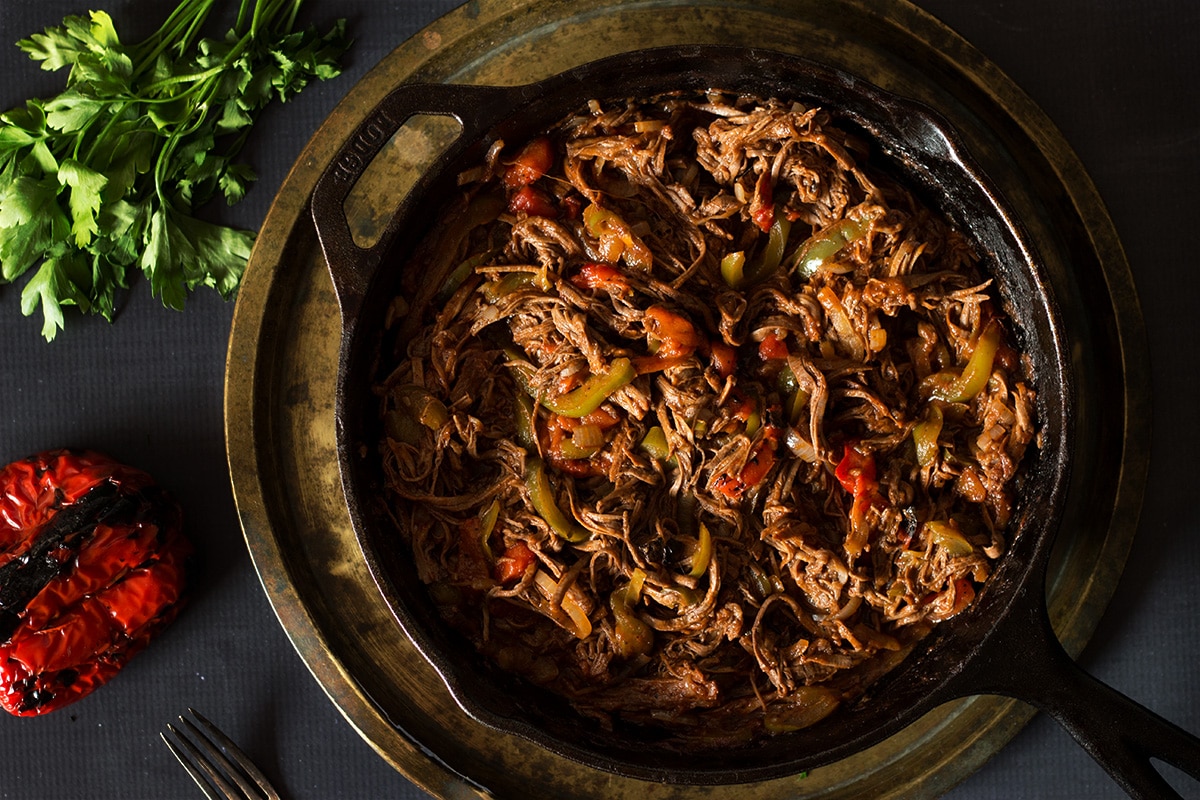 Cuba. The land of cigars, eye-catching vintage cars and rum. I can easily picture myself chilling in a beach chair somewhere on the Atlantic coast, enjoying a snifter of Caribbean rum and inhaling aromatic cigar smoke deep into my lungs... Not at all. Few moments later I would be kneeling in the sand coughing like a cat trying to get rid of a hairball. That's how non-smokers roll. I wouldn't say no to rum though.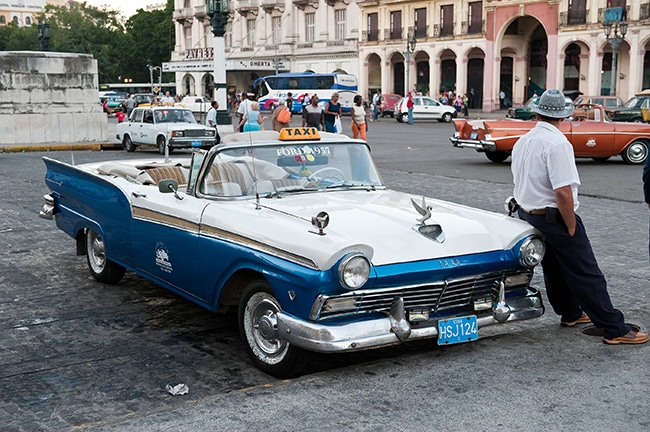 That was my stereotypical view of Cuba not such a long time ago. The breathtaking Caribbean island with luxury resorts, good food, cold drinks, happy people. No, I wasn't a complete bonehead. Of course I knew all those they-teach-you-at-school things. Communism, Castro brothers, dictatorship, dysfunctional relations with United States. What I didn't know is that for over 50 years there exists the special food-rationing system which establishes the amount and kind of products each person can get.
Rice, cooking oil, bread, beans, sugar, potatoes, bananas, a few eggs and small quantities of meat (usually chicken). That's the stuff you can find in the so called "Supplies booklet" (La Libreta in Spanish). Not too fancy. I am not talking real amounts because they tend to change frequently. But believe me, it's not enough for a normal living. Just to give you an idea - 5 eggs a month. Would it be enough to you? I don't think so. That's the amount of eggs I am using when making a breakfast omelet for me and my wife.
The situation with such a staple as milk is even worse. Only children under 7 and pregnant women get it. You are a 10 year old boy/girl and you want some milk? Well, that's unfortunate because the government thinks that you are too old for that. Now I understand why Cubans say that their three biggest problems are breakfast, lunch and dinner.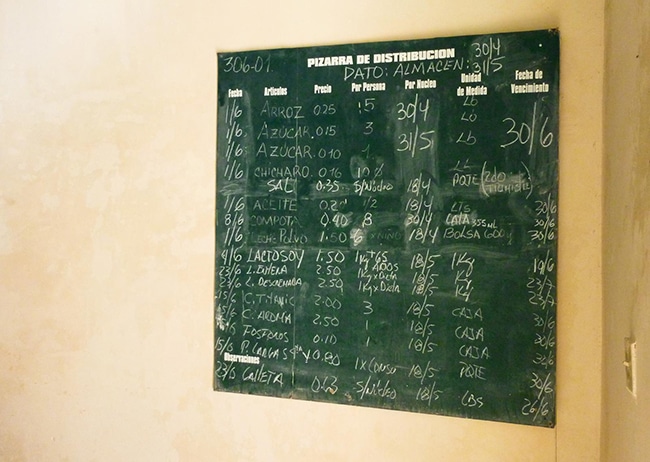 It has to be mentioned, that Cubans actually CAN buy other products that are not included in the ration book but there is yet another problem. While all staples listed there cost only few dollars (country subsidizes about 90 percent of the cost), prices of products at the open markets are REGULAR. So what's the problem, you ask? Well, an average salary for a Cuban is 20$ a month. Pension - 11$. So theoretically you can even arrange a steak dinner for your family, but it will cost you half your salary.
Despite sad but true facts stated above Cuban cuisine offers a wide variety of traditional dishes that have withstood the test of time. For the very first post of this blog I've chosen to make Ropa Vieja - a classic stew made of shredded beef in a tomato puree base flavored with bell peppers, onion, garlic, white wine and spices. Ropa Vieja is Spanish for "old clothes" by the way. Don't worry, it tastes a little bit better than that.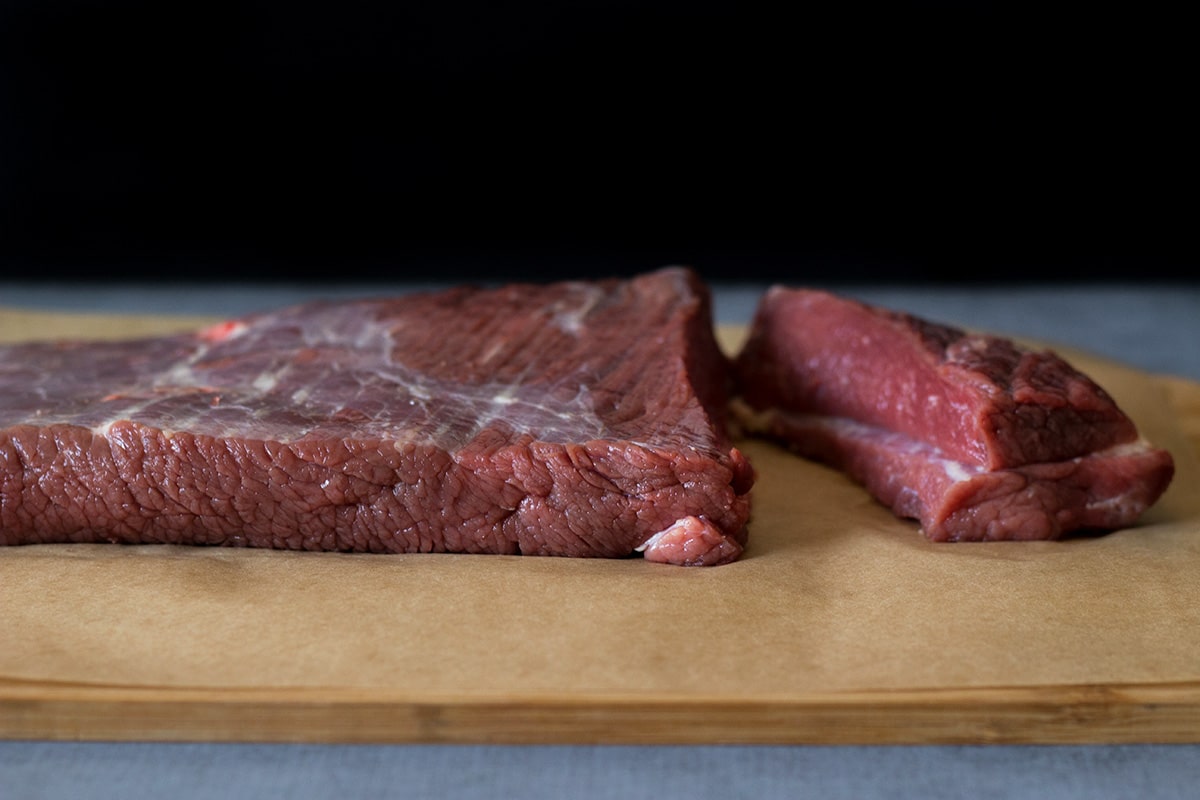 Why such a derogatory name? The legend says that once upon a time lived a man who was very poor and had nothing to feed his family with. The situation was hopeless so he decided to cook old clothes and that's when the miracle happened. His deep love for the family turned them into the delicious beef stew. Aw, such a sweet story, isn't it?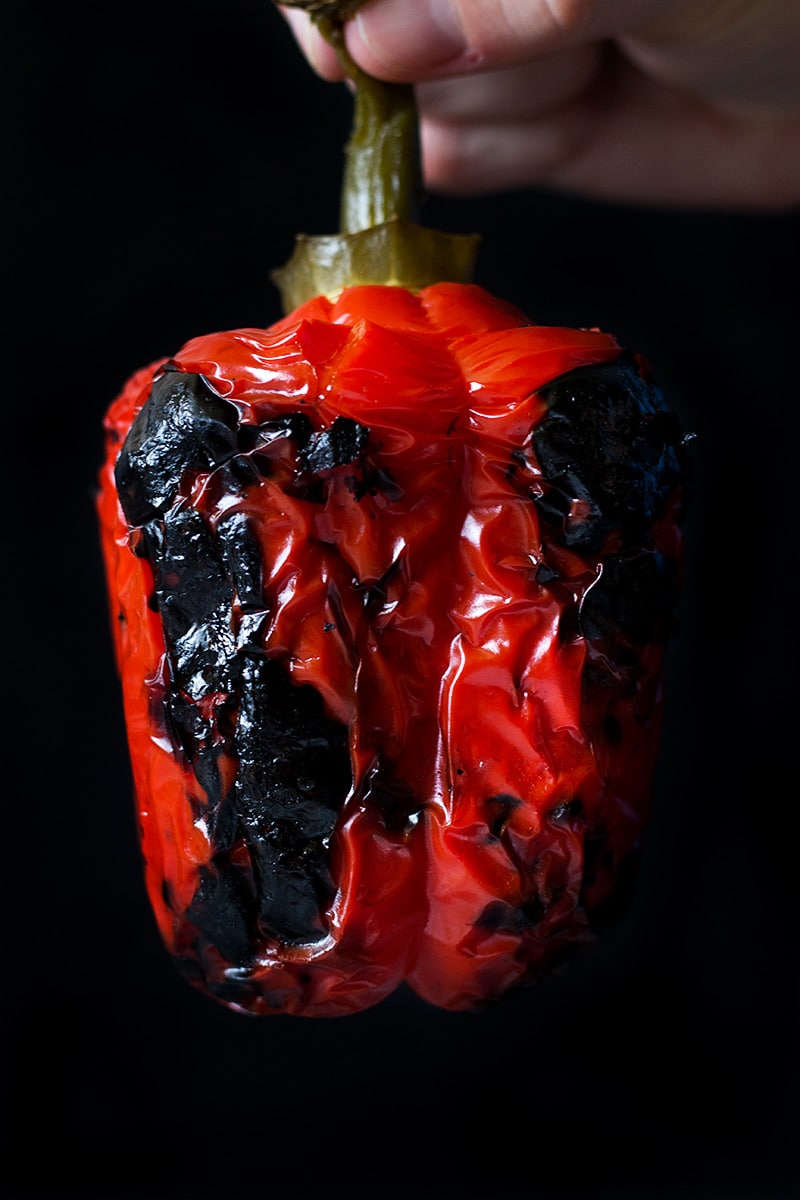 One of the main reasons why I've chosen Cuba for the first blog post is the wonderful book comfortably sitting on my shelf - The Cuban Table: A Celebration of Food, Flavors, and History by Ana Sofia Pelaez and Ellen Silverman. I got it as a birthday present and I absolutely loved it. What I like the most is that this book is not just a pile of recipes (even though they are all interesting and authentic). The authors give you a sense of Cuban culture as well as provide brief history of dishes.
So, naturally, my Ropa Vieja recipe is adapted from this book. And THANK GOD it is. You see, almost every Ropa Vieja recipe online asks for a flank steak. So what, you will say, just buy a damn flank steak and the problem is solved. Not in my pork oriented country. To find a flank (or actually any other) steak here is even harder than to find something in my wife's purse. And I have never thought that something can be more complicated than that.
The Cuban Table book, though, stretched me a helping hand - I was able to use a brisket instead of a flank steak. Hooray. Sorry, I can't tell you what's the difference between Ropa Vieja made from one cut of beef or another, but I perfectly loved my version with a brisket.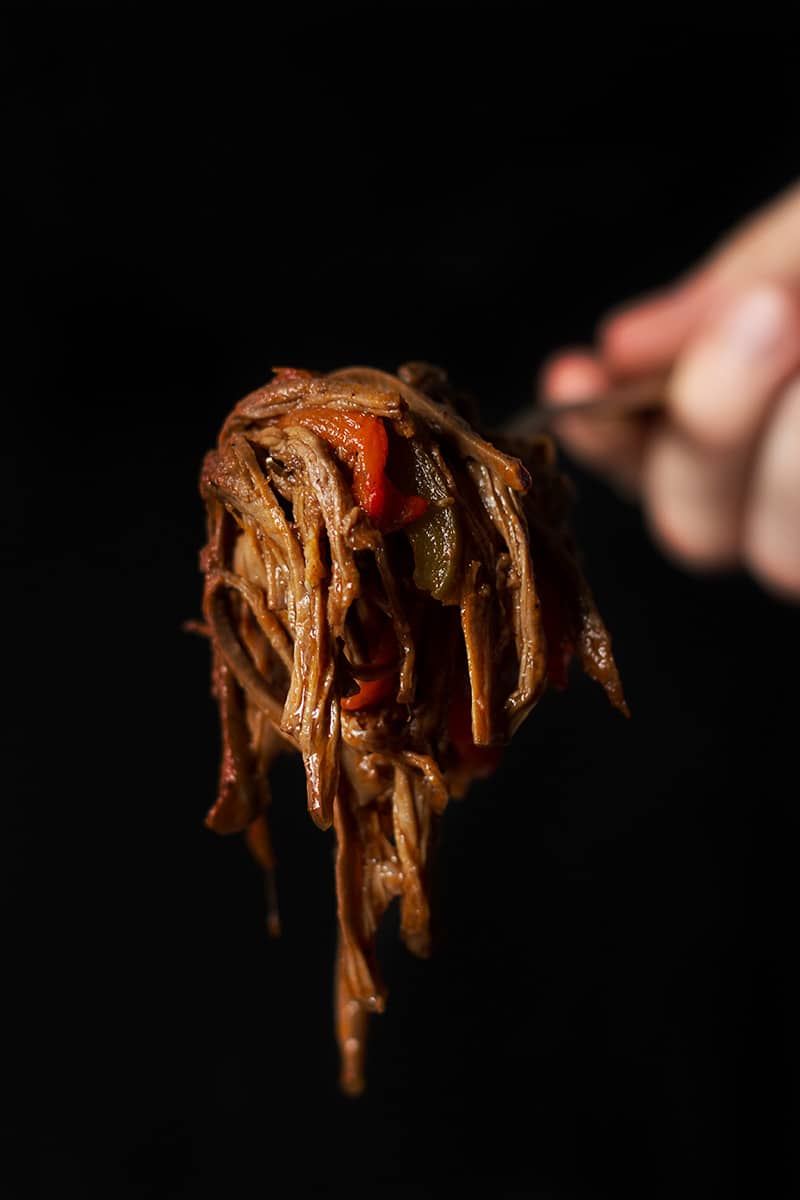 Let me paint you a picture: tender melt-in-your-mouth braised beef soaked in the Caribbean style tomato based sauce (allspice and cloves do the job) with a blend of bell peppers, garlic, and onion. It is so good, I almost cried.
Ropa Vieja is traditionally served with rice and black beans. They go really well together. I mean, really well. It was the first time I made this Cuban dish and I am definitely going to repeat it because my taste buds enjoyed the ride.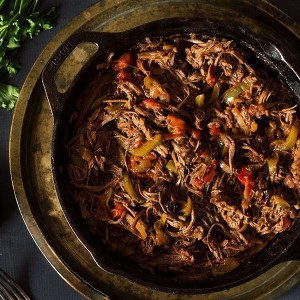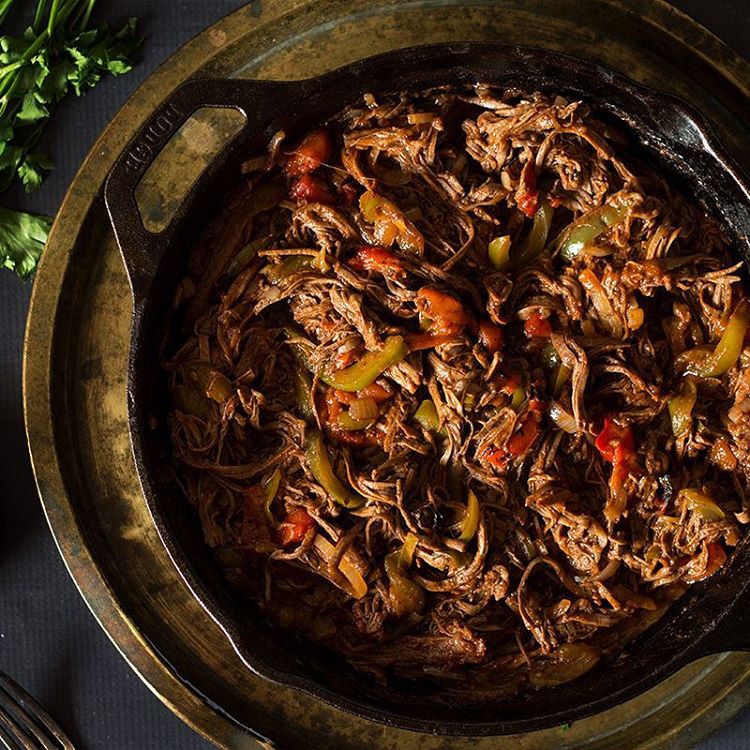 Authentic Ropa Vieja Recipe
This authentic Ropa Vieja recipe is guaranteed to become one of your favorites. Tender braised beef soaked in a flavorful tomato based sauce infused with allspice, cloves, and more!
Ingredients
For the braised beef:
2

lb (900g)

brisket (or flank steak),

cut into 4 pieces

1

large carrot,

peeled and cut into chunks

½

small red cabbage,

quartered

2

sprigs fresh spearmint

½

small bunch

fresh flat-leaf parsley,

stems removed (a few leaves reserved for garnish)

4

large garlic cloves,

peeled and crushed

1

teaspoon

whole black peppercorns

1

teaspoon

salt

1

teaspoon

whole allspice

½

teaspoon

whole cloves

2

dried bay leaves
For the Ropa Vieja:
¼

cup

extra-virgin olive oil

1

large yellow onion,

thinly sliced

1

large green bell pepper,

cleaned and thinly sliced

4

large garlic cloves,

peeled

½

teaspoon

ground black pepper

1

teaspoon

salt

1

large pinch

ground cloves

½

teaspoon

ground allspice

1 ½

cups

canned tomato puree

1

dried bay leaf

¼

cup

dry white wine

1

cup

roasted red bell peppers,

sliced

fresh flat-leaf parsley leaves,

chopped
Instructions
Place all the ingredients for the braised beef in a 4-5 quart (liter) pot with 6 cups of water. Bring to a boil, reduce the heat, and simmer, covered, 1 ½ - 2 hours, until the beef is tender.

Remove from the heat and allow the beef to cool in the broth. When cool, remove the beef and shred by hand. Set the shredded beef aside. Also set aside a ½ cup of the broth, reserving the remaining broth for future use.

To prepare the ropa vieja, heat the oil in a 10-inch skillet over medium heat. Add the onion and green bell pepper and saute for 6-8 minutes, until the onion is soft.

Use a mortar and pestle to mash the garlic, black pepper, salt, cloves and allspice to a paste. Add the paste to the skillet and continue to cook until fragrant, for about 2 additional minutes.

Add the tomato puree, reserved broth, bay leaf and wine and return to a simmer.

Stir in the shredded beef, reduce the heat to low, and cook, covered, for 15-20 minutes.

Lastly, stir in the sliced roasted red bell peppers. Adjust seasonings to taste. Sprinkle with chopped parsley before serving.
Nutrition
* This post contains affiliate links, thank you for the support in keeping Cooking The Globe up and running!