Wiener Schnitzel is a national Austrian dish popular all around the world. This breaded veal cutlet makes a perfect weeknight dinner + it's so easy and quick to make!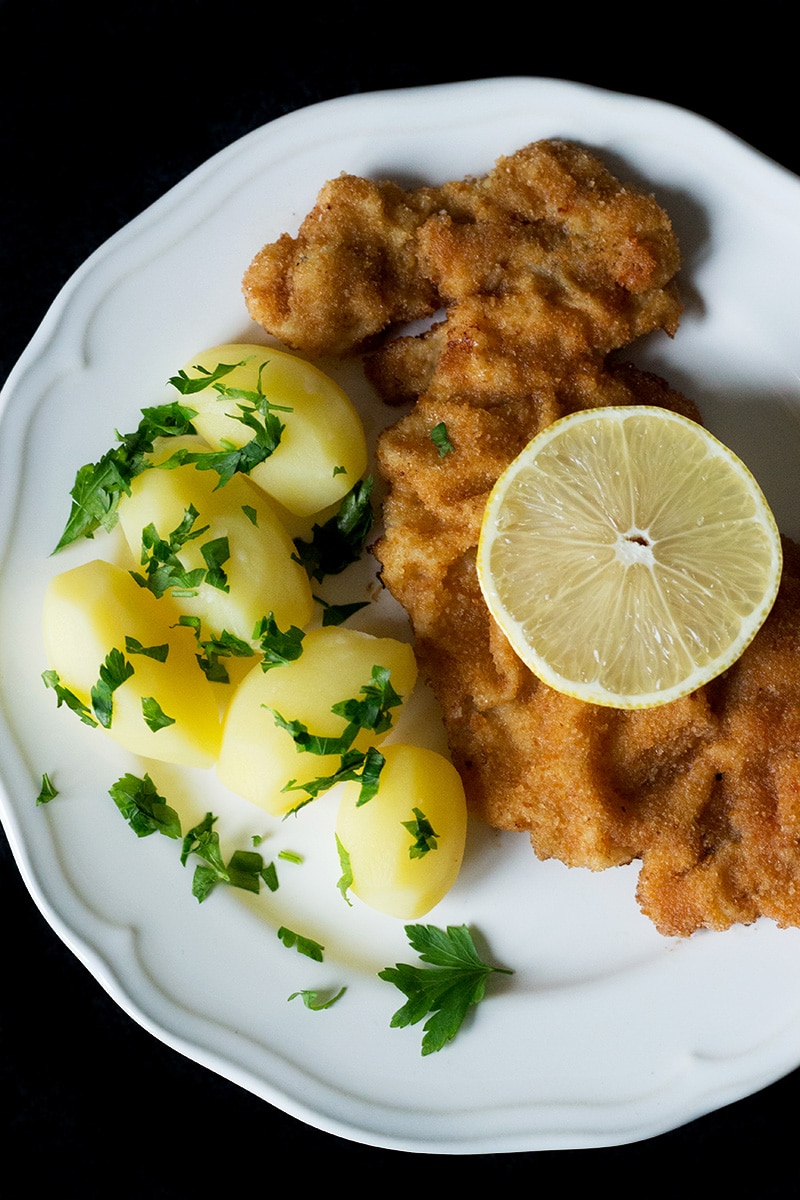 What do you know about Austria? I mean Austria, not Australia. Confusing? Don't worry if you tend to mix these countries up. Even the former American president George Bush confused them once publicly. This mistake is so common that tourist shops all over Austria sell T-shirts saying "No kangaroos in Austria".
I had a chance to visit the capital city of Austria, Wien, few years ago. What a beautiful city. Oh, and the food! I was full all the time. Sausages, strudels, beer, cakes, beer again... Yeah, not the best idea to mix these up, but what you gonna do, everything tasted like heaven. But one dish stood out. Wiener schnitzel (Viennese schnitzel in German). It can be found on all local restaurant and bar menus. It's like the Mozart of food for Austrians.
Actually the Wiener schnitzel itself is a simple breaded veal cutlet. Pound the meat, season, dip it in the flour, egg, breadcrumbs and fry. It's not a brain surgery! However there are a few rules you should follow to make a perfect schnitzel.
First of all, it has to be veal. Some restaurants in Austria make schnitzels from pork (because it's cheaper) but the real authentic Wiener schnitzel has to be made from veal. No exceptions. I can understand why. The mild & milky veal flavor and soft texture work beautifully with the buttery crunchy breadcrumbs. You won't get the same result with pork or chicken. Secondly, you need to beat the cutlets as thin as possible. Of course don't go American Psycho on those poor cutlets. They shouldn't turn into cobwebs.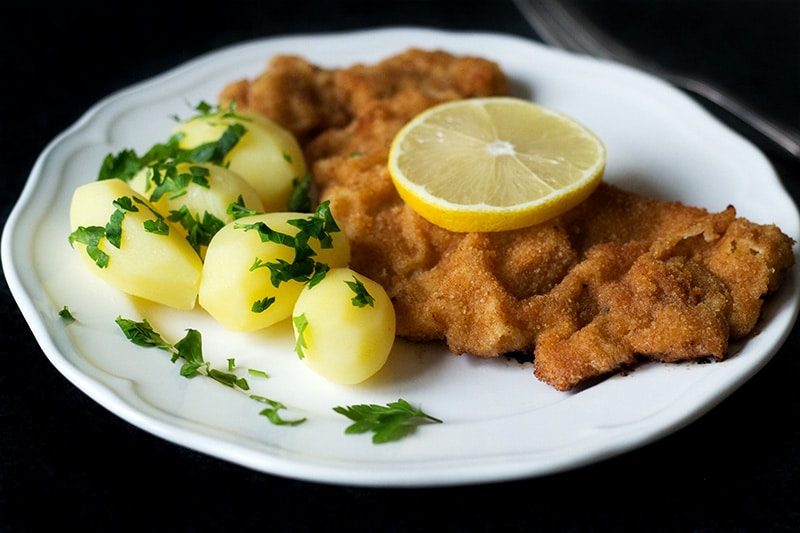 The Wiener schnitzel is traditionally served with potato salad, cucumber salad or parsley potatoes. However, nowadays it can be also served with french fries, rice or pasta. I've chosen the traditional side - parsley potatoes. Oh and don't forget the lemon slice! You can use it to drizzle some lemon juice over your veal schnitzel. Worth it!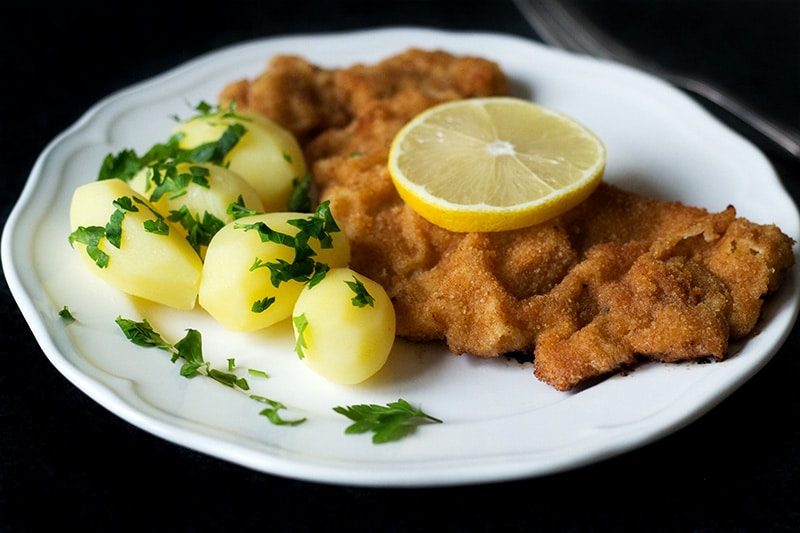 Wiener Schnitzel
The famous Austrian Wiener Schnitzel makes a perfect dinner. Only 15 minutes of your time and you get a crazy delicious and tender veal cutlet!
Ingredients
2

lb

veal cutlets

½

cup (50-60g)

all-purpose flour

2

eggs

1

heaping cup (100g)

breadcrumbs

Butter for frying

Salt and pepper,

to taste

1

lemon,

sliced
Instructions
Lay each veal cutlet between sheets of plastic wrap, and pound with the flat side of a meat mallet as thin as possible without tearing them. Season with salt and pepper.

Prepare three shallow bowls or plates. Put the flour in one plate, whisked eggs in another one, and breadcrumbs in the third plate. Dredge each cutlet in the flour shaking off the excess, then dunk it in the egg and lastly coat with the breadcrumbs, once again shaking off the excess. The key is to immediately fry the cutlet after it has been breaded. In this way the coating won't stick to the veal.

Melt butter in a non-stick frying pan and cook the breaded cutlet until browned and cooked through, for about 2-3 minutes on each side. Cook time depends on the thickness of your cutlets. Transfer to a paper-towel-lined plate and cover with foil till you are cooking other ones. Serve with a lemon slice. Enjoy!
Nutrition