Rich, aromatic, and made with simple ingredients, Besan halwa is a classic indulgent Indian dessert you definitely have to try out.
Besan Halwa is a flavorful and aromatic Indian dessert that is most commonly made and served during festivals, weddings, and special occasions. It might sound fancy, but it is actually pretty easy to make. You'll need just a handful of ingredients and a little bit of kitchen time, but you'll be surprised at how delicious and comforting this sweet treat can turn out to be.
Jump to:
Ready to go ahead and give it a shot? Here's all you need to know about it.
Ingredients For the Recipe
You'll need just 6 basic ingredients to make the Besan Halwa.
Besan (Bengal gram flour): ½ cup
Ghee: ¼ cup
Sugar: ¼ cup or as per taste
Milk: 11/2 cup
Kesar: A pinch
Slivered almonds: For garnish
How to Make the Besan Halwa
Once you have all the ingredients ready, here's what you need to do to make the halwa from scratch.
Heat the ghee on a pan.
Add besan and roast it in the ghee until it darks a bit darker in color.
Next, add the rest of the ingredients and mix well.
The texture of the halwa will start to smoothen as you keep mixing.
Keep mixing until the milk dries up and the halwa becomes smooth. Make sure there are no lumps.
Serve hot after garnishing with slivered almonds.
What Can I Use Instead of Sugar?
While sugar is the best ingredient you could use to sweeten the halwa, you can opt for another healthier sweetener of your choice too, if that's what you prefer.
You could use stevia or honey to sweeten the halwa, or even better- use jaggery. Remember to use powdered or grated jaggery, and mix it into the milk before you add it to the roasted gram flour.
What Else Can I Add to the Besan Halwa?
The classic Besan halwa doesn't need any additions, but if you really want to, you can top it with some chopped pistachios or cashews instead of the almonds. In fact, the halwa also tastes amazing when you serve it with a sprinkle of grated coconut on the top. If you like raisins, you can add them too.
How Do I Store the Halwa?
Got some leftovers that you want to store for later? Or maybe you're making the Besan halwa in a batch- whatever it is, just remember to transfer it to an airtight container before you pop it in the refrigerator.
Your halwa can stay fresh there for up to 7 days. Keep in mind that you will need to reheat it with a bit of water if you're heating it on the stovetop to make sure the halwa doesn't end up burning and stays moist.
You can also reheat the halwa in the microwave if you want to.
Tips & Tricks to Nail the Recipe
Think you're all ready to give the recipe a try? Here are some tips and tricks to make sure you nail the recipe.
The key to making a good Besan halwa is to roast the gram flour well in the ghee. Not roasting it enough won't give your halwa that nice color you want it to have, and over-roasting it might cause it to get burnt. The ideal stage where you would want the gram flour to get to is to roast it just enough until it starts to turn slightly golden in color and get that nutty aroma you're looking for.
Always use a thick bottomed pan or pot to make the Besan halwa. Remember to keep stirring the gram flour mixture constantly. You can also use a non-stick pan if you want to, but in most cases, you won't really need it, since the ghee will be sufficient enough to grease the pan well and roast the gram flour.
When it comes to roasting the flour in particular, do not stick to the recipe. Depending on the material and the thickness of the pan in which you are roasting the flour, you might require less or more time to get it to the right color and texture.
When the roasted gram flour has reached the desired color, turn the heat down and slowly and gradually start to add in the milk. Make sure you are constantly stirring the mixture using a spoon or a wired whisk. This will ensure that there are no lumps, and the mixture is completely smooth.
Keep stirring the mixture well, keeping the heat low. Keep doing this until the ghee starts to separate, and the mixture turns into one big lump.
The amount of ghee you need to add to the halwa totally depends on your personal preference. If you stick to the recipe, you should be able to get your halwa to have that perfect semi solid consistency. If you like your halwa to be slightly on the softer side, you can add in a bit more milk to loosen it up.
Don't forget to add the cardamom powder to the halwa- it is what lends your halwa that rich flavor and aroma that it is famous for.
The kesar (saffron strands) impart a nice orange-yellow color to the halwa. Make sure you soak them in a little warm milk for a few minutes and then use them. This extra step will ensure that the flavor and the color seeps out easily.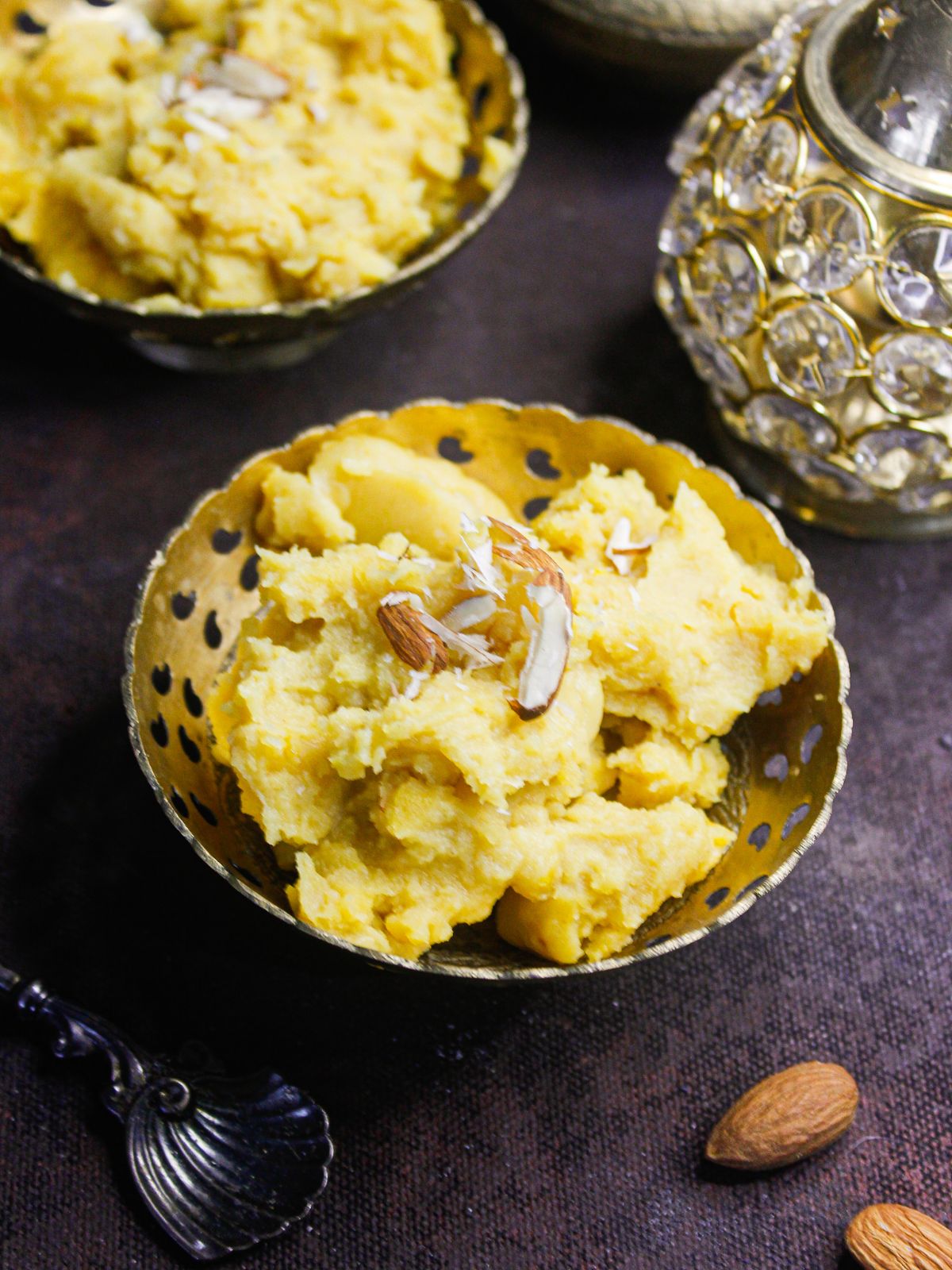 How to Serve the Besan Halwa
The Besan halwa tastes best when served after any of your meals- you can have it as a dessert or even for breakfast if you're in the mood to treat yourself a bit.
Feeling fancy and want to prepare an entire Indian meal? Start off with some classic chicken biryani or a nice curry like Madras chicken curry served with some homemade naan, raita on the side, and some pomegranate and mint cooler to wash it all down. And once that's done, follow up with a warm bowlful of Besan halwa.