Down for an incredibly easy dessert to treat yourself to after a long week at work? This cooling mango shrikhand recipe is just the thing you need. You'll be surprised at how simple it is, and how mind-blowing delicious it can taste.
This Indian dessert recipe is a must-try if you've got a sweet tooth, or if you've got to whip up a quick dessert for some guests coming over. But before you go ahead and start with the recipe, here's a quick summary of everything you need to know. Scroll down and keep reading.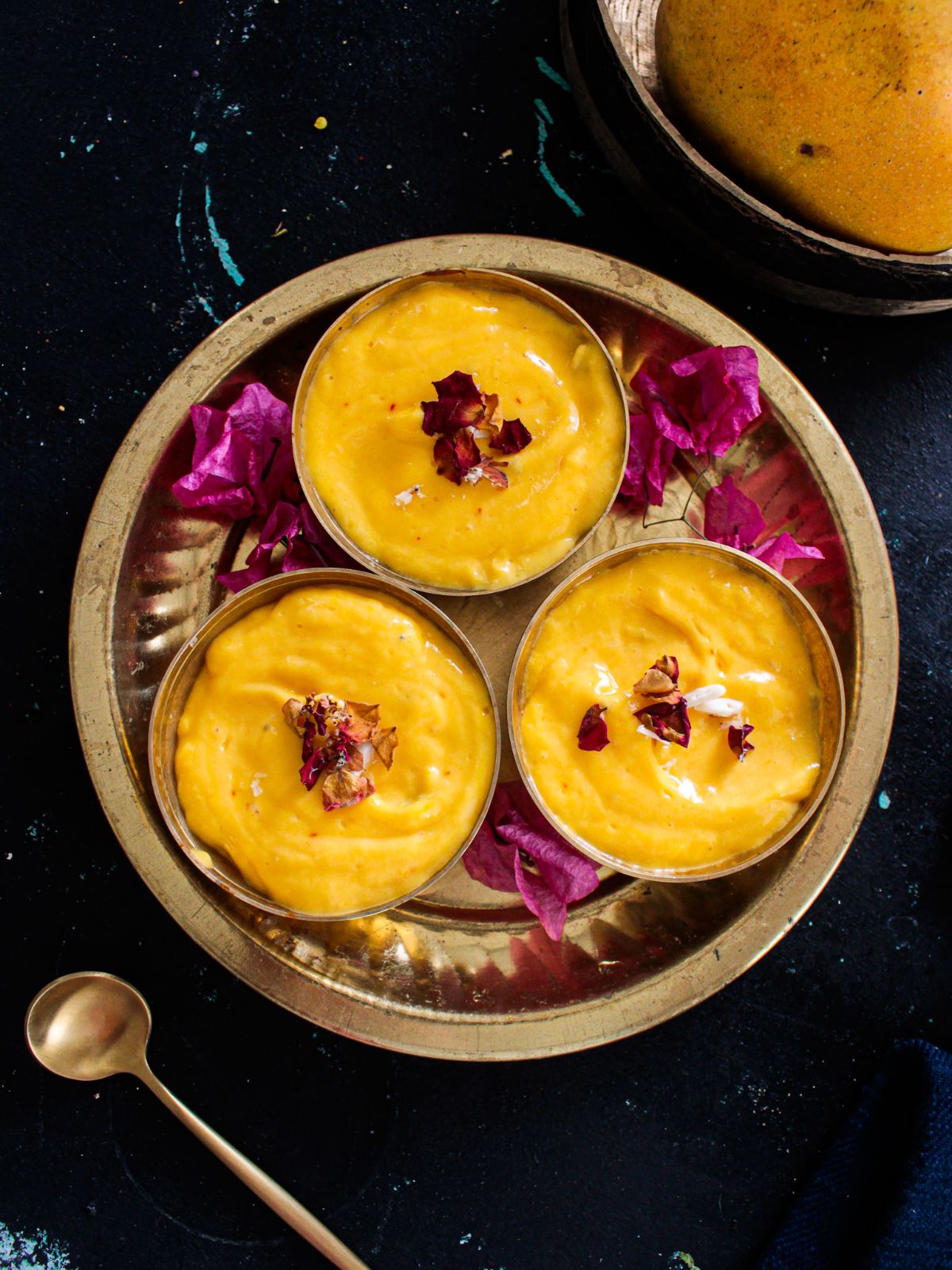 Jump to:
What is Mango Shrikhand?
Shrikhand is a popular sweet and dessert that has its origins in 2 different states in India. It is basically crafted using hung curd (yogurt), a sweetener, and a flavoring agent, and is served chilled.
Mango shrikhand, as the name suggests, has an additional ingredient- fresh mango pulp. This dessert is, therefore, super popular during the warmer months of the year when it is the mango season and fresh mangoes are available everywhere.
Can I Make Mango Shrikhand With Greek Yogurt?
You definitely can! Greek yogurt is super healthy, and you can surely use it as a substitute for your regular yogurt for this recipe. Just remember to stick to unflavored Greek yogurt for the recipe, for the actual mango flavors to shine through.
Can I Make Mango Shrikhand with Sour Cream?
While it may seem like an odd choice, it's definitely an alternative. Especially since you are working with plain yogurt and flavors added.
Sour cream can be another excellent alternative to use for this recipe when you don't have your regular yogurt. Just remember that you'll need to strain off all the excess water from the sour cream, and use the thicker version that's left behind.
Depending upon how sweet you like your shrikhand, you may want to add a bit of extra sweetener to this to offset the sourness of the cream.
Ingredients For the Recipe
With just five ingredients to name, this is a dessert recipe you definitely don't want to miss out on trying.
Yogurt
Mango
Cardamom
Saffron
Powdered sugar
Tools Needed in the Kitchen
Measuring cups and spoons
How Do I Make Mango Shrikhand?
Note: If using mango puree, skip the first step. e instructions are pretty simple, and if you use store-bought sweet mango pulp or mango puree, it gets even easier.
Roughly chop the mangoes or squeeze the pulp so you have a thickened puree. This can also be done by blending or using a food processor.
To a blender or food processor, add the yogurt, mango puree, cardamom, saffron, and sugar.
Pulse the mixture until blended well and the cardamom and saffron are incorporated well into the yogurt mixture.
Pour the shrikhand into individual serving bowls and chill for at least 3 hours before serving.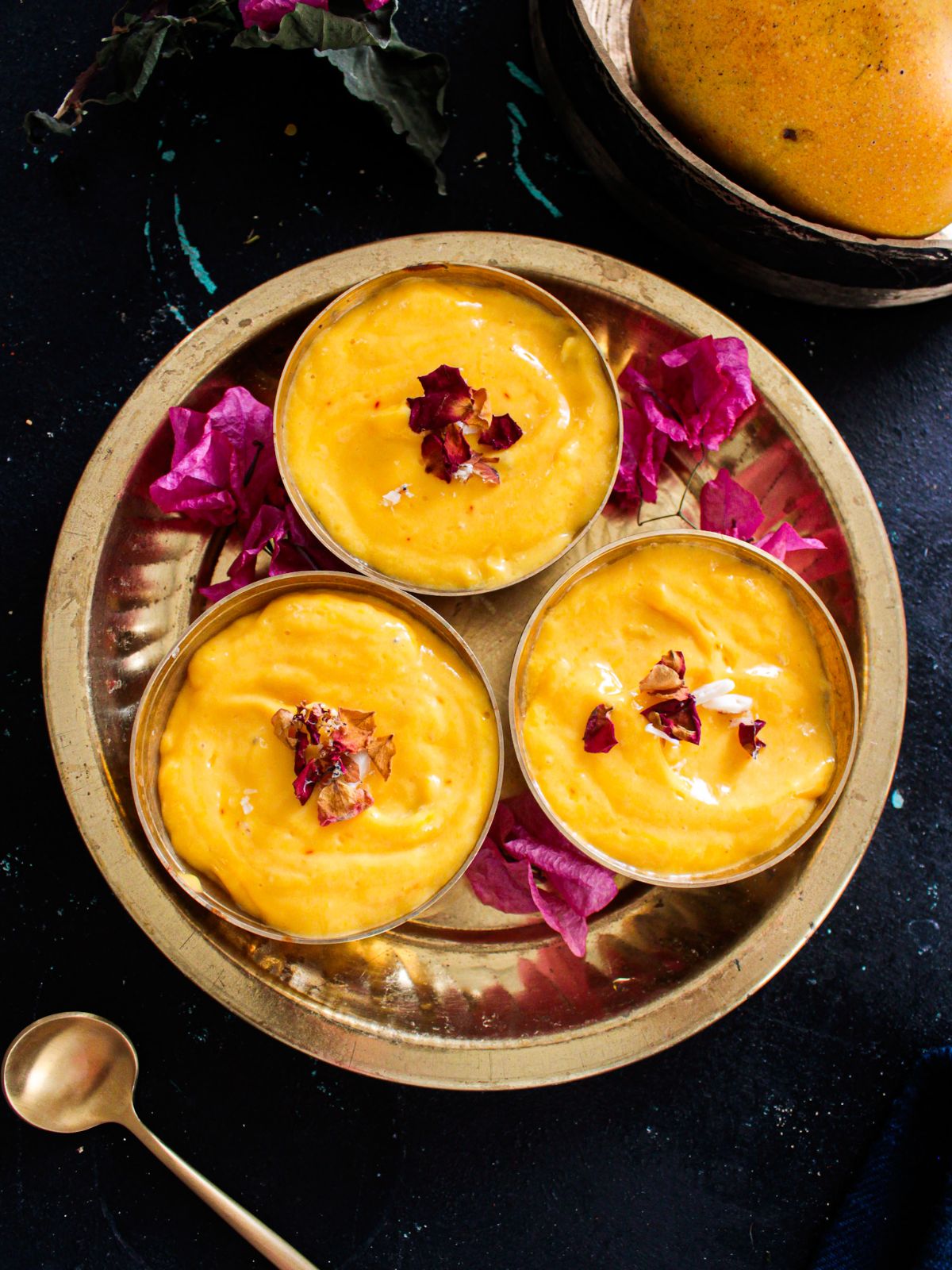 Serve cold topped with dried rose petals or alongside puri for a delicious snack or dessert.
How Do I Store Shrikhand?
Store mango shrikhand in an airtight container in the refrigerator for up to 1 week. While some say it is good for up to 2 weeks, the mango pulp mixed into it may not last as long as the yogurt, so it is recommended you consume within 1 week of making this version.
Tip: When storing, place plastic wrap against the very top of the shrikhand to create a seal against air so it doesn't form a film over the top.
Can I Freeze Shrikhand?
Shrikhand can be frozen for up to 3 months. Just prepare as directed, place into a labeled and dated storage container, and freeze. I recommend freezing in individual portions so it is easy to grab and thaw for serving.
It can also be served frozen for an extra yummy cold summer dessert if desired!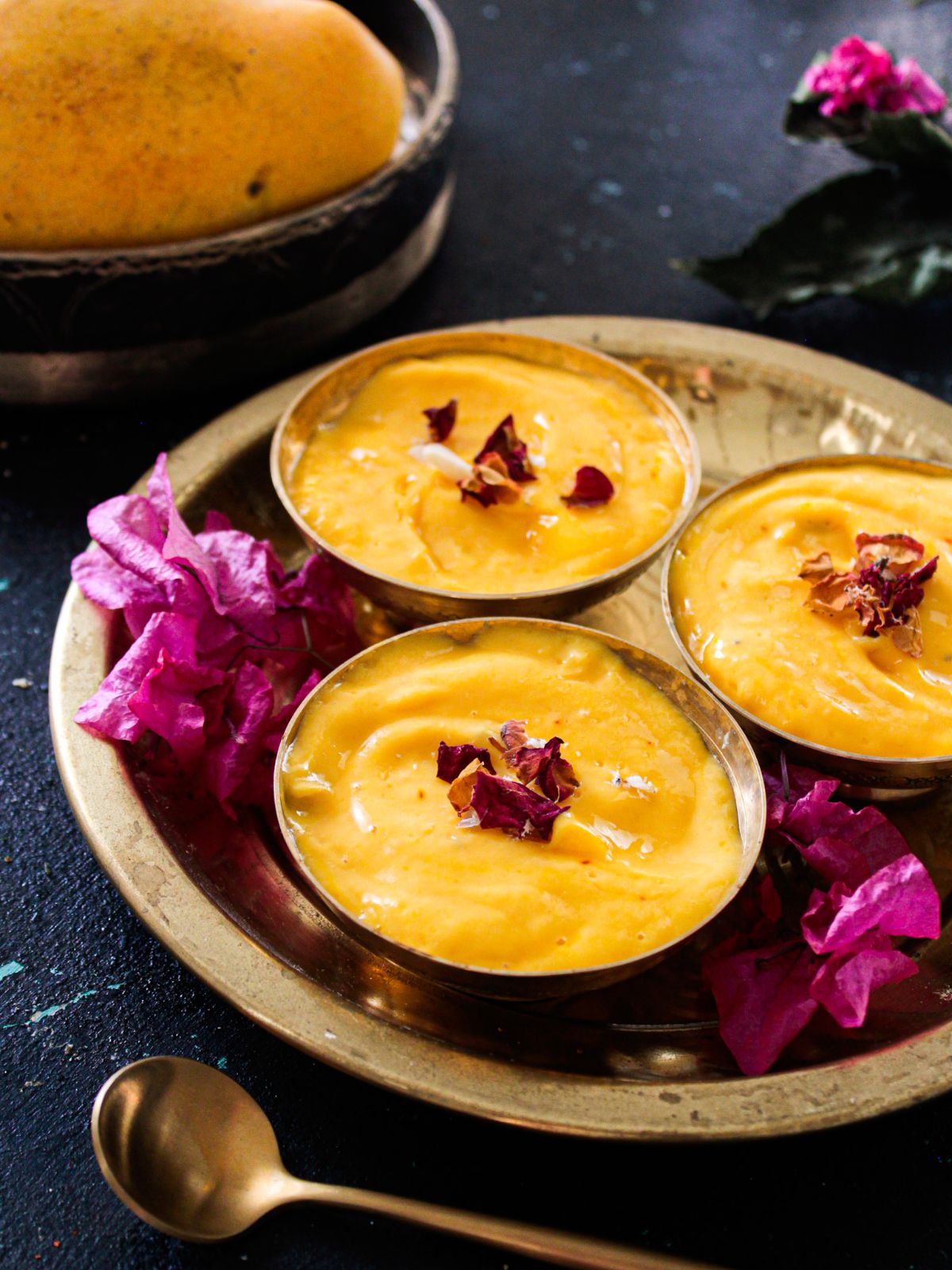 Tips & Tricks to Make it Right
With a recipe this simple, you just can't go wrong, but of course, some extra tips and tricks can always help.
If you're planning to use homemade yogurt for the mango shrikhand recipe, you'll need to strain off the excess water first. To do this, transfer the yogurt to a muslin cloth or a cheesecloth, get all the sides of the cloth together and hang it somewhere for a few minutes to allow all the liquid to drain away so that you get a nice, thick, creamy version of yogurt left behind.
If you don't have whole green cardamom, you can make do with cardamom powder too.
Make sure you allow the mango shrikhand to chill for at least 3-4 hours before you serve. This will allow the thickened yogurt to set properly and will help the flavors develop even more.
Canned mango pulp and canned mango puree can both work as great alternatives to your fresh mango pulp for this recipe.
Remember to whisk or blend the shrikhand mixture just until the ingredients are incorporated well. Overmixing will cause the yogurt, and eventually the shrikhand, to become runny and thin, which is not what you want.
To allow the the natural color of the saffron to be released more readily, you can soak the strands in a spoonful of warm milk for a few minutes and then add them into the yogurt mixture.
If you're making it for a special occasion, you can also sprinkle some chopped or slivered dry fruits like almonds and pistachios on the top, right before you serve. They'll lend the dessert a nice, luxurious touch.
To give the dessert a bit of a textural difference, you can also sneak in some chopped mango pieces, or serve it as a layered dessert by creating alternating layers of the chopped mango and the shrikhand.
Another fun way to serve this dessert is to pour it into small jars, sprinkle some chopped nuts on the top and a spoonful of chopped mangoes and hand it over as a small dessert jar.
Once you've mastered the base of the shrikhand, which is strained yogurt and sugar, you can experiment and try many different flavored shrikhands. Throw in some vanilla essence for a basic vanilla flavored shrikhand or add in some rose water for rose flavored shrikhand.
Serving Ideas & Suggestions
The best part about this dessert is that you can enjoy it as is. It tastes just like a creamier and more luxurious version of ice cream, and you'll fall in love with the flavor and the taste, and how simple it is to make. You can, of course, pair it up and take the dessert up a notch. Here are a few ideas to get started with.
Loved this creamy mango dessert? You might also want to give this refreshing mango lassi a try!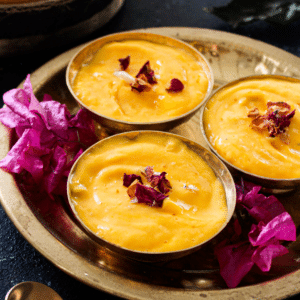 Easy Homemade Mango Shrikhand Dessert Recipe
Traditionally, Shrikhand is a dessert authentic to the state ofGujarat in India. But interestingly, this dessert had its origins inthe state of Maharashtra around 400 BCE!
Tomake this dessert, curd is usually used in India but it is firststrained so as to remove the excess water from curd. For this recipe,we will be using yogurt which doesn't contain too much waterinherently.
Equipment
Food Processor

Blender

Measuring cups and spoons
Ingredients
3

cups

Plain yogurt

strained of excess liquid

½

cup

mango puree

6

strands

Saffron

½

cup

Sugar
Instructions
Create mango puree by roughly chopping mango pulp or pulsing in a food processor until mashed.

Combine the mango, strained yogurt, cardamom, saffron, and sugar into a blender and pulse until comepletley mixed and smooth.

Cover and chill for 3 hours before serving.
Notes
When using curd, make sure to strain for 3 to 4 hours to remove all excess liquid. 
Nutrition
Calories:
239
kcal
Carbohydrates:
41.4
g
Protein:
10.7
g
Fat:
2.4
g
Saturated Fat:
1.9
g
Cholesterol:
11
mg
Sodium:
129
mg
Fiber:
0.5
g
Sugar:
40.8
g