Chicken Biryani is a national Indian dish. It consists of the layers of rice, yogurt & ginger marinated chicken, aromatic fried onions, and topped with the roasted cashews!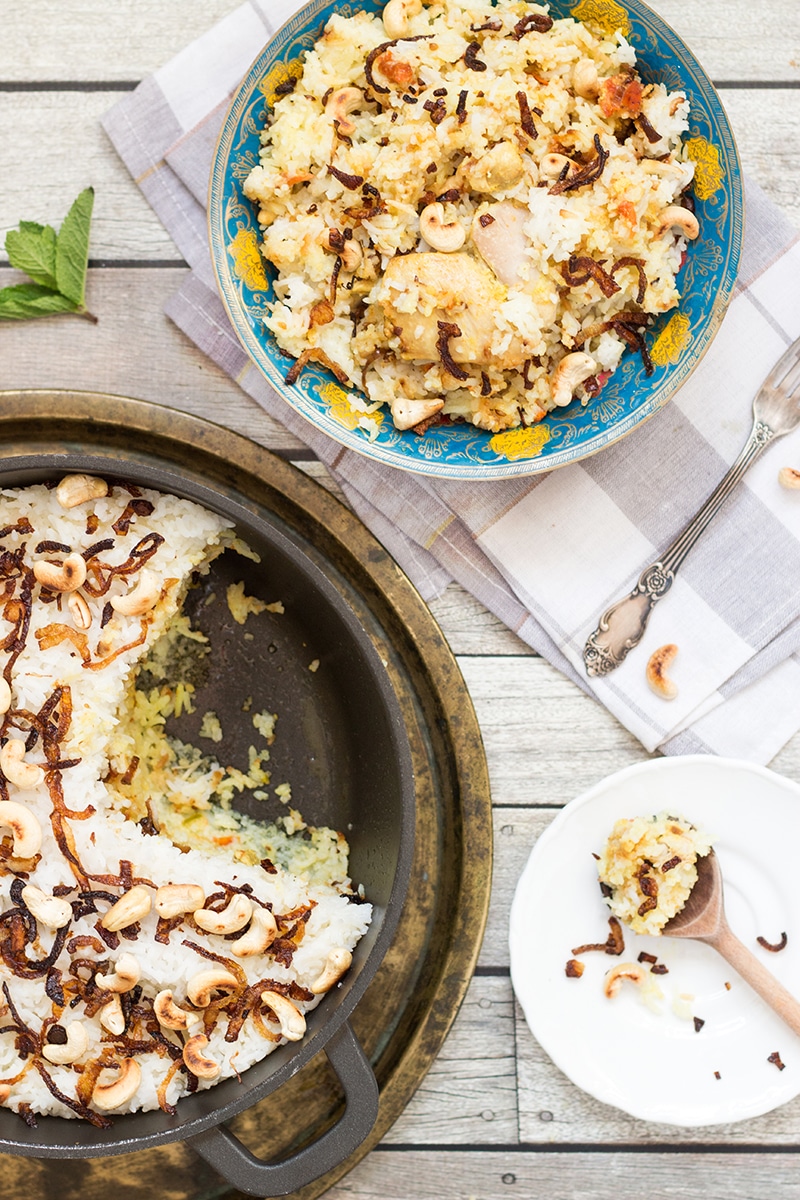 Indian cuisine is, without a shadow of doubt, one of the most popular ones in the world. I would say a top 5 for sure. The intense flavors, exotic aromas, and fantastic colors of Indian food attract many people. "If it's so popular, why you still don't have any Indian recipes on this blog?" you would ask me. I honestly don't know. Lately, I've been savoring Indian food in restaurants, rather than cooking it at home, I guess that's why. However, today I am going to fix this silly mistake! Meet Chicken Biryani - a classic Indian dish often served at various celebrations and weddings. After tasting it I can surely say that I would love to have it for my wedding too! Unfortunately, my ceremony took place 3 years ago. Oh well, we can still renew our vows in the future, so I have a chance!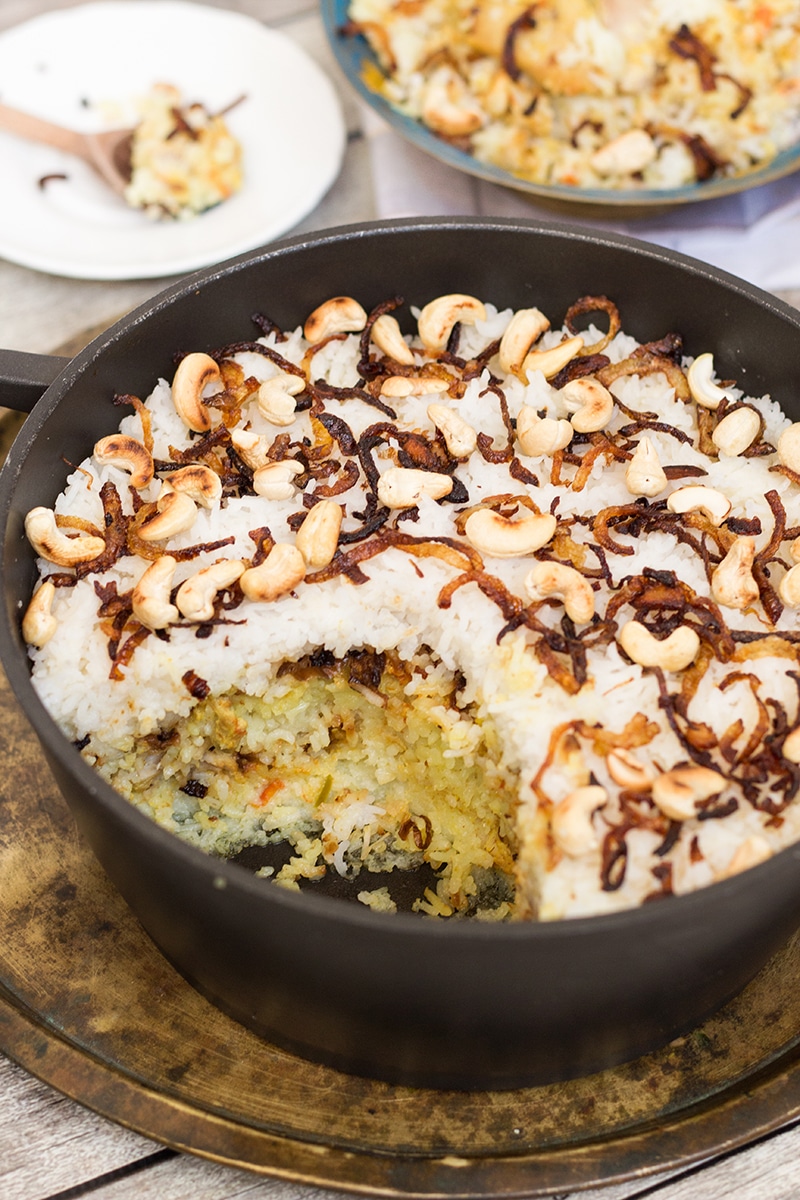 Biryani is believed to have originated in the Indian subcontinent or Persia. Wikipedia says, that this dish is throughout Middle East, Central Asia and South Asia. So what exactly is biryani? It's a mixed dish made with rice, meat, veggies and spices. It actually reminds me of another popular Central Asian (this cuisine is quite popular in my former USSR country) dish - pilaf or pulao. I am pretty sure many of you know and even have tried it! My mom made pulao quite often in my childhood. It's also a mixed rice and meat dish. Biryani and pilaf are pretty similar, so I googled to find a difference between these two. In biryani, rice and meat are cooked separately, forming layers after that and cooking everything together. Pulao, though, is a one pot dish and everything is cooked together from the scratch. Another difference - biryani has stronger spices than pulao. I agree with this one and I felt it from the very first bite.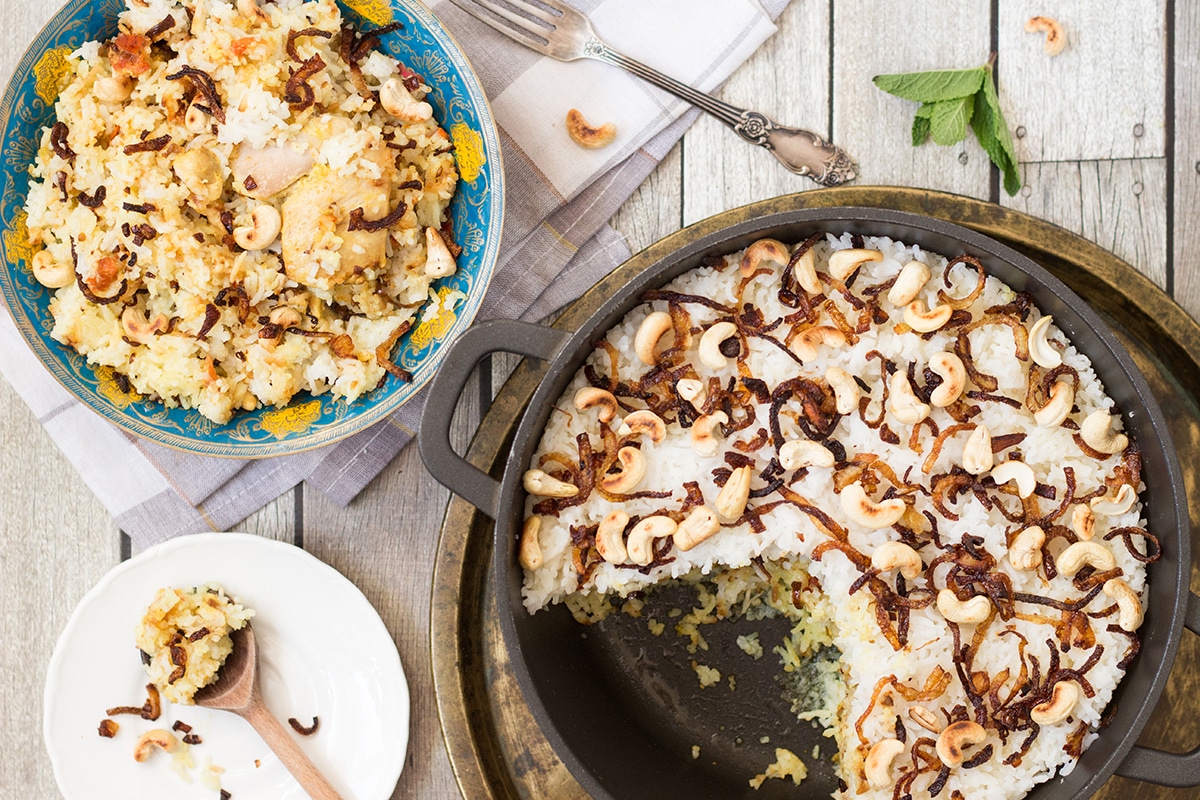 Biryani can be made using different kinds of meat, however the most popular ones are chicken biryani and mutton (or lamb) biryani. Every Indian has his own favorite. Sometimes, different versions of this dish even spark conflicts. Seriously. Few years ago one wedding in India was called off over the biryani! The groom's family had demanded mutton biryani, but the bride's side sent them chicken biryani instead. It was enough to call the wedding off. Indians are serious about their food!
I decided to make a chicken version of this dish because it's more accessible and easier to make. The recipe is from the wonderful book Rick Stein's India. Love him and his TV shows! Now few words about the recipe itself. Saffron is optional. It's expensive and it's more like a fancy chicken biryani version if you are using it. Of course, if you have some spare saffron (it sound's strange - "spare saffron") you can use it. I am pretty sure it will only make the dish better. If not, don't worry, I made mine without saffron and it was crazily delicious. Oh and don't get intimidated by the recipe length. It's not more work than making a simple lasagna. I promise you.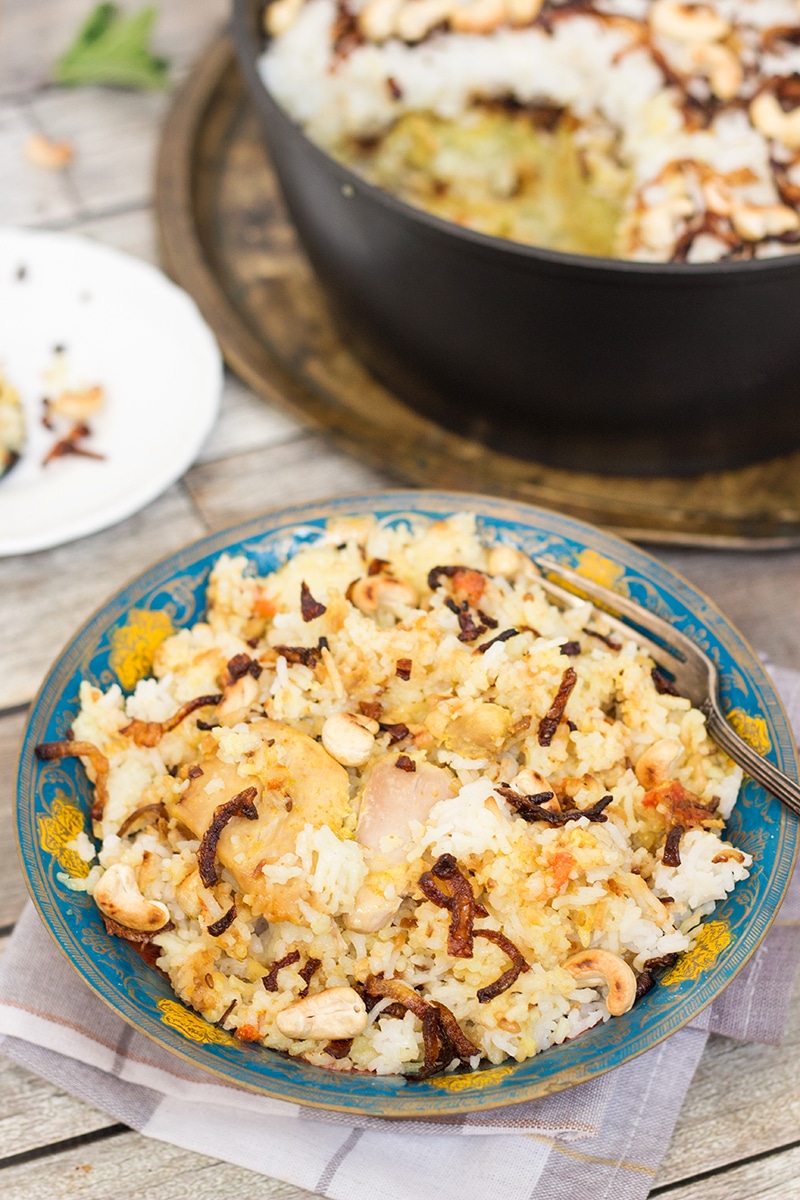 To conclude just let me say that I loved chicken biryani. I made it for the first time (I tried few different recipes before finding the best one though) and I enjoyed everything about it. The spices are perfect in this one! There are so much of them in this recipe but when they all blend together... Cardamom, cinnamon, cloves... The final results is outstanding. The meat marinade works so well with the rice too. This dish has no flaws at all! As if it wouldn't be enough, toasted cashews and fried onions on top... Perfection. I highly recommend this one!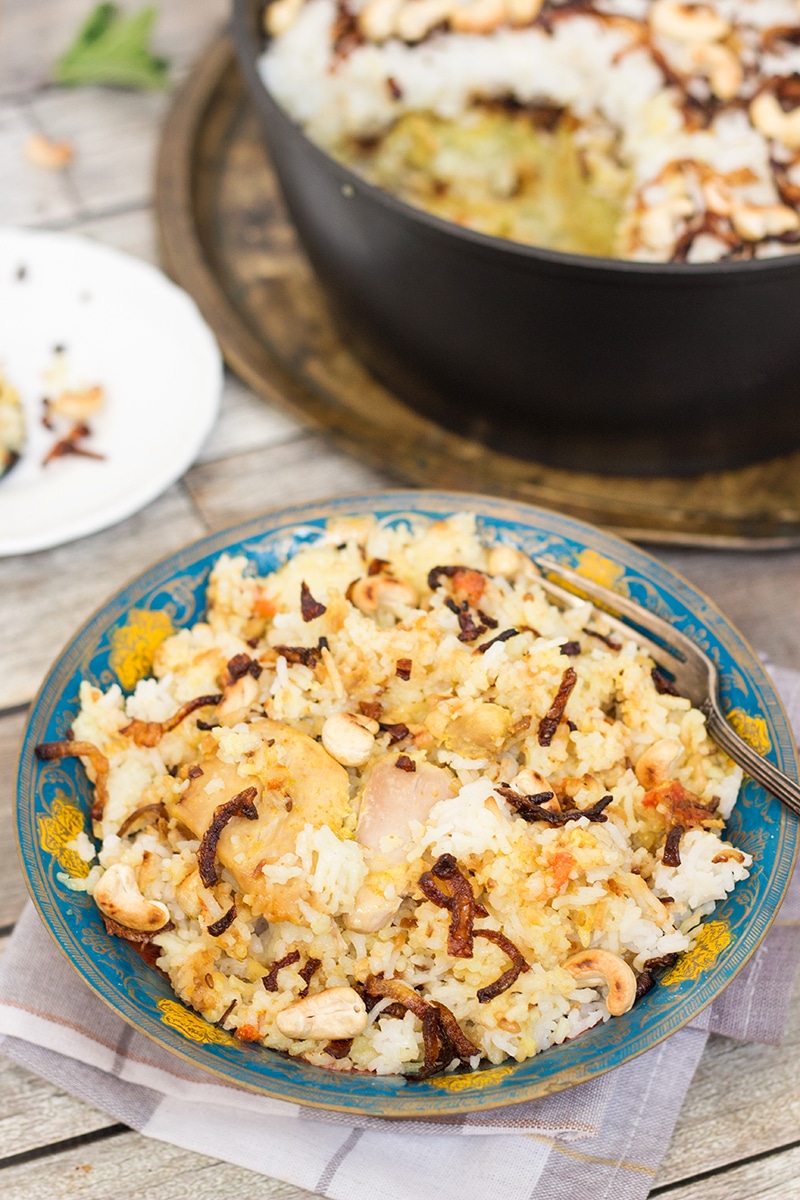 Chicken Biryani Recipe
This Chicken Biryani recipe is sure to become one of your favorites. Layers of flavorful marinated chicken, rice, fried onions, and cashews make it an exceptional dish!

Ingredients
For the marinade:
1

pound (450g)

skinless, boneless chicken thighs

, cut in half

1

cup (250ml)

plain yogurt

6

cloves

garlic

, crushed

2-2 ½

inch (6cm)

ginger

, finely grated

3

green chilies

, chopped

1

teaspoon

chili powder

1

teaspoon

ground coriander

½

teaspoon

turmeric
For the fried onions:
1 ¼

cup (300ml)

vegetable oil

3

onions

, thinly sliced

10

whole cloves

1

cinnamon stick

5

green cardamom pods

, bashed with a rolling pin

2

bay leaves

1

teaspoon

Cumin seeds

2

tomatoes

, chopped

1

teaspoon

salt
For the rice:
3

cups (600g)

basmati rice

, soaked in cold water for about 1 hour

1

teaspoon

salt

per litre/quart of cooking water
For the assembly:
½

cup (100g)

ghee

, melted

Pinch of saffron soaked in 4 tablespoons warm milk for 10 minutes (optional)

¼

cup (40g)

cashew nuts

, toasted
Instructions
Combine all the marinade ingredients, add the chicken pieces, coat, and set aside to marinate for about 1 hour.

Heat the vegetable oil in a skillet until hot and add onions. Fry for 10-15 minutes, until golden brown. Remove from pan and drain on paper towel. Set aside.

Remove the oil from a pan leaving about 3 tablespoons of it. Add the whole cloves, cinnamon stick, cardamom pods, bay leaves, cumin seeds and fry for 1 minute. Add the chicken together with the marinade, bring to a simmer, and stir in the tomatoes and salt. Simmer over medium heat for 20 minutes, until the chicken is cooked through. The sauce should be really dry by this stage.

Drain the soaked rice. In a large pot, bring salted water to boil. Add the rice and cook for 5-7 minutes, until the rice is just tender, but still firm. Drain well.

Now to the assembly. Take a deep, heavy based pot. Pour 3 tablespoons of water and add half the ghee into it. Now add ⅓ of the rice. If you have the saffron milk, sprinkle over about ⅓ of it. Spread the half of the chicken mixture and ⅓ of the fried onions. Now repeat the layer with another ⅓ of the rice, ⅓ of the saffron milk, the rest of the chicken, and another ⅓ of the fried onions. Top with the remaining rice and remaining saffron milk. Don't use the remaining fried onions for now, set them aside. Drizzle the remaining ghee around the edges.

Cover with a well-fitting lid. Cook over a very low heat for 30 minutes. Serve in a large plate, topped with the rest of the fried onions and toasted cashews. Enjoy!
Nutrition
* This post contains affiliate links, thank you for the support in keeping Cooking The Globe up and running!