Forget about a common lasagna Bolognese and try something different this time. For example, this meatless Italian Pesto Lasagna with a homemade pesto sauce. It's super creamy & cheesy with a lovely Parmesan crust on top!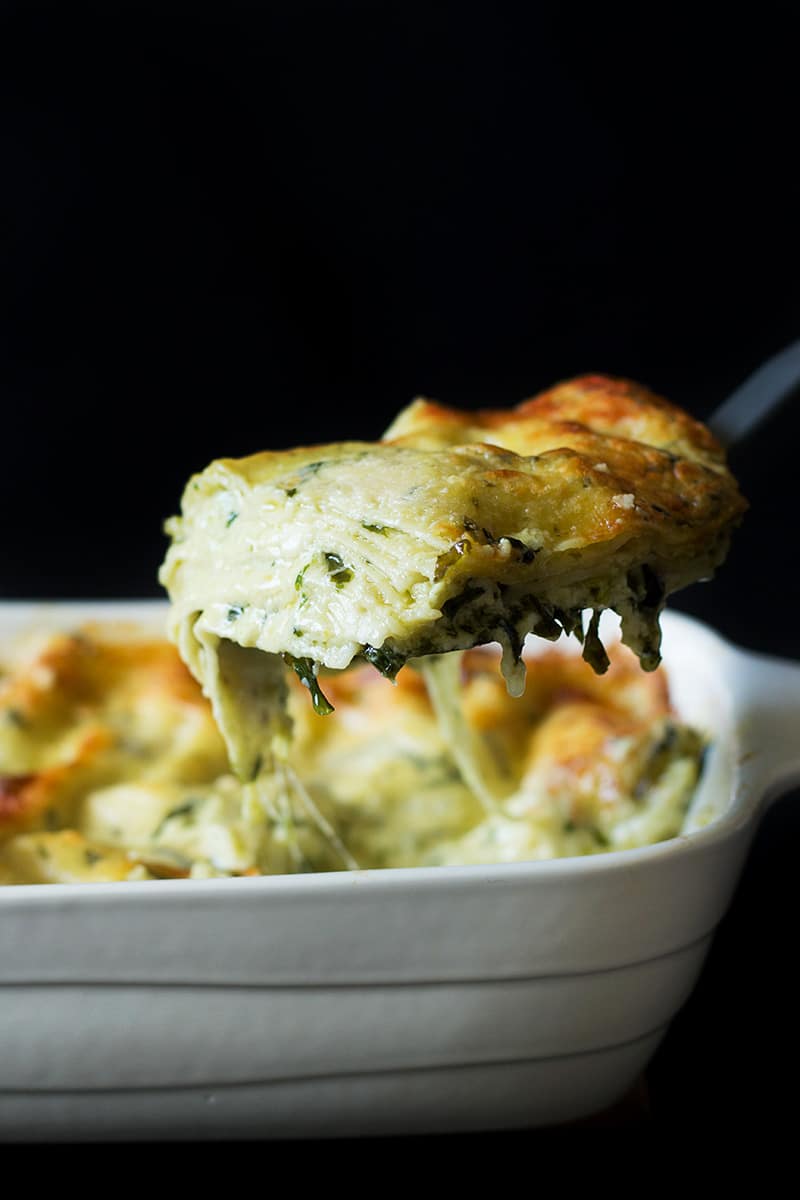 Italians love food. For them, it's not something you simply stuff your belly with, it's part of their culture. A very important part. They also value family more than anything. When a big Italian family gathers together, the table is always filled with great homemade food.
They are so obsessed with food that even their insults are food-related. Cucuzza (Googootz) - a squash like vegetable, sister of zucchini, mulignan - from Italian melanzana (an eggplant), Fanook - derived from "finocchio" or fennel. If you are a big time Sopranos fan like me, you might know what they mean, otherwise, google them to find out because I don't want to insult anyone here.
Italians are also very proud, defensive and protective about their own cuisine. If you want to piss off an Italian just mess with their food. Adding wrong ingredients to their traditional dishes unleashes a beast inside them. That's why I had to be extra careful when making today's dish - creamy pesto lasagna. I certainly don't want Italians to go Tony Soprano on me.
Talking about the pesto lasagna itself - it's pretty straightforward and simple. All you have to do is to combine pesto, béchamel sauce, mozzarella and Parmesan cheese and you are done! Pesto can be either store bought or made at home. I always make my own pesto because it's tastier by miles. It's not even a discussion! If you doubt my words, just try to make a homemade pesto once and you will never look back. I promise you.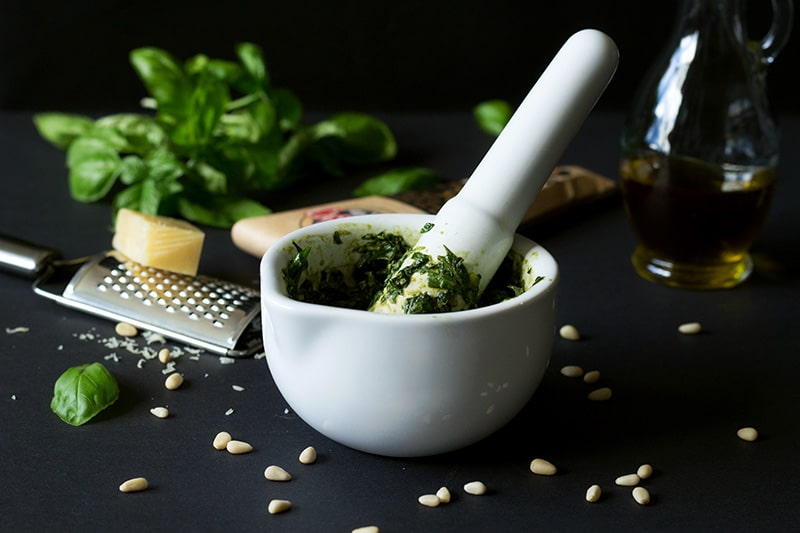 There are two ways to make pesto at home: the authentic (hard one) and the modern (easy one). The first method uses a mortar and pestle while the second one - a food processor or blender. It is said that pounding pesto ingredients by hand releases more flavors and aromatic oils. I will be frank with you. I almost had the food processor in my hands when I heard the voice of Don Corleone in my head. "You make pesto... But you make it without respect." A tidal wave of cold sweat rushed through my body. The unanimous decision to use a mortar and pestle was made at that very moment.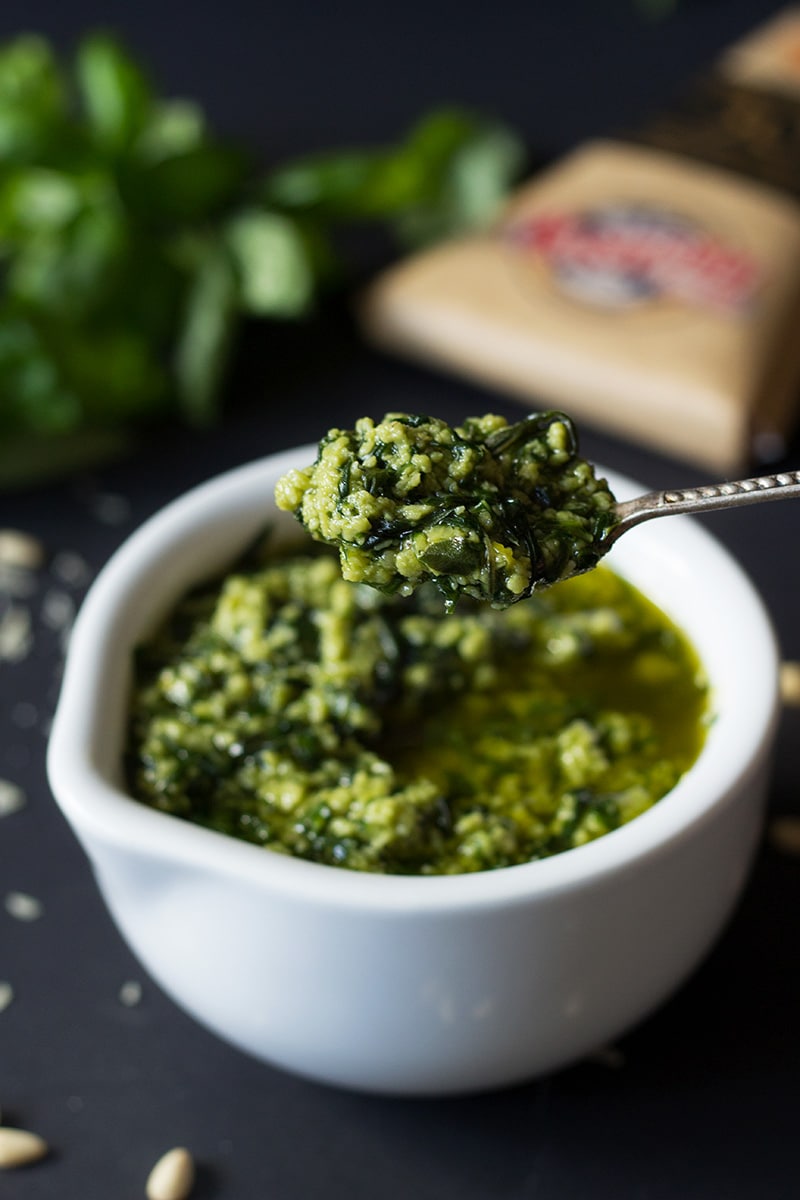 Pounding garlic, salt, pine nuts and basil by hand can be fun but it can also be daunting when, for instance, making pesto for a crowd. It is also unrealistic to expect that a busy person will be playing with a mortar and pestle after a long day at work just to make a pesto lasagna. That's why I see nothing wrong with using a food processor in such situations. However, if you do have some spare time - go with the authentic method. It's really worth it.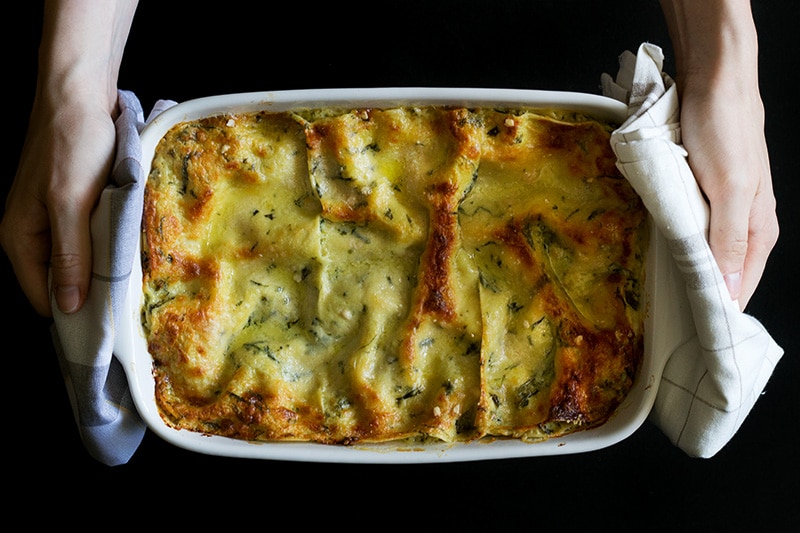 Remember, that there is no golden rule for how much basil, olive oil, Parmesan or how many pine nuts you have to use in the pesto recipe. It depends on your taste. Want more nutty flavor? Add more pine nuts. You like your pesto runny? Add more olive oil and so on.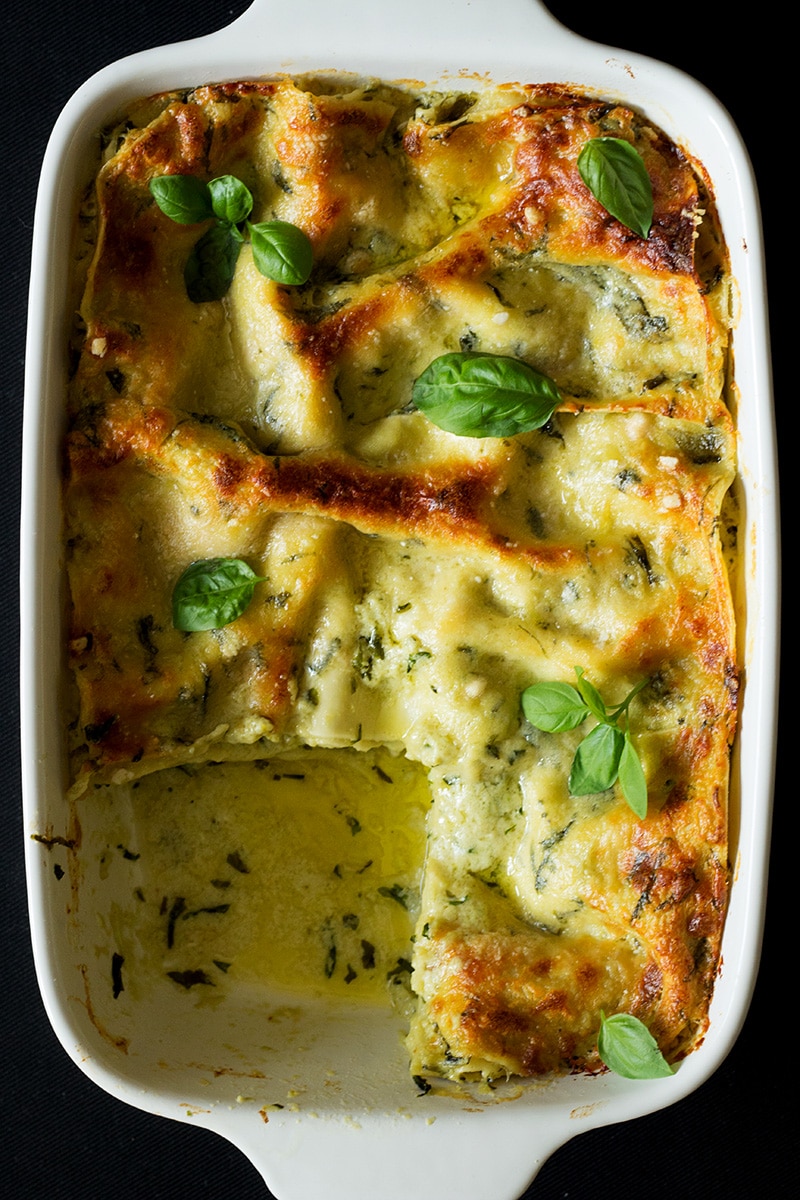 This pesto lasagna has exceeded my highest expectations. It sounds simple but the taste... Mamma mia! If you love basil as much as I do - you will love it. The combination of pesto and béchamel is impeccable. Mozzarella adds that lovely creamy texture and flavor. Parmesan is like a cherry on top. Bellissimo!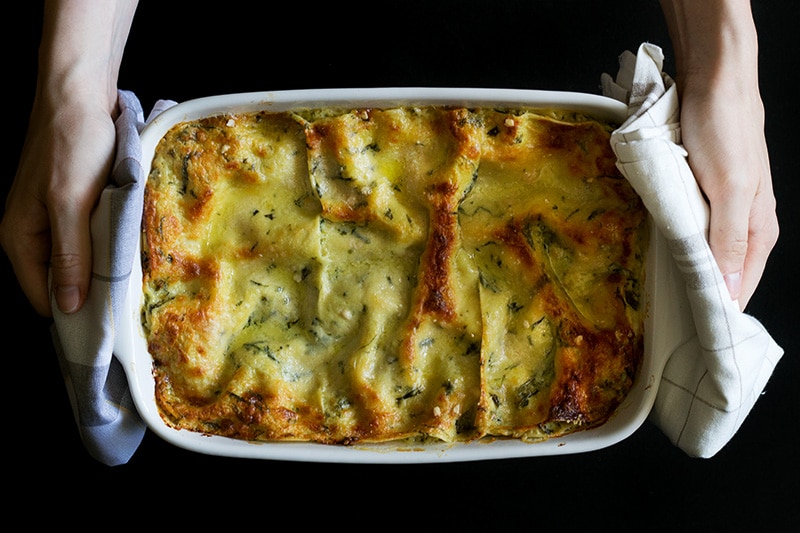 Creamy Pesto Lasagna
Who knows better how to make a great lasagna than Italians? This meatless Pesto Lasagna features a homemade pesto sauce and is super creamy and cheesy!

Ingredients
For the Pesto:
3

cups packed (3 oz or 90-100g)

fresh basil leaves

3

small garlic cloves,

crushed with the back of a knife

¾

cup (180ml)

extra virgin olive oil

¼

cup (35g)

pine nuts,

lightly toasted

1

cup (100g)

Parmesan cheese,

freshly grated

zest of 1 lemon

½

teaspoon

salt
For the Bechamel sauce:
½

cup (1 stick or 110g)

unsalted butter

5

tablespoons

all-purpose flour

4

cups

milk

⅛

teaspoon (a pinch)

ground nutmeg

½-3/4

teaspoon (3-4g)

salt

freshly ground black pepper,

to taste
For the lasagna assembly:
8

oz (225g)

fresh mozzarella,

torn into pieces

1

cup (100g)

Parmesan cheese,

freshly grated

1

package no-boil lasagna noodles
Instructions
The Pesto. Mortar and pestle method. Pound the garlic and salt together in a mortar and pestle until smooth. Add toasted pine nuts and keep pounding until crushed and creamy. Add the basil in handfuls crushing the leaves against the walls of the mortar in a circular motion. Once the leaves are crushed, stir in the Parmesan cheese and lemon zest. Lastly, gradually pound in the olive oil, adding a spoonful at a time. Mix everything well until the pesto is smooth and the olive oil is evenly distributed.

Food processor method. Place the garlic, basil leaves, pine nuts and salt in a food processor. Pulse several times or process continuously until the basil is pureed. Add the grated cheese and lemon zest and pulse several times more. While the food processor is running, add the olive oil.

The Bechamel sauce. Melt the butter over low heat in a heavy-bottomed saucepan. Stir in the flour and cook, stirring continuously, for 2-3 minutes not allowing the mixture to brown. Add the milk slowly, continuing to stir to prevent lumps from forming, until you get the smooth, thick sauce. Bring it to a boil and simmer for about 10-15 minutes, stirring constantly, until it coats the back of a spoon. Turn off the heat and add the nutmeg, salt and black pepper. Cover until ready to use to prevent a skin from forming.

The lasagna assembly. Preheat the oven to 375 degrees F (190C). Mix together the pesto and the bechamel sauce. Spread a layer of the sauce on the bottom of a 9x13-inch baking dish and place a first layer of lasagna noodles. Cover with the sauce, mozzarella pieces and a dusting of Parmesan. Add another layer of lasagna noodles and repeat the topping. Continue with all the layers in this way, finishing with the sauce and grated Parmesan on the top.

Bake for 30-35 minutes or until the cheese is golden brown. Enjoy!
Notes
Recipe adapted from Jessica Theroux's book Cooking with Italian Grandmothers: Recipes and Stories from Tuscany to Sicily
Nutrition