This Finnish Salmon Soup, known as Lohikeitto in the homeland, is to die for. Creamy and hearty, it is guaranteed to warm your soul on cold fall and winter days. Plus, it's really easy and quick to make - ready in a half an hour!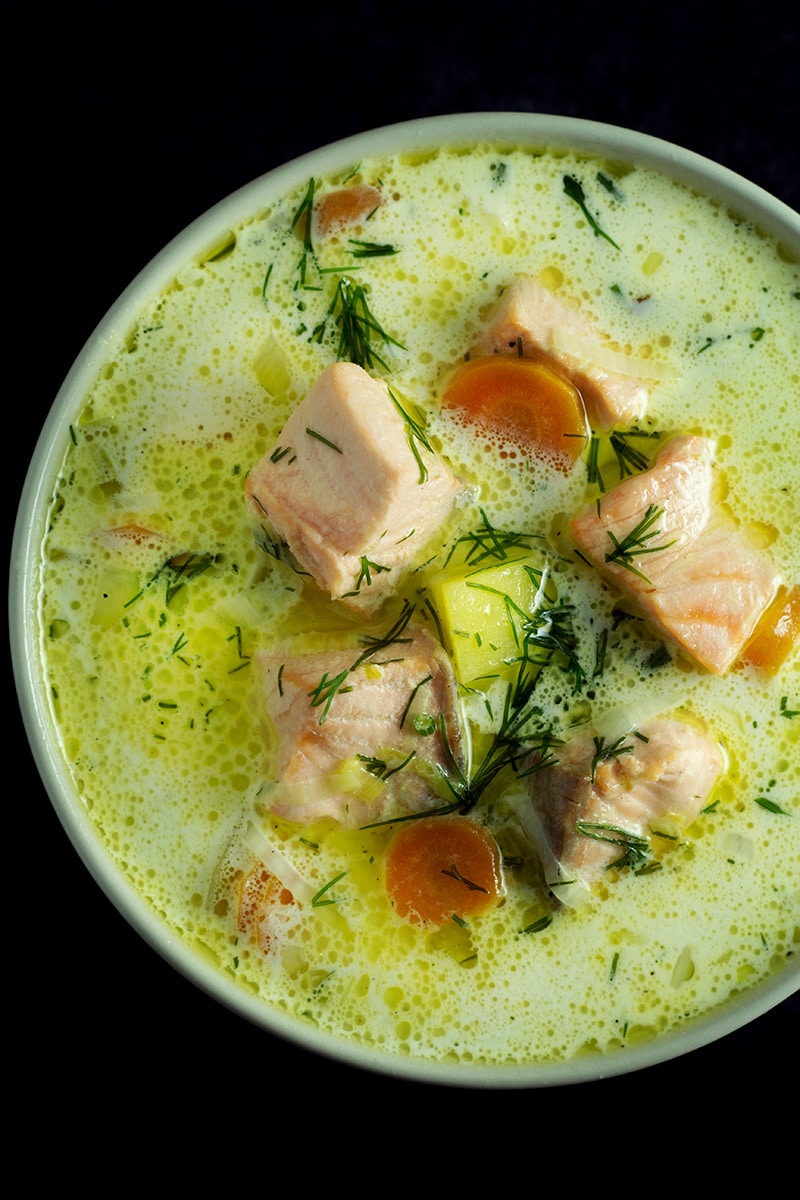 As an avid traveler, I have a list of my dream destinations. It's sort of a bucket list. One of these places is Lapland, Finland's northernmost region. Yeah yeah, the place where Santa Claus and his elves live! However our Christmas symbol is not the reason why I want to get there. Or at least it wasn't the reason till my son was born three months ago. Now, it goes without saying that we would visit Santa's village together! I can't even imagine how happy my son would be there and it warms my heart to even think about it.
Let's get back to the main reason why Lapland is in my dream list. The Northern Lights. It's the unforgettable light show, created by Mother Nature, which you can observe in the sky. In Lapland the Northern Lights are visible on about 200 nights a year! How awesome is that? I even have a fantastic place in mind where I would love to be while gazing at the night sky - these AMAZING glass igloos. I've just shed a manly tear while looking at this picture.

There is one more thing you should know about Lapland. Winters are freezing cold and long there - the region lies north of the Arctic Circle. Temperatures can reach as low as -40°C or -40°F (the magical point when Celsius and Fahrenheit numbers are equal). Maybe that's the reason why one of the region specialties is the hearty and creamy salmon soup called Lohikeitto (Lohi - salmon, keitto - soup in Finnish).
Why salmon? Well, Finland has an abundance of it. The Tana river, which flows through Lapland, is said to be the best salmon river in the whole world. Even the world's record for the biggest Atlantic salmon is held by a fish caught in this river - it was 36 kilograms (79 lb). It's something, isn't it?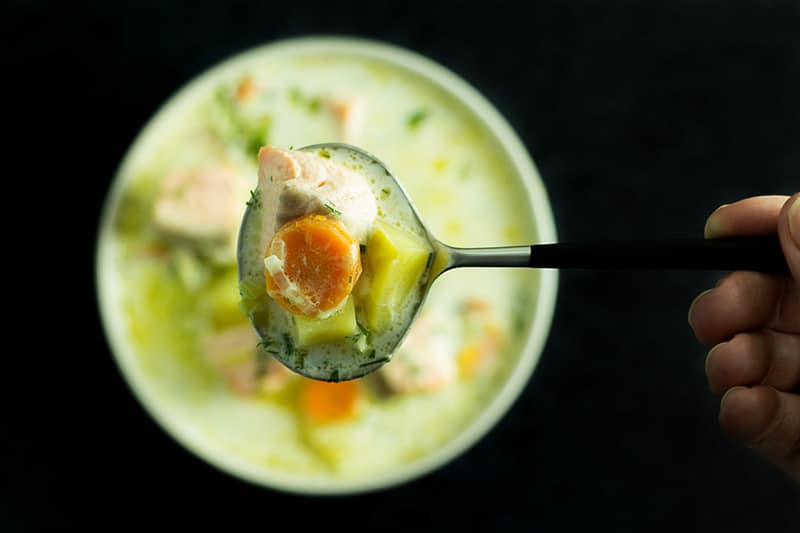 I am actually a huge salmon fan. Life without salmon is barely worth living to me. I love it seared, baked, smoked, grilled, poached, cured in salt, you name it. I enjoy it in salads, spreads, patties, chowders and of course soups! Needless to say, Lohikeitto was right up my alley. This Finnish salmon soup uses cream as a base and is made of salmon chunks, potatoes, leeks and generously garnished with dill. It doesn't sound too fancy, but believe me, it has everything you need.

I used heavy cream but you can substitute it with lighter one. There are some versions of this salmon soup floating around the internet with cornstarch as a thickening agent, but the authentic recipe doesn't use any thickeners at all. The traditional recipe uses fish stock, so did I. I've made it from the salmon heads and bones by myself but you can easily use liquid store-bought one. It won't be a huge issue if you'll use water instead of the fish stock too.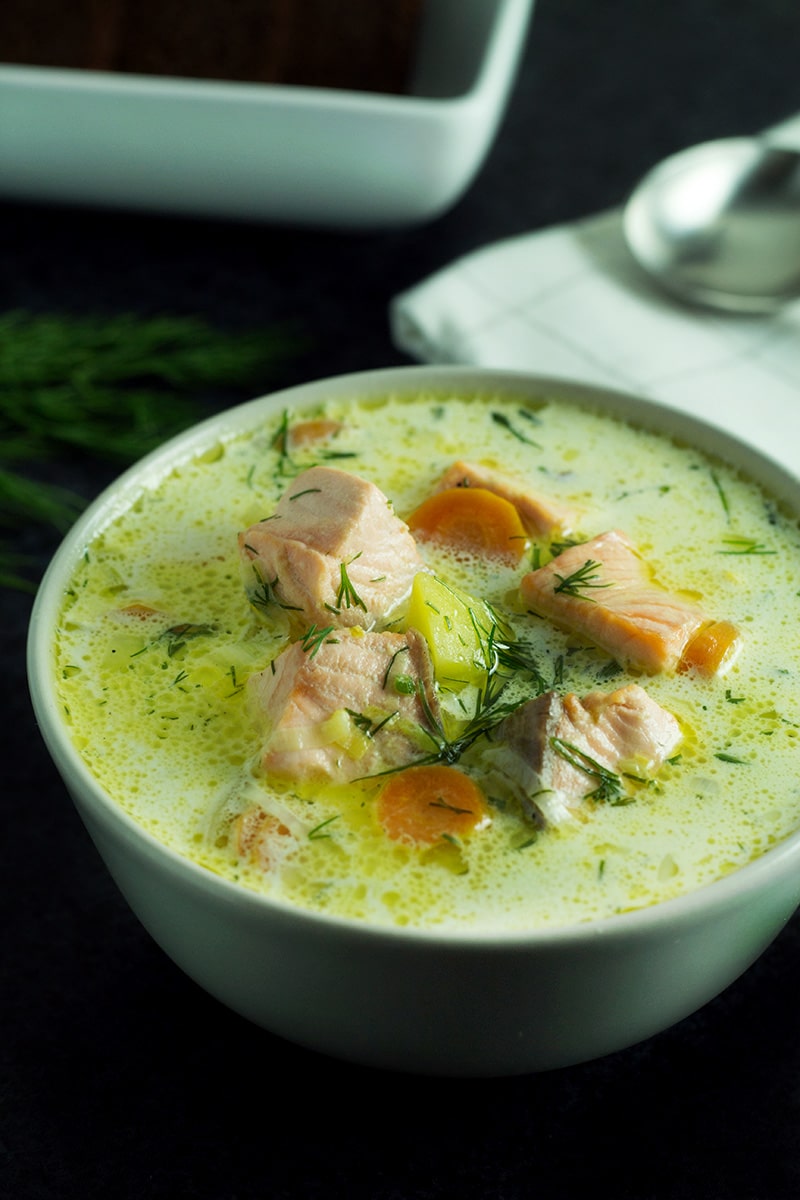 To sum up - this salmon soup is definitely a winner. I can understand why it is so popular in Finland. It warms you up instantly and can keep you going all day long. Lohikeitto is full of flavor and has a wonderful texture. I've already eaten two plates of this goodness today. Thinking about grabbing the third one, but I probably won't have enough space in my stomach. Bummer! It's really filling! I don't know about you - but this is my new soup favorite. Cold winter days are approaching but with Lohikeitto I am not afraid of them. At all.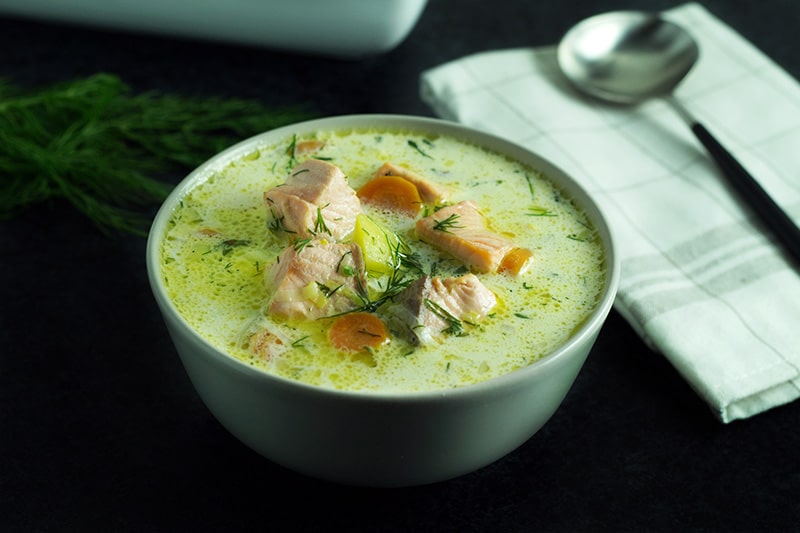 Finnish Salmon Soup - Lohikeitto
Creamy, hearty, and comforting, this Finnish Salmon Soup (Lohikeitto) is perfect for chilly fall or winter days. Ready in 30 minutes + really easy to make!
Ingredients
½

stick (¼ cup or about 50 grams)

unsalted butter

1

leek,

sliced (white and light green parts only)

5

cups (1,25l)

fish stock

(can be substituted with water)

1

lb (450g)

potatoes,

cubed

1

carrot,

sliced

1

lb (450g)

salmon fillet,

de-boned, de-skinned and cut into small chunks

1

cup (250ml)

heavy cream

1

cup (10g)

fresh dill for garnish,

finely chopped

salt and pepper to taste
Instructions
Melt the butter in a pot. Add the sliced leek and saute until translucent, about 7 minutes.

Add the stock, carrot and potatoes. Bring to a boil and cook for about 10 minutes over medium heat. At this point the potatoes should be almost ready.

Add the salmon chunks and the cream, and cook for about 5-7 minutes more, until it starts to boil.

Turn off the heat and add the dill, salt and pepper. Close the lid and wait for another 10 minutes. Enjoy!
Nutrition