This Greek Lemon Rice Soup (Avgolemono) is not your ordinary comforting soup. Light and creamy, each bowl contains tender chicken, rice, and is packed with lemon-y flavor!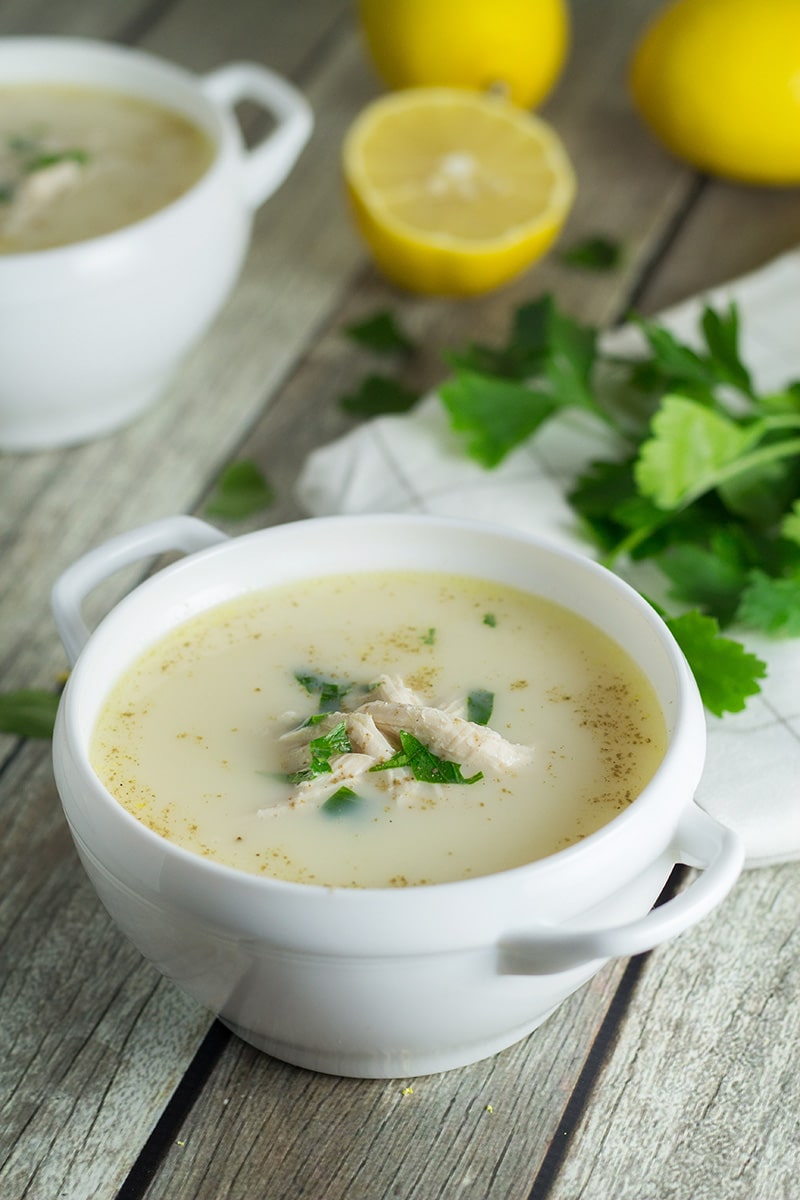 Let's play a game. Guess the country! This country has more than 2000 islands and the largest coastline in Europe. Any guesses? With the sun shining more than 250 days a year, people are spoiled by a warm climate there. They are relaxed, laid back and just enjoying life at its fullest. Still no versions? The last fact will make it clear as a blue sky on a beautiful sunny day. This country has one of the richest if not the richest history in the whole world. It is considered to be the birthplace of politics, democracy, Western literature... Yup, it's Greece!
Everybody loves Greece. Unfortunately, I have never been there yet but I DO already know that it's a true paradise. That's why it's on my bucket list and I am sure that my feet will step on the Greek soil sooner or later. But for now, let's travel there from the kitchen by making the famous Greek lemon rice soup called Avgolemono. Avgolemono means "egg and lemon" in Greek. No wonder, considering that the star of this soup is the lemon-egg sauce which defines the taste of the dish.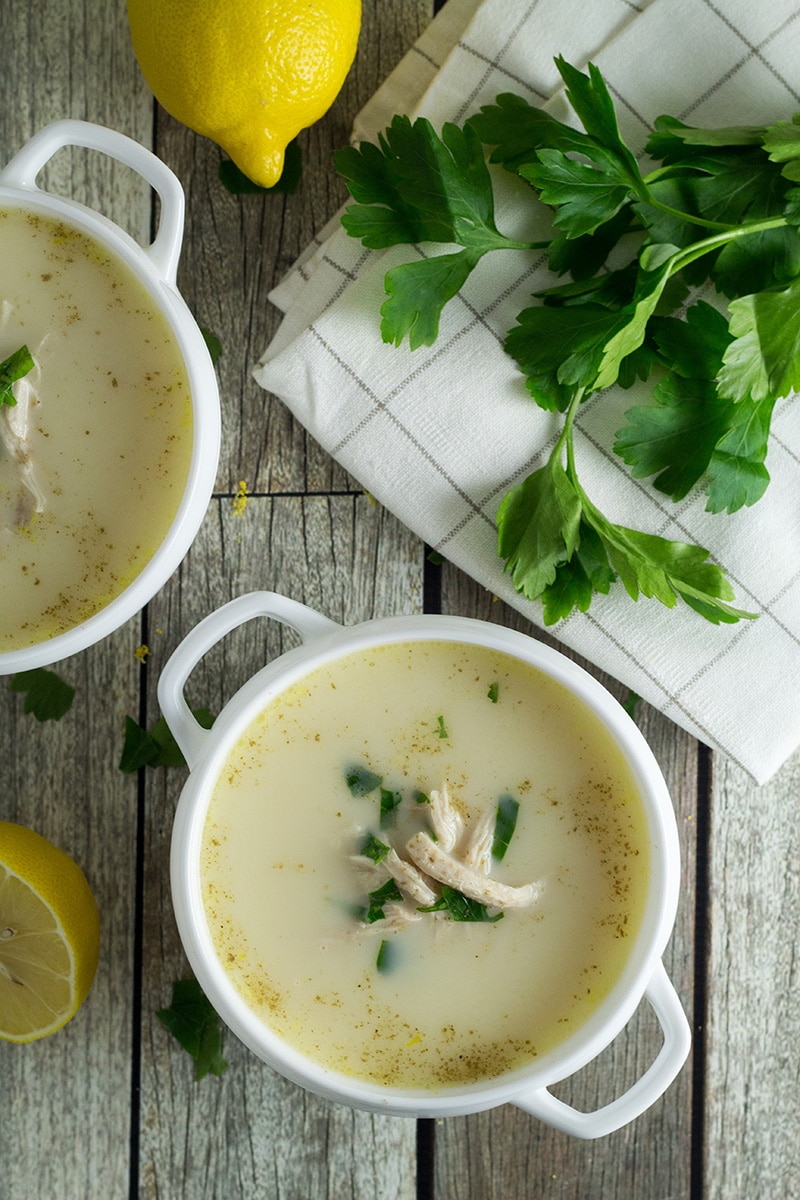 There are two ways to make Avgolemono. Either you make a stock from scratch or use a store bought one. Giving that it's impossible to find a liquid stock in my country, I had no other choice than to make my own. Maybe in this particular case, for the sake of authenticity, I would do a stock from scratch anyway, but it sucks not to have an opportunity to buy a normal one. Our supermarkets offer only stock cubes, which you have to dissolve in water. Hate them.
Actually, I was looking for an excuse to make a chicken stock for a while, after reading this amazing and detailed article on topic. Serious Eats nailed it, as always. I've followed all their recommendations: meat and water ratio, cooking time, aromatics. The article suggested to use chicken wings for a stock but I've used 1 lb wings + 1 lb chicken breast. The things is we will need shredded chicken for the soup so it was logical to do that. If you will use a store-bought stock, you will have to cook chicken beforehand.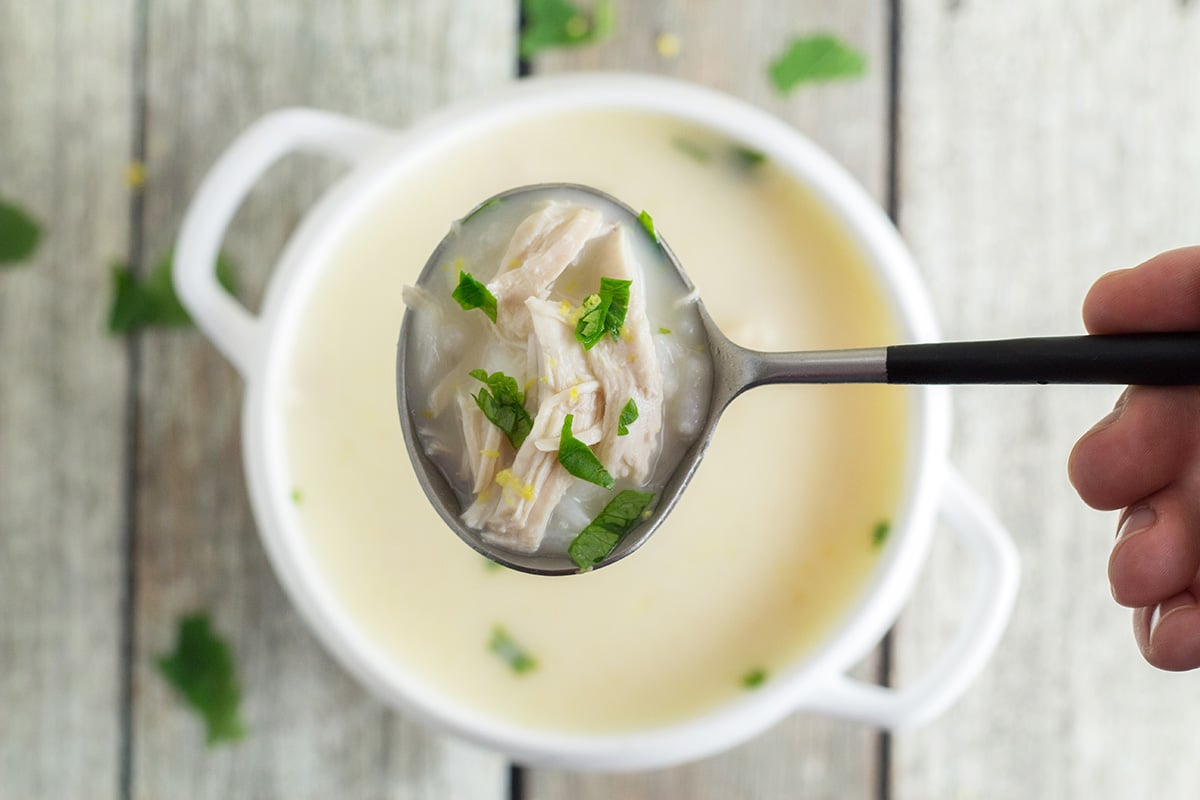 This lemon rice soup has exceeded my expectations. One lemon, few eggs, and your plain chicken soup transforms to something bright, both look wise and taste wise! Avgolemono reminds me a popular in my country sorrel soup a little bit. Lovely!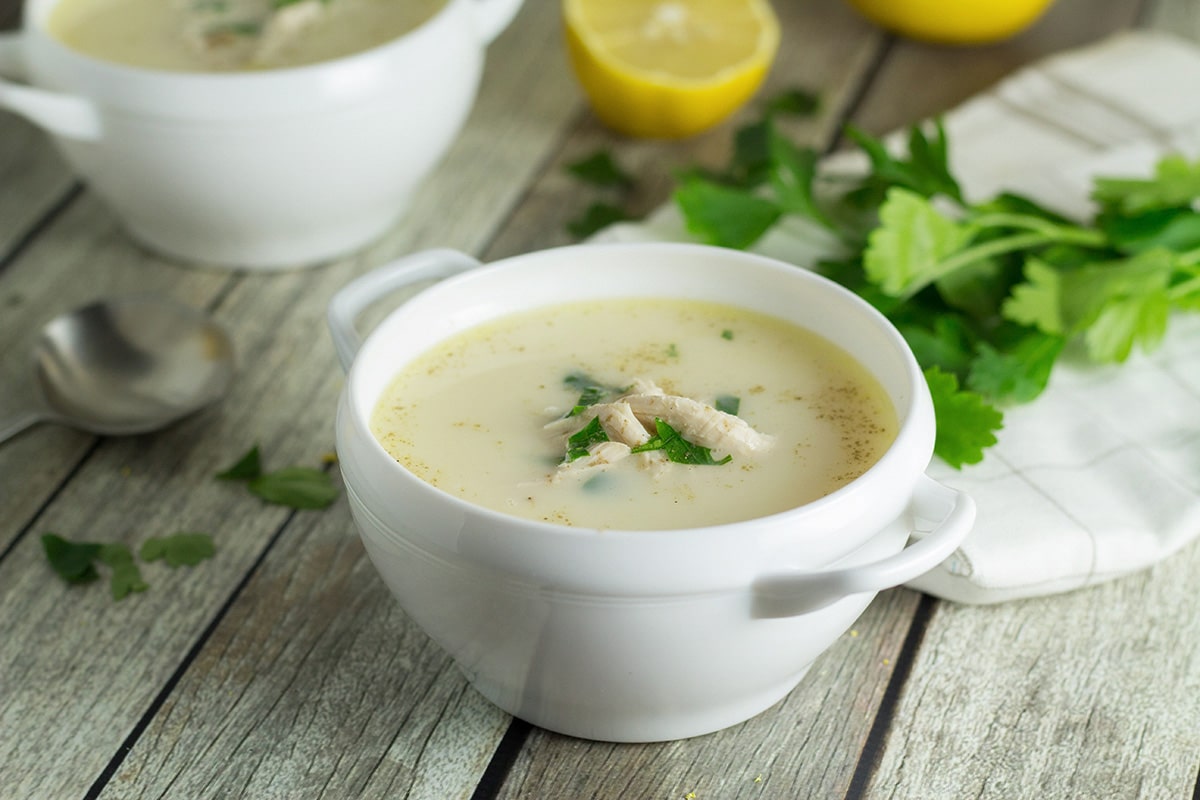 Greek lemon rice soup (Avgolemono)
Every bowl of this light and creamy Greek lemon rice soup contains chicken, rice, and is bursting with lemon flavor!

Ingredients
For the chicken stock:
1

lb (450g)

chicken breast with bone

1

lb (450g)

chicken wings

450g

12

cups

water

1

large onion,

quartered

2

large carrots,

diced

2

stalks celery,

chopped

4

cloves

garlic,

crushed

2

leaves

bay

1

small handful parsley

few sprigs of thyme

(optional)
For the soup:
8

cups

chicken stock

4

large egg yolks

¼

cup

fresh lemon juice

¼

teaspoon

lemon zest

3

cups

cooked rice

2

cups

cooked chicken,

shredded

salt and pepper,

to taste
Instructions
The stock. If you use a store bought chicken stock, you can skip this part and go straight to the soup section.

Add chicken breast, chicken wings, onion, carrots, celery, garlic, bay leaves, parsley and thyme to a pot. Pour in 12 cups of water and bring to a boil. Lower the heat and simmer, uncovered, for 1,5 hours.

Strain through a colander and discard the solids. You will get 8-9 cups of stock.

The soup. If you were making the stock, take the cooked chicken from there and shred it. Otherwise, cook the chicken.

Bring the stock (either the one we've made or the store bought one) to a boil. In a bowl, combine egg yolks, lemon zest and lemon juice. While whisking, slowly pour in about 2 cups of the hot stock. It is called tempering. Tempering is the process by which we avoid the curdling of eggs that often happens when hot stuff is added too fast. By adding hot water gradually we slowly elevate the temperature of the eggs and avoid that.

Pour the egg and lemon mixture into the stock and continue to whisk for few minutes more. Do not allow the soup to boil.

For each portion use ½ cup of rice, ⅓ cup of shredded chicken and 1-½ cup of the soup. Salt and pepper each bowl individually. Enjoy!
Nutrition