If you still don't know how to make Chilaquiles, this post is going to teach you! This Mexican snack is basically tortilla chips tossed in a sauce and topped with onion, avocado, cheese, and sour cream. We are going to make Chilaquiles Rojos with red salsa!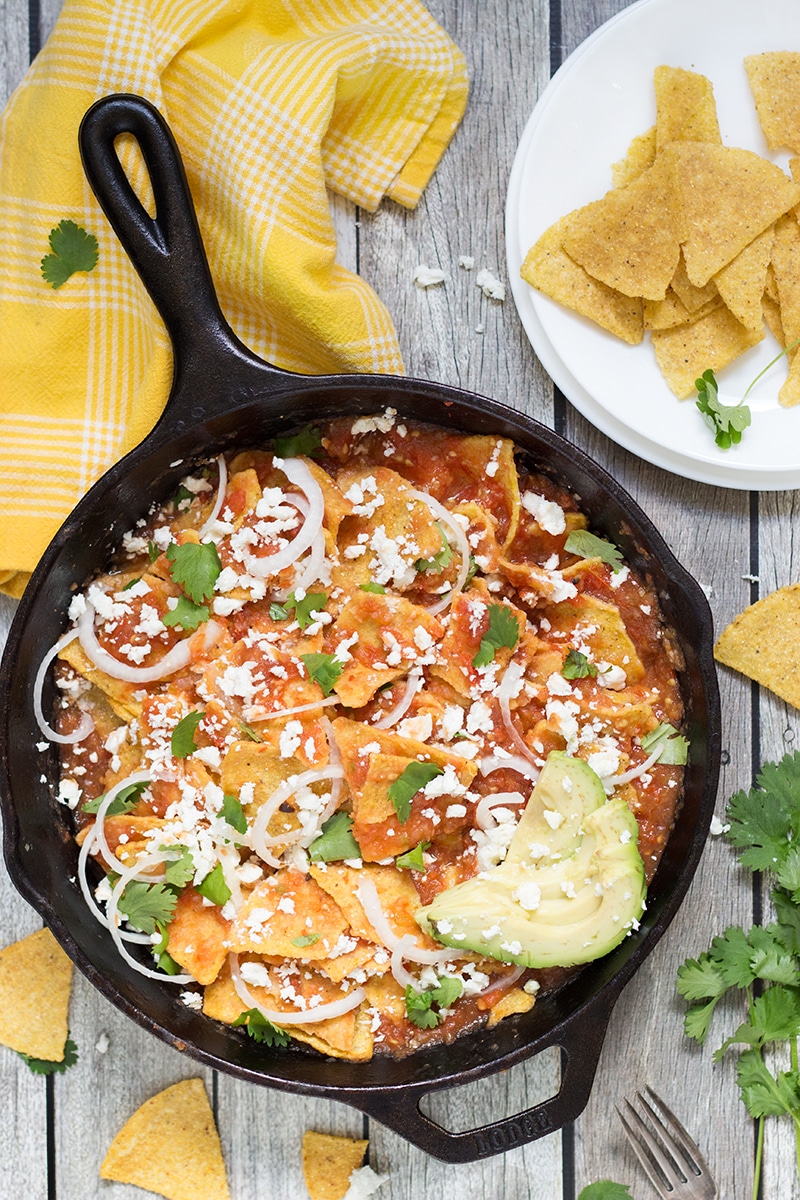 Would you believe me if I told you that you can make something so good using leftovers that it might even surpass a dish you got those leftovers from? That's often the case with traditional Mexican chilaquiles. They are typically made from stale corn tortillas and they are A.W.E.S.O.M.E. Simply put, it is tortilla chips tossed in some sort of a sauce and simmered in it for few minutes to absorb flavors. No, seriously, that's everything you have to do. Super simple. Usually, this Mexican dish is made either with a green salsa verde sauce or a red salsa rojo sauce. In this post I will show you how to make chilaquiles rojos (that's how they are called when made with a red sauce) so quickly you won't believe it.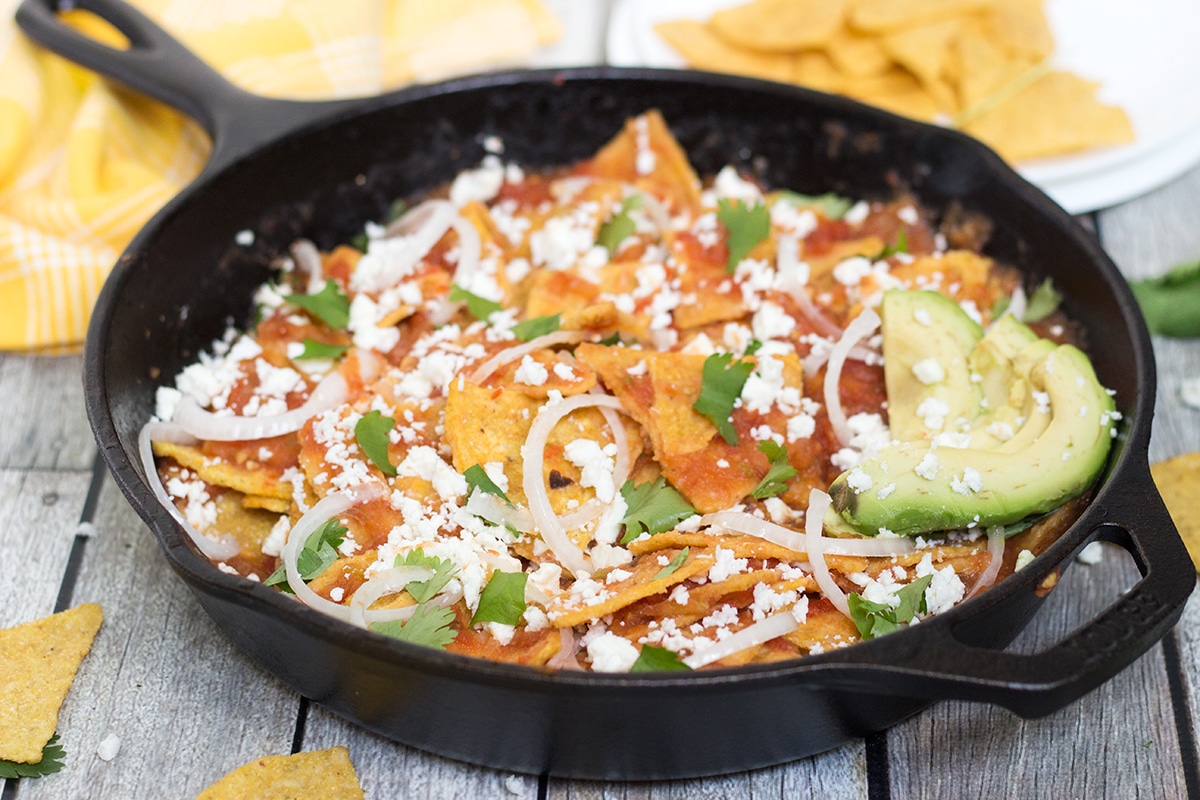 Chilaquiles are a popular breakfast or brunch option in Mexico and now, in the United States. That's why they are often served with fried or scrambled eggs. They are also usually topped with a bunch of various delicious stuff, such as crumbled queso fresco or cotija cheese, Mexican crema or sour cream, white onion, cilantro, avocado slices - the list goes on and on. The more the better! Try the different toppings and you will find your favorites. Mine are crunchy white onion and fresh cheese. I just can't imagine my chilaquiles without them!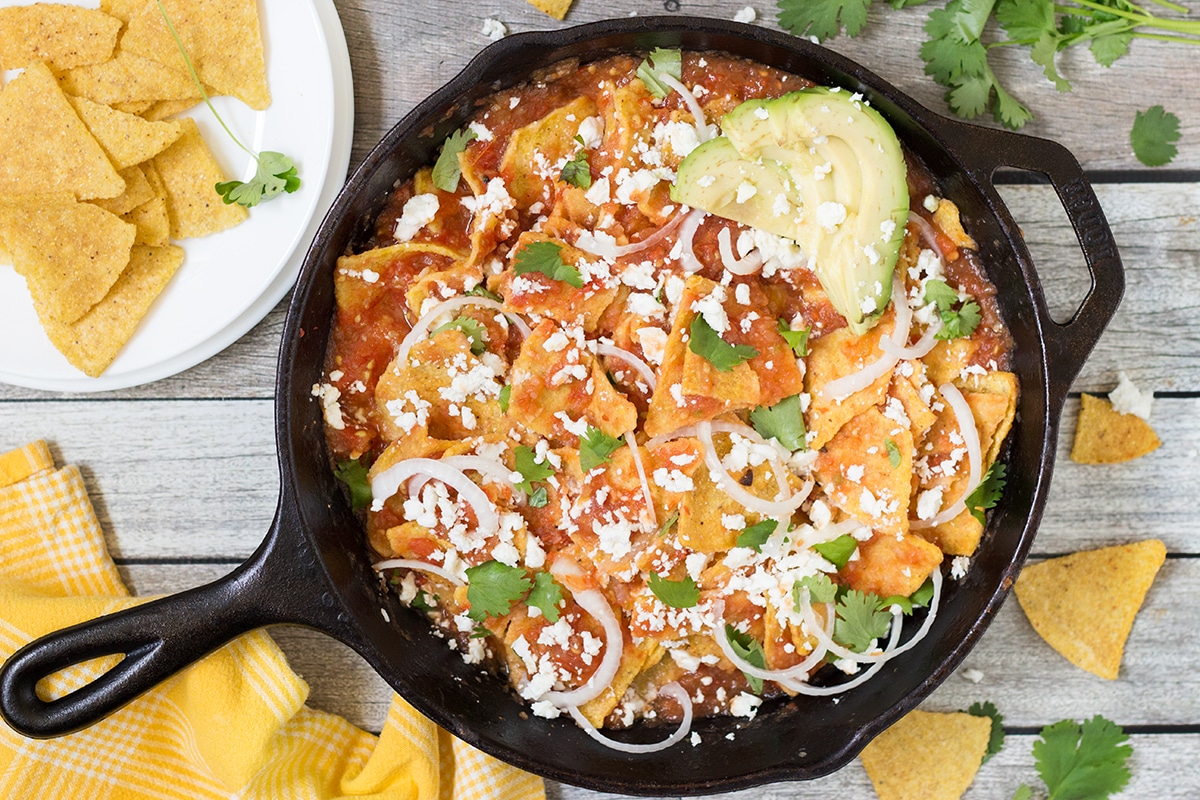 Now there are few options on how to make chilaquiles. First of all, tortilla chips. You can, if you are short on time, use pre-made chips, however, the taste won't be the same. Sometimes, when I am super lazy, I use them and I still love the outcome. Ideally, stale tortillas should be used (that's why leftovers are perfect), but you can use fresh ones too. The process of preparing chips is really simple. Just cut each tortilla into 6 or 8 triangles and fry or bake them until they are golden brown and crispy. That's it! Now you need the sauce. Once again, either a store-bought one or a homemade one. I am always making my own salsa because it's cheaper and I really love it more. For these chilaquiles I made the same salsa rojo I made for my Huevos Rancheros. It's adapted from the amazing book Pati's Mexican Table.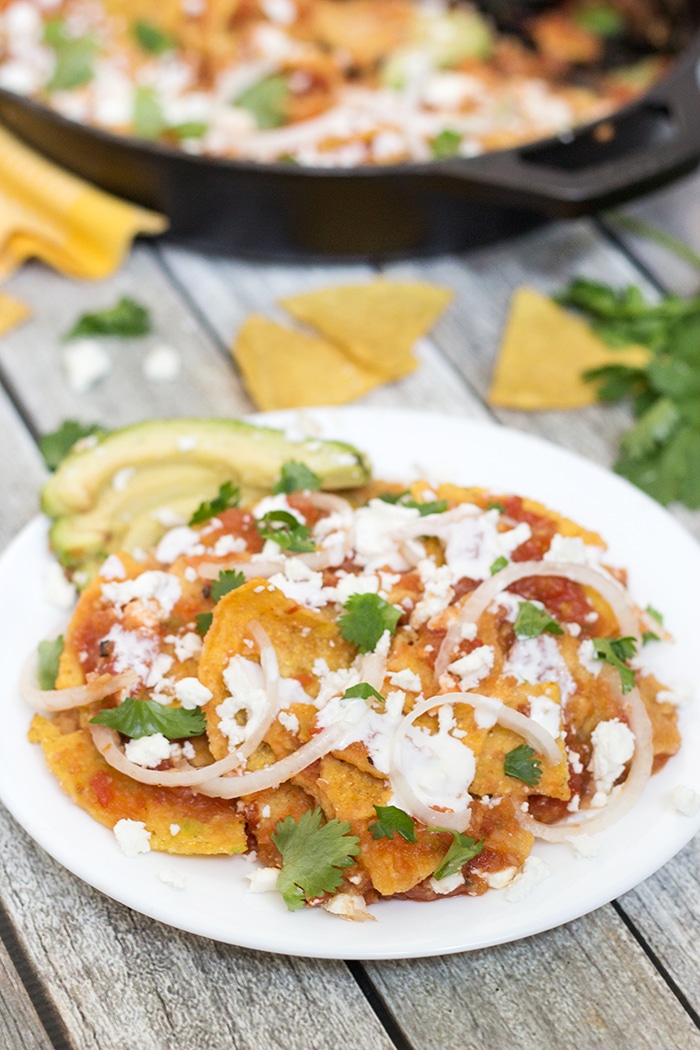 What can I say more about chilaquiles? Such a simple dish but packed with so much flavor! Unbelievable. Oh and so easy and quick to make. It just can't be easier. One last advice: if you want your tortilla chips to be crispy, serve them as soon as possible. They will stay crispy for only about 10 minutes! Some people love them crispy, some adore them soft. It's a matter of taste!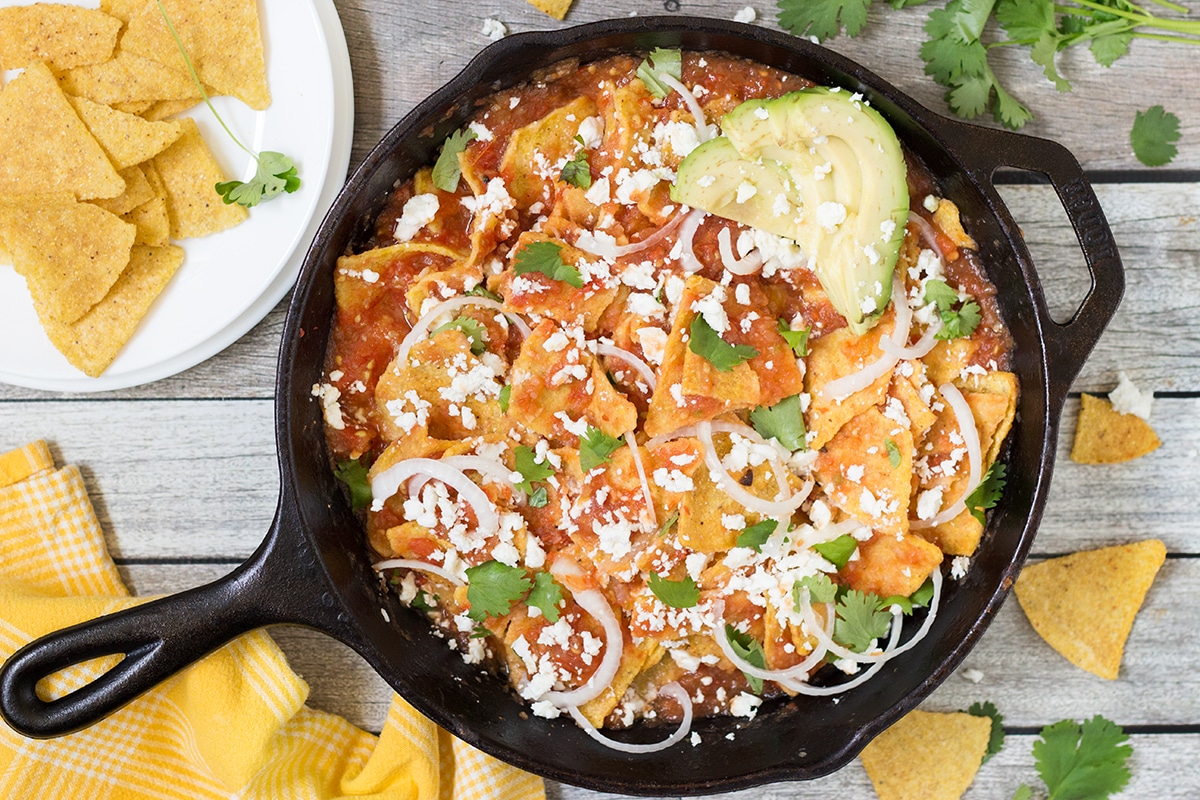 Traditional Mexican Chilaquiles Rojos
Everyone should know how to make Chilaquiles because this Mexican snack is amazing. This recipe is for Chilaquiles Rojos (made with red salsa).

Ingredients
For the chips: (alternatively, you can use store-bought tortilla chips)
9

corn tortillas

, cut into triangles (into 6 or 8)

⅓

teaspoon

sea salt

vegetable oil
For the salsa rojo: (alternatively, you can use 2 cups of store-bought sauce)
1

pound (450g)

ripe tomatoes

1

clove

garlic

, unpeeled

½

small white onion

(about 1 oz or 30g), sliced

½ to 1

jalapeño or serrano chile

, or to taste

¾

teaspoon

sea salt

, or to taste
For the garnish:
¼

cup

sliced white onion

, or to taste

¼

cup

crumbled queso fresco, Cotija, or feta cheese

, or to taste

¼

cup

Mexican crema or sour cream

, or to taste

cilantro

avocado
Instructions
The tortilla chips. If you use store-bought chips, please skip this step. You can either fry or bake your tortilla triangles.

For frying, heat 1 tablespoon of oil in a large skillet over medium-high heat and fry your tortillas piece in batches until they are golden brown and crisp. When done, drain on paper towels.

For baking, preheat the oven to 350°F (175°C), grease a baking sheet, and place your tortilla pieces on it. Lightly brush the tops with oil and sprinkle with the salt. Bake for 20 minutes until golden brown and crispy.

The salsa rojo. If you use a store-bought salta, please skip this step. Heat oven broiler. Place the vegetables on a baking sheet. Broil for 15 minutes, turning halfway through, until the juices begin to run from tomatoes and the skin slightly blackens. Remove the skin from the garlic and discard.

Place the tomatoes, garlic, onion, ½ of the chile and salt in a blender or food processor and puree until smooth. Give a taste and add more chile if you want to.

Chilaquiles. Heat the salsa rojo in a large skillet. When it's hot, stir in the tortilla chips. Cook for few minutes. Serve right away if you love them crispy and wait for 5-10 minutes if you love them soft. Serve topped with white onion, cheese, sour cream, cilantro and avocado. Chilaquiles can also be served with a fried egg. Enjoy!
Nutrition
* This post contains affiliate links, thank you for the support in keeping Cooking The Globe up and running!