Mexican Huevos Rancheros is one of the world's most popular egg dishes. Fried eggs are served on tortillas, topped with salsa, and sprinkled with cheese! Slices of avocado and re-fried beans are also served on the side. So good!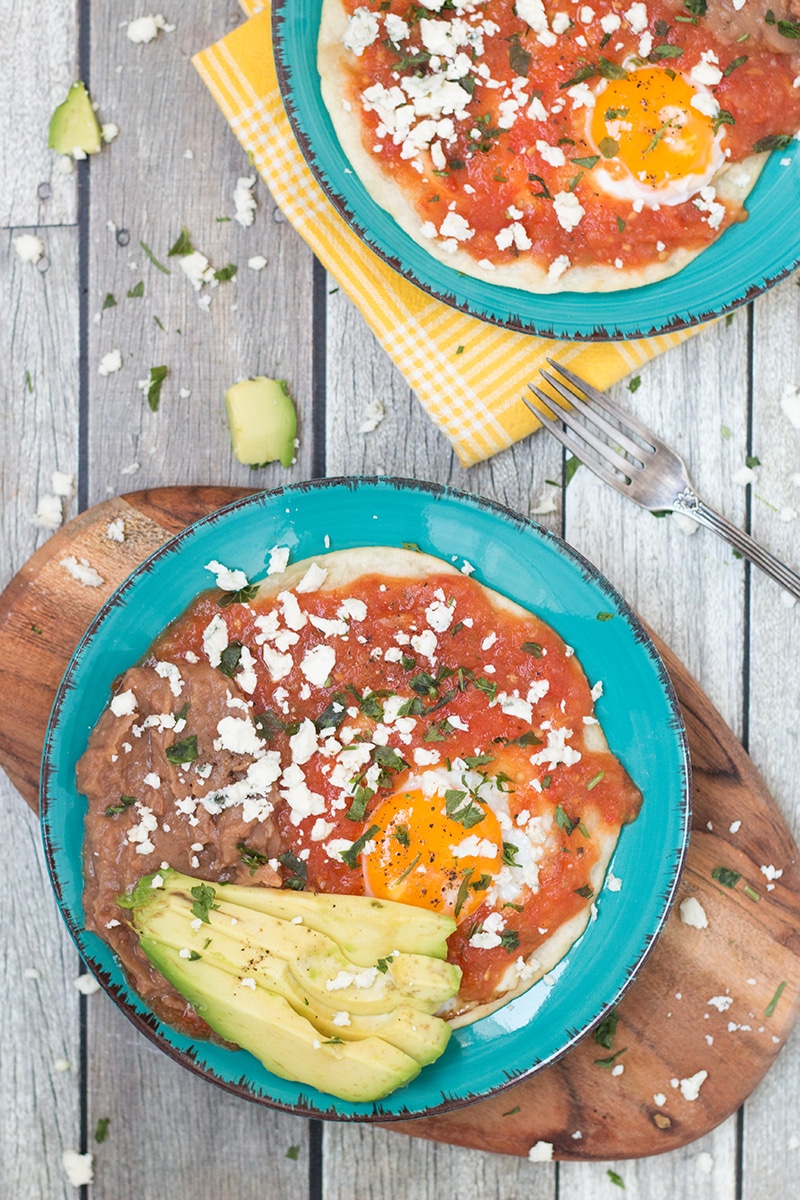 As you may have already understood (from the fact that I have a Breakfast Around the World category on this blog), I love breakfast. I never skip it because I always feel hungry in the morning. I can't understand those people who start their day with a small cup of coffee. I am surely not one of them.
My usual breakfast is porridge with a sandwich (I know that for some people it is strange) or cereal. But sometimes, when I know that I have a hard day of work ahead of me, my breakfast choice is eggs. Boiled, poached, fried, it doesn't matter. It's nice to mix things up from time to time though. One of my favorite egg dishes lately is Mexican Huevos Rancheros. It literally means "Ranch Style Eggs" in Spanish. It's a super popular and well known breakfast dish (not only in Mexico but also well outside its boundaries) - I am pretty sure everyone knows it! If you have never heard this name before, I envy you so bad. Why? Because you will get that special satisfaction from tasting it for the first time!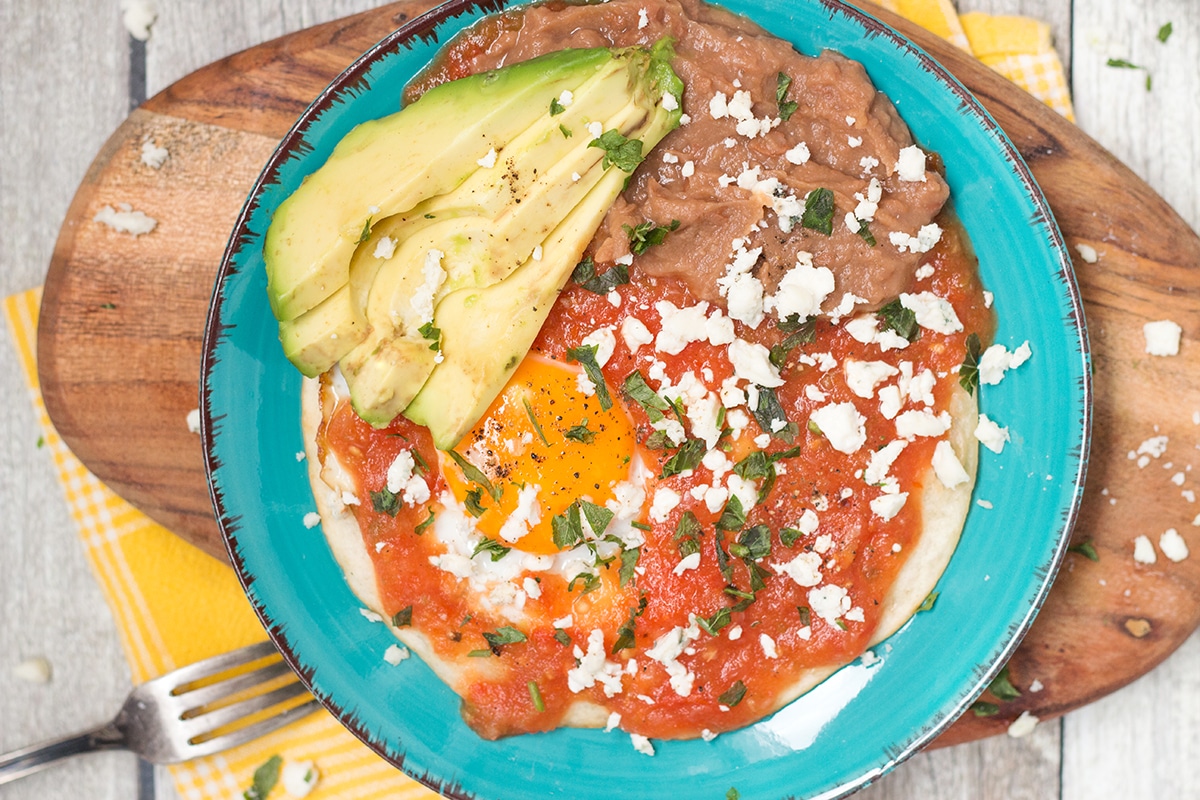 So what's so special about Huevos Rancheros that makes them so popular? The eggs are served on toasted or fried tortillas and topped with a spicy tomato salsa (usually Salsa Roja). I made my own homemade salsa, adapted from the wonderful book Pati's Mexican Table, but you can use a store-bought salsa too. The combination of the eggs and red hot salsa is outstanding! But that's not everything. The eggs are also sprinkled with either queso fresco, cotija or feta cheese.
As it wouldn't be enough, slices of avocado and Mexican staple refried beans are served on side! How is that for a breakfast? Amazing, right? Thanks to Huevos Rancheros, I discovered such a beautiful thing as refried beans. I have never had them before, despite the fact that they were always there, on the shelf in the Mexican section of my local shop. It's basically cooked and mashed into a paste beans. Deliciousness!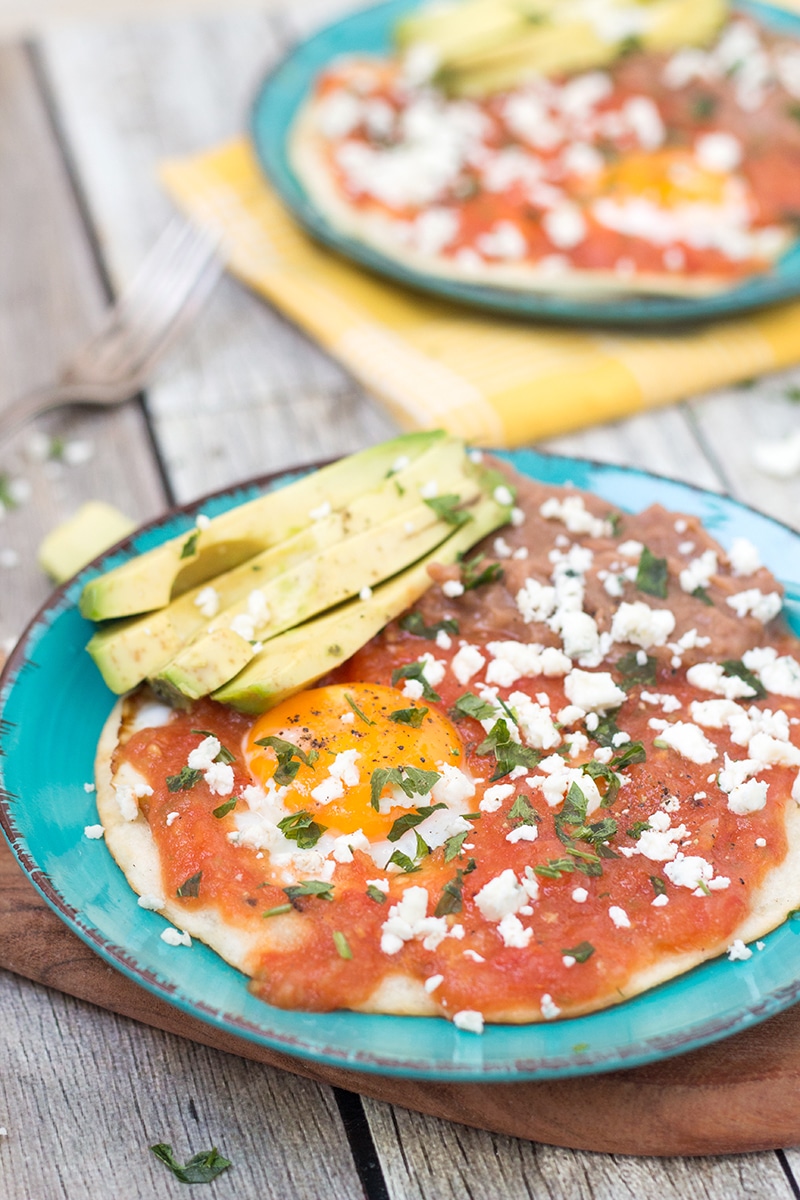 Huevos Rancheros has a sister dish - Huevos Divorciados (divorced eggs). Make everything the same, but instead of one egg, cook two, topping one with the same red salsa and another with the green salsa. Usually Salsa Verde is used. That's why they are divorced, ha ha! I haven't tried the divorced version yet, but I'll surely will because these Mexican eggs are fantastic.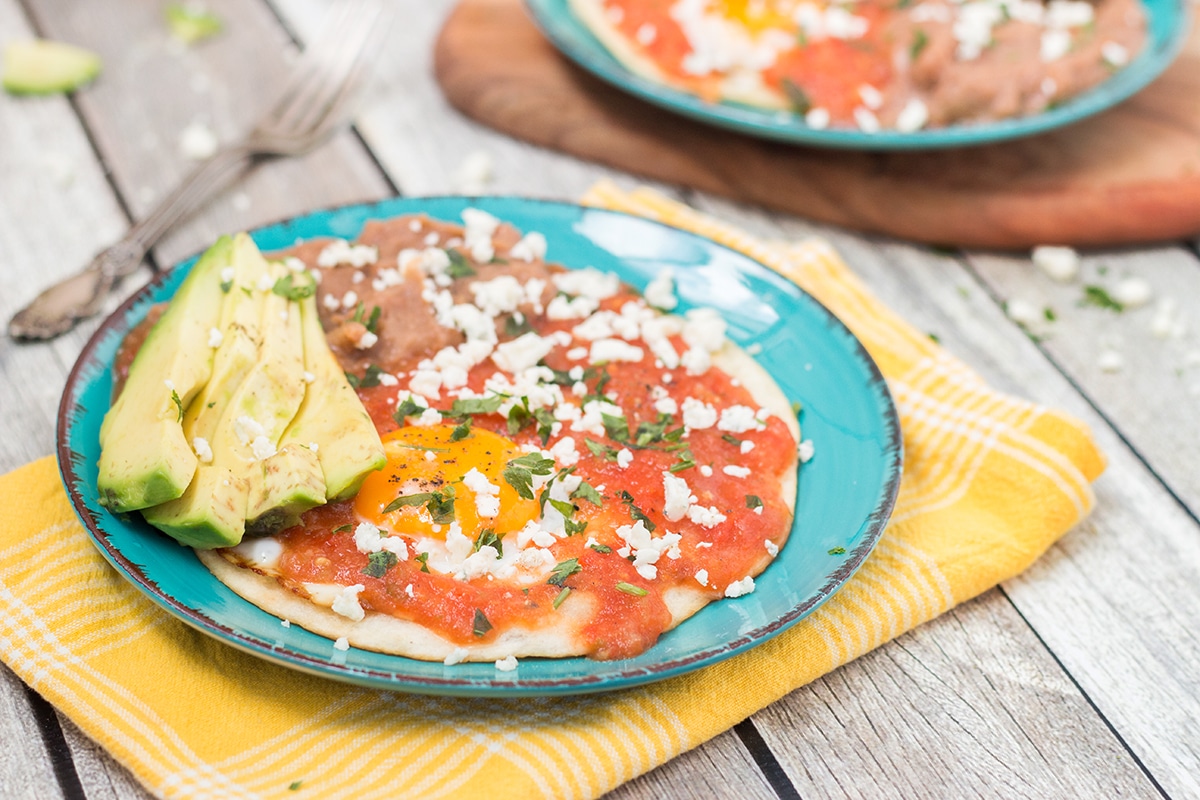 Remember that you can control the heat of your salsa. If it's too spicy for you, just lower the amount of chilies. Simple as that! Sooo... Have I convinced you to try Huevos Rancheros? Actually, just one bite, and you won't need any convincing anymore. The fantastic taste of fried eggs with spicy salsa and crumbled cheese will do all the job! By the way, these Mexican eggs are a perfect hangover cure too. In case you will face such an unpleasant situation. Just in case...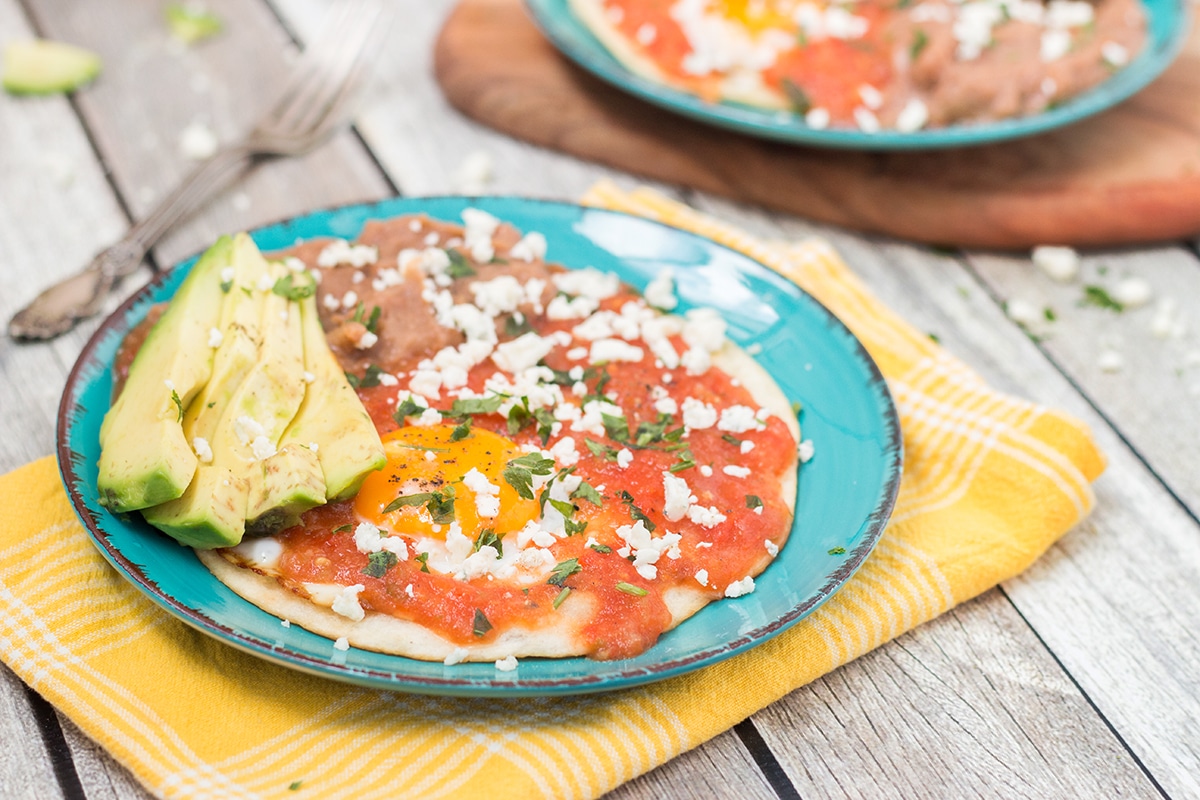 Huevos Rancheros Recipe
Fried eggs served on tortillas, topped with salsa, cheese, with avocado and re-fried beans on the side. That's what I call perfection!

Ingredients
For the salsa: (You can skip this part and use 2 cups of a store-bought salsa instead)
1

lb (450g)

ripe tomatoes

1

clove

garlic

, unpeeled

½

small white onion

(about 1 oz or 30g), sliced

½ to 1

jalapeño or serrano chile

, or to taste

¾

teaspoon

sea salt

, or to taste
For the eggs:
vegetable oil

, for frying

4

tortillas

4

large eggs

sea salt
For garnish:
1

cup

refried beans

⅛

cup

crumbled queso fresco, Cotija, farmer cheese, or feta cheese

avocado
Instructions
The salsa. Heat oven broiler. On a baking sheet, place the tomatoes, garlic, onion, and chile. Broil for about 15 minutes, turning halfway through, until the juices begin to run from tomatoes and the skin slightly blackens. Remove the skin from the garlic and discard.

Place the tomatoes together with all the juices, garlic, onion, ½ of the chile and salt in a blender or food processor and puree until smooth. Taste and add more chile if you want more heat.

The eggs. Heat 3 tablespoons vegetable oil in a skillet until hot. When you dip the edge of a tortilla into it, the oil should bubble. Using tongs, dip the tortillas in the oil (one at a time) for 10-15 seconds per side. Drain on paper towels.

Crack the eggs into the same pan, using the same oil, and cook to your preferred doneness. Salt to taste.

Serving Huevos Rancheros. Place a tortilla on a plate and top it with the egg. Now top the egg with your red spicy salsa and sprinkle some cheese over it. Serve with the refried beans and avocado slices on the side. Enjoy!
Nutrition
* This post contains affiliate links, thank you for the support in keeping Cooking The Globe up and running!