Nothing will impress your guests more than these Greek nut pastry rolls made with Kataifi dough and drowned in a honey syrup. They look splendid and taste like heaven!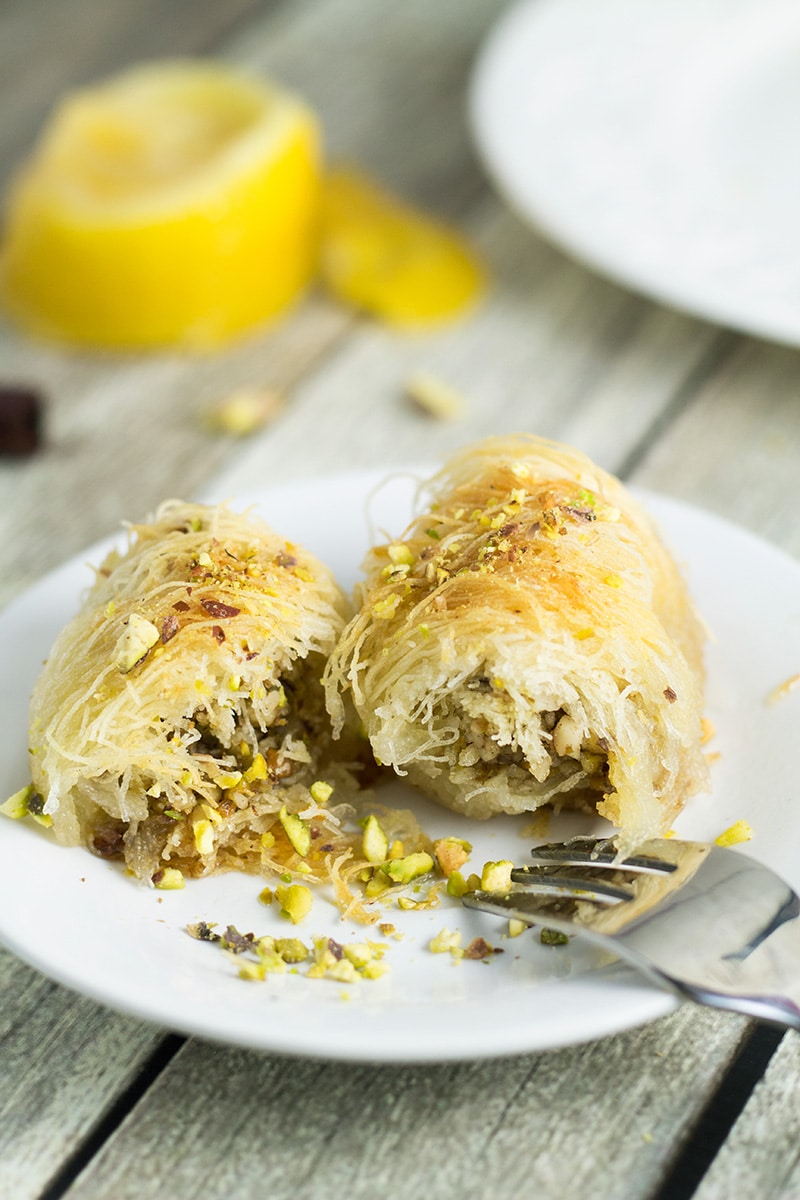 Let me start this post by saying that I LOVE grocery shopping. No no, wait a second. It clearly sounds like a huge underestimation. Let's try again. I am a grocery shopping fanatic, freak and addict. Now it sounds better! Don't get me wrong, I don't get satisfaction when going to the shop to buy a loaf of bread. I only feel that adrenaline rush when I am looking for, or I accidentally bump into, something new I haven't seen and tasted before.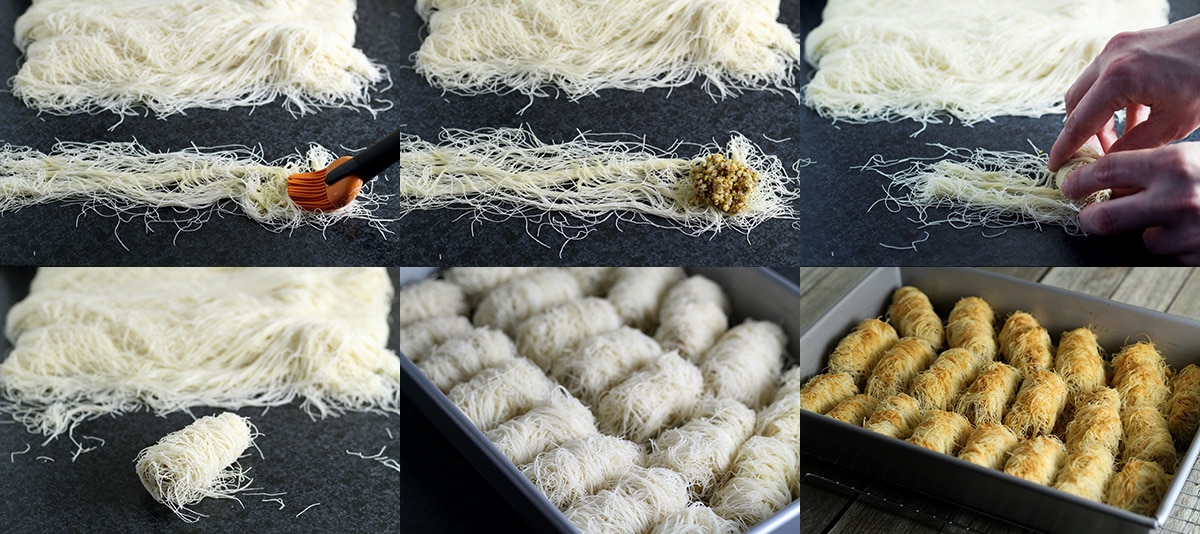 That's exactly what happened last week, when I saw the package of Kataifi dough comfortably sitting in the supermarket fridge. My eyes lit up like a Christmas tree. At that moment I had absolutely no idea what it was for, but when did that stop me? It was new, never seen before, and it looked edible. That's all the information I needed, actually. Oh and the package told me that it is from Greece. Sounds good to me!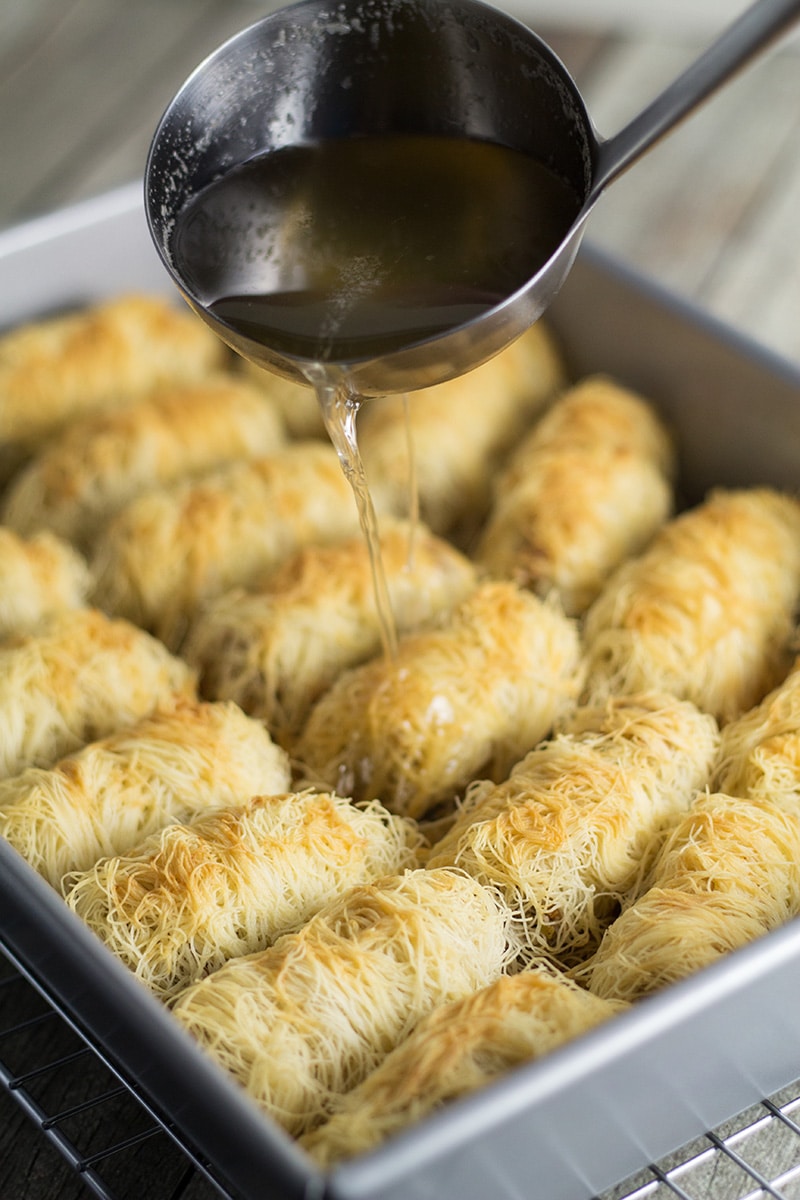 Kataifi is not your ordinary dough. It is a shredded fillo dough which looks like a shredded wheat or rice vermicelli noodles. Don't worry though, it's easy to work with. You just need to tear the Kataifi to pieces, brush them with butter, add the filling and roll them up tightly. Bake and cover with a sweet honeyed syrup. That's it! You have the fantastic looking authentic Greek dessert on your table. These pastry nests are a great choice if you want to impress your guests.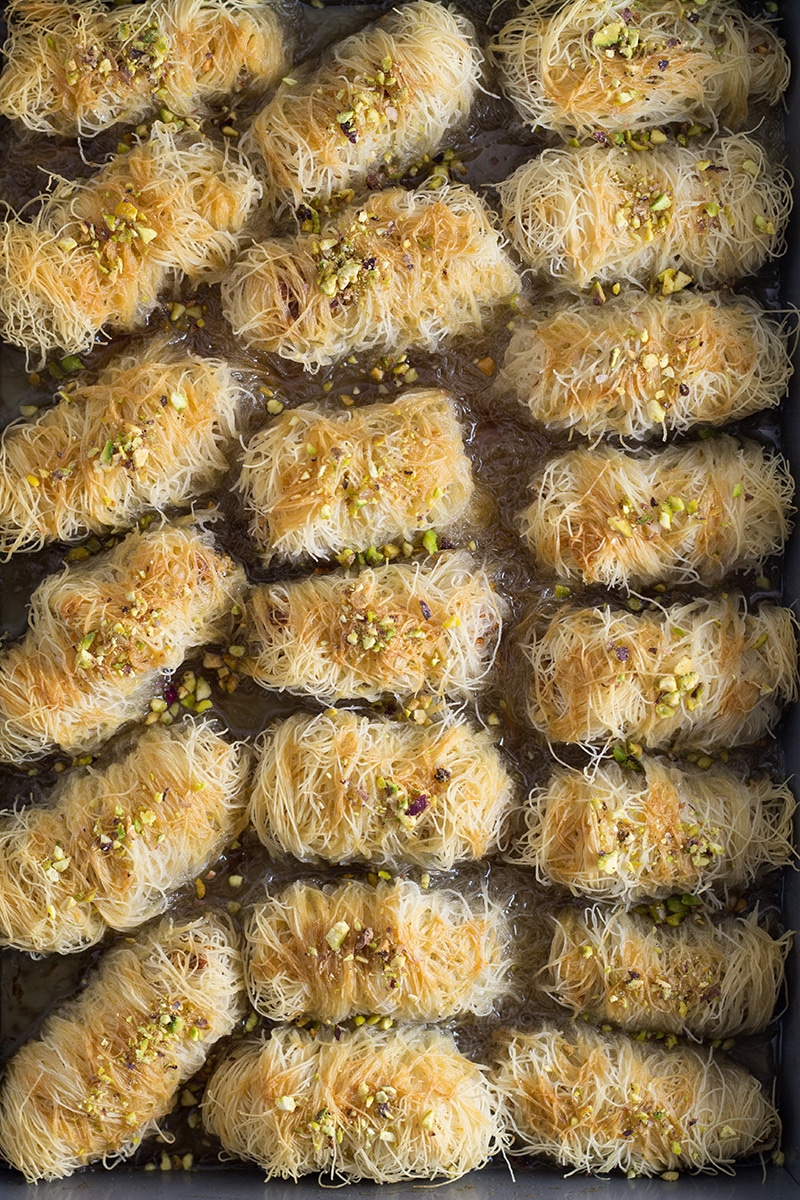 The taste is definitely sweet. It reminded me of the Turkish dessert baklava. No surprise here, Greek and Turkish cuisines have their similarities, because of the domination by the Ottoman Empire.
Many recipes nowadays omit honey, but I think that it's so much better with it! You can also substitute pistachios or almonds with walnuts, or create any other combinations you like. I've used pistachios because I love that awesome green color they bring!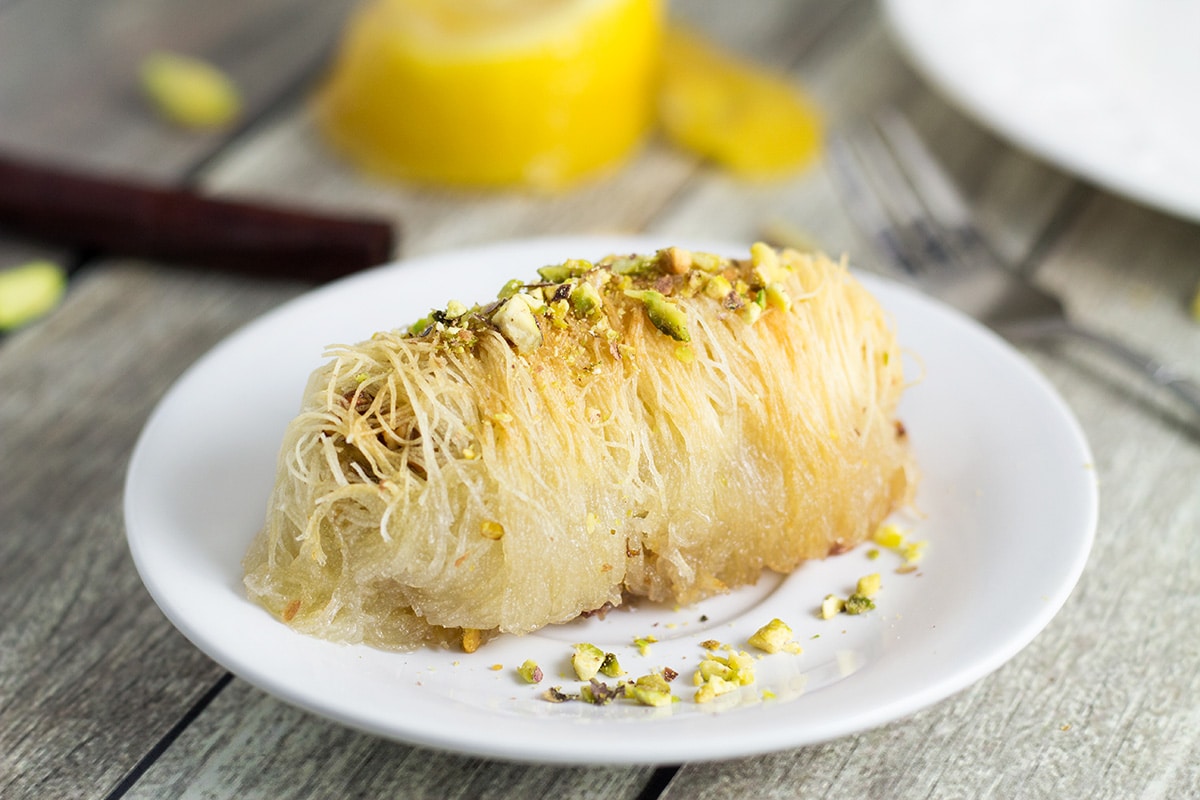 This sexy looking dessert goes so well with a cup of tea or coffee. Kataifi is a rich pastry, so you won't be able to eat 5 rolls at a time, but you don't have to! Enjoy it bite by bite!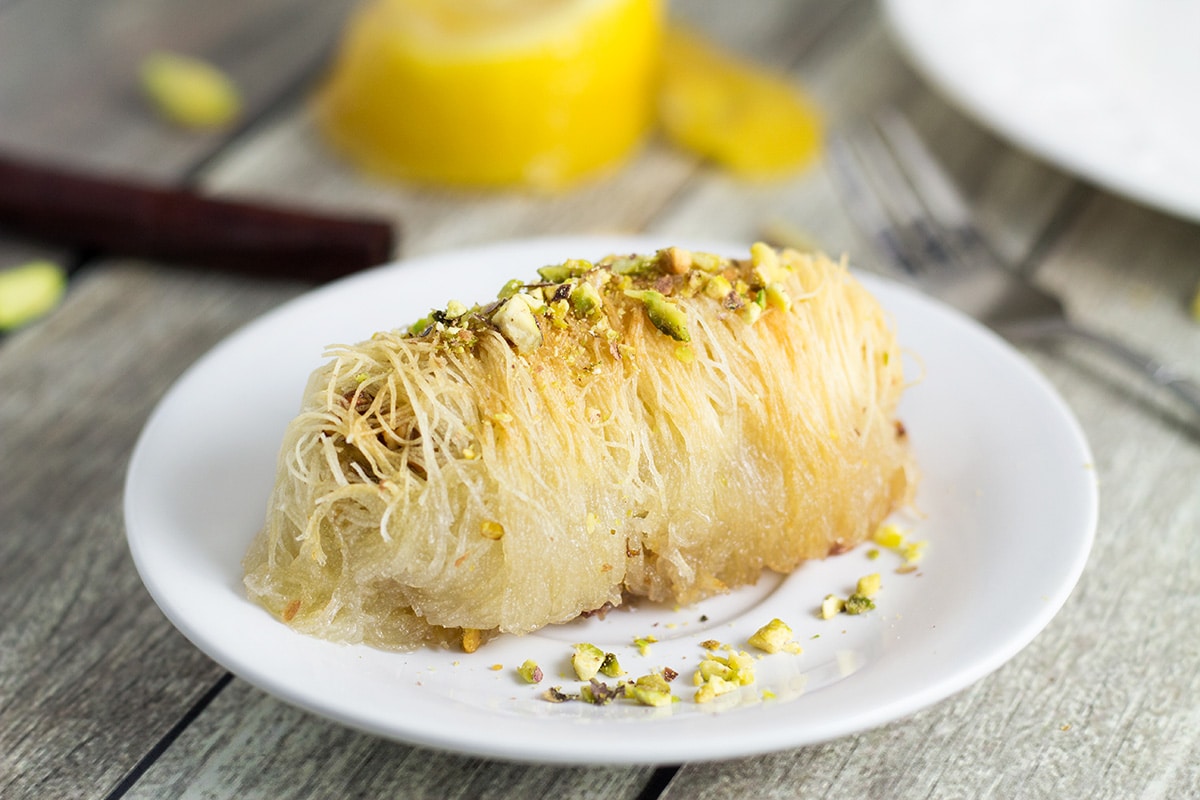 Kataifi - Greek Nut and Honey Pastry Rolls
Your guests will be in awe after tasting these nut and honey pastry rolls coming from Greece. Made with Kataifi dough, they are sweet, rich, and beautiful!

Ingredients
1

(1lb or 450-500g)

package Kataifi dough

6

oz (180g)

butter,

melted
The filling:
1

cup (120g)

pistachios,

no shell, finely chopped

1

cup (140g)

blanched almonds,

finely chopped

½

cup (100g)

sugar

1

teaspoon

ground cinnamon

1

egg white,

lightly beaten
The syrup:
1

cup

honey

2 ½

cups

water

1

cup

sugar

Peel of 1 lemon

Juice of 1 lemon

1

cinnamon stick or ½ teaspoon ground cinnamon
Instructions
Thaw the Kataifi dough in a fridge overnight, taking it out about 2 hours before working with it and letting it to come to room temperature.

Pulse the nuts in a food processor. Reserve 2 teaspoons of pistachios for sprinkling. In a bowl, combine together pistachios, almonds, sugar, cinnamon and egg white and mix well.

Preheat oven to 350F (175C) degrees.

When the pastry thaws, divide it into 18-22 pieces. The length of one piece in my case was about 10 inches (25cm). Work with one piece at a time and cover the remaining pieces with a damp towel (we have to keep it moist). Brush the surface of a piece with the melted butter and place a heaping tablespoon of the filling at one end of it. Roll it up firmly.

Place all the rolls seam side down in a slightly buttered 9x13-inch baking dish. Brush well with the remaining butter. Bake for 45-50 minutes until golden brown. Allow to cool.

To make the syrup add all the syrup ingredients to a pot an bring to a boil. Simmer for 15 minutes more. Pour the syrup over the rolls. It is important: the syrup has to be hot, while the rolls have to be cool.

Allow the pastry to absorb the syrup. Sprinkle with reserved pistachios and serve. Enjoy!

Store in a covered container at room temperature.
Nutrition