These Vietnamese Egg Rolls are stuffed with ground pork, shrimp, mushrooms, glass noodles, and tons of veggies. Served with a sweet, sour, salty, and spicy Nuoc Cham dipping sauce, they make a great party appetizer!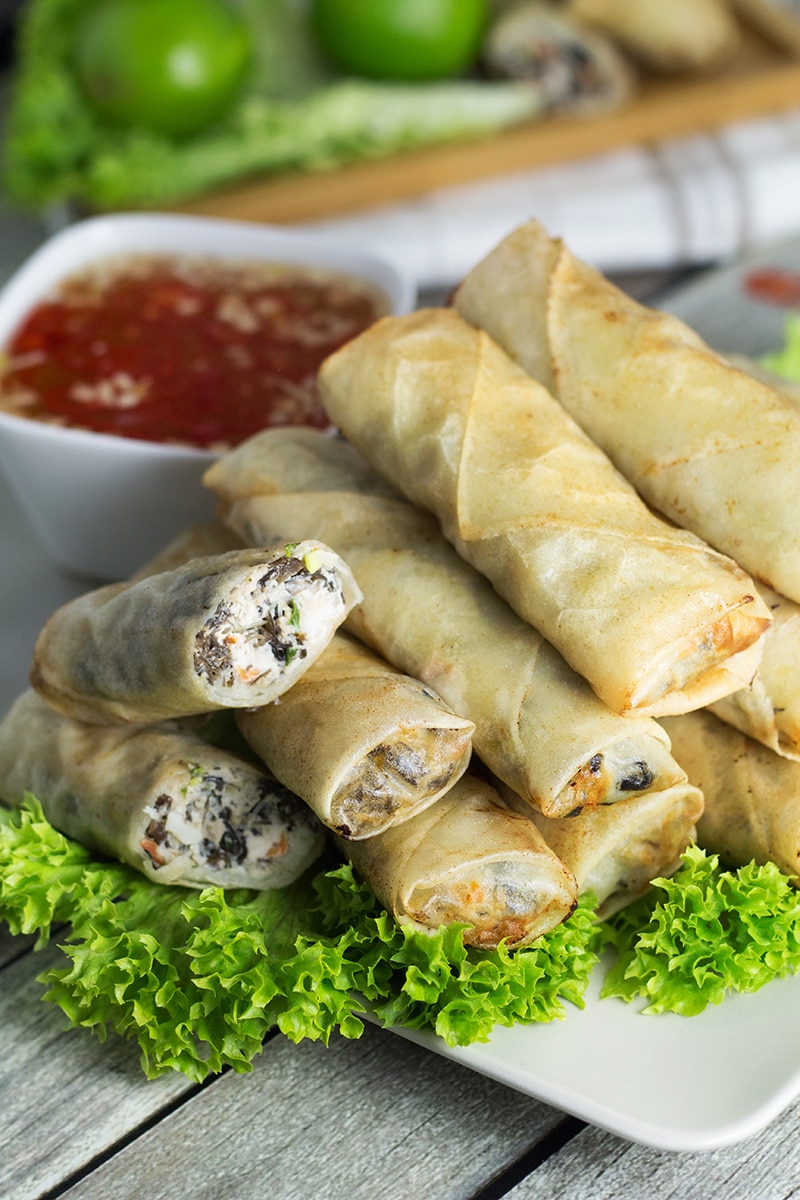 In China they are called spring rolls, in Philippines and Indonesia - lumpia, but today we will be making the Vietnamese version of this dish called egg rolls, Chả giò or Nem rán (the Northern Vietnamese dialect). Chả giò literally means minced pork sausage. While the main ingredient of these Vietnamese egg rolls truly is ground pork, they are also stuffed with shrimp, wood ear mushrooms (black fungus), glass noodles, onion, scallions, carrot... I guess you can already imagine how GOOD these rolls are! It is the filling that distinguishes egg rolls from Chinese spring rolls, which are usually made with vegetables, sometimes with meat, but never with seafood or glass noodles.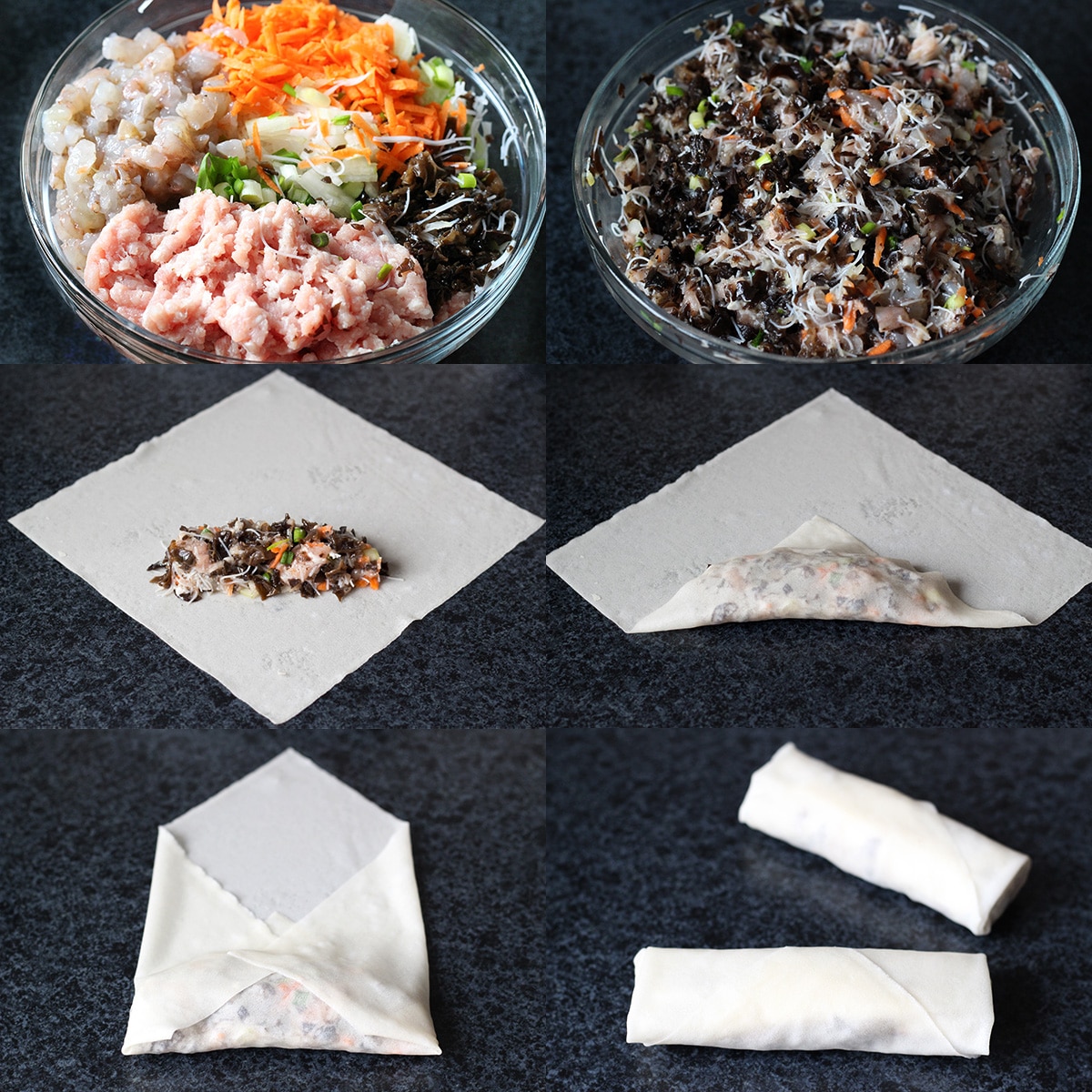 There is one more important thing that differs Vietnamese egg rolls from the rolls made in other Asian countries. The type of wrappers. If you have ever made any of the Asian rolls, you probably have used wheat wrappers with the inscription "Spring Rolls" on them. In Vietnam though rice paper made of all rice flour is used while making this appetizer. However, despite the fact that it's an authentic way to make them, many recipes use simple, well known spring roll wrappers instead. Why so?
When the immigrants brought egg rolls to the Western world 40 years ago, rice flour wrappers weren't available, so they substituted them with the wheat ones. Nowadays they are more accessible (it's still easier to find spring roll wrappers though) but the majority of Vietnamese living out of their home country still use wheat wrappers. So did I.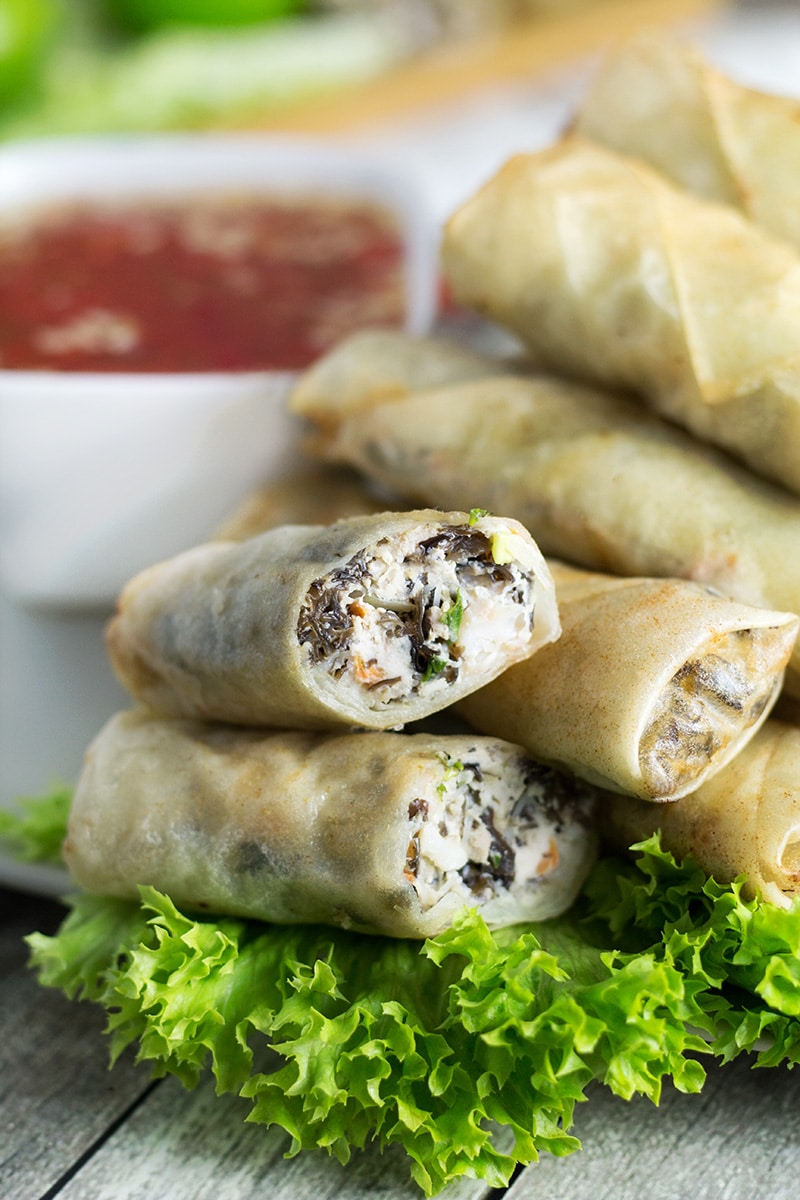 Vietnamese egg rolls are usually served with a dipping sauce. I've made the basic but well known Nước Chấm from my favorite Vietnamese cookbook Into the Vietnamese Kitchen: Treasured Foodways, Modern Flavors by the wonderful Andrea Nguyen. Egg rolls pair so nicely with it! The taste is so complex. It is at once sour, sweet, salty and spicy! A true flavor bomb. The best thing about it is that you can easily customize it to your taste buds. Just change the amount of lime juice, fish sauce, sugar, garlic or chiles and that's it! By the way, if you are not too keen on spicy things, you can serve chiles on the side. Voila, everyone is happy!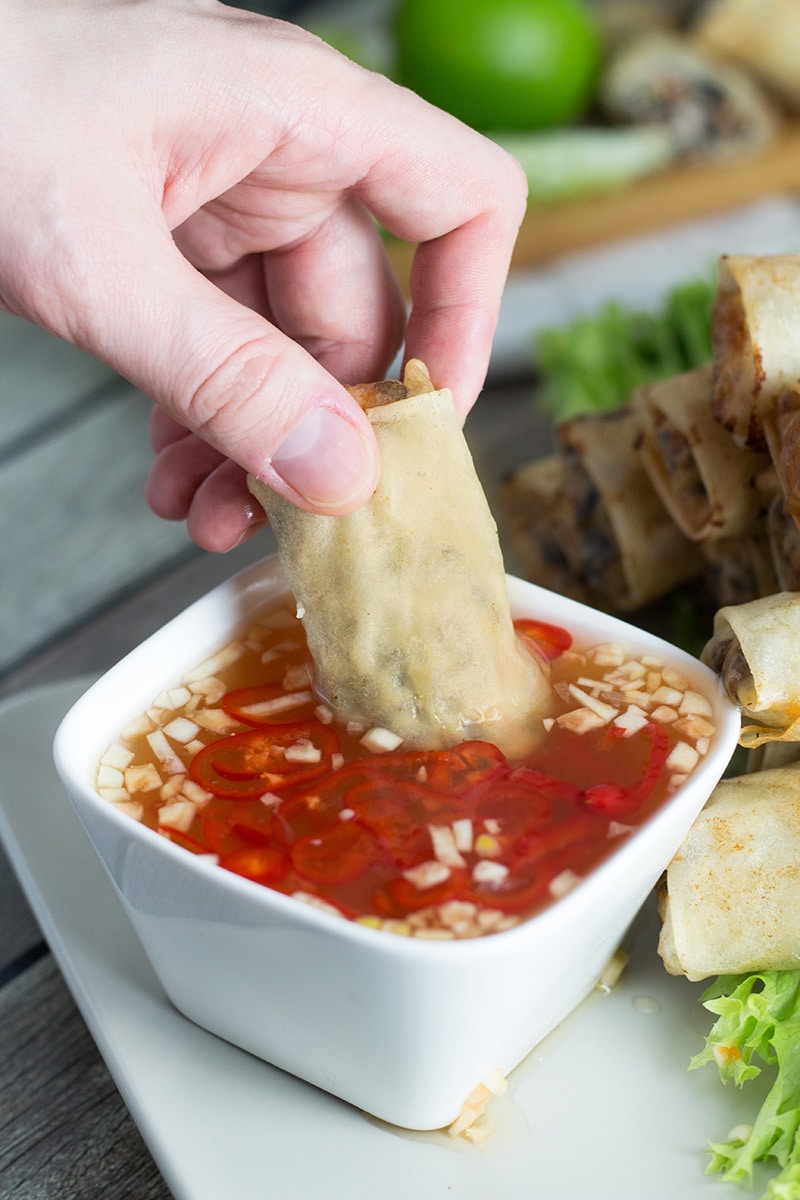 If you want to make a little Vietnamese themed dinner, take a look at this amazing banana tapioca pudding I've made few weeks ago. You will love it!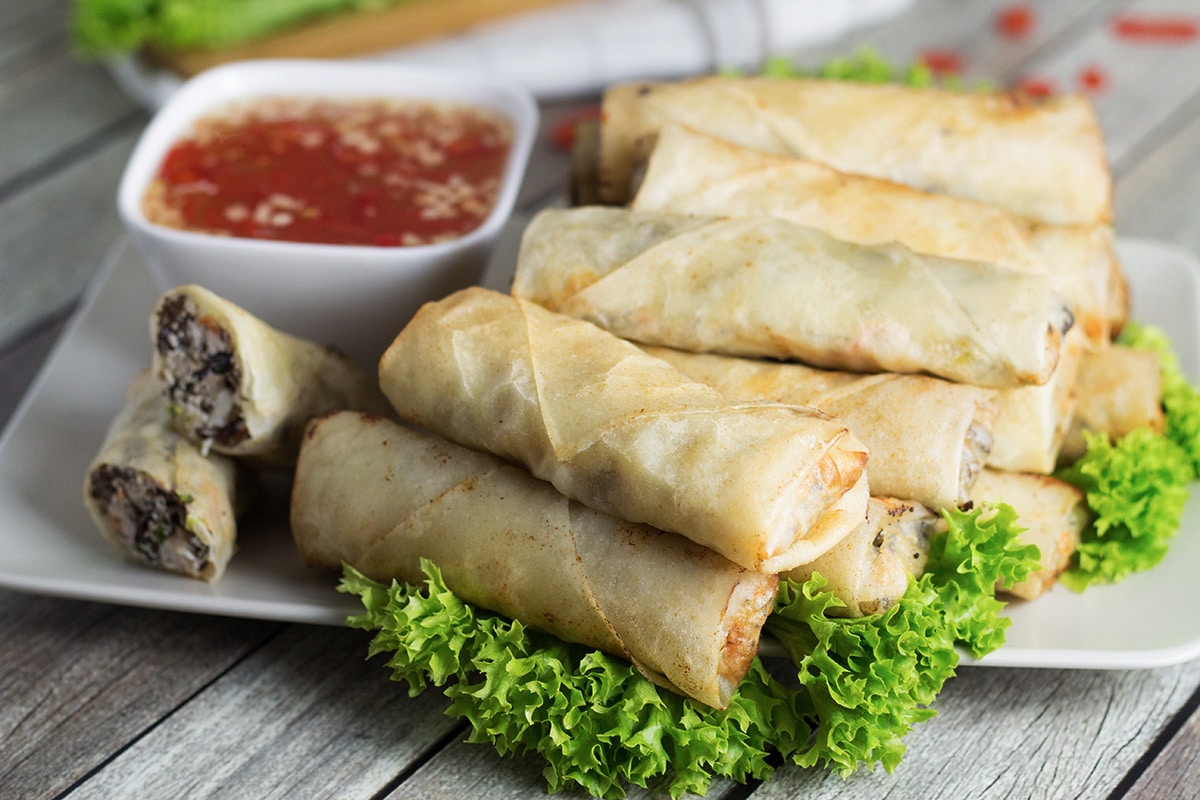 Vietnamese Egg Rolls - Cha Gio
Pork, shrimp, mushroom, noodle, and veggie stuffed Vietnamese Egg Rolls served with a flavorful Nuoc Cham dipping sauce are guaranteed to have your guests asking for more!

Ingredients
For the egg rolls:
¼

teaspoon

salt

¾

teaspoon

black pepper

3

tablespoons

fish sauce

1

egg

2

oz (60g)

dried wood ear mushrooms (black fungus),

reconstituted, trimmed, finely chopped

2

oz (60g)

glass (cellophane) noodles,

soaked in hot water, drained, cut into 1 inch lengths

1

yellow onion,

minced

3

scallions,

white and green parts only, finely chopped

1

whole carrot,

grated

1

lb (450g)

shrimp

peeled, deveined, cut into small pieces

1

lb (450g)

ground pork

25

frozen spring roll wheat flour pastry wrappers,

thawed

1

egg white for brushing

Vegetable oil for deep frying
For the sauce:
⅓

cup

fresh lime juice

(2 or 3 limes)

1

tablespoon

rice vinegar

(optional)

3

tablespoons

sugar

⅔

cup

lukewarm water

5-6

tablespoons

fish sauce

2-3

Thai or Serrano chiles

2

cloves

garlic,

minced (optional)
Instructions
The egg rolls. In a large bowl, whisk together the salt, black pepper, fish sauce and egg. Add mushrooms, glass noodles, onion, scallions, shrimp, and ground pork and stir until combined. Set aside.

Carefully separate the wrappers. To prevent them from drying out as you work, keep a barely damp paper towel over the unused wrappers. Place one wrapper on a clean surface so it's a diamond. Put 2 heaping tablespoons of the filling on the lower third of the wrapper and use your fingers to shape the filling into about 4-inch log. Fold the bottom edge over the filling, then fold in both sides and roll tight. Brush the other side of the wrapper with beaten egg white to seal the edge. Keep rolls chilled, and loosely covered, until ready to fry.

Heat 1 ½ inches of oil in a large pot over medium-high heat to 350°F (175°C). Fry rolls in batches, adding as many as can fit comfortably in a pot, without crowding, for 5-7 minutes until golden on all sides. Remove from oil and drain on paper towels.

The sauce. In a small bowl, combine the lime juice, rice vinegar, sugar, and water and stir until the sugar is dissolved.

Start adding the fish sauce tablespoon by tablespoon, adjusting the amount to your taste. When satisfied, add the chiles and garlic. Allow the sauce to chill to room temperature and serve.
Nutrition
* This post contains affiliate links, thank you for the support in keeping Cooking The Globe up and running!