You need only 4 ingredients and 10 minutes of your precious time to prepare Lomi Lomi Salmon - a classic Hawaiian side dish, which can be also served as a standalone salad. Light, refreshing, and full of flavor!

Many people call this place a true paradise on Earth. It is the birthplace of surfing and continues to be a surfing mecca for the world because of the killer waves. Beautiful girls dancing the hula in the moonlight, warm and friendly people living the aloha spirit, amazing beaches, mind-blowing sunsets, I could go on and on. What is this place? Of course it's Hawaii, duh! I have never been there but saw enough movies to fall in love with this gorgeous island. Today I made a classic Hawaiian dish - Lomi Lomi Salmon. Love this name? Me too! Wait till I tell you that it's not just a collection of words, it has a meaning and a very interesting one.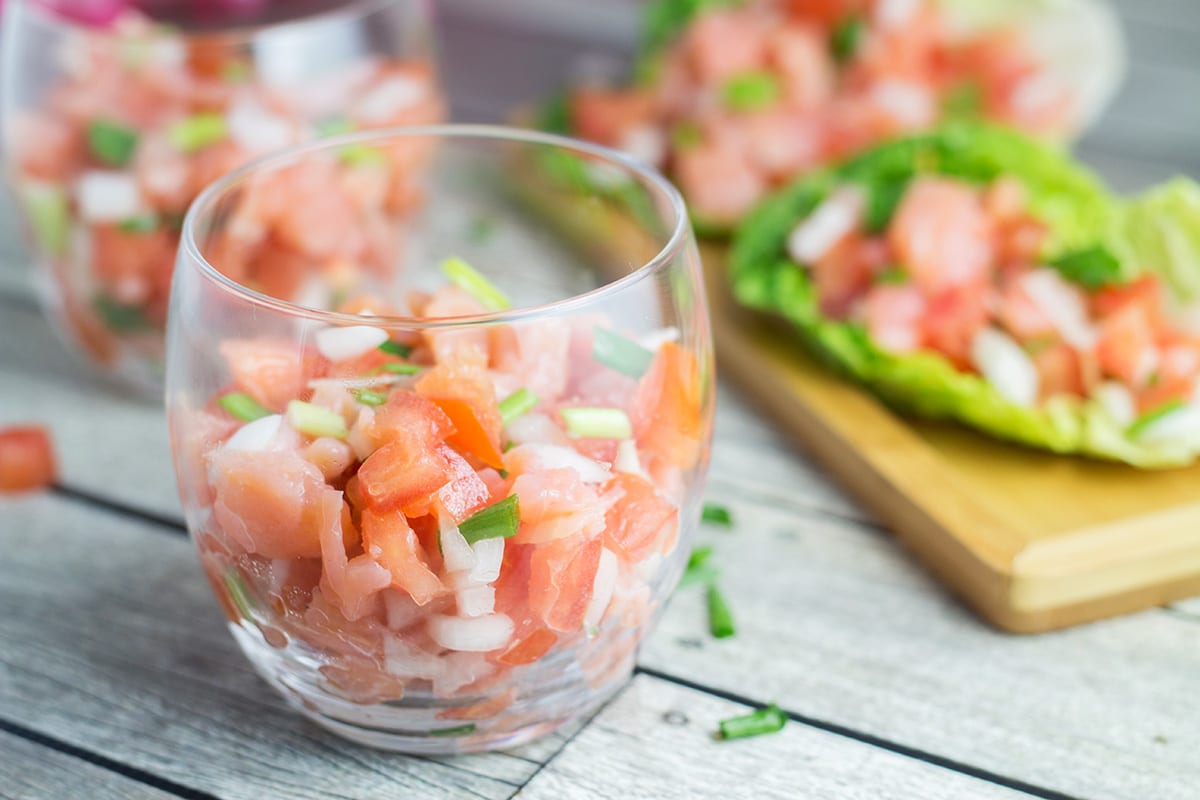 Lomi Lomi means "to knead, to rub, or soothe" in Hawaiian. Nowadays this word is used to describe the Hawaiian massage. Can't see a connection with our dish? Well, you are supposed to "massage" all the ingredients by mixing and breaking them up with your bare hands. Isn't it fun? Lomi Lomi Salmon is made with just 4 ingredients: raw salted salmon, tomatoes, white onion (can be substituted with any sweet onion) and green onions. If you can't find salted salmon, I've added instructions in the recipe below on how you can easily cure it at home.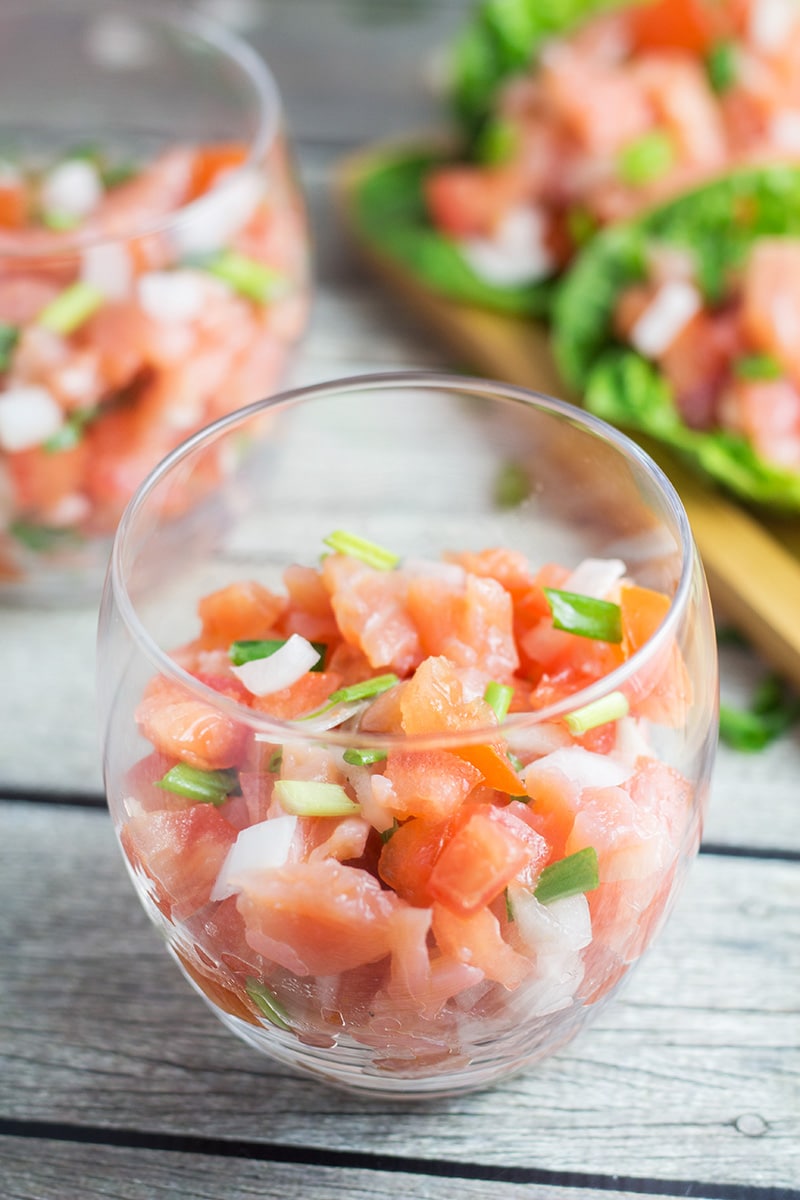 The most interesting thing is that salmon doesn't live anywhere near Hawaii! How come it is so popular there and is considered a Hawaiian ethnic food? Salmon was first introduced to the island about 150 years ago by Western explorers. Obviously, the salmon they brought with them had to be cured. That explains the popularity of it in this sunshine state!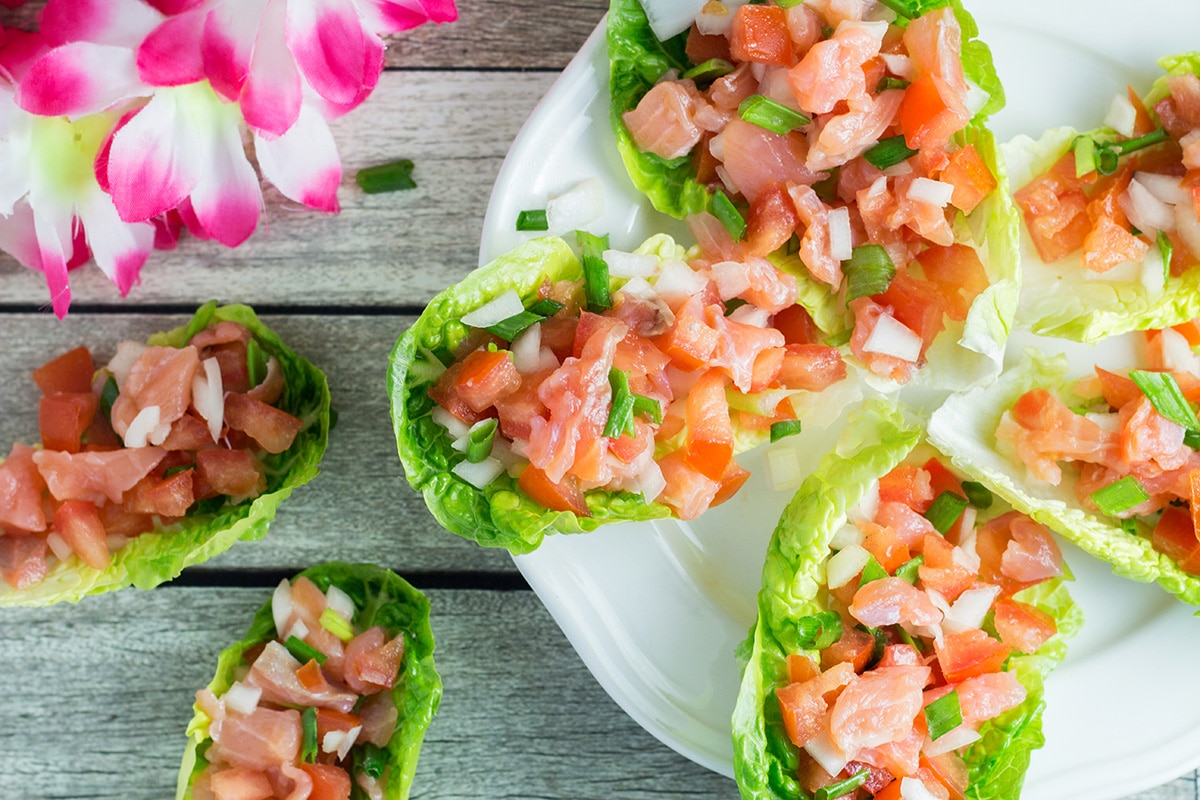 Today it's impossible to imagine Hawaiian parties and gatherings (luaus) without Lomi Lomi salmon. It is traditionally served as a side dish alongside kalua pork, but it is also great with roast meats. I have personally enjoyed it as a standalone salad too. If you want a nice presentation, serve the salad on lettuce leaves. Enjoy!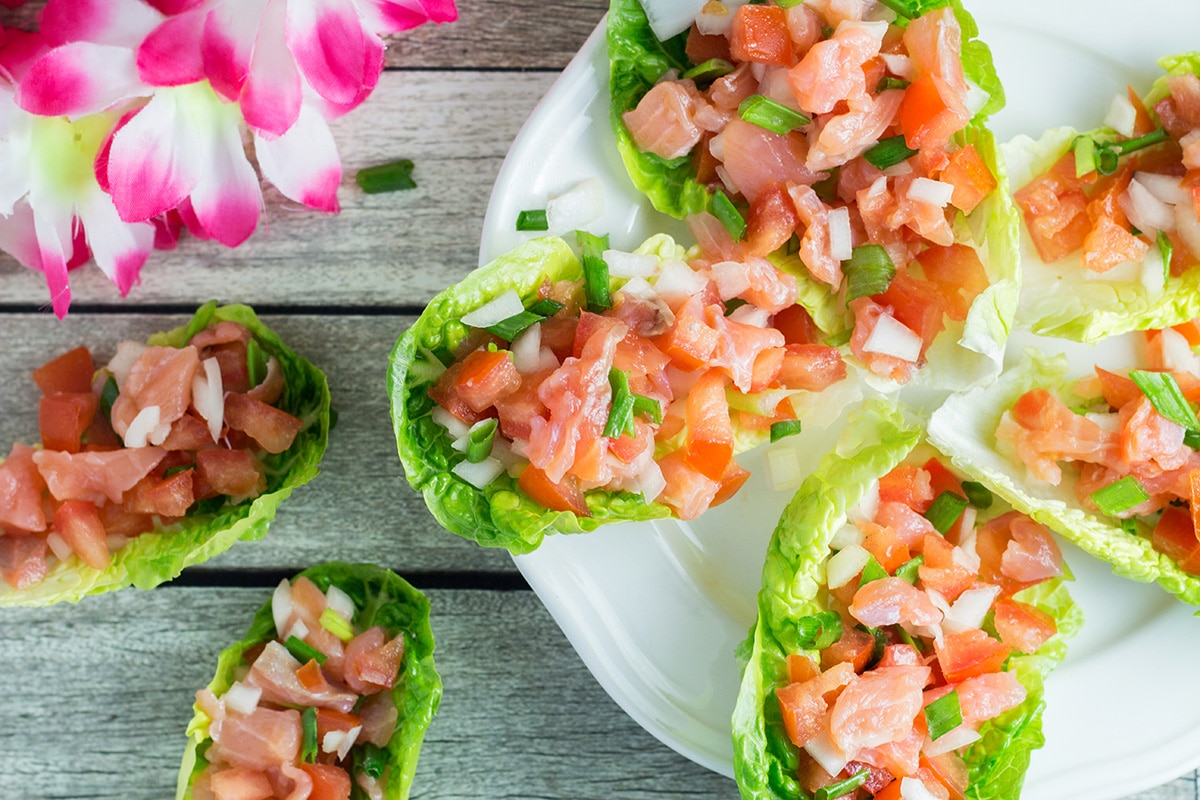 Lomi Lomi Salmon Recipe - Just 4 ingredients!
This easy to make Hawaiian side dish or salad requires only 10 minutes of your time and 4 ingredients!

Ingredients
½

lb (225g)

salted salmon

2

large or 3 medium tomatoes,

seeded, diced

½

white onion (or any other sweet onion),

chopped

¼

cup

green onion,

chopped

1

cup

crushed ice

Lettuce leaves for serving

(optional)
Instructions
Remove bones and skin from the salmon. In a medium bowl, flake the fish into small pieces by hand. You can chop it roughly before doing that. Add tomatoes and white onion. Mix everything together with your hands. Chill covered for few hours and add the crushed ice and green onion just before serving. Mix thoroughly and enjoy!
Notes
If using unsalted salmon, wash the fish and generously rub it with sea salt on both sides. Wrap the salmon tightly with plastic wrap and let stand in the fridge overnight. Remove from the fridge, rinse off the salt and soak in cold water for few hours, changing the water several times. It will remove the excess salt and soften the fish. Then use in the recipe as stated above.
Nutrition