Comforting, energizing, and rich in flavor, this Sauerkraut Soup (Kapusniak) coming from Poland is sure to become your favorite. Just imagine - sauerkraut, Polish sausage, bacon, and veggies all in one bowl of this hearty soup!
In this post, I wanted to introduce you to my local (Lithuanian) cuisine. I just thought of dishes my family has been making for decades, picked up the one I had the mood for yesterday and started looking for a recipe. It was a cold winter-like day (despite the first day of spring) so a hearty, comforting Sauerkraut Soup sounded like a genius idea. But what was my surprise when, after a little research, I found out that this dish is not Lithuanian, and never was, despite the popularity of the fermented cabbage in my country. Sauerkraut soup traces its origins to two countries: Poland and Ukraine. It must have spread to other Soviet Union countries and that's how it ended up on my Lithuanian table. Well, thanks to Ukrainians and Poles then!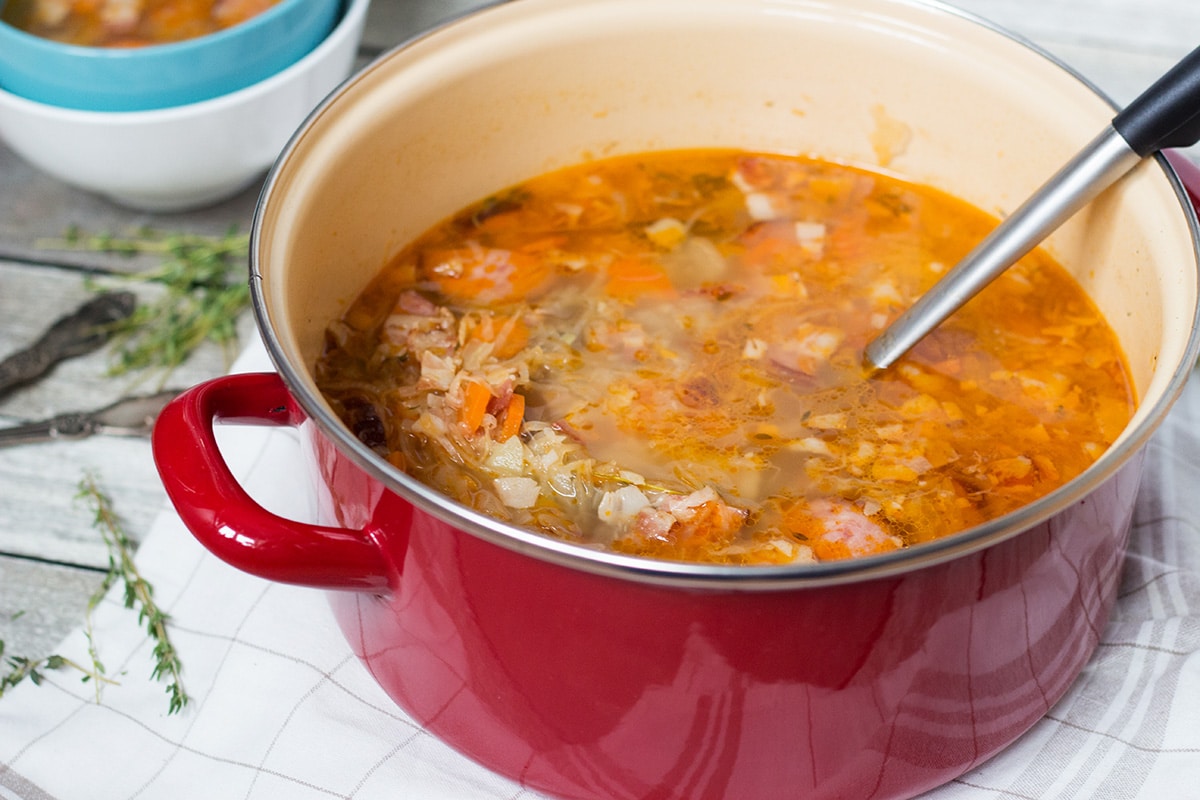 However, I have decided to stick with the Polish version of this delicious sour soup called Kapusniak. You may ask, what's the difference between them? I don't know all the nitty gritty details, but the most important one - Poles add their favorite and beloved around the globe sausage (Kielbasa) into it. It tastes AMAZING. At least to me. Sauerkraut and kielbasa combo works not only in this soup but as a standalone dish too.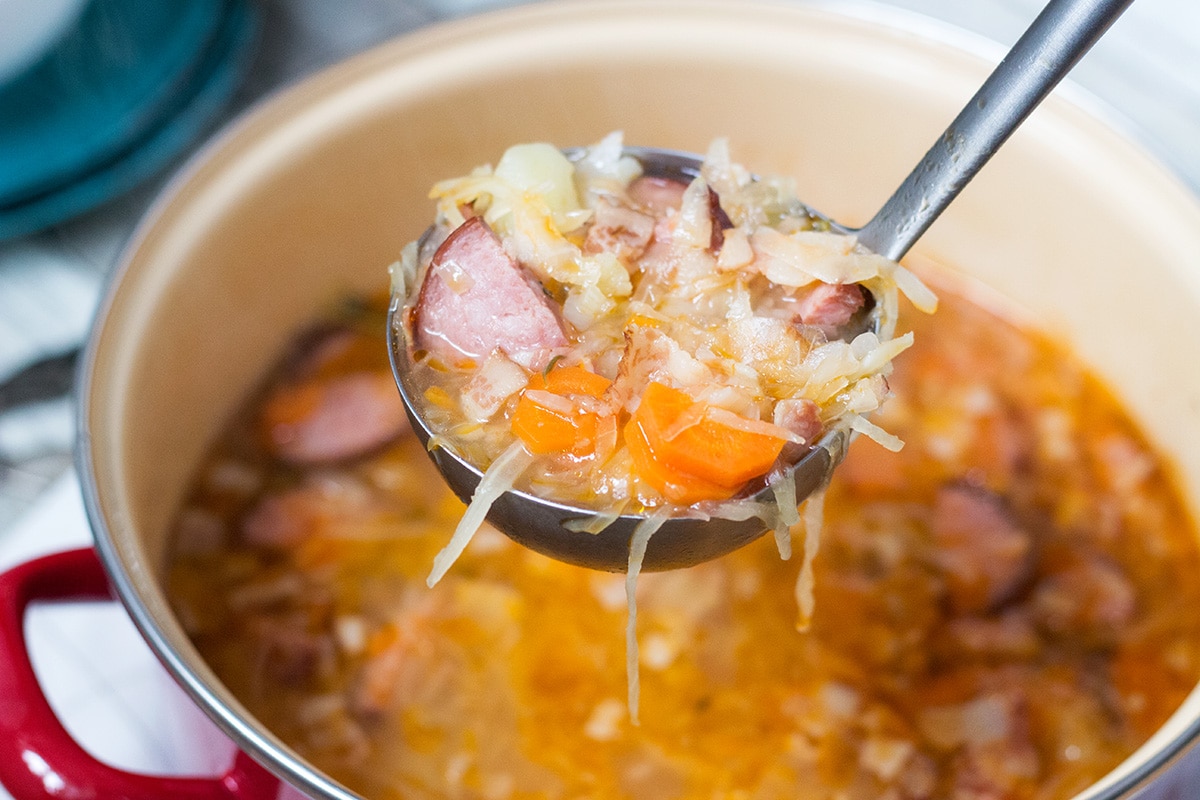 Sausage is not the only meat product I am going to use in this soup. What? Did I hear somebody say bacon? You are absolutely right my dear friend. It's not the first time I use bacon in the soup (try this Carne en su Jugo). Smoked bacon and smoked sausage will give this dish a rich smoky flavor. Yes, most probably, I won't get the healthiest dish award for it. I am pretty sure. But it's so GOOD! You have to believe me.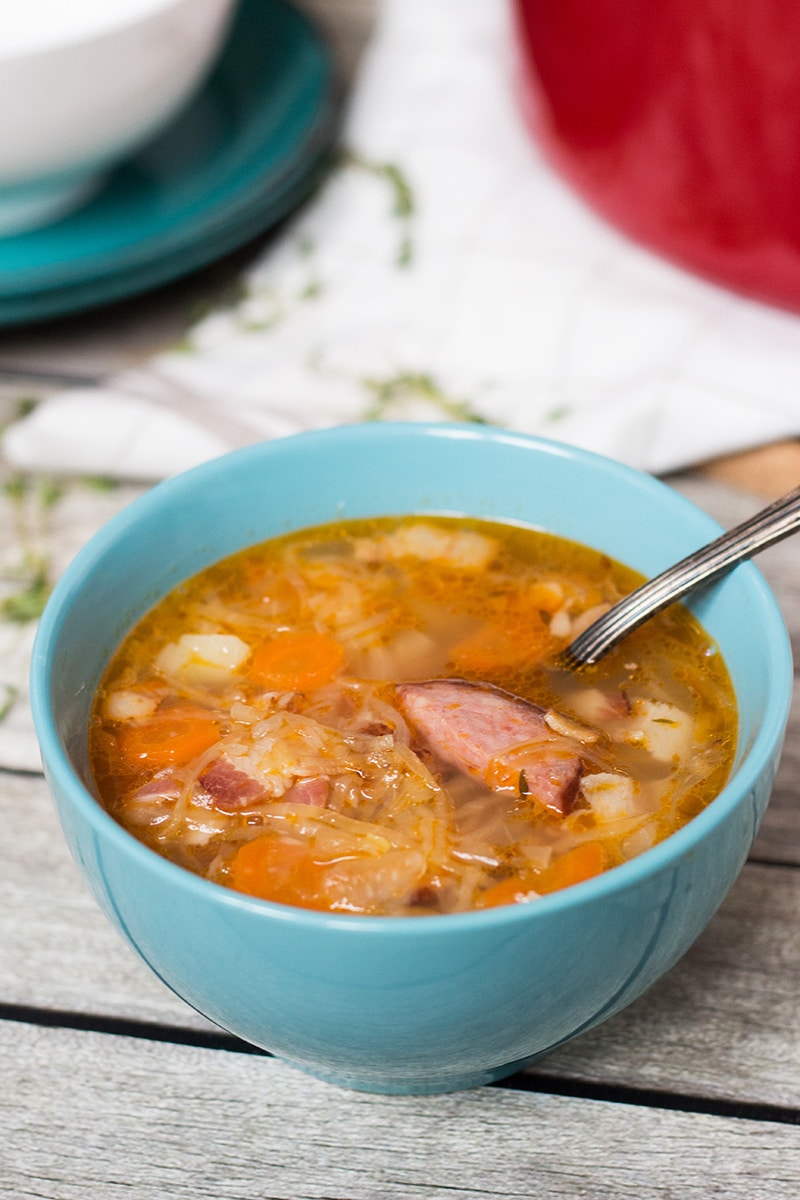 This sauerkraut soup has a strong sour aroma and an intense, powerful flavor. It's really warming and it's guaranteed to energize you. By the way, it is believed that sauerkraut soup helps with the hangover. Keep that in mind when you get yourself into such a situation next time!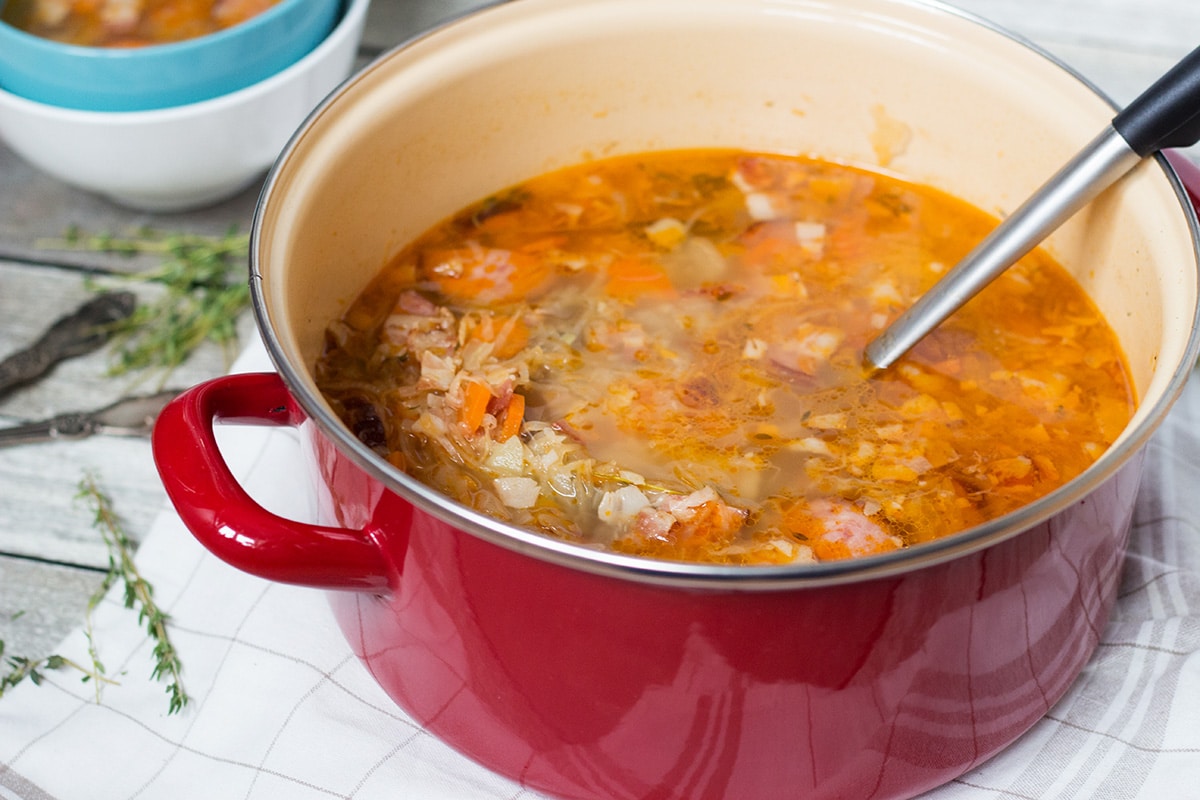 Polish Sauerkraut Soup with Sausage - Kapusniak
This Polish soup packed with sauerkraut, sausage, bacon, and veggies is guaranteed to warm you up and energize you for the day!

Ingredients
14

oz (400g)

sauerkraut

12

oz (350g)

smoked Polish sausage,

split lengthwise and cut into ½-inch pieces

2

medium onions,

finely chopped

2

medium carrots,

diced

4

medium potatoes,

cubed

5

oz (150g)

smoked bacon,

chopped

1

teaspoon

caraway seeds

1

sprig

thyme

2

tablespoons

tomato paste

3

tablespoons

Olive oil

2

quarts (liters)

water,

or chicken or vegetable broth

1

bay leaf

Salt

Pepper
Instructions
In a large soup pot, heat the olive oil, add onions and cook until they soften. Add carrots and cook for few more minutes. Add potatoes and water or broth. Bring to a boil.

Add the bacon and sausage to the frying pan and cook until starting to brown, about 5 minutes. Add the tomato paste and caraway seeds and cook for a few more minutes. Add sauerkraut and simmer for 5-10 minutes more.

When the potatoes are almost done, add the bacon, sausage and sauerkraut mixture into the soup pot. Add bay leaf, thyme and season with salt and pepper. Return to boil and simmer or another 20-30 minutes until the cabbage is soft. Enjoy!
Nutrition