Russian Pancakes are big and very thin, resembling French crepes. The best thing about them is a huge variety of fillings and toppings. I made both sweet (strawberry jam) and savory (sour cream, caviar, smoked salmon) versions!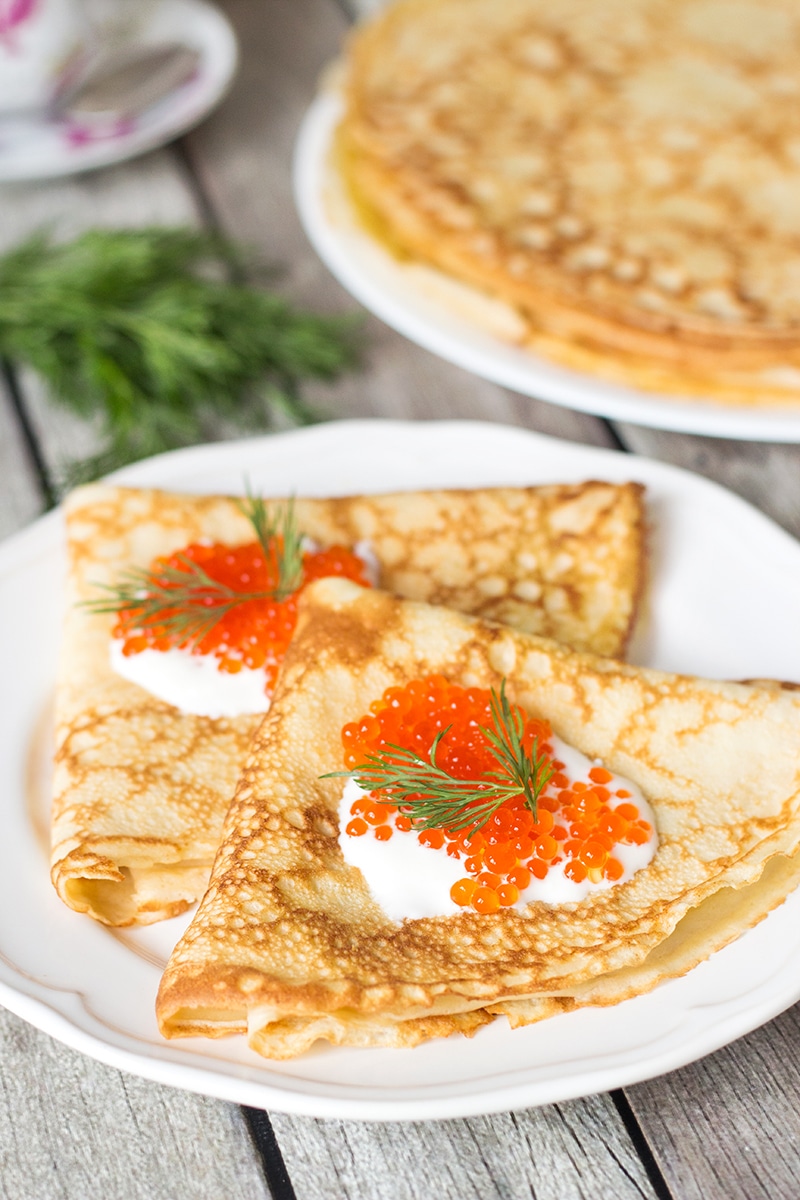 I decided to dedicate one more post to the food of my childhood. The food that takes me back in time on a trip down memory lane. It's amazing how a certain smell or taste can send signals to the brain and trigger some memories buried deep in our minds! One of such foods for me is Russian Pancakes, called Blini. I don't know how many times I have enjoyed them. Hundreds? No, thousands would be a more accurate answer. My grandma made them, my mom, my aunt - everybody! In my toddler years, I enjoyed only a sweet version of blini, but when I started school, any version of these pancakes were making my taste buds happy.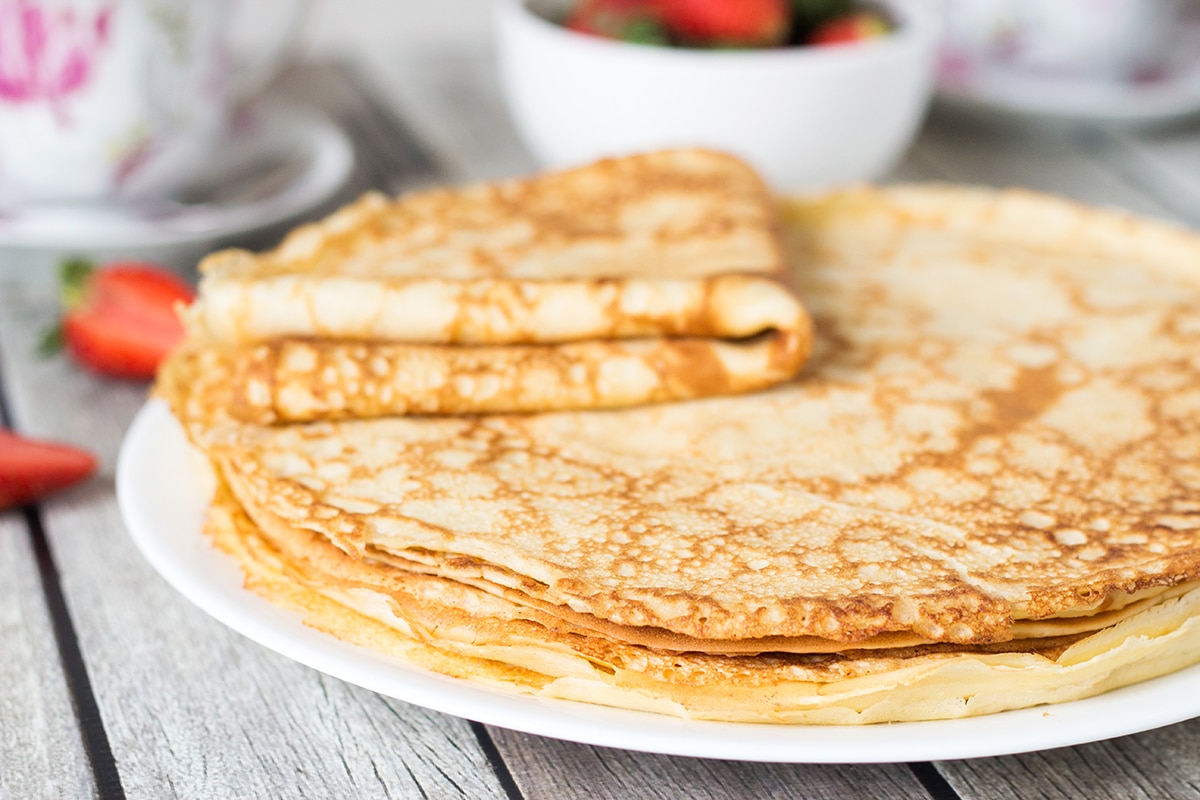 Blini should be very thin, just like crepes. Some people consider blini a general word for any kind of Russian pancakes: thin, thick, small, big ones, but that's not entirely true. Blini are always big (the size of a pan), while the smaller and the thicker ones are called Oladji. Actually, it's not a strict rule. If you will ever visit Russia and call small and fluffy pancakes blini, everyone will understand you and no one will say anything to you! No worries. I myself sometimes use this word for every Russian pancakes out there.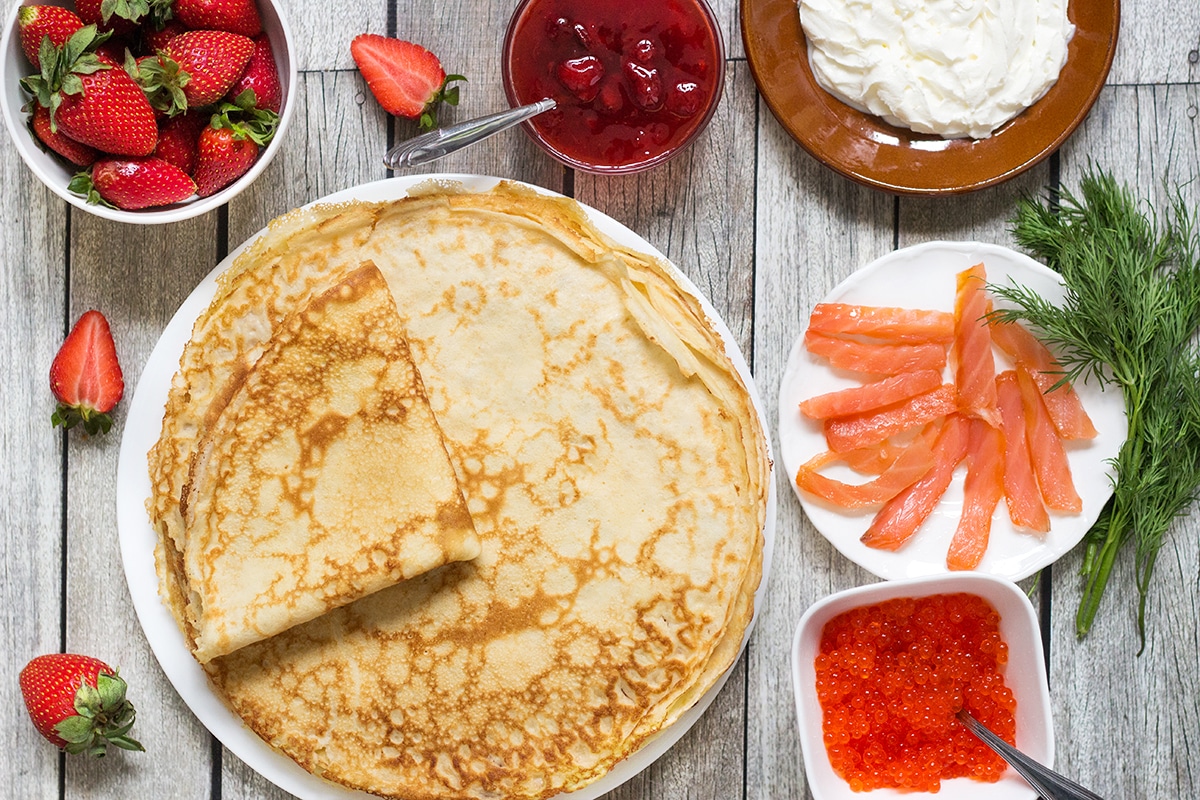 There are hundreds of different variations of pancakes in Russia. For example, blini can be made not only from wheat flour. Rye, buckwheat and barley can also be used. Also, you can make the pancakes big, but thicker at the same time! The leavening agent is used in this case. The liquid can also differ: water, milk, buttermilk and other options can be used. I am not even talking about a vast variety of fillings and toppings. Just off the top of my head: cottage cheese, cabbage, ground meat, mushrooms, chicken, jam to name a few. You can put all this stuff on top, roll into a tube, or roll a filling into a pre-fried pancake, and lightly re-fry it. So many options! By the way, you can check out my Russian cottage cheese pancakes I made a few days ago!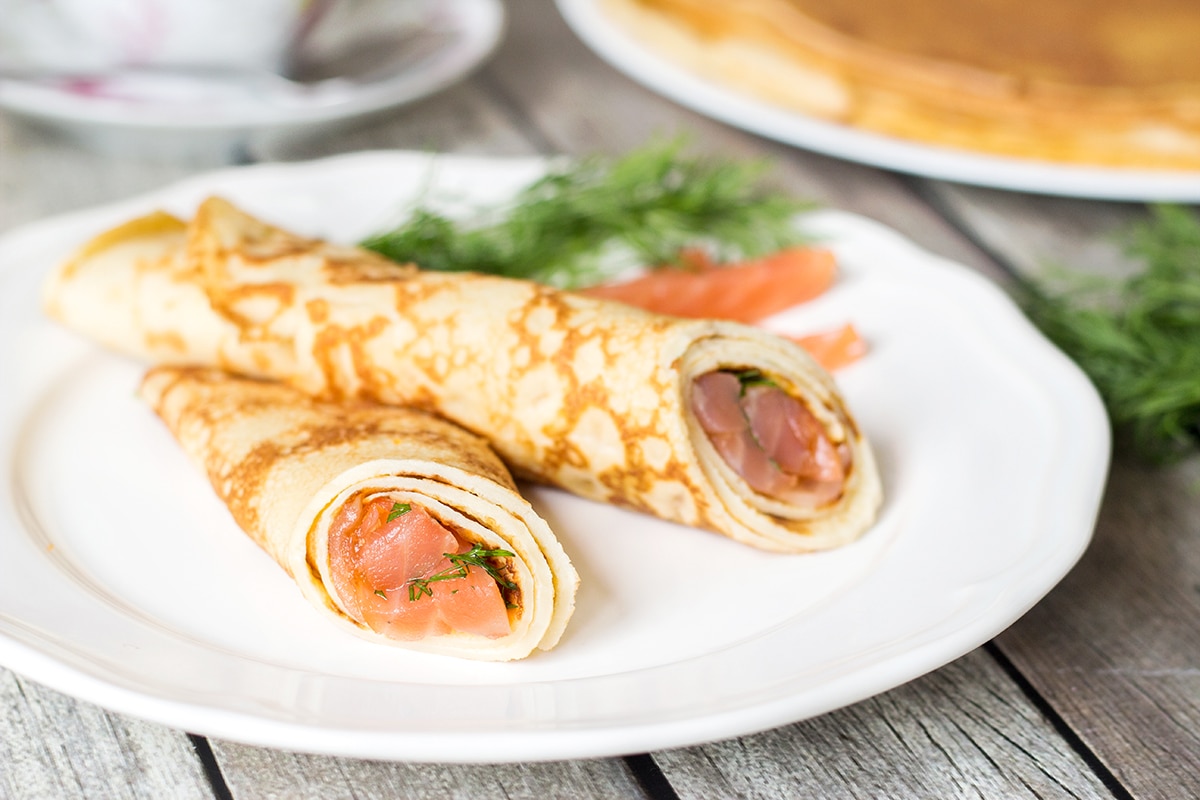 Russians love pancakes so much, they even have the annual festival when tons of blini are eaten at homes and in the streets. The festival is called Maslenitsa and is celebrated during the last week before the Great Lent. It's actually not the pancakes people are celebrating, Maslenitsa symbolizes the end of winter and the coming of spring. However, there is no Maslenitsa without the pancakes. That's for sure. We are celebrating this festival and eating pancakes in Lithuania too. I think this tradition was transmitted through many countries because of the Soviet Union.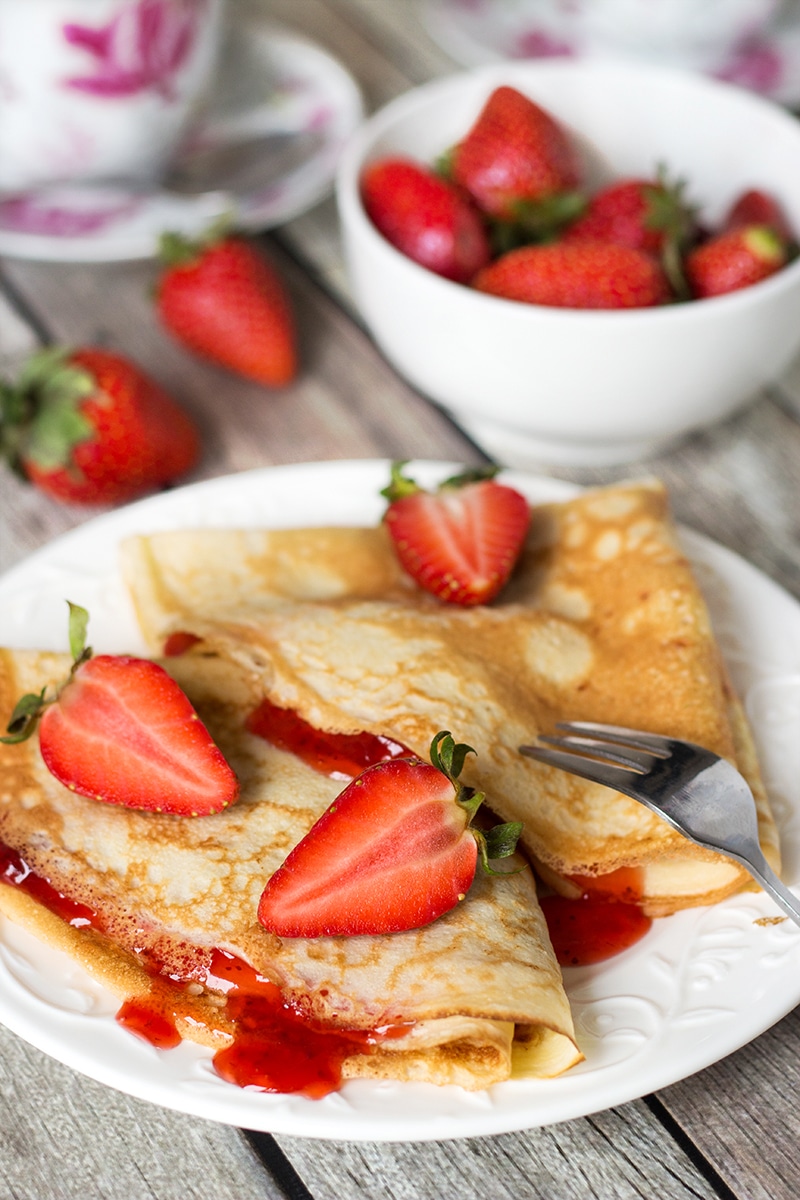 As you see from the pictures, I made both sweet and savory versions of these traditional Russian pancakes. I wanted to show you that they are amazing both ways! The first savory topping includes sour cream and caviar. Russia without caviar? Come on! The second one is with salmon and dill. Great combo. For the sweet version I've chosen strawberry jam - probably the most popular one in Russia. However, you can eat your blini with any jam you like. So what are you waiting for? Go and make these fantastic pancakes right now. You just can't miss this goodness!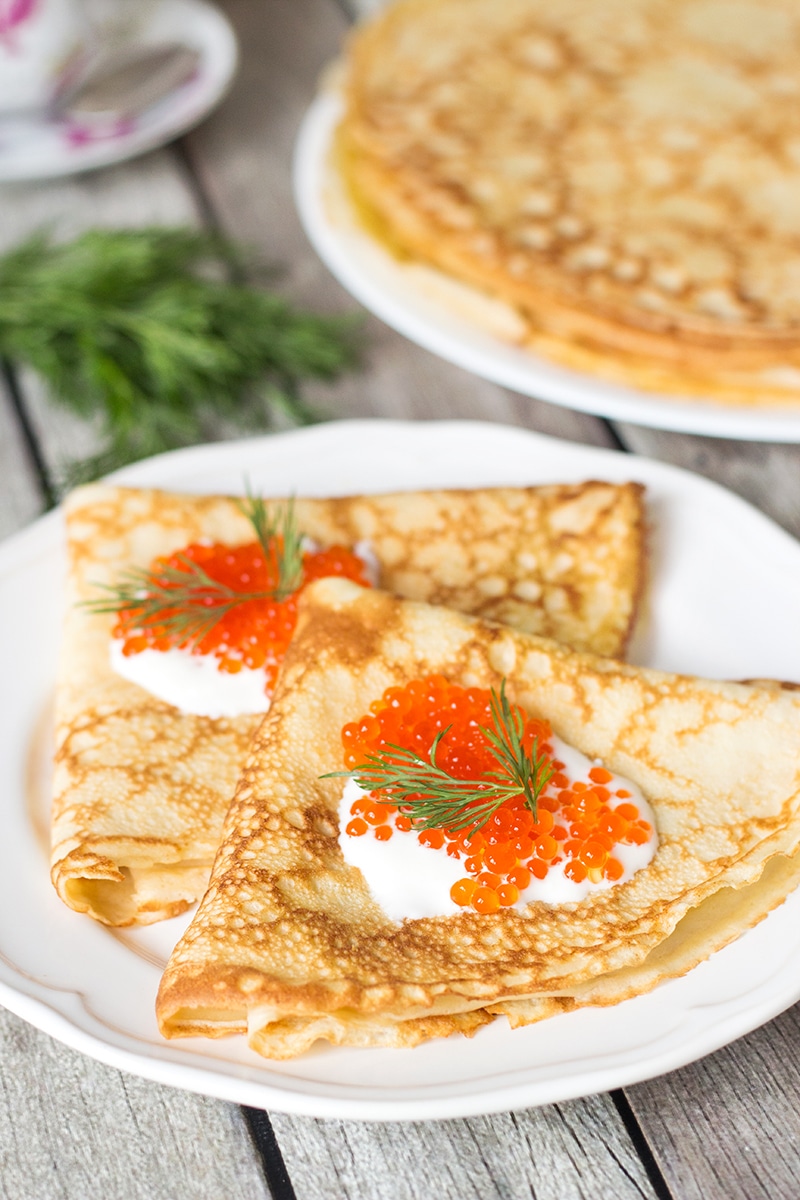 Blini - Traditional Russian Pancakes
These traditional Russian pancakes are made both with sweet (strawberry or any other jam) and savory (smoked salmon, caviar, sour cream) toppings!

Ingredients
Pancakes:
2

eggs

1 ¼

cups (300ml)

milk

¾

cup (100g)

all-purpose flour

a pinch of

salt

butter

, for frying
Toppings:
sour cream

caviar

smoked salmon

dill

fruit preserves

I used strawberry jam but you can use any jam you like
Instructions
Beat together the eggs, milk and salt. Add the flour and beat again with a mixer. The batter should be thin.

Butter a frying pan over medium-high heat (the size of the pancakes depends on the size of your pan. If you want them smaller, take a smaller pan and so on). Pick the pan up off the heat. Pour in a ladle of batter tilting and rotating the pan to spread it evenly. Return to the heat.

Cook until the edges are crisp looking and the center of the pancake looks dry. Carefully flip the pancake over and cook for about 1 minute on the other side.

Transfer to a plate. Continue cooking blini, stacking them on top of each other.

For the savory version, top with sour cream and caviar, or with the smoked salmon and dill. You can either fold a pancake in half, then in half again (to form a triangle) and put a filling on top, or roll them into a stuffed tube. For the sweet version use any jam you like, or put some honey on top. Enjoy!
Nutrition