I grew up with the Russian Cottage Cheese Pancakes, called Syrniki in the original language, and I can't recommend them enough, guys. Topped with sour cream or yogurt and caramelized fruit, these filling pancakes make a great weekend breakfast, a meatless weeknight dinner, or can be served as a dessert!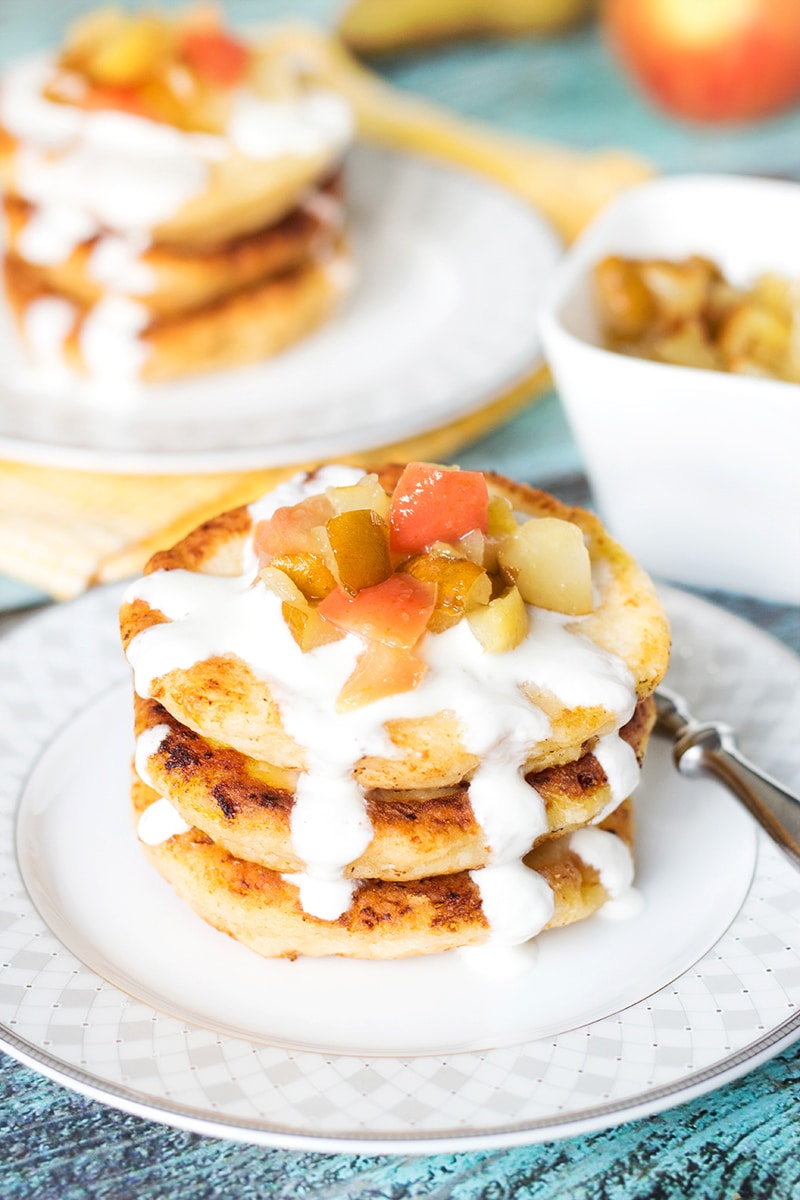 I love exploring world cuisines in search for delicious dishes I have never tasted, or even have never heard about. I really do. But let's be frank. Nothing beats the cookies your grandma made you every time you visited her as a little kid, or your mom's soup waiting for you back from school. What I want to say here is that the food from our childhood will always hold a special place in our hearts. That's exactly what I feel towards the Russian Cottage Cheese Pancakes, called Syrniki. My mom made them quite often as breakfast before school. I remember how one such pancake was filling me up right away! Even today, after many years, I can only eat like two of them. Seriously, they are so filling!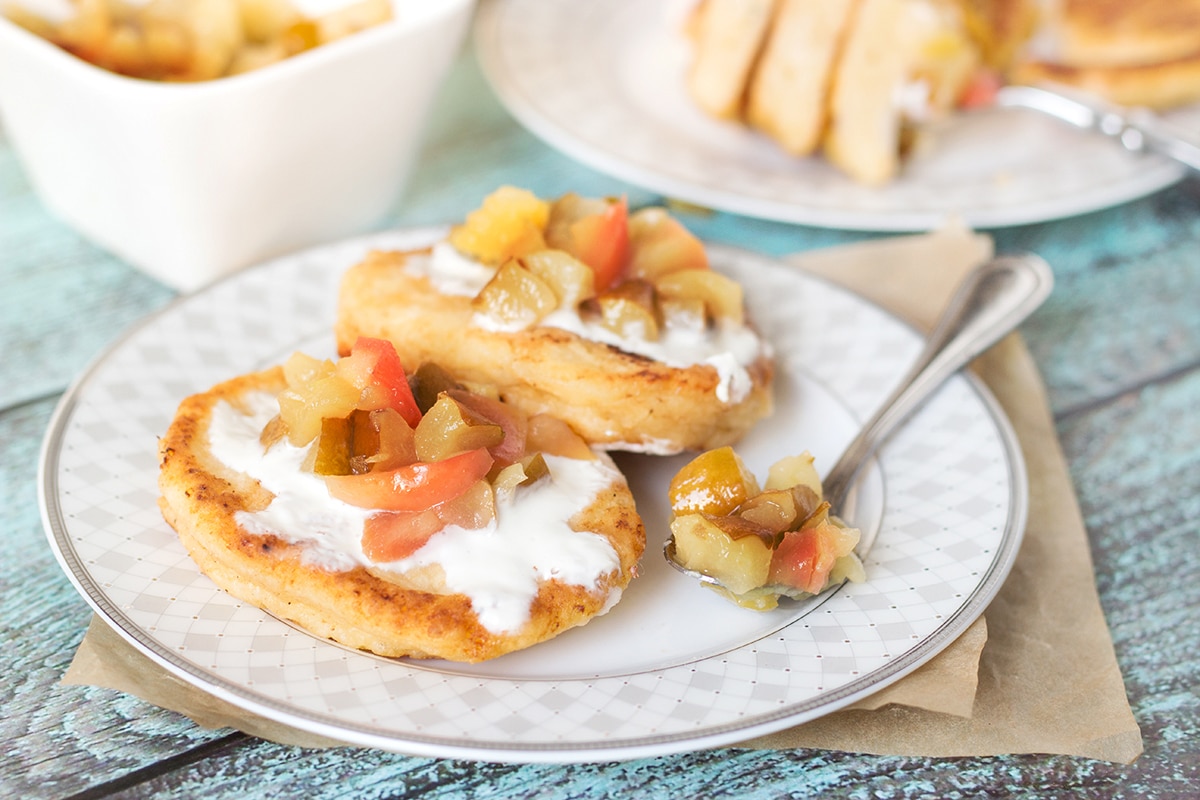 Despite the fact that I called these cottage cheese pancakes Russian, the exact place of their birth is unclear. Wikipedia says that this dish can be found in Russian, Belarusian, Ukrainian, Polish, Latvian and Lithuanian cuisines. That's what I'm talking about! My country is also listed here (if you are new to this blog, I am from Lithuania). Like with all Eastern European dishes, Syrniki has spread throughout the USSR, so they are enjoyed not only in Russia today.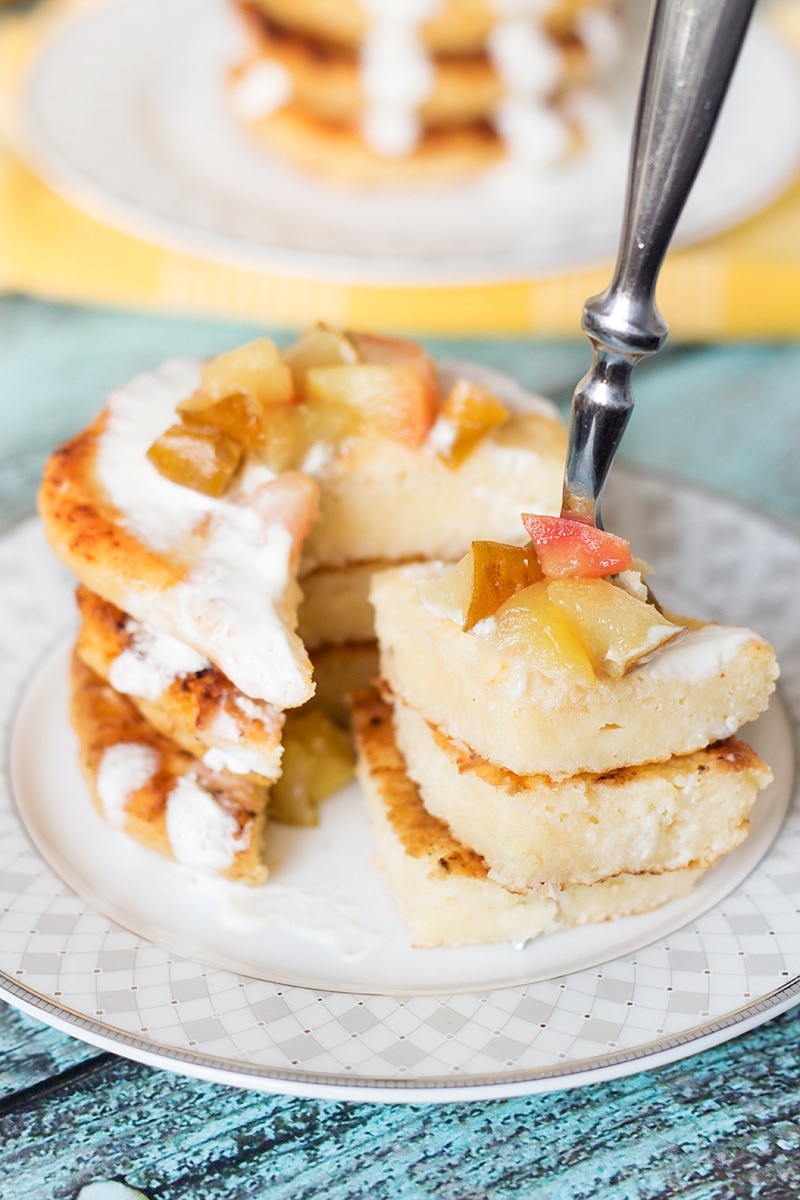 In Eastern Europe these pancakes are usually made from Tvorog. It's a type of fresh dairy product translated as quark, curd cheese, cottage cheese or farmer's cheese in English. A little bit confusing. I mean, of course Russian Tvorog and cottage cheese from the United States (for example) differ but I found that cottage cheese is as good for these pancakes. Farmer's cheese can also be used. This article says that farmer's cheese is almost the same thing as cottage cheese, just the former has less liquid in it. So I guess you can use it for this recipe too, just lower the amount of the flour in this case.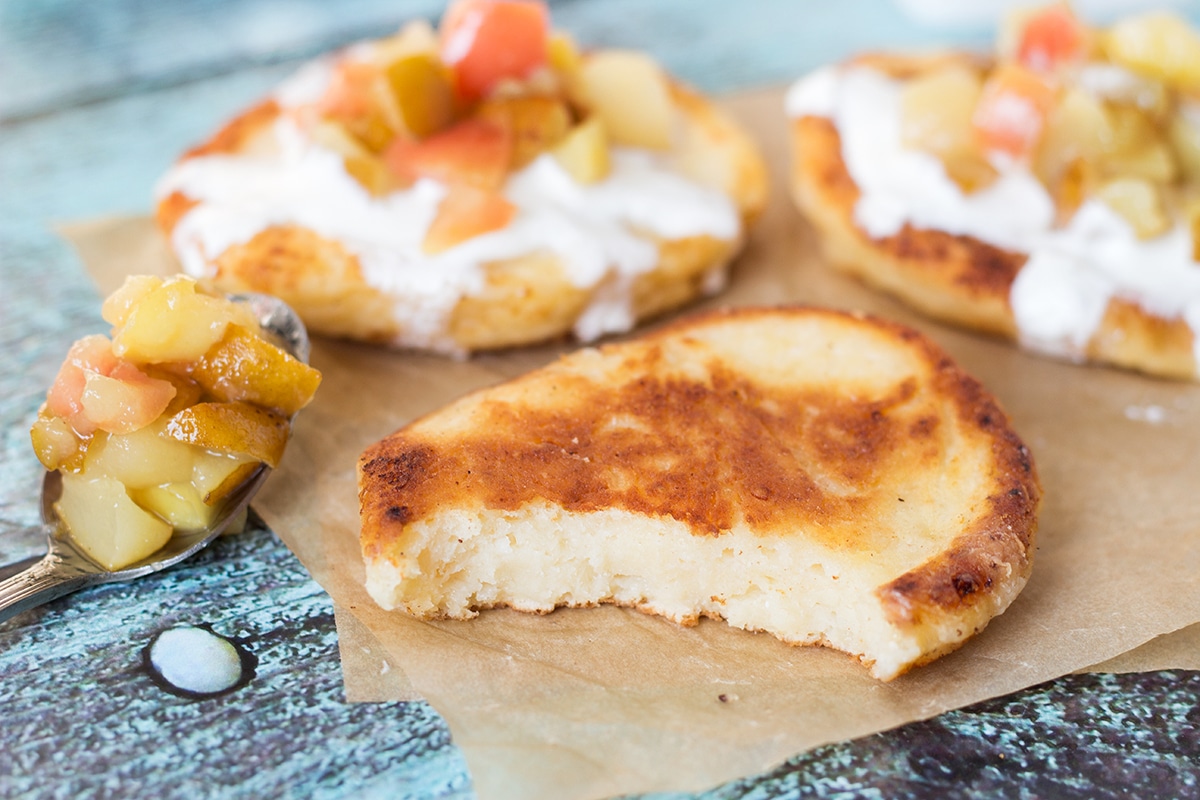 My mom served cottage cheese pancakes with a little bit of sour cream and sugar on top. However, they can also be eaten with jam, yogurt, or anything you like! For the blog, I decided to try something more interesting and went with caramelized fruit. And you know what? I have hit the bullseye with this idea! The combination of the pancakes, sour cream and sweet caramelized fruit is heavenly. Believe me. Or better try it by yourself and you'll see.
P.S. It looks like I am going crazy over pancakes lately: few weeks ago I made the amazing Polish Potato Pancakes (my readers loved them) and last week I made these Moroccan Bahgrir pancakes. Yes, I do love pancakes!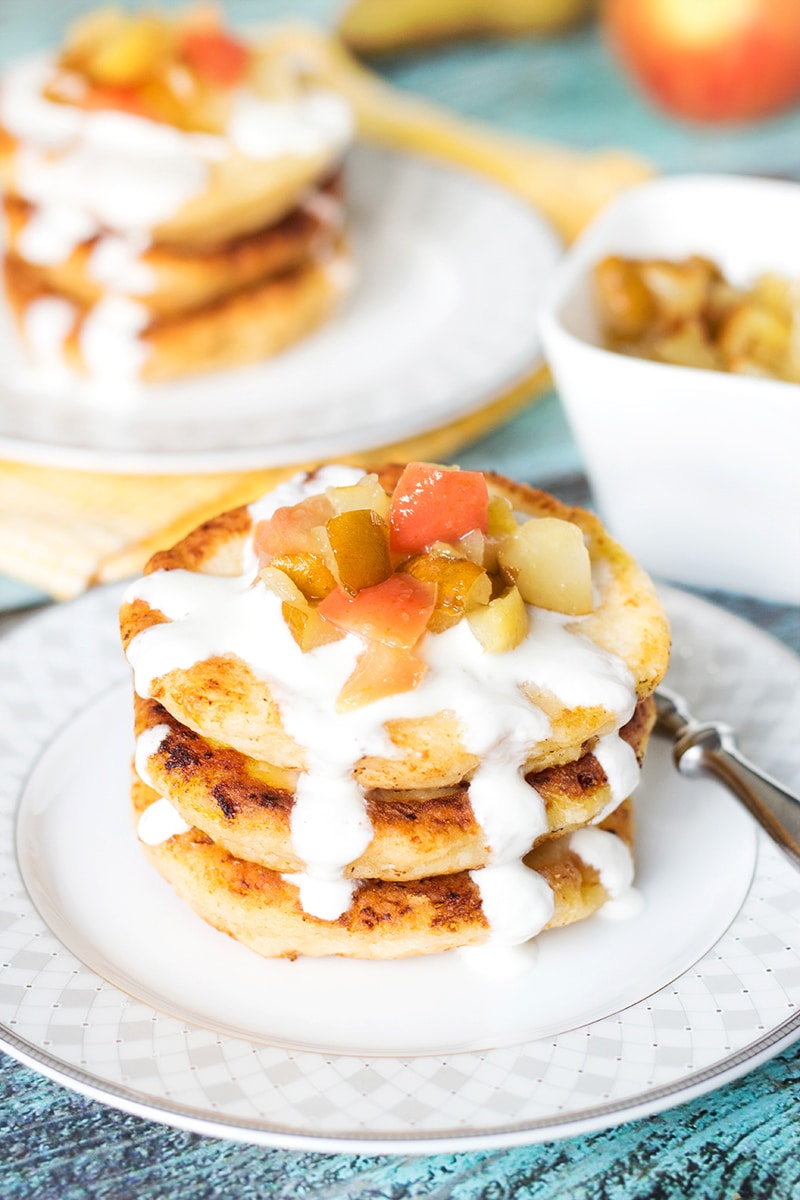 Russian Cottage Cheese Pancakes - Syrniki
These Russian Cottage Cheese Pancakes (Syrniki) make a great weekend breakfast, a meatless weeknight dinner, or can be served as a dessert!

Ingredients
Pancakes:
1

lb (450g)

cottage cheese

, well drained

2

eggs

4

tablespoons

sugar

¼

teaspoon

salt

½

teaspoon

vanilla extract

1

cup + 4 tablespoons (155g)

all-purpose flour

½

teaspoon

baking powder

½

cup

flour

, for dusting

2

tablespoons

butter or oil

, for pan frying

sour cream or yogurt

, for serving
Caramelized fruit:
2

medium pears

1

medium apple

1

lime

1

tablespoon

honey
Instructions
The pancakes. Sift 1 cup + 4 tablespoons flour and combine it with baking powder and salt in a bowl. Set aside.

Place the cottage cheese, eggs, sugar, and vanilla extract in a small food processor and blend until almost smooth. Add the flour mixture and stir with a rubber spatula until combined. The mixture should be sticky.

Heat the butter or oil in a non-stick skillet over low-medium heat. The oil should be hot enough before you start frying.

Place ½ cup flour into a bowl or shallow plate. Using a cookie scoop ( I used a medium one), scoop a ball of dough and roll it in the flour. Repeat with all the remaining dough. I get 8 balls, but you can get less or more depending on the size.

With floured hands, gently pat the dough balls from one hand to another to remove excess flour. Flatten them with your palm and put in the skillet. Fry until both sides are golden brown (on low-medium heat). When done, place on paper towels to remove any excess oil.

The caramelized fruit. Cut pears and the apple into small cubes. Add them to a skillet or a pan. Grate zest of the lime and squeeze the juice. Add 1 tablespoon honey and mix everything together. Put over a high heat, and, constantly stirring, cook until fruit are golden.

Serve the pancakes with sour cream or yogurt, topped with caramelized fruit. Enjoy!
Notes
You may need more or less flour depending on how moist your cottage cheese is. The dough should be sticky and soft, but should hold together well.
Nutrition