This French-German pizza has quite a few names: Tarte Flambee, Flammekueche, and Flammkuchen. It is crispy and features bacon and onion on top. Really simple and easy to make!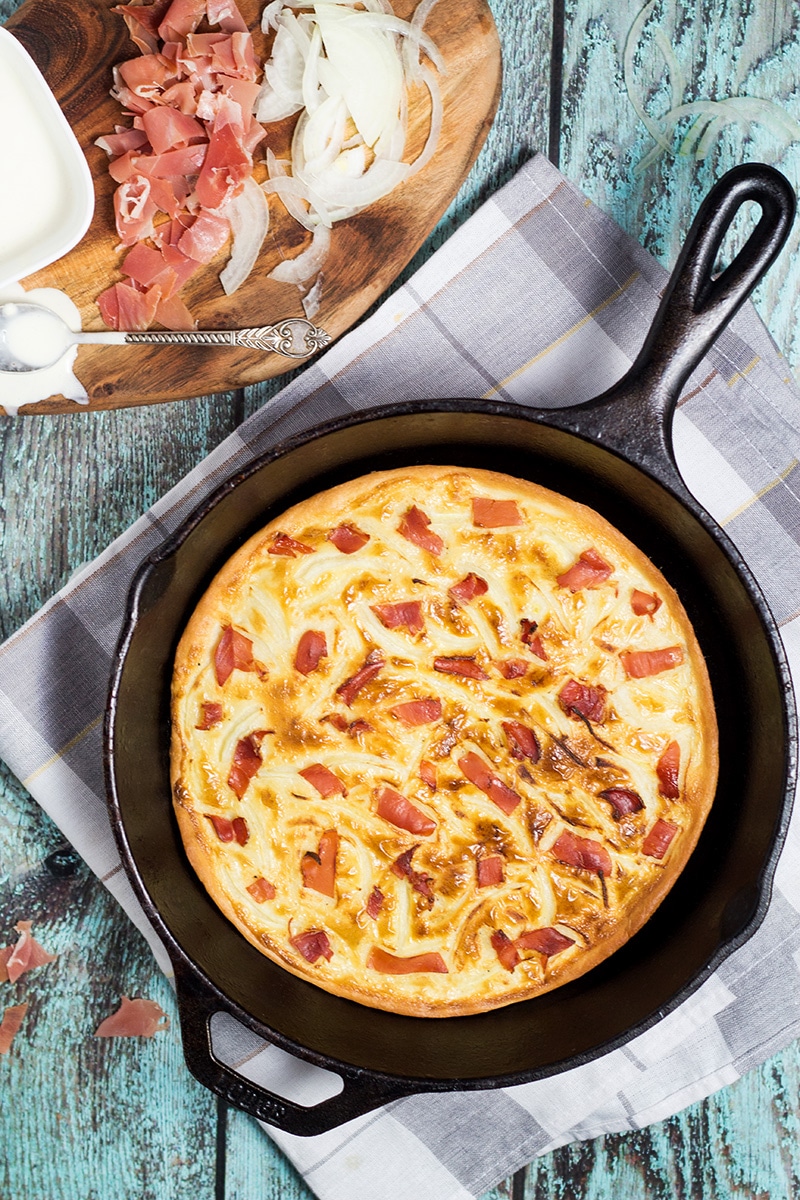 This is the first time I actually don't know to which country the recipe belongs. How is that? No, it's not one of those situations when 5 countries claim to be the founders of the dish. In this case everything is pretty clear – the recipe belongs to the Alsace region, which is located in France. The dish is French then – you will tell me. Not so simple, my dear reader. The control of this region was exchanged by France and Germany four times in 75 years! That's why our today's recipe – Tarte Flambee, has a German name too – Flammkuchen. Moreover, it has the Alsatian name too -Flammekueche (yes, this region has their own authentic language, but today the one and only official language there is French).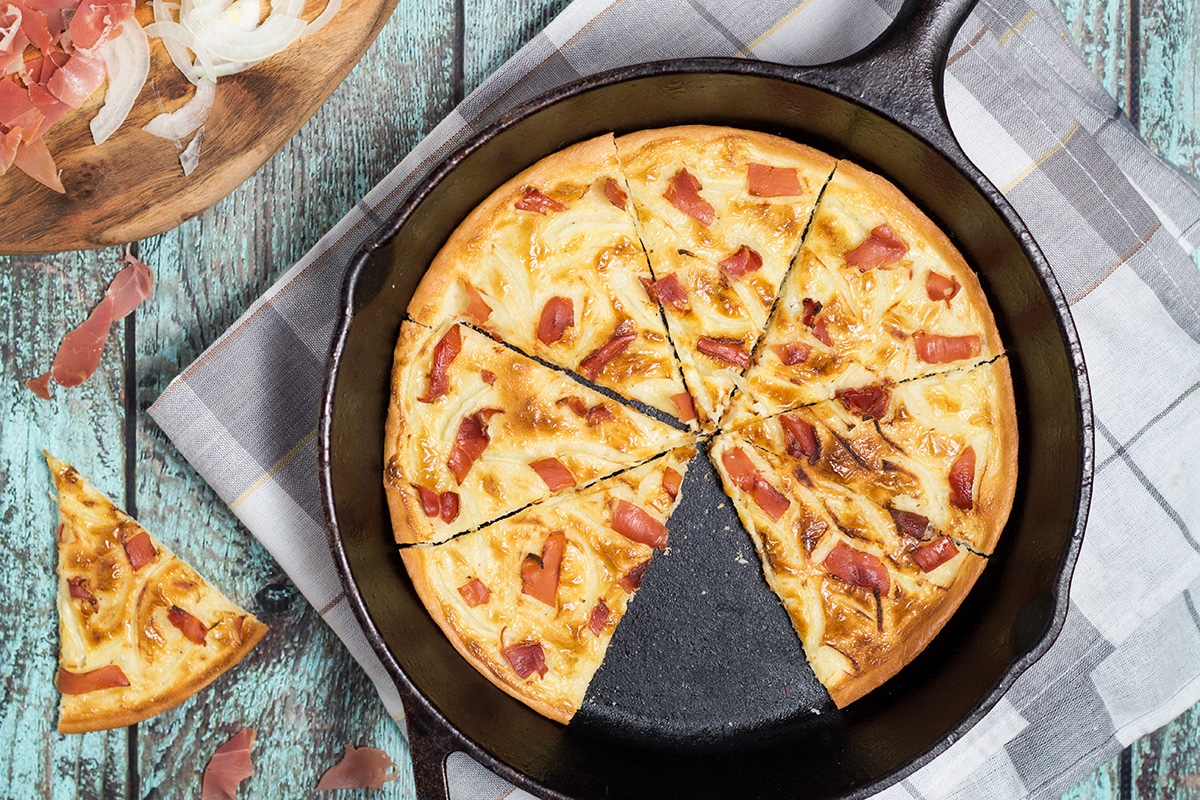 That's why it's really hard to say whether Tarte Flambee is French or German. The majority of websites refer to this dish simply as Alsatian. Well, alright then! Enough of history – let's move on to the food. So what Flammkuchen is about? It's a flatbread topped with Crème fraîche (it can be substituted with sour cream) based filling, raw onions and bacon. It actually looks like pizza, it even uses a pizza crust, but be sure not to call it that in front of Alsatians!  Many people call it German pizza though.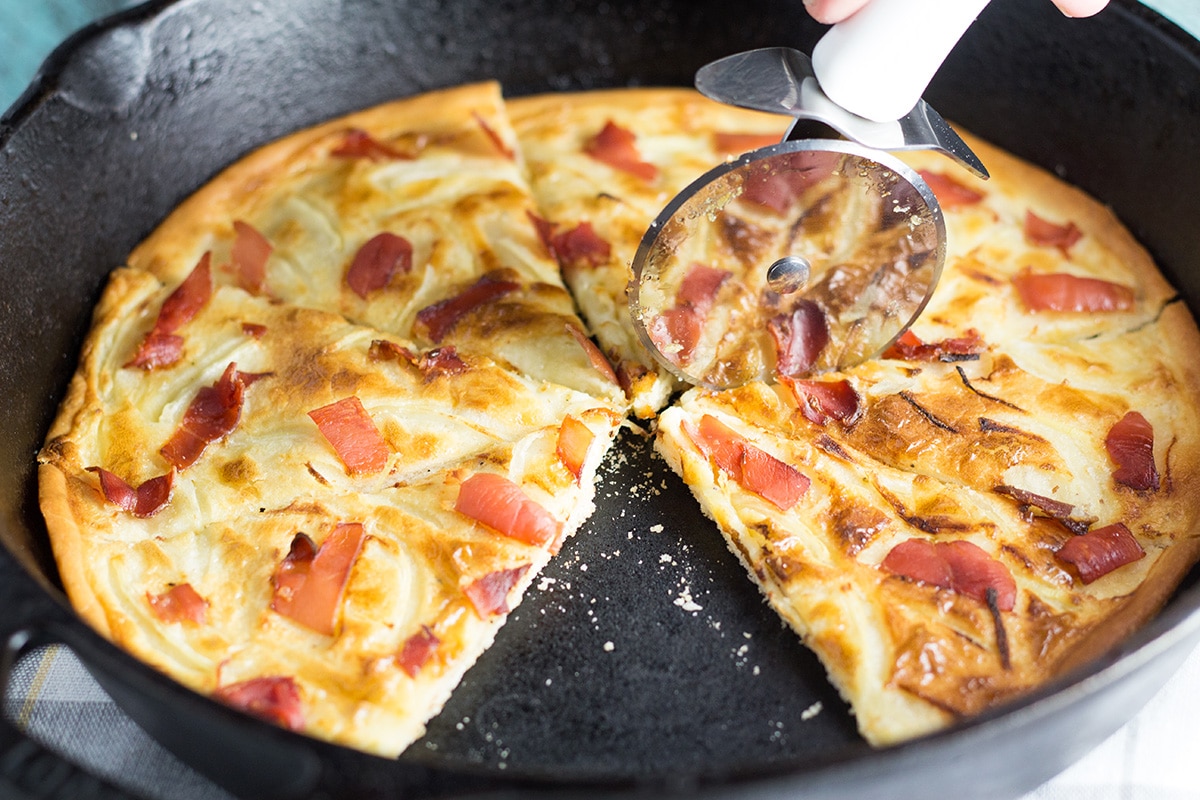 Talking about the pizza dough, you can use either store-bought or homemade for this recipe. It works both ways. Any pizza dough is fine. I've made a homemade one as I like it more. Tarte Flambee requires the dough to be rolled out very thinly. The base should be crunchy.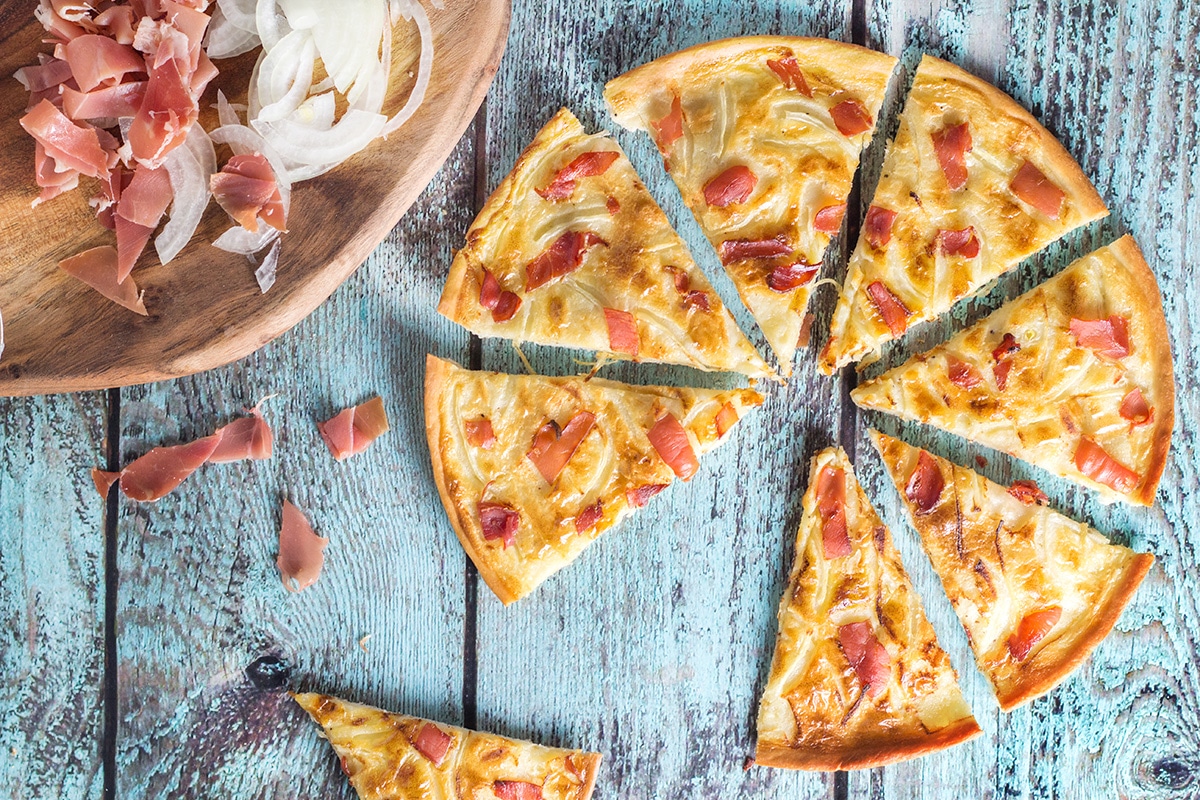 It also has to be baked at high temperature. The higher the better (just crank the oven to its max). That's why a pizza stone is recommended for this recipe. However cast-iron skillet or sheet pan work well too. Even the name of this flatbread translates as "flame cake", "pie baked in the flames".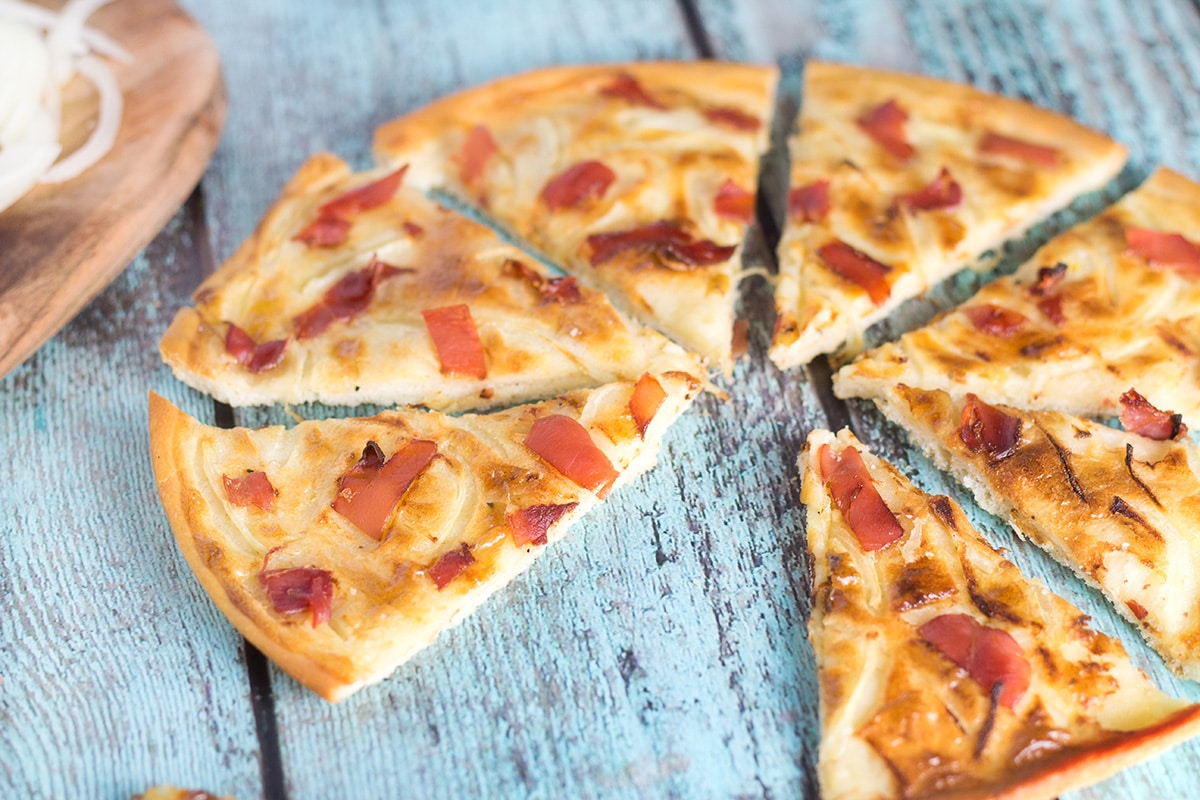 I loved this Alsatian treat a lot. I love that it's paper-thin and crunchy, I love the savory taste, everything. It tastes not like any pizza you have ever tasted. It's super simple but somehow it delivers! Call it Alsatian magic.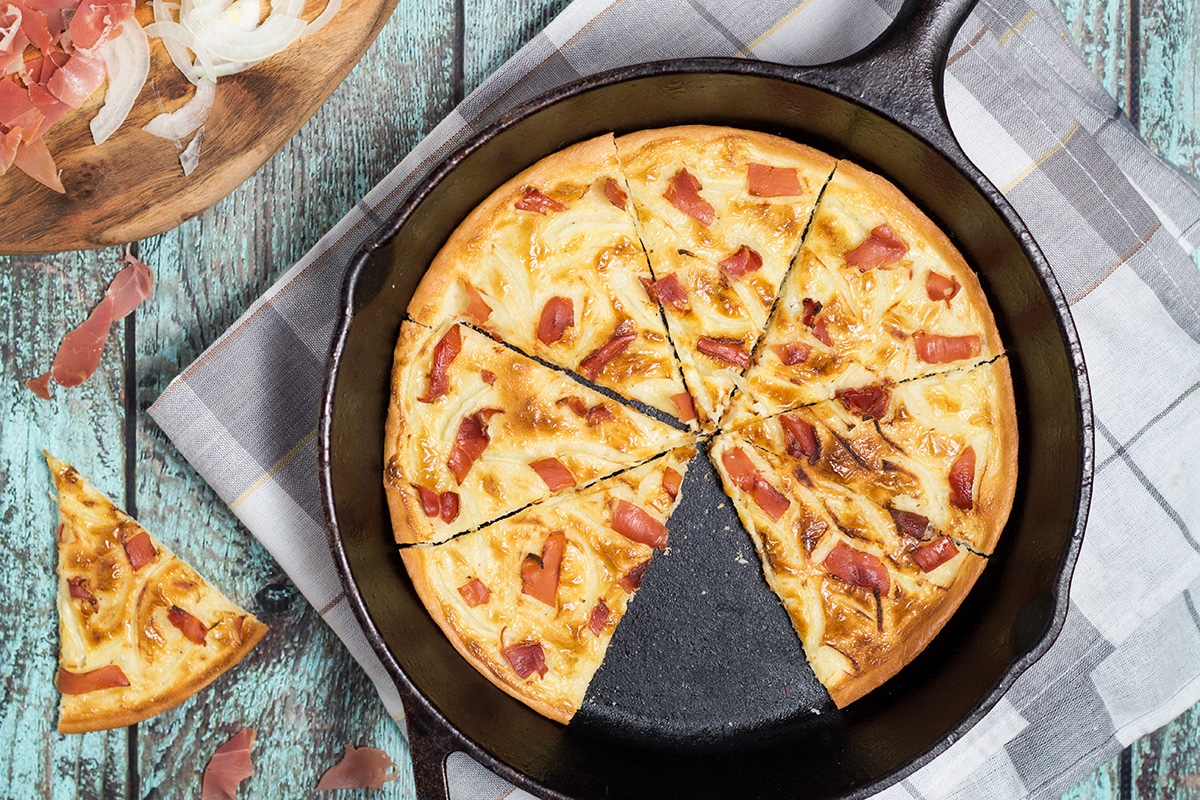 Tarte Flambee - Onion and Bacon Pizza
Tarte Flambe is not your ordinary pizza. This French-German creation is really crispy and topped with bacon and onions. Easy to make!

Print
Pin
Rate
Servings:
4
10-inch pizzas
Ingredients
For the crust: (Or skip these and use 1 pound of store-bought pizza dough)
2

cups

all-purpose flour

2 1/4

teaspoons (7g)

instant dry yeast

1

teaspoon

sugar

1/2

teaspoon

salt

2/3

cup

lukewarm water

1

tablespoon

extra virgin olive oil,

plus more for greasing the pan
For the topping:
2/3

cup

Crème fraîche

(can be substituted with sour cream)

1

egg yolk

1 1/2

tablespoons

all-purpose flour

Pinch freshly grated (or ground) nutmeg

salt and pepper to taste

1/2

medium yellow onion,

thinly sliced

3-4

oz (about 100g)

bacon,

coarsely chopped
Instructions
The crust. Combine water and olive oil. Set aside. In a bowl, whisk together flour, yeast, sugar and salt. Make a well in the center of the flour and pour in water and olive oil mixture. Mix until you get a dough. If the dough is too sticky, add more flour, if too dry, add more water, gradually.

Place the dough on a floured surface and knead it until smooth and springs back when pressed (for about 7 minutes). Shape into a ball, place in a greased bowl and coat with oil rolling around the bowl. Cover the dough with plastic wrap and put in a warm place for about an hour or until it doubles in size.

Gently push the dough to release the air. The dough is ready!

If you have a store-bought or any kind of ready dough, start from here.

Preheat oven to 500°F (260°C) or even more. The more the better. Do that 1 hour before cooking.

Divide the dough (it should be about 1 pound) into as many portions as you like. I've divided mine into 4 because I was using a 10-inch iron cast skillet. If you are using a baking stone or a sheet pan, you can make bigger pieces.

Grease the cast-iron skillet or parchment-lined sheet pan with the olive oil. Roll dough in oil and stretch it to fit the skillet or just make any size circle you want if you use a sheet pan or a pizza stone.

The filling. Whisk together Crème fraîche, egg yolk, flour, salt, pepper and nutmeg. Prepare the onion by slicing it thinly. Chop the bacon coarsely.

The assembly. Spread the filling over the dough, coat with onions and bacon. Bake for 5-10 minutes until toppings are browned in spots and crust is golden brown. Repeat with all the dough and toppings. Serve immediately. Enjoy!
Notes
The crust was adapted from Yummy Addiction blog. Thanks, Jovita, your blog is great and this is my go to recipe every time I make pizza at home!
Nutrition