This Thai Pineapple Fried Rice is not only healthy and delicious but also looks heavenly served in the pineapple shells. With curry-flavored rice, cashews, pineapple chunks, and a bit of chili pepper, this dish proves once more that Thai cuisine is among the best in the world!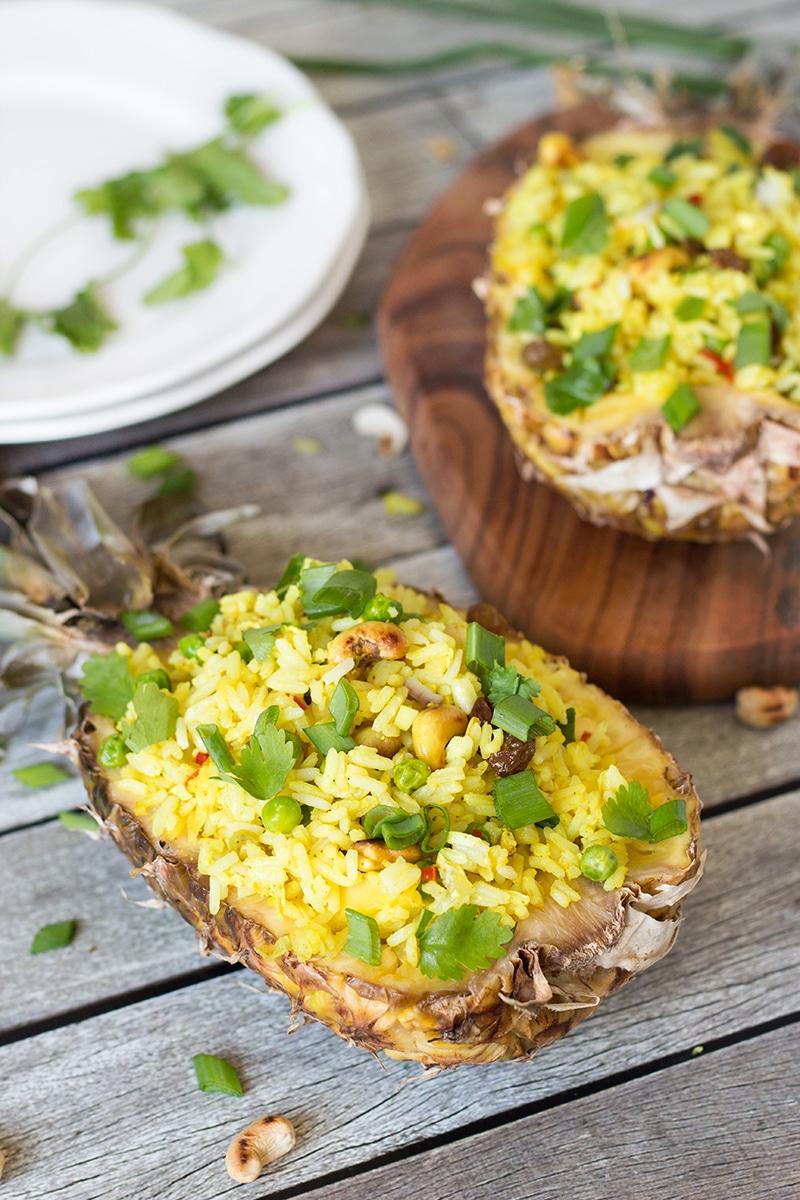 If you are wondering how I pick which recipe and from which country to make next, this post should shed some light on the process. Few days ago I got a pineapple. The beautiful, ripe pineapple. My mom gave it to me when we were visiting her and dad with my wife and kid. It was sitting in my parents' kitchen for a week. They love buying discounted things even if they don't need them AT ALL. When my parents buy things that are not necessary, they don't throw them away. Oh no. They give them to me going on and on about how great this thing is and how I won't be able to live without it. The same thing happened with this poor pineapple. Don't get me wrong, I am not complaining here. I love pineapples. I love them very much.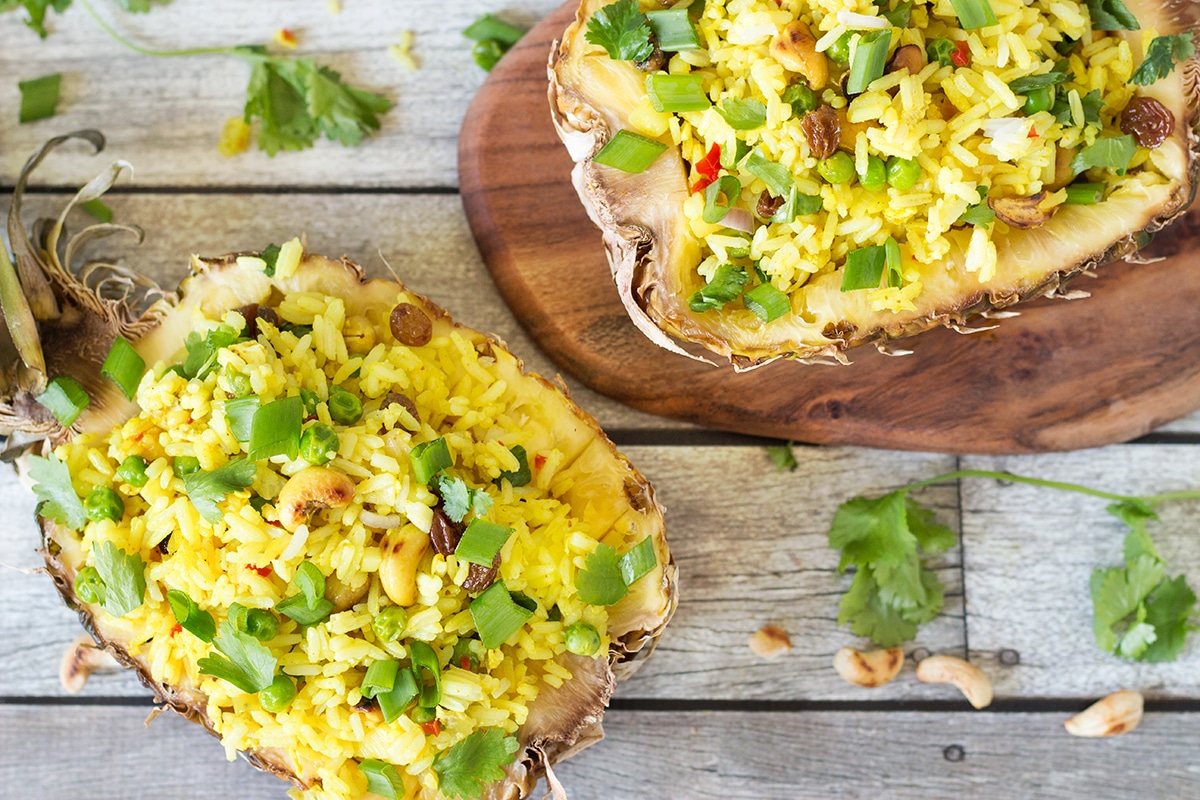 So, I started thinking what to make with it. A genius idea popped into my head right away. Well, genius may be an overstatement, considering that thousands of people made it before me, but I still loved it! The idea was to carve a pineapple, make something super delicious using fresh pineapple chunks and serve it in the pineapple shells. Sounds awesome, right? I see such pics often on Pinterest and I love them every time. Now the time has come to make such a beauty by myself! I looked through my countless books searching for a perfect recipe for this stunt and stumbled upon this deliciously sounding Thai Pineapple Fried Rice. I knew right away it was exactly what I needed!
What was my surprise when I found out that it's the very first Thai recipe on this blog! I love Thai cuisine so much so it's really strange that it happened. Well, I am going to fix this ridiculous mistake! Pineapple fried rice is one of the signature Thai dishes. If you will ever visit this stunningly beautiful country, there is a big chance that it will be one of the first dishes you will try there. By the way, it's usually served in a carved-out pineapple, just like I wanted! Awesome.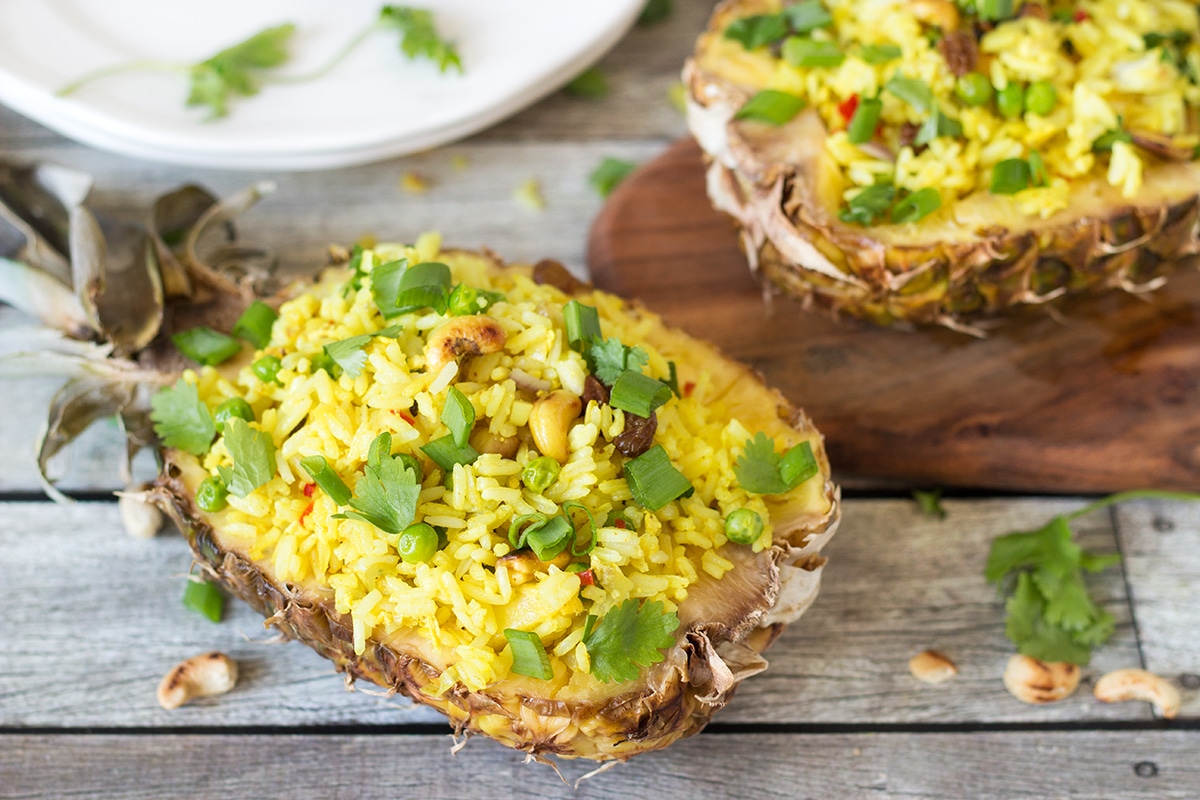 Curry-flavored rice, crunchy cashews, sweet pineapple chunks and raisins, and a spicy kick of chili pepper. What's not to love about this Thai pineapple fried rice? It tastes like heaven. I wasn't surprised at all because Thailand is a pure heaven, so dishes have to be up to par! Oh and just look at this presentation! I made a vegetarian version of this exotic dish, but if you want some meat, you can add shrimp or chicken to it. Enjoy!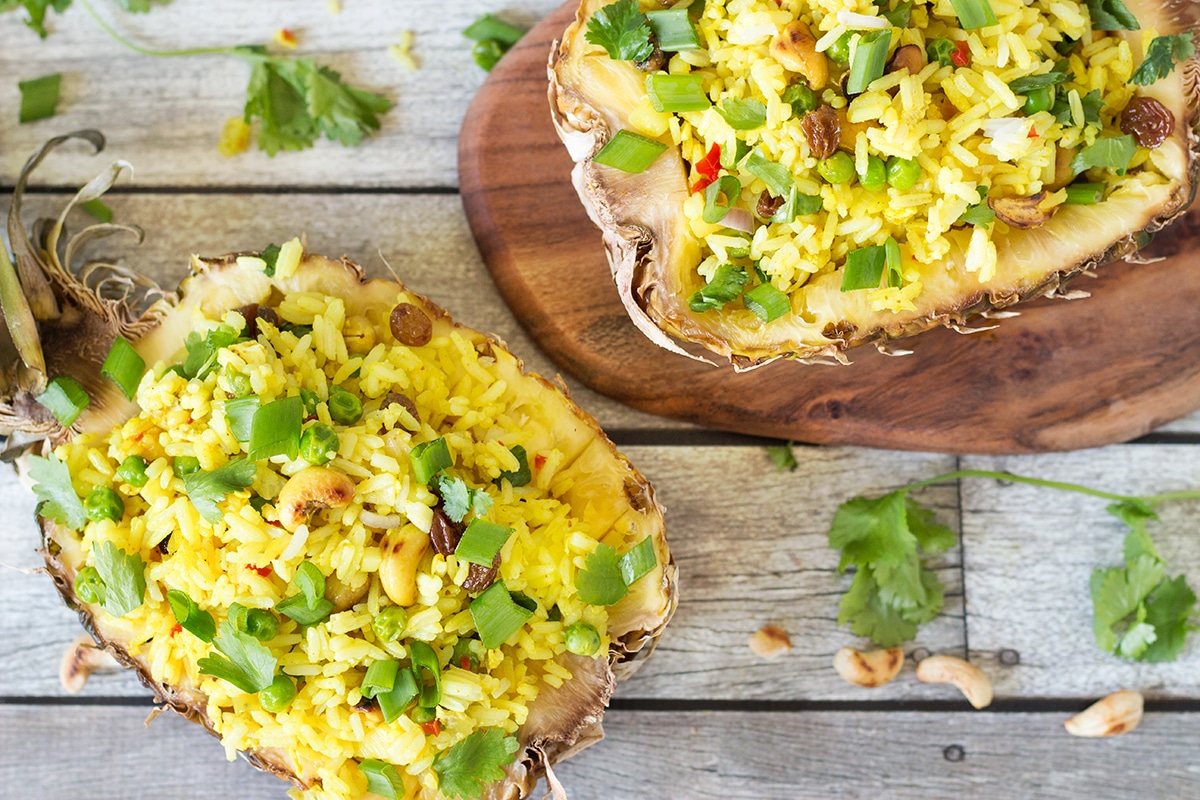 Thai Pineapple Fried Rice
Healthy and delicious, this Thai Pineapple Fried Rice looks out-of-this-world good served in carved-out pineapple shells!

Ingredients
1

pineapple

2

cups

uncooked rice

3

tablespoons

oil

, divided

3

tablespoons

fish sauce

2

teaspoons

Curry powder

1

teaspoon

brown sugar

2

shallots

, finely chopped

3

cloves

garlic

, minced

1

red chili pepper

, seeds removed, minced

1

egg

½

cup

frozen peas

1

cup

roasted cashews

, unsalted

¼

cup

raisins

green onion

, for sprinkling

coriander

, for sprinkling
Instructions
Cut the pineapple in half lengthwise and scoop out the inside. Cut into small chunks. Don't forget to remove the core by making a V-shaped cut in the center of each half. Set aside.

Cook the rice and let it cool spreading it out in a large bowl. Drizzle 1 tablespoon oil over the rice and toss it separating any lumps. Set aside.

In a cup, combine the fish sauce with curry powder and sugar. Stir until the sugar dissolves. Set aside.

In a skillet or a wok, heat 2 tablespoons oil over medium-high heat. Add the shallots, garlic, and chili pepper. Stir-fry for 1-2 minutes.

Make a space in the center of the skillet and crack the egg into this space. Quickly stir-fry it to scramble. When the egg is cooked, add the cashews and the fish sauce mixture, and stir well. Add the rice, pineapple chunks and raisins. Stir-fry everything together for 2-3 minutes (or until the rice is hot) using a scooping motion. Remove from heat.

Serve in the pineapple shells, sprinkling some green onion and coriander on top. Enjoy!
Nutrition