Sweet, soggy, and boozy, these Spanish toasts are soaked in milk and drizzled with orange & brandy syrup. They are traditionally served on Easter but can be enjoyed any time of the year!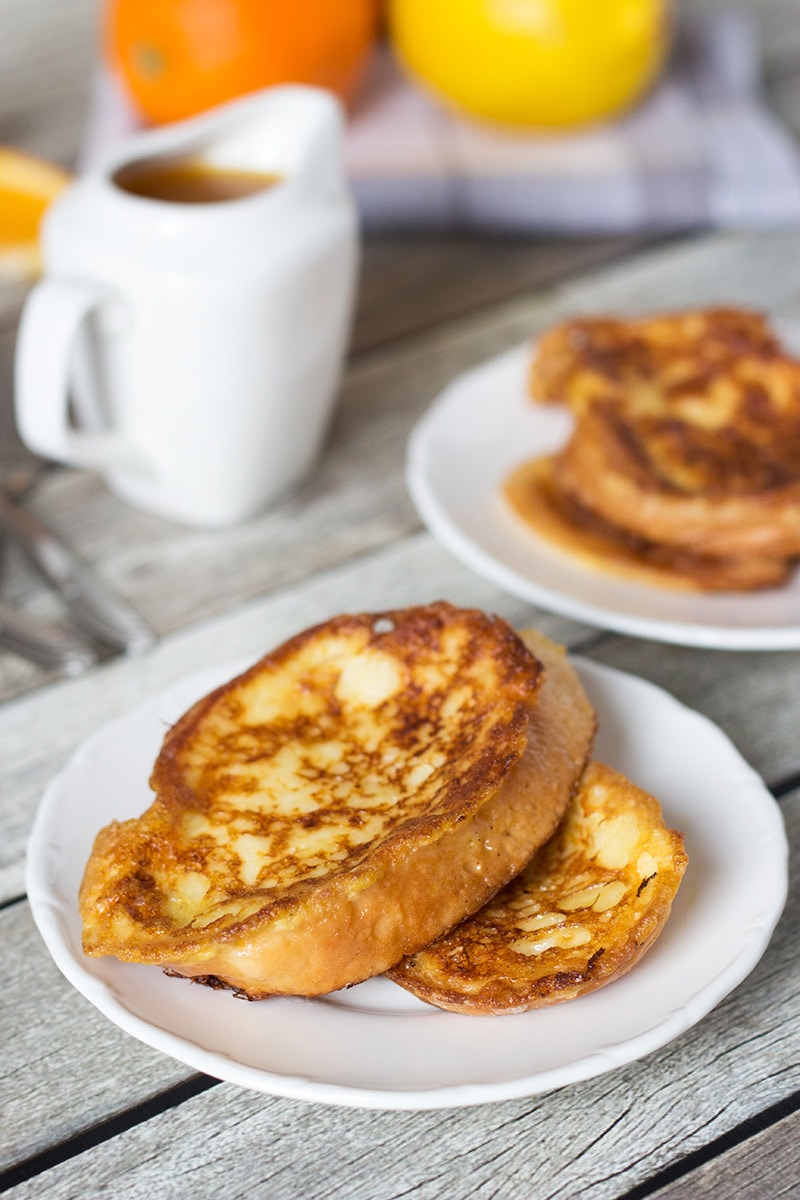 During a certain period of my childhood (I don't remember the exact time) my mother was making me a very simple, yet delicious dessert - slices of bread were soaked in milk, dipped in beaten egg and fried for a few minutes in a skillet. It was that simple, but it was more than enough to satisfy my sweet tooth. Now, after almost 20 years, I found out that it's actually a very popular dessert in Spain! It is called Torrijas or just simply Spanish toasts. Of course it involves few more ingredients but foundation is the same.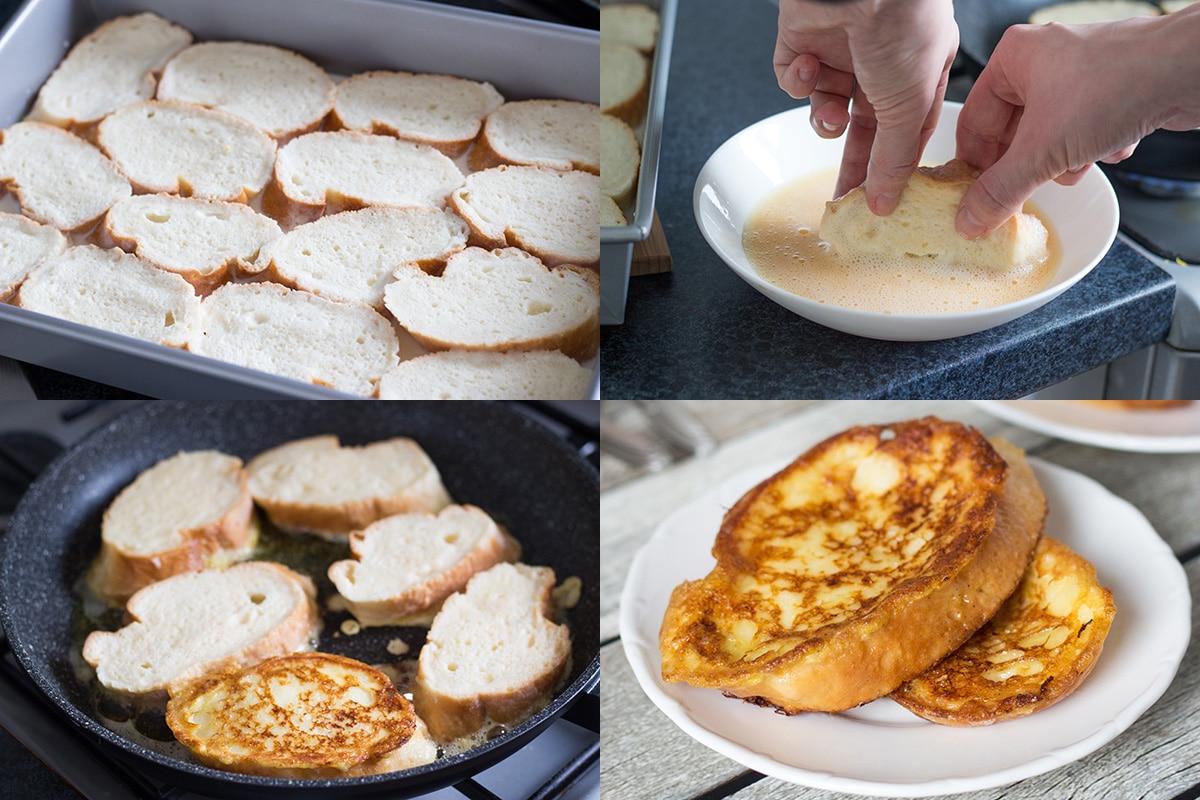 There is one time of the year when Torrijas can be found on every table in Spain. Easter! I have stumbled upon it right on time! This dessert became synonymous with Easter and is eaten as part of the tradition during Lent and Holy Week. However, many bakeries offer it all year round. They even sell stale bread to customers who want to make this dessert at home. Yes, Spanish toasts are made of stale bread! It has to be tough enough to keep its consistency after getting soaked. That's the perfect way to use up leftover bread, huh? Just wait a day or a few after buying bread if you plan to make Torrijas. By the way, I am using baguette, that's what the most Spaniards use, but you can easily substitute it with any bread you want.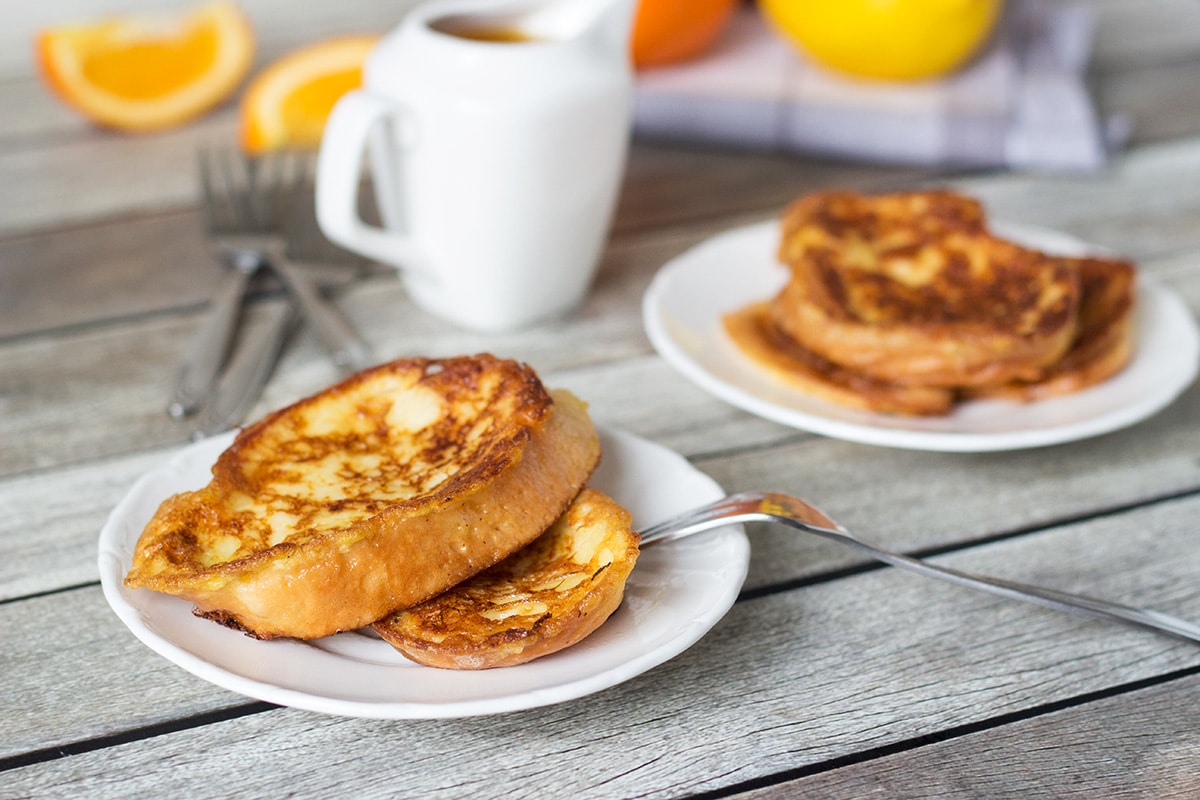 There are many different recipes of this traditional treat. Some of them are plain and simple - just basic ingredients are used, other ones are more sophisticated - wine, brandy or other alcohol is added. I made mine with alcohol, adapting the recipe from The New Mediterranean Diet Cookbook, which I love immensely. Don't worry if you want to make these for kids or just want to skip alcohol by yourself - it's only used in a syrup. You can easily drizzle your toasts with honey instead of it and your Torrijas will still be finger-licking good and authentic!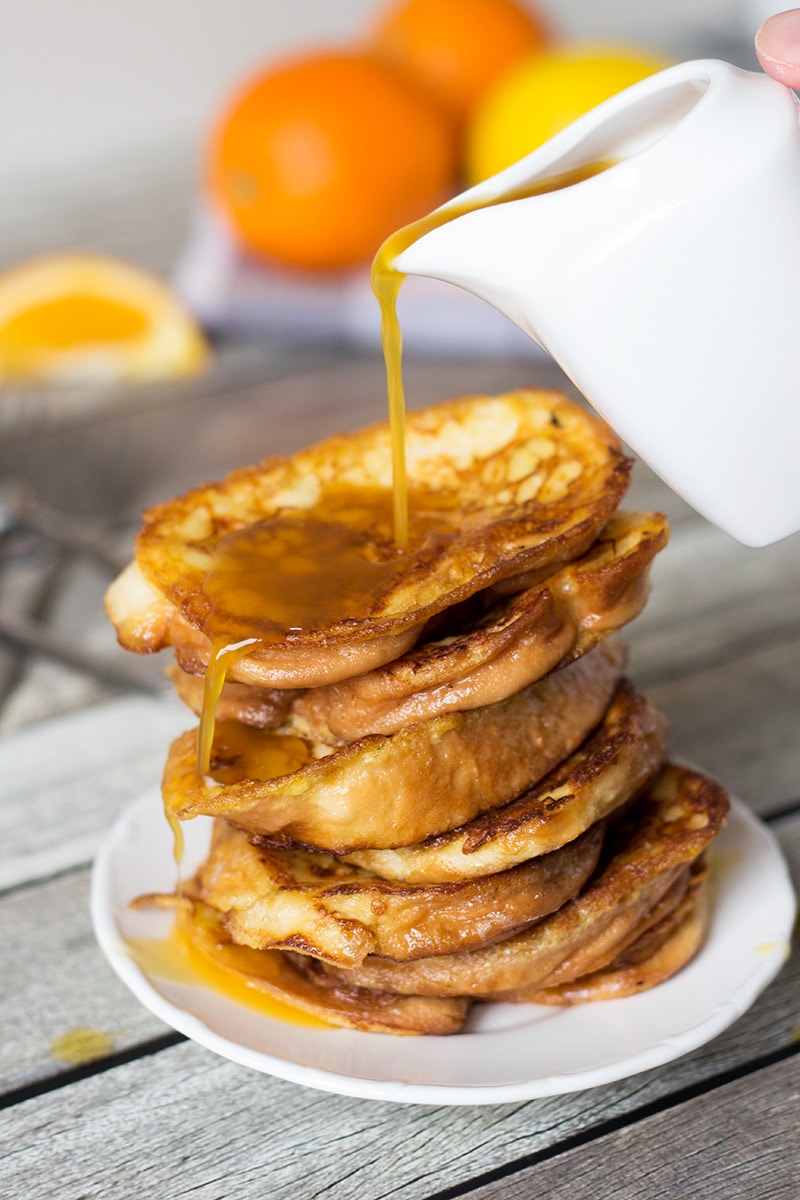 These Spanish toasts turn out perfectly sweet and soggy. They are great just by themselves, but when you drizzle a little bit of that orange-brandy syrup over them, it's just pure heaven. When I was a child it was enough to soak them in milk, now I need brandy. Oh, well. It's life I guess! Try this beautiful recipe either with alcohol or without it and you will fall in love with these sweet toasts, I promise you!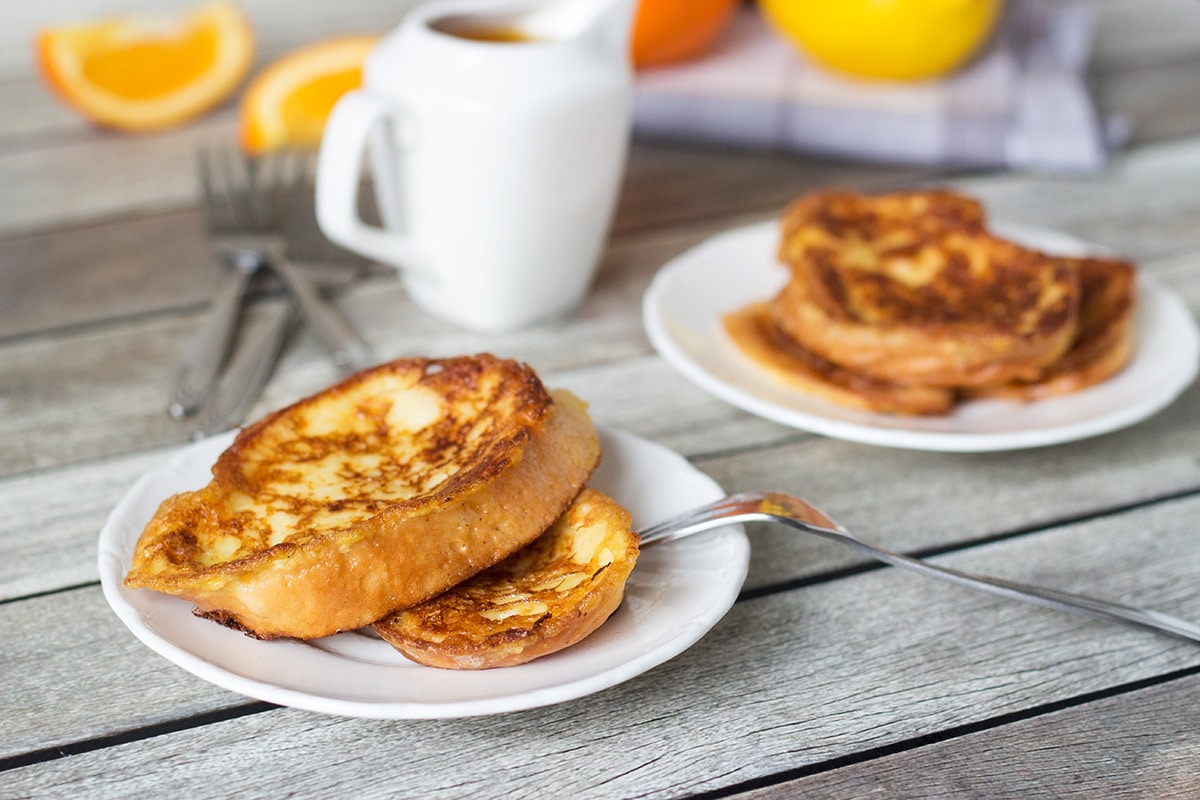 Torrijas - Sweet Spanish Toasts
If you want to make a non-alcoholic version of Torrijas, just drizzle a little bit of honey on to toasts, instead of orange-brandy syrup.
Print
Pin
Rate
Ingredients
For the orange-brandy syrup:
1 ¼

cup

fresh orange juice

(about 4 oranges)

1

tablespoon

lemon juice

⅓

cup

brandy

½

orange zest,

cut into strips

5

tablespoons

sugar
For the toasts:
1

quart (liter)

milk

½

lemon zest,

cut into strips

1

cinnamon stick

1

baguette,

at least one day old, sliced

olive oil for frying

3

large eggs,

well beaten
Instructions
The orange-brandy syrup. Mix the orange and lemon juices, brandy, orange zest and sugar in a saucepan and bring to a boil. Simmer for about 15-20 minutes until you a get a syrup. Set aside.

The toasts. In another saucepan, combine the milk, lemon zest and add the cinnamon stick. Simmer over very low heat for about 20 minutes.

Place the baguette slices in a large baking dish in which all slices fit without overlapping (I used a 9x13-inch dish).

Remove the lemon zest and cinnamon stick and pour the milk over the baguette slices. Leave for a few minutes.

Heat some olive oil in a skillet over medium heat. Take one soaked baguette slice, dip in the beaten egg, coating both sides. Cook, turning once, until firm and browned. Repeat with the remaining slices and oil.

Drizzle a little of the brandy-orange syrup over each slice. Enjoy!
Nutrition
* This post contains affiliate links, thank you for the support in keeping Cooking The Globe up and running!