Pollo al Ajillo is a Spanish version of garlic chicken. The whole chicken is cut into parts and cooked with a generous amount of garlic and white wine. Served with a garlic sauce and parsley on top, it makes a finger-licking good dinner!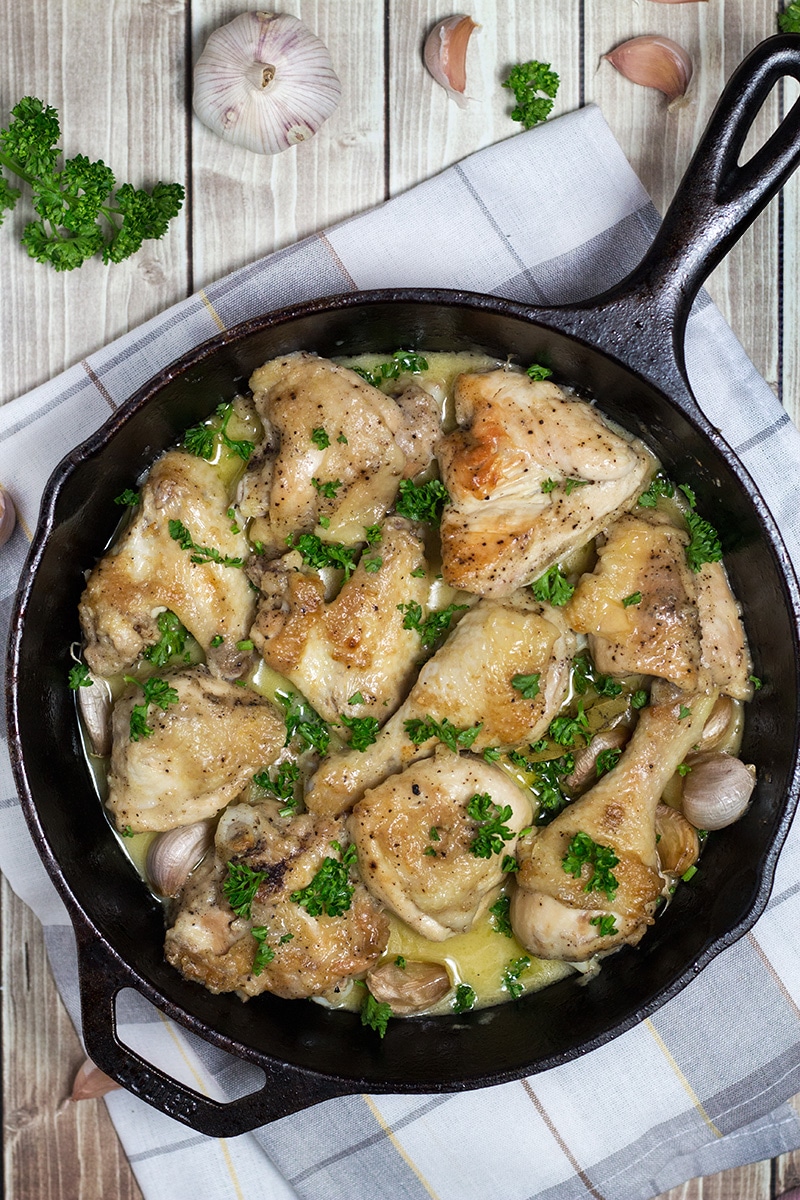 Few days ago I made these super tasty sweet Spanish toasts called Torijas and I loved them so much that I decided to stay in Spain for a while. Virtually of course (what a pity!). This time I wanted something more filling, as my stomach was growling in hunger really bad. I flipped through my recipe books and the recipe for Spanish garlic chicken (Pollo al Ajillo) was the one that caught my attention. I am always looking for new ways to cook chicken, so it was a pleasant find!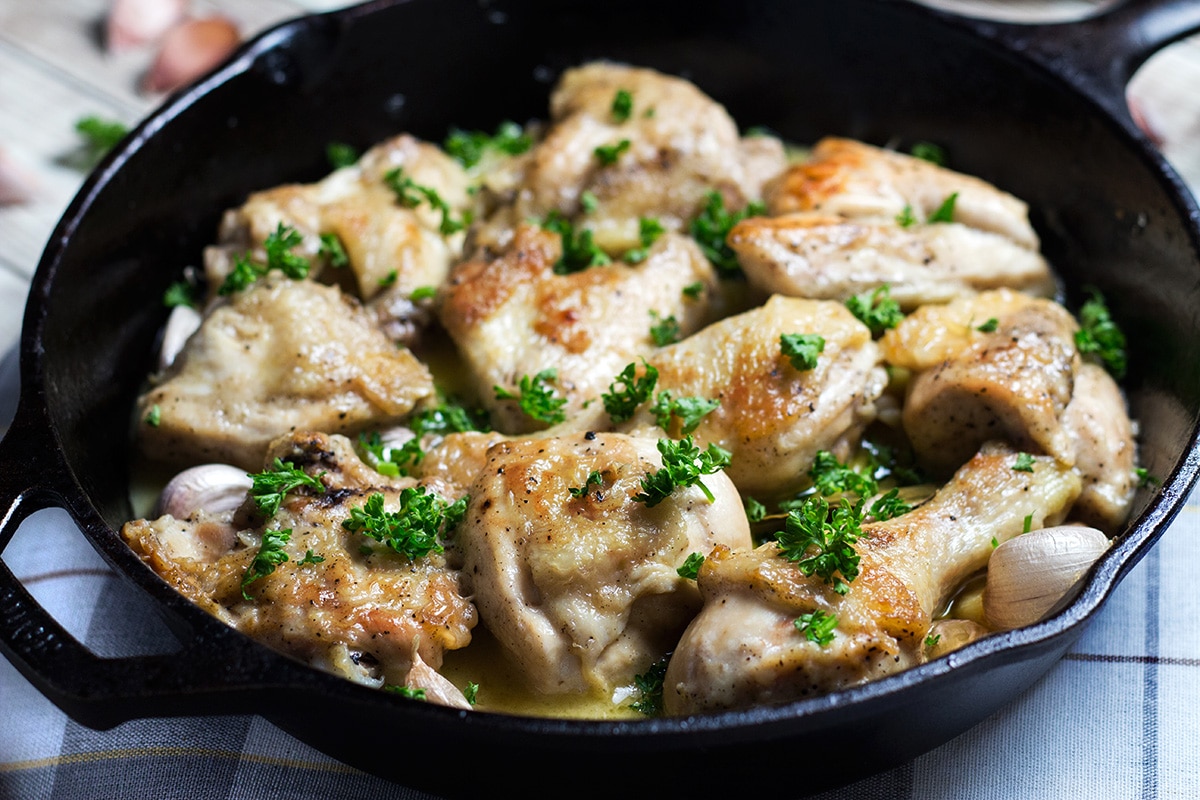 Pollo al Ajillo comes from the Andalusian region of Spain. It is a classic dish every Andalusian family is cooking for decades. The chicken is cut into parts, cooked with plenty of garlic and white wine and served garnished with parsley and drizzled with impeccable garlic sauce. Seriously, this garlic sauce is out of this world. It is amazing how simple things made from few ingredients can taste so good. Sometimes you combine dozens of ingredients and the end result is "meh".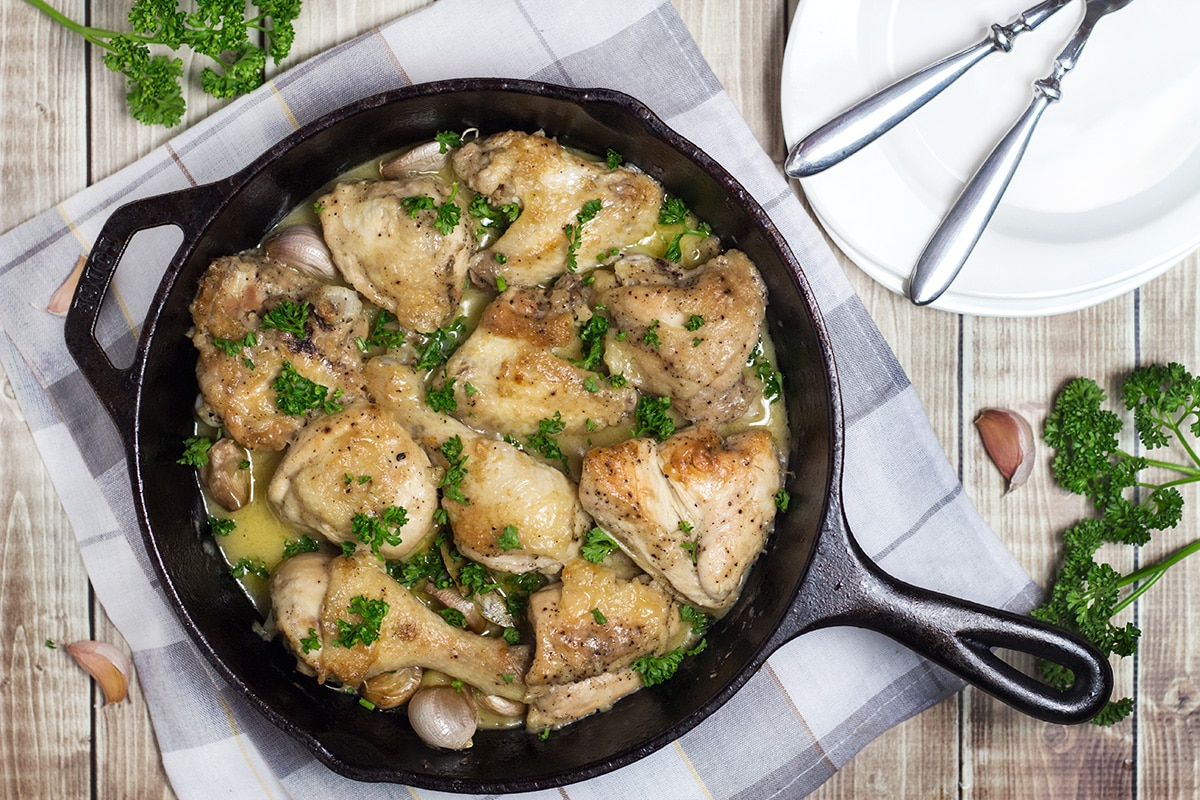 The combination of chicken and garlic is meant to be together. There are hundreds of dishes in various cuisines of the world featuring this combo. France has its famous Poulet al 'ail, where chicken is roasted with 40(!) cloves of garlic, Mexicans love their garlic chicken with chile peppers and so on. I enjoyed the hell out of the Spanish version so maybe I will try other ones someday!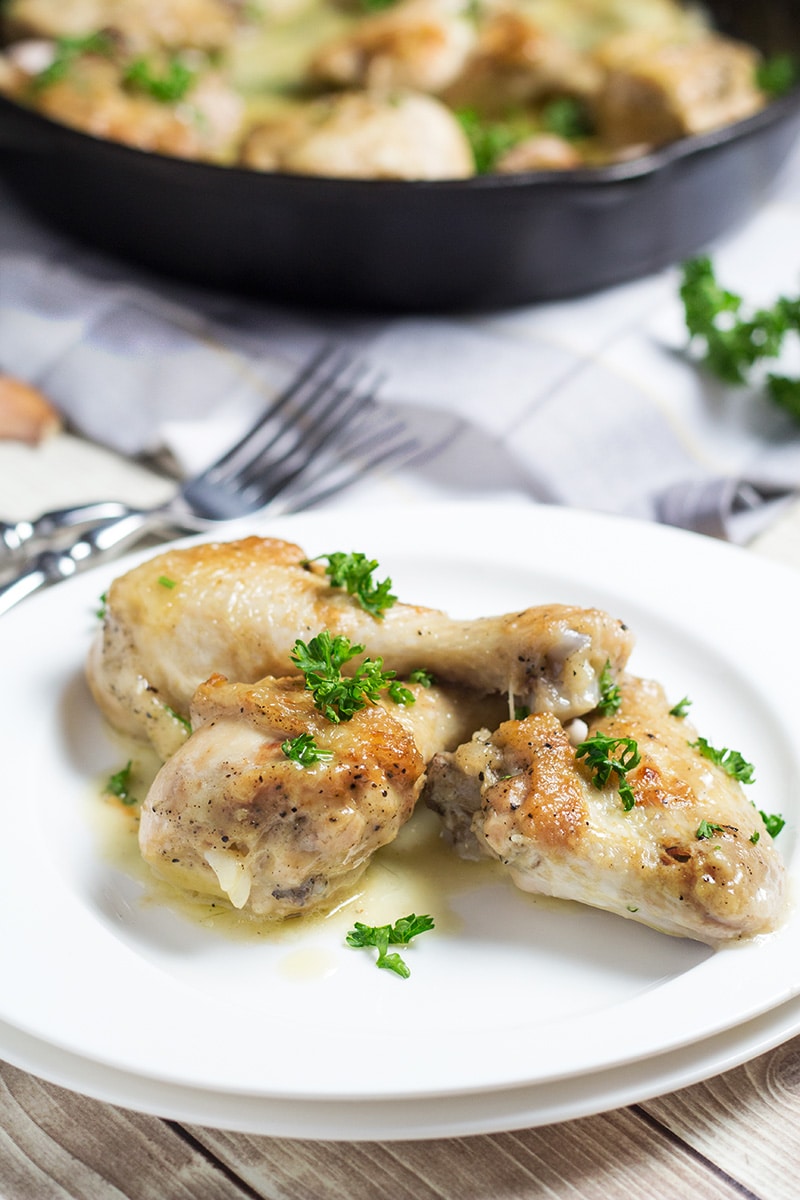 Guys, if you are looking for a new way to cook your chicken, look no more. Pollo al Ajillo is exactly what you need. This Spanish garlic chicken requires only a few ingredients, it is easy and quick to make, and it is absolutely scrumptious. What else do you need? My wife told me right after the first bite that we are definitely repeating this recipe again. I totally agree with her. It can be served with potatoes, rice, or even bread to mop up the sauce.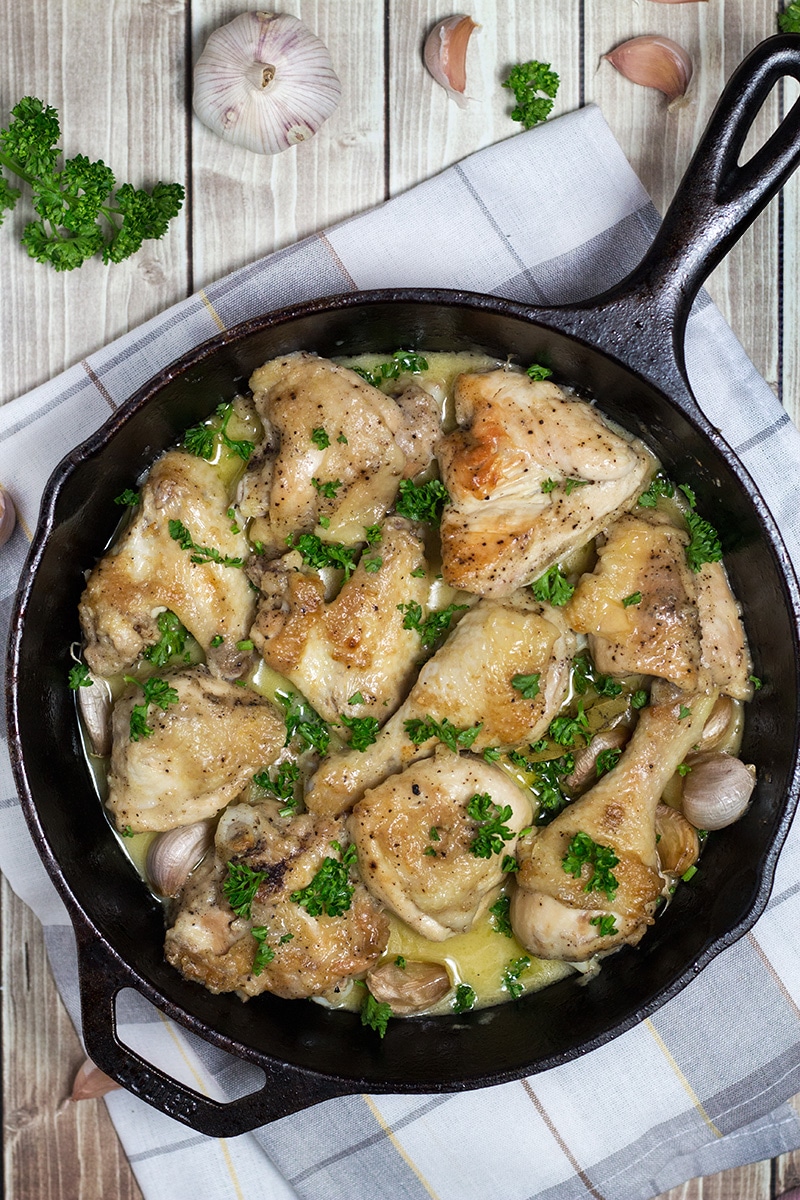 Pollo al Ajillo - Spanish Garlic Chicken
With only a few simple ingredients, this Spanish Garlic Chicken is really easy to make and the taste is impeccable!

Ingredients
1

whole (3 ½ lb or 1500 g)

chicken,

cut into pieces

2

tablespoons

all-purpose flour

1

teaspoon

salt,

or to taste

¼

heaping teaspoon

pepper,

or to taste

4

tablespoons

Olive oil

10

cloves

garlic,

unpeeled, soaked in water to soften the skin

½

cup

white wine

2

bay leaves

parsley for garnishing,

chopped
Instructions
Place the chicken pieces into a plastic bag together with flour, salt and pepper. Shake to coat.

Heat the oil in a frying pan that has a lid and add the chicken and garlic. The frying pan should be big enough to fit the chicken in one layer. Fry, turning it over from time to time until the skin begins to brown.

Add the wine and bay leaves and boil for 1 minute. Reduce the heat, cover with a lid, and cook over low heat for 25-30 minutes. Remove the bay leaves and sprinkle with chopped parsley. Pour a little bit of the garlic sauce over the chicken and serve. You can also squeeze out the cooked garlic from its skin. It's really good. Enjoy!
Nutrition