These mashed potato patties come from India and are called Aloo Tikki. Filled with quinoa and flavored with plenty of spices, this Indian street food is usually served with chickpea curry, yogurt, and sweet, sour, and spicy chutneys!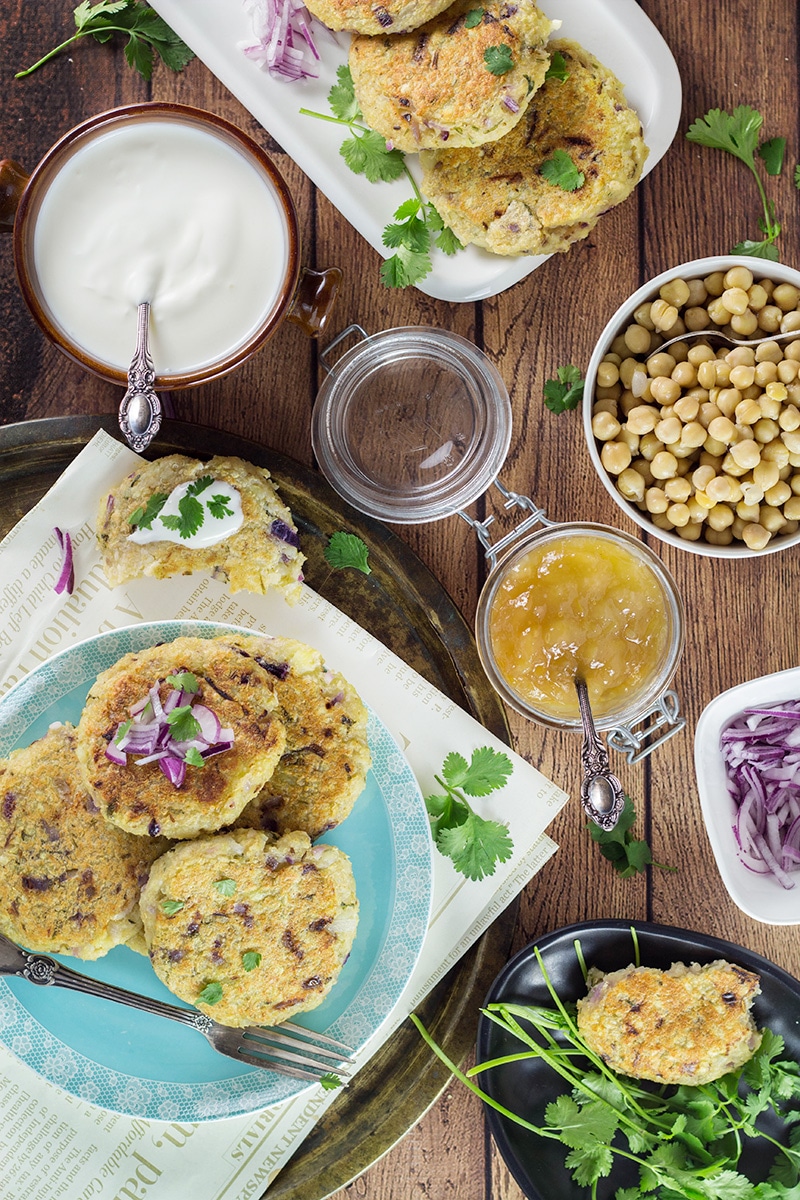 There are thousands of different vegetables grown in the world and every region has its own staples. However, one veggie stands out and can be found almost everywhere, even in the most distant corners of our planet. I am pretty sure everyone would solve this riddle. Yup, it's a potato! Why this veggie, which is believed to be born in Peru, has spread everywhere and earned the love of so many people?
First, potatoes are easy to grow and store. They are also suited to a cold climate. Second, potatoes are filling. You can easily live on potatoes alone (would be much harder to live on tomatoes or cucumbers). Actually, that's how many people survived during wars. Many crops were getting destroyed by enemies, while potatoes were comfortably sitting deep in the ground.  Third, you can turn potatoes into hundreds of various dishes! That's enough reasons to praise this unique vegetable.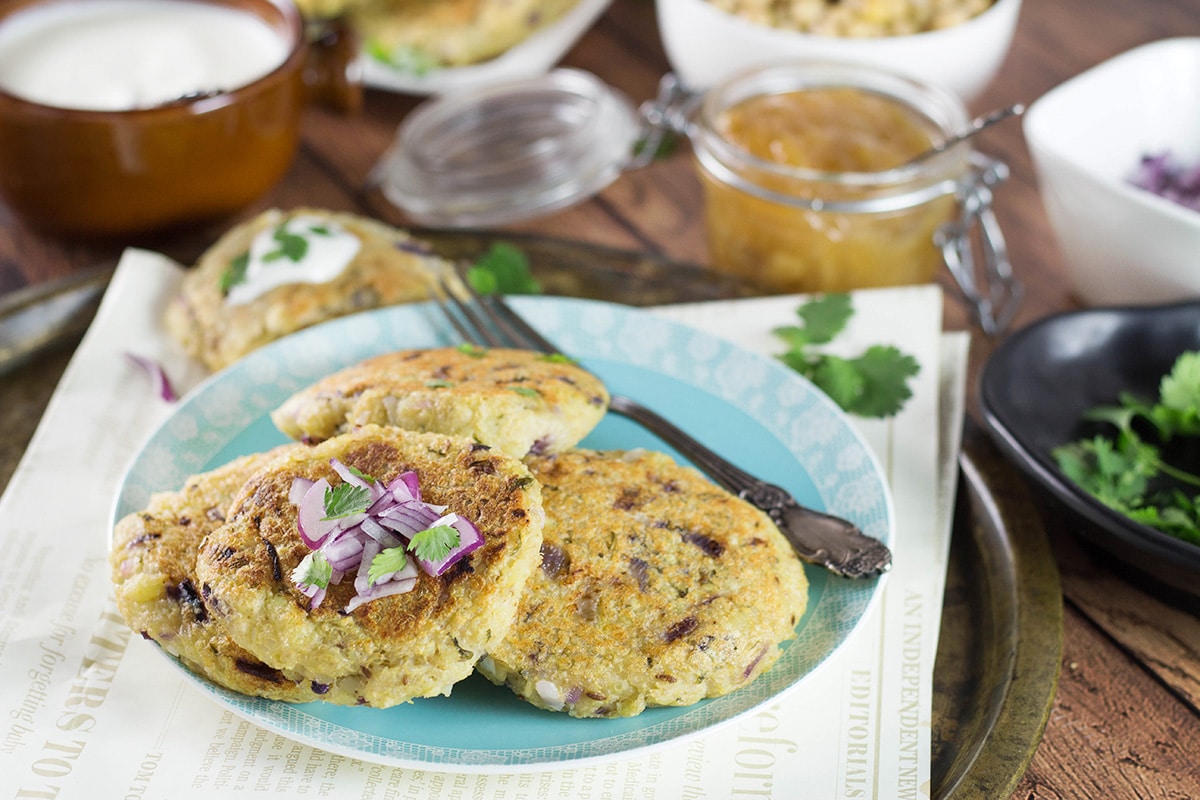 Remember these mouth-watering Polish Potato Pancakes I made a while ago? That recipe (I highly recommend to try it) uses fresh grated potatoes, while today I want to show you traditional potato patties from India (Aloo Tikki) made of boiled mashed potatoes mixed with other veggies and spices. It's one of the best street foods India can offer. I thought that only Europe is famous for their potato pancakes / patties / cakes but it appeared that Indians know how to prepare their potatoes too!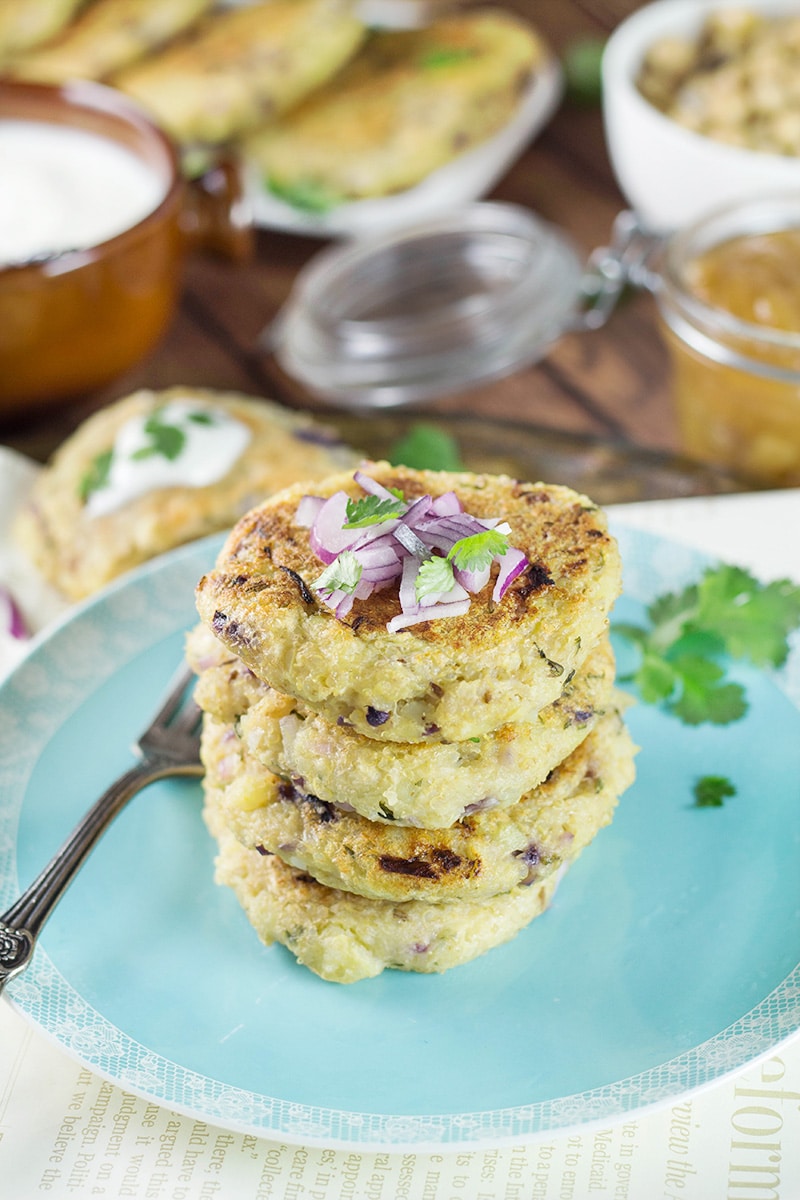 The original recipe uses only potatoes, but I decided to follow the advice of the amazing food blogger with Indian roots Vegan Richa and added some quinoa to the mix. If you want to make the authentic Aloo Tikki, just substitute quinoa with 1 medium potato.
These Indian potato patties are usually served with chickpea curry, but you can use canned chickpeas instead. Yogurt and sweet, sour, and spicy chutneys are also served with Aloo Tikki, but once again, if you don't have them, feel free to use ketchup or bbq sauce. Other garnishes include chopped onion, cilantro, and lemon juice.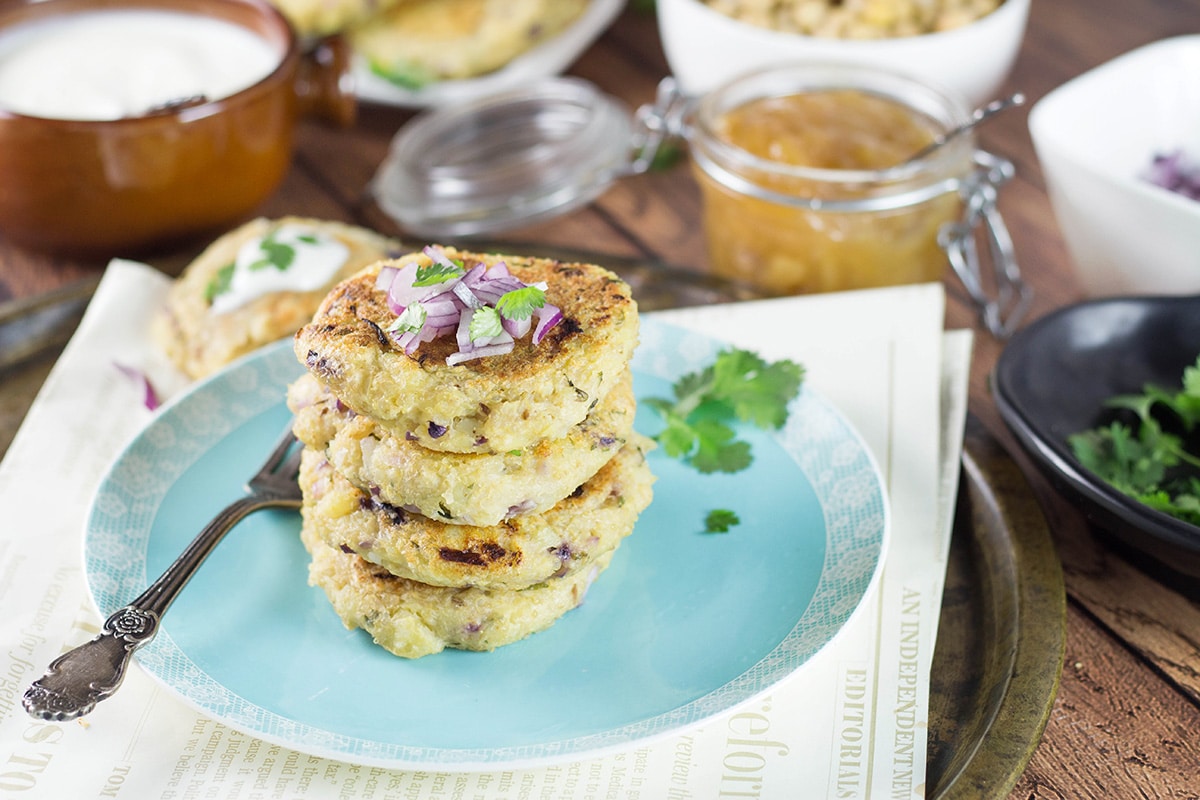 These little guys taste so good! For those of you guys, who have dietary restrictions, Aloo Tikki are completely vegan + can be made gluten-free by substituting bread with gluten-free oats or breadcrumbs. That's right, perfect for everyone!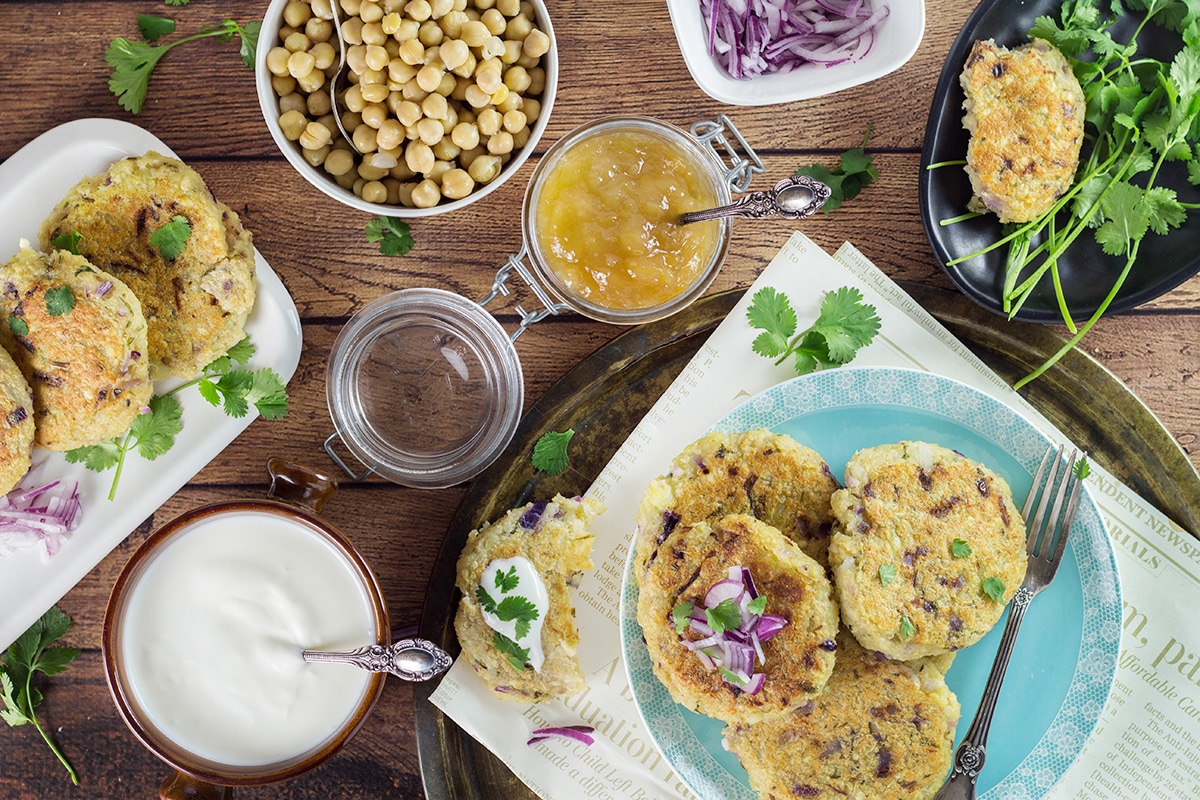 Aloo Tikki - Indian Mashed Potato Patties
These mashed potato patties are a very popular street food in India. Flavored with a bunch of spices, they will make your taste buds happy!

Ingredients
1 ¼

lb (570g)

potatoes

½

cup

quinoa

¾

cup

onion

, chopped

1

chili pepper

, seeds removed, chopped

¼

cup

chopped cilantro

1

tablespoon

minced ginger

½

teaspoon

Cumin seeds

½

teaspoon

cayenne pepper

1

teaspoon

ground coriander

1

teaspoon

salt

1

teaspoon

canola oil

+ more for frying

¼

cup

breadcrumbs
Instructions
Cook the quinoa and boil the potatoes with their skins on. When done, peel them and mash.

Combine the mashed potatoes and cooked quinoa in a big bowl and mash once again.

Add the onion, chili pepper, cilantro, ginger, cumin seeds, cayenne pepper, ground coriander, salt,oil, and breadcrumbs and mix well.

Heat 1 teaspoon oil in a large skillet. Shape 3-inch patties and cook leaving some space between them. Cook for 7-8 minutes per side, until golden brown.

Serve with chopped onion, cilantro, yogurt, chickpeas, or chutney. Enjoy!
Notes
1. Authentic Indian version doesn't include quinoa. You can substitute it with another medium potato.
2. If you don't have any chutney for serving, you can use ketchup or bbq sauce instead.
Adapted from Vegan Richa's Indian Kitchen by Richa Hingle
Nutrition