Filled with shrimp, pork, noodles, and veggies, and rolled into rice paper rounds, these Vietnamese Spring Rolls are fresh and require no frying whatsoever. Served with the amazing peanut sauce on the side!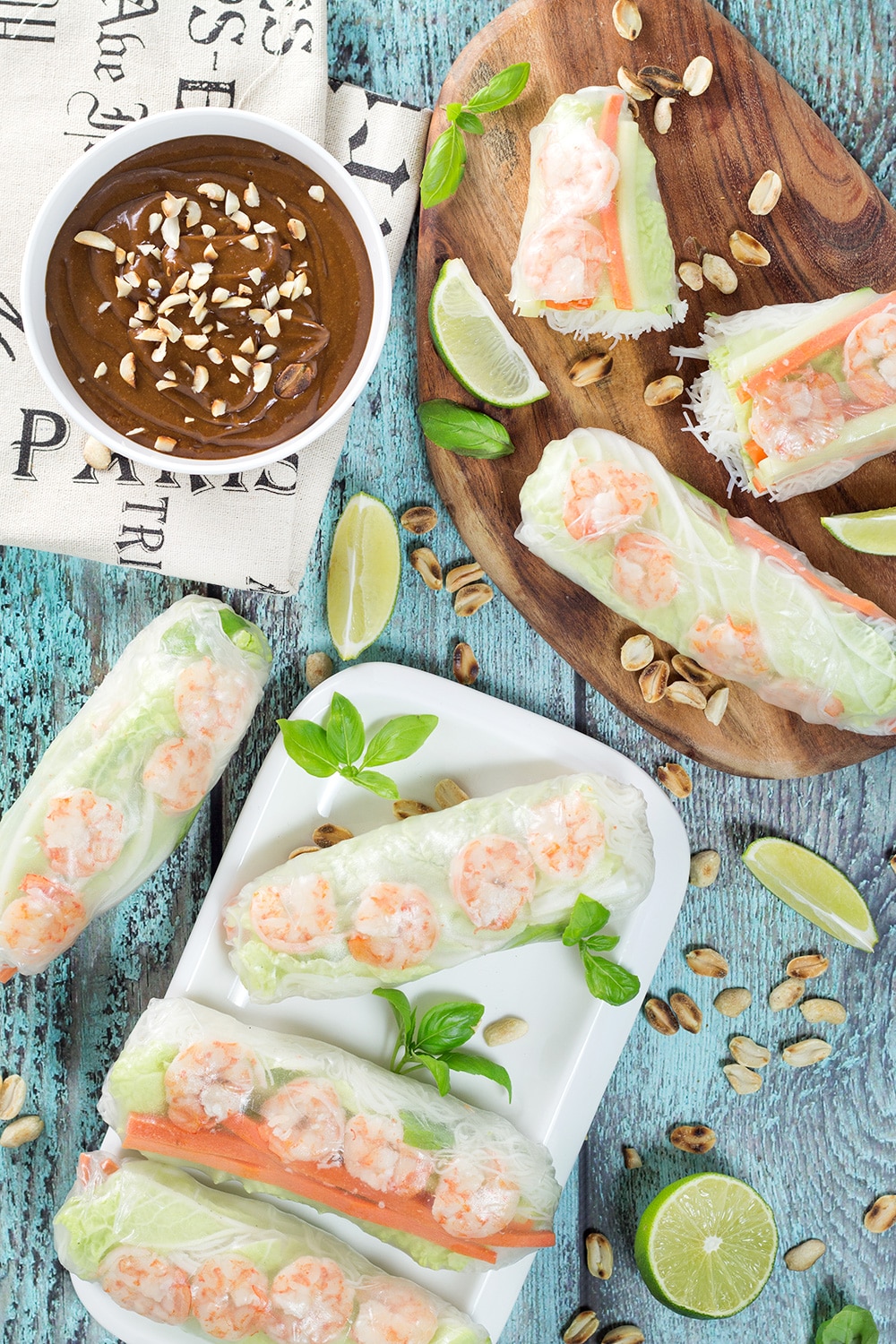 Remember these Vietnamese Egg Rolls I made some time ago? While they were out-of-this-world good (stuffed with mushrooms, shrimp, pork... so delicious!), you can't enjoy them too often because they are deep fried. And well, deep frying is definitely not on the list of healthiest ways to cook food (sorry for being a bummer).
The good news is, this beautiful Southeast Asian country has other rolls, which don't require deep frying or any cooking at all! Well, you have to cook the meat, but not the rolls themselves. They are known as Vietnamese Spring Rolls or Gỏi cuốn and they are incredible. Stuffed with pork, shrimp, & veggies, and rolled with rice paper (not with the dough wrappers for egg rolls I used last time), they make the perfect finger food which can be enjoyed without any guilt.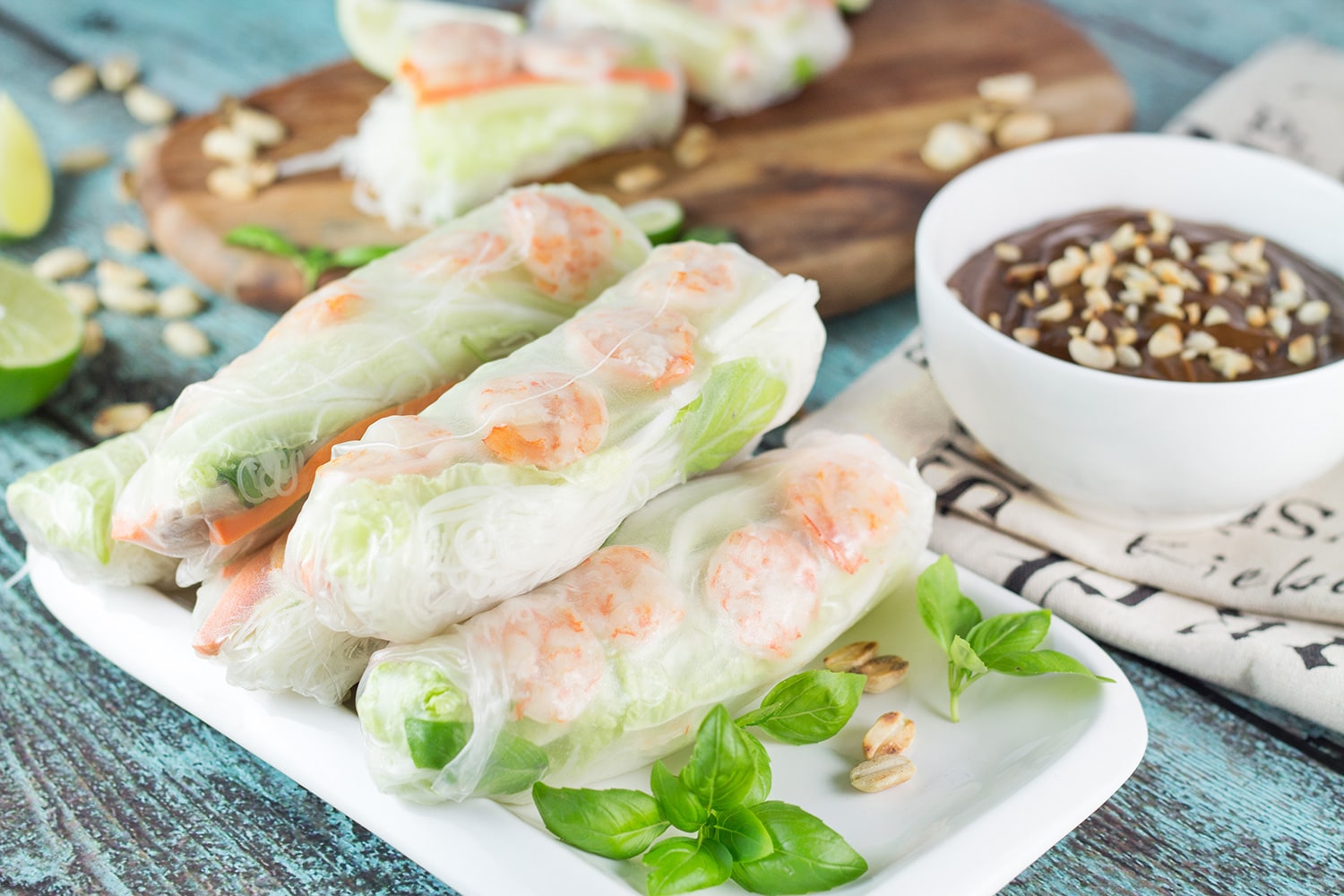 Wait till I tell you that we will also make a fantastic peanut sauce to dunk these little guys into. That's right: peanut butter, Hoisin sauce, soy sauce, and lime juice combined together to create a top class dip you won't be able to stop enjoying. I don't know about you guys, but that's how a perfect snack or appetizer looks to me. It's nice to have something sinful (french fries, potato chips) from time to time, but it's better not to go over with them.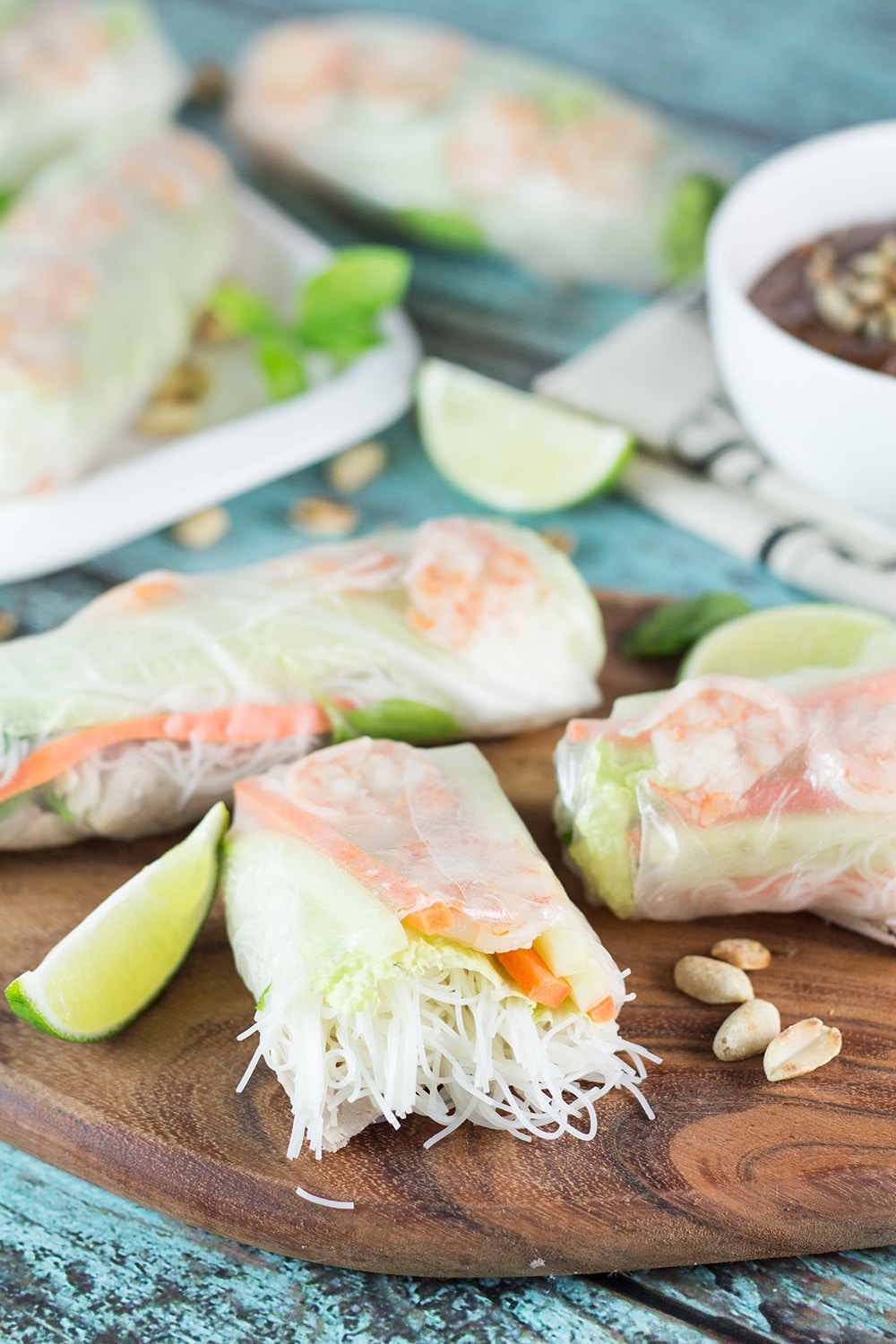 Moreover, while healthy food sometimes can be bland and boring, that's not the case with these Vietnamese spring rolls. That's for sure. I mean: shrimp, pork, mint, basil, rice noodles, cucumber, and much more - that's a lot of flavors in one place! Add the peanut sauce and you get a true feast of flavors your taste buds will thank you for.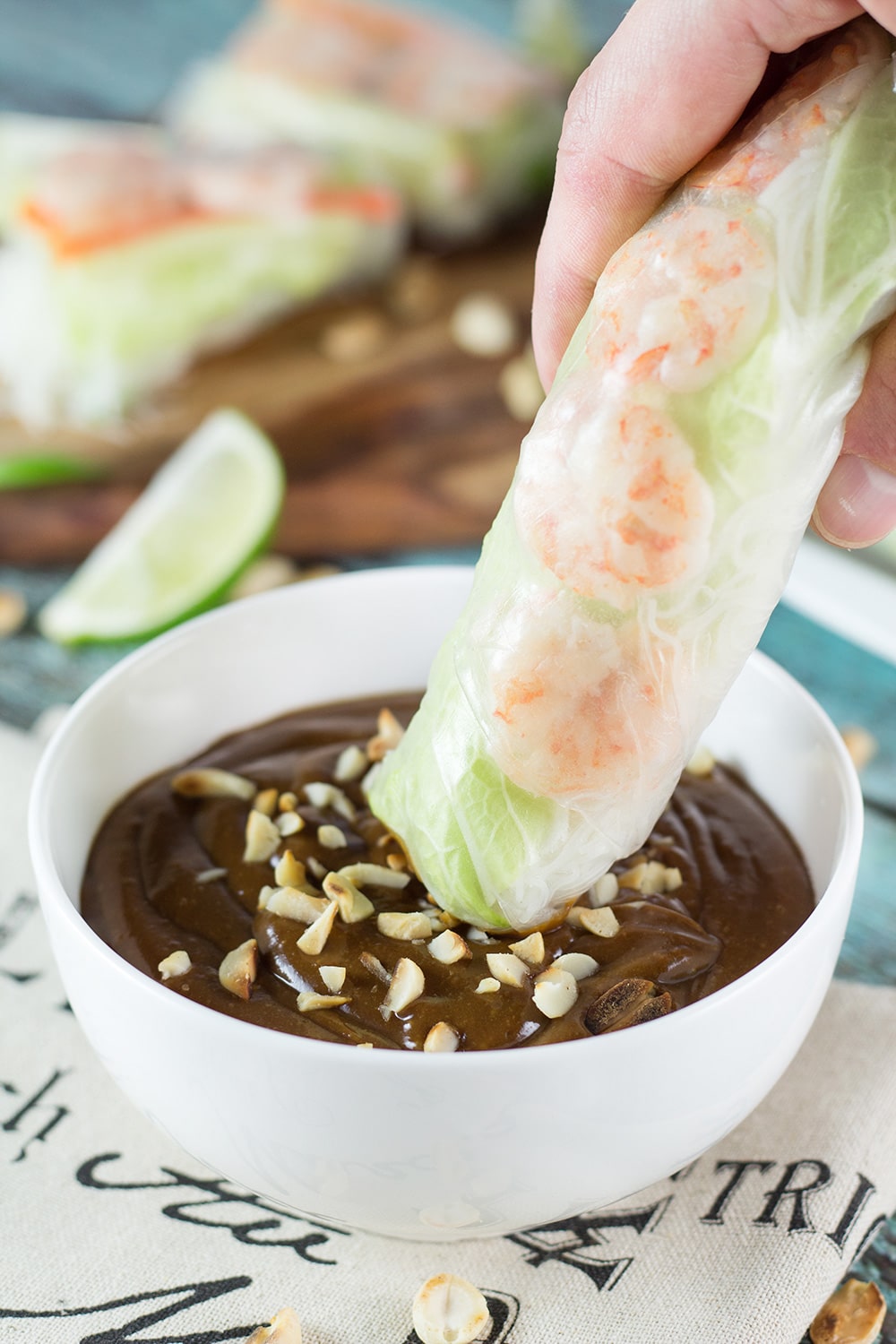 I can't wait until another occasion comes up so I would be able to serve these beauties to my friends and family. They got used to me preparing something new and never tasted before every time we meet and I love it. I enjoy cooking new things for the people I love and my heart is happy when I see their reaction after taking the first bite.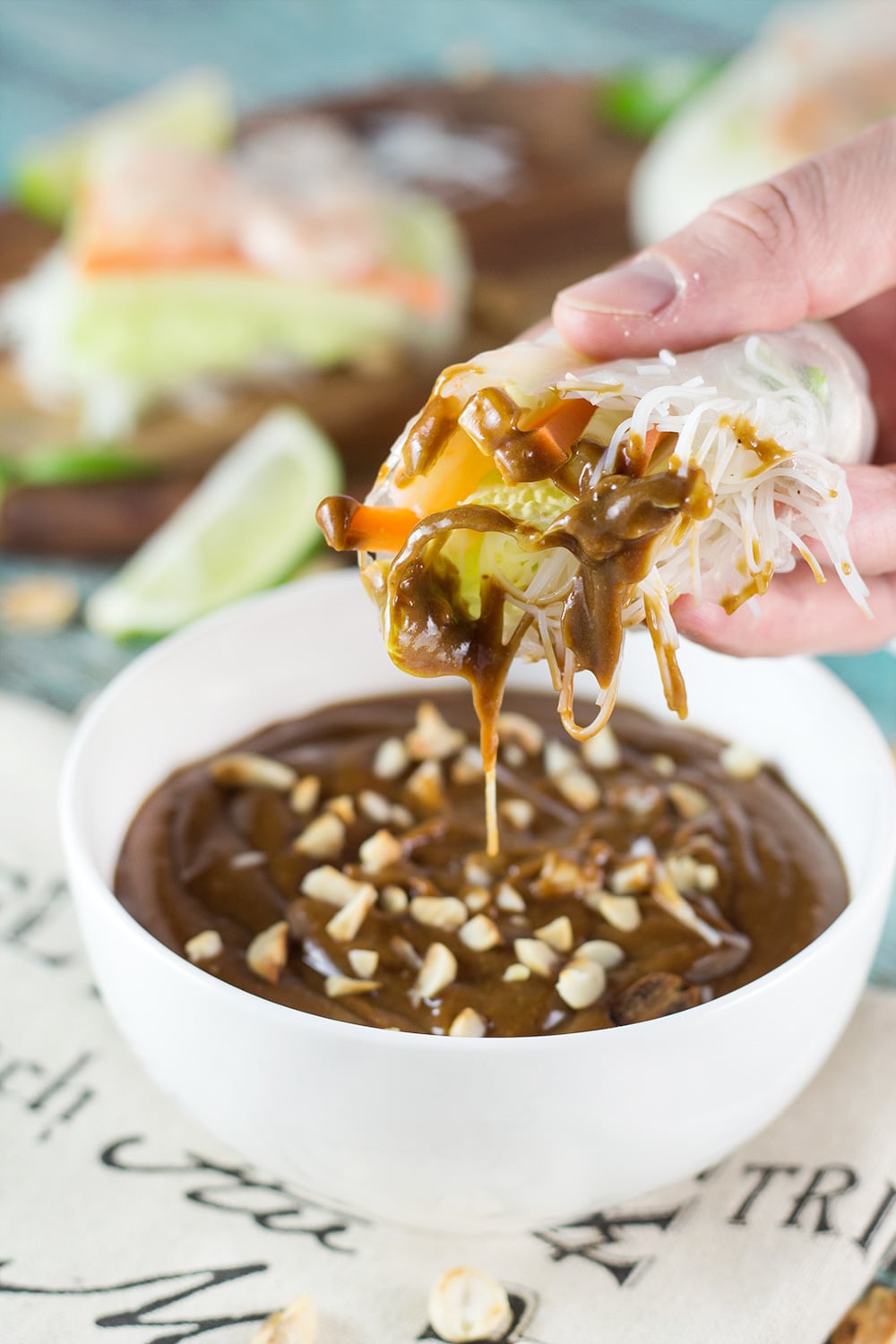 What's more to say about these gorgeous fresh Vietnamese spring rolls? They are perfect in every single way. If you are still not sold, I don't know what's wrong with you. Seriously. Just make them and you will thank me later!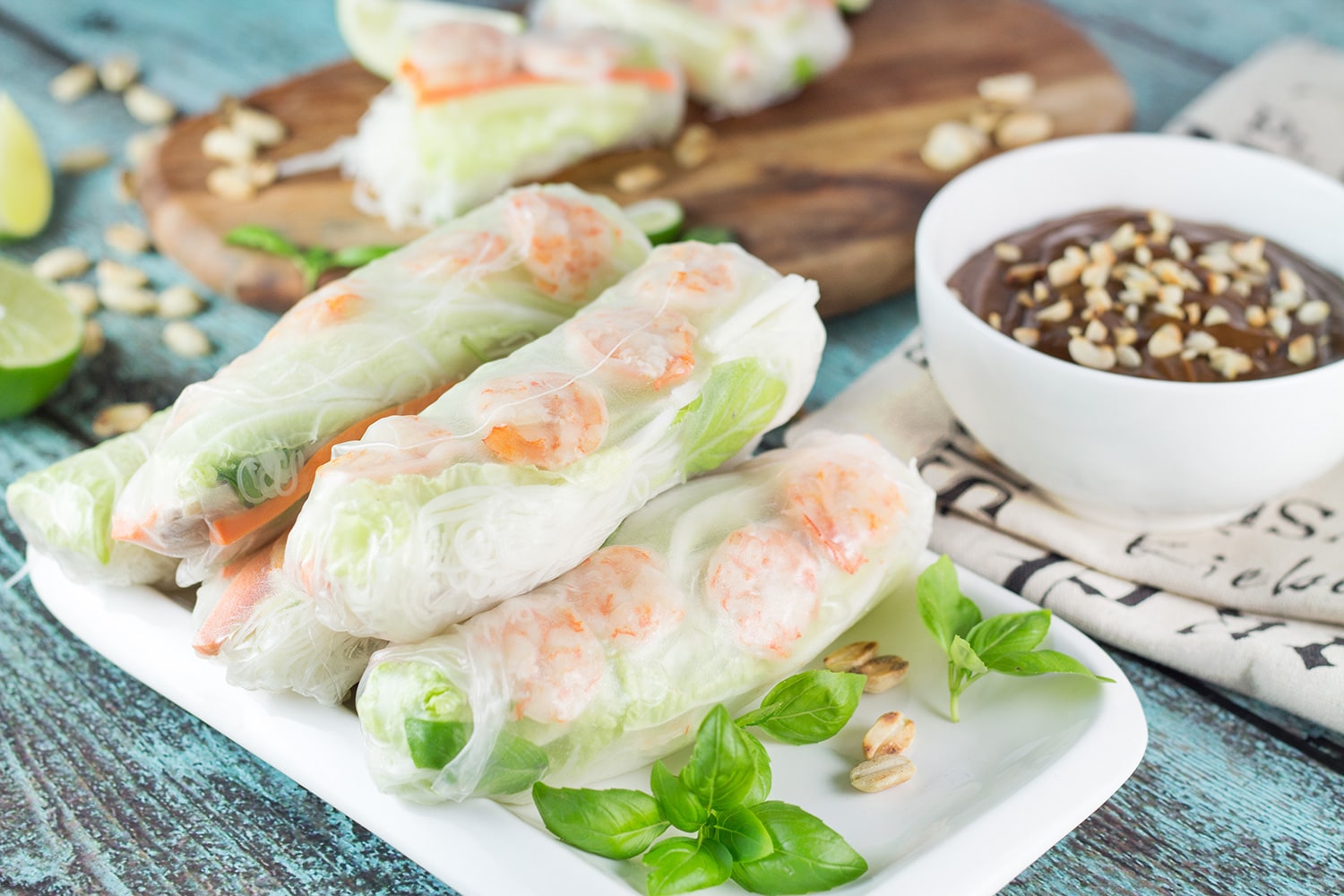 Fresh Vietnamese Spring Rolls with Peanut Sauce
These Vietnamese Spring Rolls are filled with pork, shrimp, noodles, and veggies, and served with a mindblowing peanut sauce!

Ingredients
For the spring rolls:
1

tablespoon

canola oil

1

small onion

, sliced

¾

lb (340g)

pork tenderloin

¼

teaspoon

chile powder

1

tablespoon

sugar

1 ½

teaspoon

salt

, divided

2

tablespoons

white vinegar

24

raw medium shrimp

½

English cucumber

1

large carrot

12

leaves

lettuce

1

cup

mint

, stemmed

1

cup

basil

, stemmed

12

rice paper rounds

5

oz (140g)

rice vermicelli noodles

, cooked, drained
For the peanut sauce:
⅔

cup

hoisin sauce

⅓

cup

creamy peanut butter

⅓

cup

water

3

tablespoons

lime juice

1 ½

tablespoons

soy sauce
Instructions
The spring rolls. In a large pot, heat the oil and add the onion. Cook for about 8 minutes, until golden and crisp. Add the meat and add enough water to cover it. Bring back to a boil, reduce the heat, and cook for 25-30 minutes. Add the chile powder, sugar, 1 teaspoon salt, and white vinegar. Cook for a few minutes more, or until the meat is cooked through. Remove the meat from the pot and slice crosswise. Leave the broth in the pot - we will need it to cook shrimp.

Clean the shrimp by cutting off the heads, removing the shells and tails, and deveining them. Bring the broth to a boil, add the remaining ½ teaspoons salt, and cook the shrimp for a few minutes, until done. Transfer the shrimp to a plate and <g class="gr_ gr_93 gr-alert gr_spell gr_run_anim ContextualSpelling" id="93" data-gr-id="93">halve</g> lengthwise.

Cut the cucumber and carrot into matchsticks matching the size of your rice paper rounds.

Fill a large bowl with warm water. Dip one rice paper round in the water for a few seconds (not for too long or it will become too soft) and place it on a flat surface. Starting about 1 ½ inch (4cm) from the bottom edge of the disk, arrange the shrimp, then top with the lettuce, pork, mint, basil, rice noodles, cucumber, and carrot. Don't overstuff the rolls! Fold the sides over the filling and fold up the bottom, rolling away from you. Repeat with all the remaining ingredients.

The peanut sauce. In a bowl, mix together all the ingredients until smooth.

Serve the spring rolls with the peanut sauce and enjoy!
Nutrition