Tender, spongy, and chewy, these traditional Moroccan Pancakes (Baghrir) are worth trying for their look alone. Their surface is decorated with hundreds of small holes! Served with a honey and butter mixture, these pancakes are also heavenly delicious!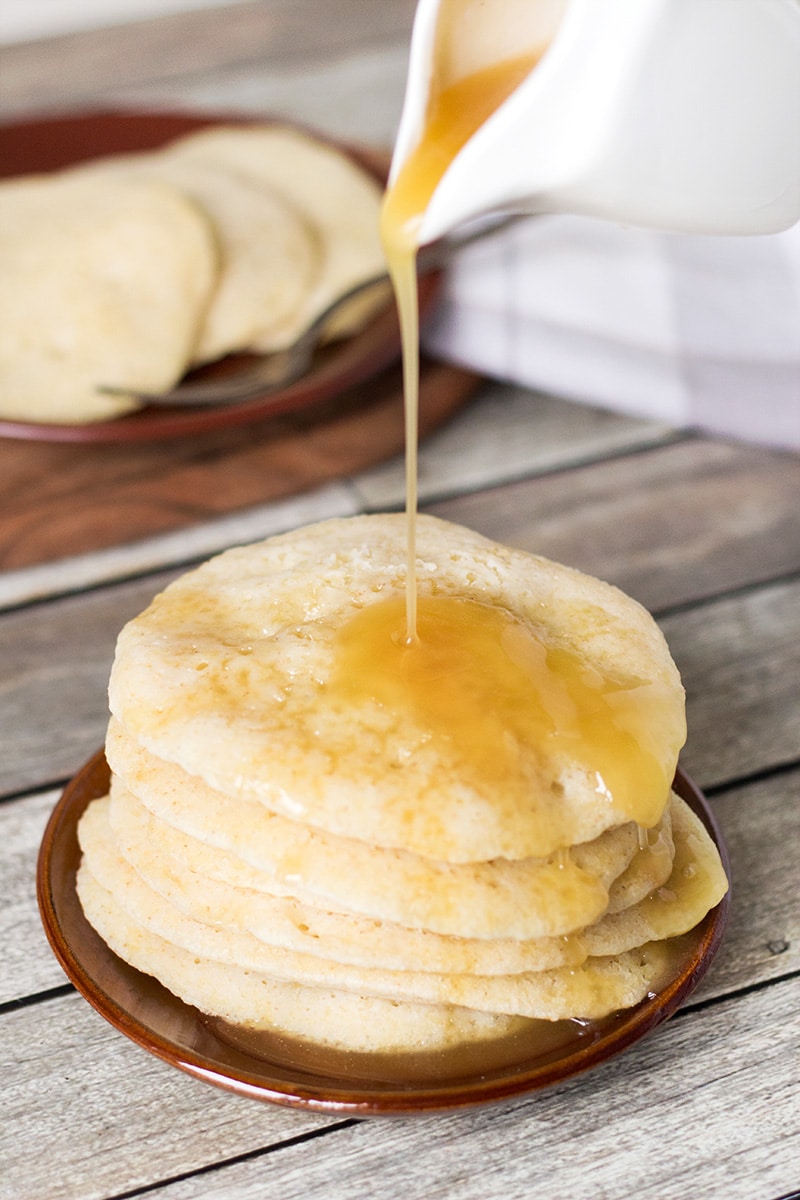 I am continuing my journey through the exotic and unique Moroccan cuisine. I already made the famous Harira soup and the classic Moroccan bread. So far so good! I enjoyed the hell out of both of these dishes! This time I will get you acquainted with the traditional Moroccan pancakes made from semolina and called Baghrir (or sometimes Beghrir). These tender and spongy guys are eaten during breakfast or as a snack. They are not your ordinary pancakes both in terms of taste and appearance. In fact, their look alone is so awesome that I wanted to make them just because of it!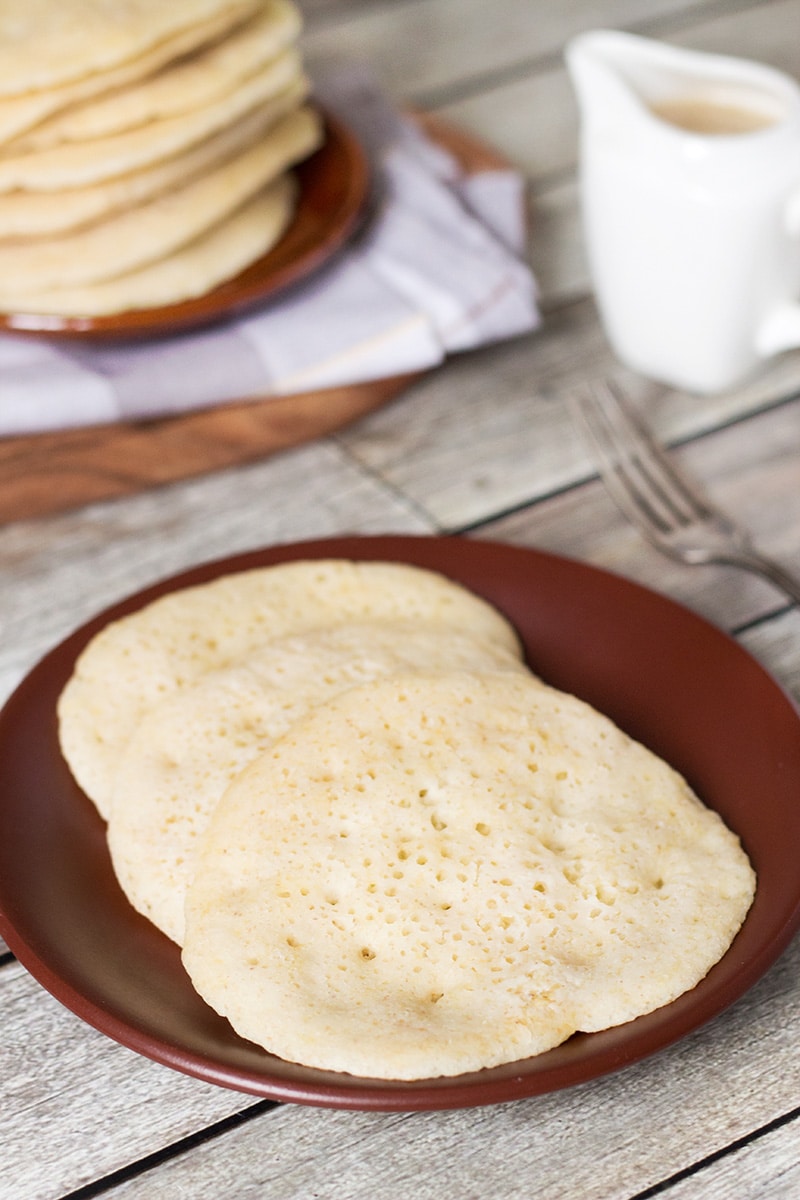 So, what's so unique about the appearance of these pancakes? The holes. Dozens or hundreds of small holes decorating the surface of Baghrir. That's the reason why it is also known as "thousand holes pancake". These little craters form as soon as the batter hits the pan. It happens because of the yeast. Just remember that your batter has to be quite thin. If it will be too thick, the famous holes won't appear! The pancake will still be edible but let's be frank: we want those little pretty holes! Otherwise, Baghrir will lose all the charm.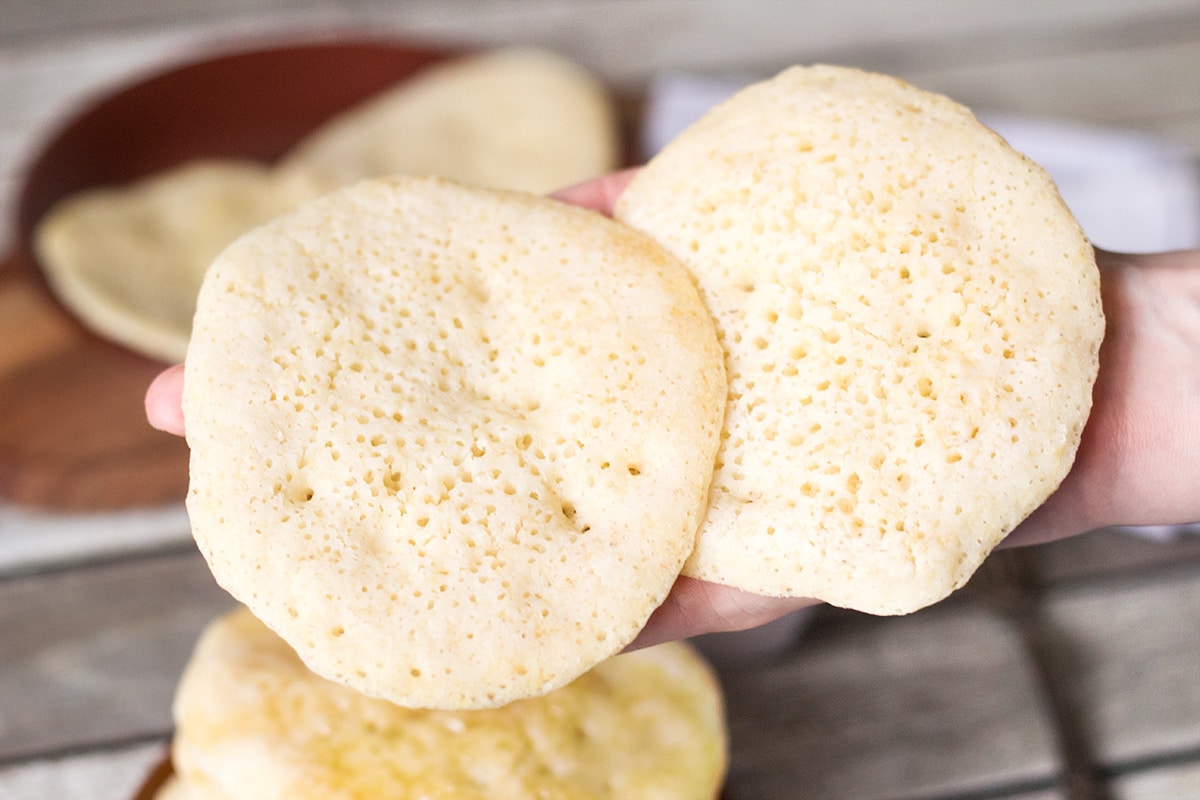 Moroccan pancakes are traditionally served with honey and butter mixture (sometimes with jam). What a great topping it is! I loved it from the very moment I licked it from my fingers. This mixture goes so well with Baghrir. Honey and Baghrir are meant to be together because the pancakes look like a honeycomb, ha! The holes perfectly absorb all the liquid making the pancakes moist and melt-in-your-mouth good.
It was the first time I made pancakes with semolina and I enjoyed them very much. They are fluffy, chewy and so heavenly delicious with that honey and butter topping! I highly recommend you to try these ones. They are unique. They really are.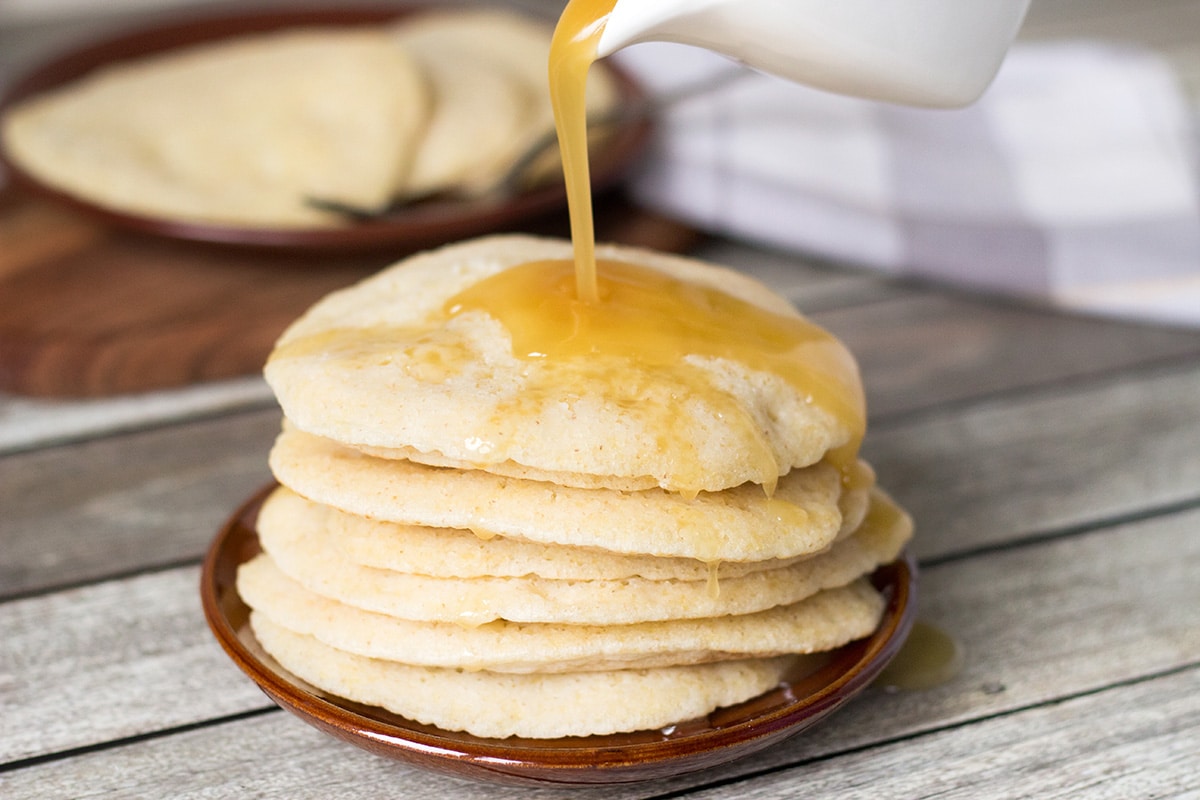 Baghrir - Moroccan Semolina Pancakes
These traditional Moroccan semolina pancakes are tender, fluffy, and chewy. They also look amazing with hundreds of small holes decorating their surface!

Ingredients
For the pancakes:
2

teaspoons

warm water

2 ½

teaspoons

active dry yeast

2 ½

cups

all-purpose flour

2 ½

cups

very fine semolina flour

3

teaspoons

baking powder

2

teaspoons

sugar

½

teaspoon

salt

3 ½

cups

warm water
For the topping:
½

stick

butter

½

cup

honey
Instructions
The pancakes. Combine 2 teaspoons warm water and yeast. Set aside for 10 minutes until the yeast is foamy. If it doesn't foam, you should discard it.

In a large bowl, combine both flours, baking powder, salt, and sugar. Mix well. Add the yeast and additional 3 ½ cups warm water. Put the mixture into a food processor and process until smooth. Pour it into a bowl, cover, and let sit for 30 minutes. The batter should be rather thin. If it's too thick (it can happen because semolina flour can differ), thin it by stirring in more water.

Warm a nonstick pan over medium heat. Pour about ¼ cup of the batter for one pancake. Cook on one side only until small holes form all over the surface, for about 3-4 minutes.

The topping. In a saucepan, add the butter and honey, and bring to a boil. Remove from heat and let cool. Drizzle over pancakes and enjoy!
Nutrition
* This post contains affiliate links, thank you for the support in keeping Cooking The Globe up and running!