Harira is most probably the most famous Moroccan soup. Each bowl of this comforting and hearty soup contains beef, chickpeas, noodles, and a ton of herbs and veggies. Perfect all year round!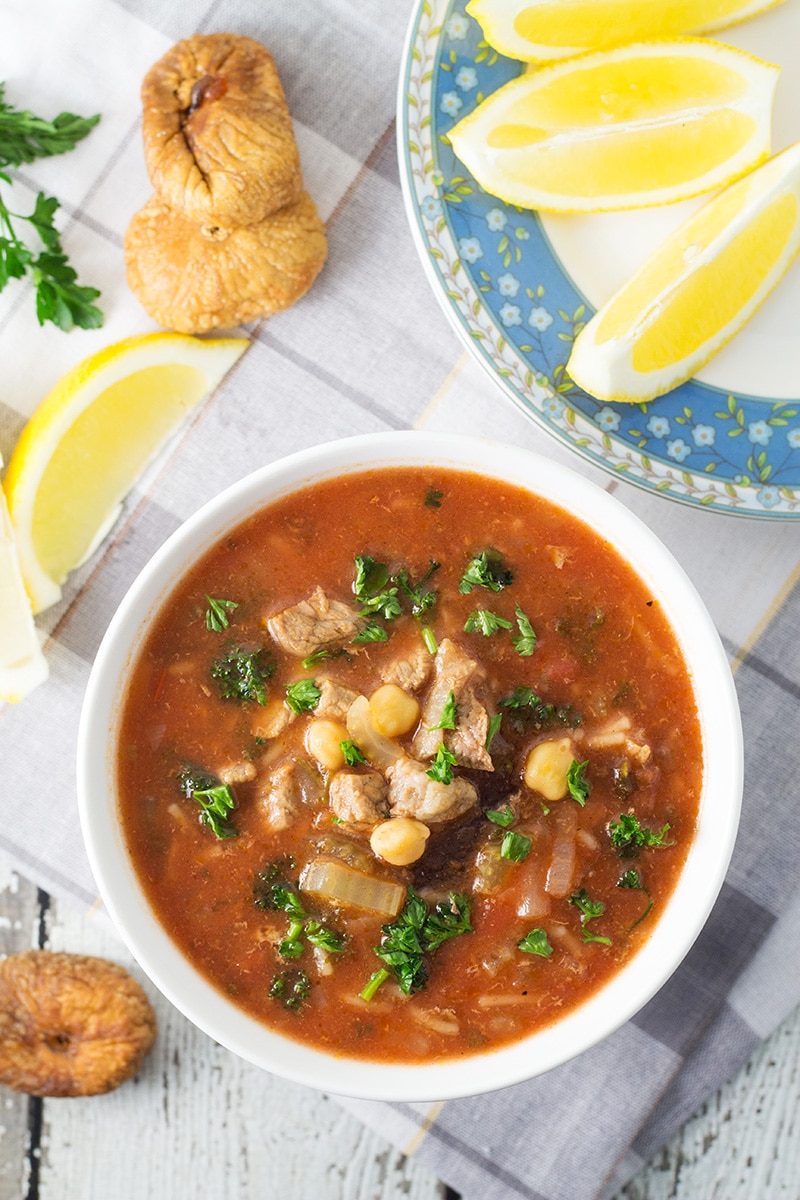 Morocco is a very interesting and unique country from the cultural point of view. While geographically it is African, culturally it is strongly influenced by Europe due to its proximity to this continent. Of course despite the influence it's still not like other European countries at all, Arabic traditions are still fundamental there. You could say that Morocco is a melting pot of Arabic, European, African and Berber (ethnic group indigenous to North Africa) cultures. It makes their food exciting too! If you want to get a taste of Moroccan cuisine, start from the Harira Soup. It's probably the most famous and best-loved Moroccan soup and I can understand why!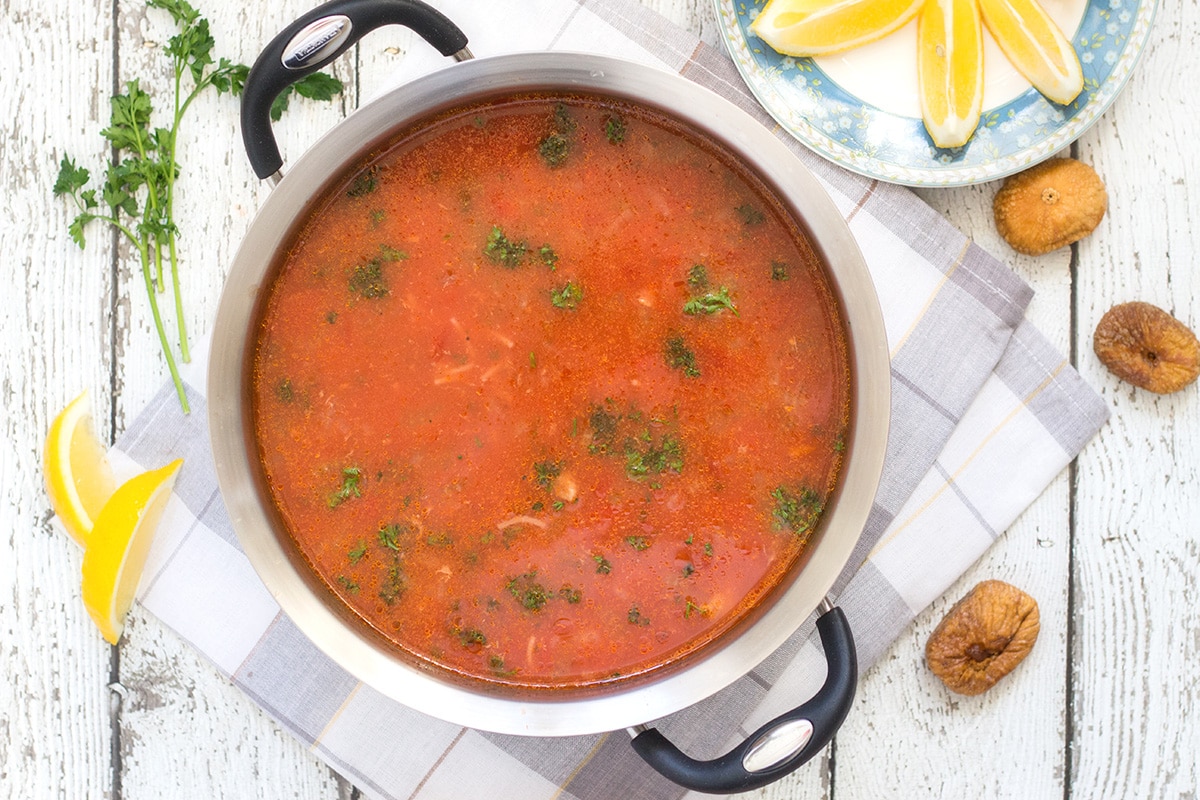 Every Moroccan housewife has her own recipe of this aromatic soup. However there are ingredients that you can find in every single one of them. By the way, I adapted my recipe from the wonderful (probably the best in my humble opinion) Moroccan cuisine cookbook "Morocco: A Culinary Journey" by Jeff Koehler. Recommended!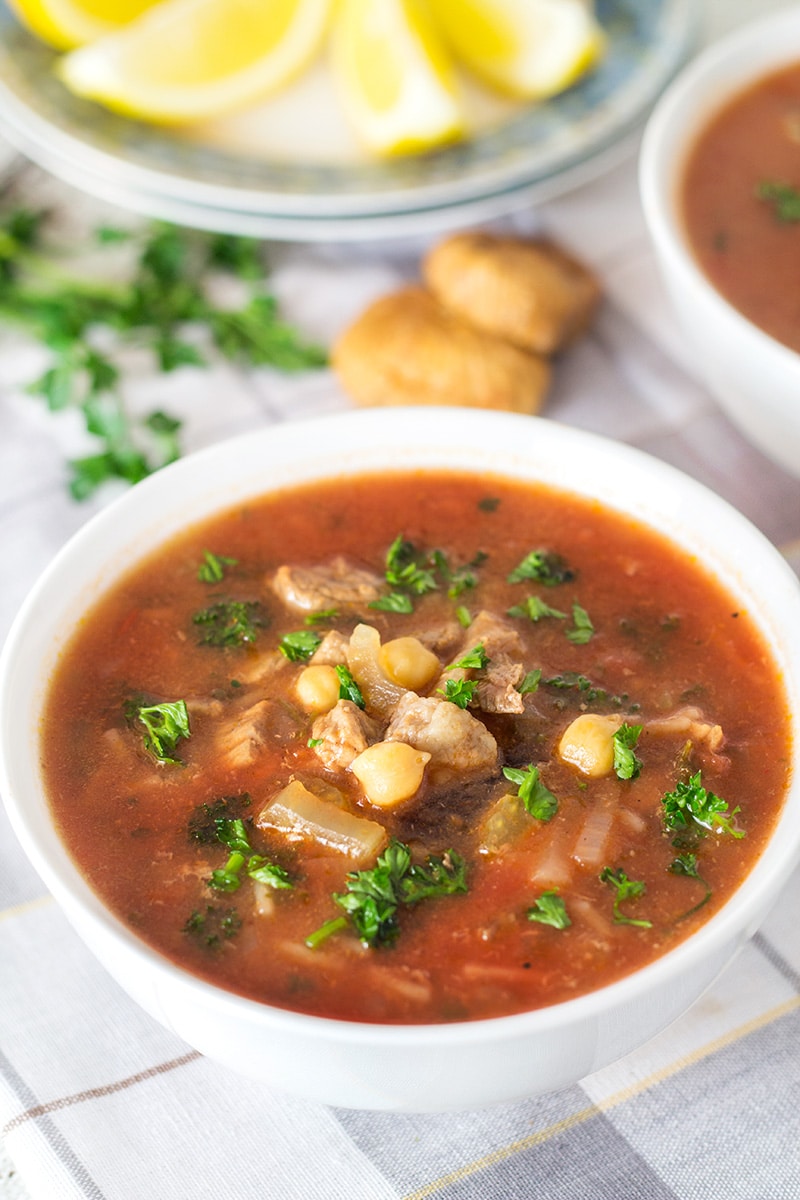 Usually Harira soup combines meat (beef, lamb or chicken can be used), plenty of tomatoes, chickpeas, celery, and a few herbs and spices. Moroccans love spices! For this recipe ground cinnamon and ground ginger are used. These two are the frequent guests in the cuisine of this beautiful country. You can clearly taste them in this soup and they really make a difference. I would say that cinnamon and ginger add this exotic taste to it!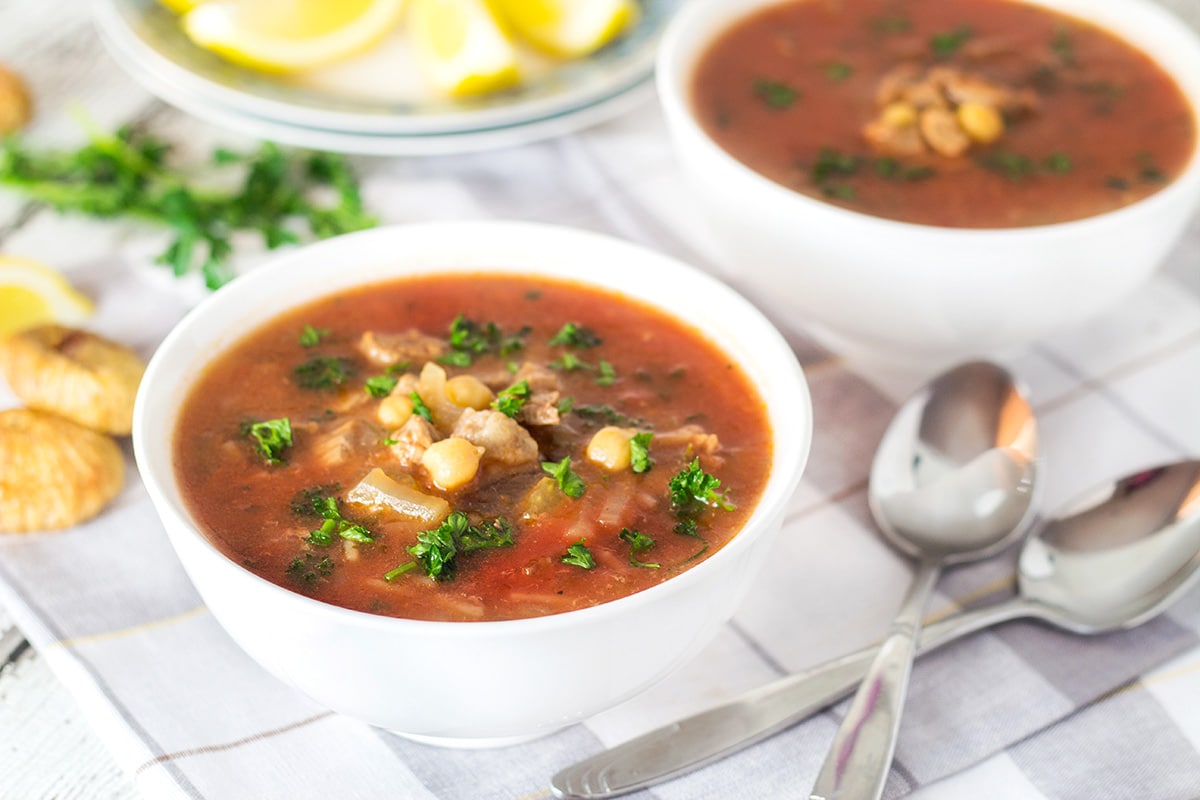 Harira soup is eaten all year long but is especially popular during Ramadan month, when Muslims fast between sunrise and sunset. This dish is traditionally used by Moroccans to break the fast every night during this holy month. The soup itself is really hearty and filling. It also has that velvety consistency, which is achieved by adding flour mixed with water. Love it! Harira is served with lemon wedges and accompanied by dates and figs. Traditionally, Moroccan honeyed pastries are also served with this soup. If you have them - great!
If you loved this one, try this Mexican beef and bacon soup I made some time ago. It is amazing!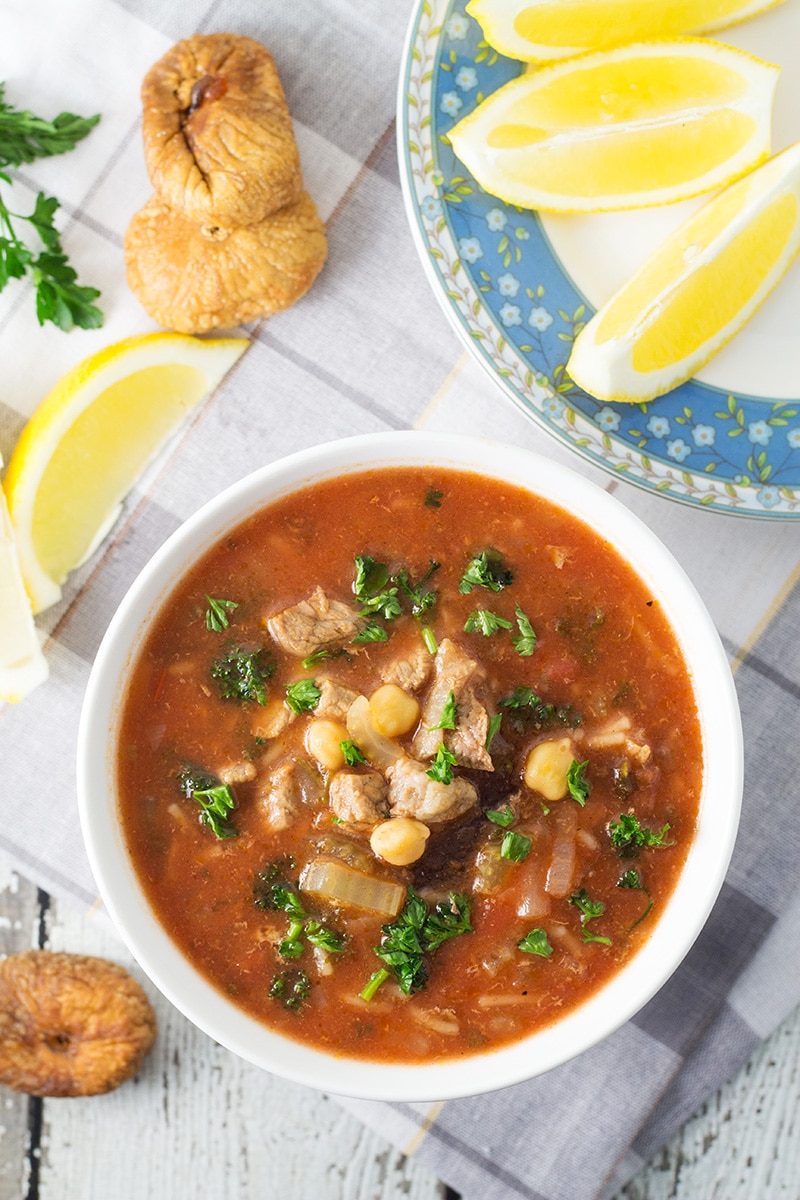 Moroccan Harira Soup
Harira is the most famous Moroccan soup. Filled with beef, chickpeas, and veggies, it is guaranteed to warm your soul up!

Ingredients
1

lb (450g)

beef,

cut into cubes

1

cup (170g)

celery,

finely chopped

1

onion,

finely chopped

⅓

cup (15g)

parsley,

finely chopped

⅓

cup (15g)

cilantro,

finely chopped

1

tablespoon

Olive oil

1

teaspoon

ground ginger

½

teaspoon

ground cinnamon

salt and pepper,

to taste

8 ½

cups (2,1l)

water,

divided

2

cans (14 oz or 400g each)

tomatoes,

pureed, with the juice

3

tablespoons

tomato paste

1

cup (170g)

canned chickpeas,

rinsed

¼

cup (30g)

all-purpose flour

juice of 1 lemon

1

oz (30g)

vermicelli or angel hair noodles,

broken into pieces
For serving:
lemon wedges

dates

dried figs
Instructions
In a large pot, add the beef, celery, onion, parsley, cilantro, olive oil, ginger, and cinnamon. Season with salt and pepper to taste. Add 6 cups (1,5l) water, stir, and bring to a boil. Set the heat to low, cover, and simmer for 1 hour.

Add the canned tomatoes, tomato paste, chickpeas and 1 ½ cups (360ml) water. Cover once again and simmer for 30 minutes.

In the meantime, in a saucepan over low heat, add 1 cup (240ml) water and whisk in the flour and lemon juice. Remove from heat, let sit for 10 minutes, and whisk again.

Add the flour and lemon juice mixture to the soup, while continually stirring. Cook for 10 minutes, stirring frequently. Add vermicelli and cook for about 5 minutes more, until noodles are tender.

Serve with lemon wedges, dates and dried figs on the side. Enjoy!
Nutrition
* This post contains affiliate links, thank you for the support in keeping Cooking The Globe up and running!