This Lebanese Beef Shawarma features tender meat, veggies, and a magical tahini based Tarator sauce. Perfect healthy on the go meal!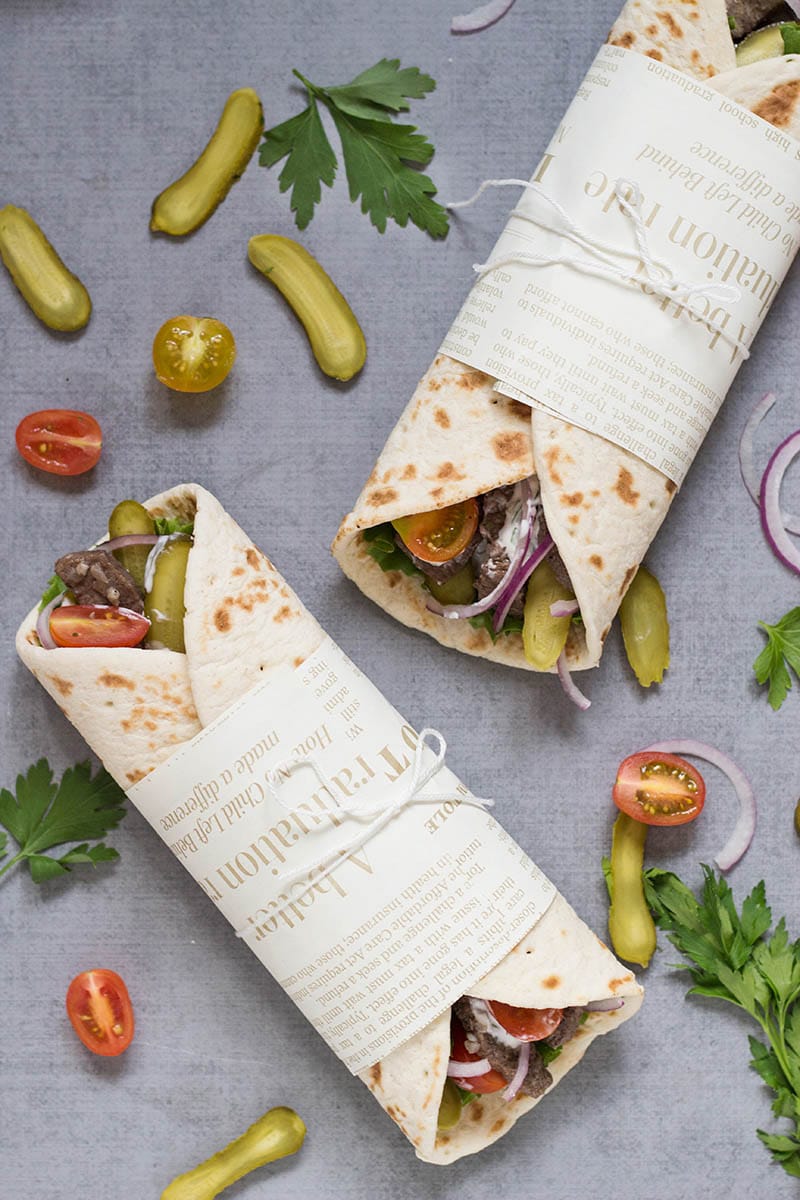 I am always excited to feature a new country on the blog. The feeling of exploring a new cuisine is fantastic! You can call me a world cuisine addict, because I surely look like one when something exotic and never tasted before is sizzling in a pan. I am not even talking about the moment when the cooked food touches my taste buds. Pure enjoyment!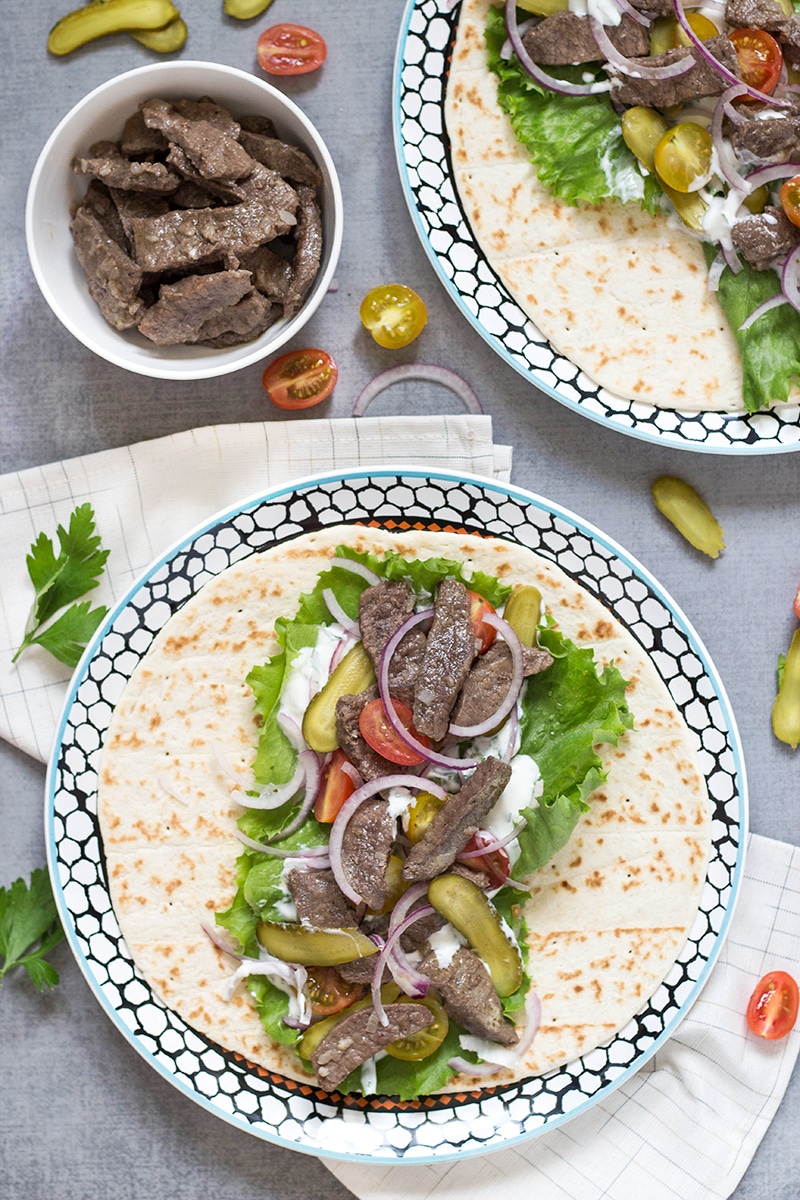 Today I invite you to take a sneak peek of the Lebanese cuisine. For those of you who don't know, Lebanon is a Middle Eastern country with rich culinary traditions. I've chosen to make one of the most popular Lebanese dishes - Shawarma. Other names include Shawerma, Schwarma, Shwarma, to name a few.  It's a very popular street food in Lebanon and many other Middle Eastern countries (just like falafel). It is said that the homeland of Shawarma is Turkey and it was brought to other countries by the Ottoman Empire (it's the Turkish empire which existed a hundred years ago). Basically, Shawarma is a sandwich: meat, veggies and sauce are wrapped in a pita bread or lavash to create a mind-blowing experience. You can call it a Middle Eastern fast food.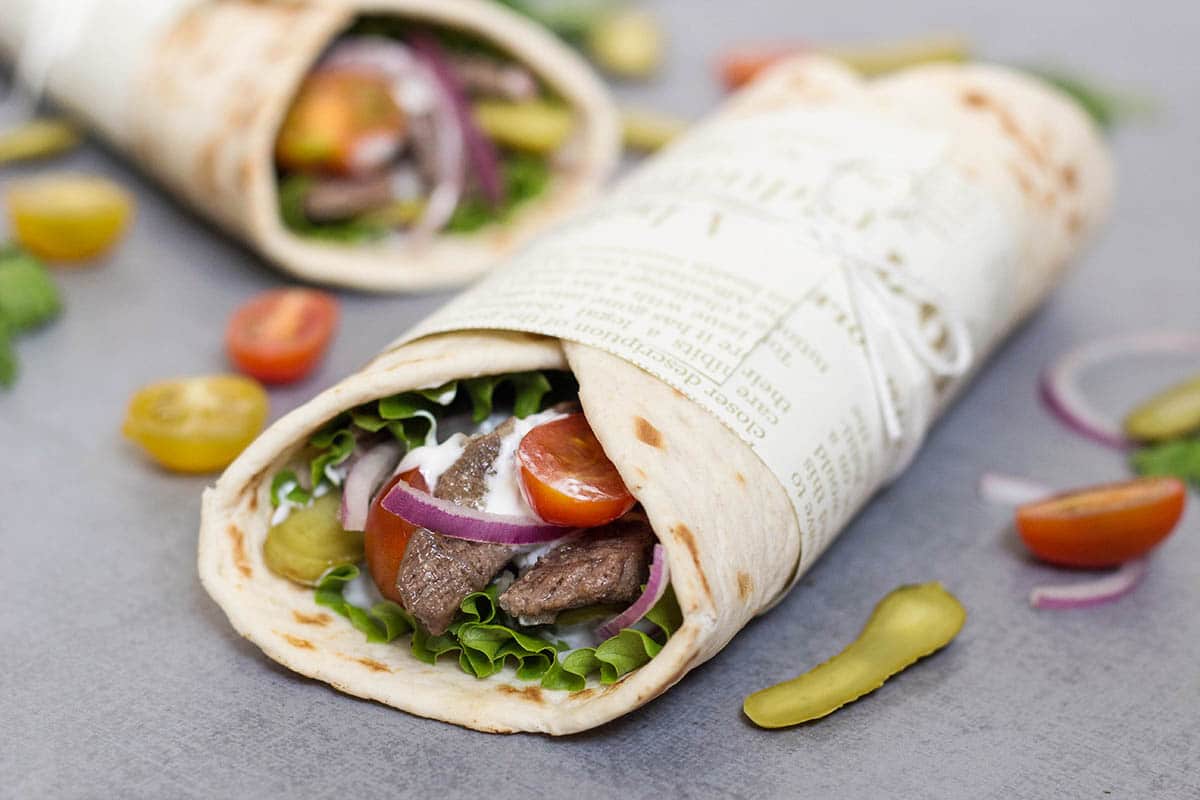 This Lebanese sandwich can be made with various kinds of meats: chicken, lamb, beef, turkey, veal, and others. My choice stopped on a beef Shawarma this time. Traditionally, in street food stalls and local restaurants, Shawarma is made by placing the meat or a mix of few meats on a vertical spit and grilling it for hours. Wikipedia says that even the name Shawarma comes from the Turkish çevirme, which means 'turning'. For every sandwich some meat is shredded while the remaining meat keeps grilling until the other client comes. Obviously, it is impossible, or possible but not very realistic, to replicate the authentic cooking method at home. Don't worry though, the beef Shawarma we are going to make using a simple pan is as good!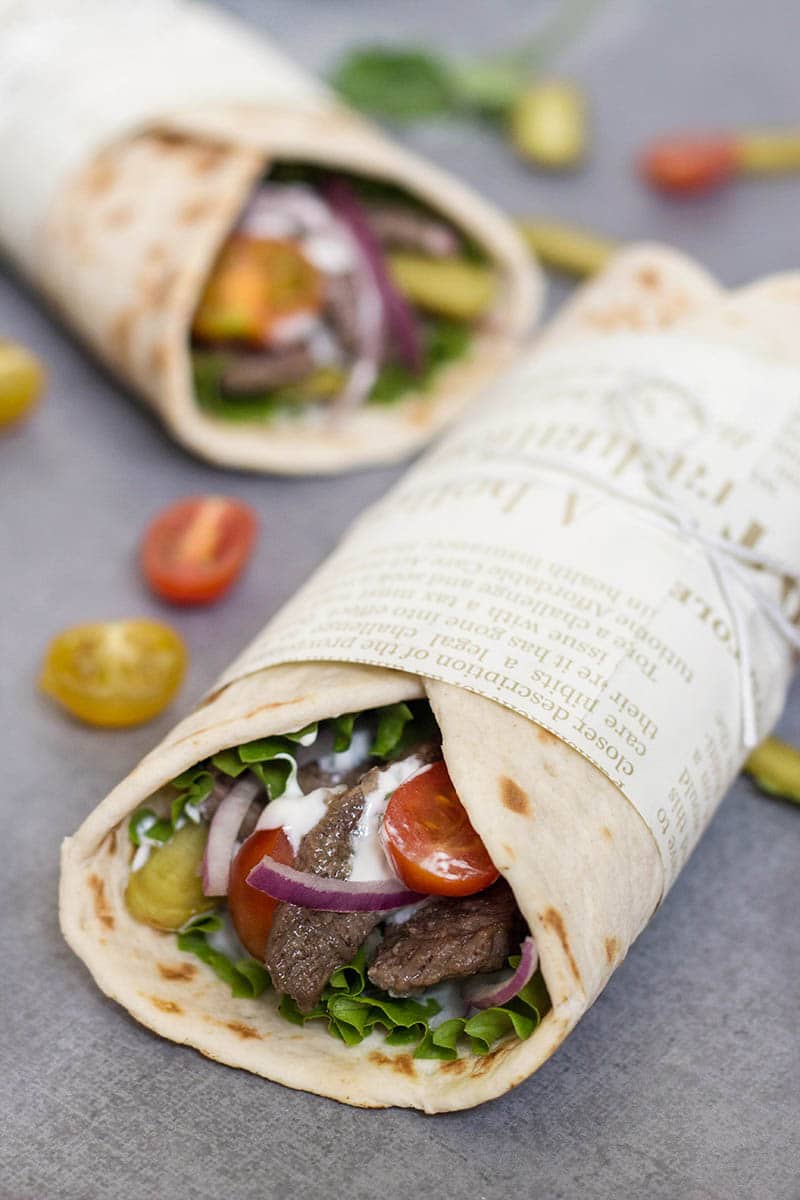 A very important part of Shawarma is a sauce. You can use any sauce you want, but I made the traditional tahini based Tarator sauce popular in Lebanon and other surrounding countries. Don't confuse it with Tartar, it's not the same! Actually, these two sauces are not even alike. Tarator is pretty simple, and requires only tahini, garlic, lemon juice and parsley. But it's so GOOD! You can use this sauce on pretty much anything: all kinds of meats, seafood, veggies. I adapted the sauce recipe from Saveur. Thanks to them!

This beef Shawarma has everything you need: flavorful marinated meat, veggies, and the fantastic sauce. The end result is a juicy, amazingly delicious sandwich. Perfect on the go meal!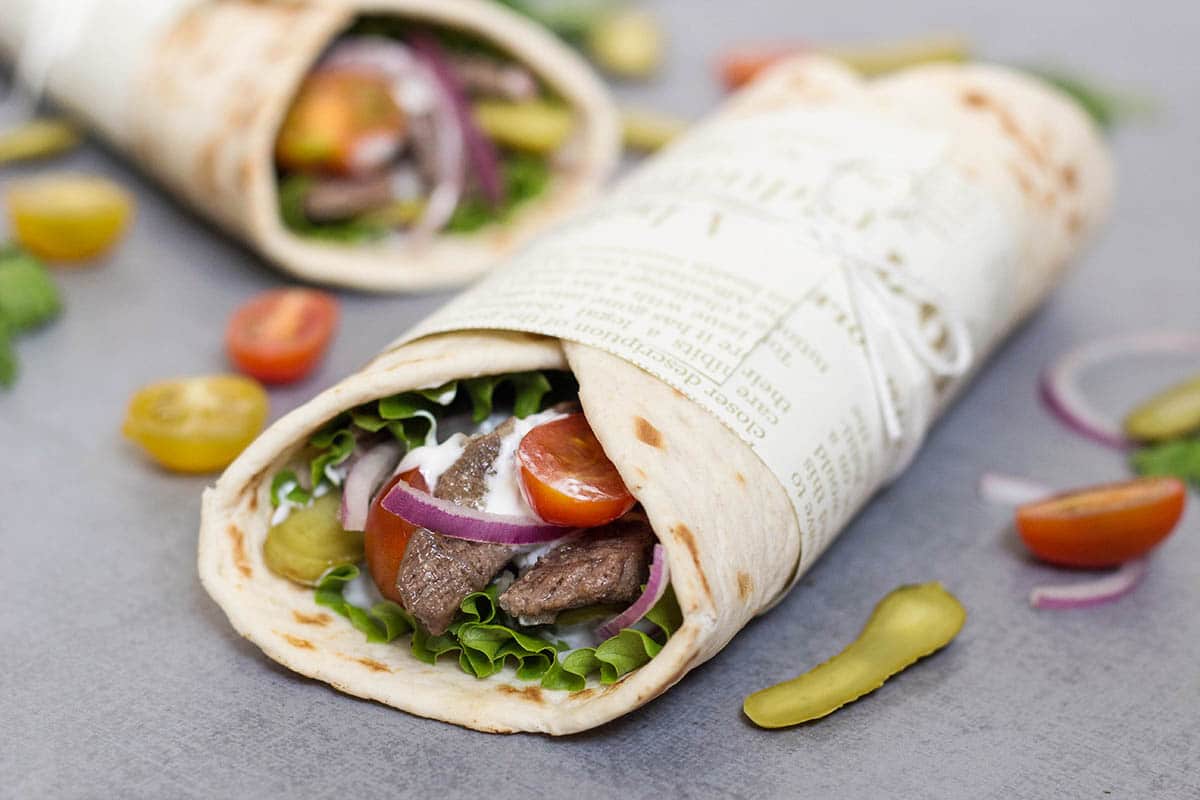 Lebanese Beef Shawarma with Tarator Sauce
This Beef Shawarma comes from Lebanon and it has everything you need. Tender meat, veggies, and a splendid Tarator sauce!

Ingredients
For the meat:
1

lb (450g)

beef sirloin

1

medium onion

, finely chopped

½

tablespoon

garlic paste

¼

teaspoon

black pepper

½

teaspoon

cinnamon

½

teaspoon

allspice

½

teaspoon

cardamom

¼

teaspoon

nutmeg

dash of salt

6

tablespoons

red wine vinegar

½

cup + 2 tablespoons

Olive oil

, divided
For the sauce:
4

cloves

garlic

½

cup

tahini

½

cup

fresh lemon juice

¼

cup

finely chopped flat-leaf parsley

salt

, to taste
For the assembly:
4

pita breads or lavash, if you can get it

3

medium tomatoes

, sliced

pickles
Instructions
The meat. Cut the meat into thin, long pieces (about 2 inches long). It will be easier to cut it if you put it in the freezer 30 minutes in advance. Place the beef strips into a bowl together with the onion and garlic. Add the black pepper, cinnamon, allspice, cardamom, nutmeg, and salt and toss to combine.

In another small bowl, whisk together the vinegar and 6 tablespoons olive oil. Add to the meat. Cover and marinate for at least 3-4 hours (24h is better) in the fridge.

Remove the meat from the bowl and dry on paper towels. Discard the marinade. Heat the remaining 4 tablespoons olive oil in a skillet over medium heat and fry the meat for 3-5 minutes.

The sauce. Add the garlic to a food processor and pulse until finely chopped. Add the tahini, lemon juice, parsley, and 3 tablespoons water and pulse again to combine. Season with salt.

The assembly. Split open the pita bread and add some meat slices, tomato slices, pickles, and the Tarator sauce inside. Repeat with remaining sandwiches. Enjoy!
Nutrition