Falafel is a Middle Eastern creation but today it has spread to many countries all around the world. These deep-fried chickpea balls are usually served in a sandwich making them a perfect street food. Try this authentic Falafel recipe and you'll see what I'm talking about! Vegan and vegetarian friendly!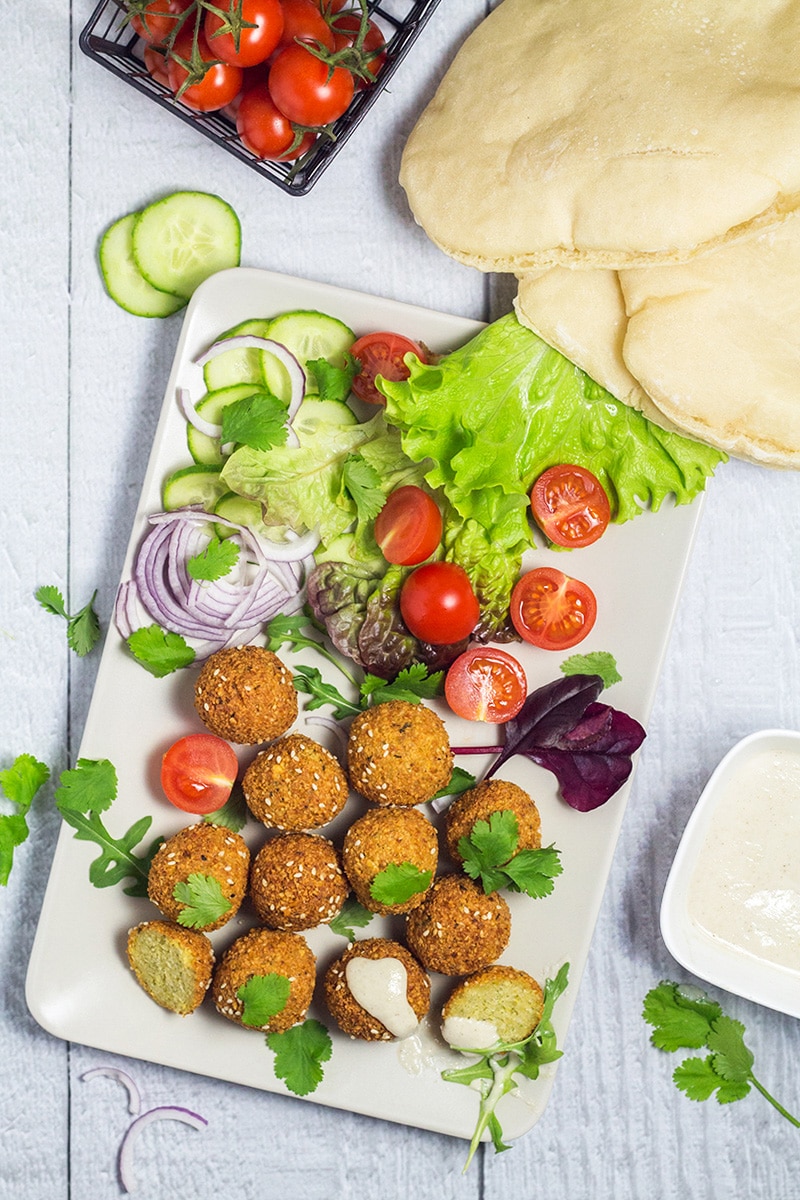 What do you know about falafel? After reading this post you will know enough to impress your guests with the knowledge of Middle Eastern cuisine. Moreover, you will know how to make falafel with your own hands so you could savor it at home! In short, it is a deep-fried ball or patty made from the combination of chickpeas or fava beans with greens and spices. However, sometimes not only the ball but the whole sandwich with it is called falafel. It's vegetarian, it's even vegan and it's really good! From the first time I tasted it in Paris few years ago, I have always wanted to make falafel at home. The time has come!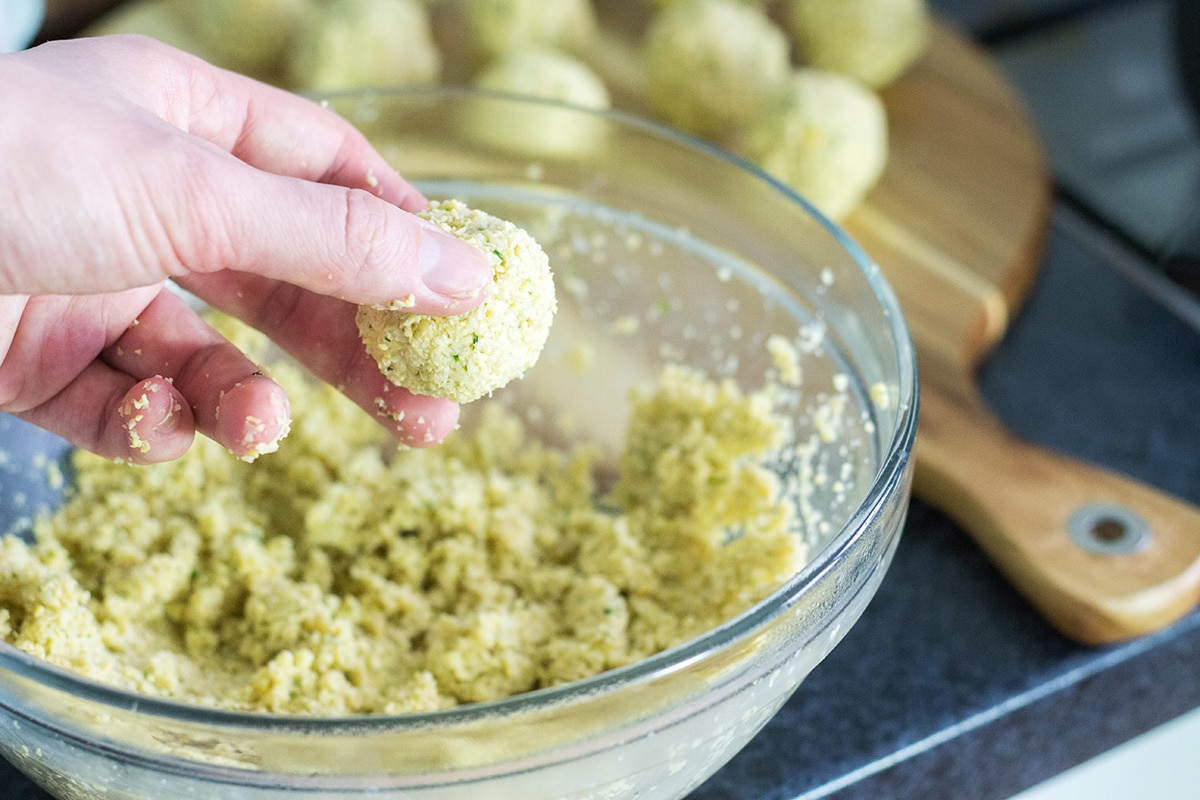 First of all, it has to be mentioned that there are a lot of debates over the origin of falafel. It is believed that these chickpea bites originated in Egypt and spread to other Middle Eastern countries from there. We won't dig deeper here though, because sometimes even politics are involved in these discussions and this blog is POLITICS FREE. You won't see me mentioning anything politics related ever, because I don't care about it at all. The world is brighter without it. I love all people in the world evenly and recommend you to do the same. Alright, enough of that. Let's get back to our meatless delight!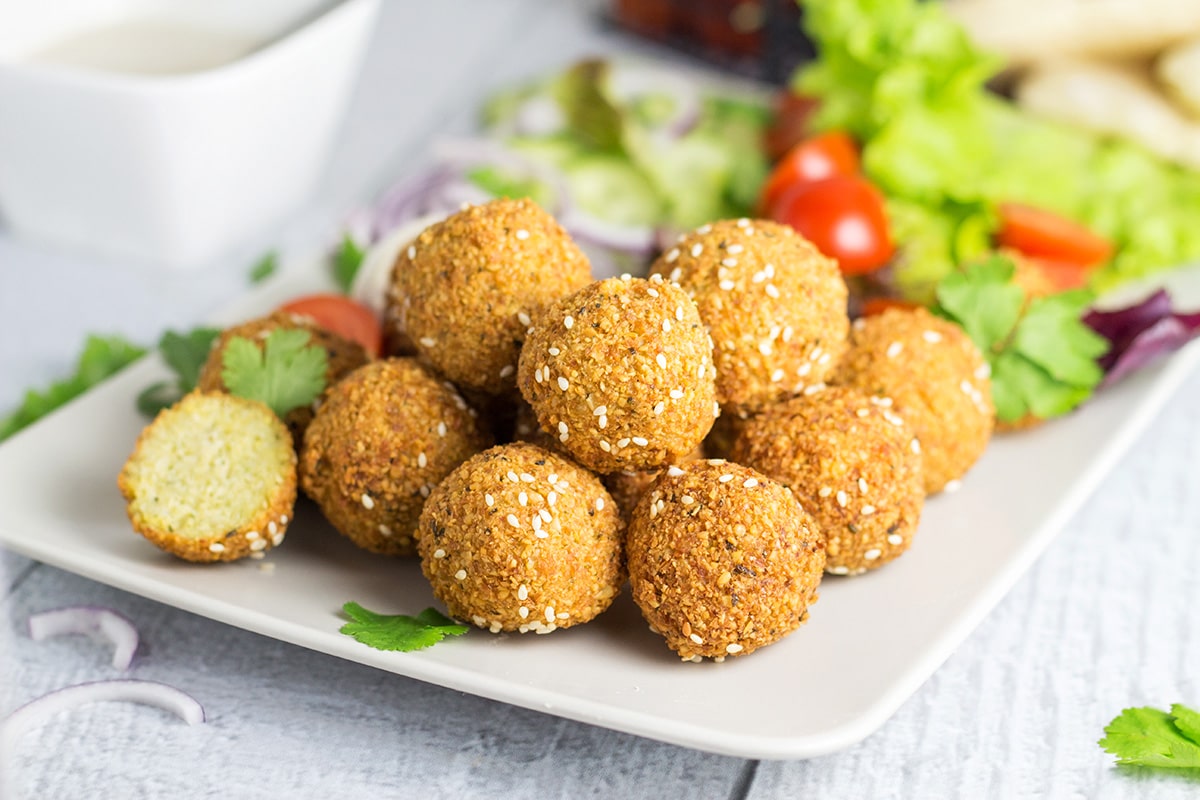 The only thing that matters is that nowadays falafel is considered to be a national dish of Egypt, Palestine, and Israel. Wikipedia says so and we will obey. However, you can find it as a popular street food option in other Middle Eastern countries too. Not only Middle Eastern actually, but it is made by street food vendors in many countries around the world: United States and Europe is not an exception.
Why these little chickpea balls are so popular? Well, mostly because they are meatless, but when you eat them it tastes a little bit like meat actually. People in the Middle Eastern countries eat them as a replacement for meat during religious observances when specific dietary laws are followed. Because of that reason, falafels have become popular among vegetarians and vegans too. They are able to order meaty looking sandwiches at street food stalls and enjoy them staying true to their lifestyle. Everyone is happy! You can also make a classic spaghetti and meatballs using falafel balls instead. Awesome!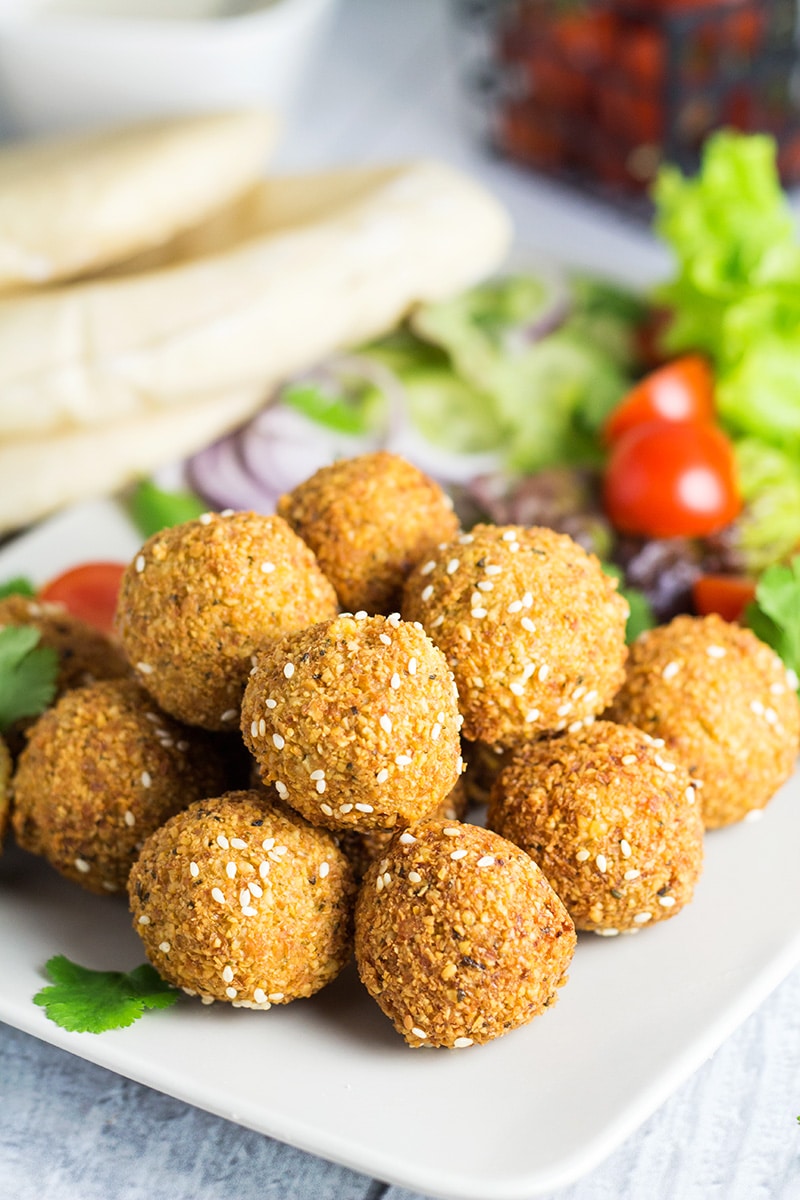 Now let's talk what the falafel consists of. The main ingredient, as already mentioned, is chickpeas. Aromatic vegetables such as onion and garlic are also used. Greens - cilantro and parsley. A bunch of different spices: cayenne pepper, cumin, coriander and cardamom. Flour and baking powder are also added. That's it! Just mix all the ingredients in a food processor, form balls or patties and deep-fry them. How easy was that?
I have taken the falafel recipe from one of my favorite cookbooks EVER - Jerusalem: A Cookbook by one of the most respected chefs in the world Yotam Ottolenghi. This book is brilliant. If you are interested in Middle Eastern cuisine, this is the one, seriously.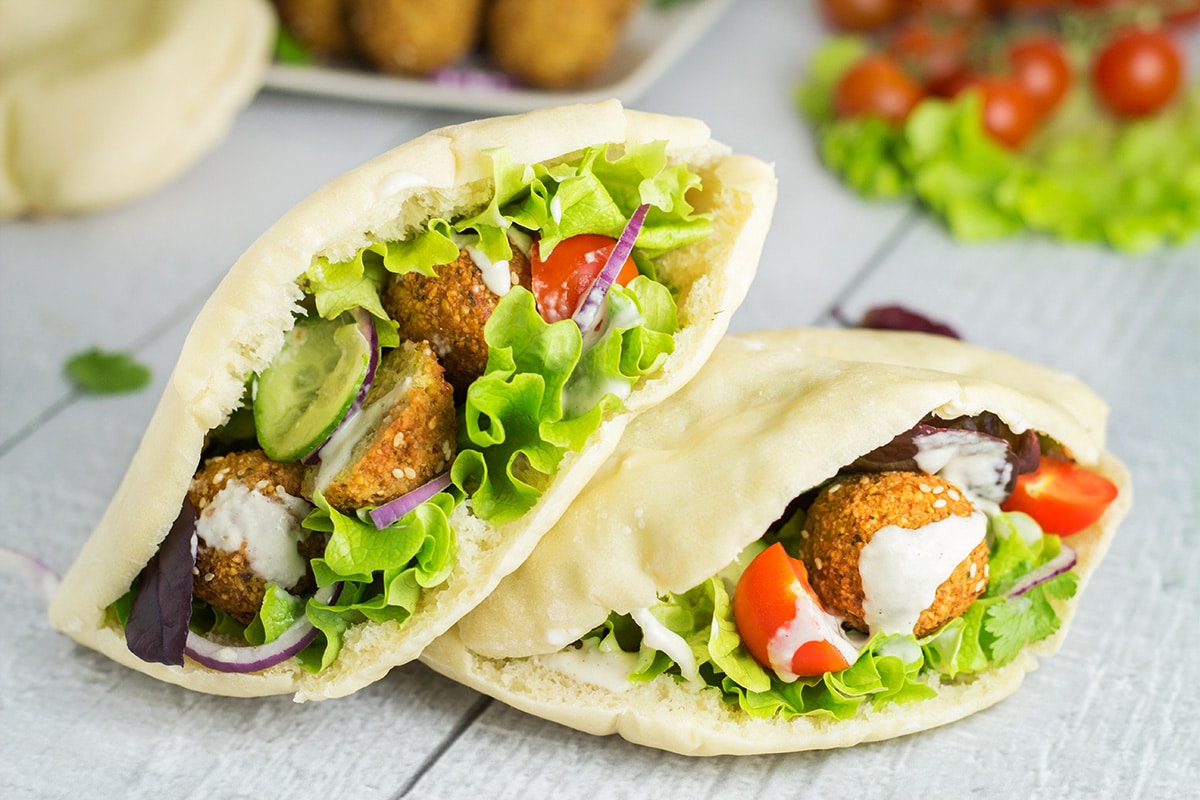 Falafels can be served either standalone or in pita pockets (you can also use Naan bread). Unfortunately, I wasn't able to find pitas in my country so I made them by myself using this recipe. It's really easy and not too time consuming. Together with the balls, you can throw anything you like inside the pita pockets. The most common garnishes are: tomato and cucumber salad, red onion, pickles, Tahini sauce. Tahini sauce is made from the Tahini, which is sesame seed paste, and few other ingredients. You can substitute it with any sauce you like but I went with Tahini because it's the authentic way to eat falafels in Israel. It was the first time when I tried Tahini in my whole life. The taste is really hard to explain, you have to try it by yourself!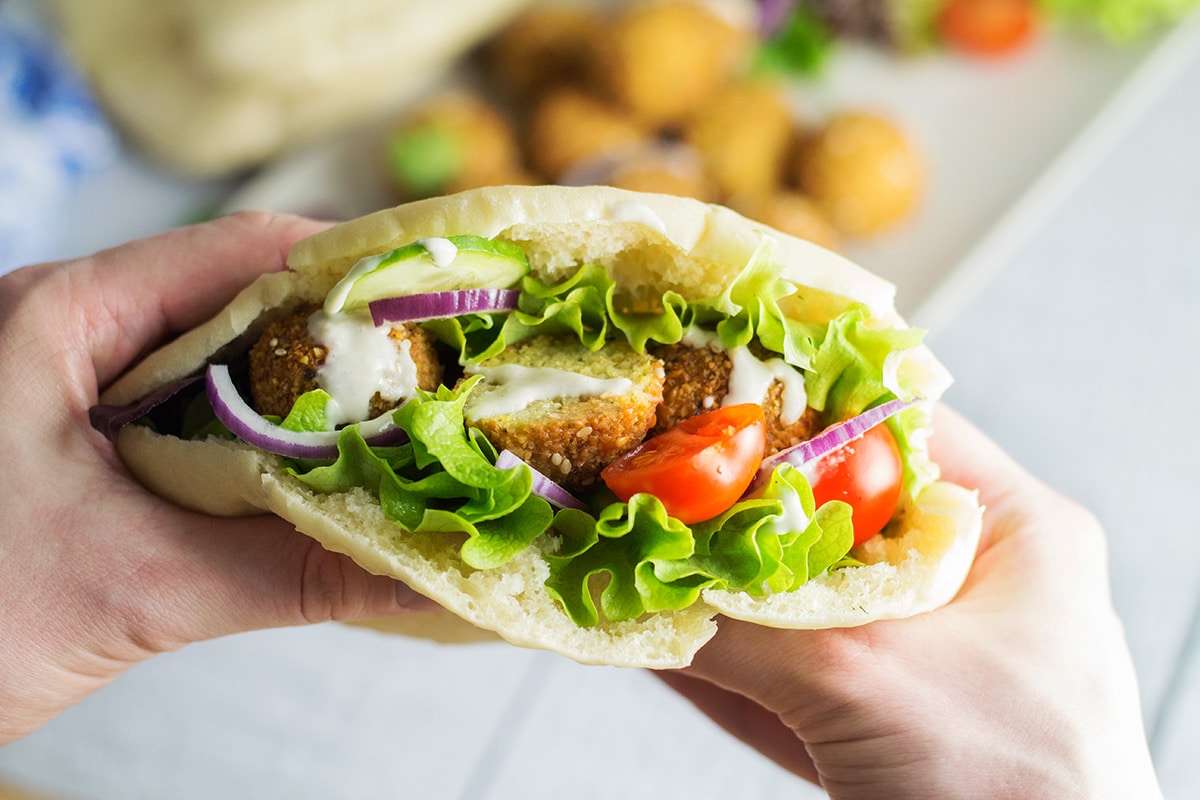 To conclude, I just want to say that everyone has to try falafels at least once in their lives. The taste is not comparable to any other foods, it's unique. This is the reason so many people around the world love them!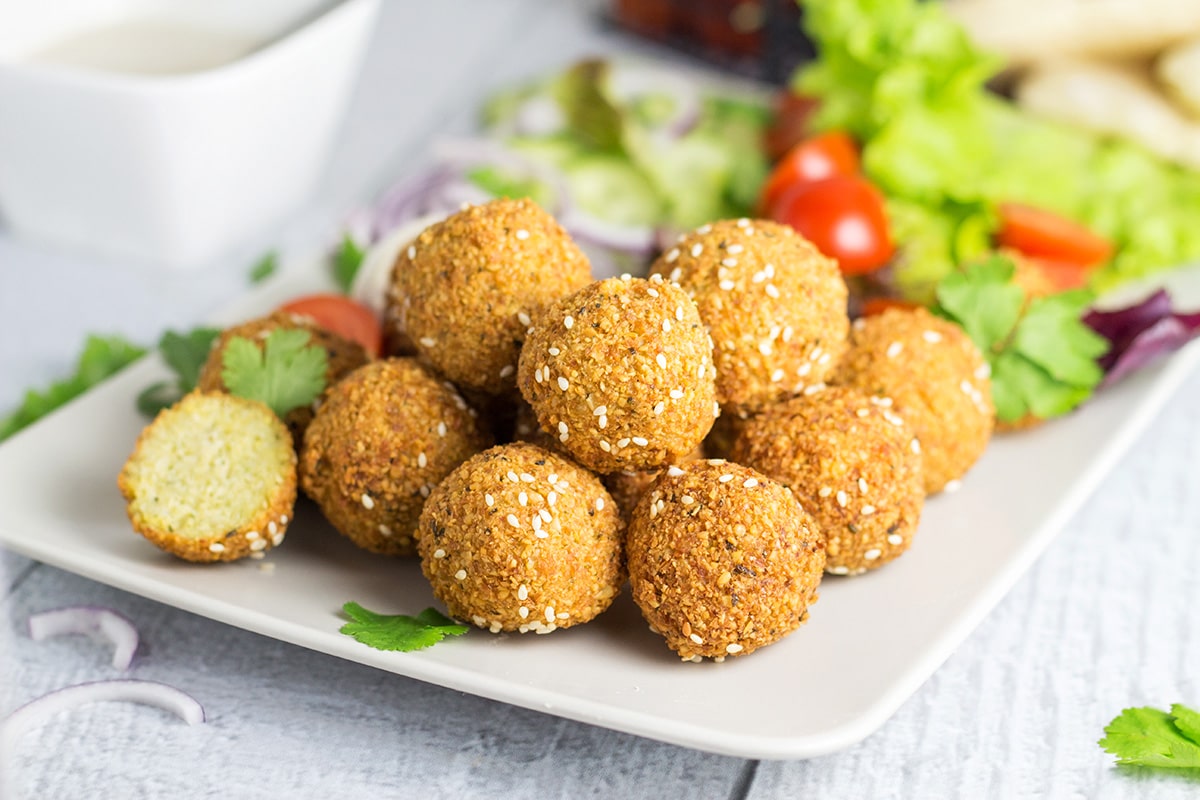 How to Make Falafel
Everybody should know how to make a good falafel at home. This authentic falafel recipe will help you to do that!

Ingredients
For the falafel balls:
1 ¼

cups (250g)

dried chickpeas

soaked overnight and drained well

½

cup (80g)

finely chopped onion

1

clove

garlic,

crushed

2

tablespoons

cilantro,

finely chopped

1

tablespoon

flat-leaf parsley,

finely chopped

½

teaspoon

ground coriander

½

teaspoon

ground cumin

¼

teaspoon

ground cardamom

¼

teaspoon

cayenne pepper

½

teaspoon

baking powder

3

tablespoons

water

1 ½

tablespoons

all-purpose flour

3

cups (750ml)

sunflower oil,

for frying

½

teaspoon

sesame seeds,

for sprinkling

¾

teaspoon

salt
For the tahini sauce:
⅔

cup (150g)

tahini paste

½

cup (120ml)

water

2

tablespoons

lemon juice,

freshly squeezed

1

clove

garlic,

crushed

¼

teaspoon

salt
For the sandwich assembly:
Pita bread pockets

Tomatoes

Cucumber

Red onion
Instructions
The falafel balls. Add chickpeas, onion, garlic, parsley, and cilantro in a food processor. Pulse for 30-40 seconds until it is finely chopped and holds itself together, but is not pasty. Add the spices, baking powder, flour, salt and water. Mix with hands until the mixture is smooth. Cover and leave it in the fridge for at least 1 hour.

Heat about 2 ½ inches (6 cm) of oil in a medium saucepan over medium-high heat to 350°F (180°C).

With wet hands, form a patty or a ball using 1 tablespoon of the mixture. Sprinkle the balls with sesame seeds and fry them in batches for about 4 minutes or until well browned. Remove from oil and drain on paper towels.

The tahini sauce. Before starting, stir the tahini paste in its tub. Put the paste into a mixing bowl and add the water, garlic, lemon juice, and salt. Stir until you get a thick sauce. Store in a jar in the fridge for up to a week. Before using add a little water to loosen, if needed.
Nutrition
* This post contains affiliate links, thank you for the support in keeping Cooking The Globe up and running!