Hey there! When I started this blog, I set myself a mission to recreate as many traditional breakfasts from all around the world as possible. Many people skip the breakfast, but in my opinion it is the most important meal of the day. Your body and brain need some fuel to start moving for God's sake! That's why I find it insanely interesting to discover what people eat for breakfast in different countries across the globe. Let's go!

Today is the the very first edition of "Breakfast Around the World" and we are going to sunny Brazil to enjoy their traditional Brazilian breakfast!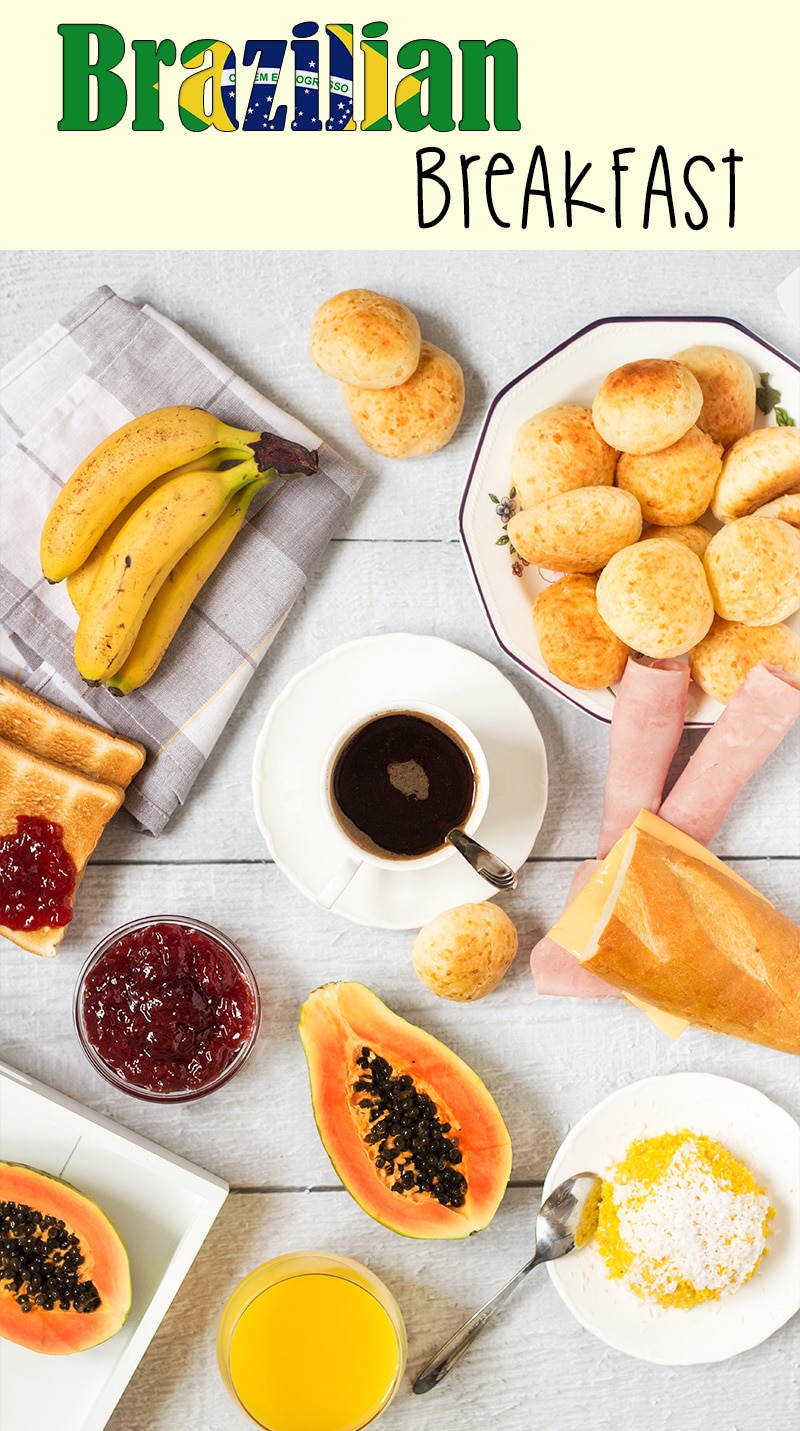 Like in every country, Brazilian breakfast differs from region to region. However, the foundation is always the same: coffee (really strong one or with milk) or suco (juice) and freshly baked bread (usually it is Pão Francês) with butter or margarine. Coffee is a crucial element, breakfast is literally built around it. The importance of this aromatic drink is highlighted by the fact that Brazilian breakfast is named after it - café da manhã (morning coffee). This comes as no surprise, as Brazil is by far the world's largest producer of coffee and has held this position for the last 150 years (!).

The menu described above is of course the most basic one. Some people make the breakfast more substantial by adding ham, queijo (cheese), fruta (fresh fruit) and a bit of jam to put on the bread. It can also include cheese rolls (Pão de queijo) and sweet or savory Cuscuz (couscous made from steamed coarse cornmeal). Such an iconic breakfast option as eggs and bacon is not popular in Brazil. They consider it more as lunch or dinner. There is a chance that you will be served eggs in some hotels or restaurants but Brazilians don't think of them as a breakfast option. It has to be mentioned that Brazilians often grab their breakfast on the way to work at bakeries (padarias) or cafeterias (lanchonetes).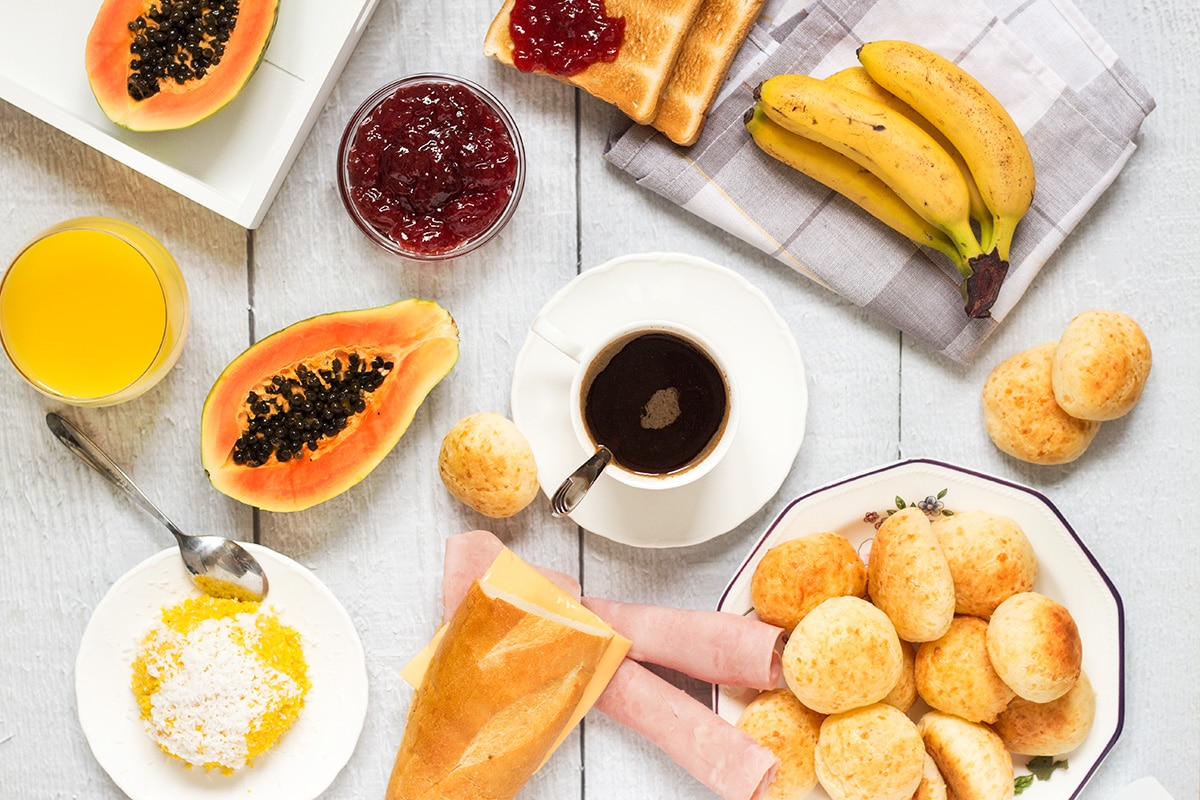 Now let's see what I have prepared today and how my Brazilian breakfast looks like!
Beverages
Of course coffee is on my table. I must say that I am not a huge fan of this drink and I rather have a cup of tea. However, I am not coffee-abstinent, this black beverage can be found on my work table at least once a week. Juice is more like my cup of tea! Well, that sounds strange, ha ha. So, what about juice? Brazil is a tropical country so there is an abundance of various types of fruit. Menus in cafeterias with over 40 different types of fruits to choose from are normal there. Brazilians just throw them in a blender and mix them with water, orange juice or milk. Some classic combos are papaya, orange juice and carrot, banana and milk, guava and milk and others.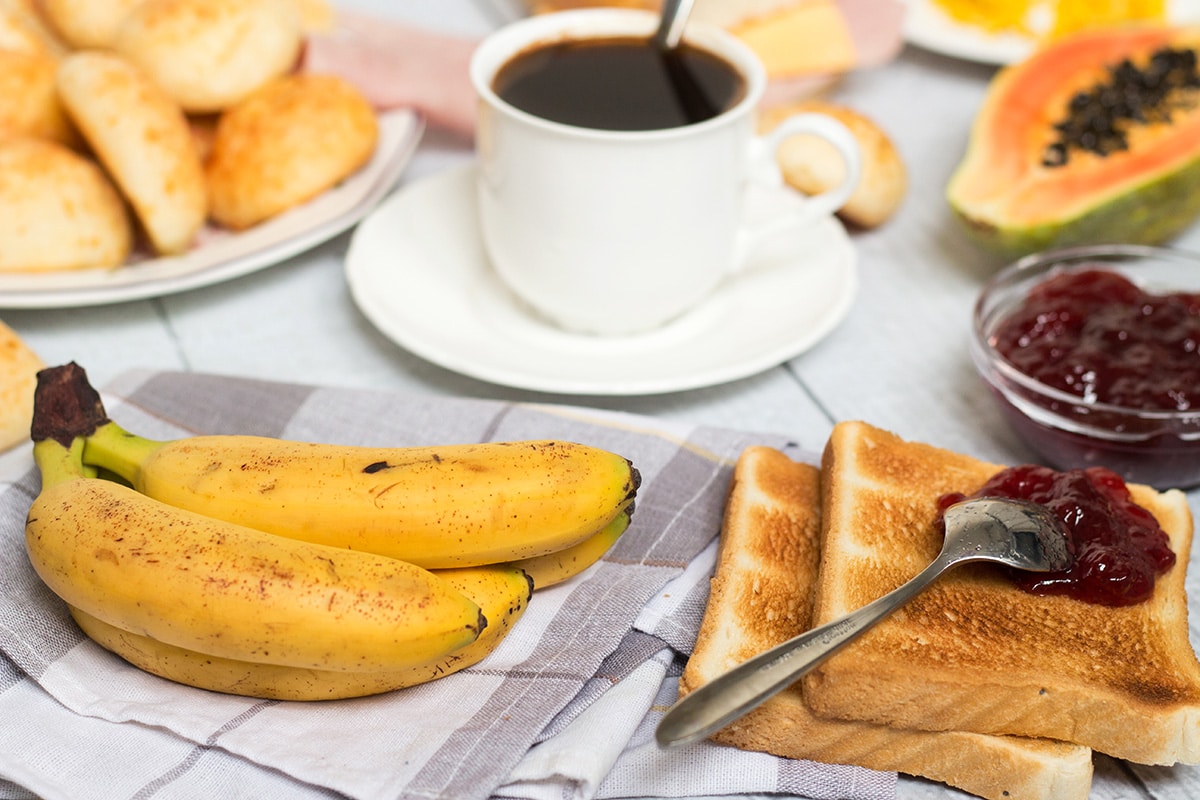 Bread with ham and cheese
A classic breakfast choice in many countries all around the world. I have it every other day here, in Lithuania, by myself. The only thing that differs is bread - every country has its own.
Fruit
I already told you that Brazilians definitely don't complain about the lack of fruit. The most traditional choice for the breakfast is papaya. It took me some effort to get this exotic fruit in my town, but I did it! I am the perfectionist, so when I saw that Brazilians love papayas in the morning, I just HAD to get it. Sometimes I scour all the shops in the town until I find the ingredients I need. I know. I am crazy. I can just skip it, but hell no! I want my dish to be as authentic as possible. This Brazilian breakfast is not an exception. Passion fruit, bananas, mangoes and tons of other fruit can be also served on the breakfast table.
Pão de queijo
I can say many great things about these crispy outside, but soft and chewy inside Brazilian cheese puffs, but I already did that in this post. Yes, they were so awesome I decided to make a separate post! Highly recommended.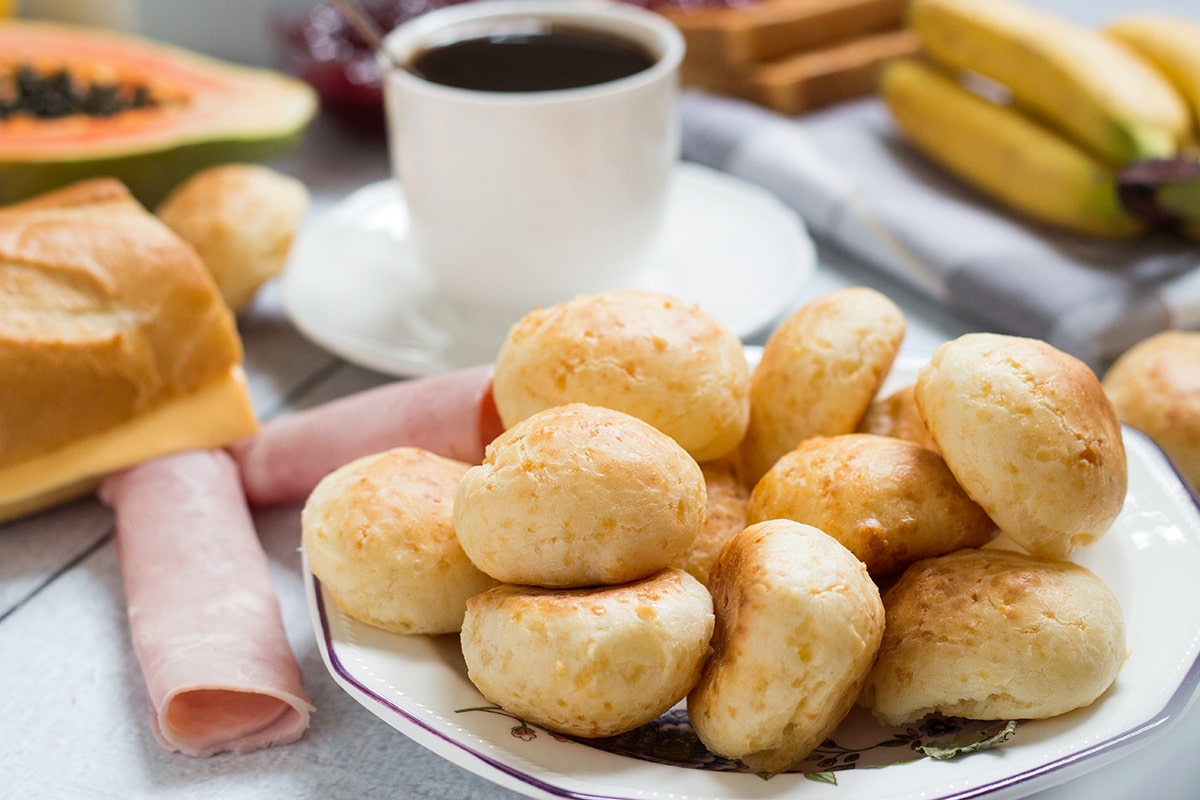 Toasts with jam
If you have plenty of fruit, you make jam. It's logical. If you have jam, you put it on the bread. Simple as that. I don't know if jam is super popular in Brazil, but I read that it can be found on the breakfast table.
Cuscuz
Cuscuz is a North African dish brought to Brazil by Portuguese colonizers. As I have already said, it is couscous made from coarse cornmeal. It was an absolutely new experience to me. I have never steamed cornmeal before! For this Brazilian breakfast I made a sweet version with coconut milk.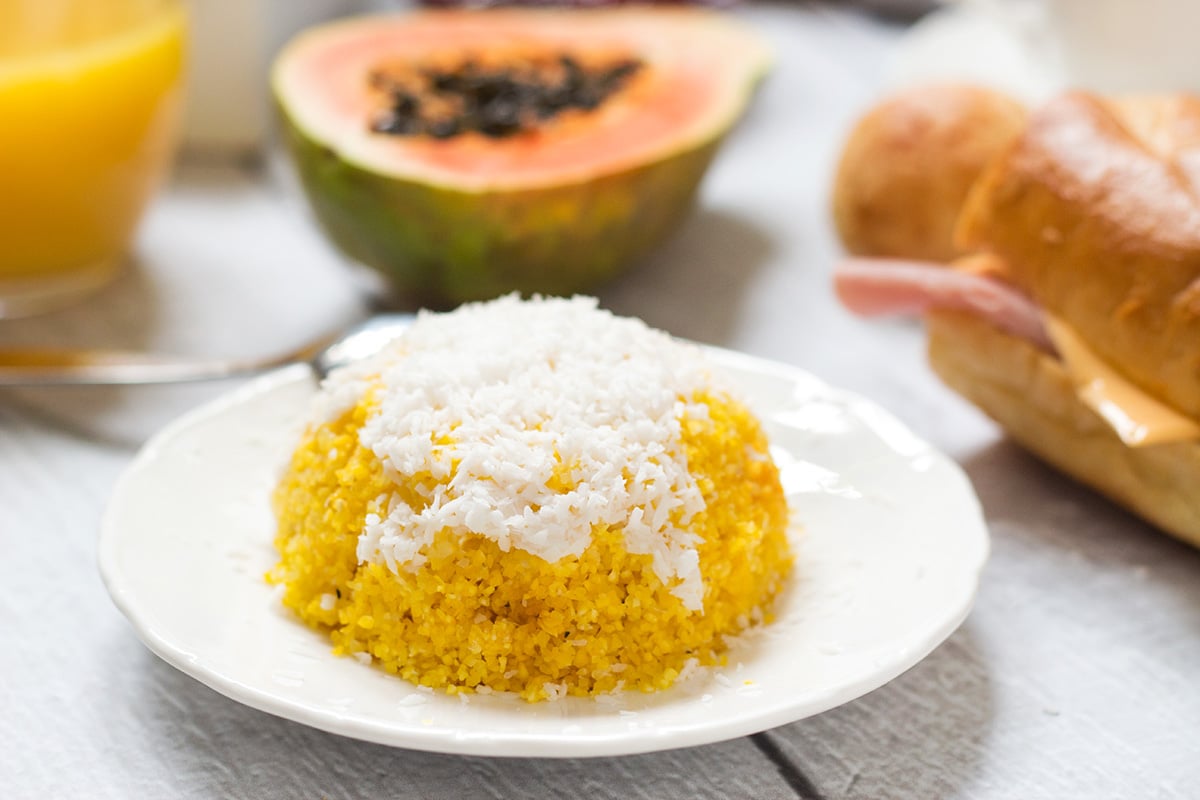 That's it! I had a fabulous breakfast this morning and I really really loved it. I would agree to have such a breakfast every single day. Brazil, you are awesome! I am looking forward to your comments. Please tell me if I screwed up somewhere or missed something important. See you in other "Breakfast Around the World" editions!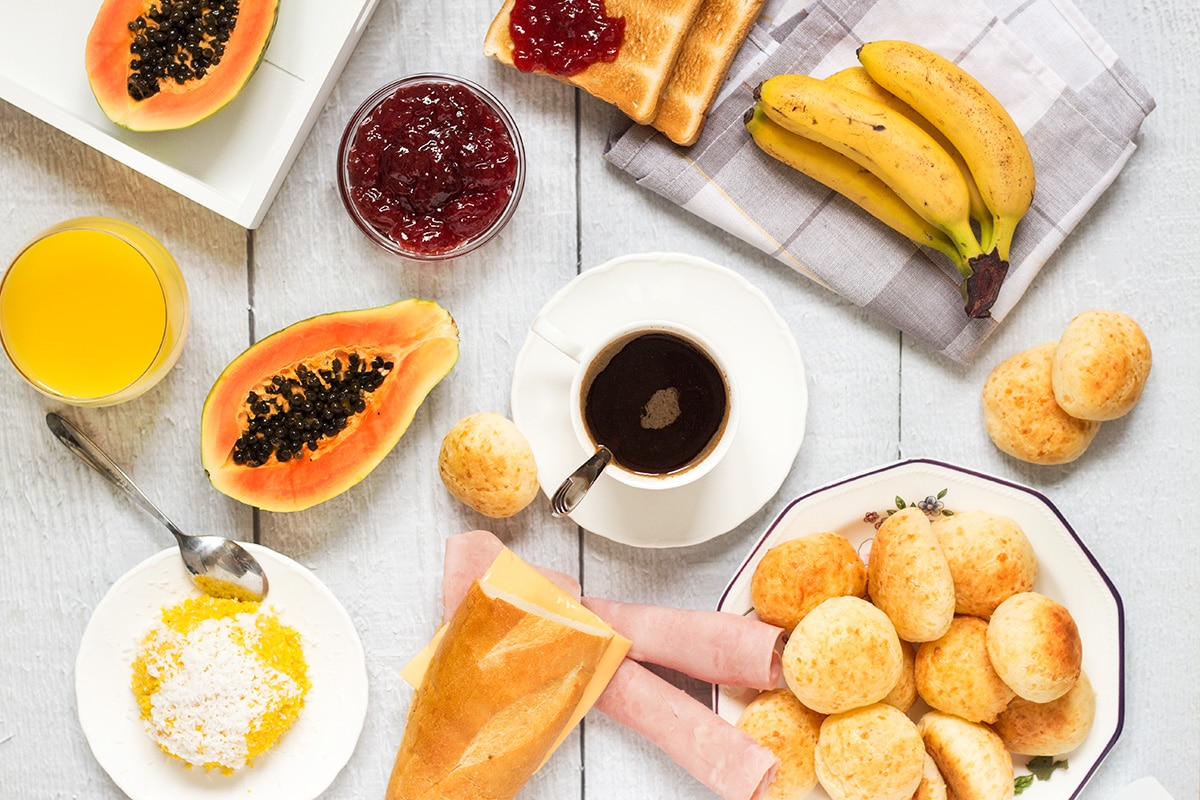 Brazilian Breakfast
This South American breakfast is colorful and light. It features coffee, fruit, juice, ham, cheese, toasts, and more!
Ingredients
Fresh juice of your choice

Strong coffee or coffee with milk

Papaya, bananas or other exotic fruit of your choice

Ham

Cheese

French baguette

Toasts

Jam of your choice

Pao de Queijo

Cuscuz with coconut milk
Instructions
Serve all the items on the table and enjoy your Brazilian breakfast!