Considered as a sauce, a dip, a spread, or a relish, Ajvar is a really flexible Serbian creation. Made with red bell peppers and eggplant, it goes great with meats, on pasta, or simply slathered on bread!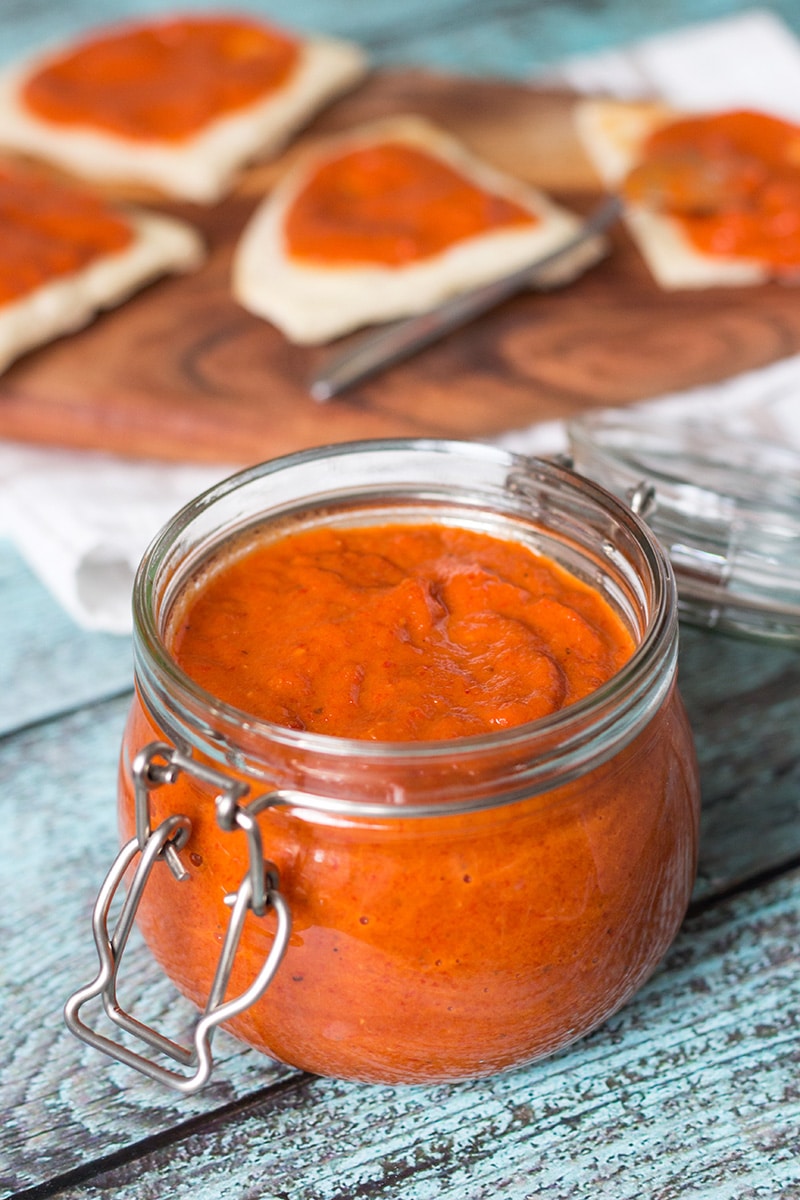 Do you know what can make even a mediocre dish shine? No, not the amount of alcohol consumed. Come on, guys! Let's get serious about it. What? Do I hear someone whispering "the sauce"? That's a perfect answer, my dear reader. You were really close. We are going to talk about relish today. To be exact - about the Serbian eggplant and roasted red pepper relish called Ajvar.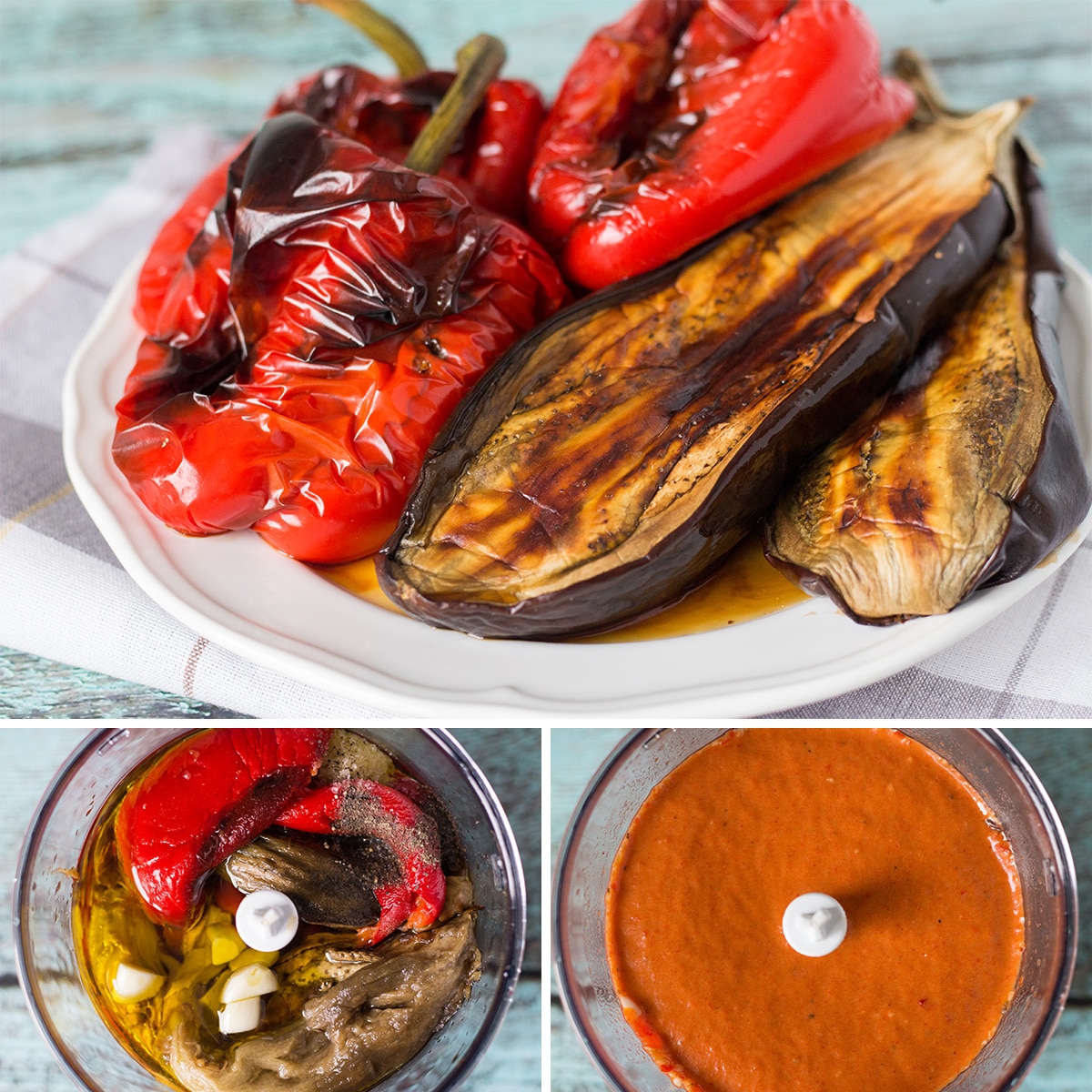 Ajvar originated in Serbia and spread throughout the Balkans. Now this savory red pepper dish is a true wintertime staple. Every fall, when the harvest time for red peppers comes, you can see people carrying full sacks of these red beauties (either grown by themselves or purchased from local vendors, because they are dirt cheap at this time of the year) for roasting them at home and making this smoky spread for their winter pantry. It doesn't mean that it has to be necessarily canned. Not at all. Balkan people do that so Ajvar could last longer.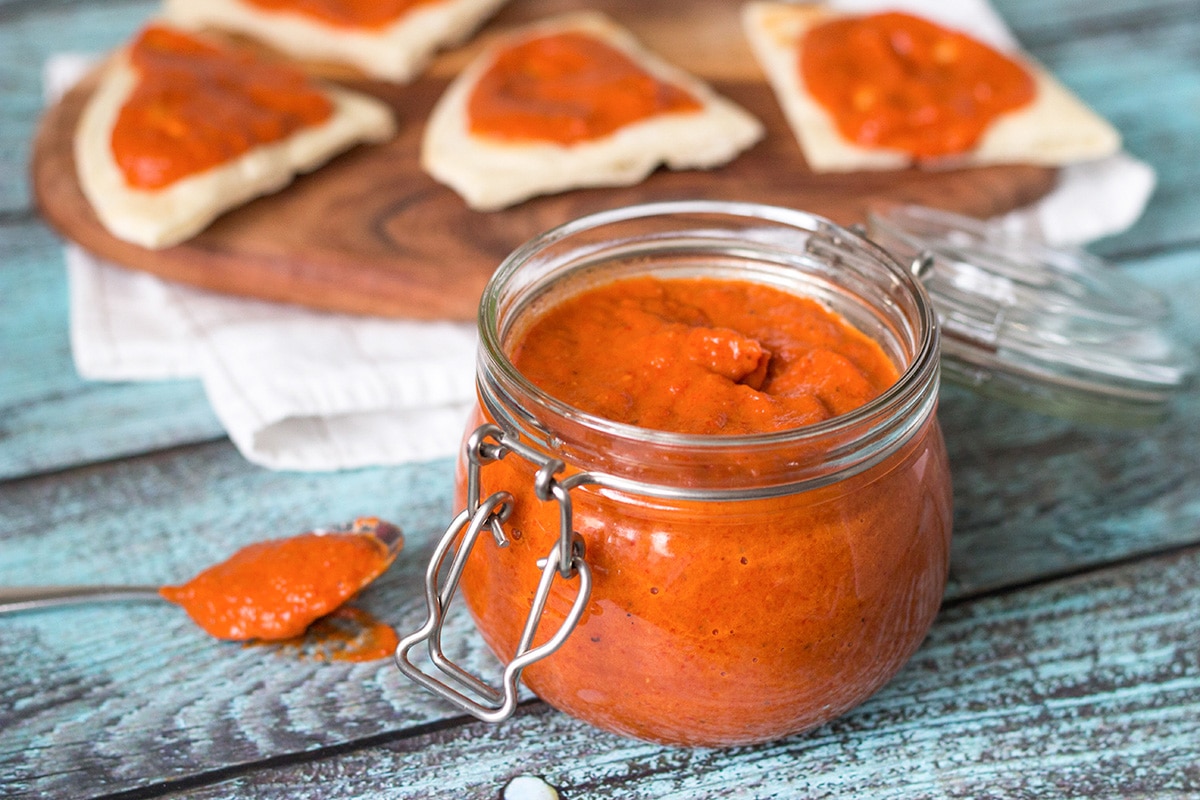 Ajvar is sometimes considered as a sauce, a dip or a spread, and there is no mistake in that! It's such a flexible thing, it can be used in many different ways. However, I love to consider this roasted pepper goodness as a relish. Ajvar is amazing with grilled meat (or any meat actually), as a sauce on pasta, simply slathered on bread or added in a sandwich. That's why I love this Serbian creation, so many different ways to enjoy it!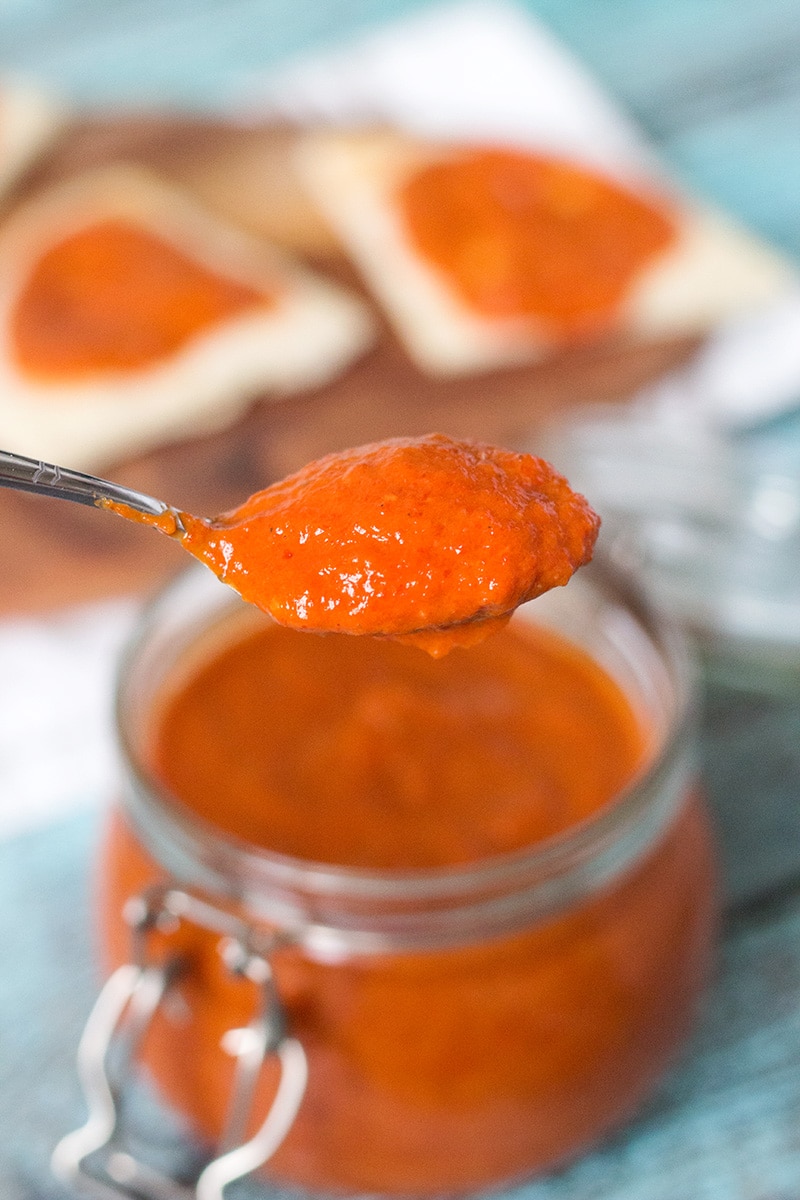 This Serbian relish can be made with red bell peppers alone, omitting eggplant, however I like the version with eggplant better. Roasted chili peppers can also be added to the mix to give Ajvar a spicy kick. There is one more interesting thing. If you will look for Ajvar recipes online, you will see that the majority of them skip simmering part. They just mix everything in a food processor and that's it. My recipe though calls for additional cooking. Where is the truth? There is a great post at Serious Eats which touches on the subject of simmering vs not simmering. The conclusion is that Ajvar, which is simmered, has a sweeter character, with a red pepper flavor that is brighter and more intense. It's up to you, guys. I would say if you are in a hurry and don't have much time, skip the simmering part. It will still be fantastic!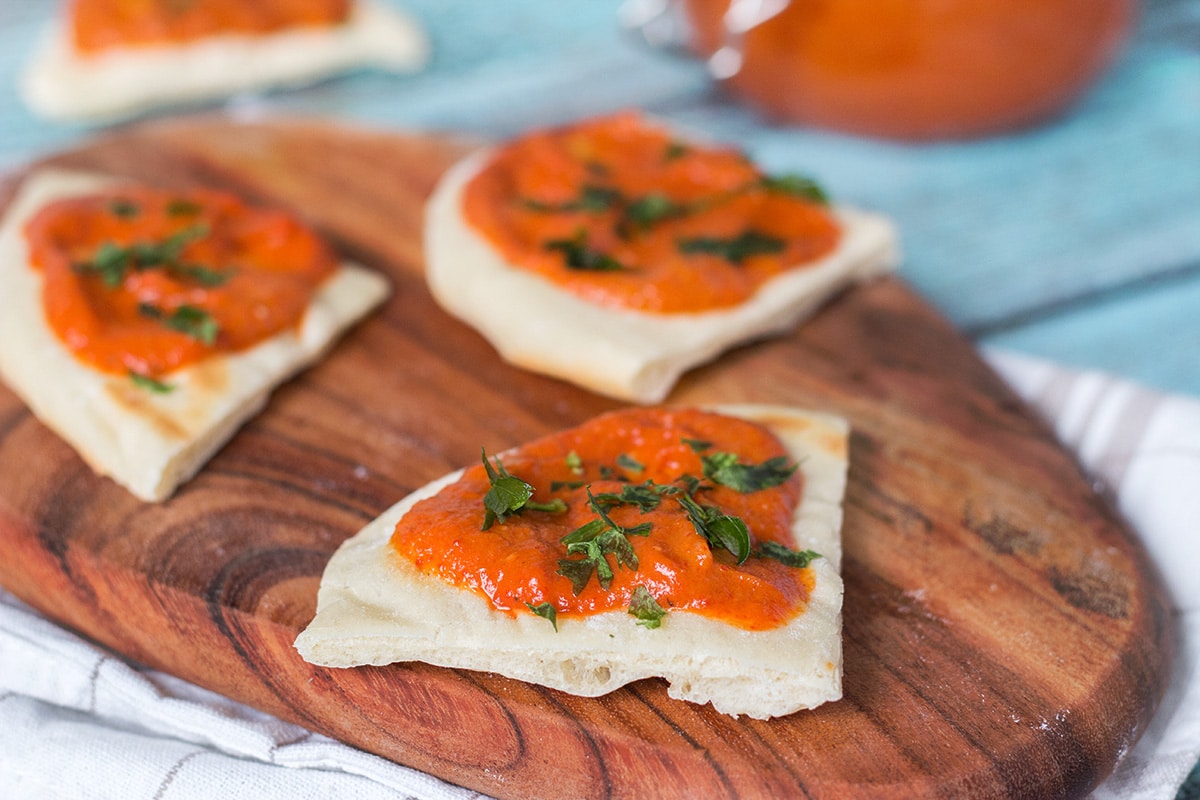 A grill can also be used for roasting red peppers and eggplant. It will give the sauce that extra smoky flavor. You can prepare it at the same time when grilling some meat. Ajvar will serve as a perfect accompaniment to it!
Additional tips for canning
(You need these instructions only if you are interested in preserving Ajvar for winter.)
My recipe doesn't include canning, but if you are interested in it, here is a great guide written by a local. I am providing the summary for you, if you don't have time to read the full text. First of all, he skipped garlic and added it just before serving, because it doesn't keep well. He also changed the olive oil with sunflower oil for the same reason. You can add some olive oil too, but just before serving.
Now to the process. He recommends using small jars, washing them with detergent and hot water. To sterilize place them in a roasting pan and put into the oven for 10-15 minutes at 300°F (150°C). Let cool. In the part when you are simmering Ajvar, do that for 1 hour instead of 20-30 minutes written in the recipe. Fill the jars with the sauce leaving about ½ inch (1cm) headspace. Now put them in the oven and bake uncovered at about 200°F (100°C) for 10 minutes. Pour in sunflower oil until covered. You will discard this oil when opening a jar, so don't be afraid to pour in more. Screw the lids down tightly, line the jars upright, and cover with blankets tucking them in good. Leave for 48 hours. Store in a cool dark place. Ajvar can last for 6 months or more.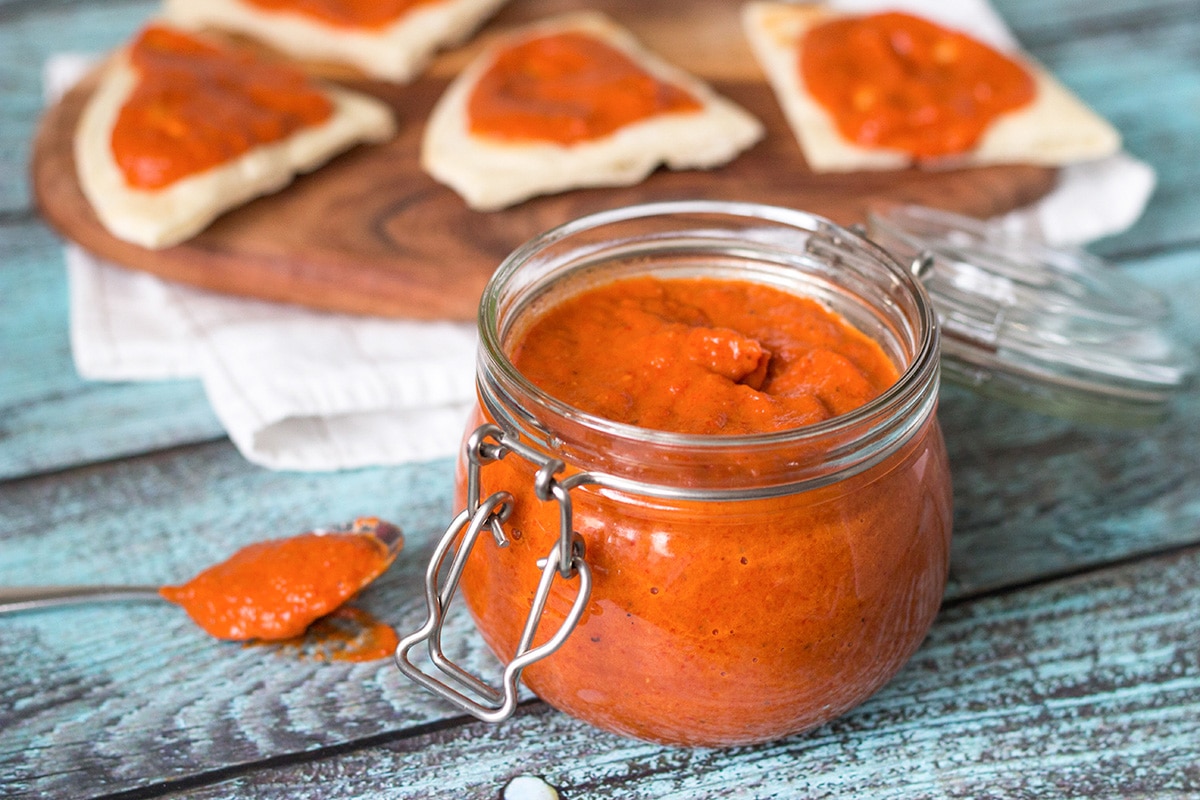 Ajvar - Serbian Red Pepper Relish Recipe
This Serbian red pepper and eggplant relish goes great with grilled meat, as a sauce on pasta, or simply slathered on a piece of bread!

Ingredients
1 ½

lb (700g)

red bell peppers

(about 4 medium peppers)

1

medium eggplant

(about ¾ lb or 350g)

⅓

cup

Olive oil

2

cloves

garlic

2

teaspoons

white vinegar

salt to taste

(start with ½ teaspoon and add more later if needed)

pepper to taste
Instructions
Preheat oven to 475°F (240°C) or alternatively you can use a grill for that. Place red bell peppers and eggplant on a baking sheet and roast for about 30 minutes or until peppers are well blackened. Remove from the oven and add to a bowl. Cover and let steam for about 15-20 minutes until cool enough to handle. Peel, seed and core peppers. Discard eggplant skin too.

Now place the peppers and eggplant to a food processor, adding garlic, oil, salt, pepper and vinegar. Pulse until smooth.

Transfer to a saucepan. Simmer over very low heat for 20-30 minutes, or until thickened, stirring frequently. Remove from heat, taste it, and add more salt and pepper if needed. It can be stored for up to two weeks in an airtight container in a fridge or it can be preserved by canning. You can read canning instructions in the text above. Enjoy!
Nutrition