Papas Arrugadas or Canarian Wrinkly Potatoes is an iconic dish native to the Canary Islands. Potatoes are cooked until their skin wrinkles and becomes crispy. A perfect side dish to any meal!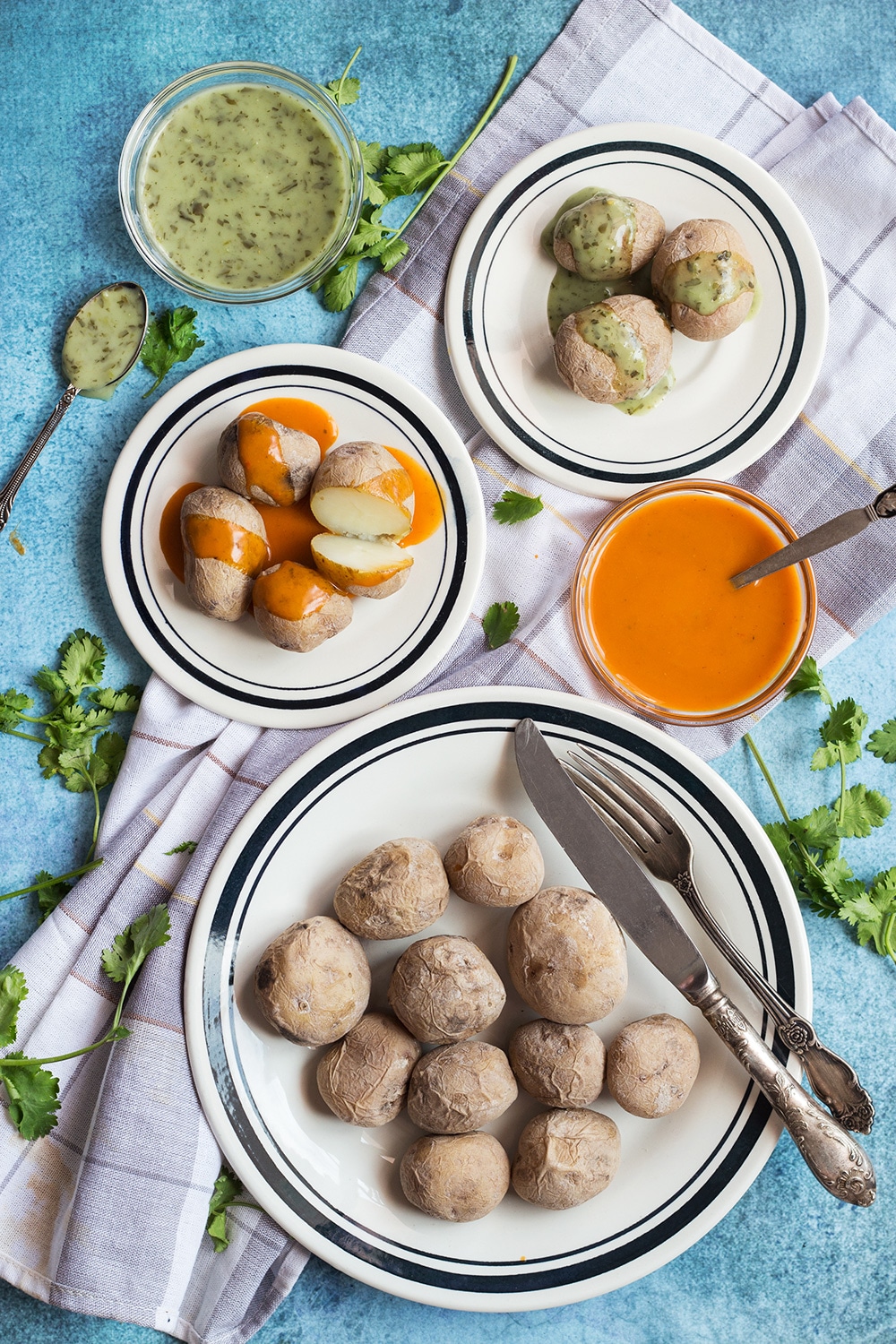 Sorry for posting so little lately, guys, but there is a reason for that. We've been saving some money for a while to go to our very first vacation with a kid (he is 1.5 years old now) and, finally, we did it. We are in Tenerife right now and we will be there for the next 2 months. Quite a lenghty vacation isn't it? Not exactly. It's not a secret that I am working as a freelancer online so I actually plan to work here, not only lay on the beach all days long (a bummer).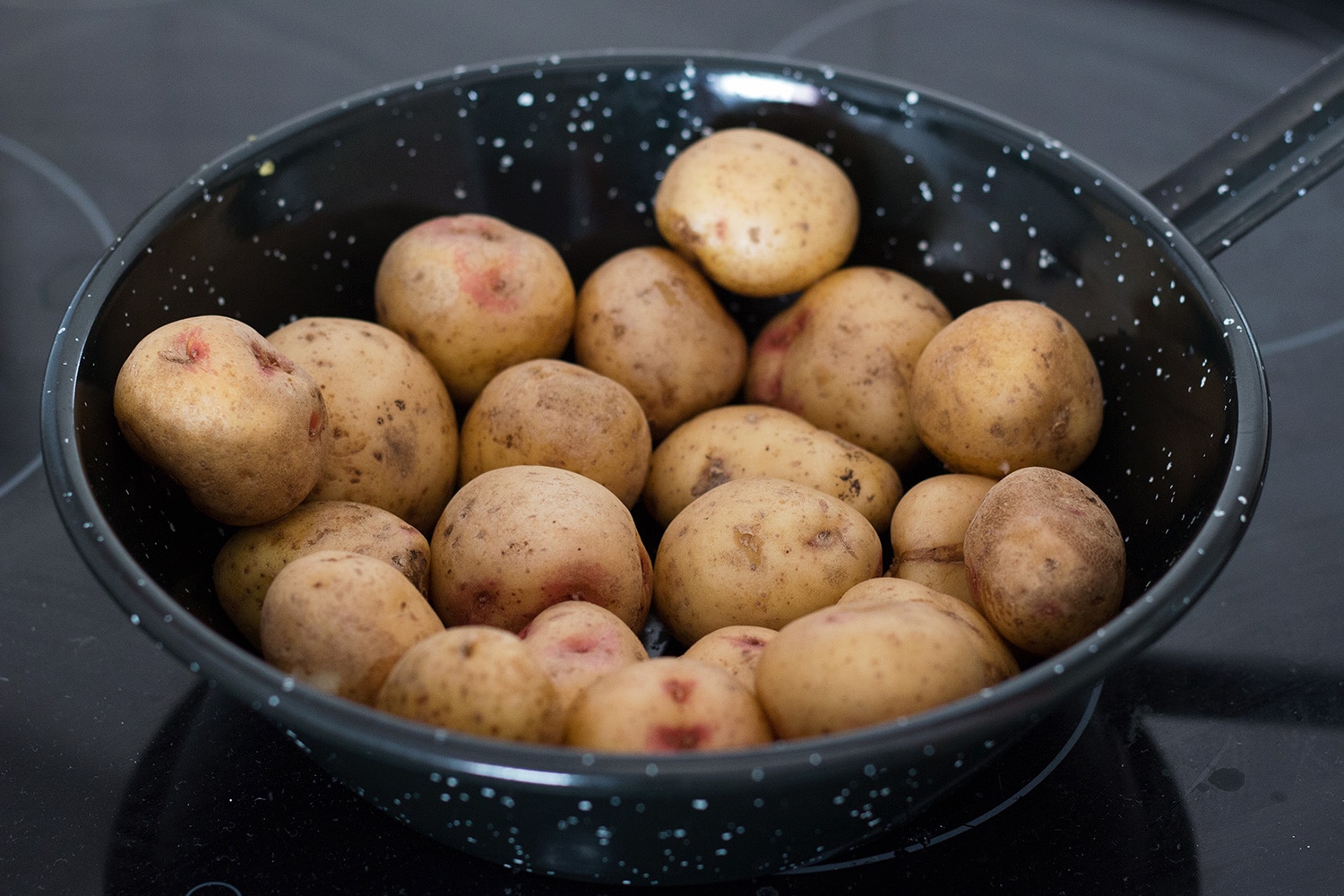 We've picked Tenerife because it is known to have a mild and sunny climate all year round. Our first option was Thailand but it's either a wet season in one half of the country at the moment or crazy hot in another part. We pay attention more to things like that now that we have a small kid. Even here, in Tenerife, he managed to get sick on the fourth day after spending too much time in the pool. Then it was the hospital, then it was a couple of sleepless nights, then I got sick, then my wife got sick... I guess that's how it goes with kids, ha! Or we just got super unlucky. Anyway, now everything is GREAT and I will try to do more posts for you, guys!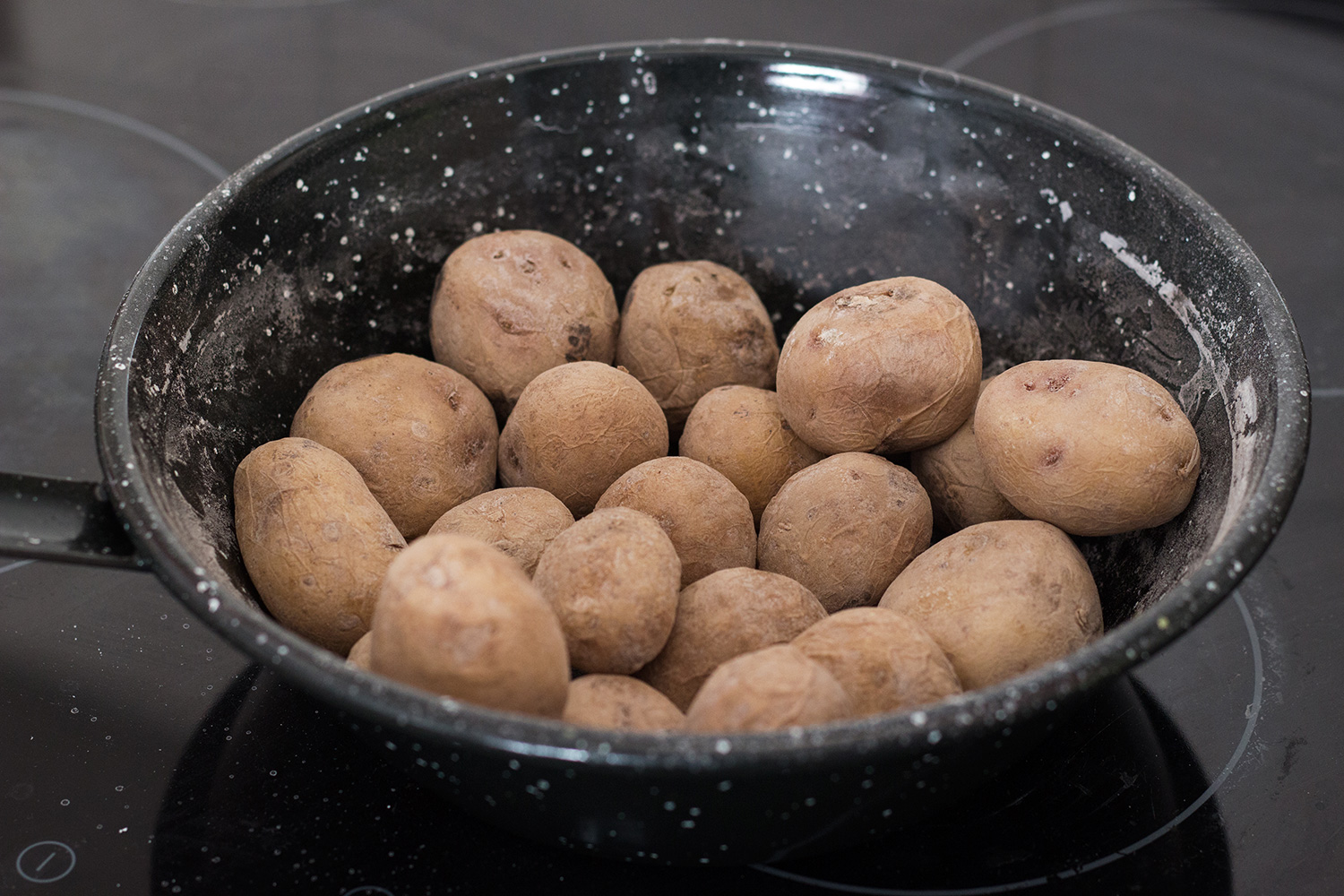 Being here, it would be a crime to sleep on all the gorgeous foods Canary Islands offer. One of the most traditional and well known dishes is Papas Arrugadas also known as Canarian Wrinkly Potatoes. Be sure that you would see them in every single bar or restaurant in Tenerife if you would ever visit this beautiful island.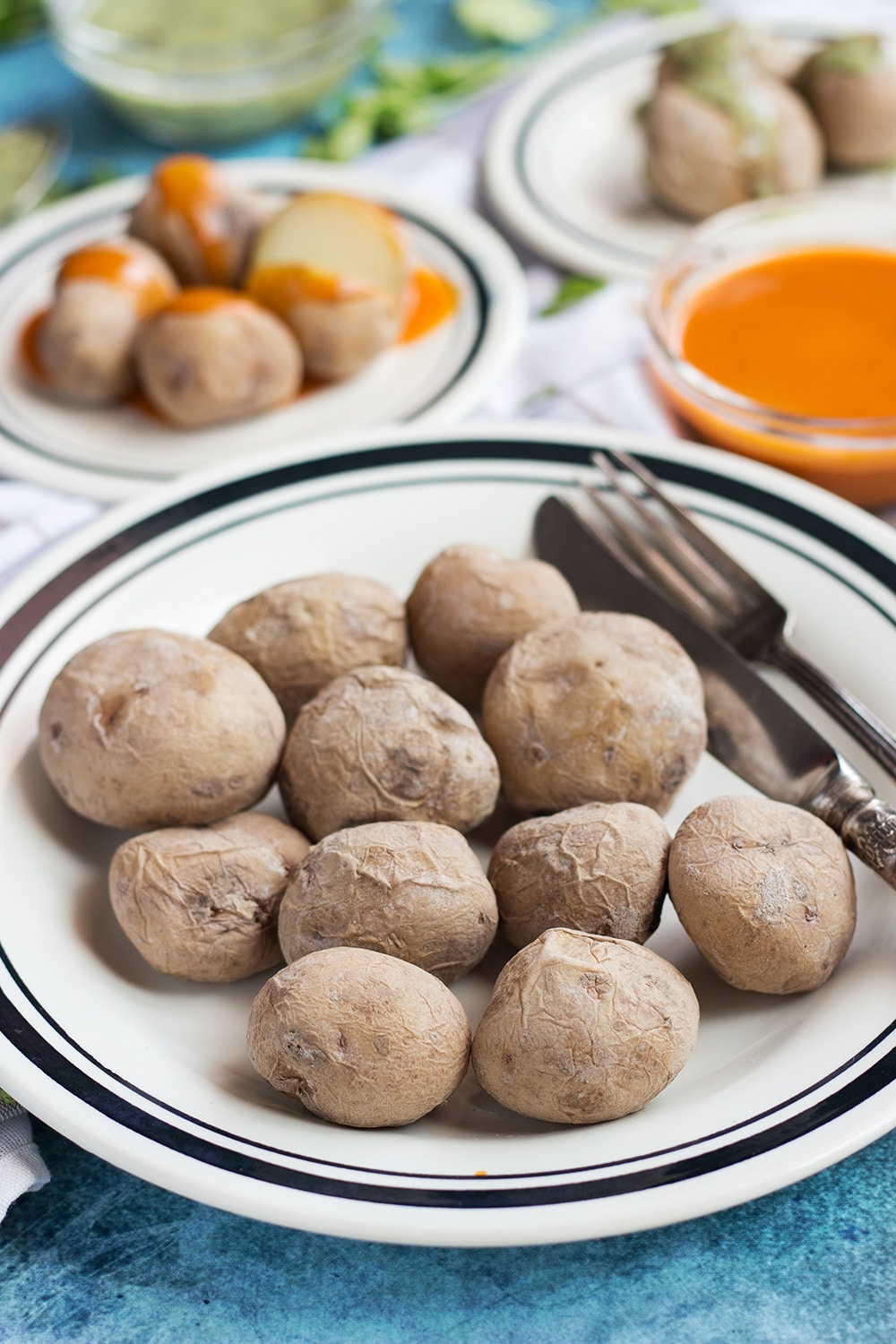 The dish itself is super simple. Basically, you just boil potatoes in a generously salted water (usually small new potatoes are used) with skin on, then you remove the cooking water and heat them on a very low heat until they are dry, wrinkled, and a fine salty crust appears. It's interesting that originally potatoes were cooked in seawater! I would love to try that someday.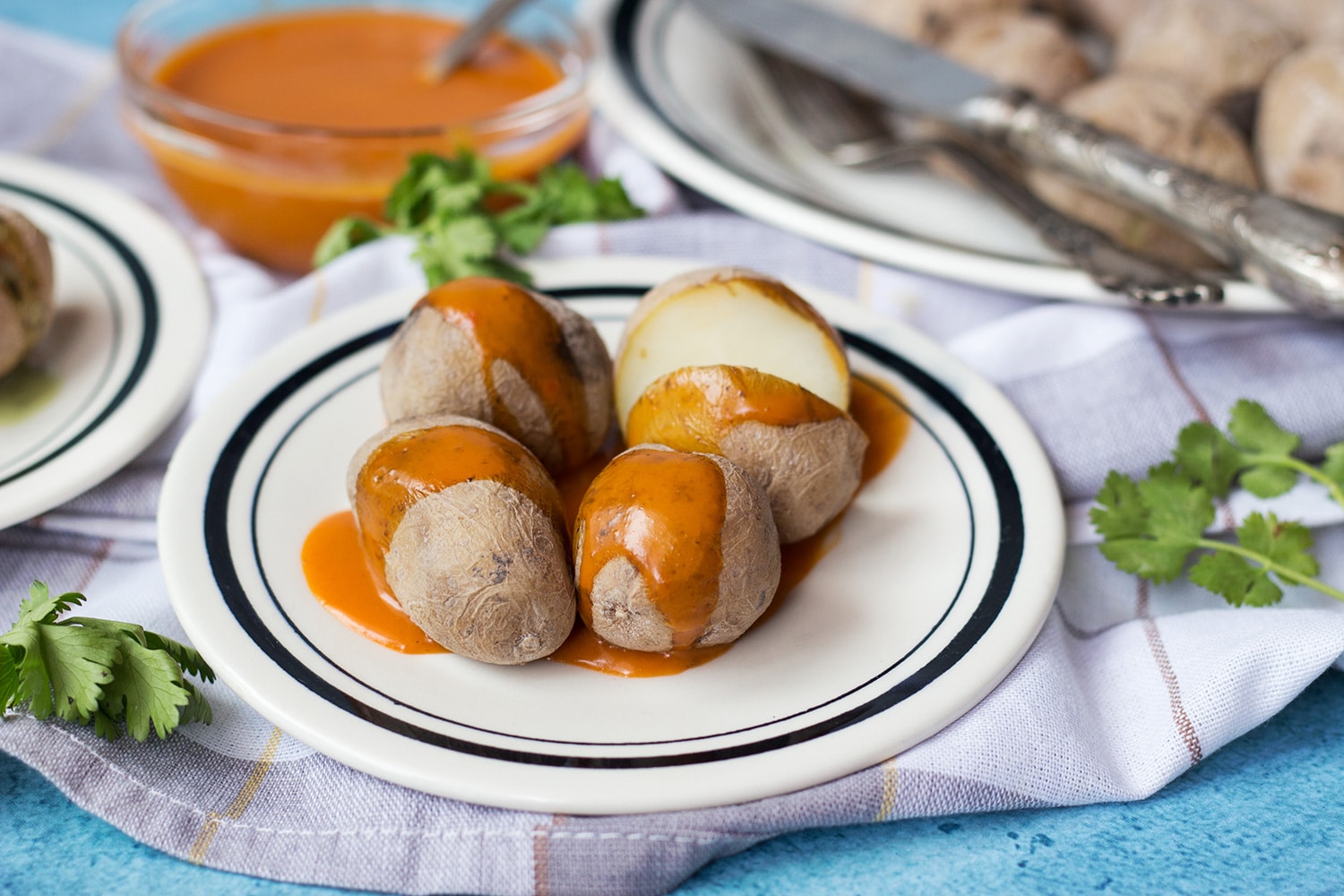 Usually Papas Arrugadas are served with a Mojo Rojo (red) sauce made from either red bell peppers or chili peppers if you love some heat. Sometimes they can also be served with a Mojo Verde (green) sauce made from cilantro and / or parsley. Here are the recipes I tried so far that are pretty similar to the sauces I tried in Tenerife:
While I am here, in Tenerife, I'm buying these sauces from local grocery stores to save some time (the ones you see on the photos are store-bought as well) but when I'll get back home I will surely keep making them at home because I'm telling you, these sauces ARE SOMETHING.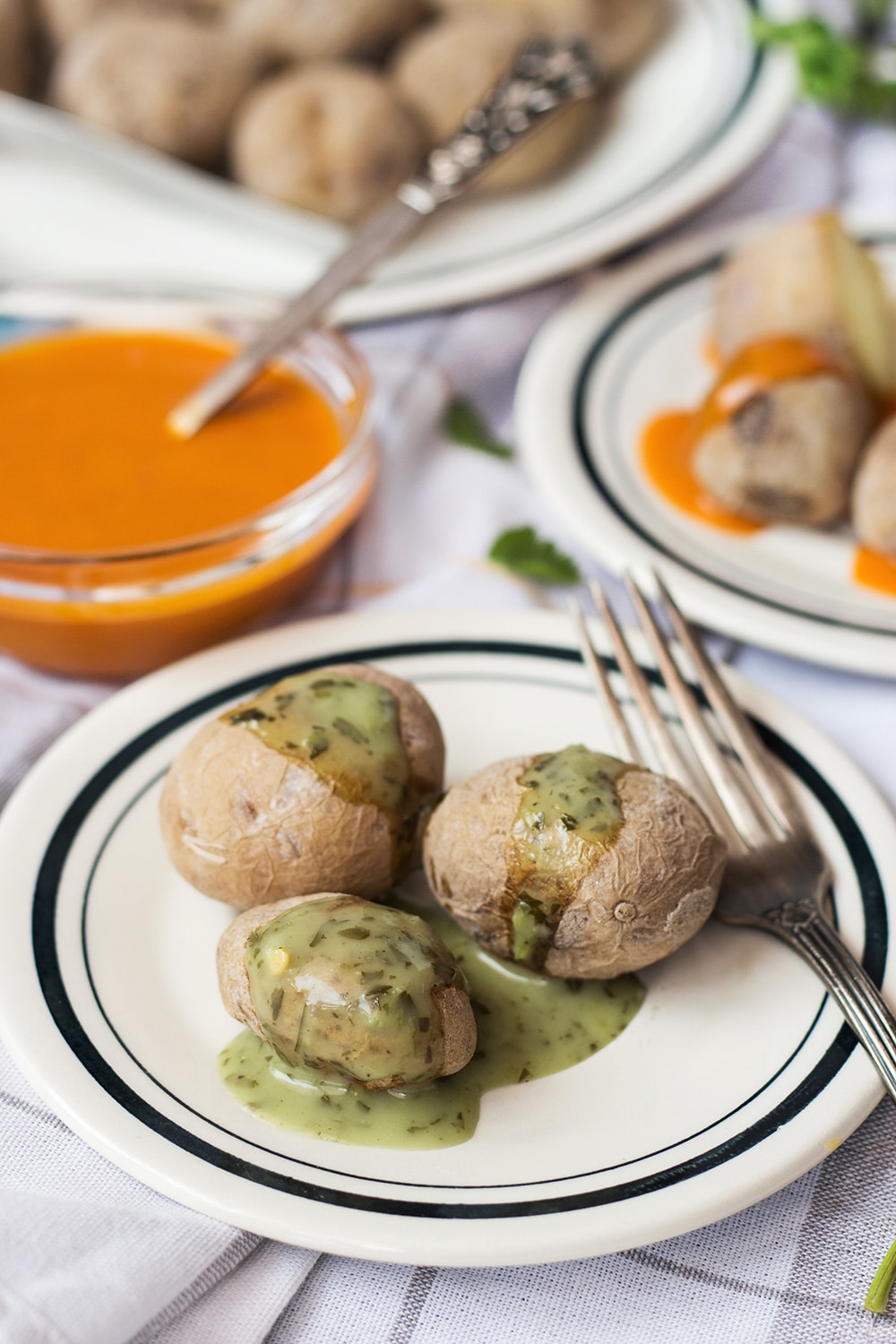 Canarian wrinkly potatoes make a great side dish to literally anything. Today we tried them with some stir-fried turkey with veggies and it was heavenly. Be sure to make one of the above sauces together, though, because Papas Arrugadas are way better with them. Oh and don't worry about the salt! It doesn't ruin the potatoes, it only makes them better.
More recipes from Tenerife to come!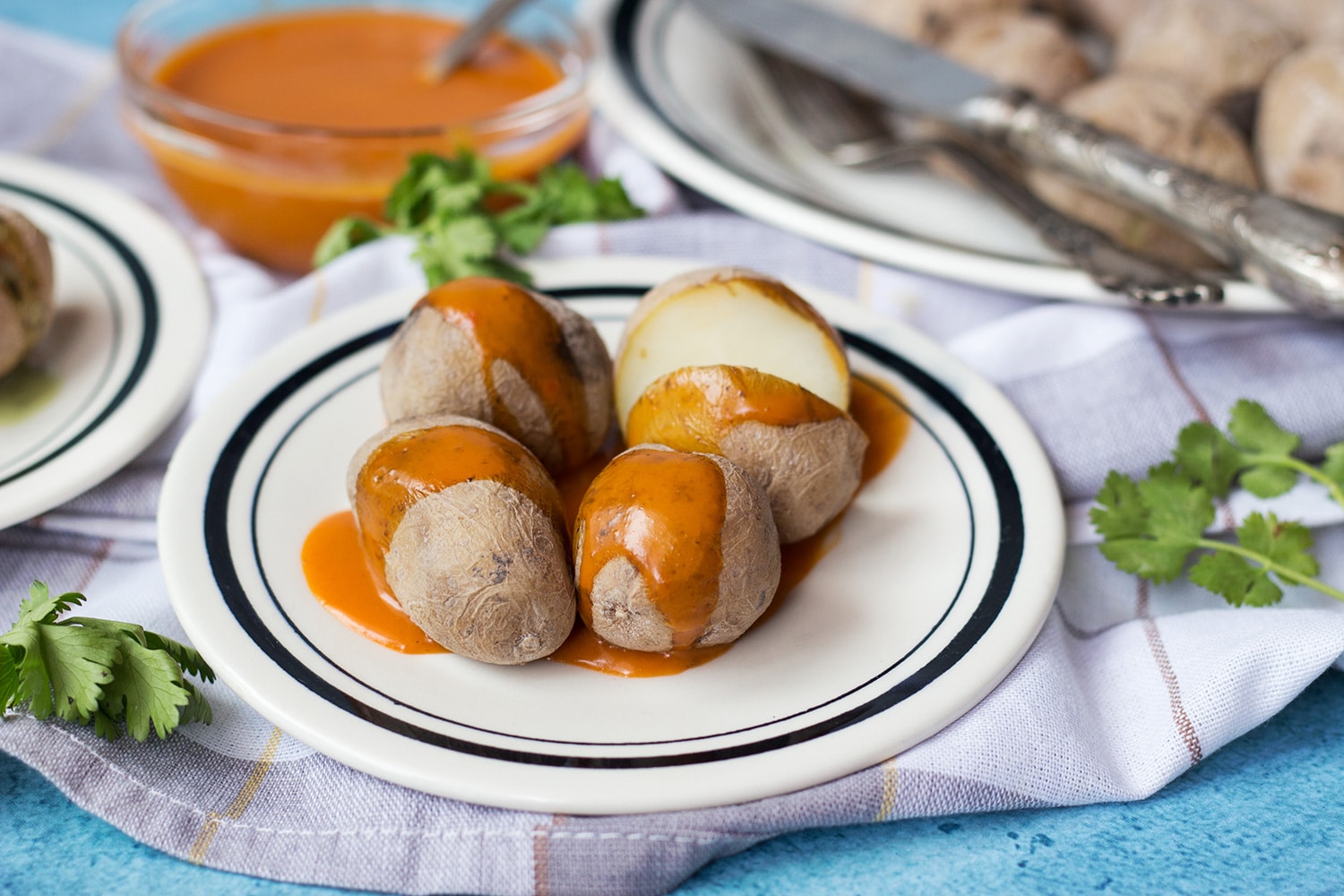 Canarian Wrinkly Potatoes - Papas Arrugadas
Canarian Wrinkly Potatoes get their name from the wrinkly, crispy skin which appears after two phases of cooking. A perfect side dish!
Instructions
Wash and scrub the potatoes leaving the skin on. Put them in a pan (try to arrange in a single layer) and add the salt and water to cover.

Bring to a boil and cook, partially covered, on a low heat, until tender. It should take about 20 minutes, depending on the size of your potatoes.

Pour off the water and keep cooking over a very low heat until the potatoes are dry and they skins are wrinkled. Don't forget to shake the pan occasionally so the potatoes don't burn. Serve with some sauce. Enjoy!
Notes
This recipe works the best with new potatoes because of the thin skin.
Nutrition
Calories:
131
kcal
Carbohydrates:
29.7
g
Protein:
3.4
g
Fat:
0.2
g
Sugar:
1.3
g
Vitamin C:
46.2
mg
Nutrition Facts
Canarian Wrinkly Potatoes - Papas Arrugadas
Amount Per Serving
Calories 131
Calories from Fat 2
% Daily Value*
Fat 0.2g0%
Carbohydrates 29.7g10%
Protein 3.4g7%
Vitamin C 46.2mg56%
* Percent Daily Values are based on a 2000 calorie diet.