A cousin of the famous Gazpacho, Ajo Blanco is a cold soup coming from Spain. Featuring very finely ground almonds, garlic, bread, olive oil, vinegar, and garnished with grapes, it's perfect refreshment for scorching summer days!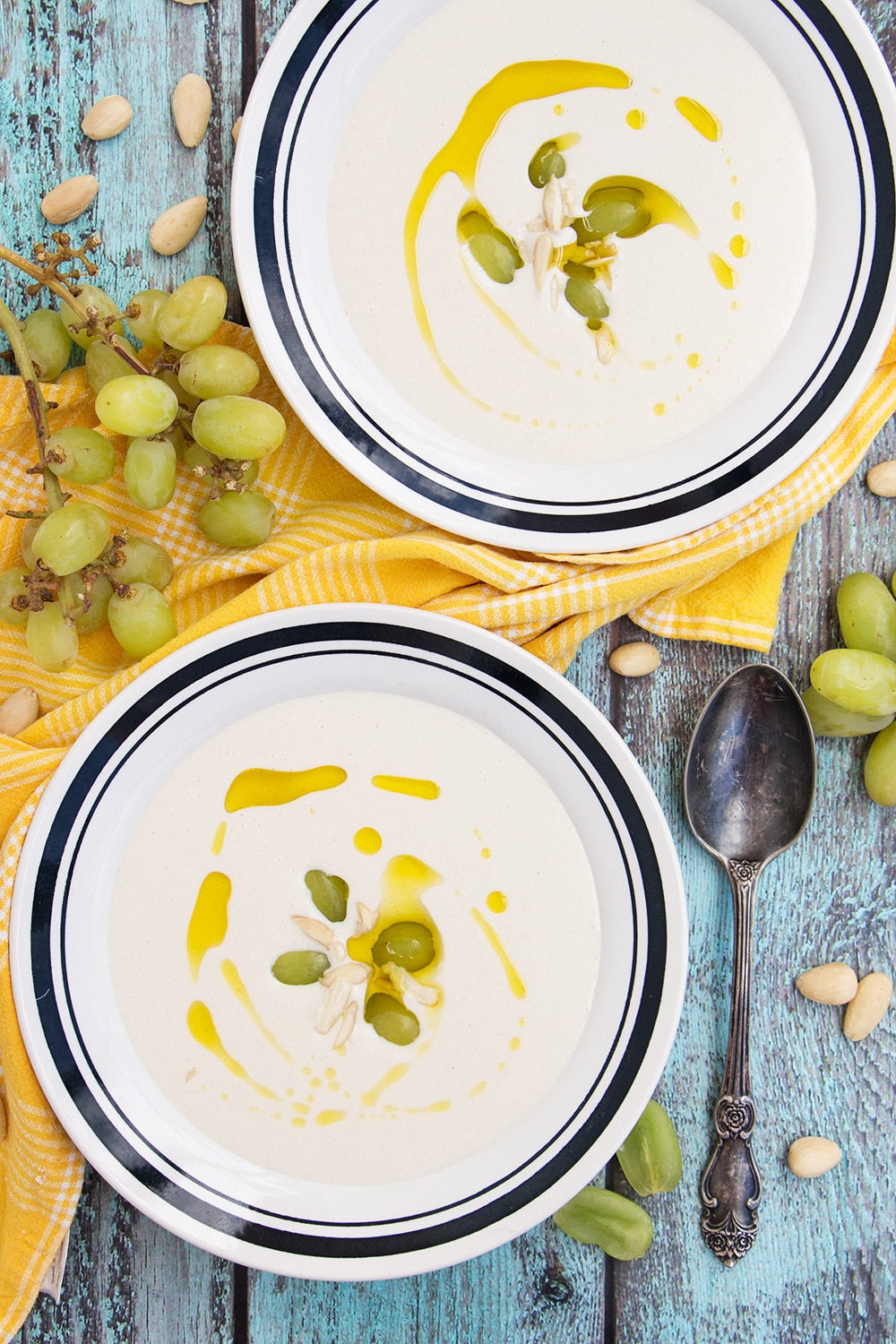 Being here in Tenerife, I am continuing the exploration of Spanish cuisine. We see so many awesome foods served in bars and restaurants while strolling down the streets every single day my eyes don't know where to look!
That said, we don't eat out often. There are a few reasons for that. First, our 1.5 year old kid is super active and he just can't sit at one place for more than a couple of minutes. It's really hard to enjoy food together with my wife because one of us usually has to run after the baby. That's not how I picture a nice meal at a restaurant, ha ha!
Another reason is the price. Staying here for 2 months and paying an arm and a leg for the apartment, our budget is tight. We could stay less and live like kings but our choice is always a lengthier stay even if it's a modest one. We have nothing against "getting our hands dirty" and cooking at home. To be frank, we even like exploring local grocery stores in search for interesting products we have never tried before. The most important thing is that we are here enjoying sun, the ocean, and mindblowing views!
It doesn't mean cutting on restaurants completely, though. Usually we visit them on scorching days when we are out at the beach and we need something to freshen us up. It could be a smoothie, an ice cream, or a cold soup! If you didn't know that before, Spain is known for its chilled soups.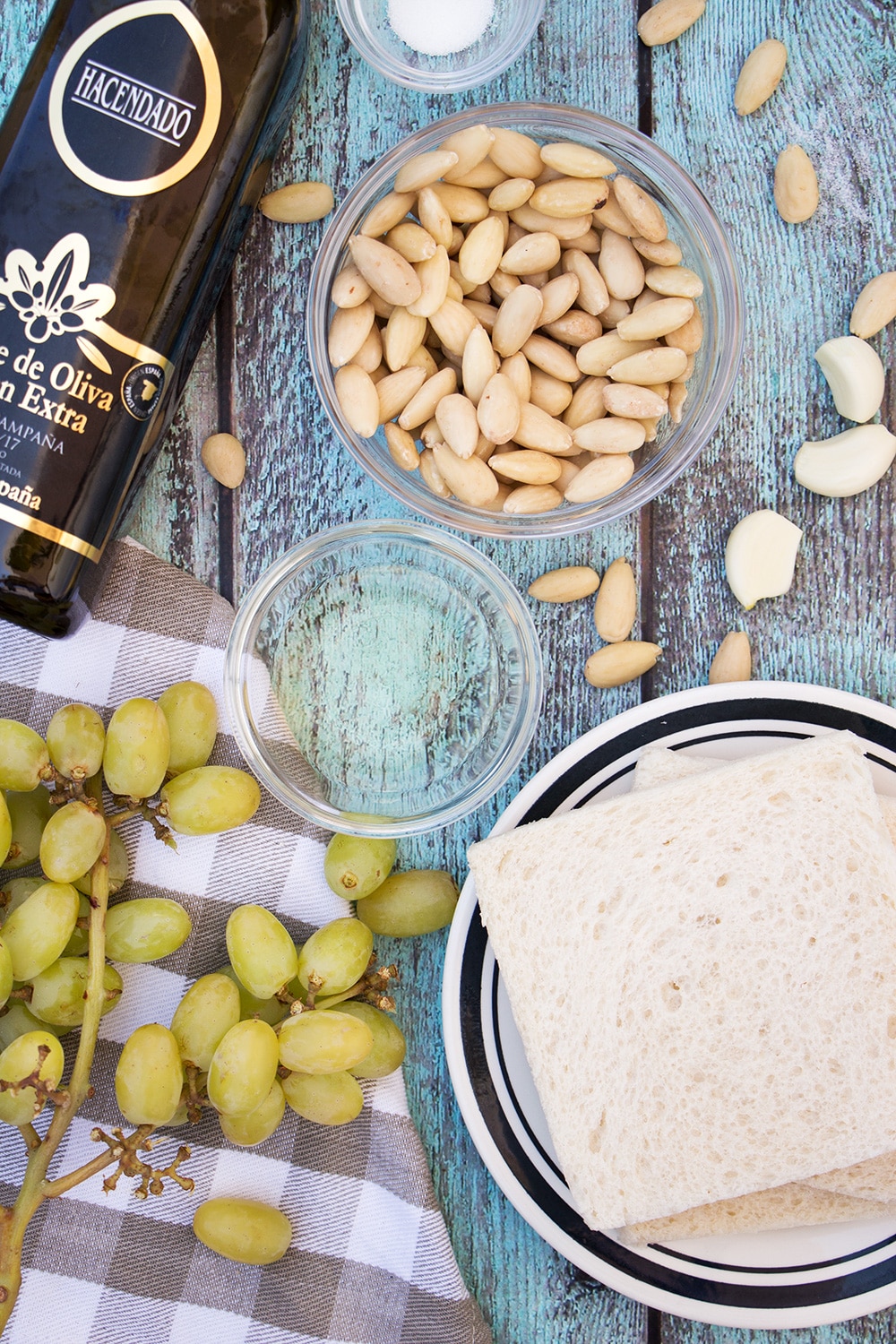 The most famous one is Gazpacho. You must have heard this name. It's a tomato based soup packed with other veggies, stale bread, olive oil, and vinegar. Another one is Salmorejo. It's also based on tomatoes but is richer, thicker, and may be garnished with some ham. Both these soups are exquisite (I tried both of them already here) but today I want to talk about their tomato-less cousin Ajo Blanco.
Ajo Blanco also features stale bread, vinegar, olive oil but is also packed with almonds and garlic. By the way, it's the oldest one from all the Spanish chilled soups and it existed even before tomatoes were brought to Europe. What a pity that Gazpacho stole all the spotlight from his big brother. Ajo Blanco is even called white gazpacho by some people.
It's interesting that the soup takes its name from garlic (Ajo Blanco literally translates as white garlic) even though the almonds are the ones that dominate here.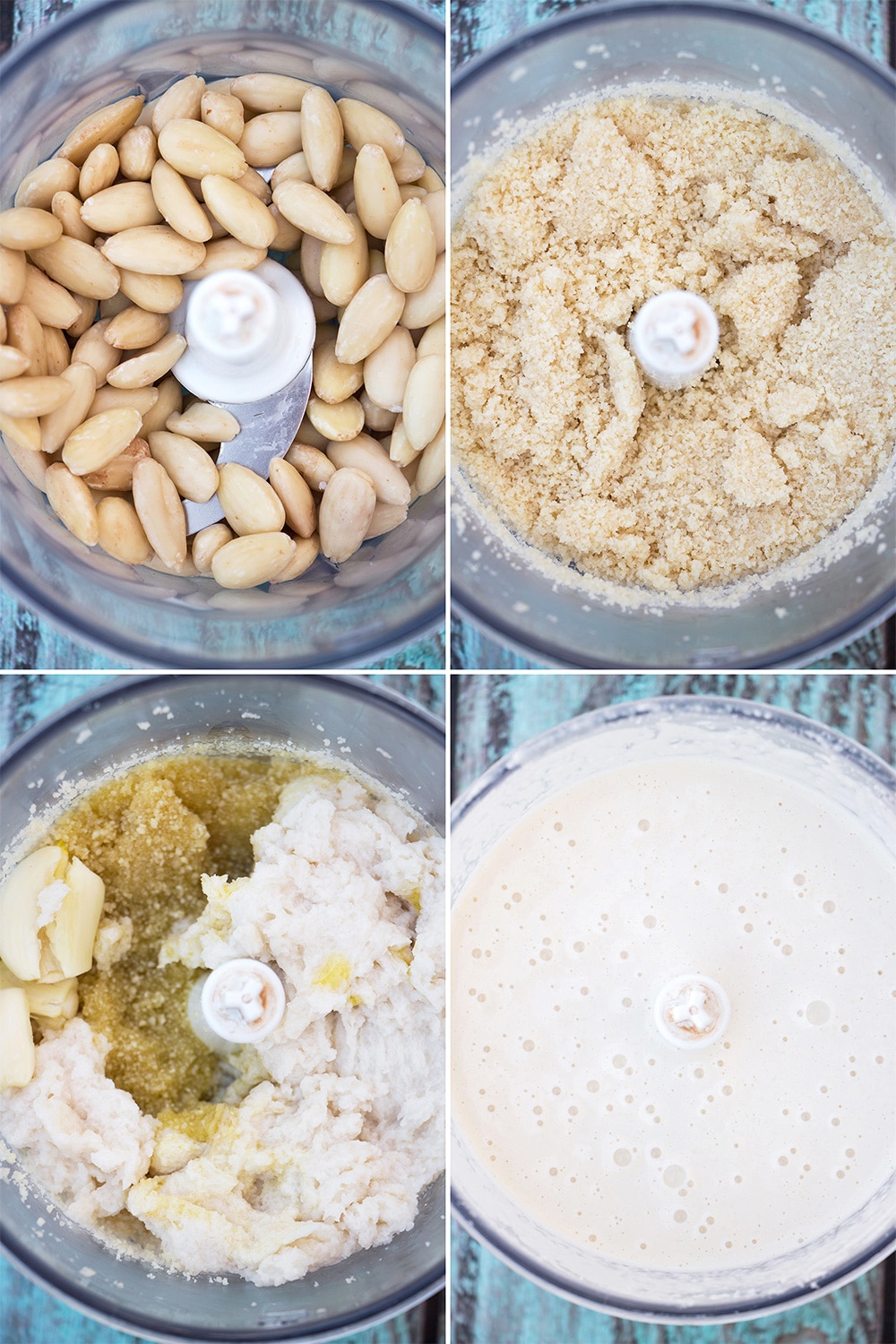 This Spanish almond & garlic soup is crazy easy to make. Even my kid would make it. Seriously. All you have to do is just throw almonds, bread, garlic, olive oil, cold water, salt, and vinegar into a food processor and blend. That's it! Then you either chill it or not and serve. It can't be easier, guys! You will have some job to do if you won't be able to get blanched almonds as this soup requires skins to be removed.
Ajo Blanco - Things to Consider
The amount of garlic. There is no rule on how much garlic you should use for the soup. My recipe suggests half a clove per person but you can easily up it to one clove per person if you like more kick.
The toppings. Usually Ajo Blanco is served with some fruit thrown inside. I find it to be a little bit conflicting because the soup is savory and I don't feel it needs any sweetness but my wife loved it, though. The most popular option is grapes but I also saw some recipes with apples and even fresh figs! The idea I loved the most and the one I'm trying next is adding some cucumber. Somehow I feel that it will fit great here!
The amount of water. Once again there is no strict rule. Just keep adding cold water with a food processor running until you get a consistency you like. Some recipes add milk instead of water or, for example, soak the bread in milk.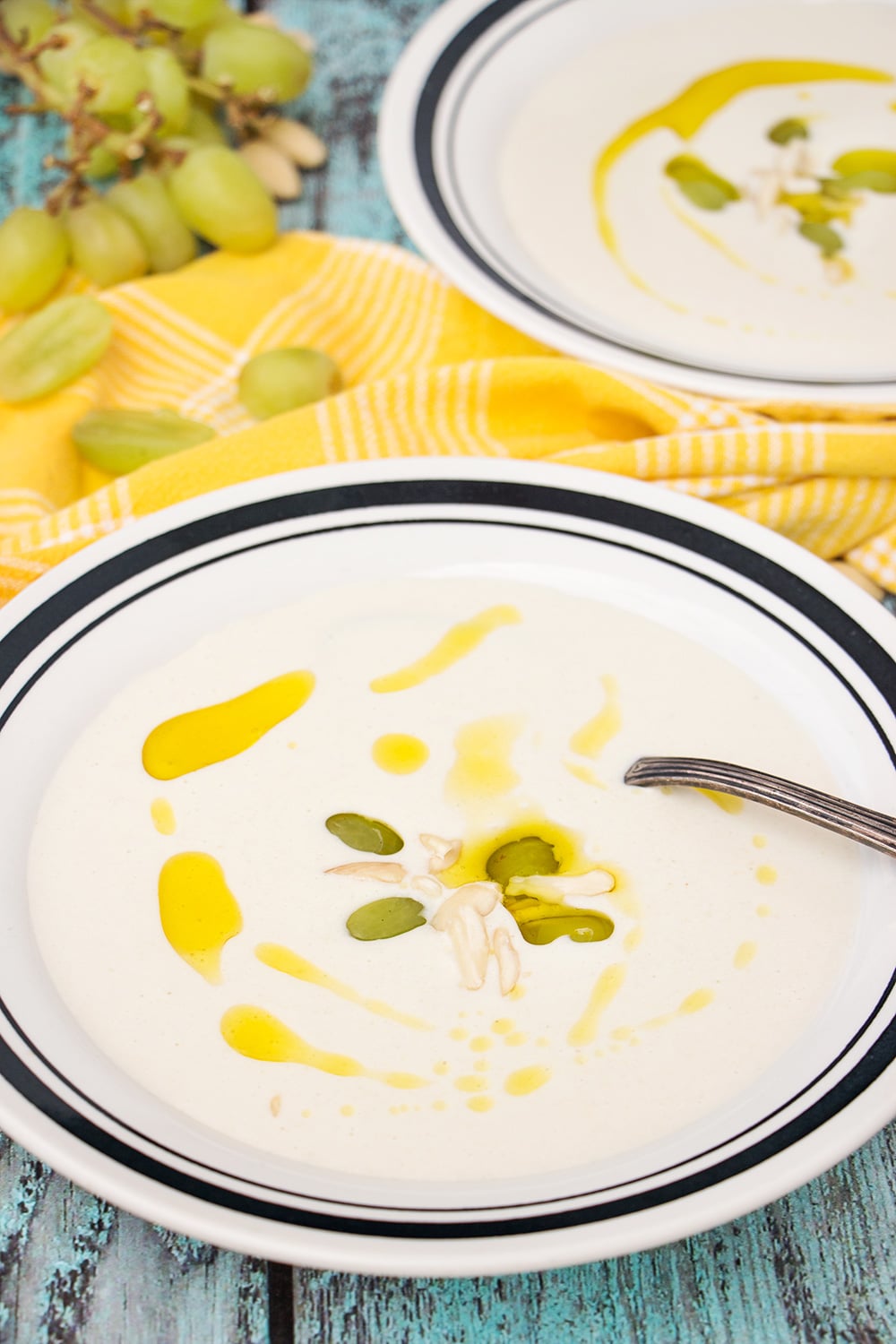 To sum it up, I find Ajo Blanco to be a perfect refreshment for hot summer days. Sometimes it's nice to alternate sweet smoothies, juices, and ice creams with something savory. Try it and let me know how you liked it, guys!
Looking for more cold refreshing soups? Check out this Cold Beet Soup aka Cold Borscht coming from my country!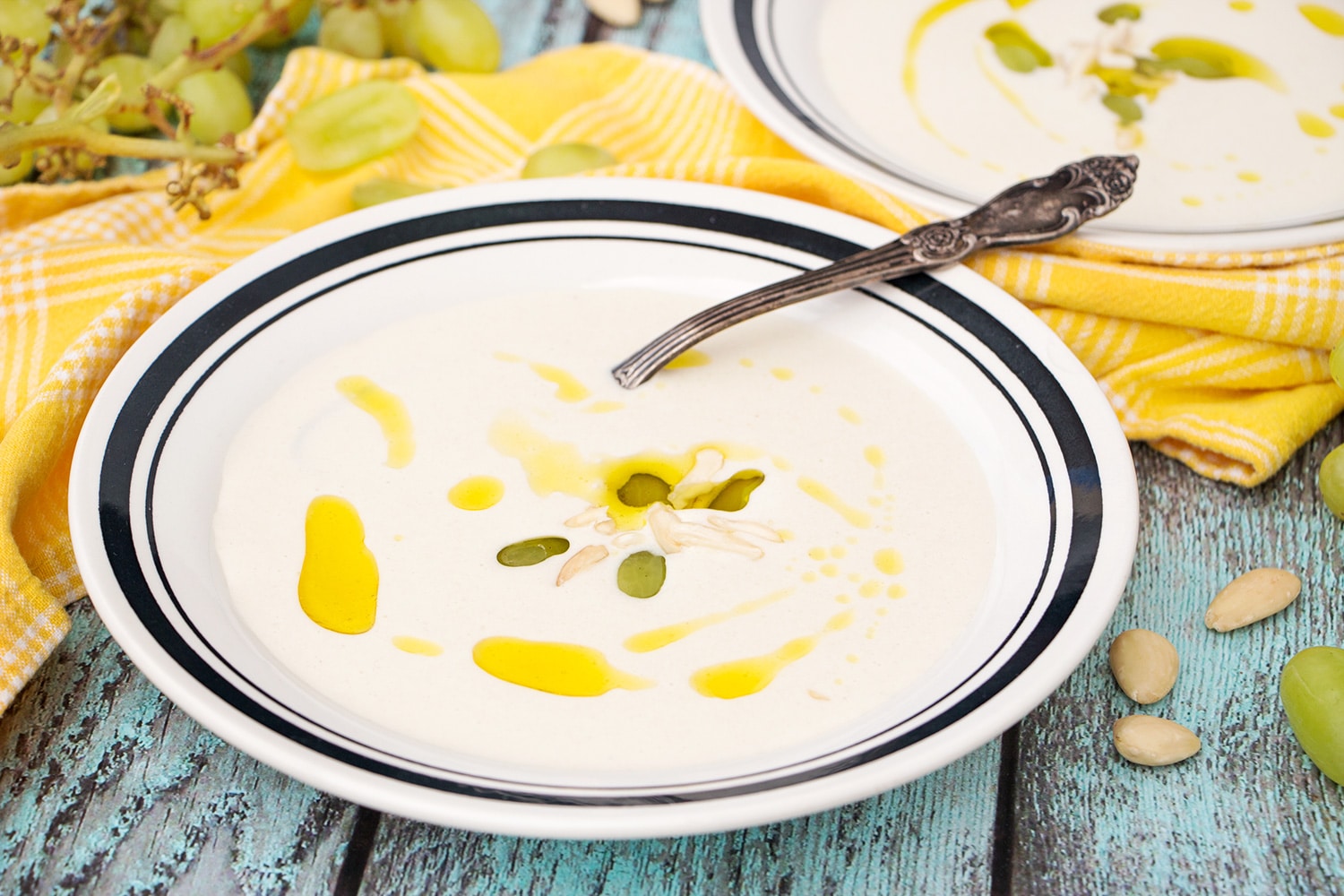 Ajo Blanco - Spanish Cold Almond & Garlic Soup
Ajo Blanco is the Spanish answer to the heat. This chilled almond and garlic soup is super easy and requires only 10 minutes to make!
Ingredients
3

slices (about 3 oz. or 100g)

crustless white bread

9

oz. (250g)

blanched almonds

, plus more for garnish

3

cloves

garlic

, crushed

½

cup

Olive oil

3

cups

cold water

salt

, to taste

2-3

tablespoons

sherry vinegar or white wine vinegar

seedless white grapes
Instructions
Soak the bread in water for a couple of minutes.

In a food processor, add the almonds and process until finely ground. Add the soaked bread, garlic, olive oil, and process well. With the food processor running, gradually add the water until you get a lightly creamy texture. Season with salt and add the vinegar.

Chill for a couple of hours and serve in bowls drizzled with oil and garnished with almond slices and grapes. Enjoy!
Nutrition
Calories:
446
kcal
Carbohydrates:
16.6
g
Protein:
10.6
g
Fat:
39.7
g
Sodium:
77.9
mg
Sugar:
2.7
g
Vitamin C:
0.8
mg
Nutrition Facts
Ajo Blanco - Spanish Cold Almond & Garlic Soup
Amount Per Serving
Calories 446
Calories from Fat 357
% Daily Value*
Fat 39.7g61%
Sodium 77.9mg3%
Carbohydrates 16.6g6%
Protein 10.6g21%
Vitamin C 0.8mg1%
* Percent Daily Values are based on a 2000 calorie diet.
* This post contains affiliate links, thank you for the support in keeping Cooking The Globe up and running!