If you like eggs for breakfast, Vegetable Egg Foo Young is something you will really love. This Chinese-American omelet is packed with bean sprouts, water chestnuts, mushrooms, and more. It's also drowned in a delicious gravy!
Here should be a story about me being a big fan of Chinese food, regularly visiting Asian restaurants, falling in love with Egg Foo Young, and finally deciding to replicate it at home. Nope. It won't be. While I do love Asian food and particularly Chinese cuisine, I have never tried, seen, or even heard of this dish until this week. How so? Well, there is a super easy explanation.
You see, Egg Foo Young is not actually a Chinese dish. It's more like a food created by Chinese immigrants many years ago specifically for American palates. Gravy gives that fact away easily. That's why you most probably won't find this dish in Asian restaraunts in Europe or anywhere else except the United States. That's why I have never seen it on the menus. Plus, it's not so popular anymore. The authentic Chinese cuisine has plowed its way to the top displacing Chinese-American creations.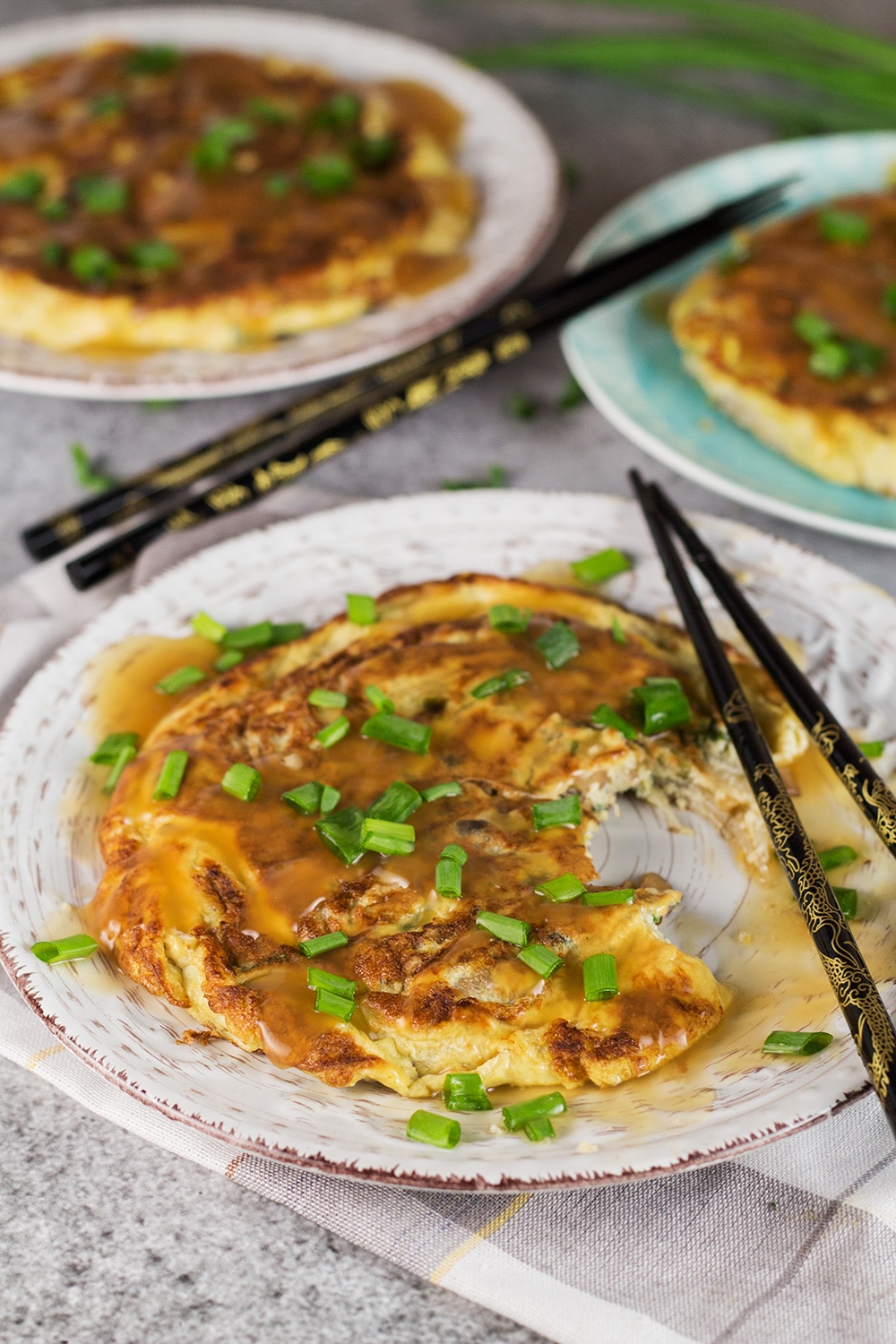 Ok, Igor, but how the hell it's made it into your kitchen then, you'll ask me. To make it short, my favorite food-related magazine is Lucky Peach. I have almost all the issues in my drawer (there is 22 of them at the moment). Not such a long time ago I purchased their book All About Eggs. Great book, by the way. That's how I got familiar with Egg Foo Young and decided to try it. I'm kinda a fan of various omelets and fried egg dishes so I couldn't resist. Feel free to check out more awesome fried egg dishes I made for the blog:
So many words and I haven't even explained yet what Egg Foo Young is all about! Sorry for that. Basically, it's an omelette shaped into a disk and stuffed with everything you have in the fridge. Meat, veggies, seafood, anything! Of course there are some staples that are almost always added inside like bean sprouts, onions but there are no strict rules. Oh, and don't forget about the gravy! It's a must.
The day I planned making this Chinese goodness, my wife's sister called and said that she will visit us later in the evening. She is vegetarian so I altered the recipe to suit her needs. Not a problem at all, I just left out the meat and kept everything else the same! Vegetable Egg Foo Young. Sounds good to me!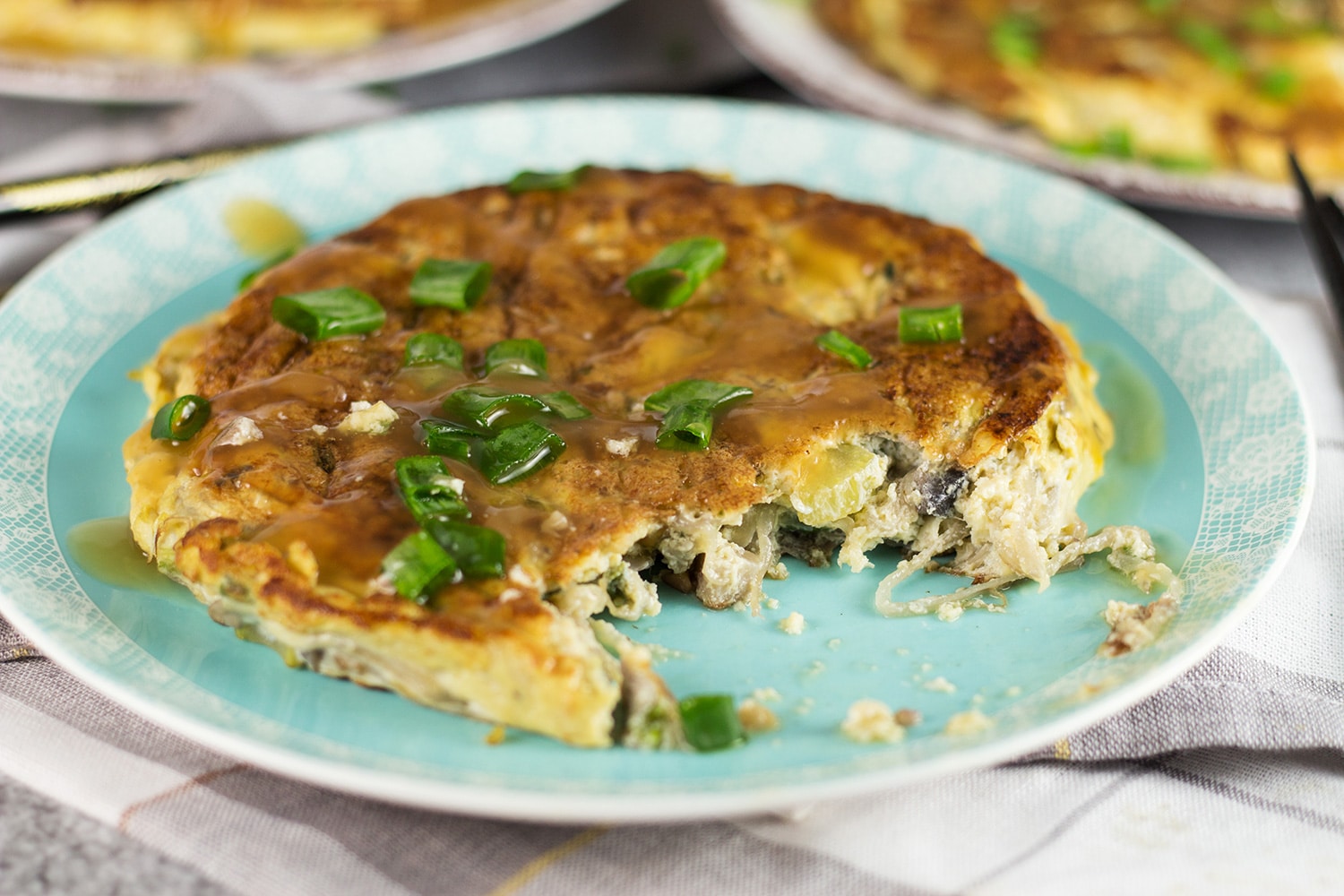 The biggest problem was to decide when to stop adding things. Mushrooms, bean sprouts, water chestnuts, green onions, celery... These are the ones that made my short list. I wanted to get a balance between veggies and eggs and I got it perfectly right. The end result is a crazy delicious omelet that makes a great meatless weekend breakfast. Try this Vegetable Egg Foo Young, guys, and let me know how you liked it in the comments section below!
P.S. I would recommend to use fresh bean sprouts if you can get ones.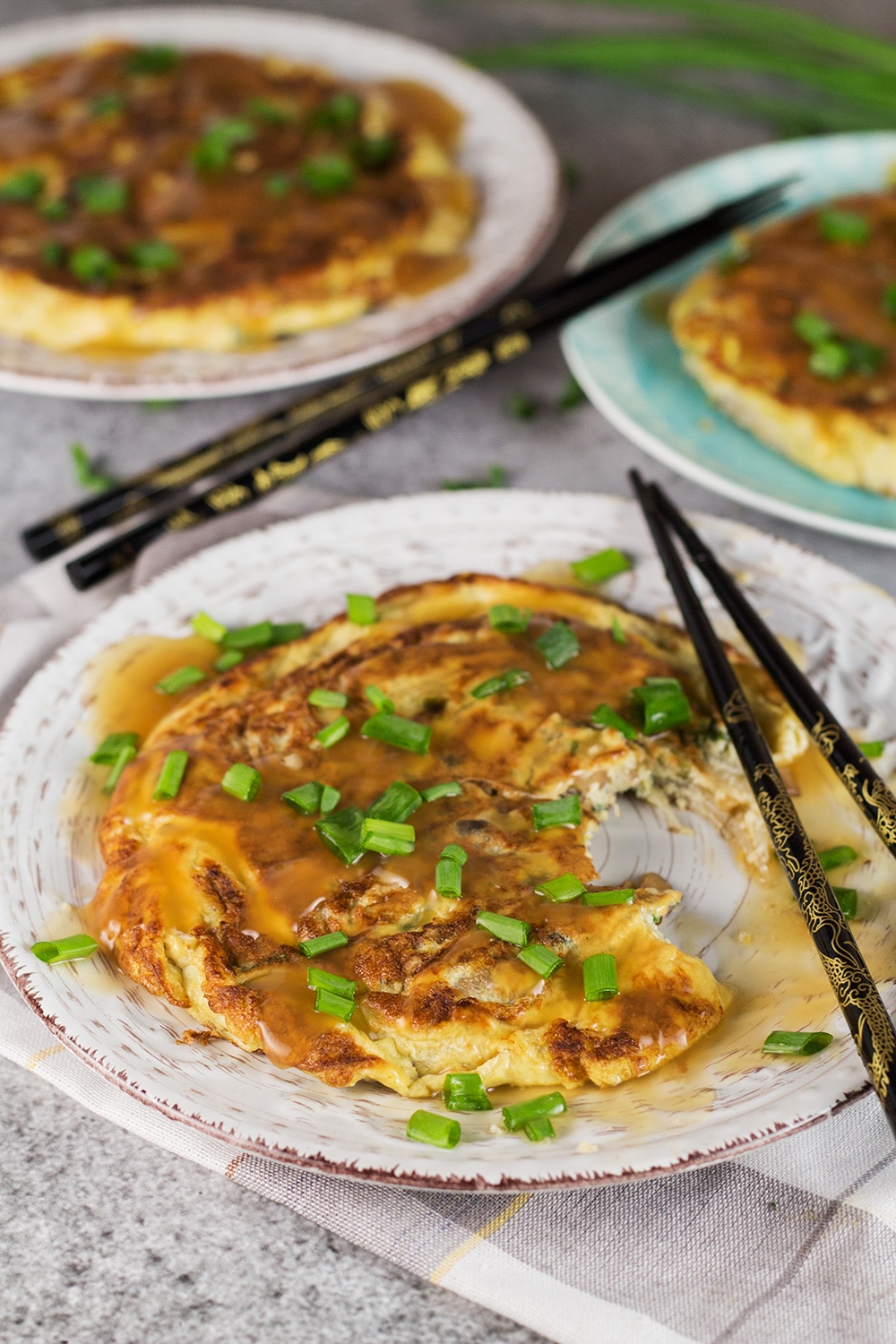 Vegetable Egg Foo Young
Vegetable Egg Foo Young is a meatless variation of a well known Chinese-American dish. Perfect for a weekend breakfast!
Ingredients
For the omelet:
1

can

bean sprouts

, drained (or use fresh bean sprouts instead)

4

water chestnuts

, chopped

½

cup

chopped green onions

½

cup

chopped celery

1

cup

mushrooms

6

large

eggs

1

teaspoon

sesame oil

½

teaspoon

salt
For the gravy:
1

cup

chicken broth

1

tablespoon

soy sauce

2

teaspoons

sugar

2

teaspoons

vinegar

1

tablespoon

cornstarch

2

tablespoons

water
Instructions
The omelet:
In a skillet, cook the bean sprouts, chestnuts, green onions, celery, mushrooms for about 5 minutes, until slightly softened. Transfer to a plate and let cool.

In a big bowl, add the eggs, sesame oil, and salt. Beat with a fork to combine. Add the cooked veggies and mix well.

Add some oil to a skillet. Divide the egg-vegetable mixture into 3 parts or more if you like and cook on both sides until set. I recommend using a smaller skillet for this. Repeat with all the remaining mixture.
The gravy:
Heat the broth, soy sauce, sugar, and vinegar in a saucepan. Mix the cornstarch and water in a small bowl and add to the pan. Cook, stirring, until the gravy has boiled and thickened a little bit. Serve over the omelet. Enjoy!
Notes
The amounts of the veggies are not strict for this recipe. You can use more or less any of them.
The gravy adapted from Food.com
Nutrition
Calories:
419
kcal
Carbohydrates:
49.1
g
Protein:
28.2
g
Fat:
12.6
g
Cholesterol:
374.4
mg
Sodium:
576.9
mg
Sugar:
6.6
g
Vitamin A:
950
IU
Vitamin C:
6.6
mg
Nutrition Facts
Vegetable Egg Foo Young
Amount Per Serving
Calories 419
Calories from Fat 113
% Daily Value*
Fat 12.6g19%
Cholesterol 374.4mg125%
Sodium 576.9mg25%
Carbohydrates 49.1g16%
Protein 28.2g56%
Vitamin A 950IU19%
Vitamin C 6.6mg8%
* Percent Daily Values are based on a 2000 calorie diet.
* This post contains affiliate links, thank you for the support in keeping Cooking The Globe up and running!