Filled with cabbage and topped with pork slices, these Japanese Pancakes (Okonomiyaki) make a quick and filling dinner. They require only 20 minutes to make and are full of flavor!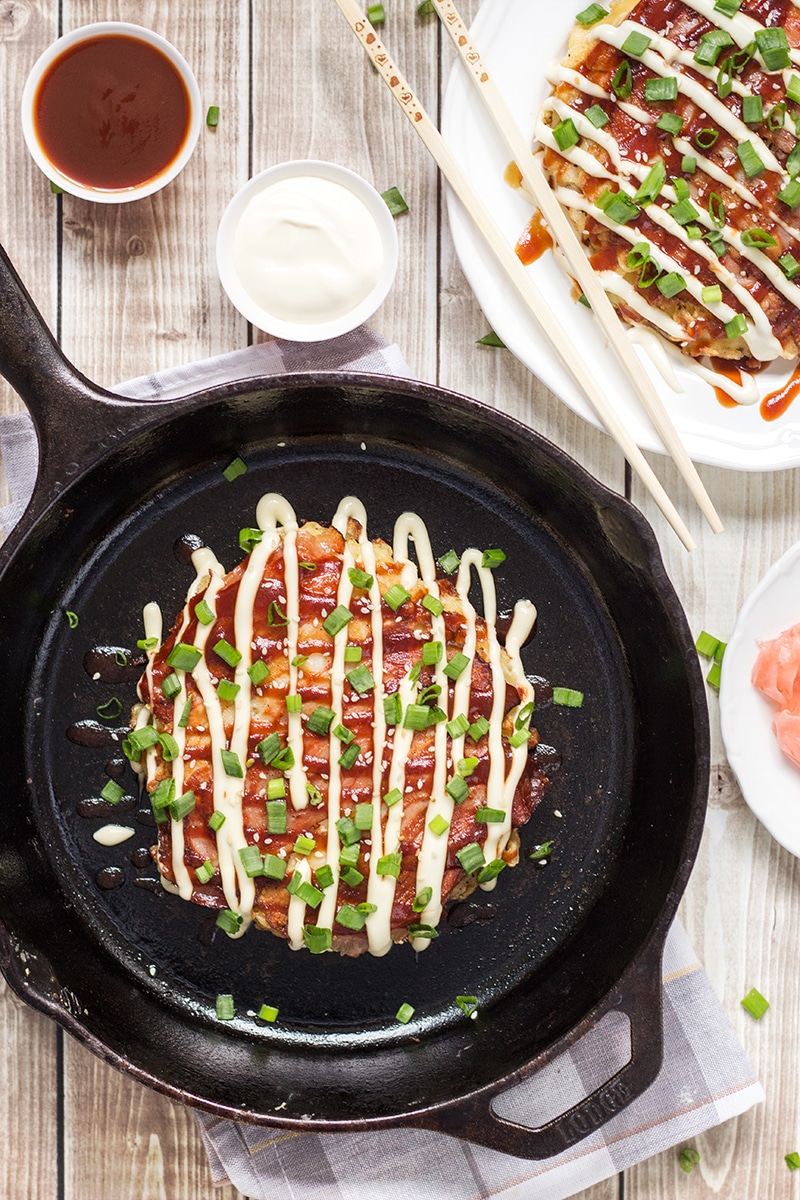 I don't know what's happening, but I made pancakes again. The fourth time this month! Let's see. I made Moroccan semolina pancakes, Russian cottage cheese pancakes and Russian traditional pancakes with sweet and savory toppings. I guess I am on a pancake spree! This time, however, pancakes will be a little bit different. Forget milk, cottage cheese, or any sweet things. They also won't need any topping, because the pancakes themselves will have everything you need: cabbage inside, fried pork strips on top and two sauce coating. Ok ok, enough teasing, I am talking about the famous Japanese Pancake called Okonomiyaki. They are savory, hearty, filling - Okonomiyaki are surely not your typical pancakes!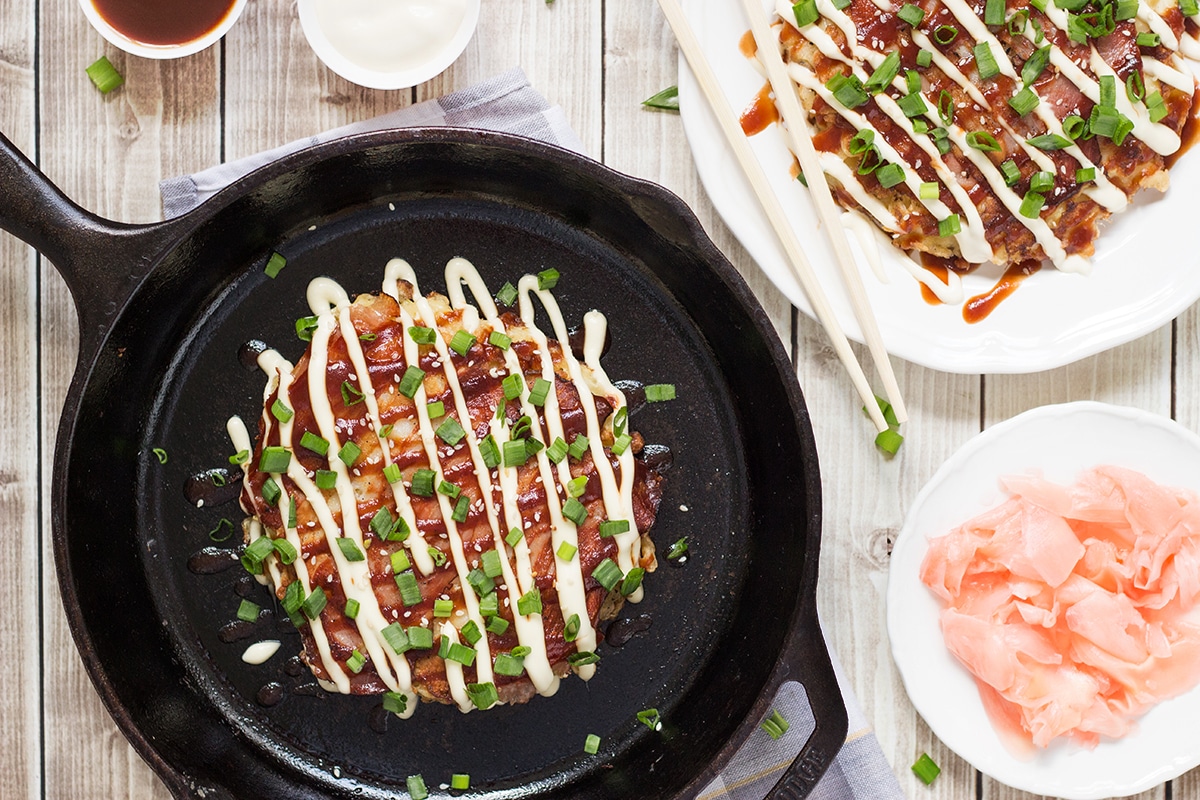 In other countries Okonomiyaki is sometimes called a Japanese pizza. Why? Because you can put all the stuff you want on top. Even the meaning of the word "Okonomiyaki" tell us that: it is translated as "what you like cooked". In Japan you can find these pancakes topped with pork, shrimp, chicken, veggies, to name a few. So feel free to throw any leftovers you have in a fridge on top and enjoy! The only thing that doesn't change is batter made with cabbage. It's the foundation of the Japanese pancake.
There are two main types of Okonomiyaki: Osaka (Kansai)-style and Hiroshima-style. Osaka-style is the main one and the more simple one. That's the one I've chosen for this blog post. It is made from the cabbage and flour batter and topped with fresh pork slices. Hiroshima-style Okonomiyaki is more fancy and is made with addition of bean sprouts and yakisoba noodles. You know, I loved the Osaka-style pancakes so much that I am pretty sure you are going to see Hiroshima-style ones on this blog in the future too!
I would like to talk a little bit about the book this recipe is from. It's not a paid advertisement, I just really love it. The book is called Japanese Soul Cooking by Tadashi Ono. I can say, without a slightest doubt, that it's the best book on Japanese cuisine at the moment. At least to me. Japanese cuisine can be really tricky to master because of a wide variety of ingredients which are hard to find outside Japan. This book explains it all and helps to understand this amazing exotic cuisine.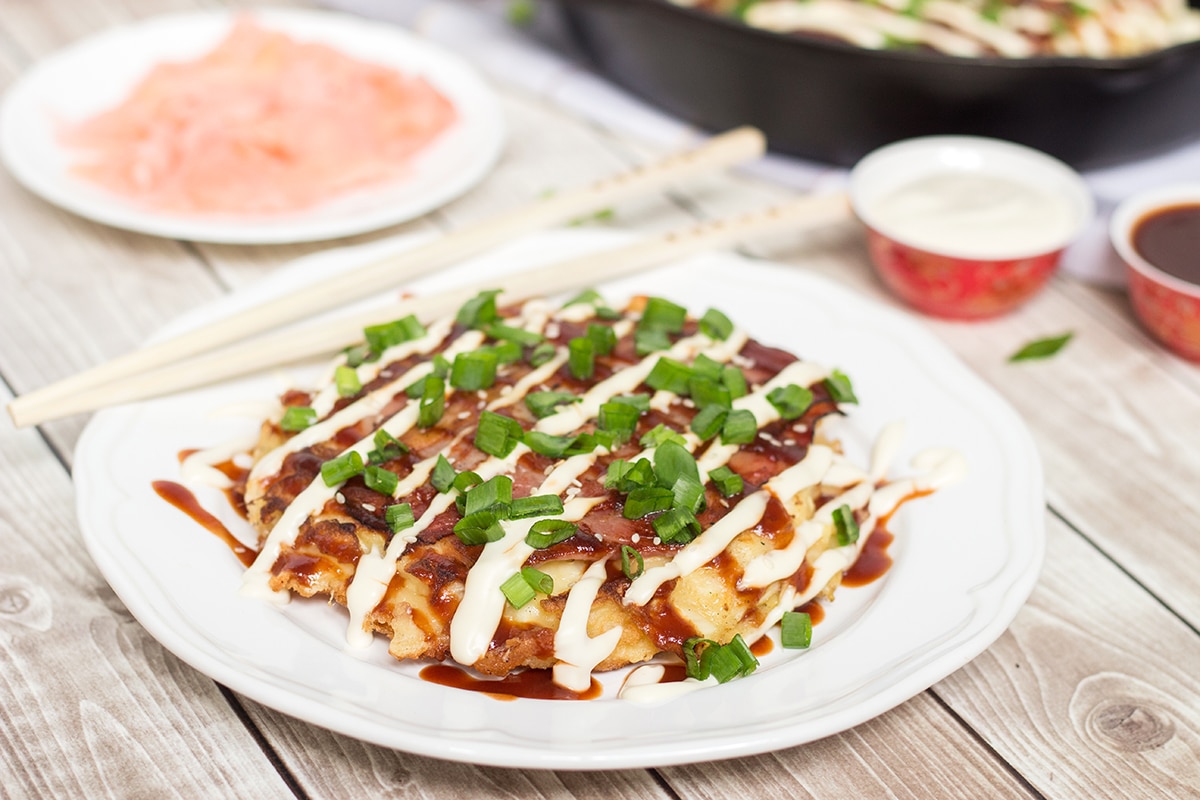 Actually, this Japanese pancake requires few tricky-to-find ingredients too. First of all, Okonomiyaki sauce. Yes, Japanese have a special sauce just for the pancakes! Don't worry though. You can substitute it with Tonkatsu sauce (once again the sauce specially made for a single dish - Tonkatsu is a fried pork cutlet). Still puzzled because you don't know where to get this sauce too? I was in the same boat as you until I found the recipe for Tonkatsu sauce on the Just One Cookbook blog. Everything you need is ketchup, Worcestershire sauce, oyster sauce and sugar. These ingredients are way easier to find! It won't be as authentic as a real Tonkatsu sauce, but it's still better than nothing.
That's not the only hard to find ingredient for this recipe. Another one is Kewpie mayonnaise. Compared to our simple mayo, it is more smooth and creamy and has less oil. But, thanks god, you can easily substitute it with a simple mayo. Also, traditionally, Okonomiyaki can be served with a red pickled ginger on the side. Not pink, like you use for sushi, but RED. Once again I wasn't able to find it, but I think it's not a huge trouble to use a pink one. There are few more tricky ingredients, but you can omit them if you can't find them. I am talking about Katsuobushi (dried bonito flakes) and Aonori (dried seaweed powder).
What can I say about this Japanese pancake? I loved it. Pancakes with cabbage inside are not new to me. In our country we sometimes make rolled pancakes with cabbage and other fillings. Maybe I will make them for the blog someday! The combination of the cabbage, batter, fried pork and two sauces is fantastic. I am only starting my journey into Japanese cuisine and such an amazing recipe already! My advice to you: make these pancakes if you want to try something new. You will fall in love with them.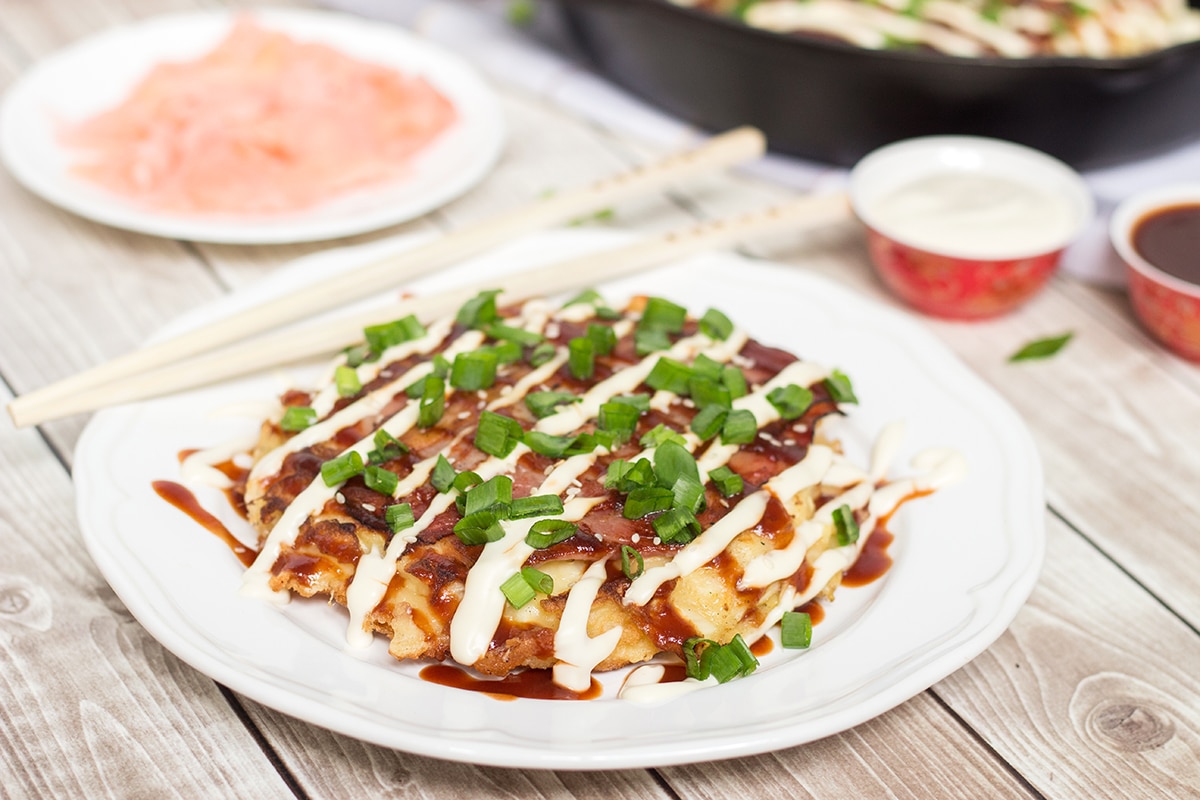 Japanese Cabbage Pancake - Okonomiyaki
These Japanese Pancakes are filled with cabbage, topped with pork, and served with a fantastic sauce. A perfect quick dinner!

Ingredients
For the pancakes:
2

cups (260g)

all-purpose flour

1

cup

water

1

teaspoon

salt

1

teaspoon

baking powder

2

teaspoons

sugar

1

pound (450g)

cabbage

, coarsely chopped (about 10 cups)

4

eggs

¼

cup

sesame oil

8

oz (225g)

fresh pork belly

, thinly sliced
For the Tonkatsu sauce (use Okonomiyaki sauce if you can get one or a ready-made Tonkatsu)
2

tablespoons

ketchup

5

teaspoons

Worcestershire sauce

3

teaspoons

oyster sauce

2 ¼

teaspoons

sugar
Other toppings:
Mayo

Pickled ginger

, for garnish (optional)

Aonori

(powdered nori seaweed) (optional)

Katsuobushi

(dried, shaved bonito) (optional)
Instructions
In a large bowl, mix the flour, water, salt, baking powder, and sugar. The batter with be thick. Add the cabbage and mix well until the cabbage is coated. Add the eggs and mix lightly until just combined.

Preheat a cast-iron or a non-stick skillet for 5 minutes on medium heat. Add 1 tablespoon of the sesame oil. Spoon about ¼ of the batter into the skillet and form a pancake about 6 inches (15cm) in diameter and about 1 inch (2.5cm) thick. Don't press down.

Lay ¼ of pork slices on top, without overlapping, and cook for about 3 minutes. Flip over so the pork slices are now facing down. Cook for 5 minutes more. Flip again and cook for 2 minutes more or until the cabbage inside is tender and the pork is cooked through. Remove the pancake from pan and place on a plate. Repeat the process with remaining batter.

Now make the Tonkatsu sauce. Combine the ketchup, Worcestershire and oyster sauces, and sugar in a small bowl and whisk together.

Squeeze the Tonkatsu sauce onto the pancake, in long ribbons. Squeeze the mayo onto the pancake, also in long ribbons. To squeeze the homemade sauce use a piping bag or cut a tip off a ziploc bag. Top with some pickled ginger. If you have Aonori or Katsuobushi, use 1 tablespoon of each per pancake. Enjoy!
Nutrition
* This post contains affiliate links, thank you for the support in keeping Cooking The Globe up and running!