Sweet, with the notes of cinnamon, nutmeg, vanilla, and with raisins inside, this Jamaican Sweet Potato Pudding is to die for. Serve it with a big dollop of ice cream and enjoy!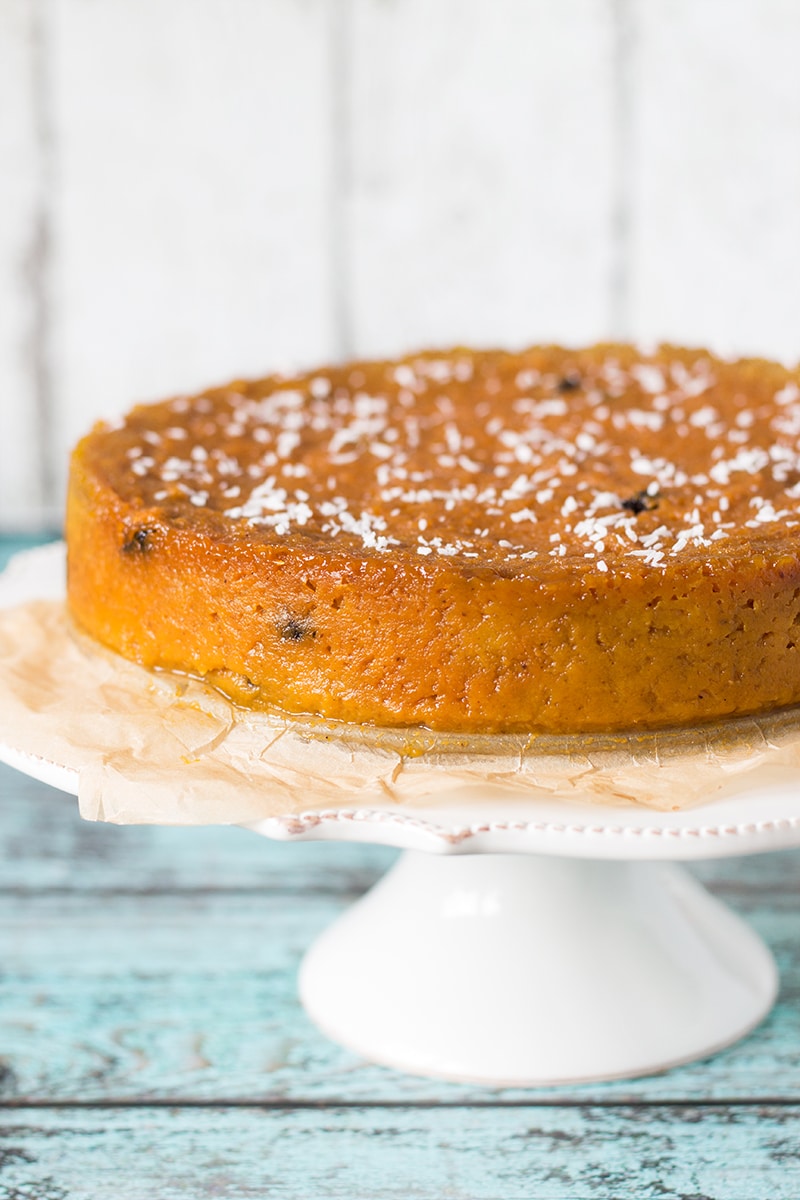 Sweet potatoes are back! I have already talked about my love to this beautiful veggie in this Mississippi sweet potato pie post. Without repeating myself too much, I am just going to say that I have discovered sweet potatoes only few years ago and now it has become one of my favorite vegetables in the world. You can always find them in my kitchen. Literally, always. I buy sweet potatoes in advance really often, because I don't want to run out of them, ever. I want to always have them on hand so I would be ready when an awesome recipe catches my eye! Just like today's Jamaican Sweet Potato Pudding, also called pone. It actually looks a like a pie, but is way softer so I guess it's a pudding after all!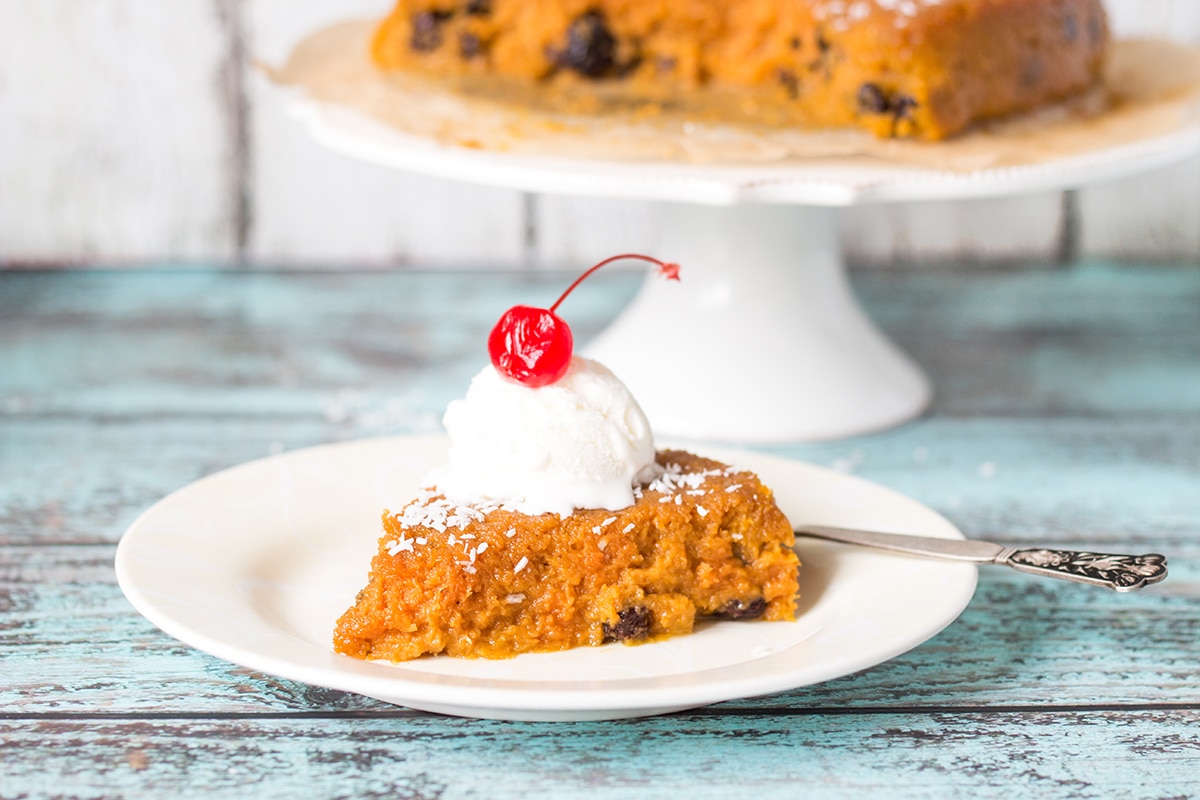 In Jamaica this pudding is called "Hell a top, hell a bottom, hallelujah in the middle!". Love it! The meaning behind this phrase is found in the method of cooking. The pudding is baked in a dutch oven with coals in the bottom of the coal stove and also on top of the dutch pot. That's the traditional way of making it, and that's how it is still made in Jamaica. Luckily for us this sweet goodness can also be made in a home environment easily!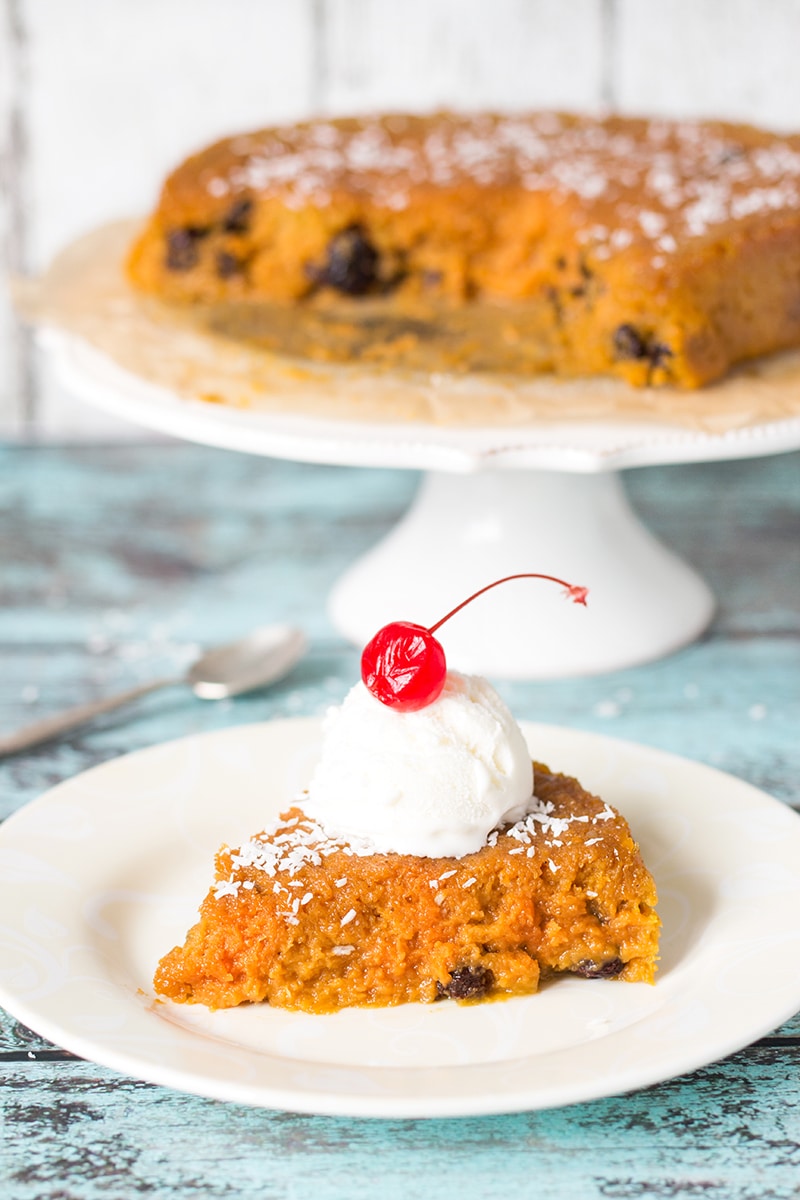 This sweet potato pudding contains no eggs and no dairy. Cooks in Jamaica sometimes make it using a fresh coconut, but we are going to use canned coconut milk as it fits great here. I have used raisins, but you can choose any other dried fruit such as currants or other. Talking about the method of grating sweet potatoes, I did everything by hand, just like it's done in Jamaica. I assume you can use a food processor, but I can't guarantee that you will get the same consistency. You can try, though!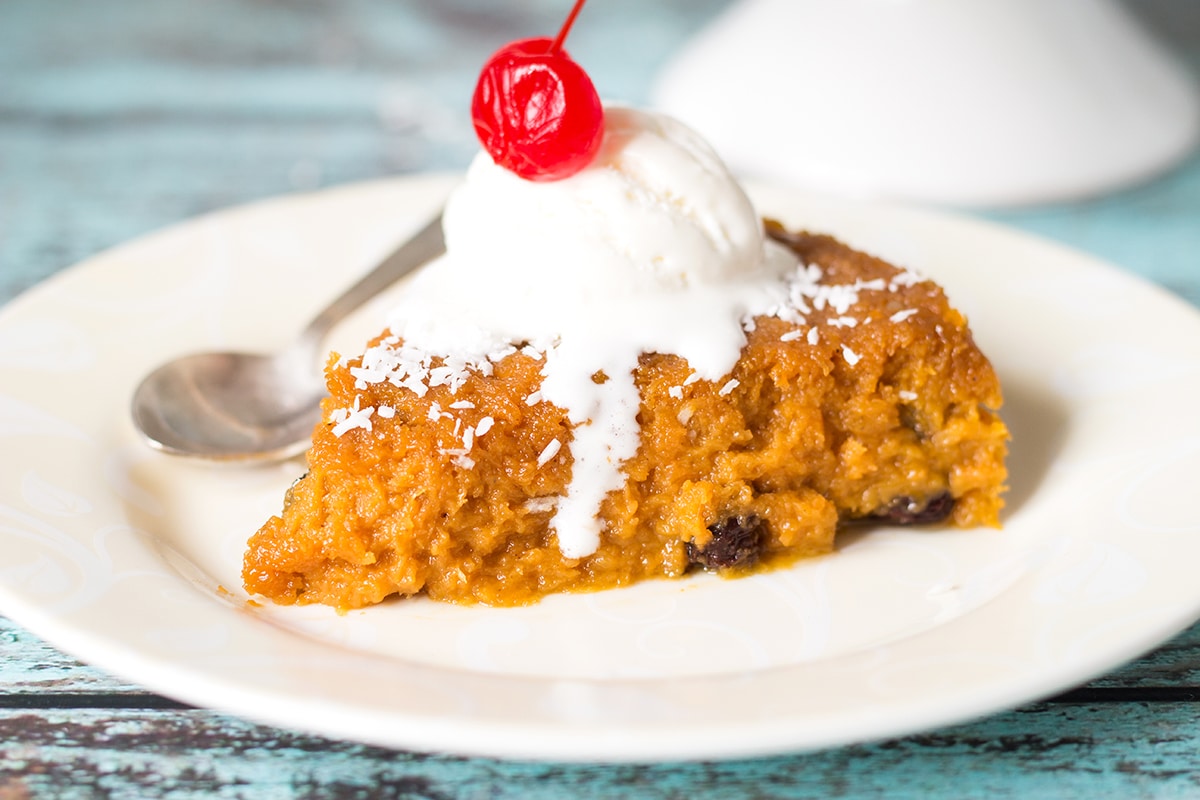 To conclude, I just want to say that this Jamaican Sweet Potato Pudding have exceeded my highest expectations! I don't know, maybe it's just because of my exceptional love to sweet potatoes, but I enjoyed the hell out of it. This Caribbean dessert is sweet, with the notes of cinnamon, nutmeg and vanilla! The addition of dried fruit, in my case raisins, is also really nice. I have served it with a dollop of ice cream and a cocktail cherry on top. Perfect. This one is a keeper!
P.S. Wow, I just found out that it's a third pudding recipe on this blog already. And all of them, with no exceptions, were amazing. If you want to check them out, here you go: Mexican Rice Pudding and Vietnamese Tapioca Pudding!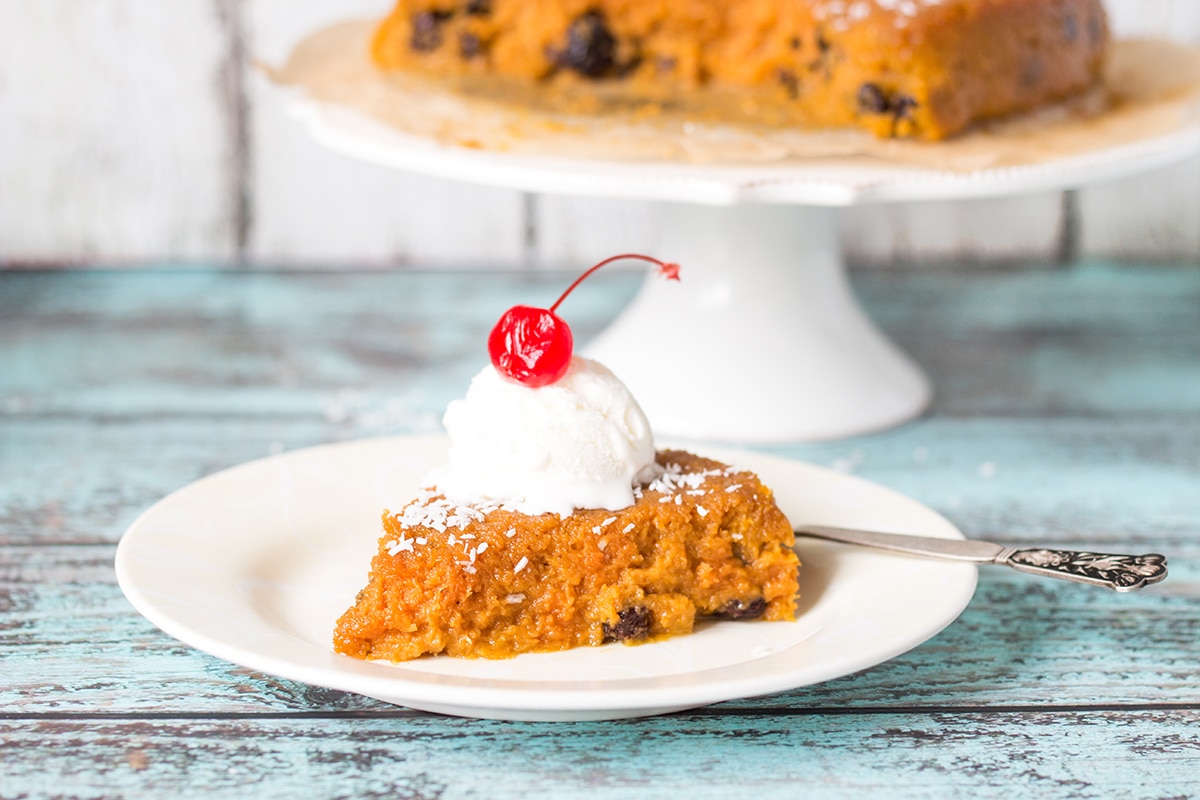 Jamaican Sweet Potato Pudding
This Jamaican Sweet Potato Pudding (Pone) is sweet and full of flavor. The notes of cinnamon, nutmeg, and vanilla, as well as dried fruit inside, make it a sure winner!

Ingredients
1

cup (130g)

all-purpose flour

1

teaspoon

ground mixed spice or pumpkin pie spice

(6 parts cinnamon, 1 part ground nutmeg, 1 part ground ginger, ½ part ground allspice, ½ part ground cloves)

1

teaspoon

ground nutmeg

1

teaspoon

salt

2

lb (900g)

sweet potatoes

, peeled

1

cup (200g)

brown sugar

1 ½

cups (225g)

raisins

1

can (13.5 oz or 400ml)

coconut milk

2

teaspoons

vanilla extract
Instructions
Preheat the oven to 350°F (175°C). Now you have to grate the potatoes. Do it either manually, using a box grater on the finest setting, or, I assume, you can use a food processor. I did everything manually and I can't guarantee that you will get the same result with a food processor.

Put the flour and all the spices into a large mixing bowl and mix. Stir in the grated sweet potatoes. Add the brown sugar, raisins, coconut milk and vanilla extract and mix everything well.

Grease a 8-inch (20cm) springform cake pan. Pour the mixture into the pan and bake for 40-60 minutes until it is firm to the touch. When done, remove from the oven and allow to stand for 30 minutes before serving. Enjoy!
Nutrition