Comforting, filling, and really tasty, Chicken Bog is a Southern delight made with chicken, sausage, and rice. The recipe is really easy and requires only 10 minutes of active time!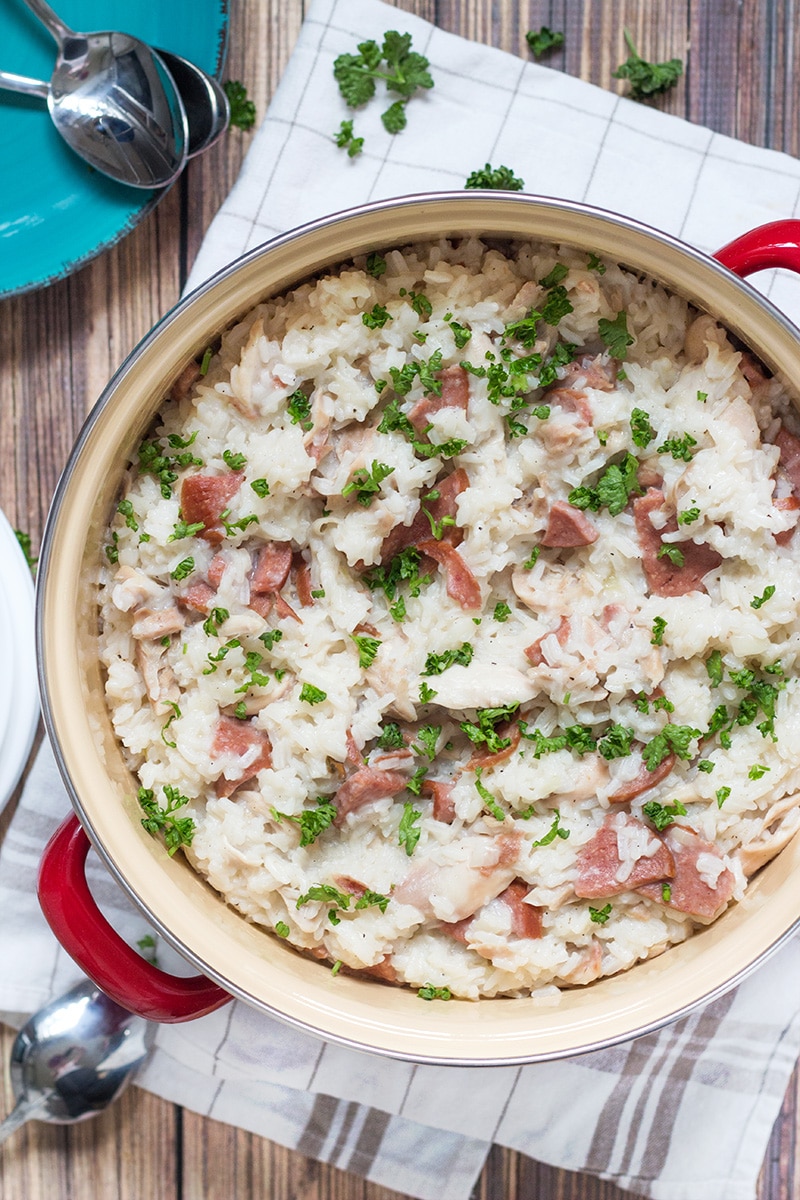 The second American recipe on this blog, and once again it's from the South (some time ago I made this Mississippi Sweet Potato Pie and it was a hit). I don't know what it is about this part of the country that attracts me so much. Maybe the simplicity of dishes and the accessibility of ingredients, maybe the comfort and heartiness of Southern cooking, or perhaps the striking resemblance to the cuisine of my home country. Most probably the combination of all these things! Today I want to present you a really simple, yet incredibly tasty and filling dish - Chicken Bog. It features three staples: chicken, sausage and rice plus other ingredients that can vary from recipe to recipe.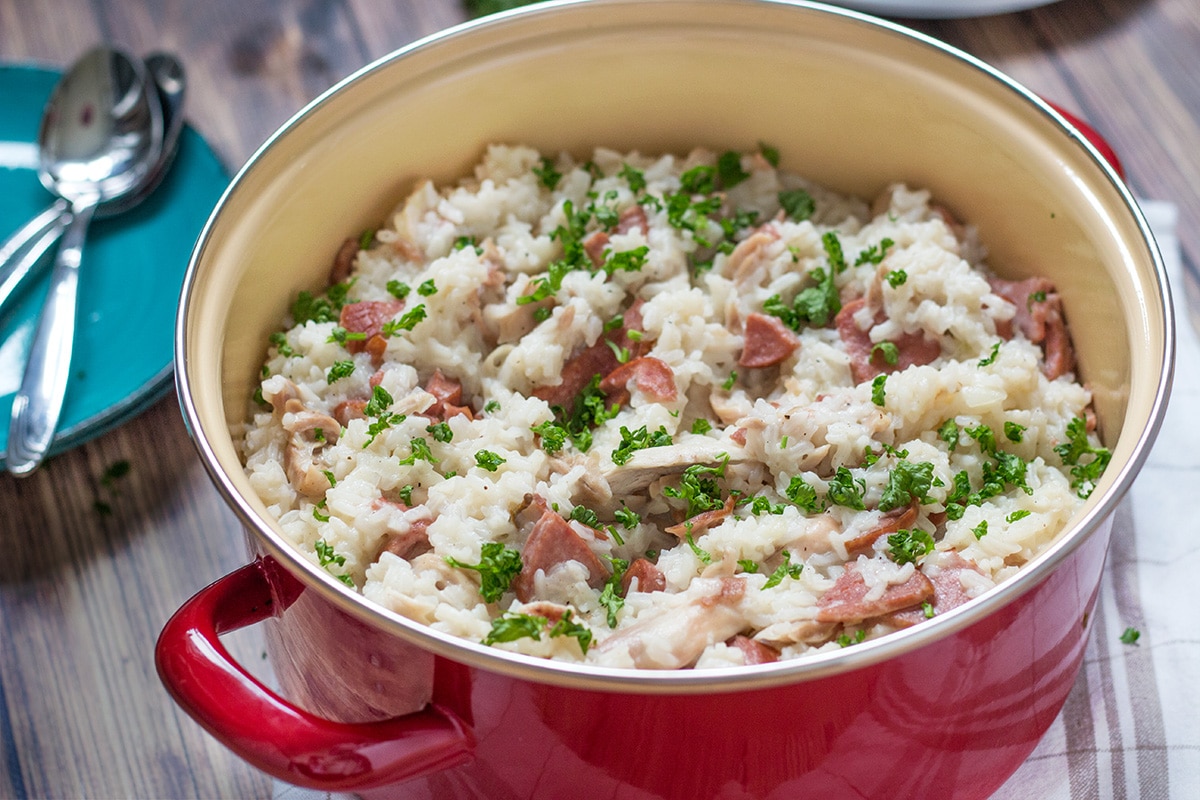 The name is not particularly appealing, isn't it? Ha ha! The exact origins of such a name are unknown, but there exist few versions. The first one is the most obvious one. The consistency of the dish looks like a bog, it is neither a soup nor a stew, just a moist, boggy stuff. Some say that it's "bog" because rice is grown in bogs, others that the chicken is "bogged down" in rice. Don't let the name fool you, though, the dish itself is amazing and I can't even imagine how it's possible not to love it. I took this chicken bog recipe from probably the best recipe book on Southern cuisine - Paula Deen's Southern Cooking Bible.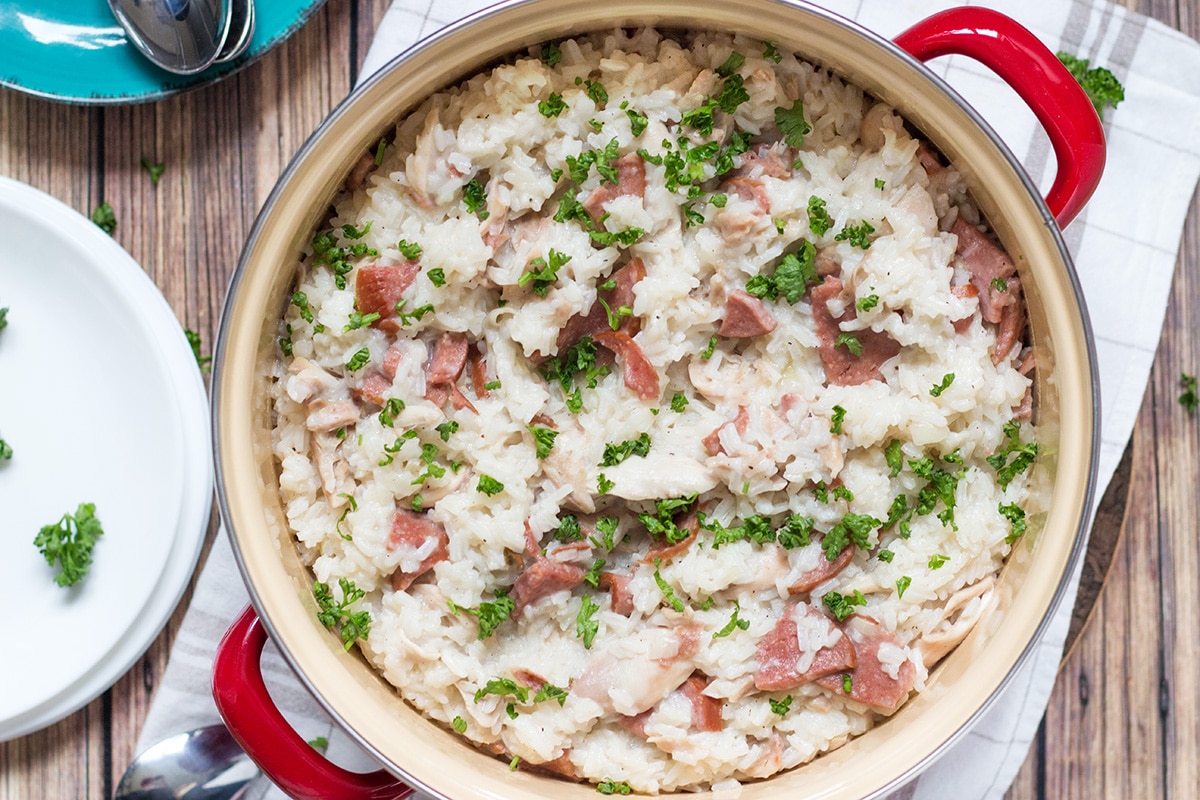 Chicken Bog is usually made to feed a big crowd. It is served in school cafeterias, at family reunions, and at various festivals. Actually, there is even a festival dedicated to this traditional Southern dish! It is called Bog-Off and is held annually on every third Saturday of October in the town of Loris, which is in South Carolina. Experts and home cooks compete in the chicken bog cooking contest, trying to make the very best version of this unique dish. So much fun!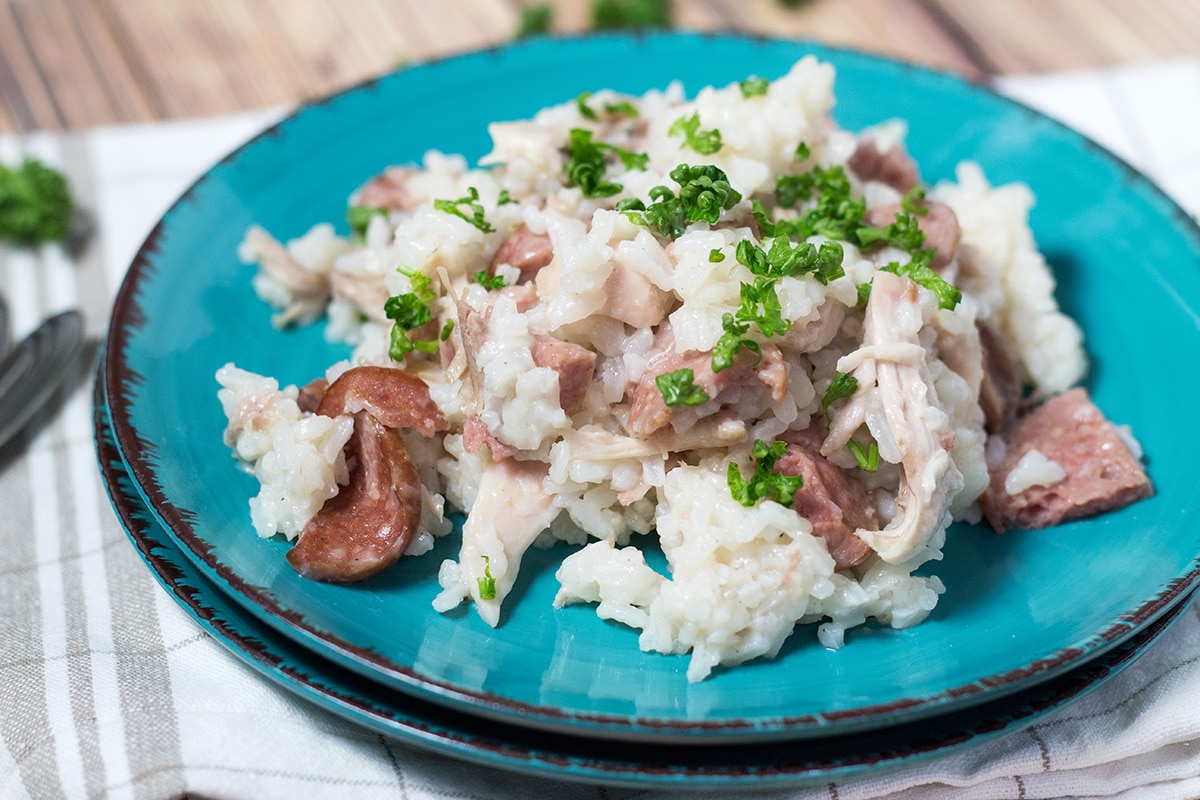 To sum up, I just want to say that this chicken dish is a comfort food at its best. The bowl of this goodness will fill you up and keep you going. Rice + chicken + sausage, what else do you need, really? Sprinkle some fresh parsley on top and you are good to go!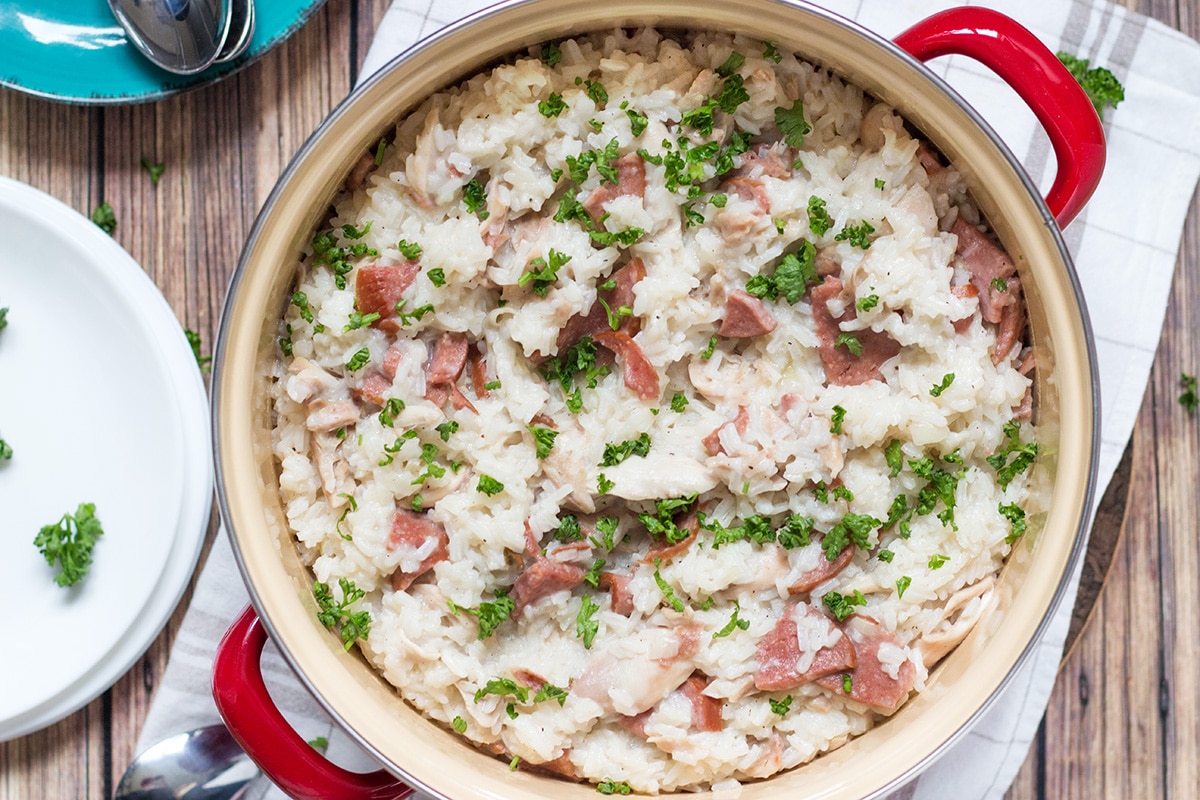 Chicken Bog
This traditional Southern dish is hearty, filling, and really delicious. Perfect when you want something simple yet tasty!

Ingredients
1

whole chicken (3 pounds or about 1,5kg),

quartered (you can use 2 to 2 ½ lb (1kg) thighs or drumsticks alternatively

1

lb (450g)

smoked link sausage,

sliced

1

cup

chopped yellow onion

1

stick (125g)

butter

2

teaspoons

salt

(you can use the same amount of seasoned salt, if desired)

1

teaspoon

cayenne pepper

1

teaspoon

black pepper

3

leaves

bay

3

cups

long-grain white rice
Instructions
In a big pot, add the chicken, sausage, onion, butter, seasonings, bay leaves, and 8 cups water. Bring to a boil, reduce heat, cover, and simmer for 40 minutes. Remove the chicken from pot and pick the meat off the bones. Discard the skin and bones.

Meanwhile, add the rice to the pot where you were cooking chicken and once again bring to a boil, stirring frequently. Cook for 10 minutes, then reduce heat, cover, and cook for about 10 minutes longer, or until the rice is done. Discard the bay leaves. Stir in the chicken to the pot an serve. Enjoy!
Notes
If there is too much butter in this recipe for you, just cut it in half, you won't lose any of the texture and too much taste. It can even be left out, if desired.
Nutrition
* This post contains affiliate links, thank you for the support in keeping Cooking The Globe up and running!