Forget about Mcdonald's, Burger King, or other food chain places and treat yourself with a true burger. These Serbian pork and beef patties are full of flavor and they are huge! Serve them inside pita bread with onion, pickles, and national treasures Ajvar and Kajmak!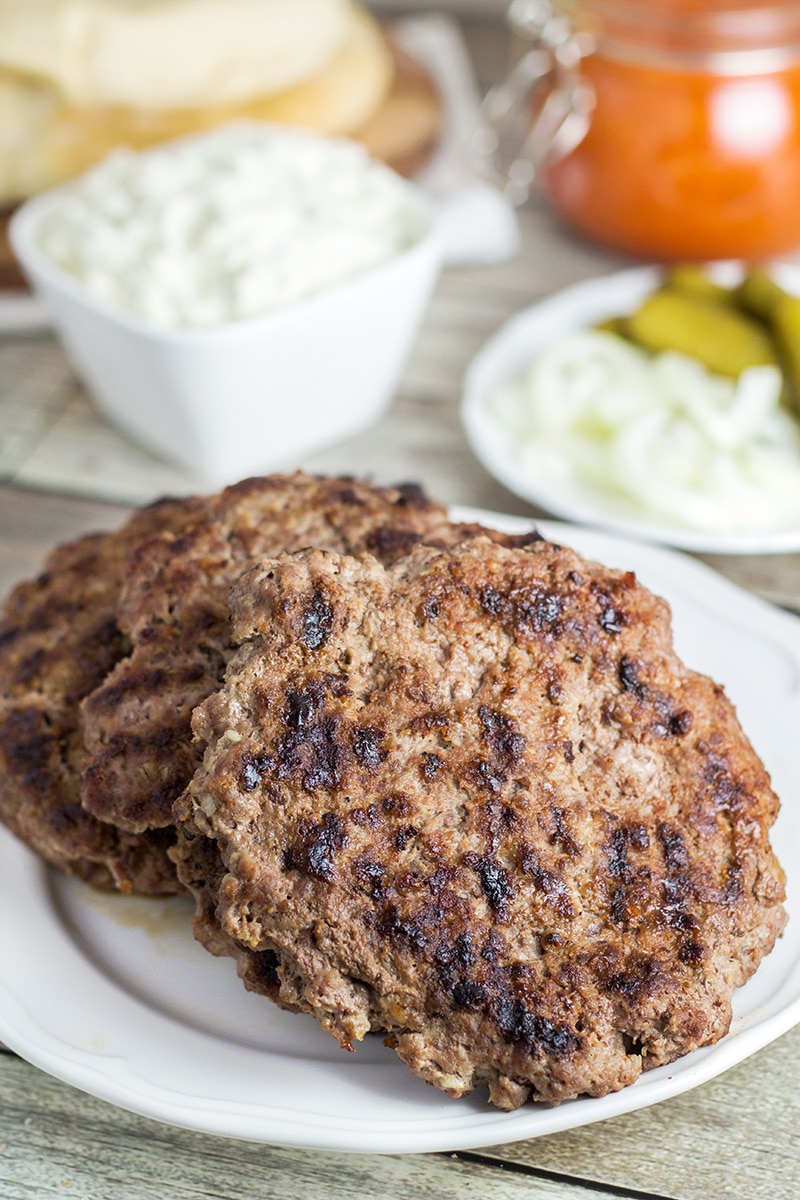 Are you still eating burgers at Mcdonald's? Or Burger King? Or at any other fast food chain place? Forget about them. I'm serious. This post will change your idea of what a real burger should look like. Ladies and gentlemen, let me introduce you to the king of burgers - Serbian Pljeskavica. The name comes from the word pljesak which means "to clap hands". Don't worry if you can't spell it, better save your energy for this huge flavorful meat patty slathered with multiple condiments and enveloped in a soft pillowy flatbread.
Actually Pljeskavica is not the name for the burger. It's just a mixed-meat patty made with any combination of ground beef, lamb and pork. It can be served without any flatbread or bun at all, with various condiments on the plate, however in Serbian restaurants you will mostly get it in a form of a burger. Sometimes Pljeskavica is called a Balkan burger, because it is also popular in Croatia, Bosnia and Herzegovina, Slovenia, and Montenegro. Lately it has also spread to other European countries and even to the United States. There are plenty of reasons why.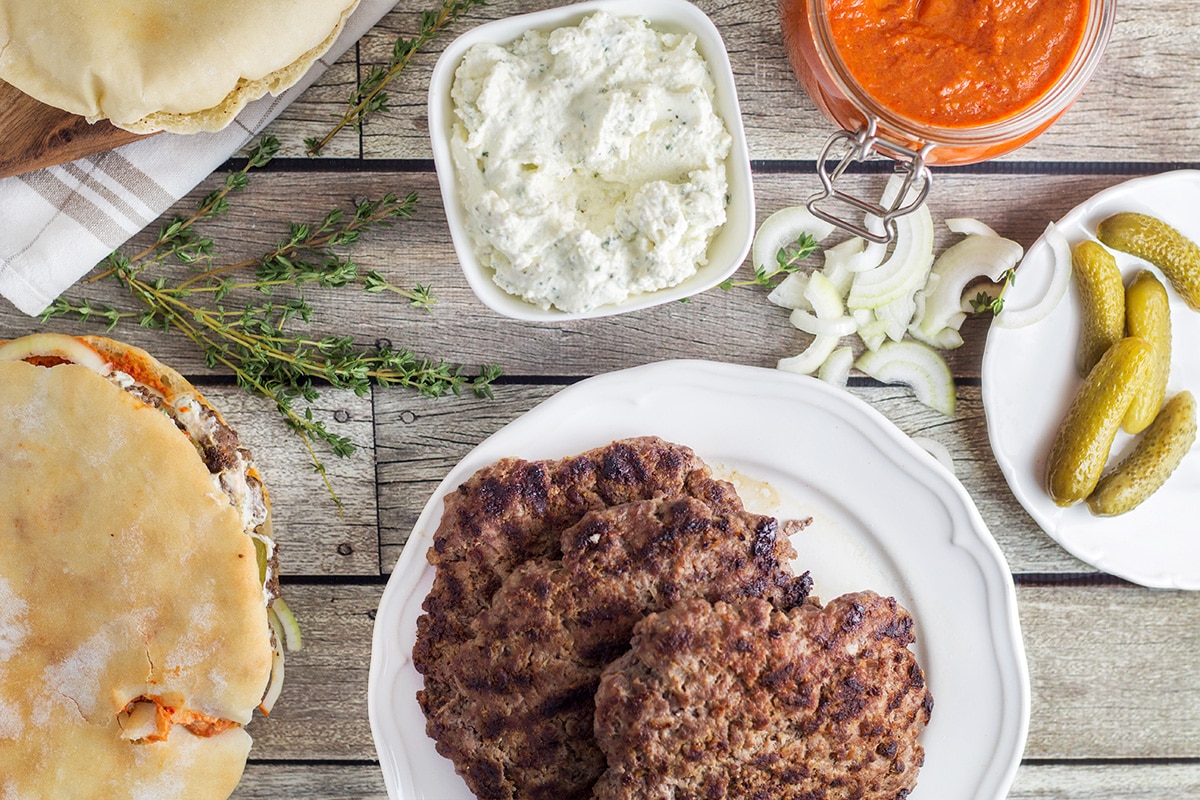 First of all, despite the fact that it's considered fast food, it's not the type of fast food you are used to. It is just called like that because it's made quickly and that's where the similarities with famous fast food chains end. Pljeskavica is a piece of real, fresh meat. It is full of flavor and you will feel the difference from the very first bite. Moreover, these Serbian meat patties are like McDonald's on steroids. They are HUGE. One is more than enough for an average man. I hardly finished mine. And don't get me wrong here. They are not HUGE because we make them like that at home, but this is actually the size you will get if you order Pljeskavica in Balkans.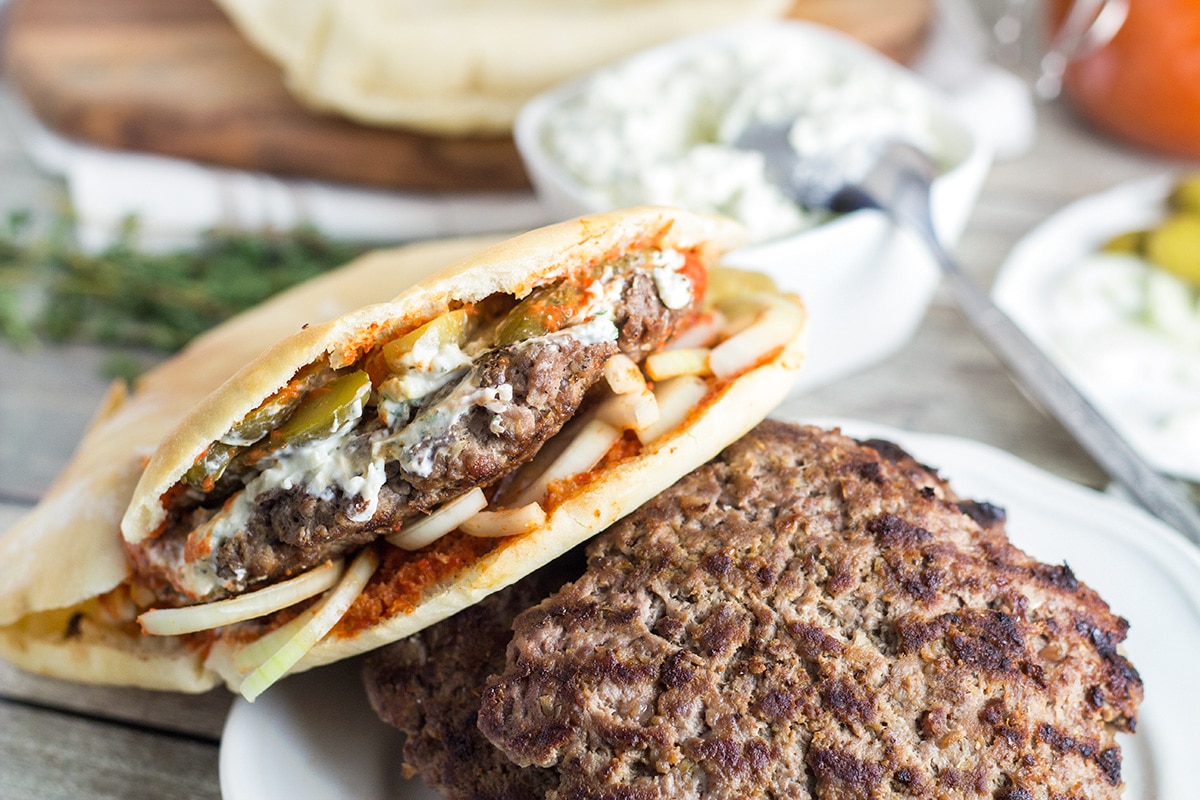 As it wouldn't be enough, absolutely amazing condiments enter the scene. That's another reason why Pljeskavica is not your average burger. Start from Ajvar. This roasted pepper relish goes so well with the meat patty. It's better than any sauce you get in fast food places. By the way, I made Ajvar a week ago, check it out! The second amazing thing is Kajmak - a thick tangy cream from the Balkans. It's impossible to get in my country, so I made mine using this New York Times recipe. I know it's not authentic, but I still enjoyed this version. It's still better than nothing!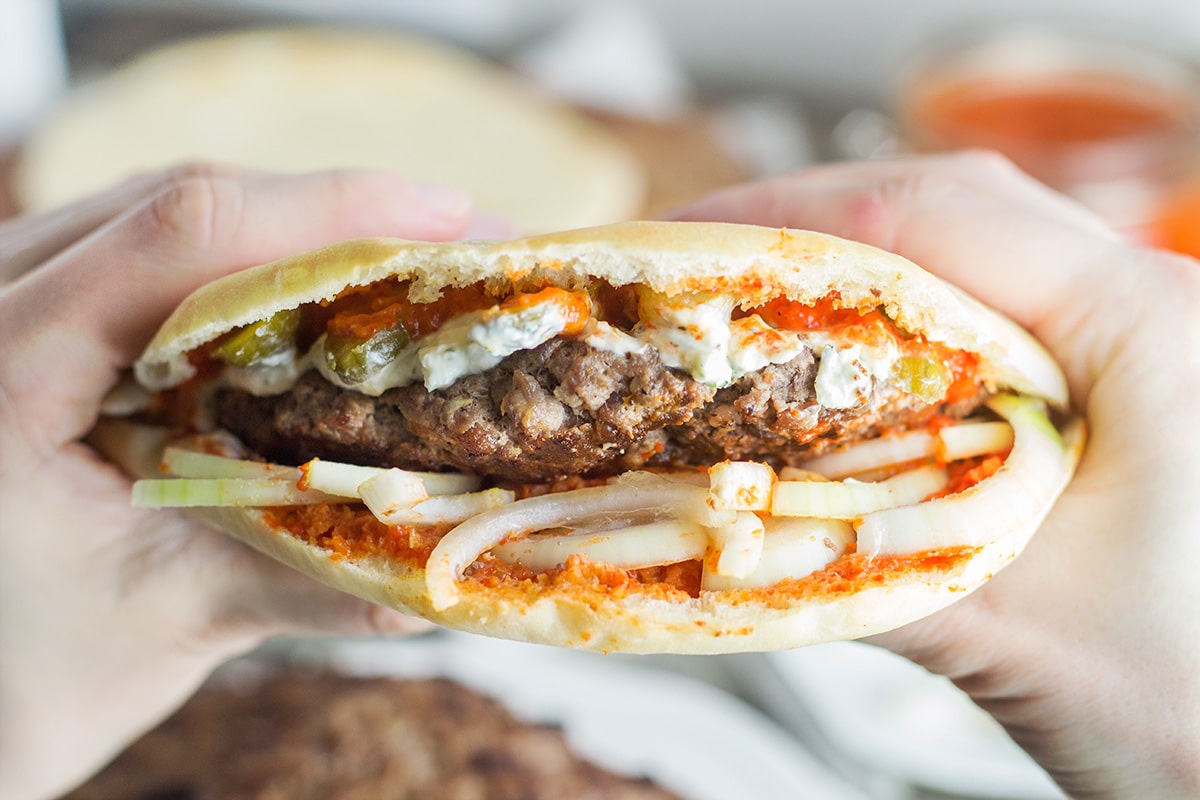 To finish the burger, it's essential to add some fresh onion! Serbs love plenty of it on their burgers. I also added some pickles, but you can use tomatoes or whatever you like. By the way, pita is not the type of bread Serbs use. They make Pljeskavica with a bread called Lepinja. However many recipes substitute it with pita. If you are like me, and you can't even find pita in your country (!), I talked how to make it at home in this post about falafels.
To conclude: now that's what I call a burger! The taste of the meat patty is perfect, it's big and filling, oh and the condiments deserve the biggest compliments. Everything combines perfectly to create a heavenly piece of food. Don't think for a second more, make it and enjoy!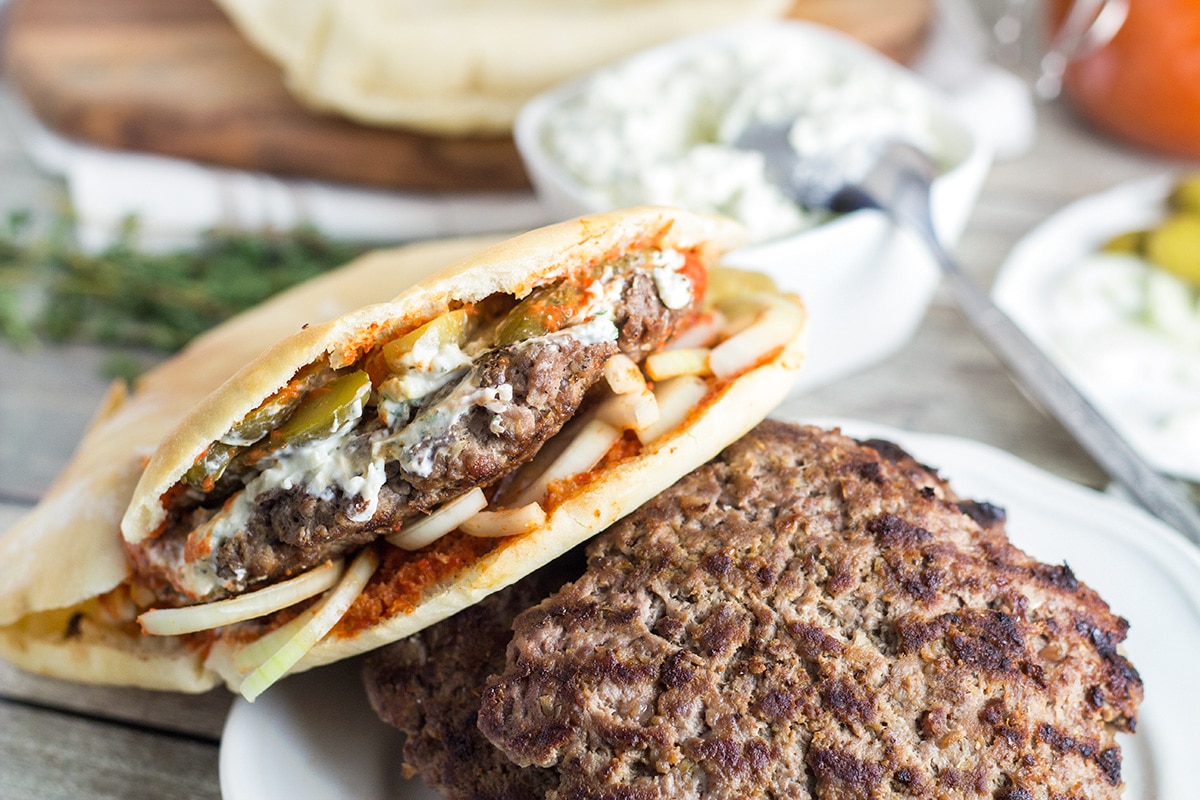 Pljeskavica - Traditional Serbian Burger Recipe
Forget about fast food chain places and make yourself a real burger. This big Serbian guy is bursting with flavor!

Ingredients
For the meat patties:
1

lb (450g)

ground beef

1

lb (450g)

ground pork

2

teaspoons

salt

1

teaspoon

sweet paprika

½

teaspoon

black pepper

½

cup

sparkling water

2

tablespoons

Olive oil

2

medium onions,

finely chopped

vegetable oil,

for frying
For the burger assembly:
4

pita bread pockets

Ajvar

Kajmak

onions

pickles
Instructions
In a bowl, mix ground beef and pork, salt, sweet paprika, black pepper and sparkling water. Combine with your hands. Brush olive oil on the surface of the meat mixture. It will help us to retain moisture. Cover with plastic wrap and refrigerate for at least few hours or overnight.

Add onions to the meat mixture and mix well. Divide to 4 balls and use your hands to pound it to a thin patty. The size should be about 6-7 inches (15-17cm) in diameter.

Grill or fry your patties for about 3-4 minutes per side or more, if desired. Take pita pockets and assemble your burgers by spreading ajvar and kajmak and adding onions and pickles as desired. Enjoy!
Nutrition