Shopska Salad comes straight from Bulgaria and it has everything you may possibly want: tons of fresh veggies combined with a salty feta cheese and dressed with olive oil and red wine vinegar. Heavenly!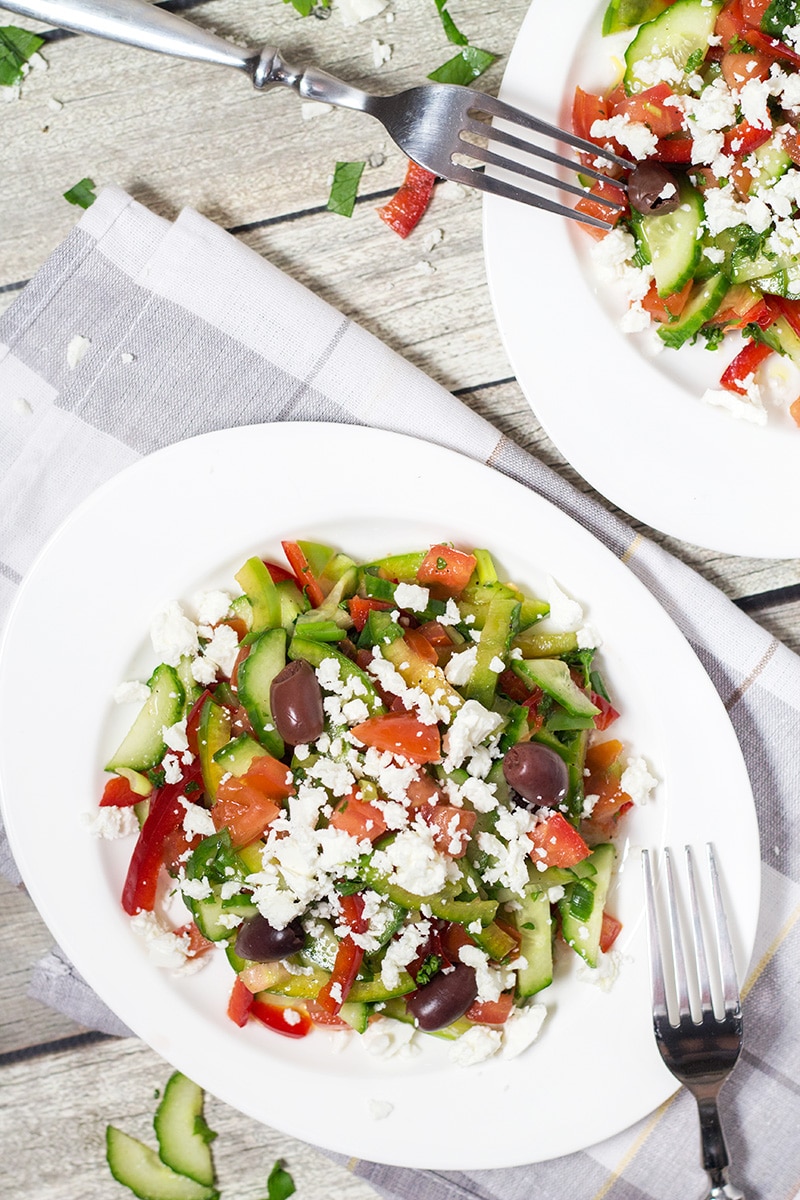 I am continuing my journey through the beautiful but complex region of Balkans. Last week I made Serbian red pepper relish Ajvar and Serbian burger Pljeskavica, while today I am heading to the wonderful Bulgaria. What I know about this country? To be frank, not too much, except those facts that the capital is Sofia (when I was a kid I loved learning all the capitals in the world and I remember them till today) and that Bulgaria has a Black Sea coast. What I do know is that Bulgaria is famous for the delicious cold salad called Shopska Salata or simply Shopska Salad. It's regarded as a national dish there. The name comes from the Shopi people living in the region where Bulgaria, Serbia and Macedonia meet, called Shopluk. In other countries this salad may also be called a Bulgarian salad.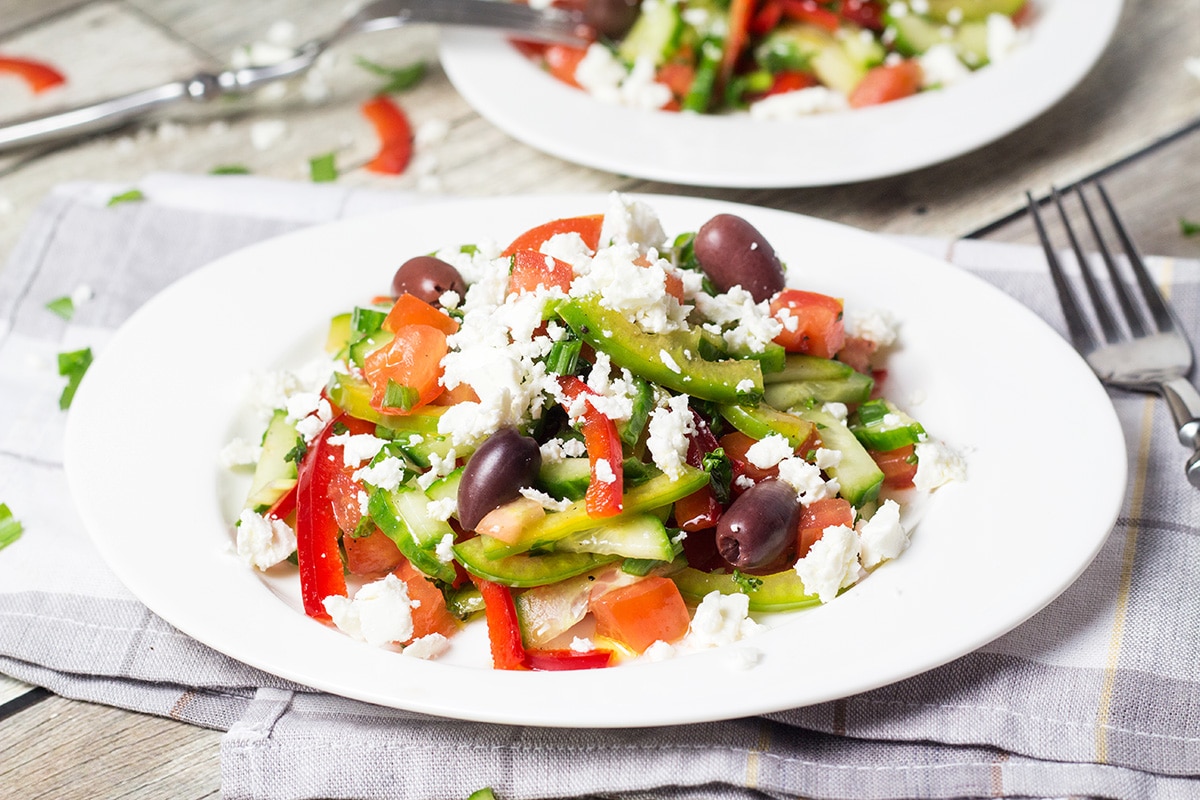 If you will ever be in Bulgaria, you'll see this salad literally everywhere. Even the smallest restaurants have it on their menu. This colorful salad is perfect for warm spring or hot summer days. It's so refreshing! That's, by the way, how it is eaten in Bulgaria. Families make it all summer long, while in winter it's not so popular.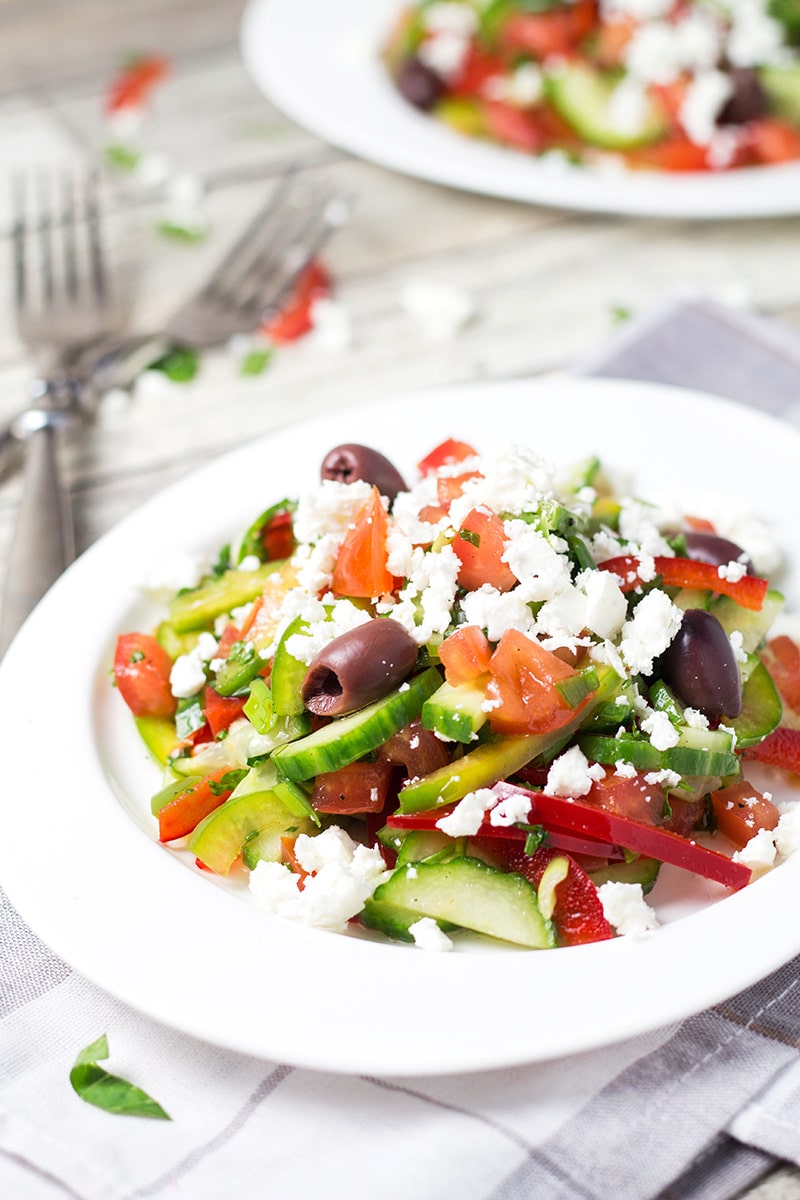 Shopska salad is loaded with fresh vegetables. Let's count together: tomatoes, green onions, cucumber, green bell pepper, red bell pepper, parsley, olives! And all this goodness is topped with crumbled feta cheese (for the authentic recipe you would need Bulgarian sirene cheese, however feta is a pretty close match). A touch of red wine vinegar and olive oil, and this simple but addictive salad is done. Perfection. I love how all these different tastes mingle in the mouth!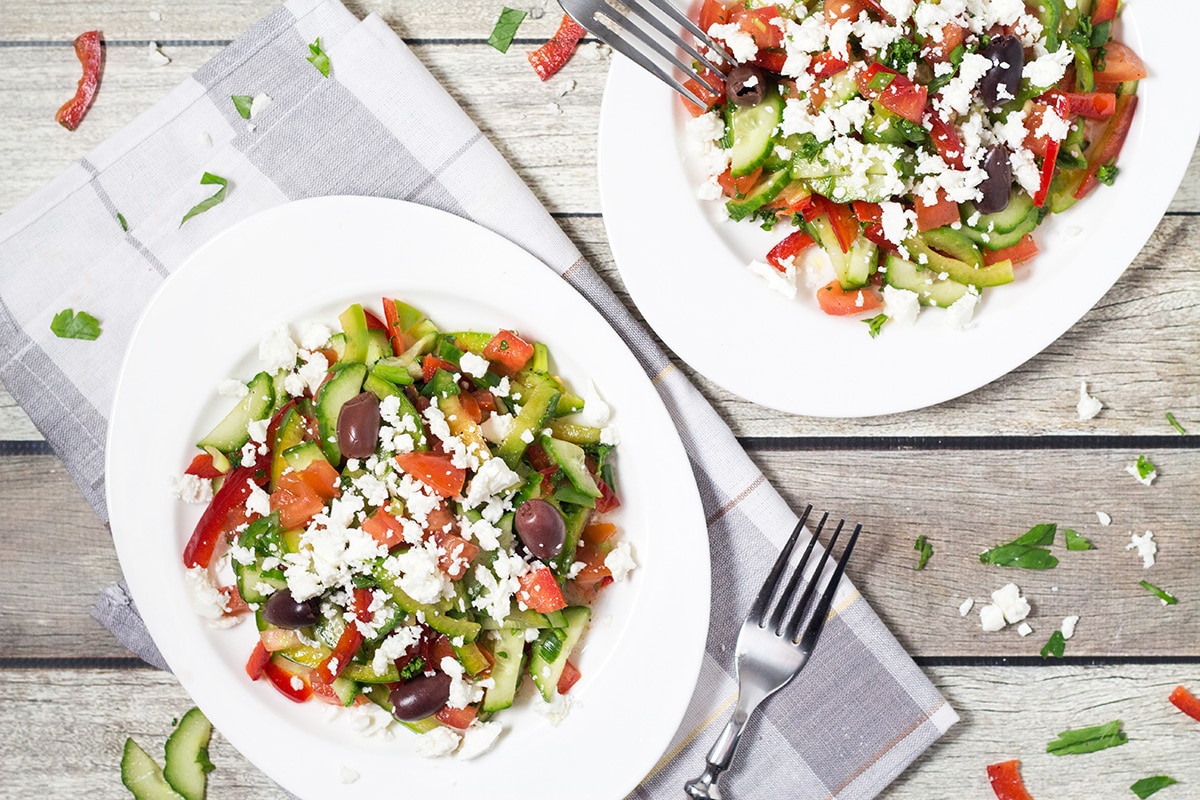 This salad is often served as an appetizer with a glass of rakia (fruit brandy popular in Balkans). I bet it would be also great with grilled meats or other meat dishes. It's really versatile. I already ate two bowls of Shopska salad today and I think I will go for a third one. It's that good. Try it yourself and you'll see!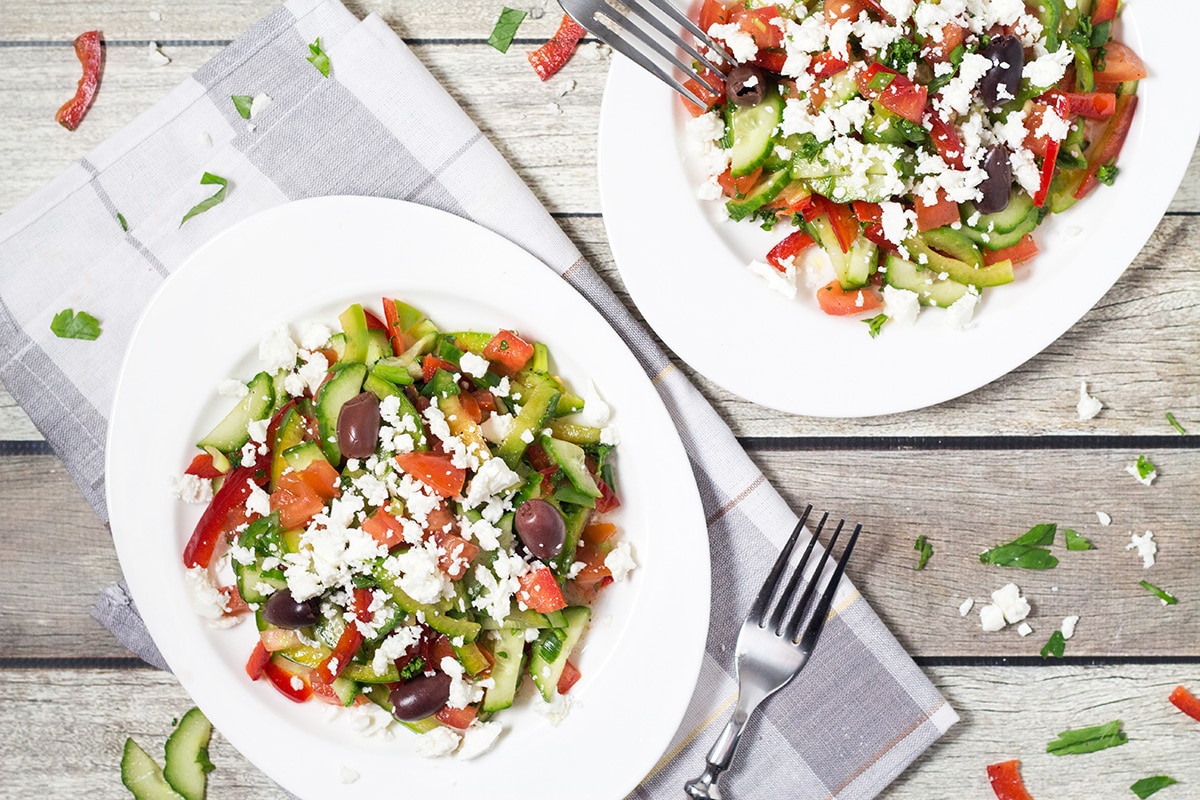 Bulgarian Shopska Salad (Shopska Salata)
This colorful and fresh Bulgarian salad features lots of veggies, feta cheese, and a vinegar and olive oil dressing!

Ingredients
4

medium tomatoes,

chopped

4

green onions,

sliced

1

cucumber,

chopped

1

green bell pepper,

chopped

1

red bell pepper,

chopped

¼

cup

parsley,

chopped

1

teaspoon

sea salt

¼

teaspoon

ground black pepper

2

tablespoons

red wine vinegar

¼

cup

Olive oil

15-20

kalamata or black olives,

pitted and sliced in half

1

cup

feta cheese,

crumbled
Instructions
In a bowl, combine tomatoes, cucumber, green onions, green and red bell peppers, parsley, salt, pepper, vinegar and olive oil. Mix well. Garnish with olives and feta cheese. Enjoy!
Nutrition