If you love Chinese takeout, this Chicken Lo Mein recipe is for you. Easy and quick to make (requires only 25 minutes of your precious time), it makes a perfect healthy weeknight dinner!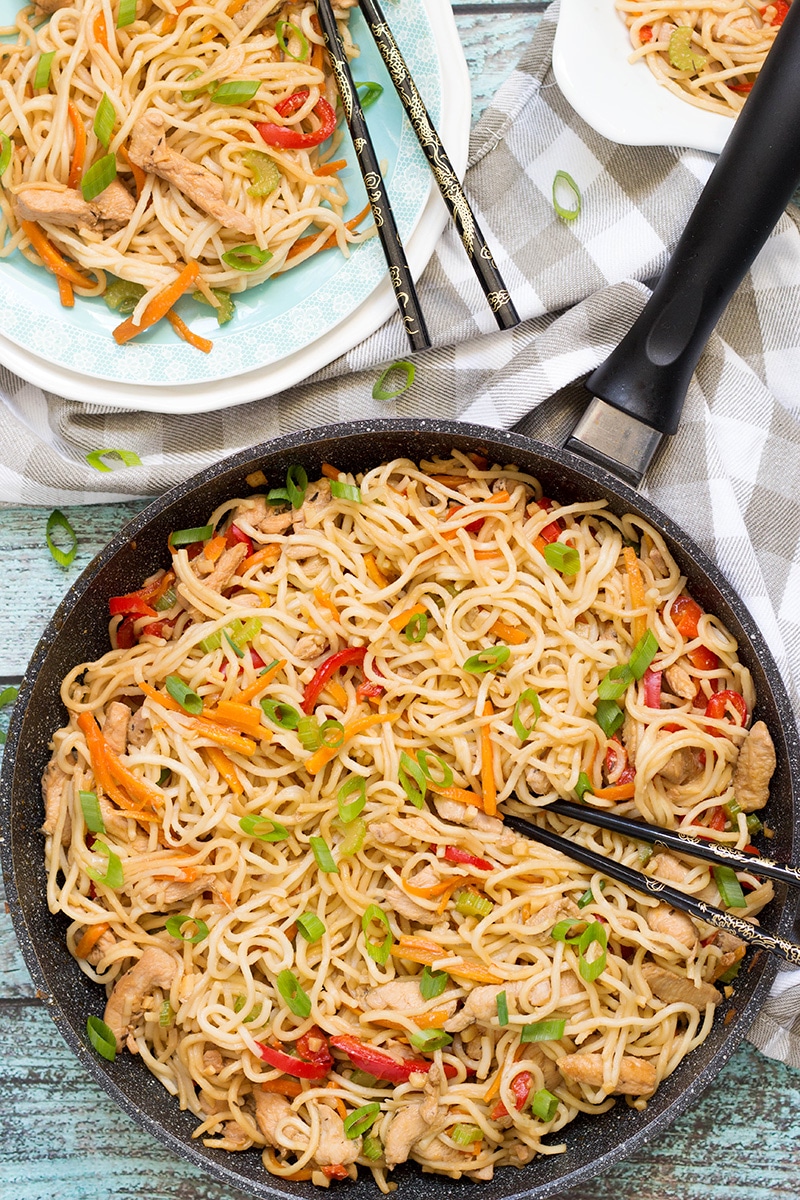 Let me start by saying that I am not a huge fan of take-out food. I grab it few times a month and that's pretty much it. Actually, I kind of like it, but my wife is a fantastic cook and I love cooking myself too, so we always end up preparing something at home. However, when we do order stuff, in most cases it's from our favorite Chinese place. The taste of their stir-fries, soups, dumplings, spring rolls, and other culinary creations is crazy good and I can't resist it!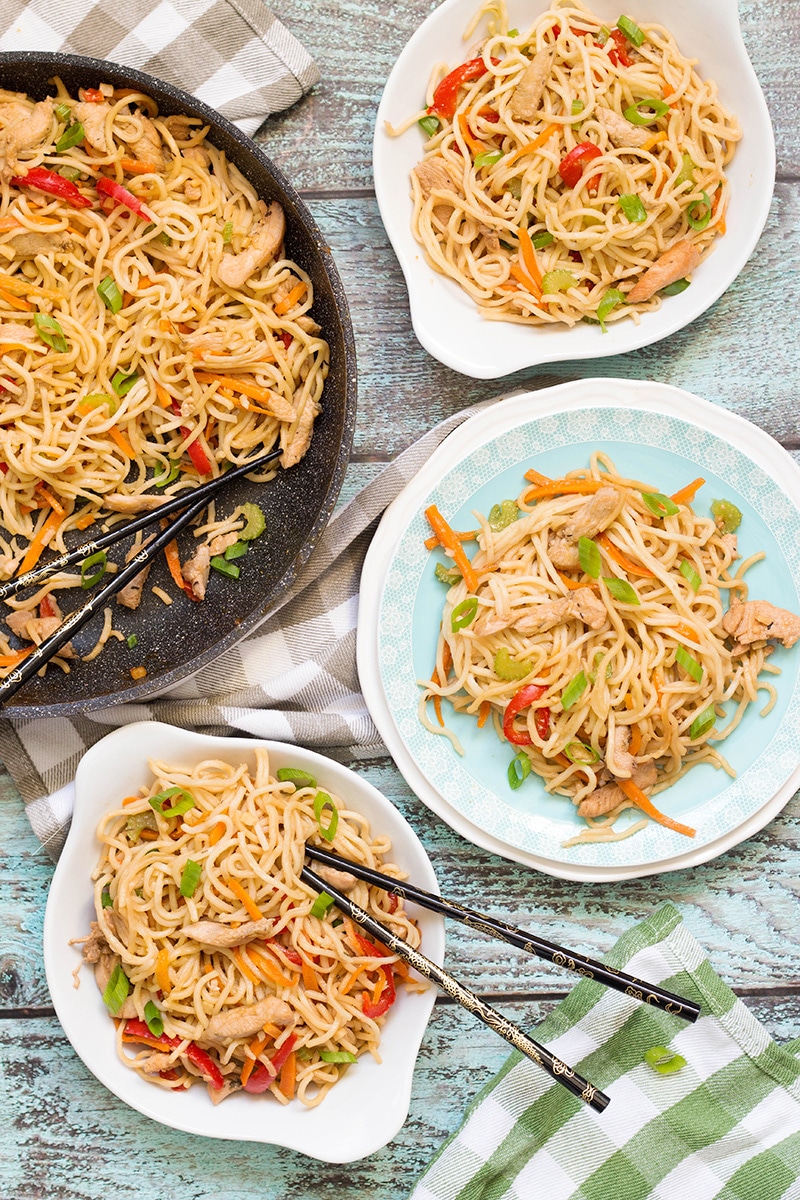 BUT. Being huge culinary enthusiasts, we decided that even this awesome place is not worth ordering from, because we can replicate all their dishes at home. Oh well. You can call us crazy and I won't even deny it. Just chill on the couch, watch some TV, relax after a long day of work and games with your baby, and order some Chinese takeout... A perfect evening, right? Not for us, the fanatical couple. We will rather stay in the kitchen until wee hours cooking stuff and then eating it in the middle of the night. Maybe someday it will change, ha ha!
Yesterday we made this fantastic Chicken Lo Mein. It's one of our Chinese take-out favorites, so we were excited to replicate it in our kitchen. Lo mein is a Cantonese term meaning stirred noodles. Basically, it's a stir-fry featuring egg noodles, chicken (or any meat you like), marinated in soy sauce and vinegar, and a bunch of veggies.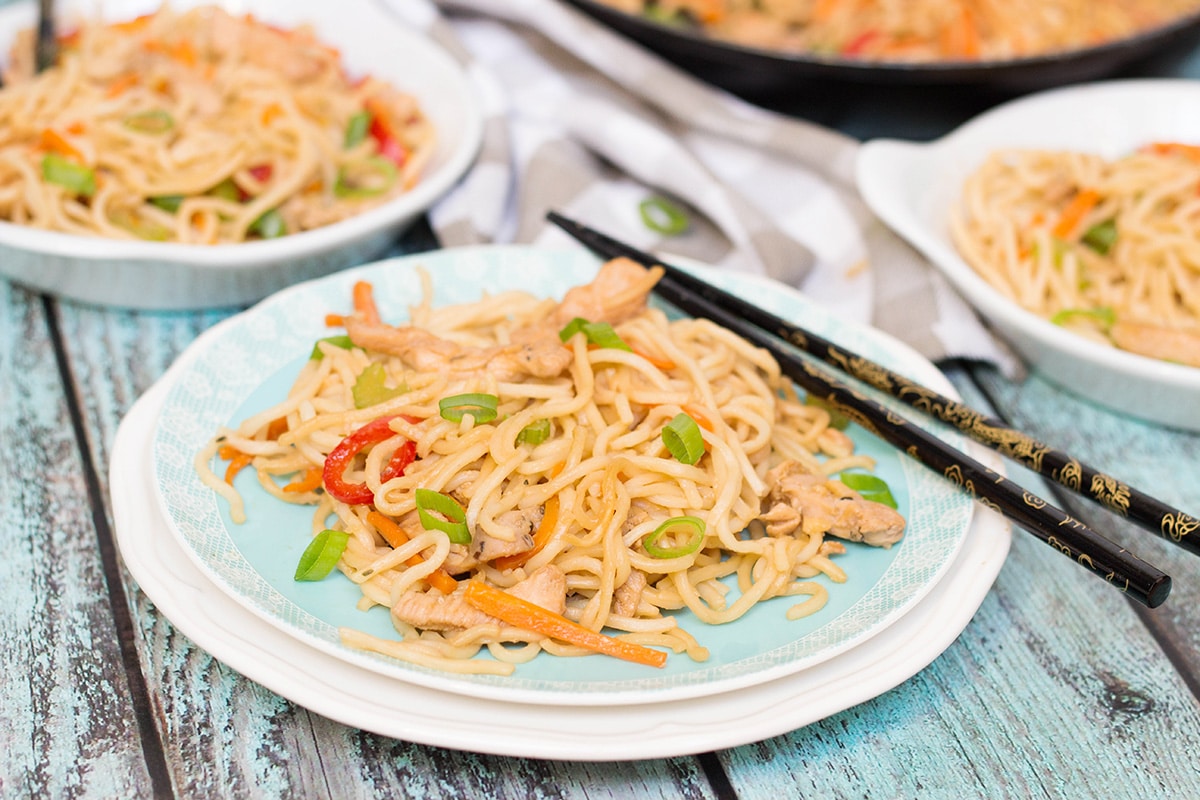 Every single chicken lo mein recipe I found uses a different set of veggies, meaning you can throw in whatever you like. The most popular options are bok choy (Chinese cabbage), carrots, scallions, broccoli, snow peas, bell peppers, celery. Some recipes also add mushrooms to the mix.
The result exceeded our highest expectations. I would even dare to say that it was better than the original chicken lo mein from our favorite place... And it's so easy and quick to make! You should spend less than 30 minutes in the kitchen. Plus it's easy to customize: you can change the meat, the veggies, or even add something like mushrooms or whatever you like.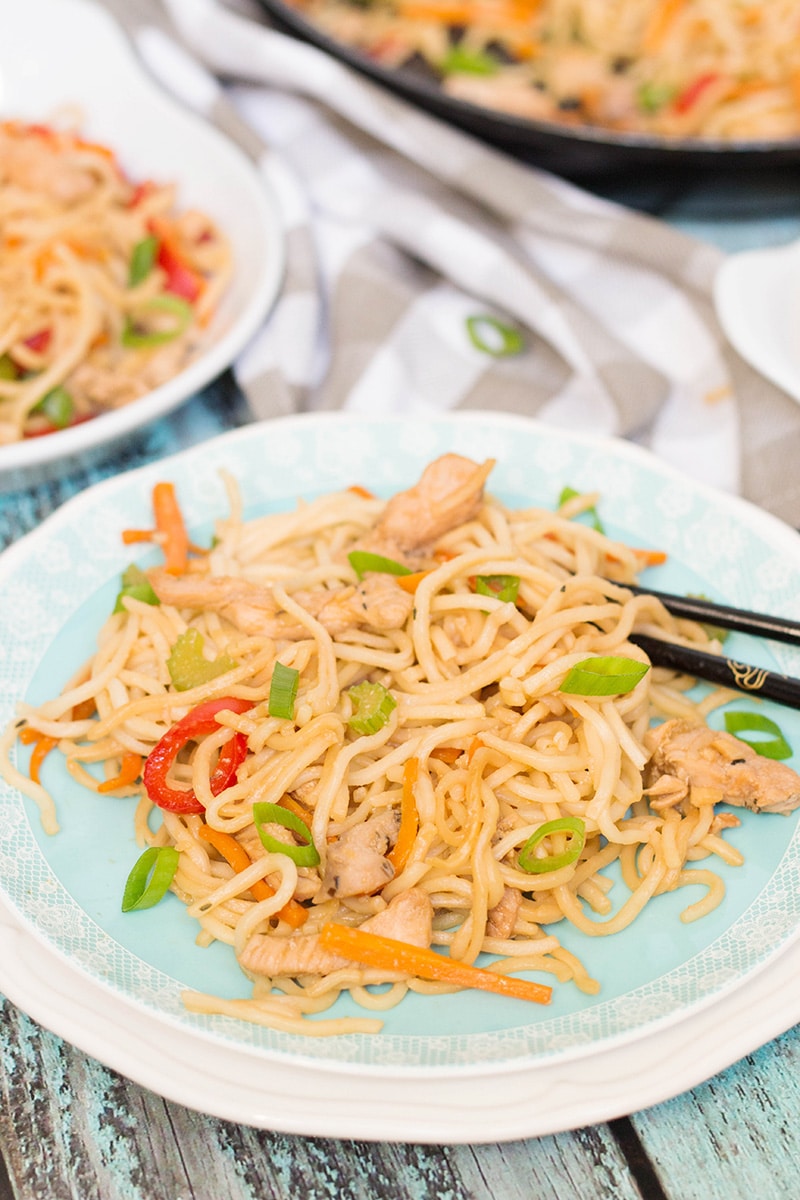 That's what I call a perfect weeknight dinner. After such a success I plan to recreate more take-out dishes in the nearest future. As the proverb popular in my country says, "it is good everywhere, but it is the best at home."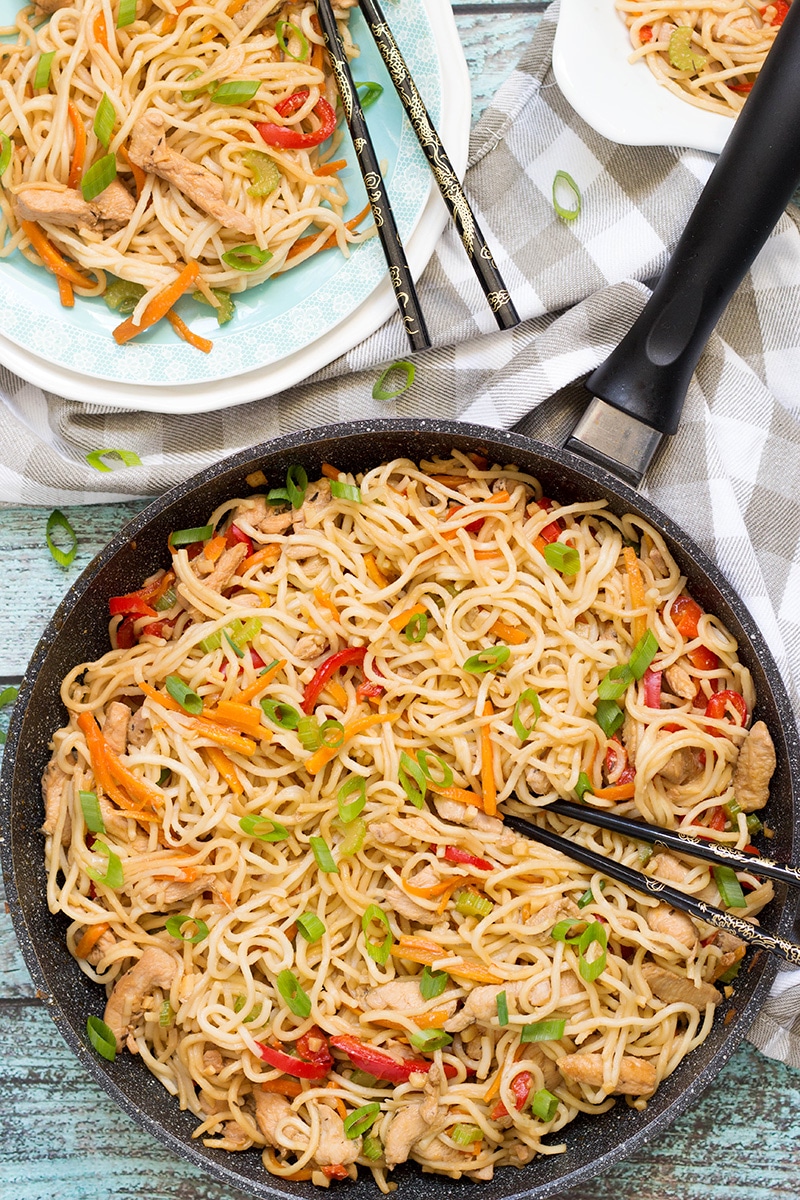 Chicken Lo Mein Recipe
This Chicken Lo Mein recipe is a homemade version of a popular Chinese takeout dish. Really easy and quick to make!

Ingredients
12

oz (340g)

skinless, boneless chicken breast

, cut into bite-sized pieces

6

tablespoons

low-sodium soy sauce

1

tablespoon

rice vinegar

4

teaspoons

sugar

10

oz (280g)

dried Chinese egg noodles

or linguine

⅓

cup

chicken broth

2

teaspoons

cornstarch

1

tablespoon

vegetable oil

1

tablespoon

sesame oil

4

cloves

garlic

, minced

1

carrot

, julienned

1

red bell pepper

, cut into strips

1

stalk celery

, thinly sliced

chopped scallions

, for sprinkling
Instructions
Combine 2 tablespoons soy sauce, rice vinegar, and 2 teaspoons sugar in a medium bowl. Add the chicken and toss to coat. Let marinate for 20 minutes at room temperature.

Cook the noodles according to package directions and set aside.

In a small bowl, combine the broth, cornstarch, remaining 4 tablespoons soy sauce, and remaining 2 teaspoons sugar. Set aside.

In a wok or a large skillet, heat the vegetable and sesame oil. Add the garlic and cook for about 30 seconds, stirring. Add the carrot, bell pepper, celery and cook for 2-3 minutes more, stirring. Remove the veggies from a skillet.

Drain the chicken, discarding the marinade, and add it to the same wok / skillet. Add more oil, if necessary, and cook for 3-4 minutes until no longer pink. Stir in the broth based sauce and cook, stirring, until thickened. Add the cooked noodles and prepared veggies. Toss the mixture using two spatulas until combined. Serve sprinkled with some chopped scallions over the top. Enjoy!
Nutrition