Drunken noodles or Pad Kee Mao is a popular Thai dish consisting of rice noodles, chicken, and veggies. Despite the name, it's totally alcohol-free. Takes only 20 minutes to make it!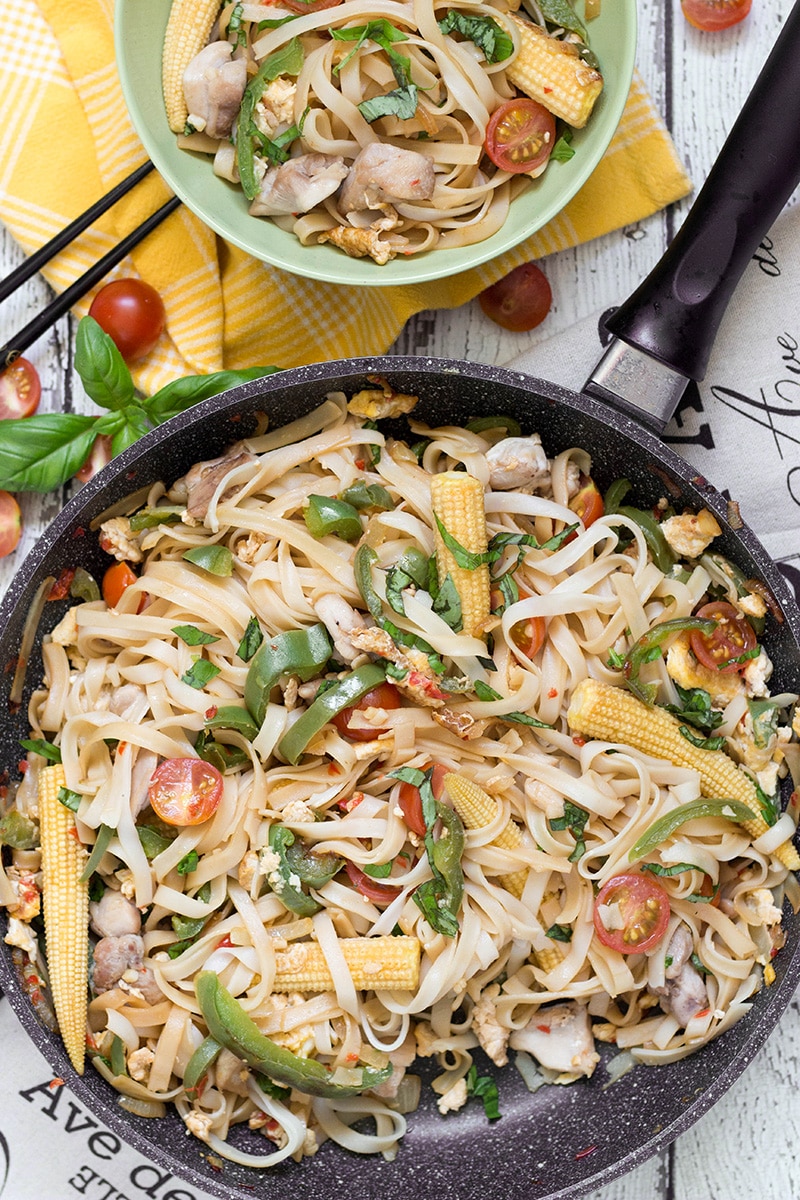 I love dishes with a thrilling story behind them. It can be an unusual name determined by some circumstances or an interesting story of origin. Such facts make the dish more enticing to eat, plus they always come in handy when you serve the food to your guests! That's my little secret on how to make my friends and family get excited about the dish even before tasting it. Shh... Don't tell anyone!
Thai Drunken Noodles I made today is one of those dishes. The name is really intriguing and looks like the one having a badass story, right? You bet! In Thai, these noodles are called Pad Kee Mao (kee mao literally means drunkard). This dish was brought to Thailand by Chinese people many years ago. Today it's really popular not only in Thailand but also abroad. I believe many of you have tried drunken noodles before, but in my life, they appeared only a week ago. After making 3 successful batches in a row, there were no doubts left about sharing this Thai creation with you, my dear readers.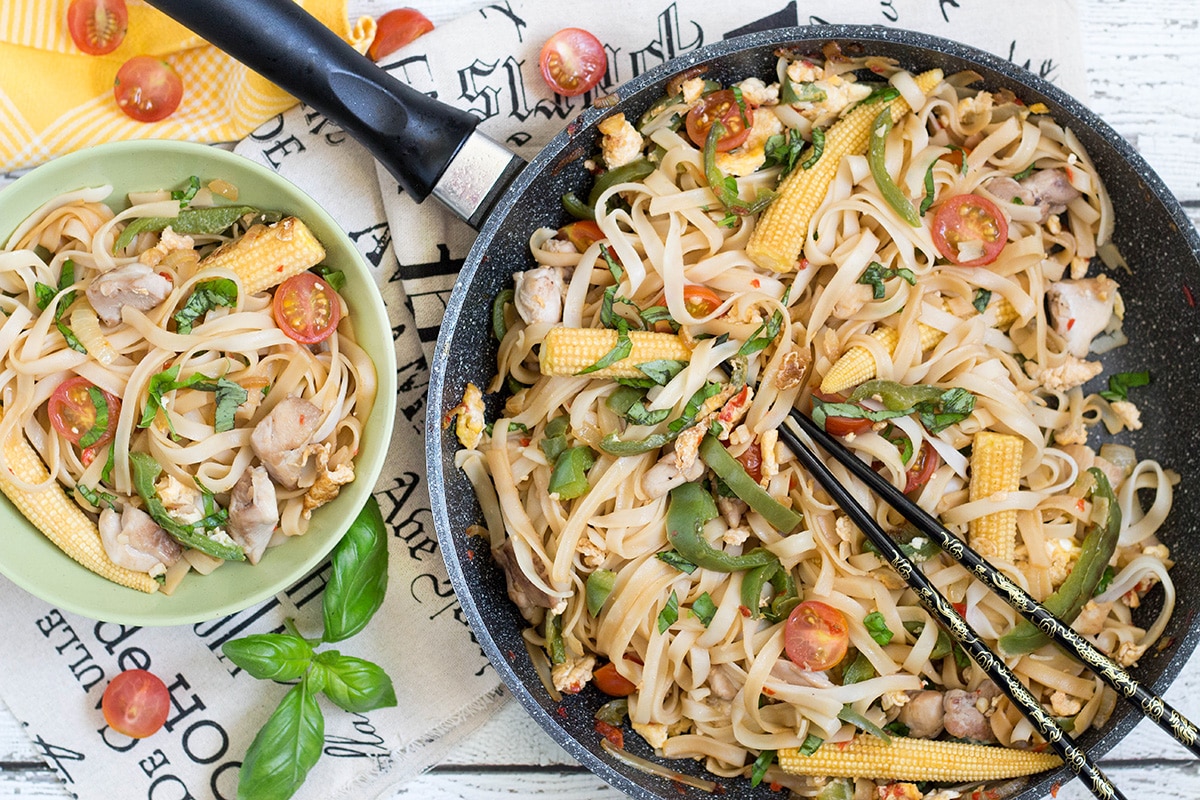 Alright alright, I'm telling the story now. There are actually few of them. Or even more. First of all tell me - you do think that this dish contains some alcohol because of the name, yes? Wrong! It doesn't. However, it might have, in the past. One of the name origin theories states that rice wine was used in old recipes, hence the name drunken noodles. Another theory says that once upon a time a man, who was suffering from the effects of alcohol consumption, cooked this dish using everything he had in a fridge to overcome a hangover. Yet another theory states that Pad Kee Mao is so spicy that it can only be eaten with a big glass of beer. Or that you would have to be drunk to handle such a heat, ha!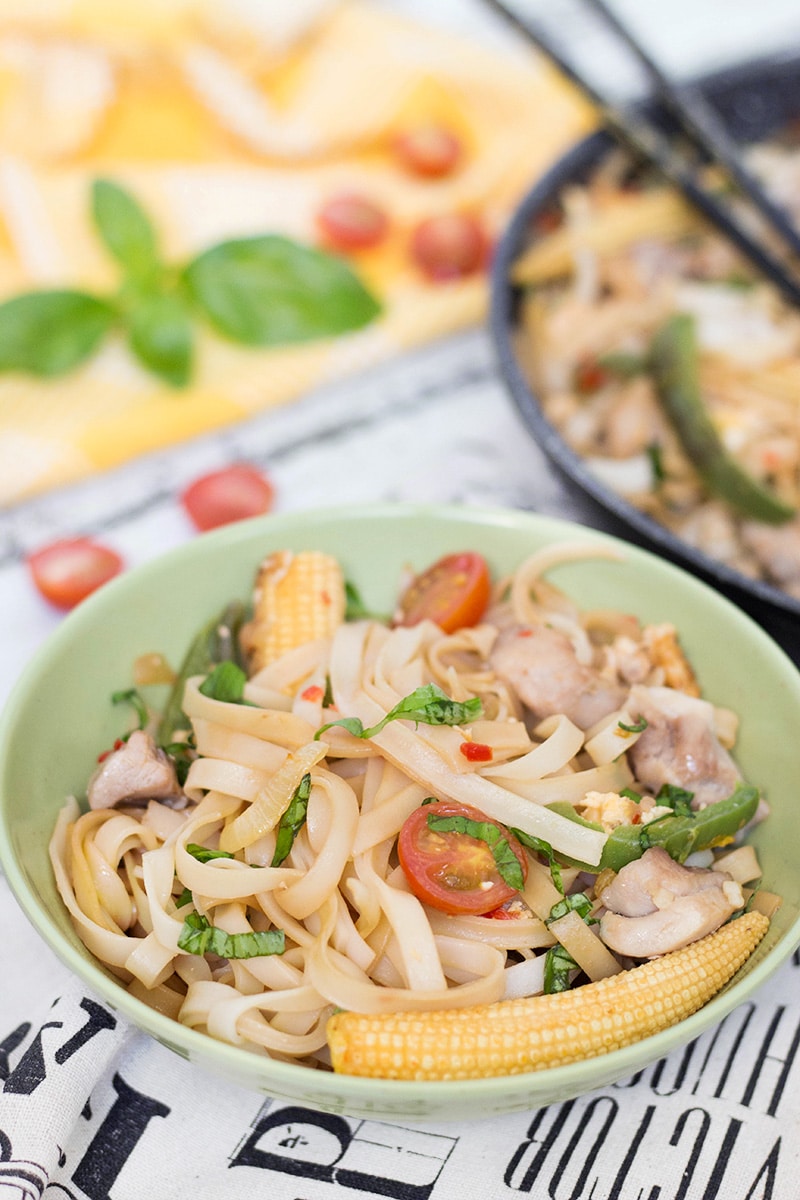 Now when we know all the nitty-gritty behind the name of this exotic dish (drunkards' noodles would be a more fitting name I think), let's talk about what it consists of. Broad flat rice noodles are cooked together with onion, garlic, basil, tomatoes, chilies, chicken, bell pepper, baby corn, and scrambled eggs. When all the ingredients are sitting happily in your wok or skillet, here comes the star of drunken noodles, the fragrant sauce which raises the taste to another level. So good!
I can't say if Pad Kee Mao helps to relieve a hangover because I am not too much of a drinker, but what I can say is that it's lip-smacking good. It helps to relieve my hunger, that's for sure. Drunken noodles are also really easy and quick to make. Only 10 minutes of prep and you have a fantastic dinner on your table. Yum!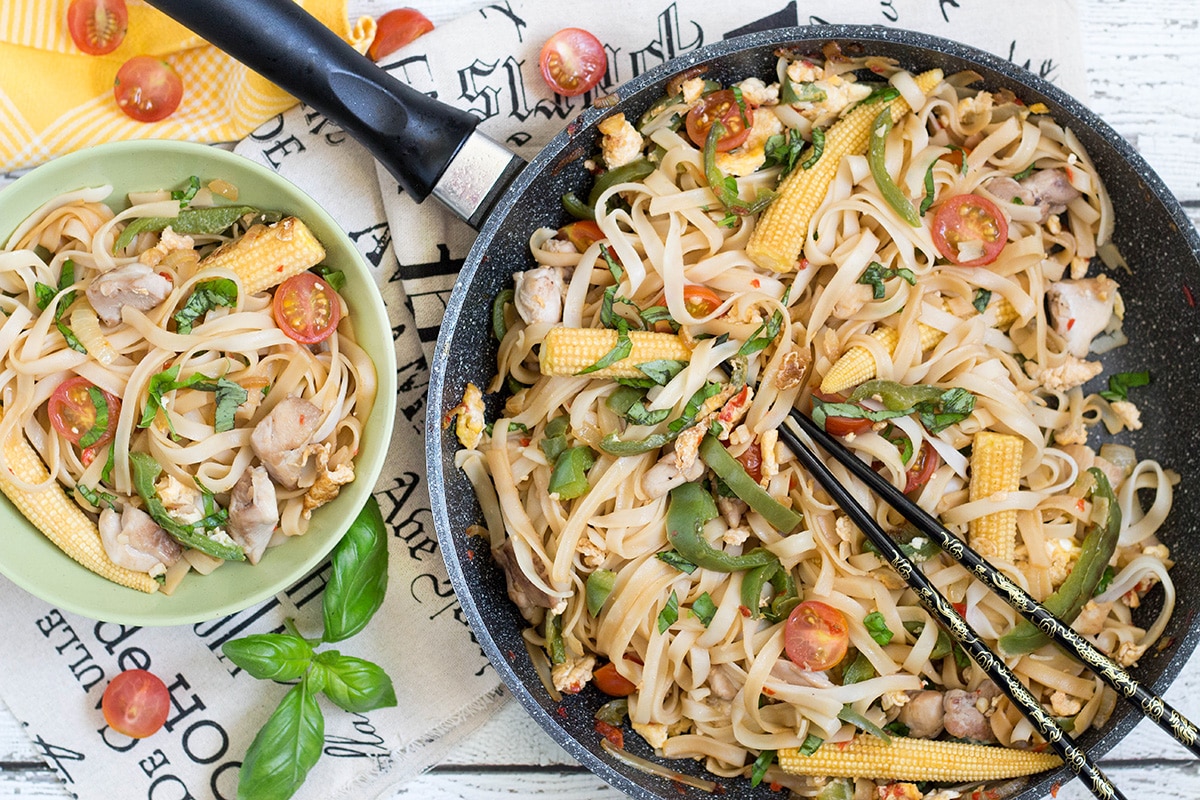 Thai Drunken Noodles - Pad Kee Mao
Pad Kee Mao is a classic Thai dish. Rice noodles are mixed with chicken, a bunch of veggies, and a delicious sauce. Easy and quick to make!

Ingredients
For the noodles:
8

oz (225g)

dried broad, flat rice noodles

3

tablespoons

canola oil

1

teaspoon

garlic

, minced

10

oz (285g(

boneless skinless chicken thighs

, cut into bite-sized pieces

1

medium onion

, sliced

1

green bell pepper

, cut into strips

2

tablespoons

fresh Thai chilies

, chopped

8

baby corn

½

teaspoon

white pepper

8

cherry tomatoes

, halved

2

eggs

½

cup

Thai basil leaves

, loosely packed (can be substituted with regular basil)
For the sauce:
2

tablespoons

oyster sauce

2

tablespoons

sweet soy sauce

1

tablespoon

light soy sauce

1

tablespoon

rice vinegar

1

tablespoon

fish sauce

juice of ¼ lime
Instructions
In a heatproof bowl, place the noodles and cover them with boiling water. Let stand for 5 minutes or more, until softened. Drain in a colander and set aside.

Prepare the sauce by combining all the sauce ingredients in a bowl and mixing well. Set aside.

Heat the oil in a wok or a pan, add the garlic and cook for 15 seconds. Add the chicken and cook until cooked through, for about 2 minutes. Remove it with a slotted spoon and set aside.

In the same pan, add the onion, bell pepper, chilies, corn, and white pepper, and mix well. Stir-fry for about 3-4 minutes. Make some space in the center by pushing everything to the sides. Break the eggs into the center and scramble until set. Add the drained noodles and mix well. Add the sauce, cooked chicken, tomatoes and once again mix well to coat.

Remove from heat and add the basil. When it wilts, serve. Enjoy!
Nutrition