Nasi Goreng, or Indonesian fried rice, is one of the most popular Indonesian dishes. Also featuring chicken, eggs, cabbage, and soy sauce, it can be served both as a main and a side dish. Crazy delicious!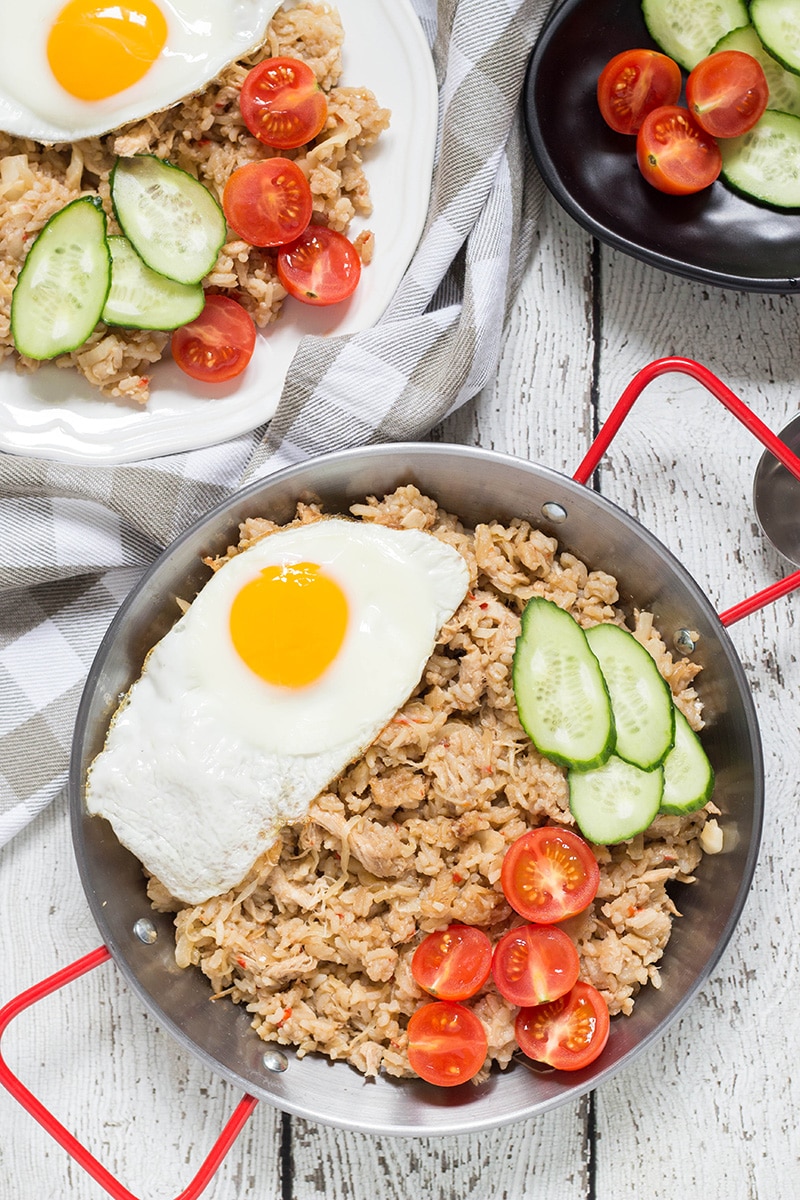 When we talk about Asian cuisine, such countries as Thailand, China, Japan, Vietnam immediately pop into our heads. Every big city has myriads of places where you can taste the authentic food from these areas. But what about all the other, smaller countries? Korean, Philippine, Singaporean, and other not-so-big-n-famous cuisines also have what to offer! So does Indonesia, the country we are exploring today. I am so excited!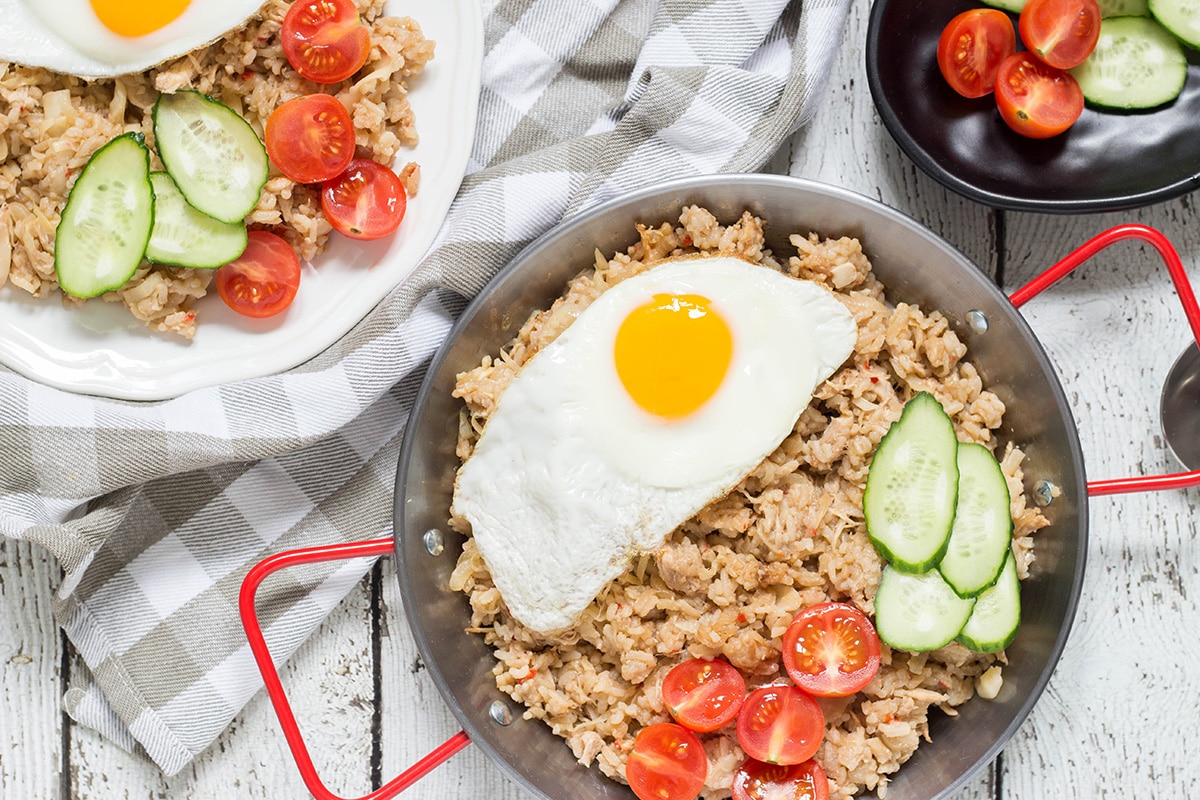 One of the most popular Indonesian dishes has to be Nasi Goreng. It literally means "fried rice", but it's so much more than that. The rice is stir-fried together with shallots, garlic, chilies, chicken, cabbage, and the famous Indonesian sweet soy sauce called kecap manis. Don't worry if you don't have / can't find it. This sauce can be easily made at home by combining and simmering the equal amounts of the basic soy sauce and brown sugar. Just wait until it has reduced and thickened. Oh, I forgot to mention that all this goodness is topped with a fried egg sunny side up. Kind of reminds me of Hawaiian Loco Moco.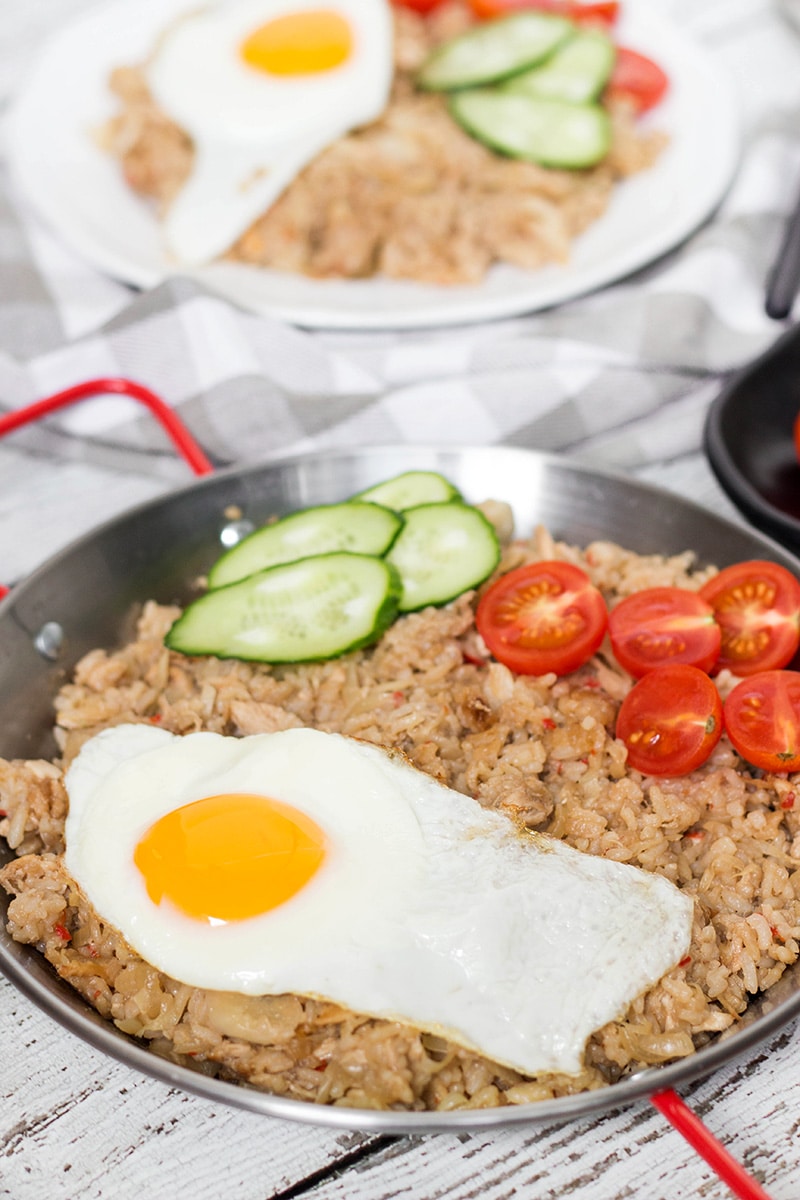 The main ingredient of Nasi Goreng, which is rice, will have more flavor if it will be at least one day old and refrigerated overnight. That's the recommendation I kept stumbling upon in every single recipe of this Indonesian dish. In fact, rice is not the only leftover recommended for Nasi Goreng - chicken has also to be cooked beforehand. If leftovers are a frequent occurrence in your home, this Indonesian fried rice is for you!
If I still haven't convinced you, here is a clincher: in 2011 CNN conducted a poll, asking people what's the world's best food is. They put together a list of 50 best foods on the planet based on the answers. Nasi Goreng got... Drum roll, please...  A second place! That's right. A second freaking place in the whole world. Now that's something special, right?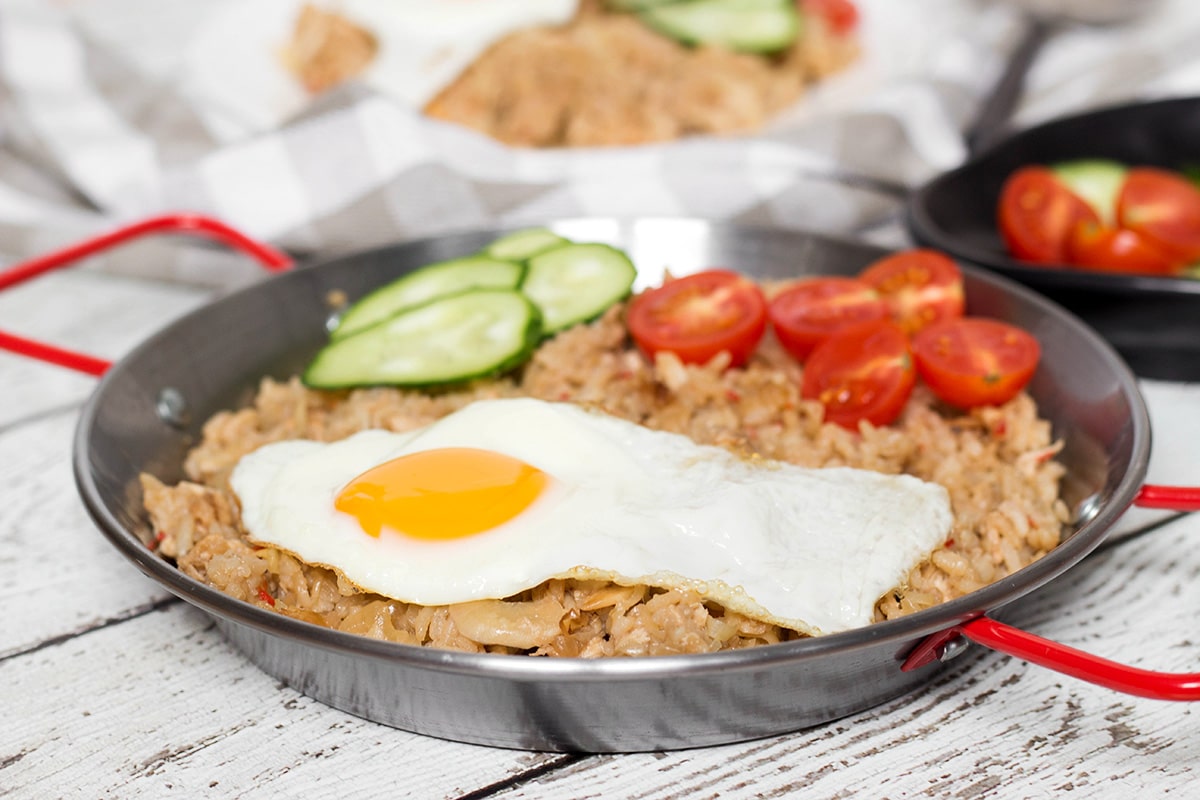 Indonesian fried rice not necessarily should be made with chicken. You can add any leftover meat you like. Shrimp can also be added, in fact, they are thrown into Nasi Goreng quite frequently. Sometimes alone, more often in combination with chicken. I planned to add some shrimp too, but the ones I saw in my local shop were far from attractive. It looked like those poor guys were lying there for weeks. Maybe it's for the best because this chicken-only version I made is spectacular. Try it!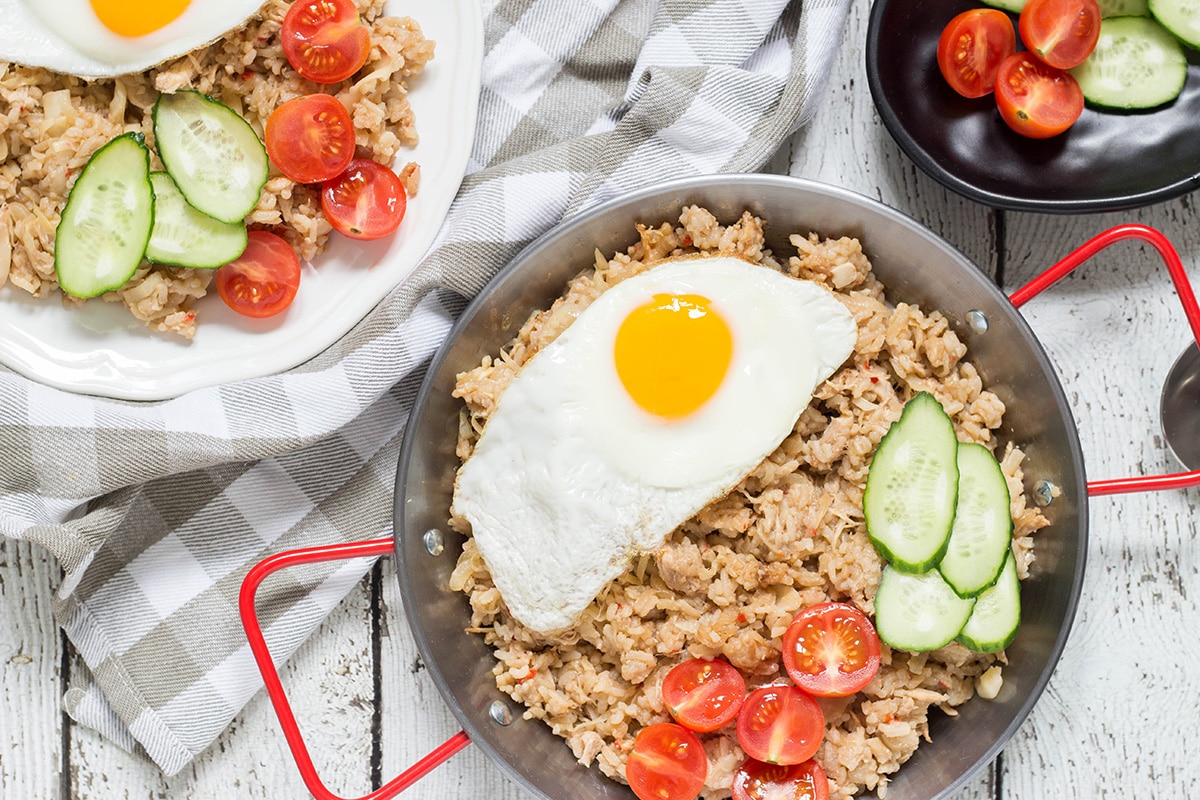 Nasi Goreng Recipe (Indonesian Fried Rice)
Indonesian Fried Rice is not only about rice. It also features chicken, eggs, cabbage, and more!

Ingredients
5

cups (500g)

cooked rice or leftover rice

3

tablespoons

cooking oil

, divided

4

eggs

5

shallots

, peeled, sliced

1-2

red chilies

, deseeded, minced

1

cup (200g)

cooked chicken

, diced (about 10 oz or 300g uncooked)

2

cups (250g)

thinly sliced cabbage

1

teaspoon

salt

3

tablespoons

sweet Indonesian soy sauce

(kecap manis)

sliced cucumber and tomato

, for garnish
Instructions
In a skillet, heat 1 tablespoon oil and fry the eggs sunny side up. Set aside.

In a wok, or big skillet, heat the remaining 2 tablespoons oil and add the shallots, garlic, and chilies. Cook for 1-2 minutes. Add the cabbage and the cooked chicken and stir-fry for 2 minutes more, until the cabbage is wilted. Increase the heat to high and add the cooked rice, salt, and kecap manis. Stir-fry for a few minutes more, until mixed well and cooked through.

Serve with the fried eggs on top. Garnish with cucumber and tomato slices. Enjoy!
Notes
1. If you don't have any leftover rice and you want to cook the new one, the ratio of uncooked and cooked is about 1:3. It means that 170g of uncooked rice should give you 500g of cooked rice.
2. You can make the Indonesian sweet soy sauce at home. Just mix equal amounts of soy sauce and brown sugar and simmer until thickened.
Adapted from The Food of Indonesia by Heinz Von Holzen
Nutrition