This Chinese Pork and Shrimp Rice Porridge, called Jook or Congee, is creamy and filling. Perfect for any meal of the day!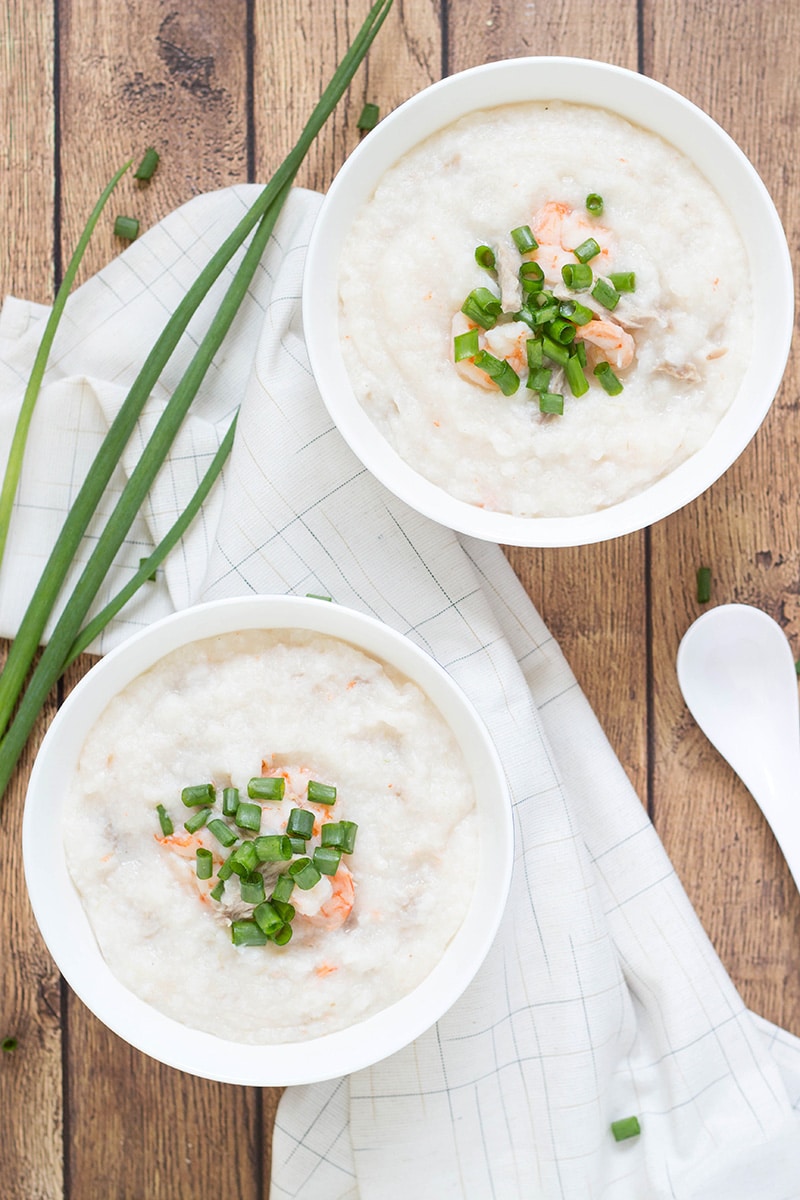 I have said it countless times before and I am going to say it again - breakfast is my favorite meal of the day. Breakfast is absolutely sacred to me, and I never miss it. It's actually impossible for me to miss the early morning meal, because I won't have enough energy to run my errands for the day. I am not even talking about the days when I cook and take photos for the blog. It requires so much energy to work all day long, play for some time with my kid after the work, and instead of going to bed, spend few more hours in the kitchen. No, I am not complaining here, I love everything I do! I'm just trying to paint the picture of how the first meal of the day is essential to me.
Do you eat rice for breakfast? Me - not so often. Sometimes I love to have a simple rice porridge: both savory and sweet. Sweet - with some jam, savory - with some sausage or cheese. Depends on the mood. But as I've already said, rice is not a frequent guest on my breakfast table.  I am just too lazy to cook it in the morning. However, this Chinese Pork and Shrimp Porridge (Congee or Jook in Cantonese), which is a beloved breakfast option in China, can be also served at brunch, lunch, or dinner! I am saying this, because not everyone is used to meat early in the mornings. That's right, it's super versatile and so good!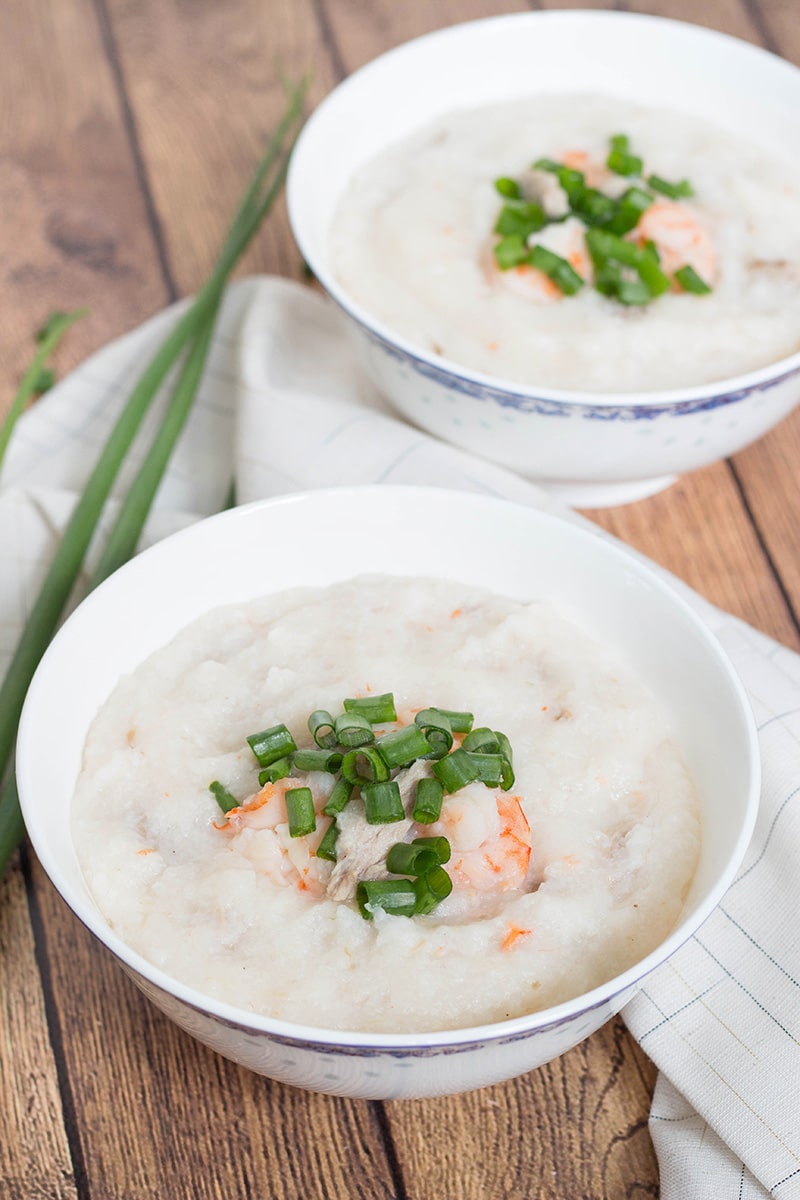 Chinese have hundreds or even thousands of rice porridge versions. The majority enjoys a simple one for breakfast, made with rice and water. In this case it is served with side dishes, such as salted duck or chicken eggs, fried peanuts, fried noodles, or other. When additional ingredients such as meat, seafood, fish are added, Congee is served as a standalone dish.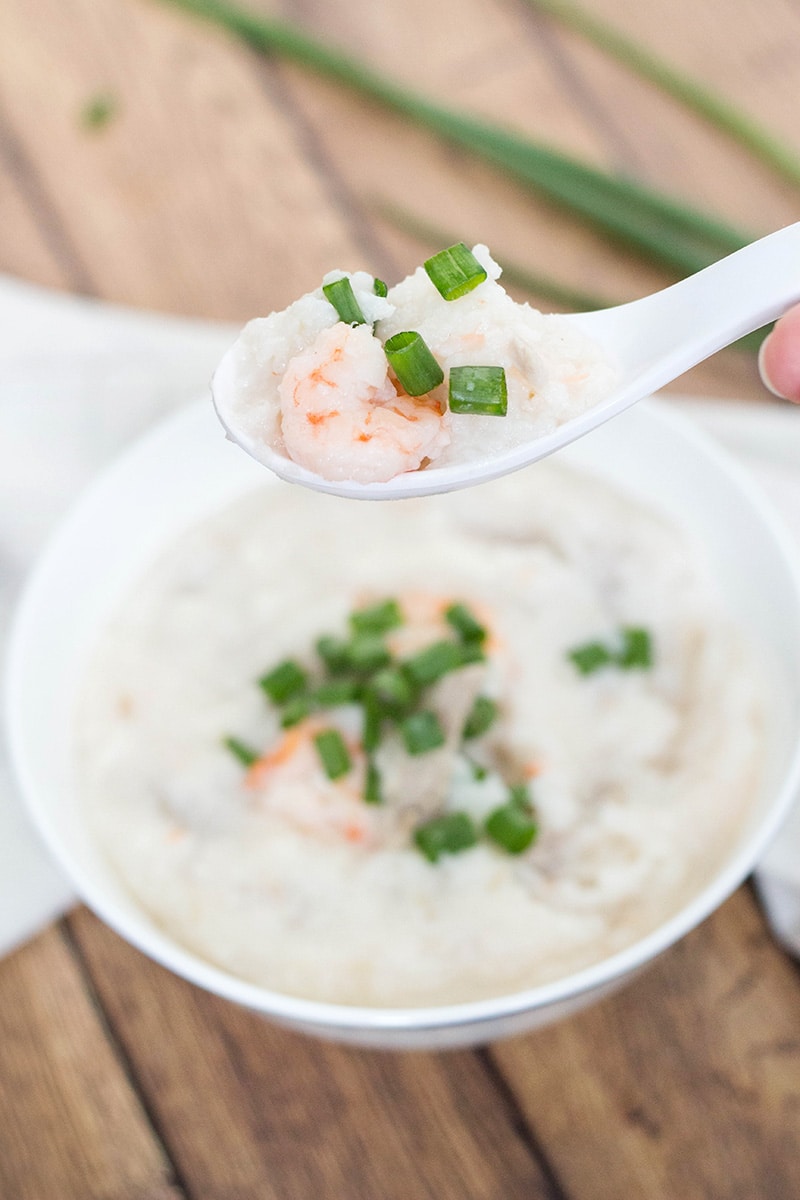 Simply put, Jook is overcooked rice. You have to cook rice for about an hour to make it. The end result is a thick, porridge-like consistency of largely disintegrated rice. But believe me, it's so much more than that. The texture, the creaminess of the rice go so well with pork and shrimp. There is also ginger and scallions inside. Divine! Try this nourishing and filling Congee for breakfast or for any other meal of the day and you surely won't regret it!

Chinese Pork and Shrimp Rice Porridge (Jook or Congee)
This Chinese rice porridge is packed with shrimp, pork, and veggies. Perfect any time of the day!

Ingredients
For the poached pork:
12

oz (340g)

boneless lean pork butt

1

medium onion

, quartered

1

slice

ginger (1-inch thick)

, peeled and lightly smashed

3

scallions

, cut crosswise into thirds

2

teaspoons

salt

For the Jook:

2

cups

rice

12

cups

water or chicken stock
For the shrimp:
8

oz (225g)

shrimp

, peeled, deveined

1

tablespoon

Shaoxing wine

1

teaspoon

light soy sauce

1

teaspoon

sugar

1

teaspoon

salt

pinch of white pepper
Instructions
Place the pork in a pot and cover it with water. Add the onion, ginger, scallions, and salt. Bring to a boil, reduce the heat to low, cover the pot leaving the lid a little ajar, and cook for 45 minutes. Remove the pork discarding everything else, and let cool. Cut into julienne strips and set aside.

Place the rice and the water (or chicken stock) in a pot and bring to a boil. Reduce the heat to medium-low, cover the pot leaving the lid slightly ajar, and cook for about 50 minutes, stirring occasionally, until you get a porridge-like consistency.

Meanwhile, clean the shrimp and place in a bowl.

In another small bowl, mix the wine, soy sauce, sugar, salt, white pepper, and pour this liquid over the shrimp. Toss to combine and leave to marinate, while the rice is cooking.

About 5 minutes before the Jook is ready, raise the heat to high. Add the pork and stir. Add the shrimp together with the marinade and stir once again. Bring the Jook back to a boil.

When the shrimp are cooked (they turn pink), turn off the heat and serve. Enjoy!
Nutrition